(Last Updated On: May 15, 2012)
We had so many great photos from Silverton that we decided another post was in order.
The miners of the late 1800's must have been both crazy and a whole lot tougher than we are today. There are roads and mining camps everywhere in the Silverton area, which makes for some great ski possibilities thanks to the access, not to mention an ATV/jeep paradise in the summer (or now, since the county has plowed a large number of dirt roads). Check out these buildings for an example of the lengths the miners went to in their hunt for wealth: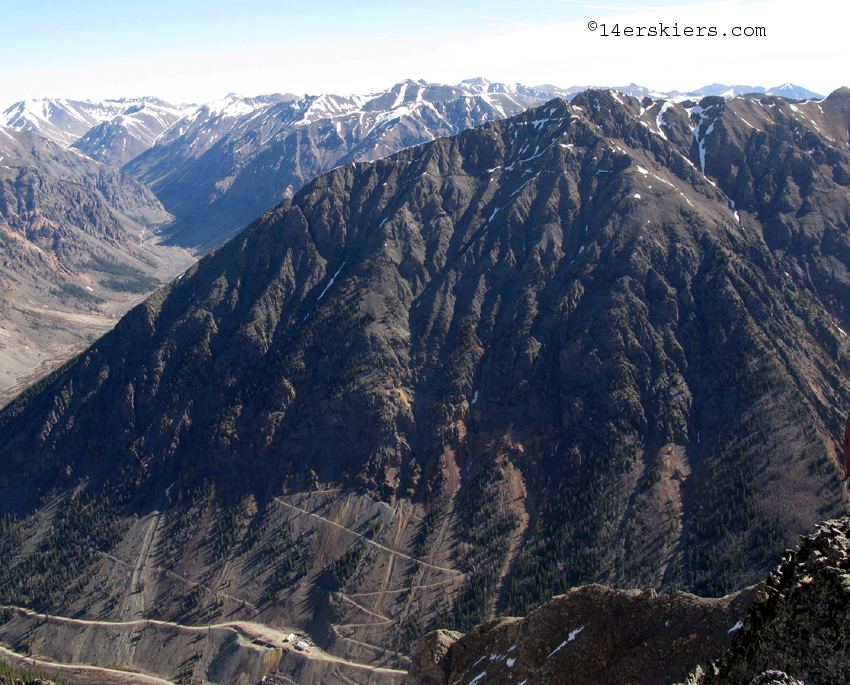 Don't see them? It's a game of Where's Waldo? Maybe this will help…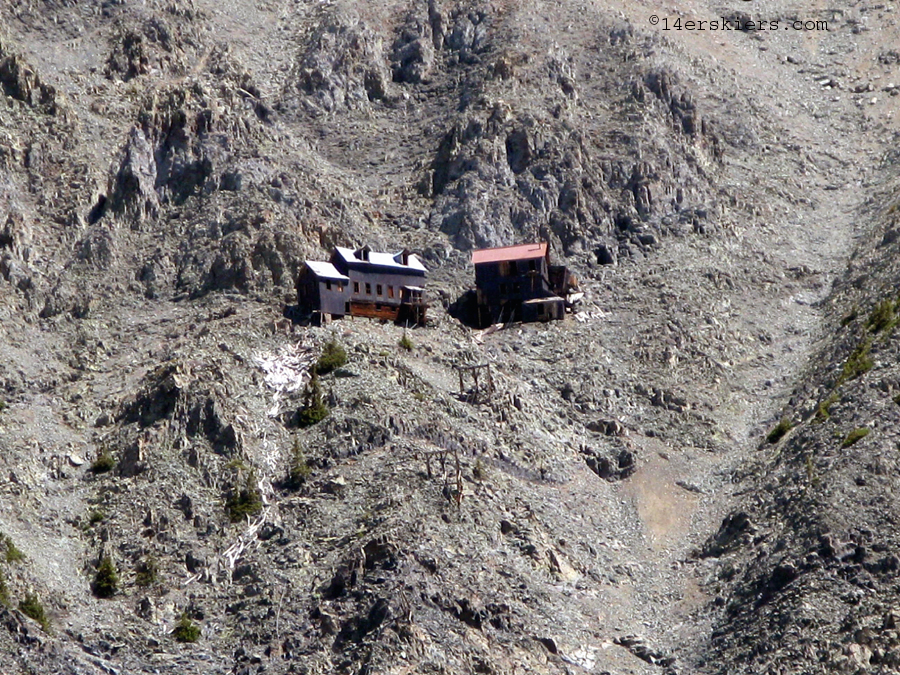 [For those of you not seeing them, they're in the dead center of the face] It was hard not to look at these buildings and imagine them in Europe, where they would certainly be filled with skiers, climbers, and hikers relaxing in chalets after a long day in the mountains.
On our Kendall Peak tour, we passed this mining operation in a beautiful setting. I took photos.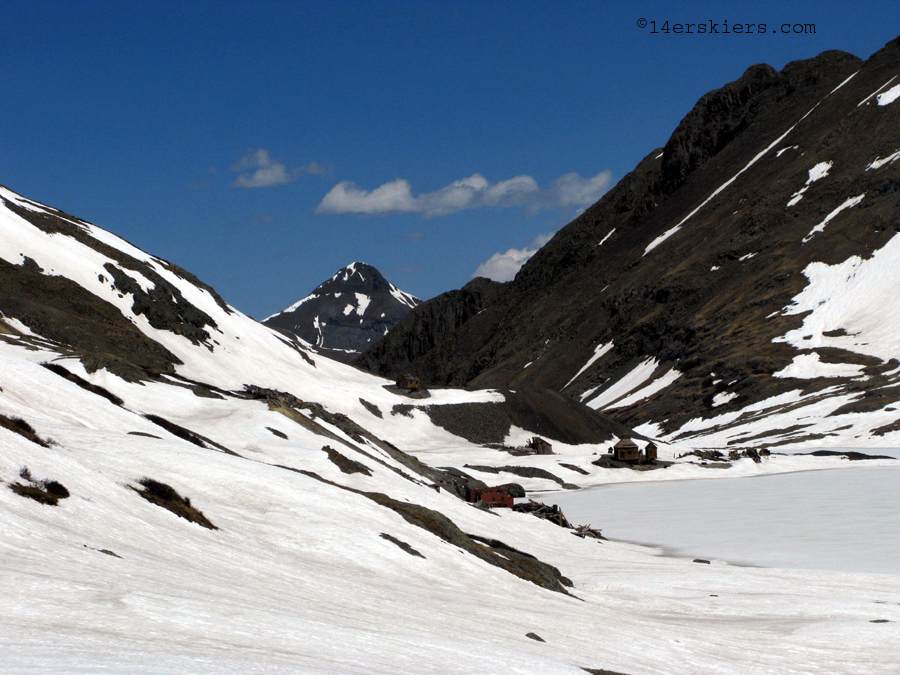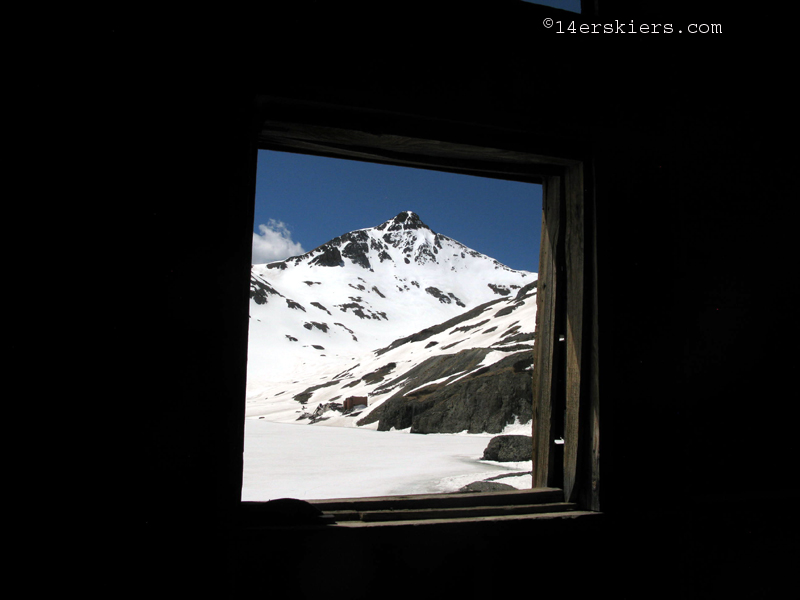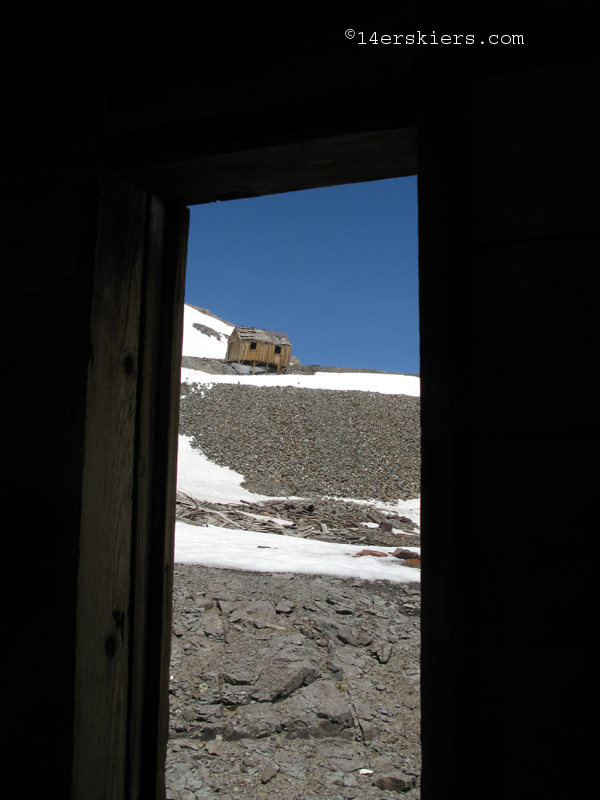 The San Juans have always been my favorite range in Colorado, and the peaks we summited had great views from the heart of the range. The mighty Grenadiers: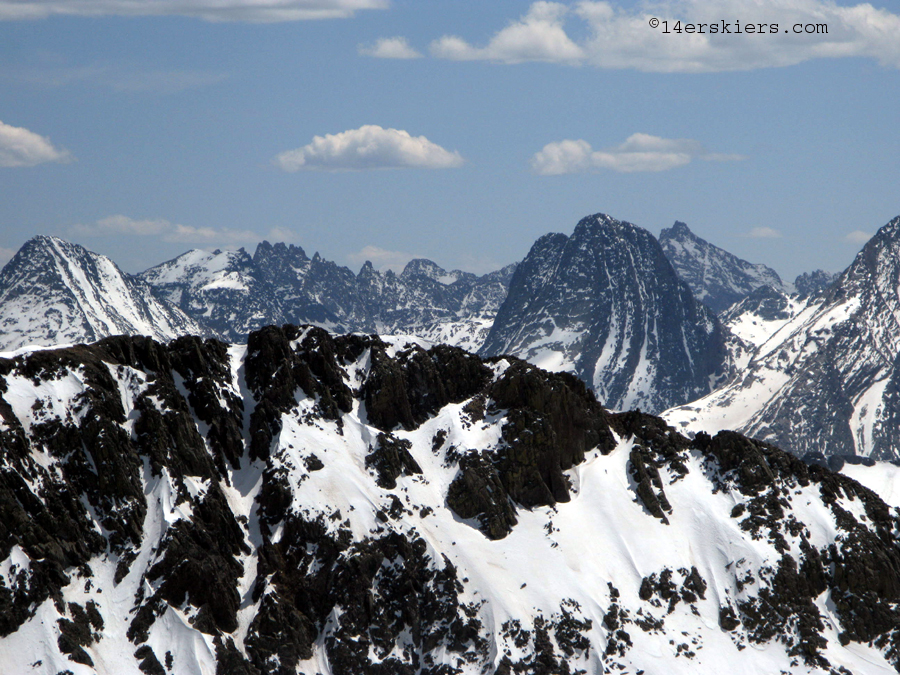 The Twilight group: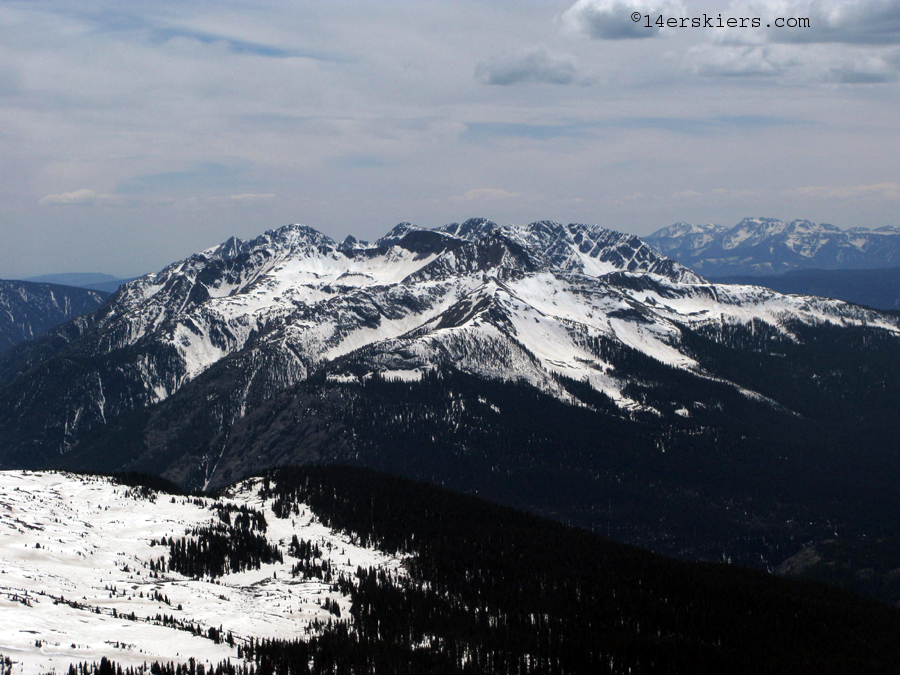 Molas Pass and Engineer Mountain:

Far to the West, I pointed out this peak and mentioned that it looked like a good ski descent. Jarrett and Brittany pointed out that I was looking at Mt. Wilson and the Boxcar couloir- which of course, I have skied: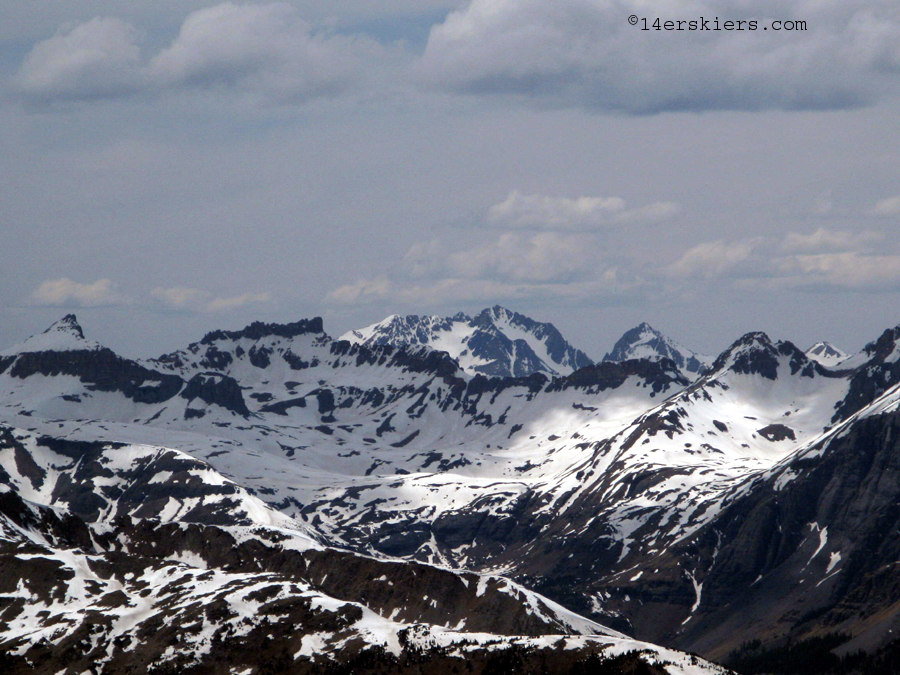 Sneffels group: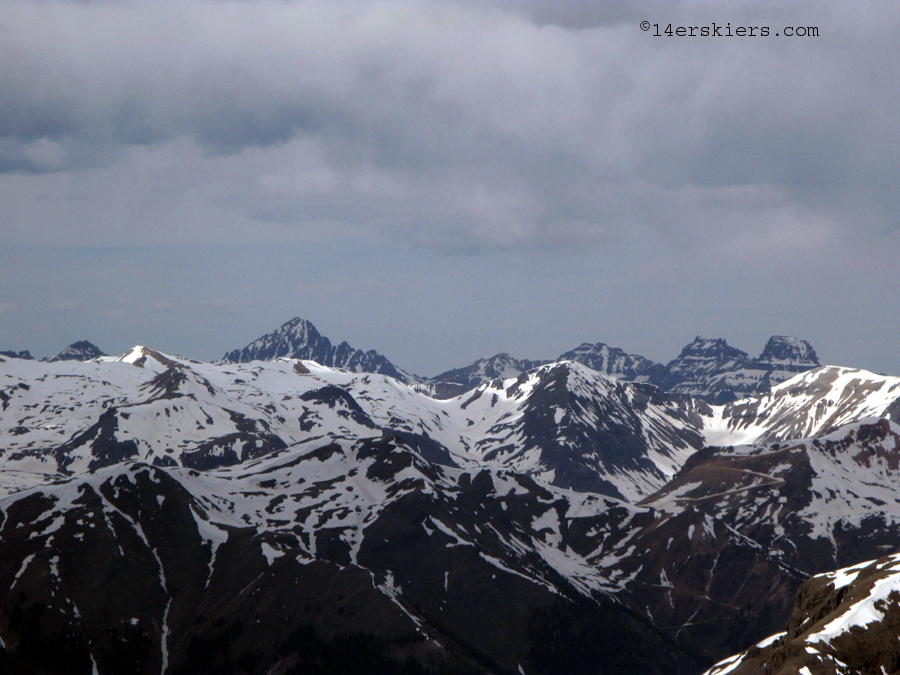 Dry but mighty Uncompahgre: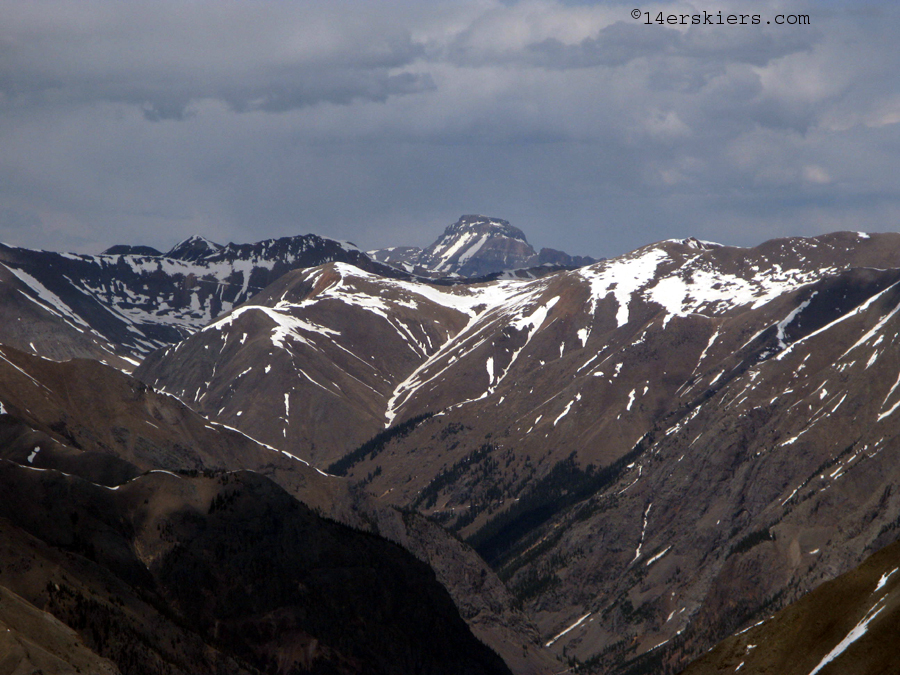 In late March, an avalanche claimed the life of Crested Butte resident Knox Frank. While neither Brittany nor I knew Knox, we obviously have many friends in common, and we would like to offer our condolences. Evidence of the large slide was still visible from a long way away: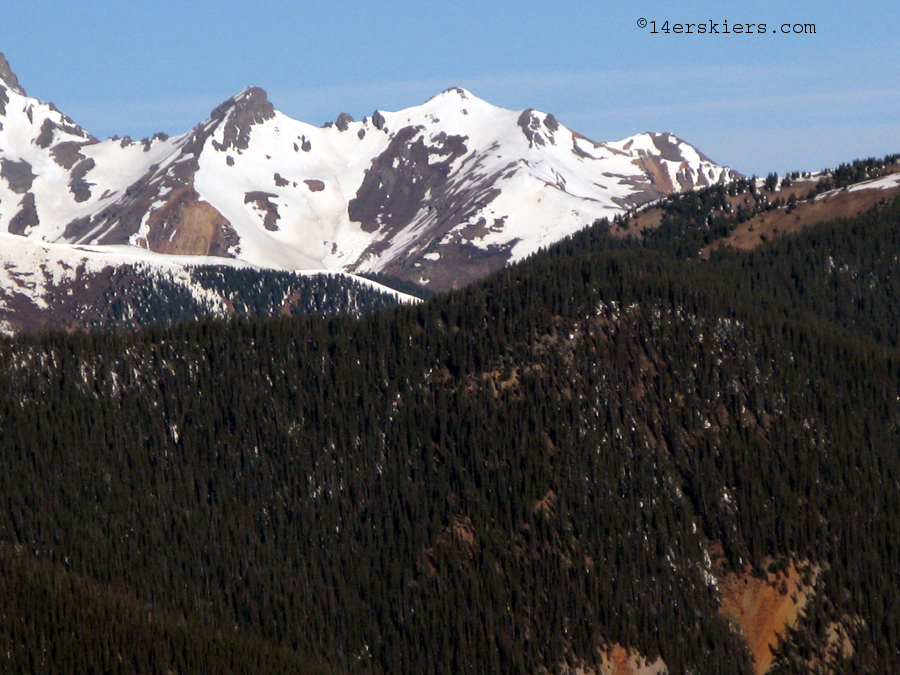 I had an interesting ridge encounter: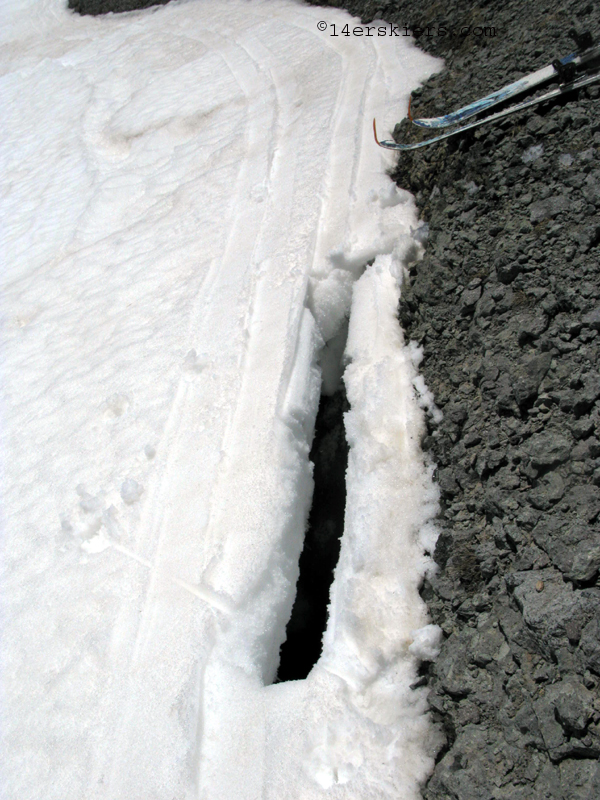 Jarrett's track is the one farther away from the dry ground, while I tried to stay even closer to the ridge. To the left of the photo, snow stretched for 25′ to a fairly small cornice just 5-10′ high. Meanwhile, the ridge here was very gentle and broad, extending 30′ to the looker's right. In other words, while I was being careful and staying close to the edge like I tend to do, I was still taken by surprise. Had I fallen in, it was at least a 10′ drop. Kind of amazing given the gentle terrain just inches away from dry ground. More of a moat than a cornice in a lot of ways.
_____________________________________________________________________________________________________________________

Frank
loves snow more than anything... except his wife.  He ensures his food is digested properly by chewing it 32 times before swallowing.He is a full-time real estate agent serving
Crested Butte and Gunnison
and would be honored to send you his
monthly newsletter.
Latest posts by Frank Konsella (see all)