Farris Creek TR and CO conditions update
(Last Updated On: May 17, 2012)
For the second time this week, I found myself back on two wheels rather than two skis. I tend to struggle mightily with my biking motivation in the springtime, and this year has been no exception, especially since the spring ski season has been so uniformly good to great this year. On Monday, I rode the Buffalo Creek section (segment 3) of the Colorado Trail with Adam and his father, Jeff- which means I'm at 4/27 rideable sections of the CT. The last time I rode this area, my riding partner was having trouble with his Onza clipless pedals, which a small percentage of you might actually place as about 1994 or so. Conditions there were nearly perfect after some recent snow and rain, since the gravelly soil there is best right after rainfall. Buffalo Creek is a great day trip from Denver or as a quick stop between Crested Butte and Denver (located off 285 between Bailey and Conifer). Gunnison riders will feel right at home, as it is somewhat similar to Hartman's Rocks but with trees). Check it out if you get the chance.
Today's ride was upper-402-fourohFred-Farris-Canal-upper, and it was likewise in terrific condition.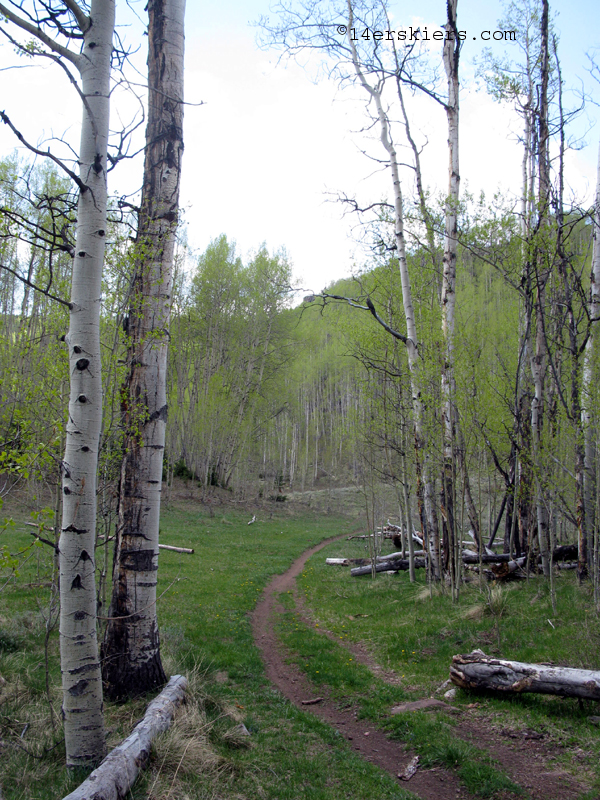 Good as it was, I was struck by some things. Primarily, of course, is that it is dry. Even the marshy areas were bone dry- not surprising when the snowpack in the area is at 5% of average, but still eye opening. A fire ban will soon take effect here in Gunnison county, and water restrictions might not be far behind. Riding right now feels much more like fall than spring- the trails are open so early that many of the aspen trees haven't even budded yet. In any case, here's some photos of Pete Sowar on Farris: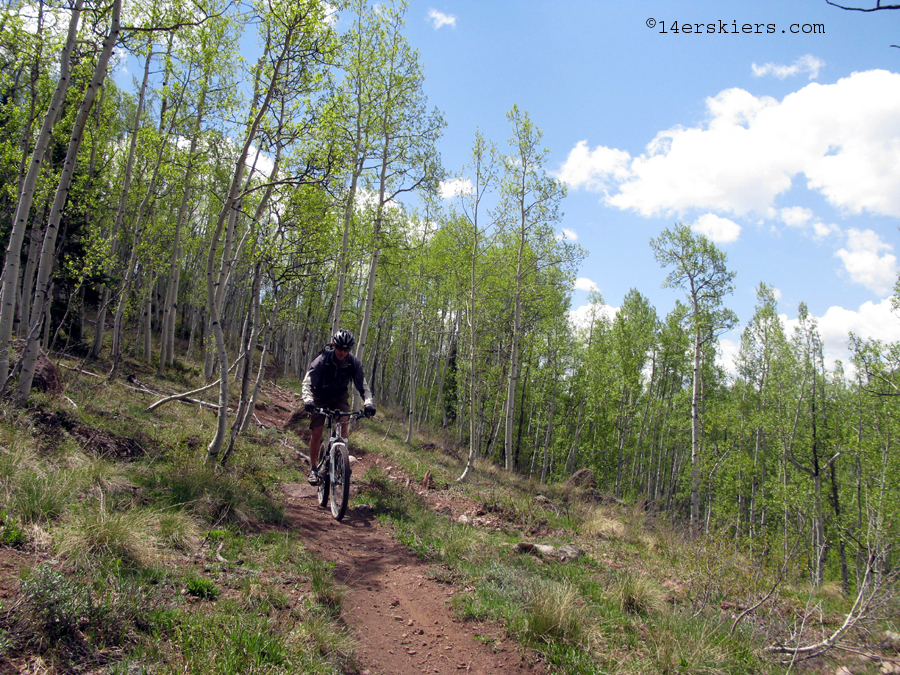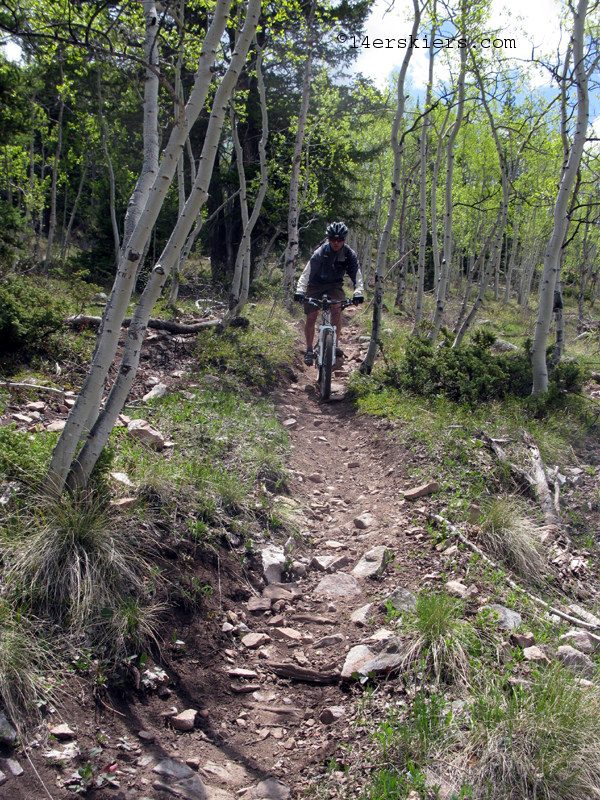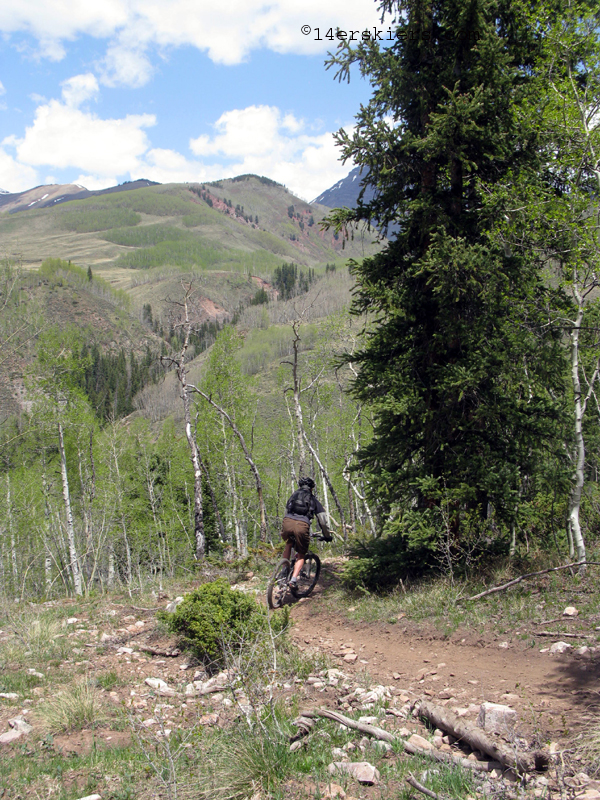 Quite a few trails are already open- check out the CBMBA page as well as the 14erskiers guide. For those of you looking for some ideas which aren't on the CBMBA page, here's a few suggestions: lower 401, 401 as an out and back, Roaring Judy from Jack's Cabin, or even Texas ridge as an out and back. The sage grouse closures at Hartman's are done for the year, and Doctor's Park will be open in a few days as well (closed for sheep currently).
All that said, we'd rather be skiing. Those of you who hung them up long ago might have trouble believing this, but this spring has been excellent- and surprisingly better than last spring in some ways. CO seems to be getting a storm once a week or so, and these small storms have been keeping the snow consistently smooth unlike last season when we kept getting hammered with big storms that would slide out as soon as the sun came out. The best bets right now are high northerly aspects, which doesn't leave a lot of choices here in Crested Butte other than perhaps Copper Creek. Better choices include San Juan classics like Yankee Boy basin, American Basin, and Cinnamon/Engineer passes, all of which are plowed and open. Independence Pass is open now as well, although the terrain there leaves a bit to be desired. This spring's MVC (most valuable couloir) might be Mt Hope's Hopeful Couloir, which has been cranking out great reports all spring. The venerable Dead Dog couloir on Torrey's has been excellent as well, including last weekend when Brittany skied it with several inches of fresh snow (TR coming soon).
Mark dropping into Dead Dog:

The final conditions report for this area is Cottonwood Pass- yes it's open but the construction between Jack's Cabin Cutoff and Taylor Reservoir is pretty substantial- Monarch is a better choice currently.
__________________________________________________________________________________________________________________-

Frank
loves snow more than anything... except his wife.  He ensures his food is digested properly by chewing it 32 times before swallowing.He is a full-time real estate agent serving
Crested Butte and Gunnison
and would be honored to send you his
monthly newsletter.
Latest posts by Frank Konsella (see all)