American Basin 4 Pack of Couloirs 5.19.12
(Last Updated On: May 21, 2012)
The snow line may be creeping upwards, but that doesn't mean the quality is correspondingly heading downwards. On the contrary, the skiing remains unexpectedly excellent, especially in the steepest most protected couloirs. Searching for something we could ski in a daytrip from Crested Butte with a minimum of hiking, American Basin immediately came to mind. With a plowed Cinnamon Pass road, access is as good as the multiple couloirs that spill off the ridge of American Peak, a high thirteener that just misses highest 100 status. Mike Kingsbury had been trying to get a weekend day off to join us and finally did, and meanwhile Jarrett Luttrell decided he could make the short drive over from Silverton (just 15 miles away via Cinnamon Pass, whereas we came up from the Lake City side). Four people, and four couloirs- coincidence? We thought not.
American Peak and three of the four couloirs- Traitor, Independence, and Patriot from Left to Right: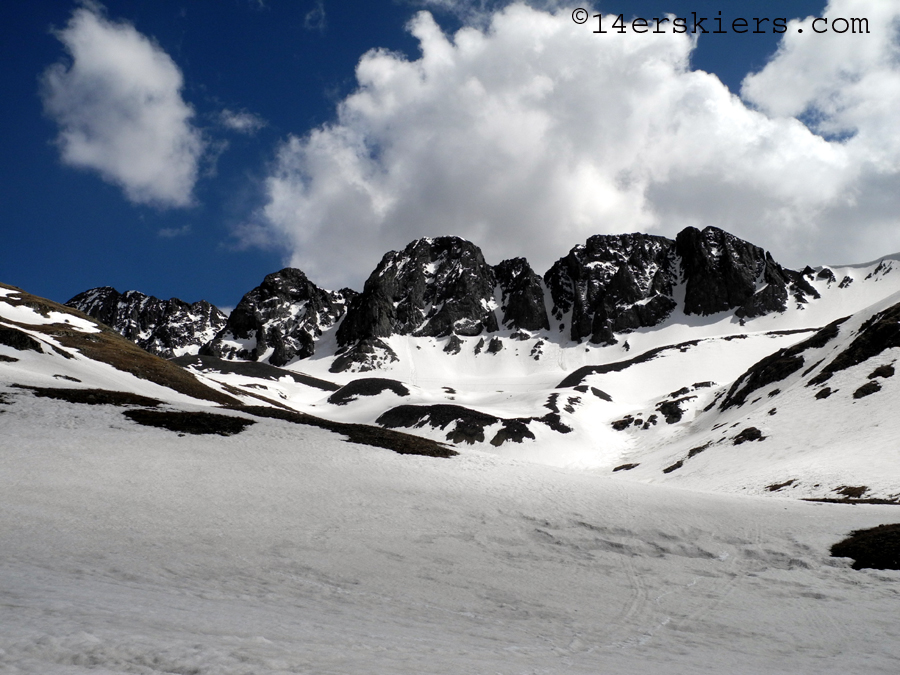 Jarrett one-upped us all, sporting a windbreaker befitting the peak we were climbing.

We climbed Patriot first, and made the quick hike to the summit from there. Brittany and Jarrett, ready to drop in on run number one: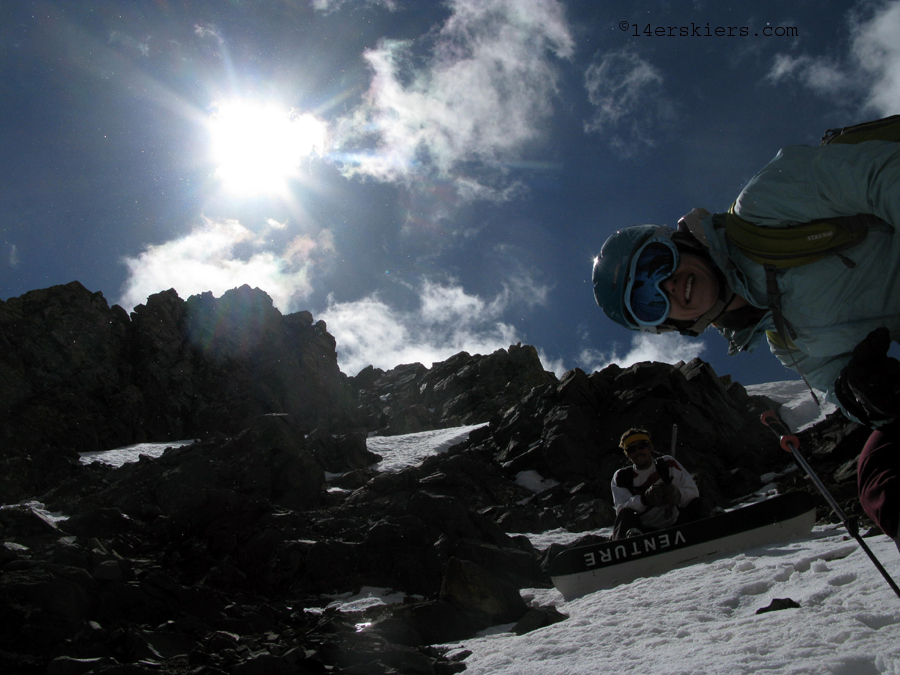 Wetterhorn with a dusting of snow: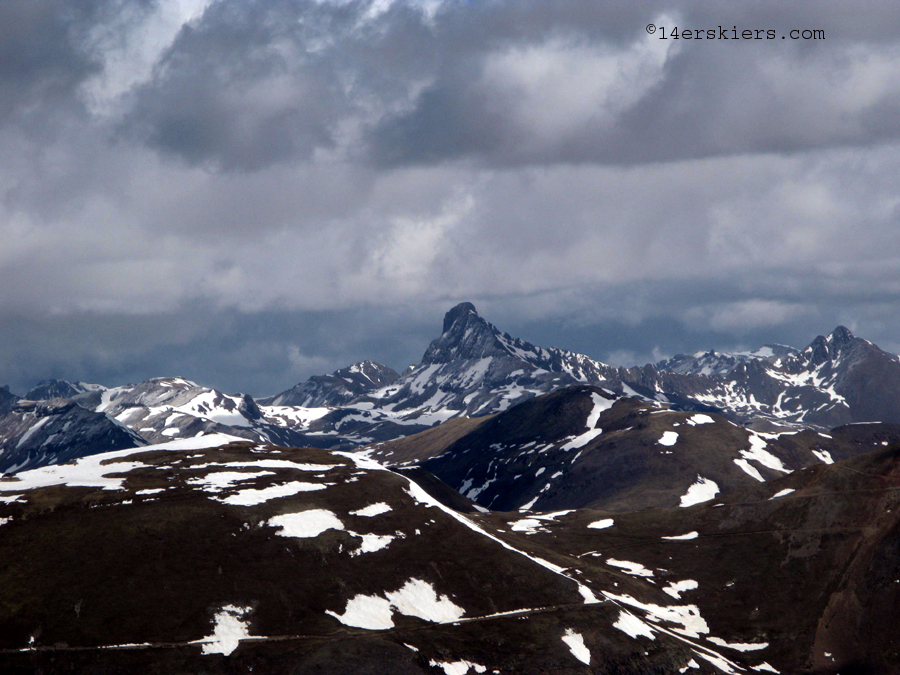 Brittany in Patriot Couloir:

Jarrett, same line: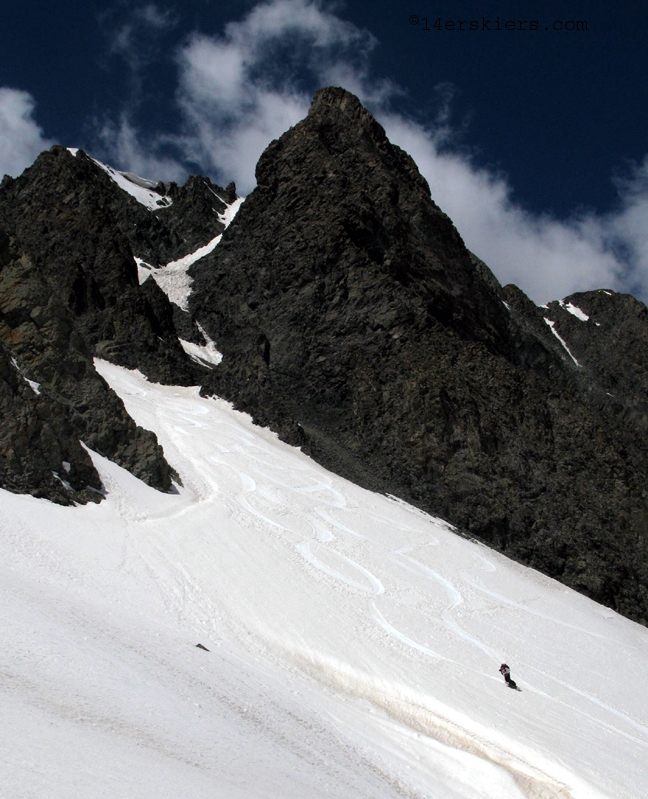 Next up, Victory Couloir, which was a fun one since it featured a spiderweb of different line choices.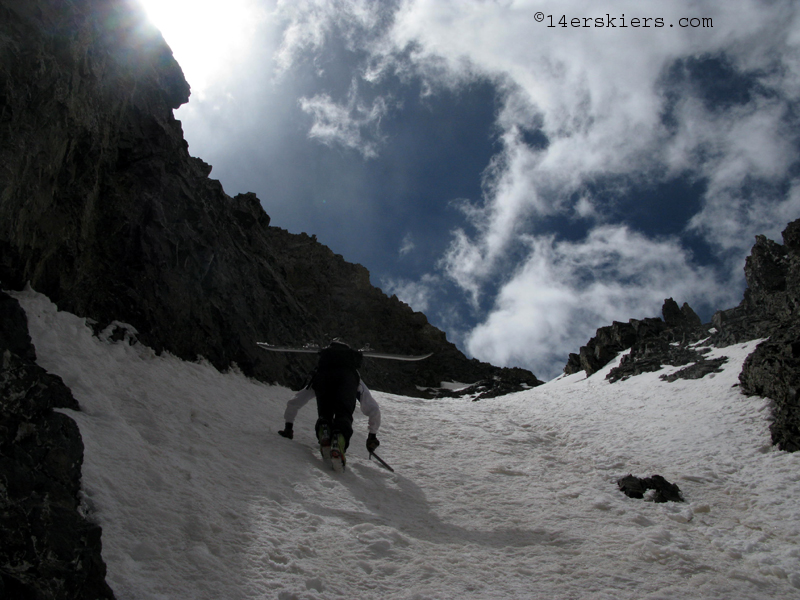 I've made a date with this pinner couloir next spring: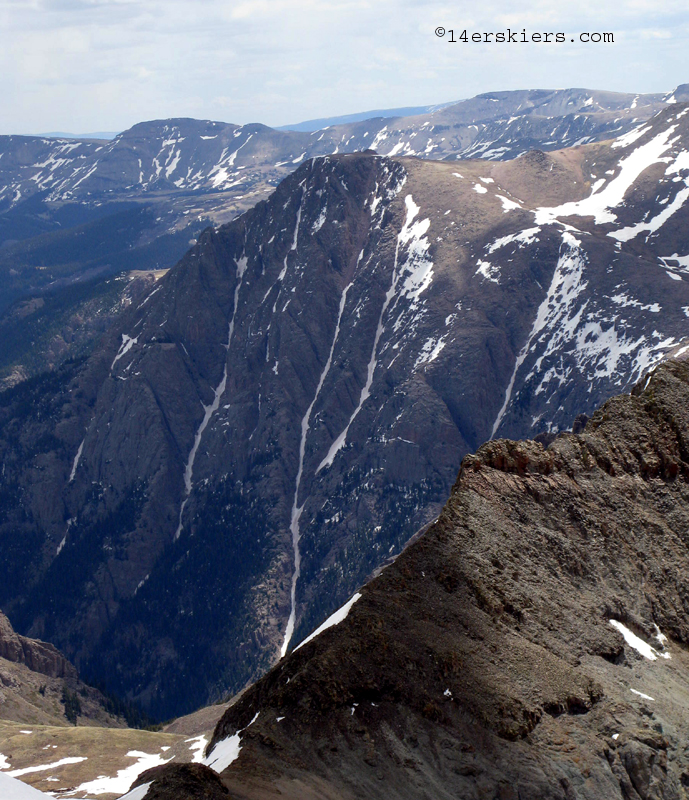 Mike goes for Victory: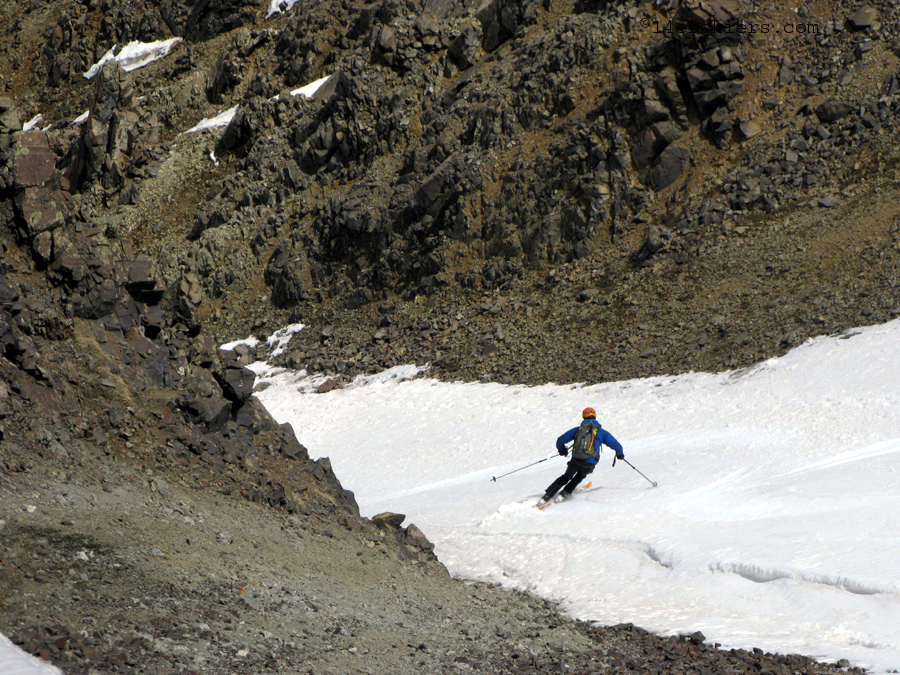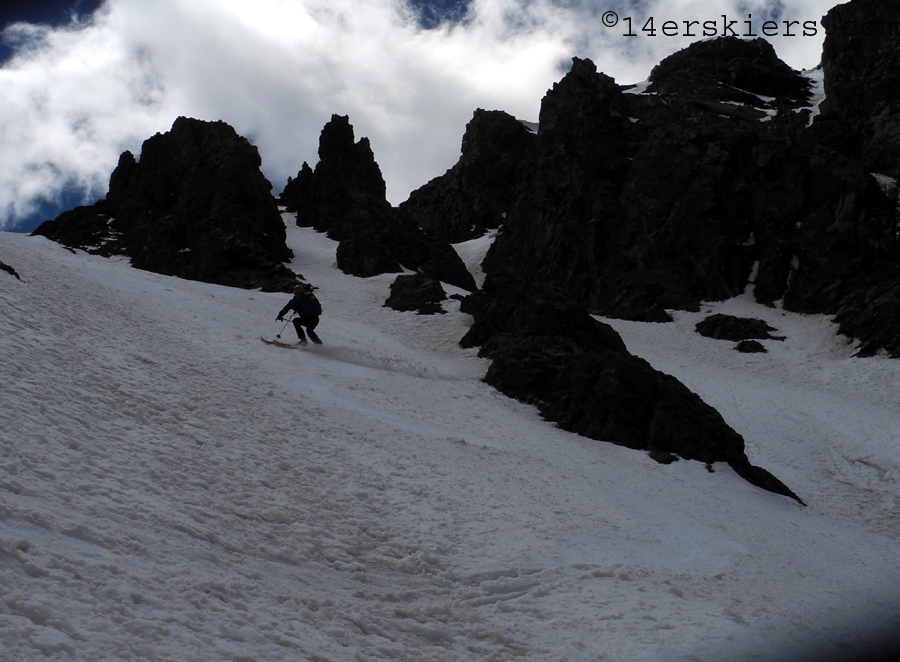 Frank: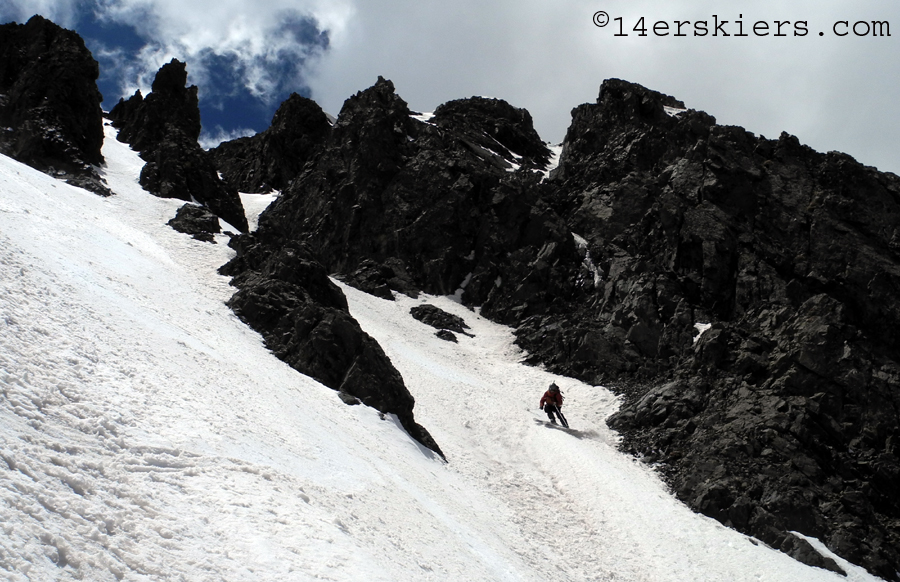 Victory for Jarrett: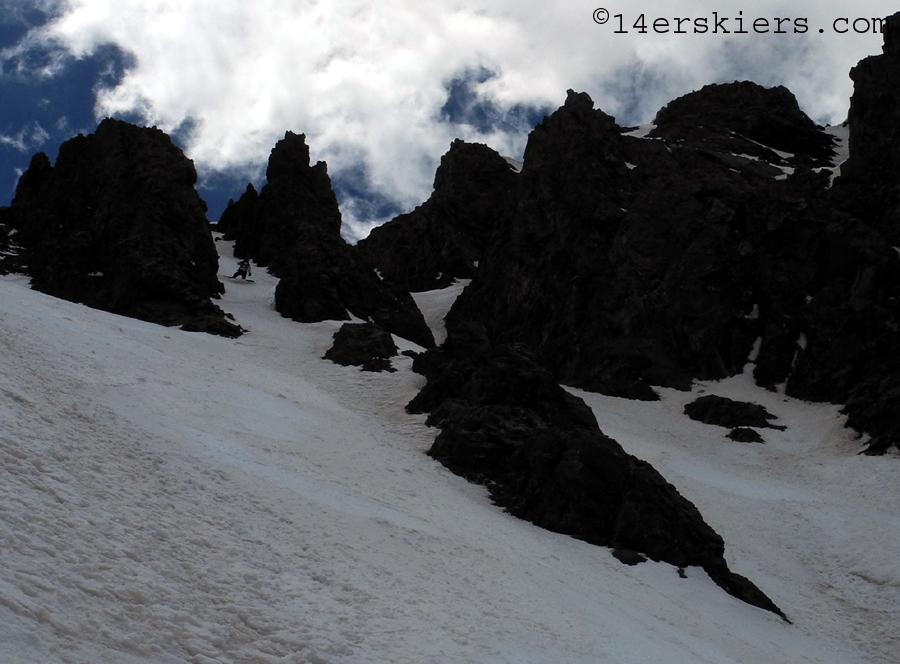 Ski-eye view from the top of Victory: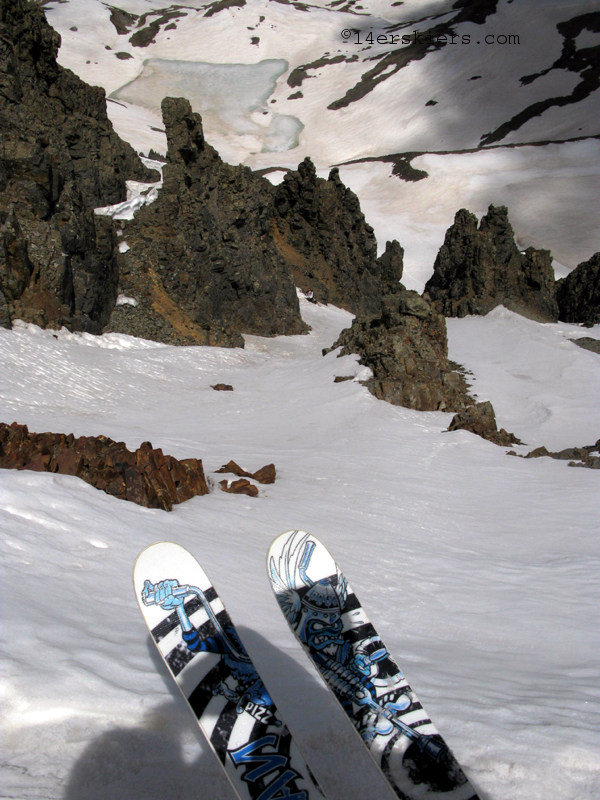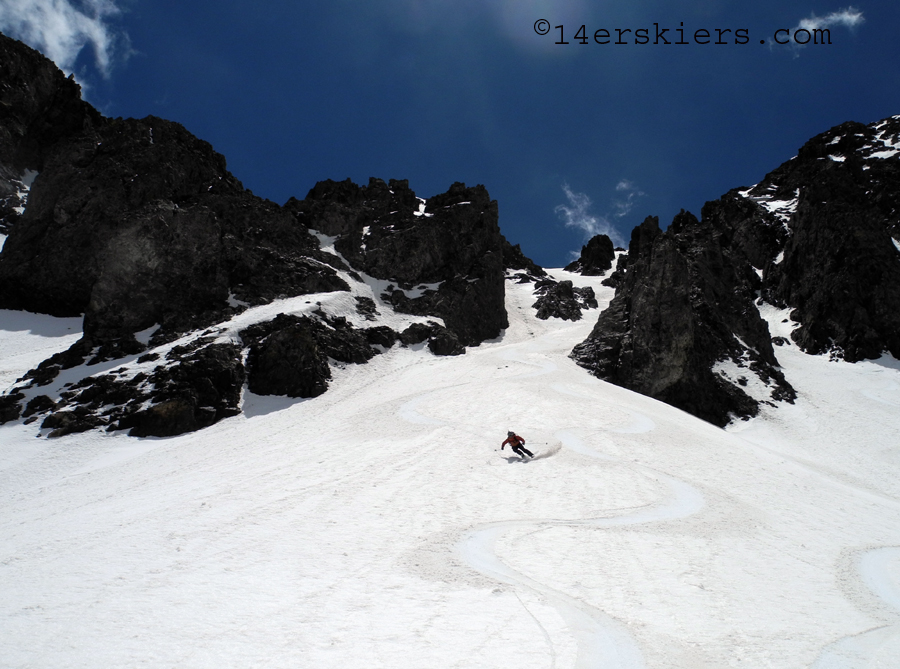 Brittany in Victory: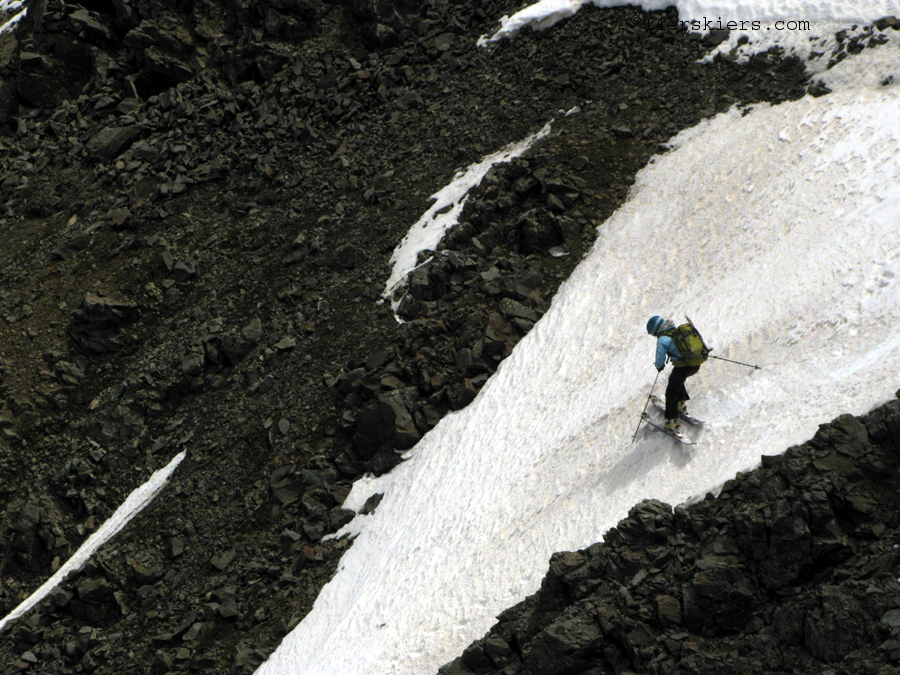 Next up was Independence, with a ready-made bootpack from a previous group. Frank:

Mike: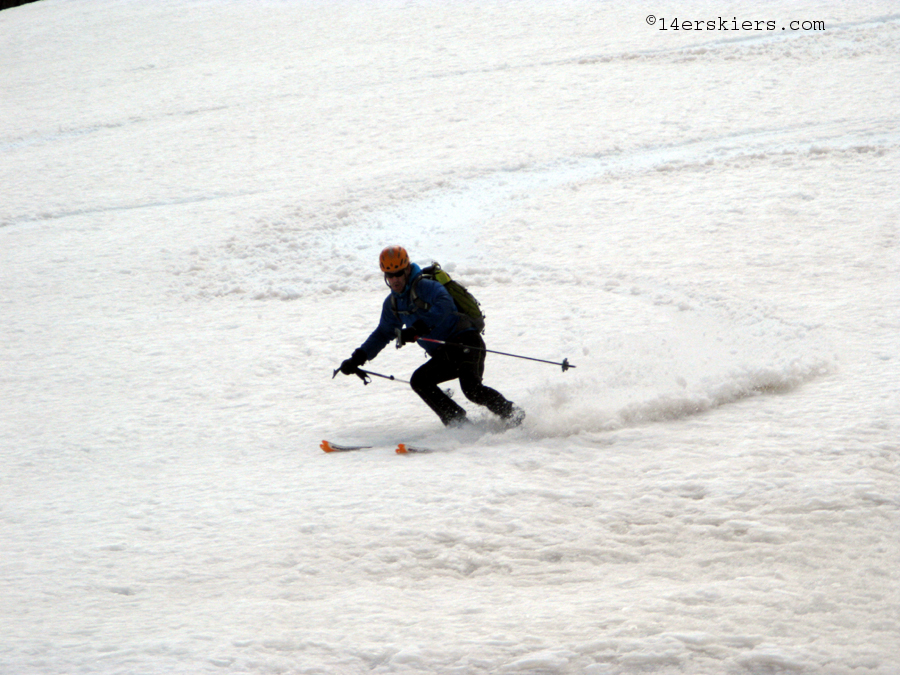 Brittany: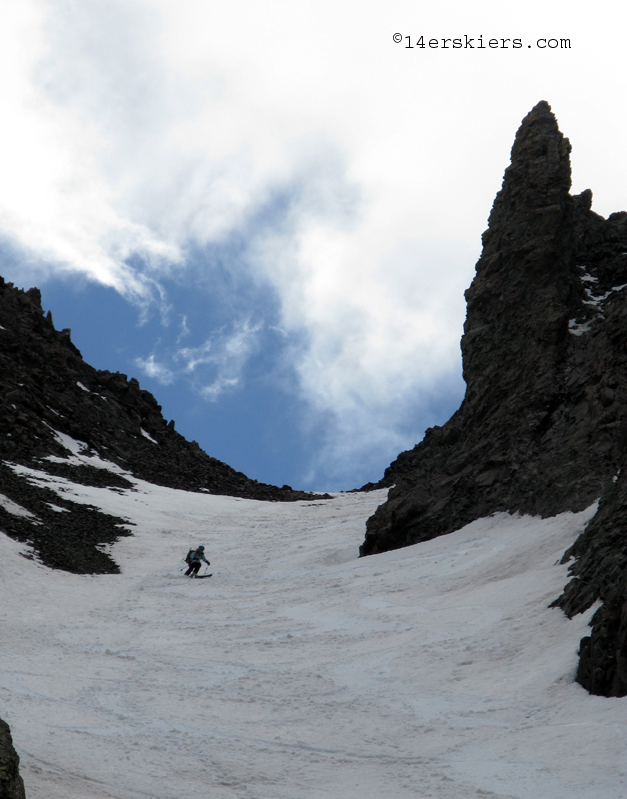 Jarrett: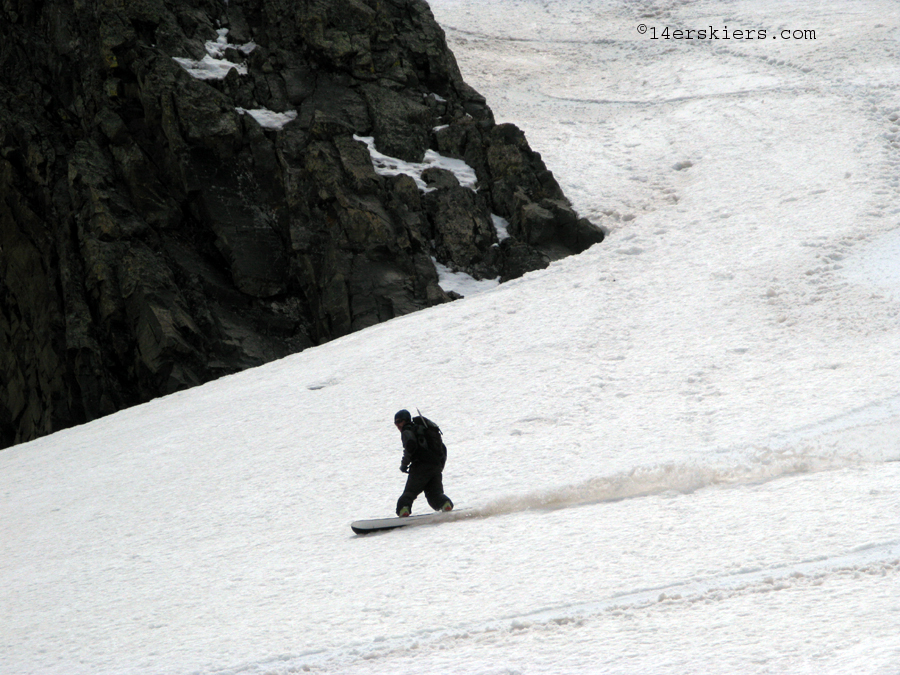 We were starting to get tired, but since we'd been saving the bast for last, it was easy to motivate for the day's fourth couloir, the Traitor. It was a bit steeper than the others: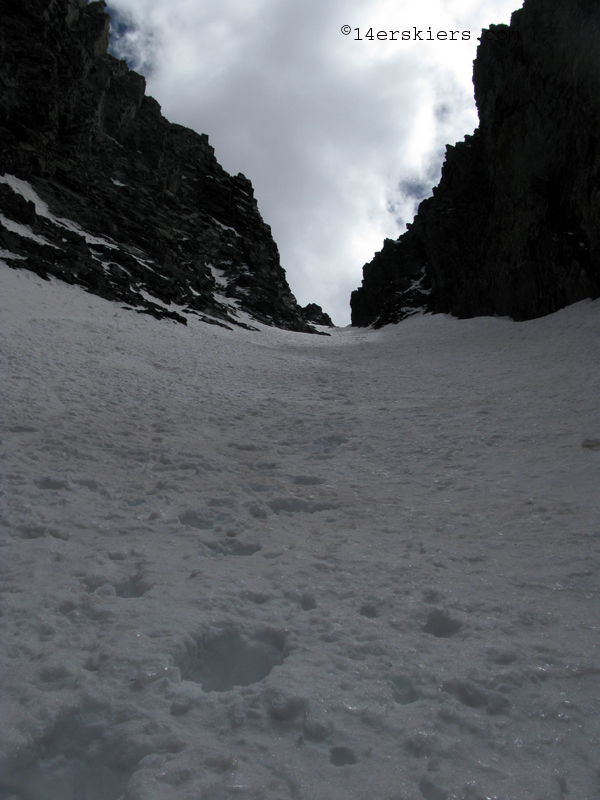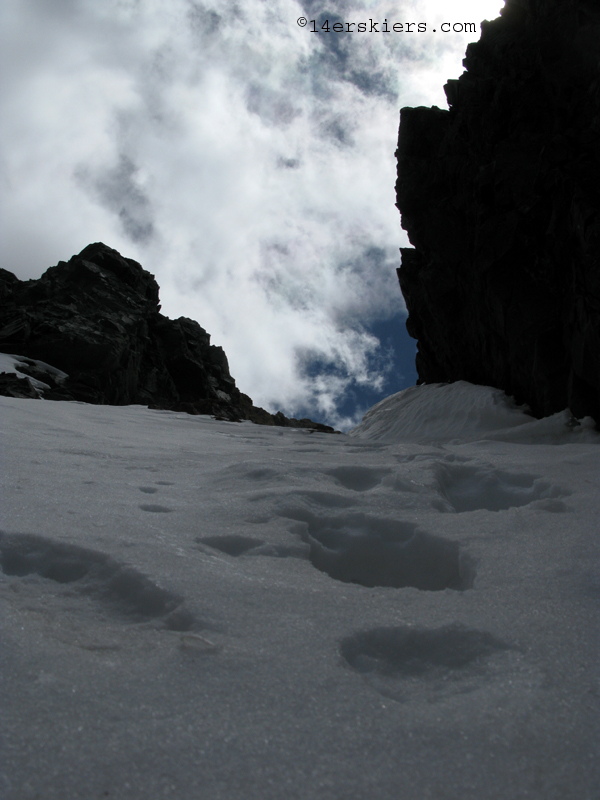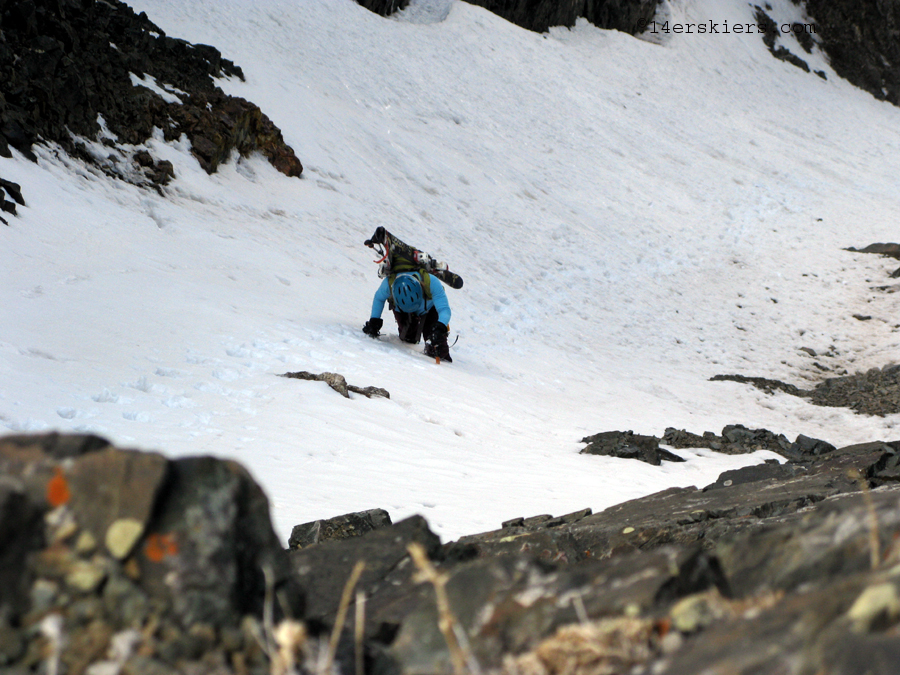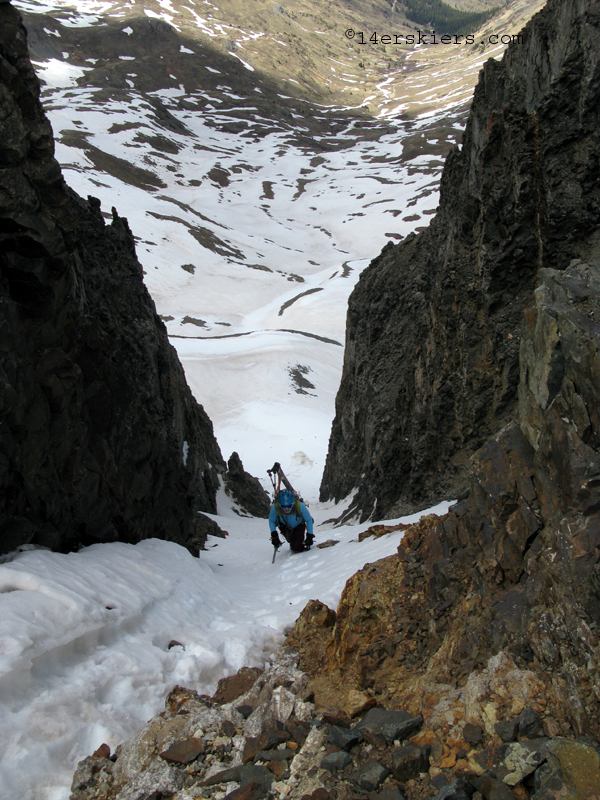 Brittany makes a 50+ degree turn in the top of Traitor: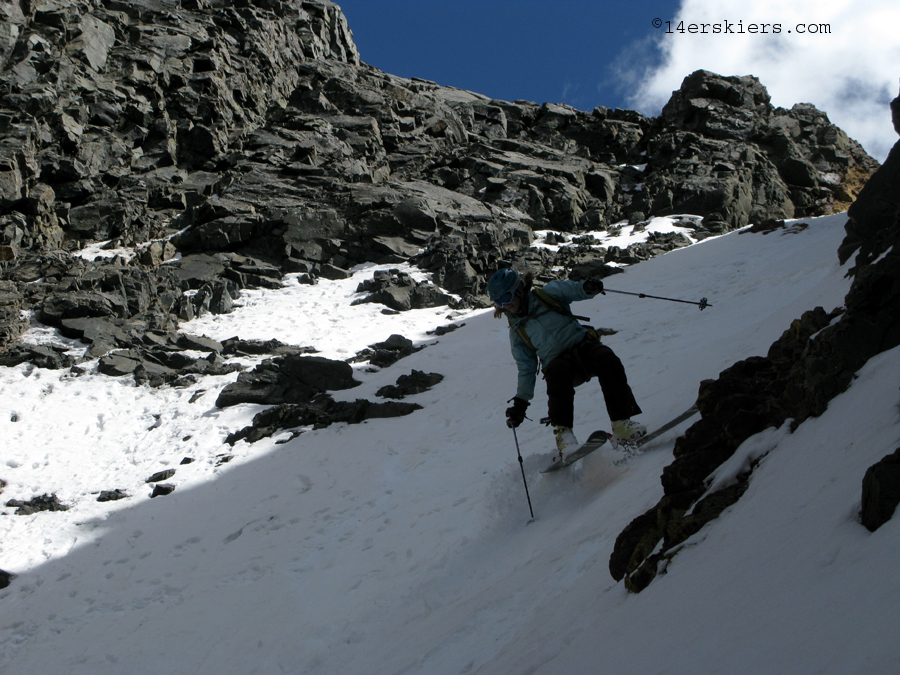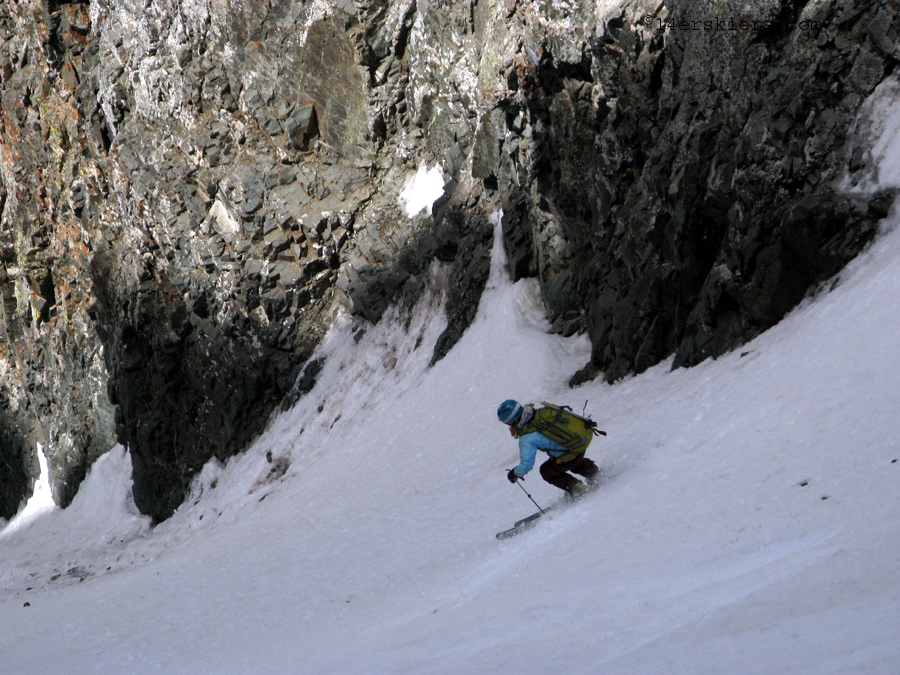 Concentrate Mike, concentrate: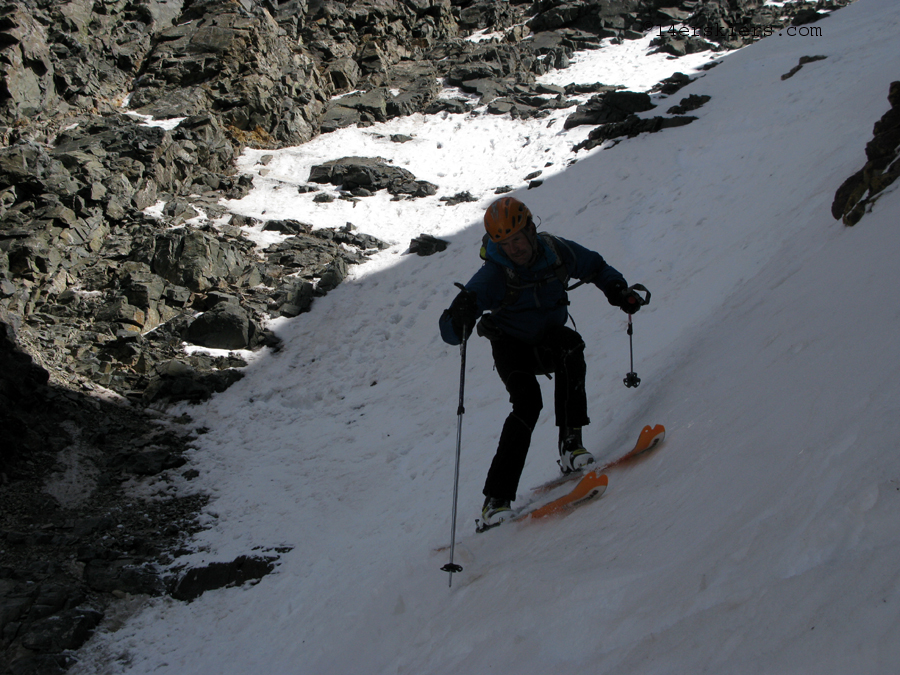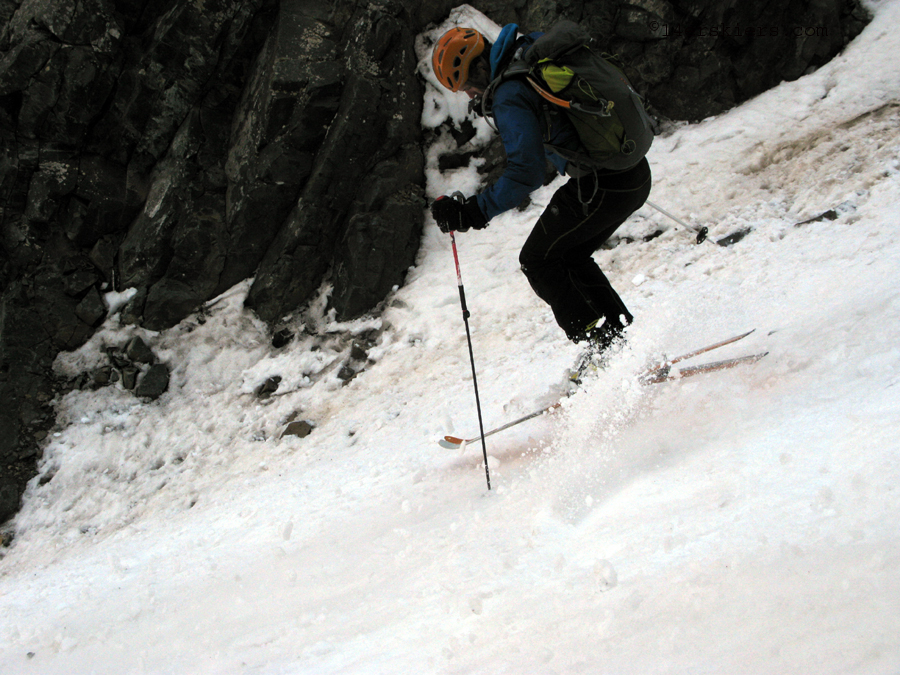 Jarrett insists that it's impossible to get a good looking shot on his heelside. I'm not so sure.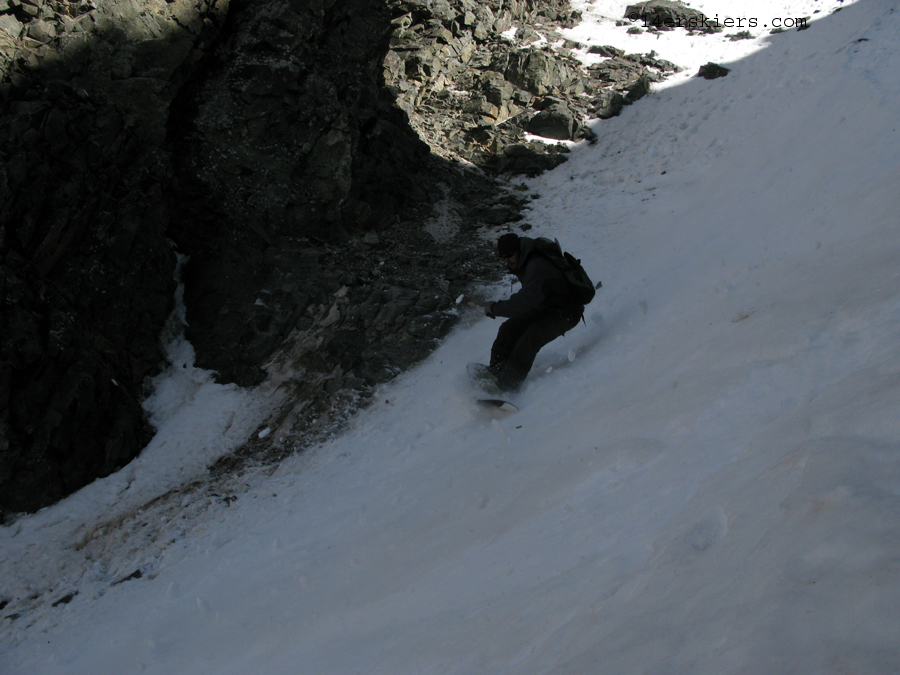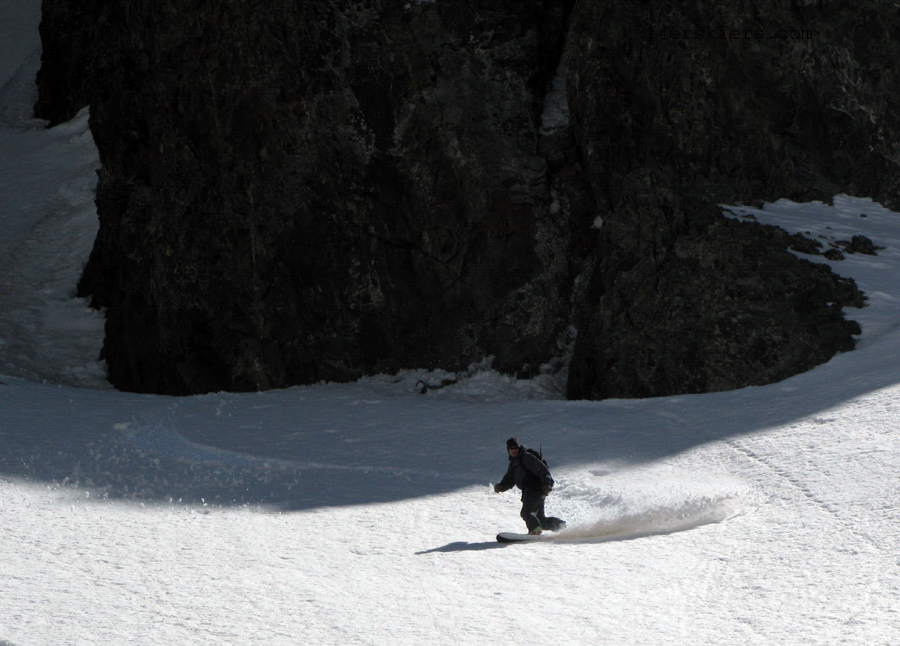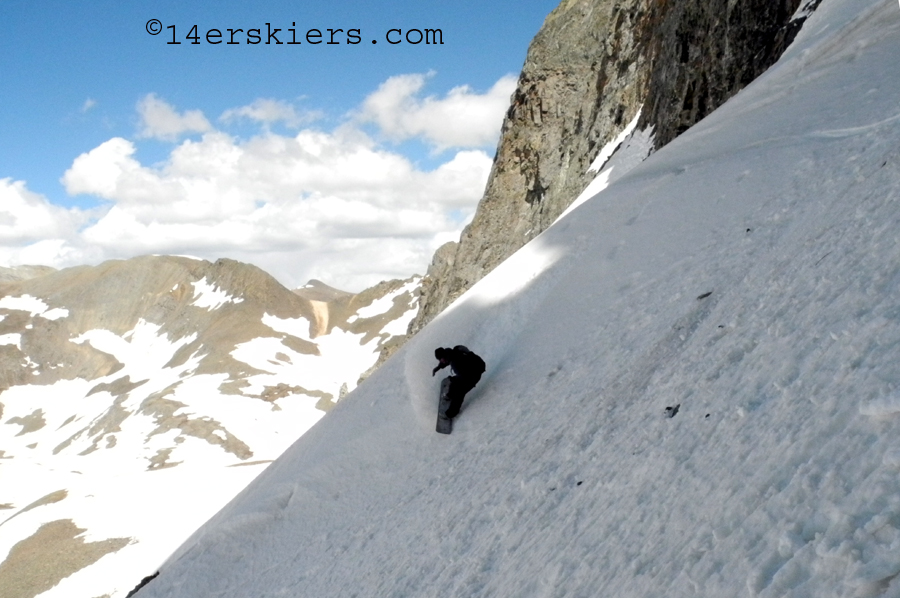 Frank: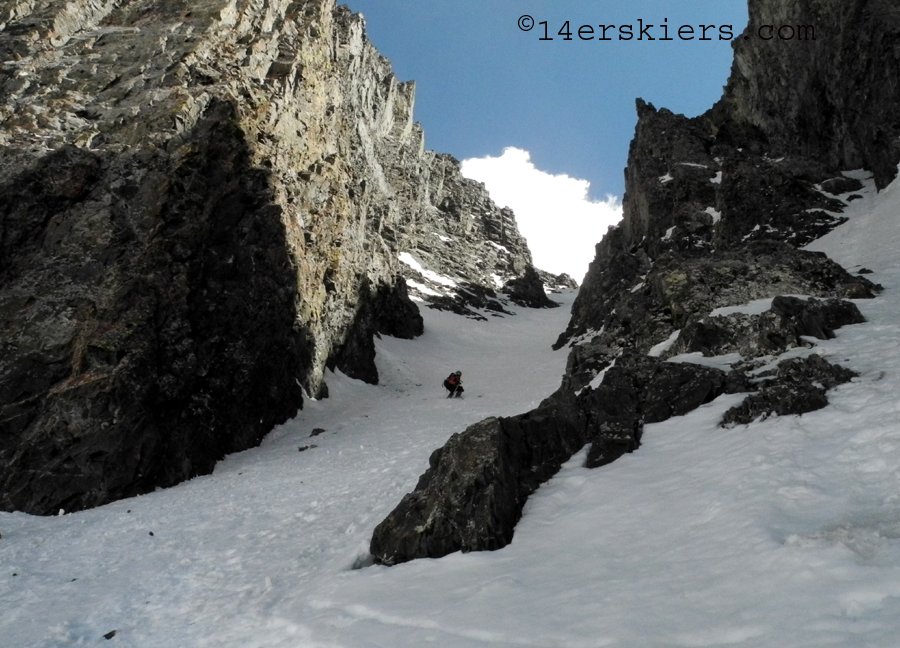 Time to ride the basin down to the car (Frank):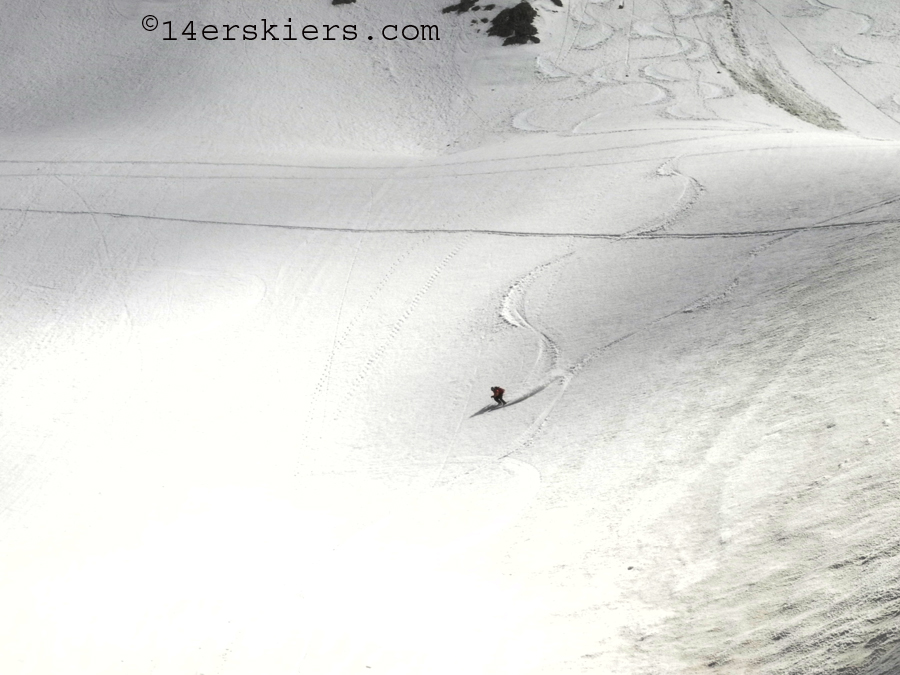 Brittany: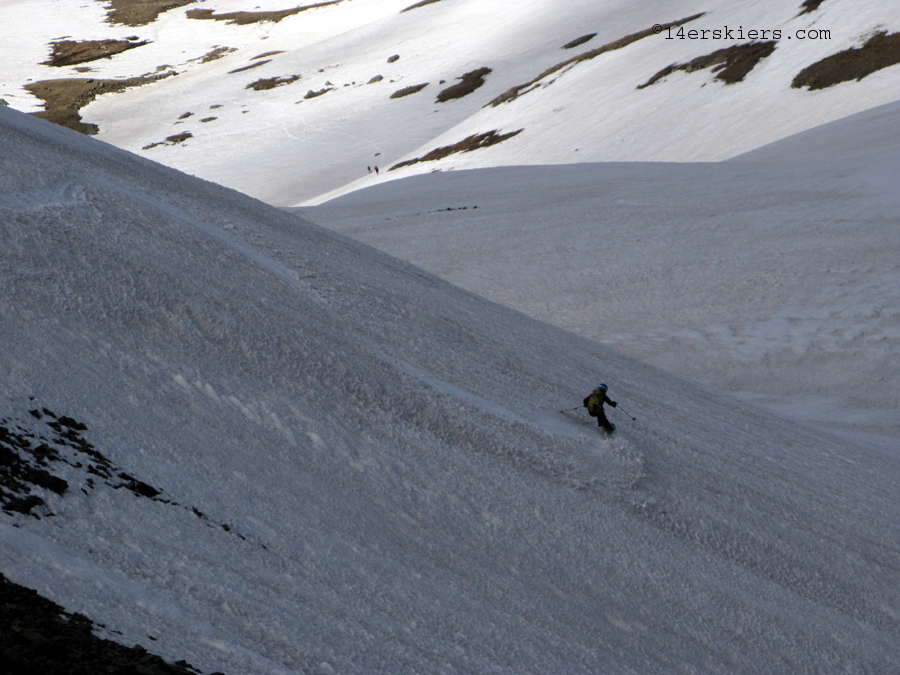 Too many photos? maybe, but we packed four couloirs into one day, so I decided we needed to fit all the photos into one entry as well. We're still finding great snow- no runnels, no suncups, and very little dirty snow. The Traitor couloir even had what I would describe as "mature powder" stashed away in the steeps. It's good out there, and we're looking forward to next weekend.
___________________________________________________________________________________________________________________________
Check out some of these great deals at one of our new sponsors:

Frank
loves snow more than anything... except his wife.  He ensures his food is digested properly by chewing it 32 times before swallowing.He is a full-time real estate agent serving
Crested Butte and Gunnison
and would be honored to send you his
monthly newsletter.
Latest posts by Frank Konsella (see all)