Another Colorado Trail TR: From Copper Mountain to Searle Pass and Kokomo Pass 9.25.11
(Last Updated On: July 31, 2017)
Brittany and I once again found ourselves on the front range, this time for the premiere of AE Films' movie, "Facets of Winter". We wanted to get in another quality alpine ride before the snow falls somewhere on the way back, and we chose yet another stretch of the CT in Summit County, this time taking off from Copper Mountain toward Searle Pass and on to Kokomo Pass. This stretch is sometimes done as a shuttle between Copper and Camp Hale of 10th Mountain Division fame, but we got the impression that the ride was better as an out and back anyway, not to mention we would be able to avoid a lengthy shuttle. My buddy Mark Walter drove up from Denver to ride with us as well.
We started our ride just past the Conoco gas station at a parking area on the paved Summit-Vail bike path. From there we got on a two-track heading South until it intersected the Colorado Trail, which then skirted the Copper Mountain Parking lots and finally crossed Highway 91 near the East side of the ski area. This section was entirely unnecessary, since the trail climbs and then descends to the ski area base, but it was a pretty good section of trail in this direction and I'd probably do it again (although Brittany had the right idea on the way back- going straight to the parking lot through the base area).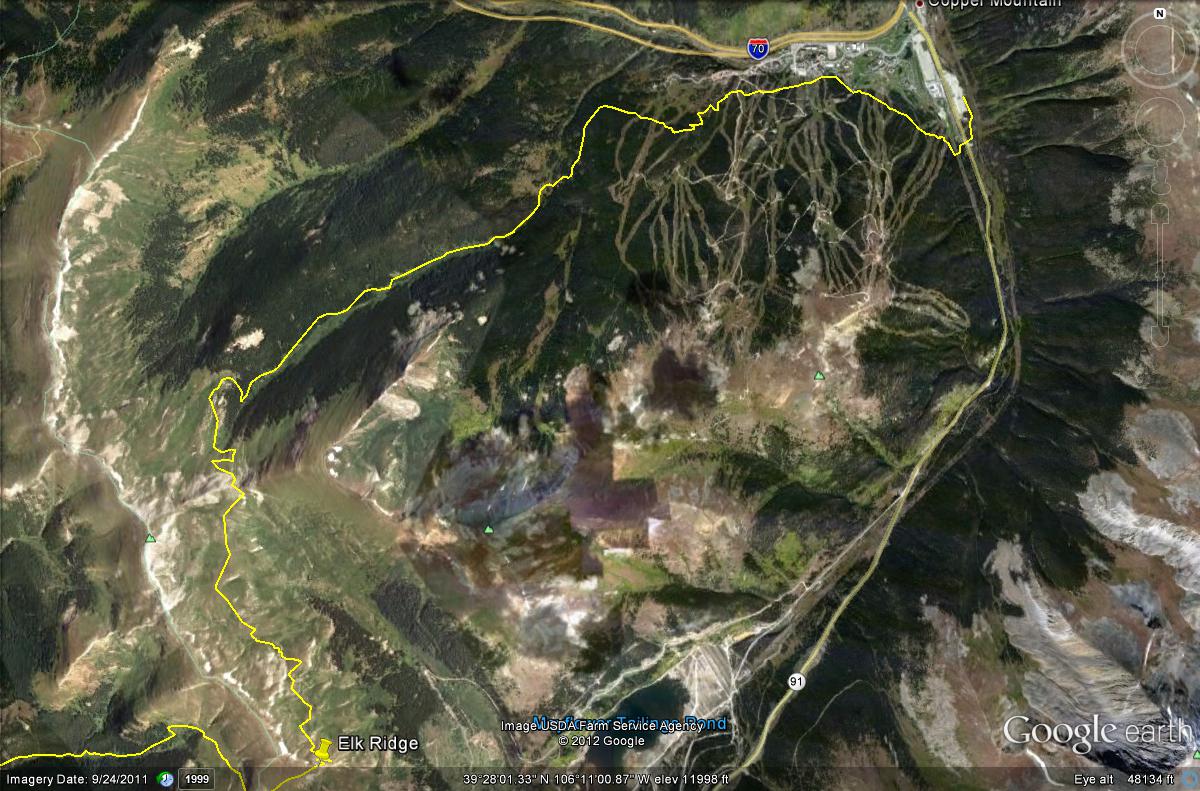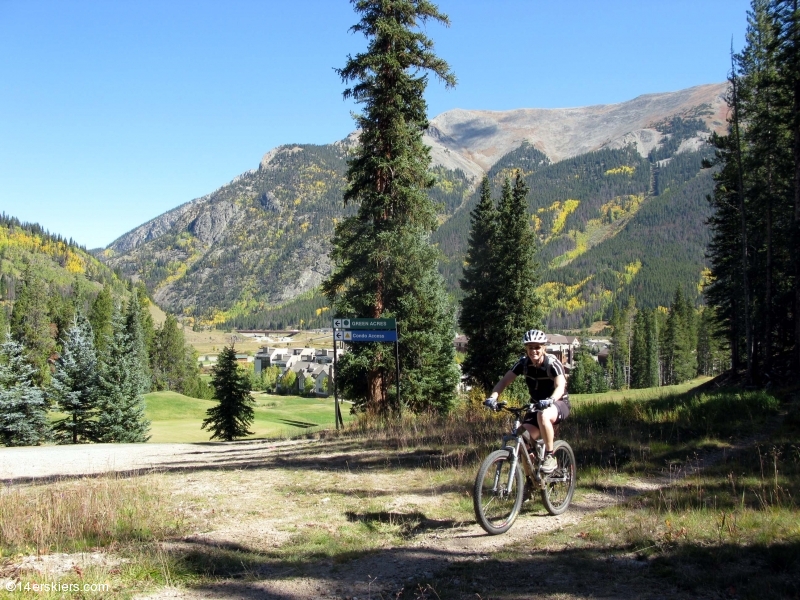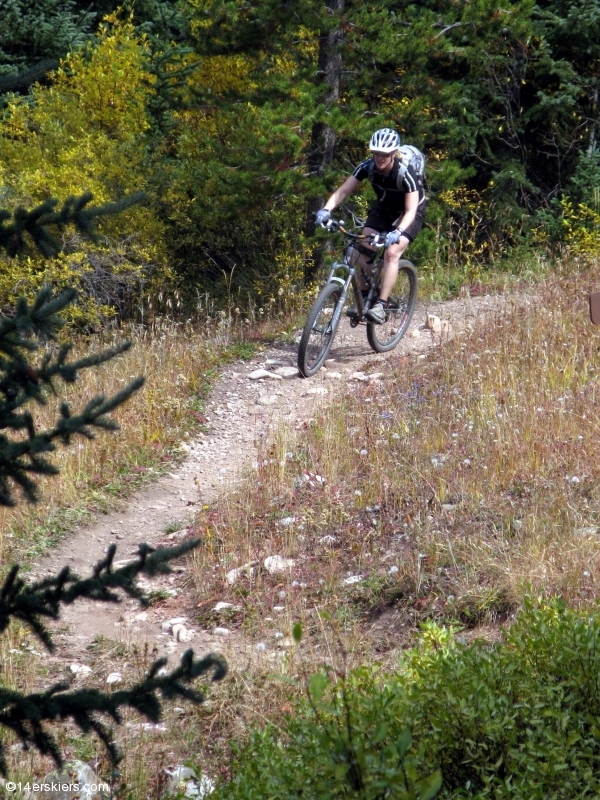 As with most other sections of the Colorado Trail, the trail was well-marked and well-maintained and the climbing was fairly gradual. This section (closest to Copper) is notorious for heavy horse traffic, but it sounds like the horseback riding tours are generally routed away from the CT these days.
While generally technically easy, the CT on this section does have its moments, as on this log bridge: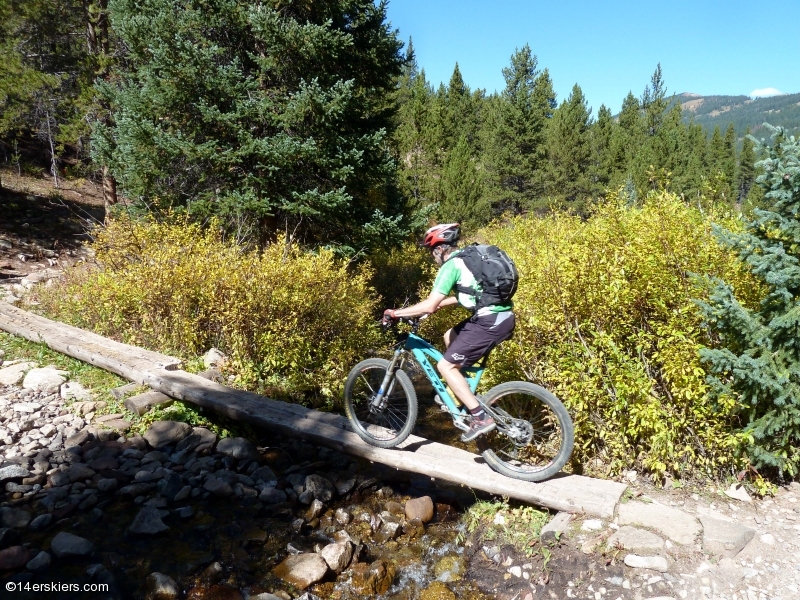 Or this rock armoring: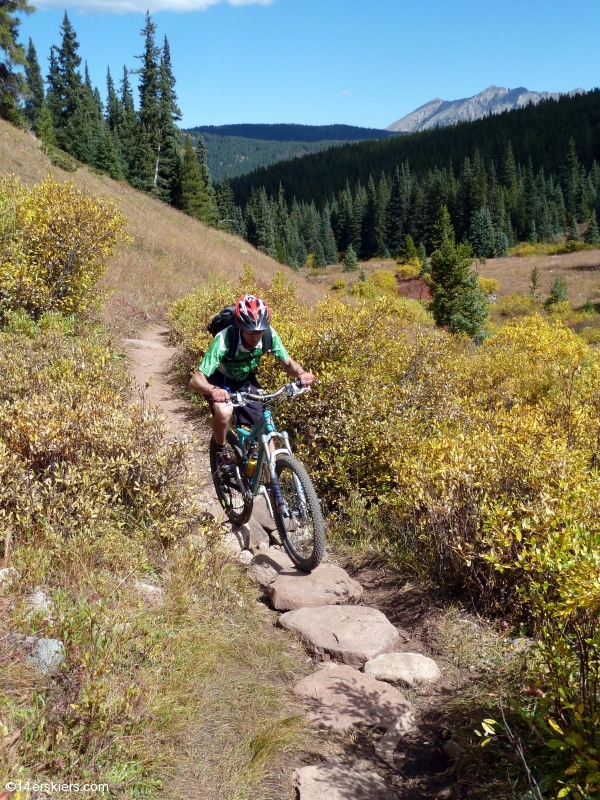 Once we got into the sub-alpine, the scenery levels quickly spiked: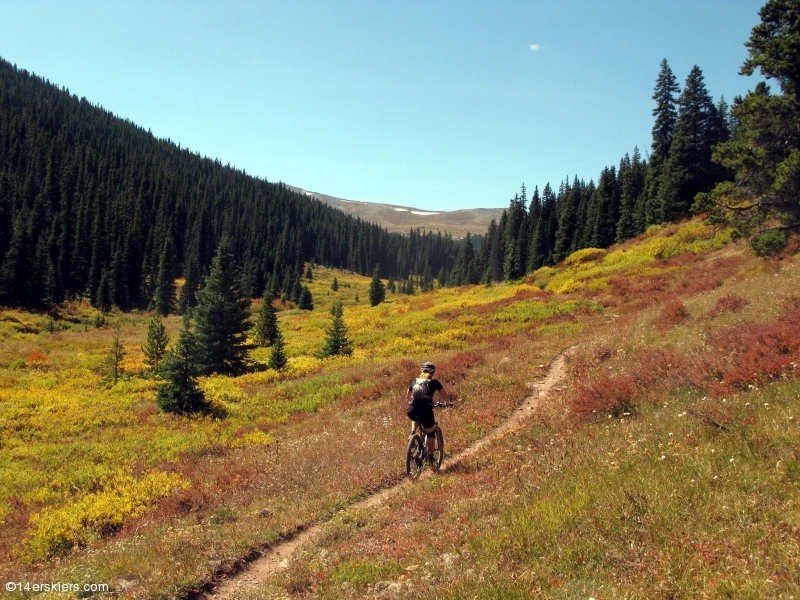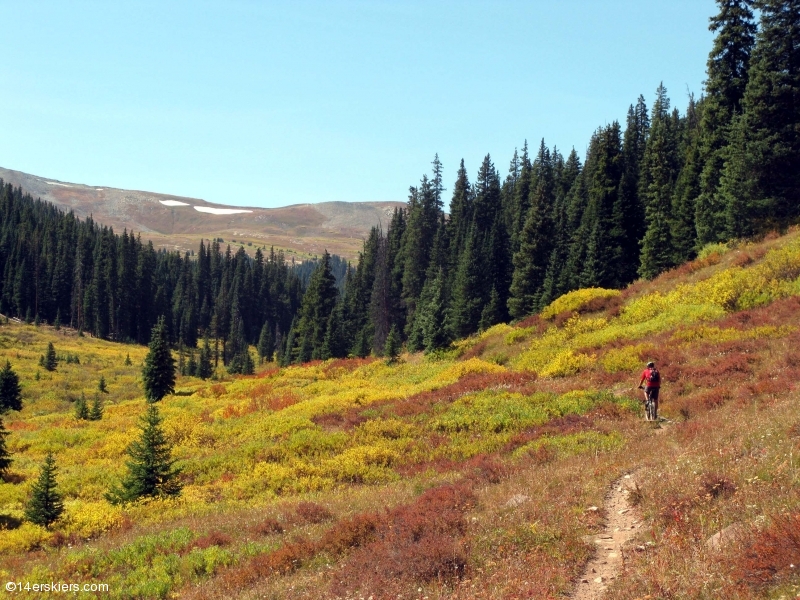 Janet's cabin in in this high group of trees, and our first goal of the day, Searle Pass, is easily visible beyond: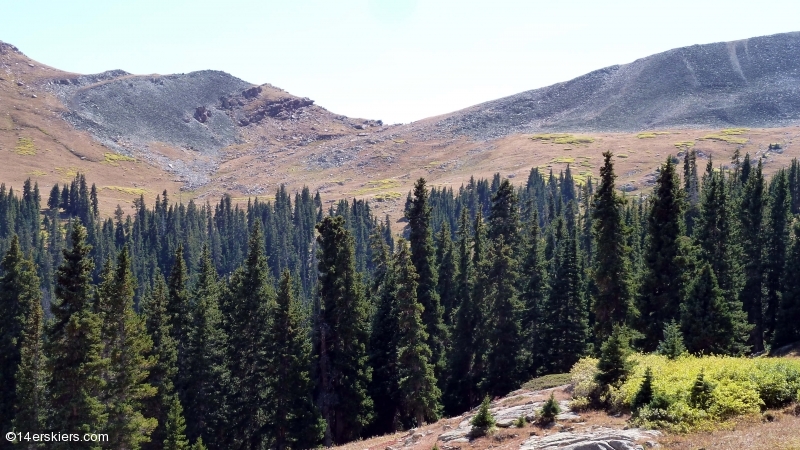 We had a great view from the pass of the "fun part" of the Mosquito Range- peaks like Arkansas, Pacific, and Drift which are all peaks with nice steep ski descents.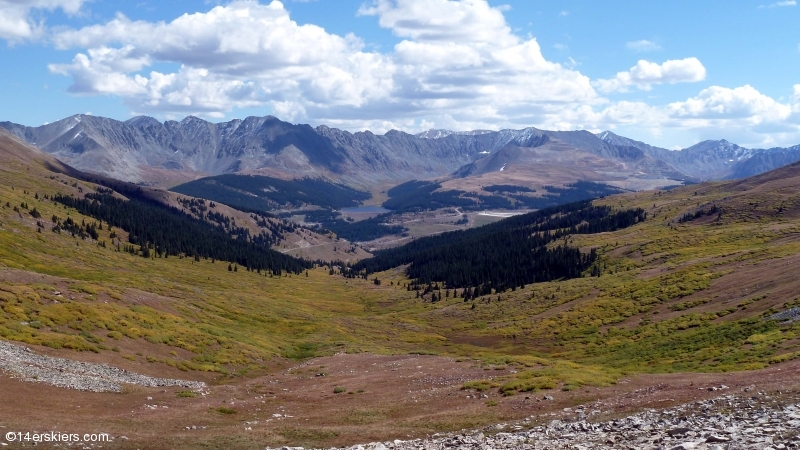 Meanwhile, this marmot checked us out while we checked out the view in the other direction- the Gore Range.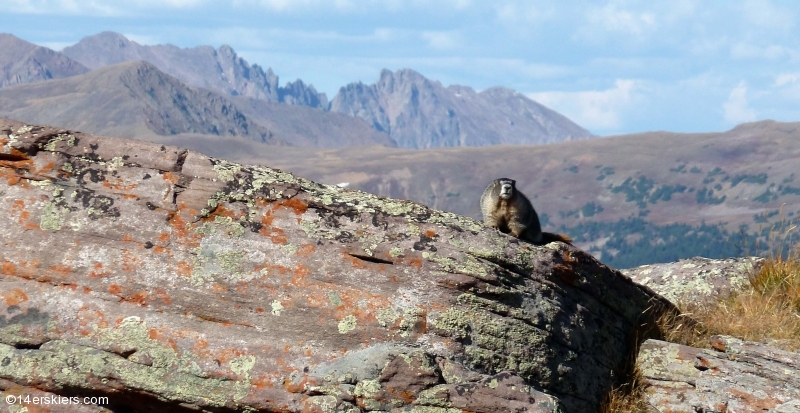 The CT stays high from Searle Pass towards Kokomo and I can never really get enough of this type of riding (Mark):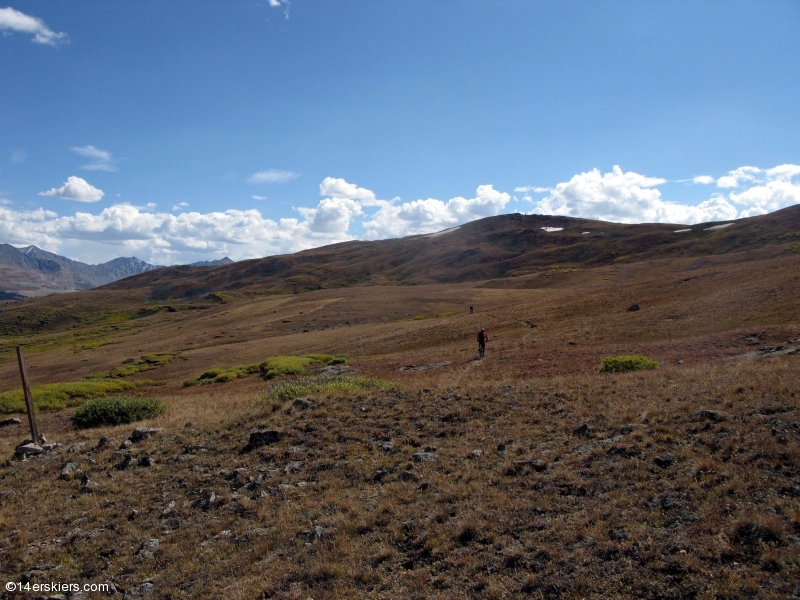 Brittany: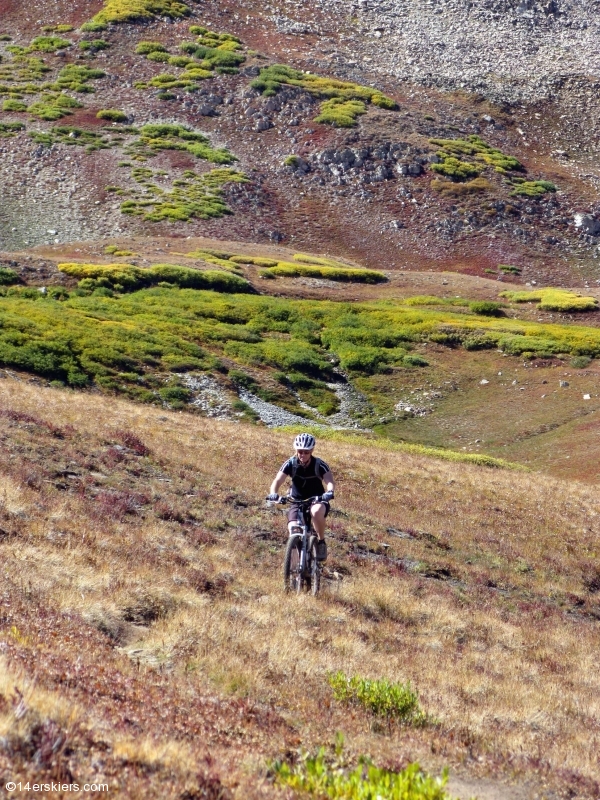 Mark and Brittany decided to start heading back before Kokomo Pass, but there was another rider just ahead so I decided to continue on for another 15 minutes or so to the high point. In this direction, the CT actually reaches a high point and then descends to Kokomo Pass from there. Kokomo: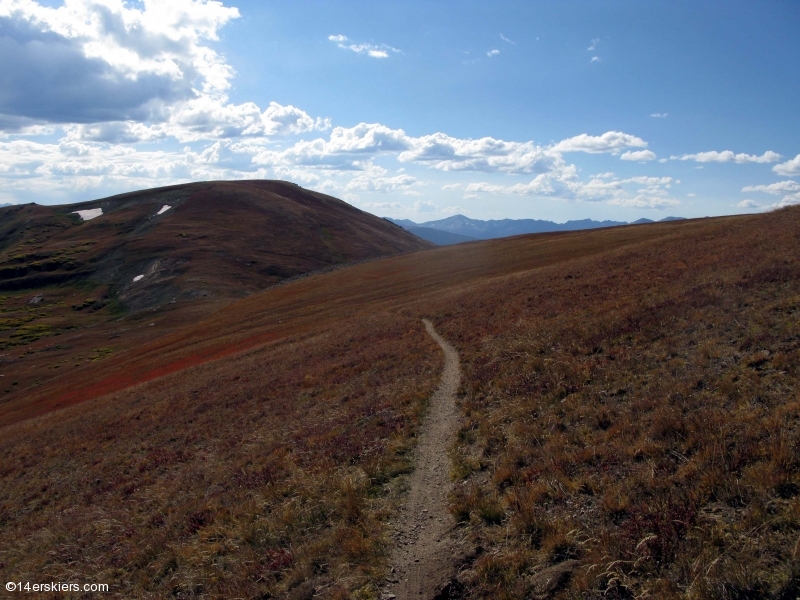 The other rider, Clay, also turned around here and together we headed back to catch up with Mark and Brittany. Meanwhile, Brittany took this shot of Mark descending the difficult terrain near Searle Pass.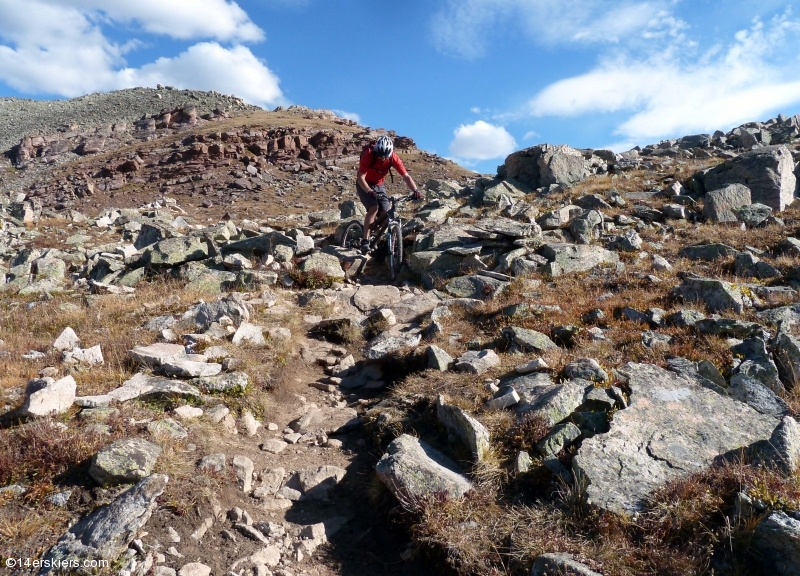 Brittany: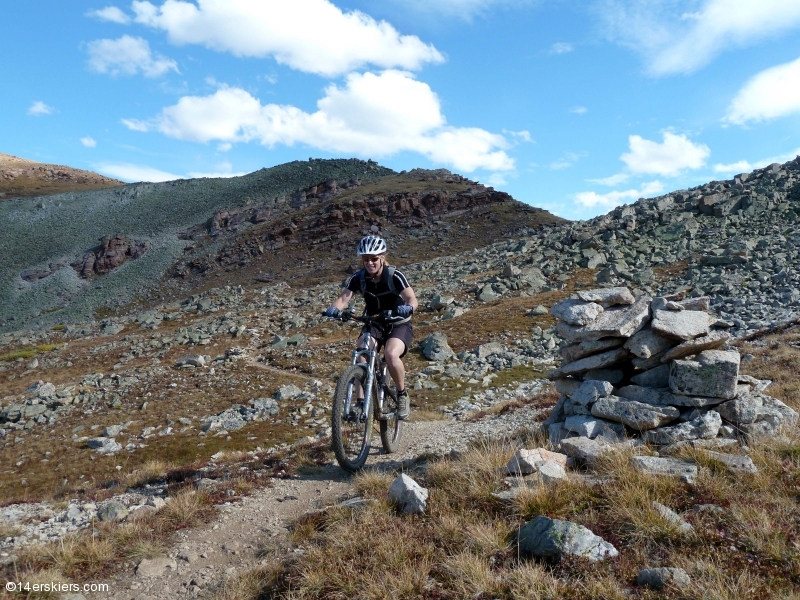 Mark heading downvalley. 10 mile canyon can barely be discerned far off in the distance (it's a big, long downhill):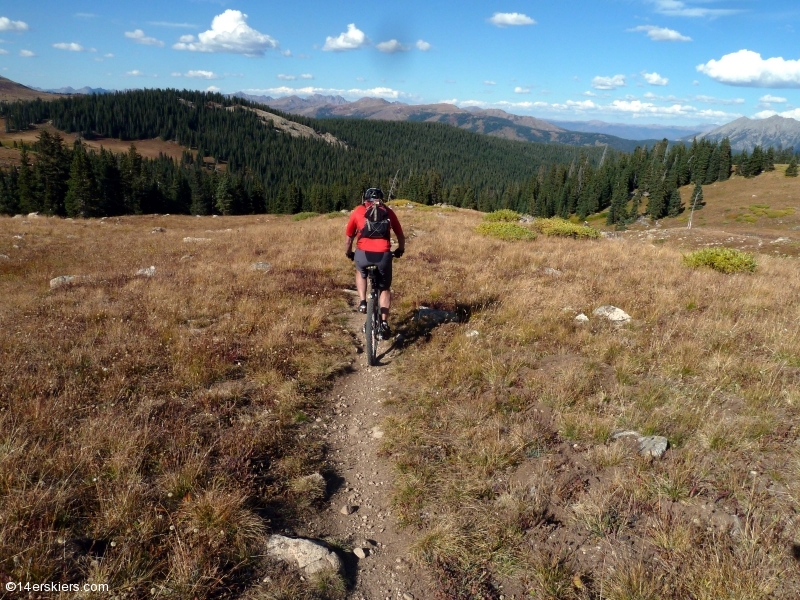 The trail twists and turns and is incredibly playful with lots of rock and roots to keep a rider smiling. In short, we all agreed that this was the finest ride any of us had done within a couple of hours of Denver. Brittany riding: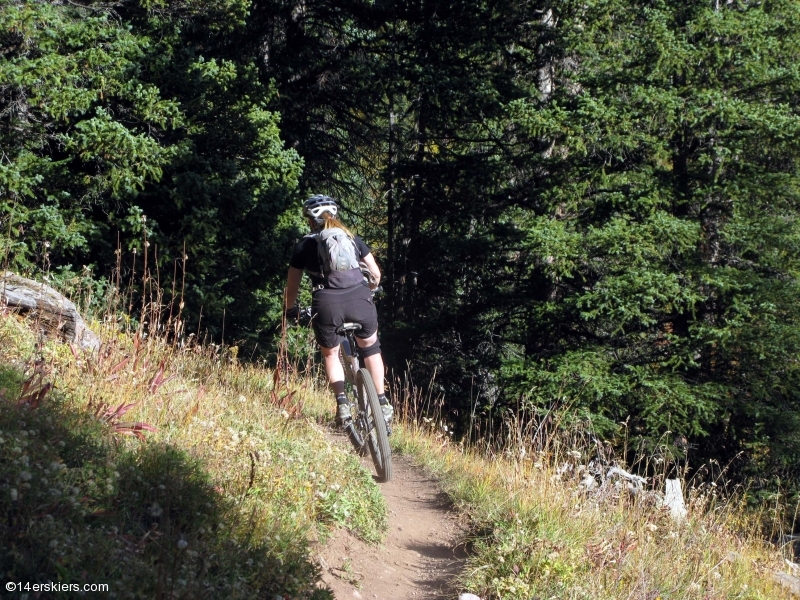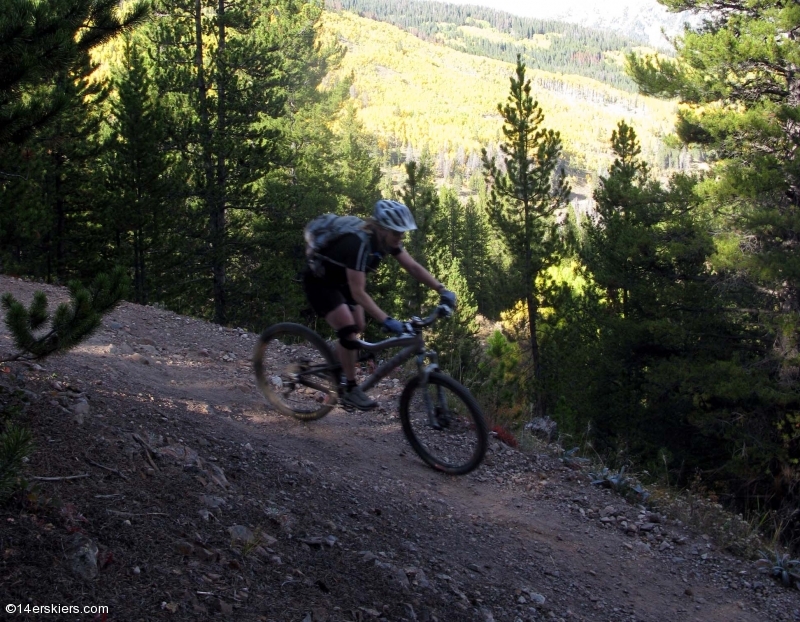 Once we re-entered the ski area, we encountered an obstacle none of us are likely to ever encounter again. Work crews were stringing up a new cable on a ski lift, which meant we actually rode over a moving cable. I have to admit it was a little bit freaky. Two thumbs up on this one, give it a go if you're in the area. Ride stats: 28.7 miles, 4hours 10 minutes ride time.
For more information about riding Searle Pass and Kokomo Pass, check out our Colorado Trail Mountain Biking Guide.
Frank
loves snow more than anything... except his wife.  He ensures his food is digested properly by chewing it 32 times before swallowing.He is a full-time real estate agent serving
Crested Butte and Gunnison
and would be honored to send you his
monthly newsletter.
Latest posts by Frank Konsella (see all)
Summary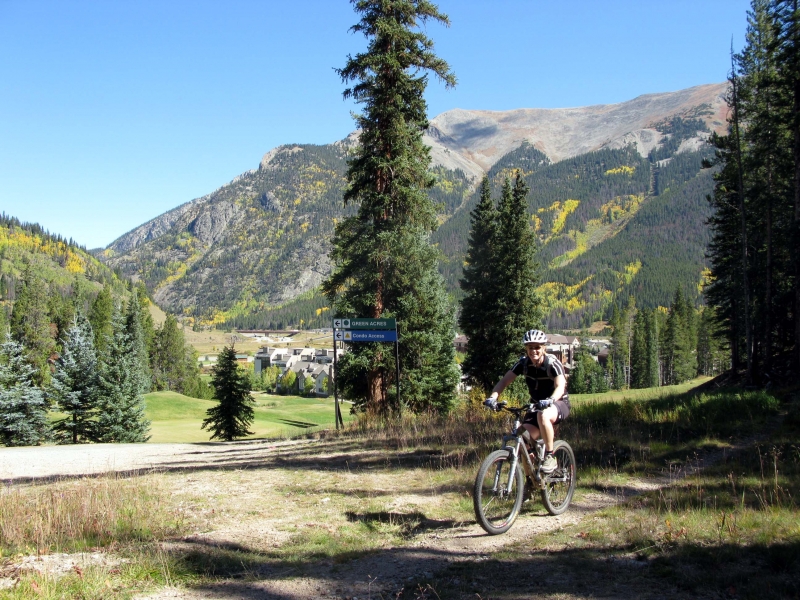 Article Name
Another Colorado Trail TR: From Copper Mountain to Searle Pass and Kokomo Pass
Description
Close to Copper Mountain, the segment of the Colorado Trail that includes Searle Pass and Kokomo Pass makes one really good mountain bike ride!
Author