US Pro Cycling Challenge Stage 1 Pics/Video/Results
(Last Updated On: August 23, 2011)
When it was announced that Crested Butte would host Stage One of the inaugural US Pro Cycling Challenge, the excitement level in town went through the roof. After all, Crested Butte is a town that loves their bikes whether they are of the mountain, road, or townie variety. The stoke level was unbelievably high, and we certainly hope we can host this event again. Crested Butte hasn't hosted an event of this magnitude since the X games were held here in the late 90's.
We spent the day roughly 1km below the finish, at one of the steepest parts of the road leading to the finish in Mount Crested Butte. The key to the situation was having TV access- thanks to some friends who were streaming the event onto a TV outside under a tent. This meant that we were able to see the event as it made its way towards Gunnison as well as the sprint points down in town.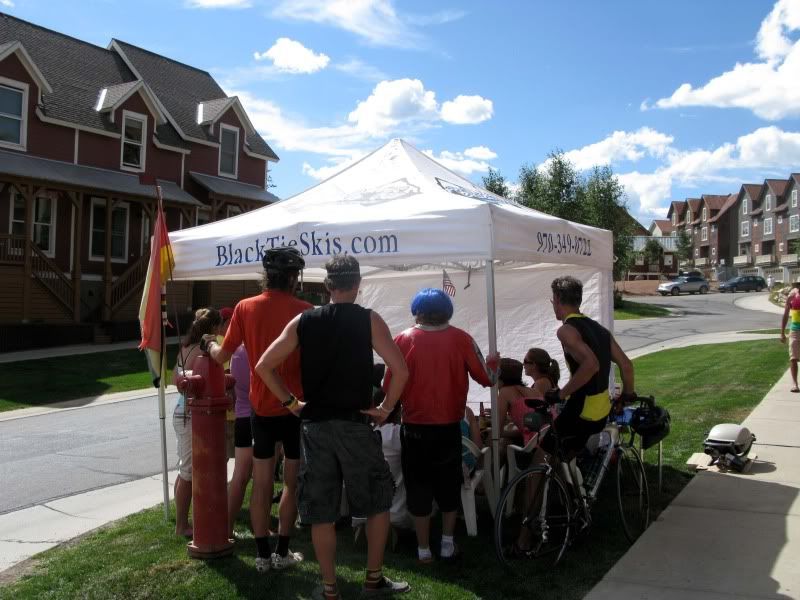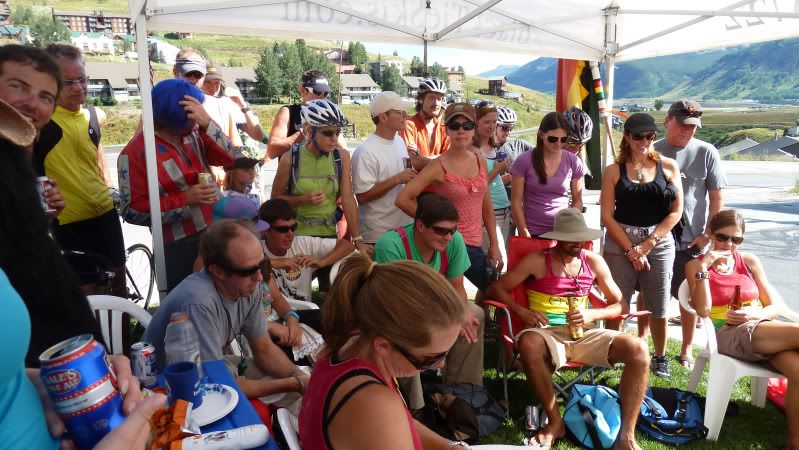 Once the live feed showed Elk Ave downtown, we knew it was time to get ready…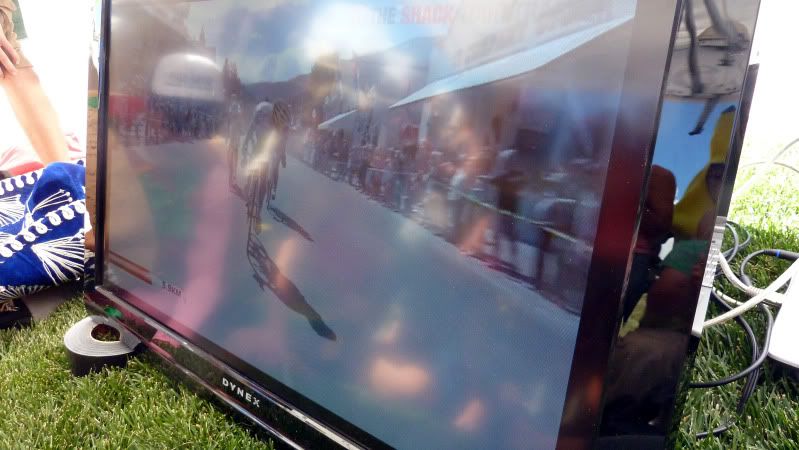 Crested Butte being the town that loves to dress up, possibly more than anything else, was out in full force.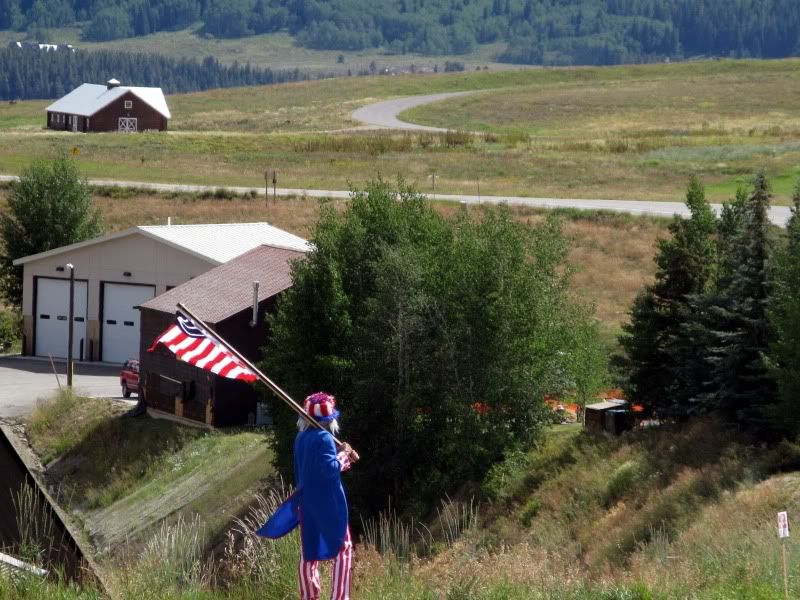 We knew they were getting close as the helicopter came overhead.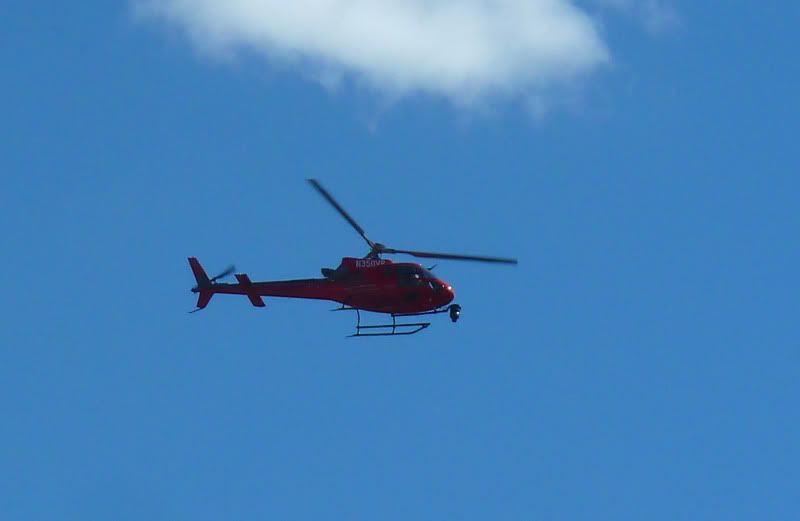 If there was one thing I knew I was going to do, it was run with them (it always looks so fun at the Tour de France). turns out it isn't all that easy to take photos while running, but I did get a good one of Frank Schleck: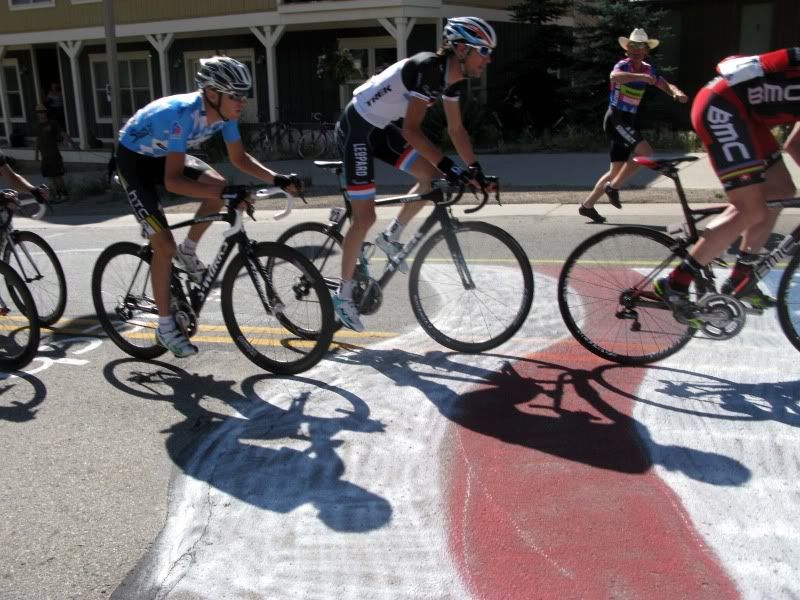 Brittany, meanwhile, was getting better photos. Here's Levi, both the Schlecks, and Cadel: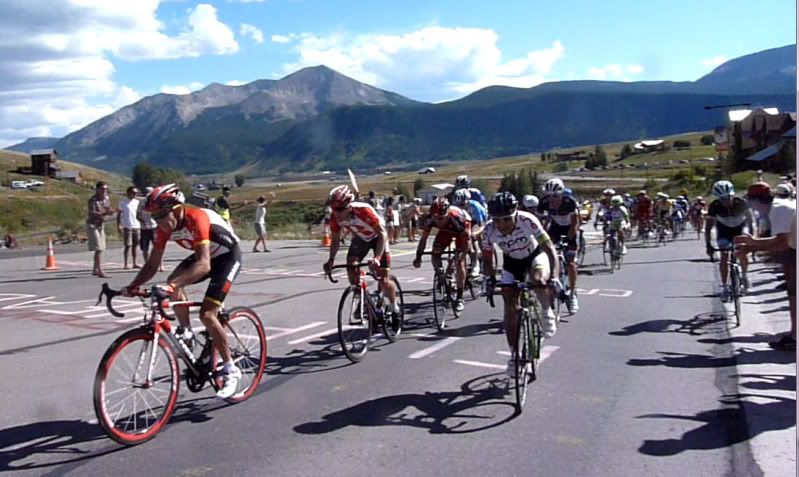 As it turned out, Andy Schleck didn't have much left in the tank at this point, and Levi would take nearly a minute on him from the point this photo was taken- barely over one kilometer. He wasn't the only one- many of the riders looked just plain tired as they passed by. Some of them seemed as genuinely interested in us spectators as we were of them.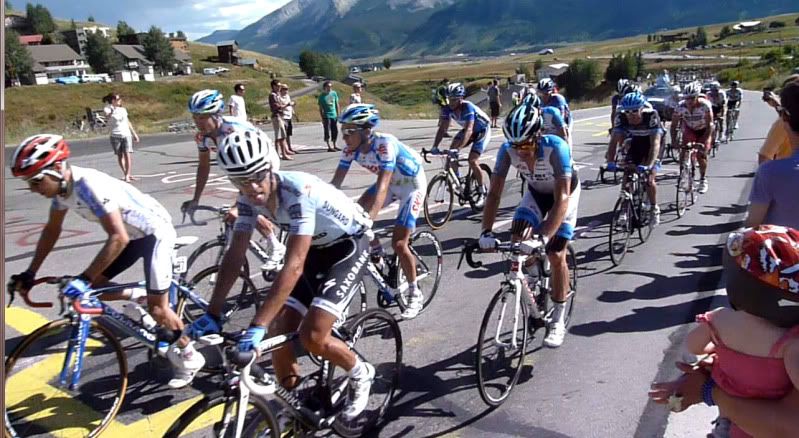 Up the road, we missed the fireworks. Levi Leipheimer took the stage after he accelerated just before the bridge near the Elevation Hotel. While this wasn't a stage that was expected to generate big time gaps, he was able to gain on a number of his rivals, especially Andy Schleck, en route to earning the yellow jersey. In the end, it was pretty amazing to see what had been a tight peloton 3 miles away down in town turn into a long string of broken-up groups stretching over several minutes. This poor racer got the notorious DFL position, long after everyone else had already finished (Way to gut it out and finish though!)

We headed back up the hill, just in time to catch the podium ceremony:

Then we headed home and realized that Phil and Paul, the famous announcers of both this race and the Tour de France, were broadcasting from literally our parking lot. Too bad we didn't see them, however.

Brittany took this great video which shows some of the action. You can actually see Andy Schleck fade off, looking dog-tired:

USA Pro Cycling Challenge rides into Mt. Crested Butte from 14erskiers on Vimeo.
Just how high are the passes in this race? Find out: $125 Off Casio Pathfinder PAG80 Altimeter Watch at Backcountry.com – Buy Now for Only $124.50 – While Supplies Last
Frank
loves snow more than anything... except his wife.  He ensures his food is digested properly by chewing it 32 times before swallowing.He is a full-time real estate agent serving
Crested Butte and Gunnison
and would be honored to send you his
monthly newsletter.
Latest posts by Frank Konsella (see all)