Jenkins Mountain 13,432′ 6.12.11
(Last Updated On: June 24, 2011)
Jenkins Mountain is the westernmost summit along the ridge of peaks looming North above Taylor Park. The peak is named for James Jenkins, a miner who founded the mining camp of Pieplant (1896-1910) at the base of the mountain. Years ago a friend of mine observed what appeared to be a nice looking couloir on the North side of the mountain, but the line is generally pretty hidden and Jenkins isn't all that popular, so nobody seemed to have much information on it. Then Google Earth came around, and once again, this line appeared to have a lot of promise. Still, it took another couple of years before Brittany and I finally decided it was time to at least take a look. We were glad we did.
We started off around 10,300′ at the old Pieplant townsite. There are a number of well-preserved buildings in the area, and the well-marked Timberline trail heads straight towards Jenkins from there. Apparently the town was named for a Rhubarb-like plant which grows wild in the area, which local miners made pies out of.

The old mining trail seen above leads straight to treeline on Jenkins, and even after switching to ski boots we made the summit in just under 3 hours. Jenkins is one of those great summits that "connects the dots", geographically speaking. The central Sawatch range couldn't be any clearer from this vantage point- Clear Creek with the ghost towns/ trailheads of Winfield and Vicksburg to the East, 14er La Plata and popular ski peak Sayres just to the North of that, and even the high 13er Grizzly and Lincoln Creek looking close enough to touch. La Plata/ Clear Creek:

Taylor Reservoir:

Castle and Cathedral:

Some exploration near the summit revealed that Jenkins actually has a number of fine couloirs that drop off the North side into Church Basin, so we chose the steepest, cleanest looking one a little bit East of the summit. We dubbed it the "Belltower Couloir", since it drops into Church Basin. Frank: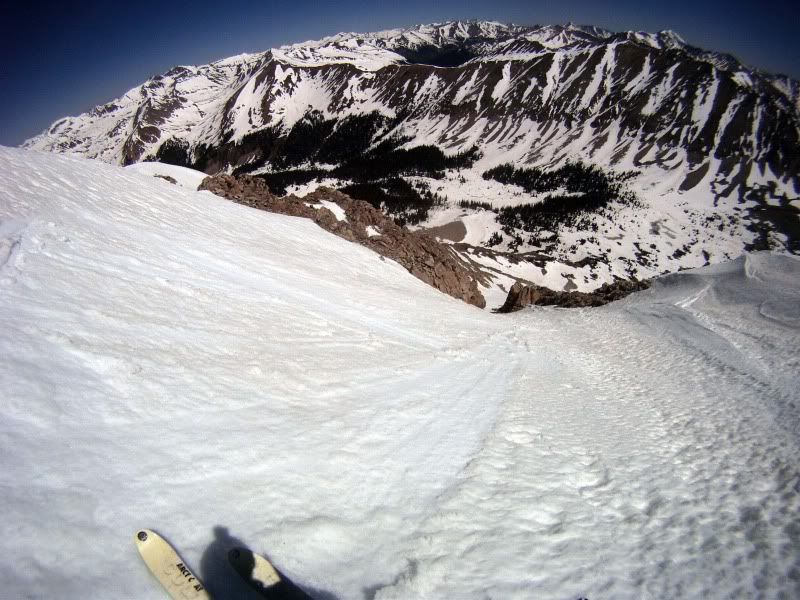 Brittany off the summit ridge: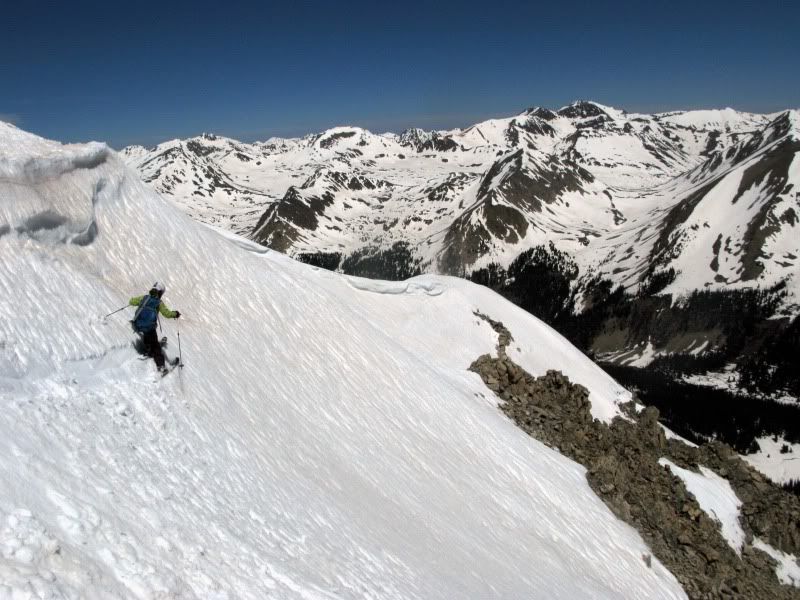 Approaching the "Belltower":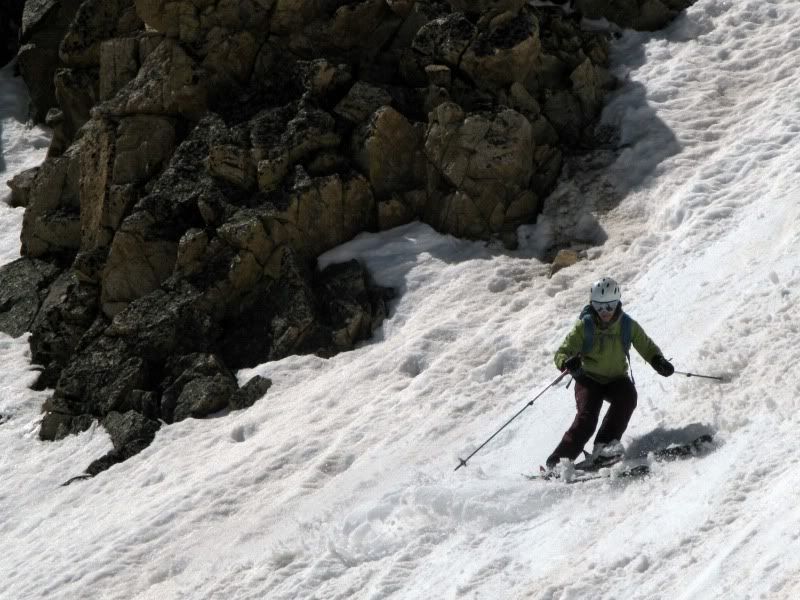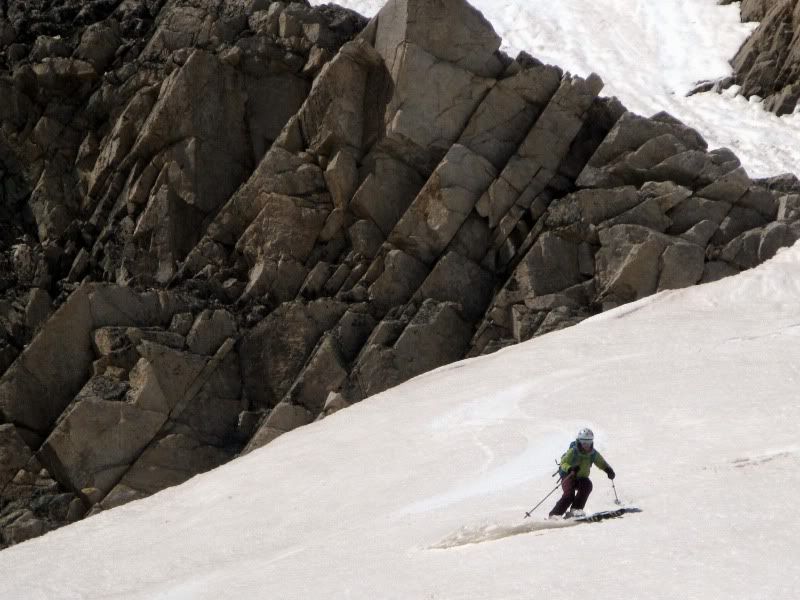 Frank: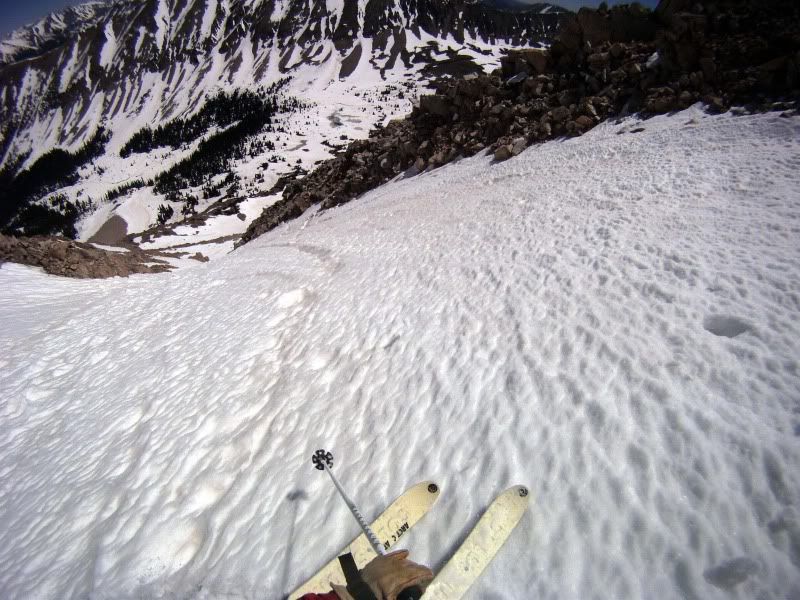 Finishing off the line with a fun little straightline:

Looking back up at some of the lines on the North face of Jenkins:

Our original plan was to descend Church Basin, get back on a different part of the Timberline trail, and loop back to the trailhead. It seemed just as easy and more fun, however, to simply climb back up Jenkins and ski the South side back to the mining road we used in the morning. We traversed over to the "Steeple" couloir, which was the one we had originally sought. Brittany: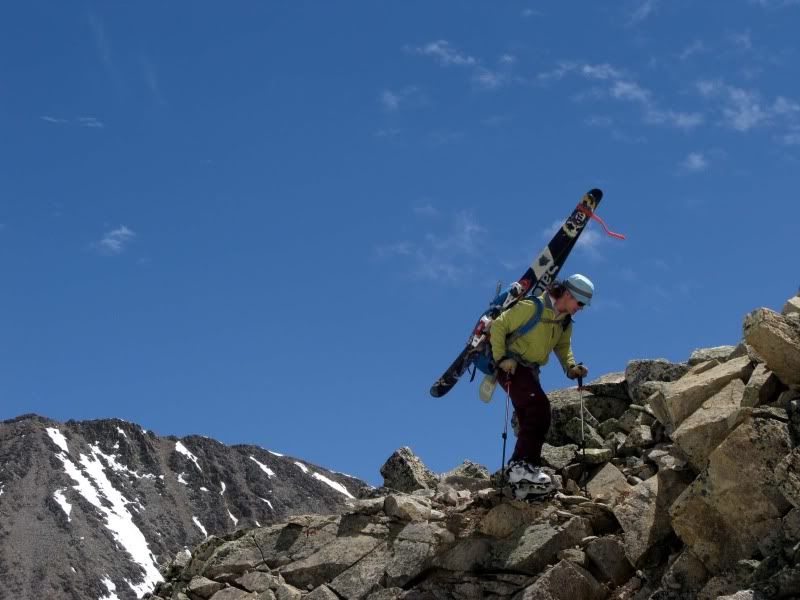 In no time at all, we were back on top. Not bad, considering the summit register on top of Jenkins only sees 20 or so signatures a year. The South side had some good skiing as well, but also some thinner and punchier areas. Frank: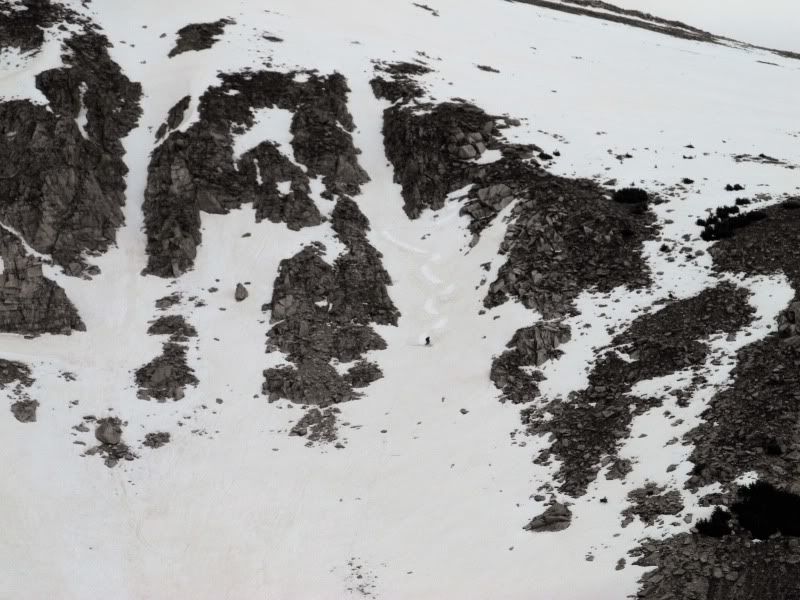 Brittany's tracks: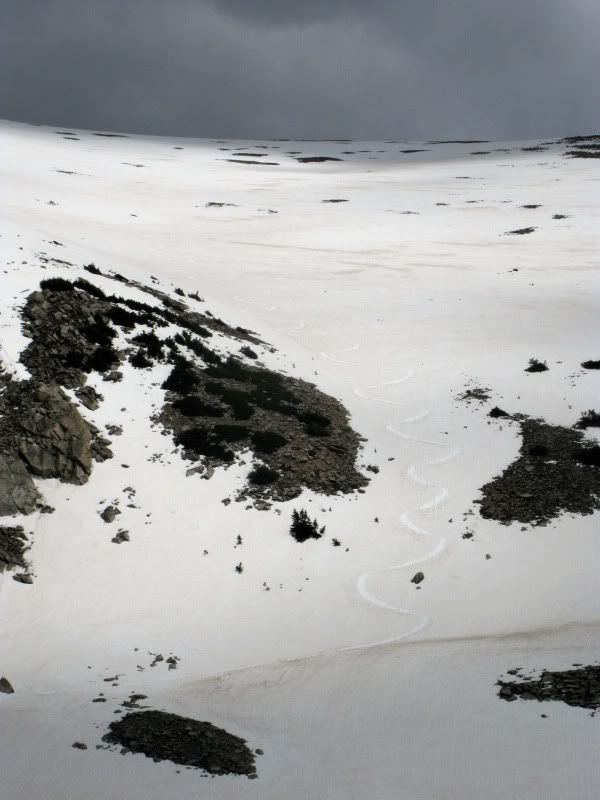 At this time of year, we typically milk every last foot of snow. Why walk when you could ski?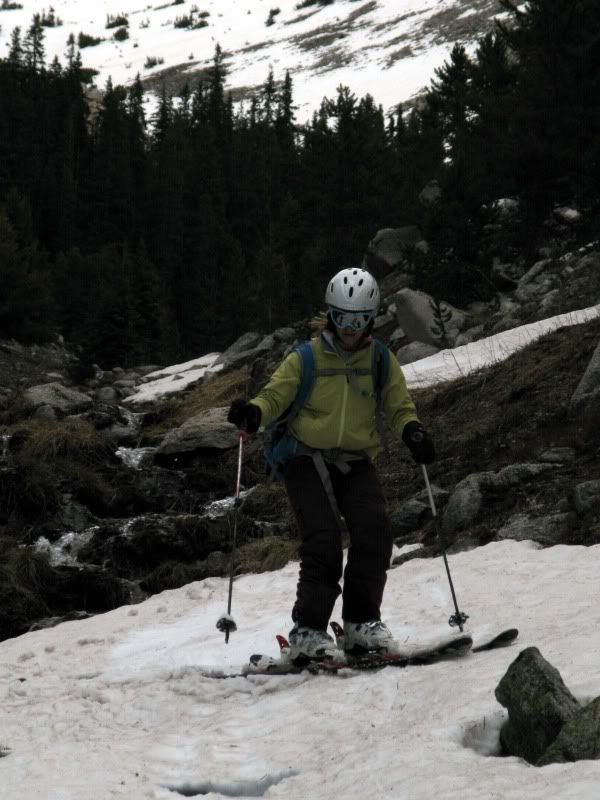 One last look at Jenkins from Taylor Park: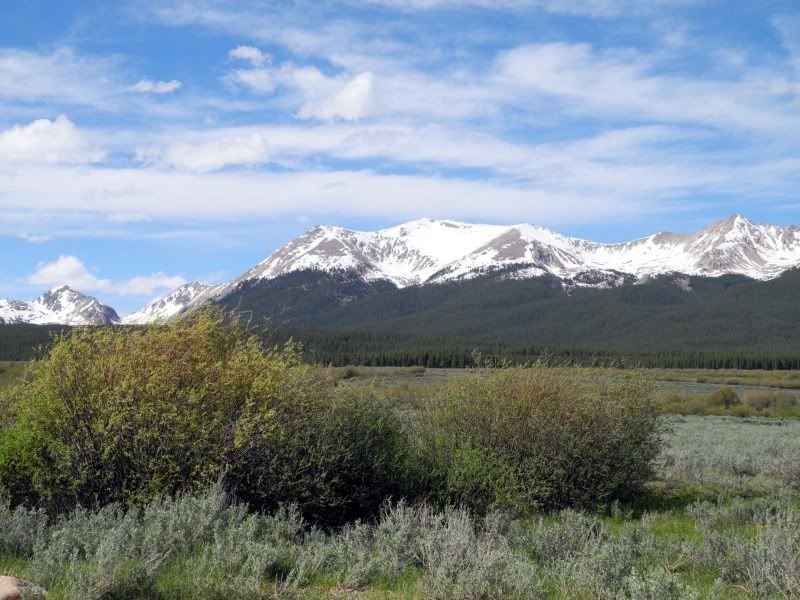 These lines are great and come highly recommended. Compared to some Sawatch range classics like the Grizzly couloir or the Refrigerator on Ice, Jenkins does quite well. The lines are longer than the Refrigerator, and they're steeper than Grizzly. Plus, the access can't be beat. Put 'em on your list…
Frank
loves snow more than anything... except his wife.  He ensures his food is digested properly by chewing it 32 times before swallowing.He is a full-time real estate agent serving
Crested Butte and Gunnison
and would be honored to send you his
monthly newsletter.
Latest posts by Frank Konsella (see all)