Maroon Peak Southwest Couloir Attempt 6.7.11
(Last Updated On: June 12, 2011)
The South Face of Maroon Peak seems to pop up in almost every trip report we do here on 14erskiers. It's such an aesthetic face, and it seems to be visible from every high peak in the Crested Butte area. Though I was able to ski it on an overnight trip back in 2003, it's been a long-standing goal of mine to ski it in a day from Crested Butte. Though one-day descents of this line have recently become common from the Maroon Lake trailhead on the Aspen side, Crested Butte skiers generally set up camp somewhere in the upper East Fork of the Crystal River, below Frigid Air Pass. Single day trips up Maroon would be relatively easy with a snowmobile if snowmobiles were allowed through the town of Gothic, which for some reason they are not, despite the same road seeing thousands of cars, trucks, ATV's and motorcycles all summer long. Sigh.
Fravert Basin and Maroon Peak from near Frigid Air Pass:

We considered making an attempt last weekend, but convinced ourselves the face would already be runneled and avalanche-strewn due the sunny exposure and preponderance of dark rocks on the face. So we skied some lines up Rustler's Gulch instead. Thanks to the internet, we discovered that the face was actually in great shape as of Sunday, so we made plans to ski it while we still could. Safely past Gothic, we made our way up to the Wilderness boundary in Schofield Park and started up the long gradual climb to Frigid Air Pass. Things were looking good:

Sometimes Frigid Air can be a major obstacle to accessing Fravert Basin, as it is guarded be large cornices. The late, great Jack Hannon had to dig a hole through the cornice on a trip to Maroon back in the late 90's. Thankfully we arrived at a pretty small spot, and it was easy enough to jump in. Pete gives the count-down:

Once safely in Fravert Basin, we traversed as far as we could towards the face and then started booting diagonally up a series of benches to reach the base of the couloir. Brittany:

We were starting to notice that the route appeared to have some slide activity on it in the last two days, but we still hoped for the best. Brittany climbing:

By the time we reached the corner (the couloir is actually a big dogleg), it was pretty obvious that the route was no longer in good condition for skiing. Pete:

None of us were particularly excited about skiing such a fine route in such poor conditions, so we descended, traversed, then re-ascended to a notch that some friends had used to reach Lost Remuda Basin, hoping we could salvage the day via a different route. Brittany on the way up:

From the notch, looking at the ridge connecting Maroon to Snowmass. I don't know if this ridge traverse has ever been completed, but I know some people have their eye on it. Lost Remuda is down and to the right.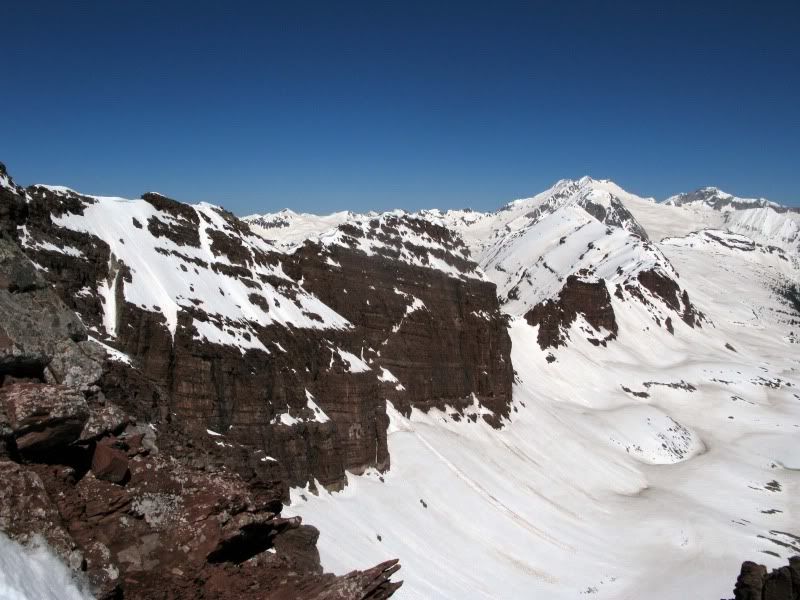 Unfortunately, there was no way we were going to be able to check out the West face without dropping a ton of elevation and heading even farther from home. We made one more foray up Maroon before deciding to call it a day.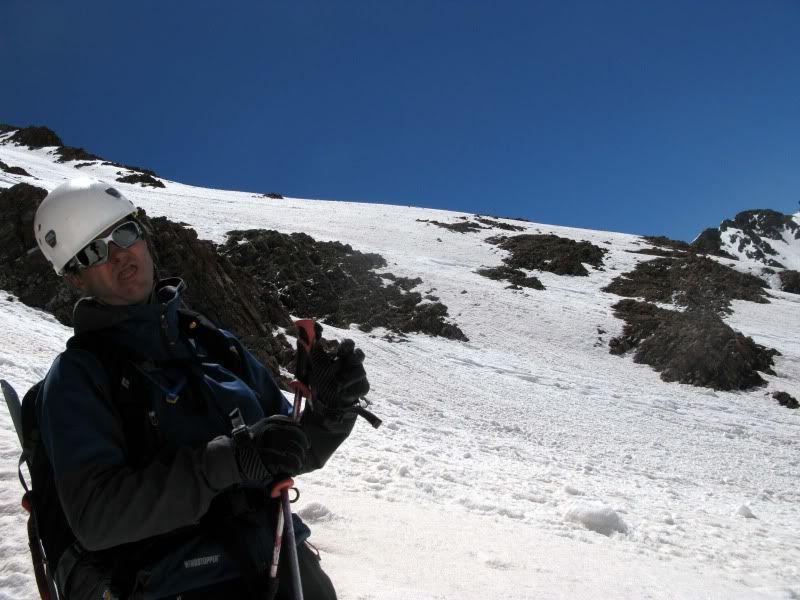 Though unsuccessful, our reward was a bunch of good beta for some future trips and some good skiing on the way back home. Bellview Mountain, definitely on the list: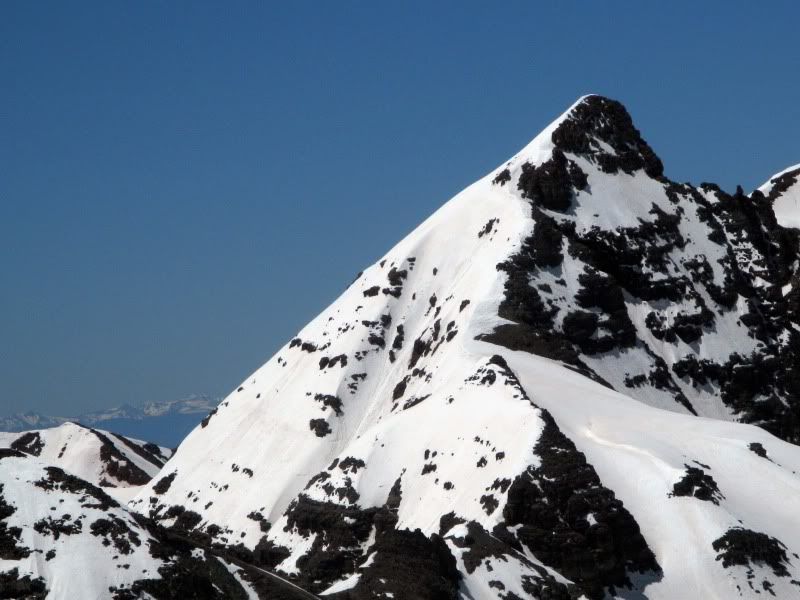 Brittany, heading towards the massive Fravert Basin:

One last, wistful look at Maroon. You can see our tracks if you look closely:

An area we call "Little Jackson":

Siberia Peak: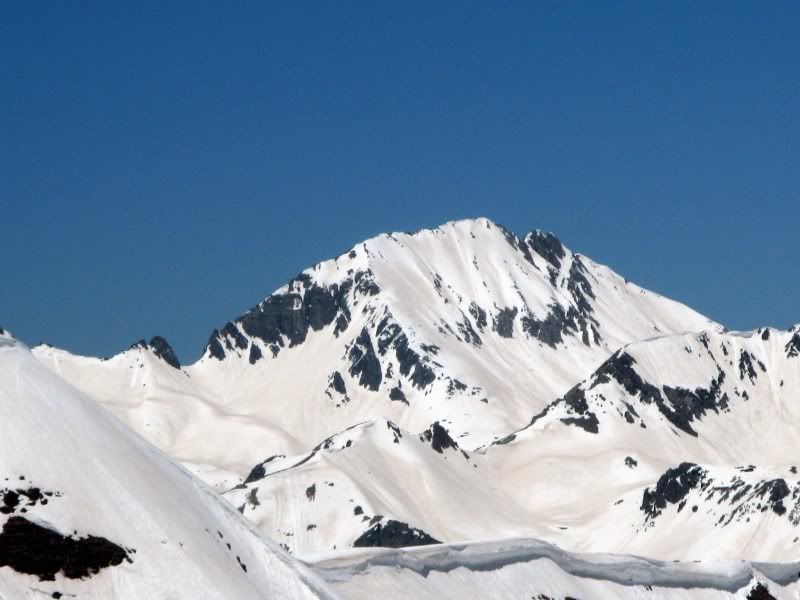 Thunder Pyramid. West Faces like this one seem to be holding up the best: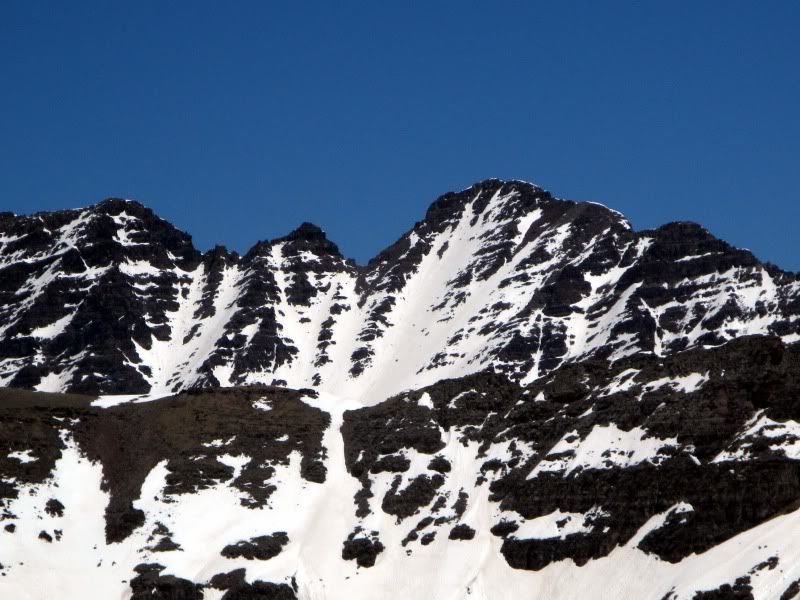 Then it was time to ski back down from Frigid Air. Frank:

Brittany:

Yeah, it's going to be a while before we ride bikes here:

Brittany crossing Emerald Lake: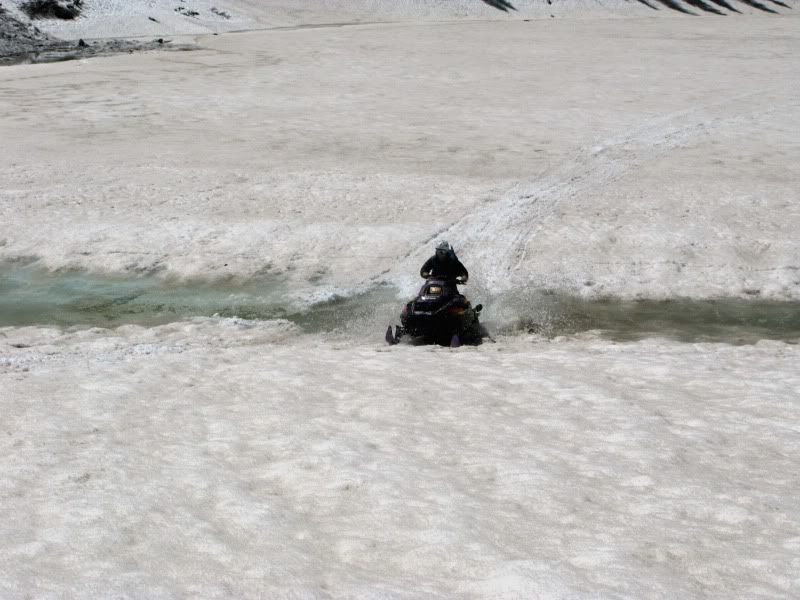 Crossing crazy wet avalanche debris on snowmobiles= interesting: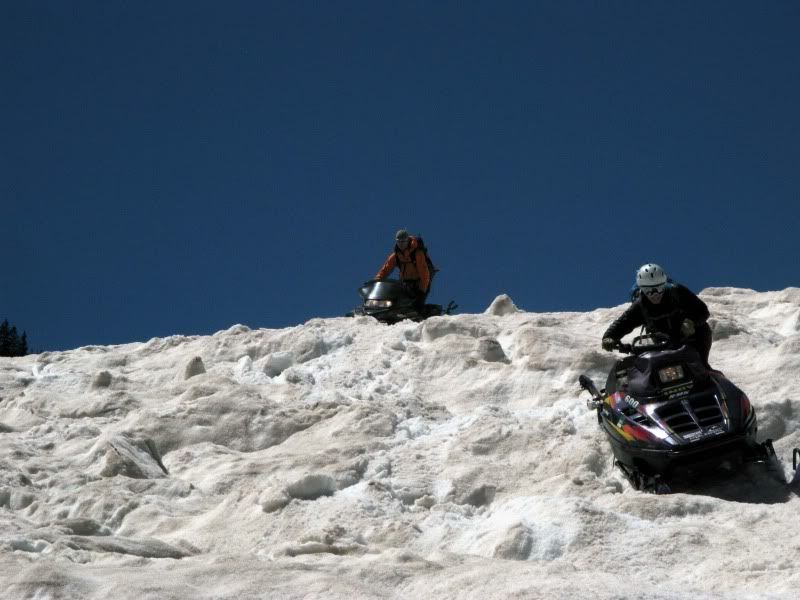 Like I said, we won't be riding 401 anytime soon: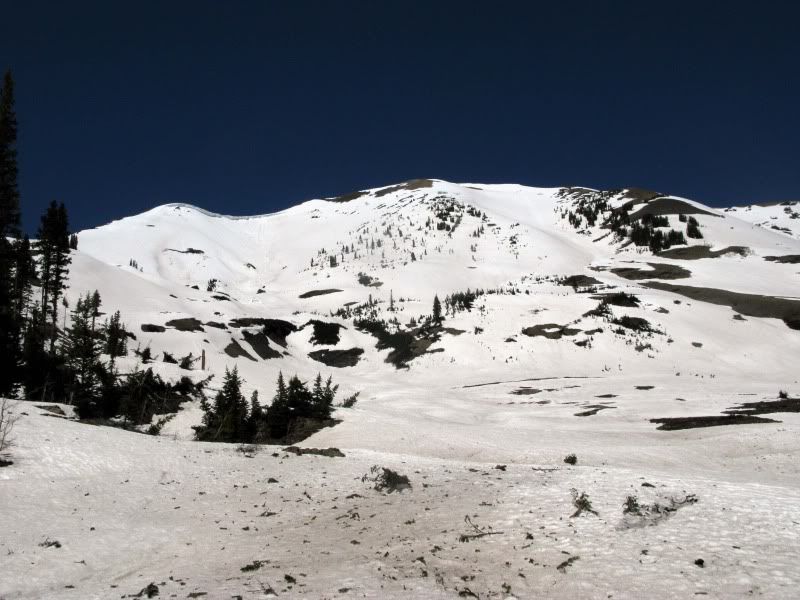 I thought this little hot spot on the North side of Baldy was interesting. I bet that area would be a nasty trigger point for slides in the winter for an unsuspecting skier..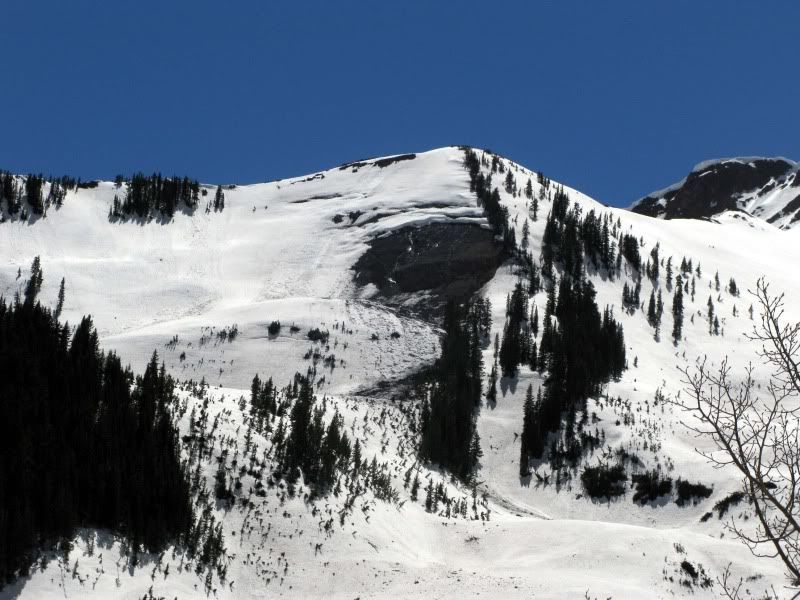 Nothing left but to roll home. Unbelievably psyched to have ridden my snowmobile in June. Maroon will have to wait for another year.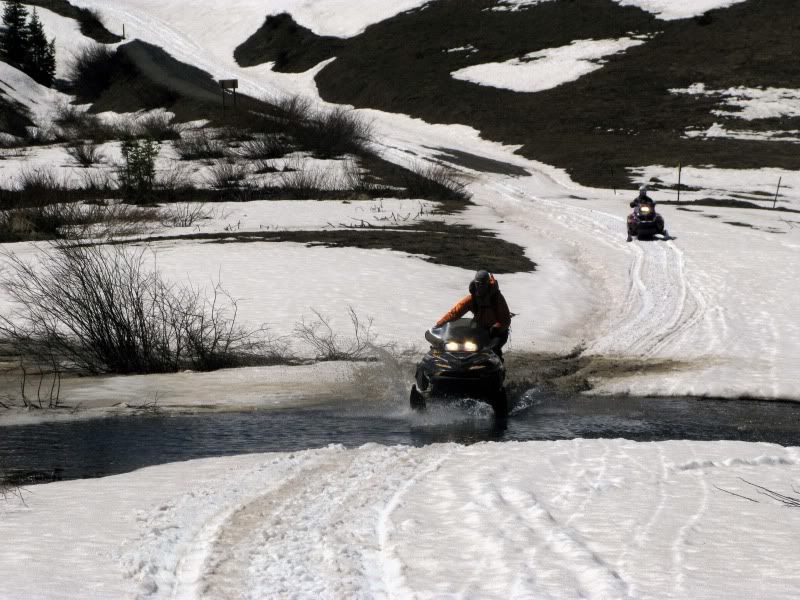 Support 14erskiers!:

Frank
loves snow more than anything... except his wife.  He ensures his food is digested properly by chewing it 32 times before swallowing.He is a full-time real estate agent serving
Crested Butte and Gunnison
and would be honored to send you his
monthly newsletter.
Latest posts by Frank Konsella (see all)