14er Evolution and El Diente's "Luttrell Line"
(Last Updated On: January 5, 2015)
It's been fascinating, in my opinion, to witness the way 14ers are approached and skied in the PD (Post-Davenport) era. While Dawson's books have been around for quite some time and give detailed information on many 14er ski routes, Davenport's website and real-time photo trip reports really changed the game in a lot of ways. Suddenly everyone knew Mount Wilson and El Diente were doable from the summit, suddenly everyone knew the way to ski Pyramid was by climbing the NE ridge, suddenly aspiring fourteener skiers had a better idea what time of year a certain peak might be "in". Routes have continued to evolve, with another example being our Secret Chute route on Capitol, which we had a feeling might become the standard route for that peak.
I thought about the way standard ski lines develop on these peaks as Brittany and I ascended El Diente last weekend. We call it the Lattrell Line, because it's got some good alliteration, but I'm sure locals have both climbed and skied the route before. Regardless, we hadn't heard of or seen this route before Jarrett Luttrell snowboarded it earlier this month (although I had speculated that a line might exist). As we were ascending Jarrett's descent line on El Diente, and knowing the other popular route on El Diente, the North Face to the hanging traverse, I was struck by how much better Jarrett's line is. It's longer, steeper, more hidden, easier to climb, and everything else a classic line might be. It is our hope that this line will soon become the standard line for skiers of El Diente. We will do a full TR of our day on El Diente shortly, but for now here's the route itself.
The route. Yellow sections are hidden.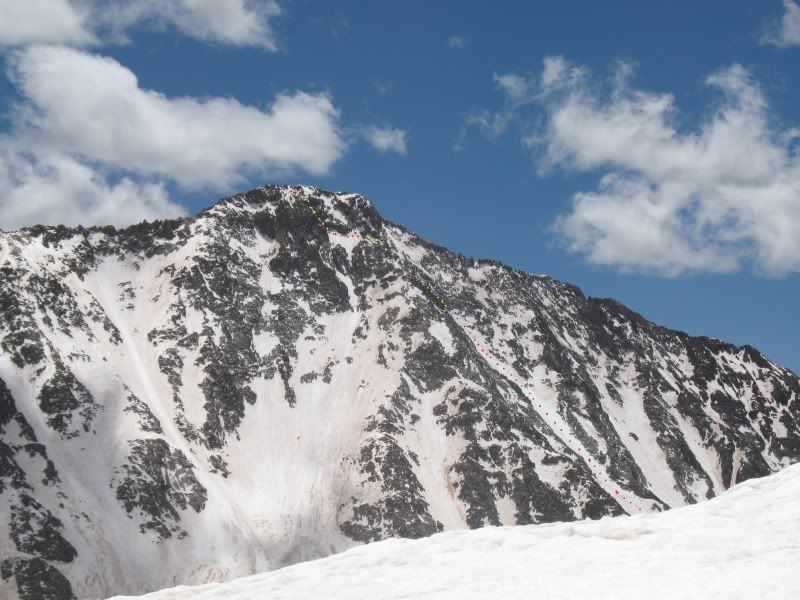 The route is just around the corner from the Northwest Buttress, closer to Navajo Lake. If it looks like you're climbing into a brick wall, you're on the right track.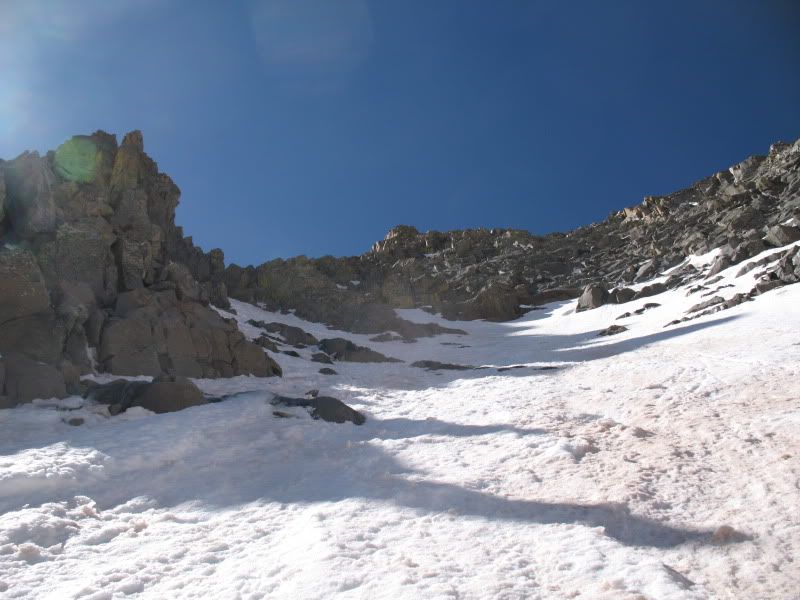 Just when you think there is no way the line goes through, a small exit couloir finally appears: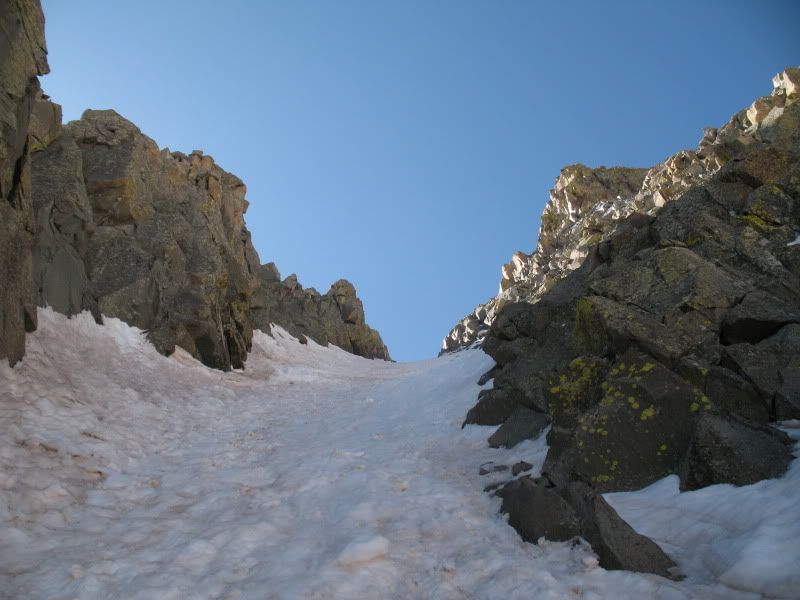 This leads to what we're calling the "Fox Traverse", because it vaguely looks like a Fox' head (you can see our tracks if you look closely enough):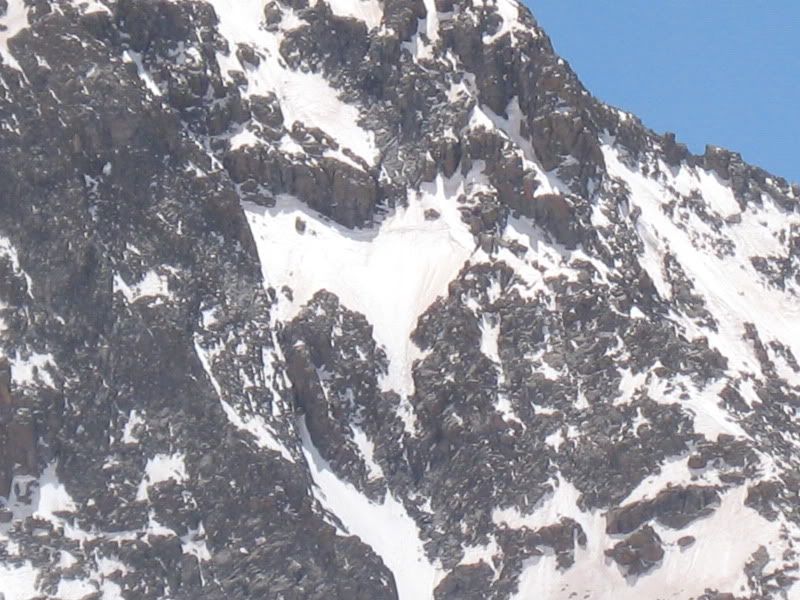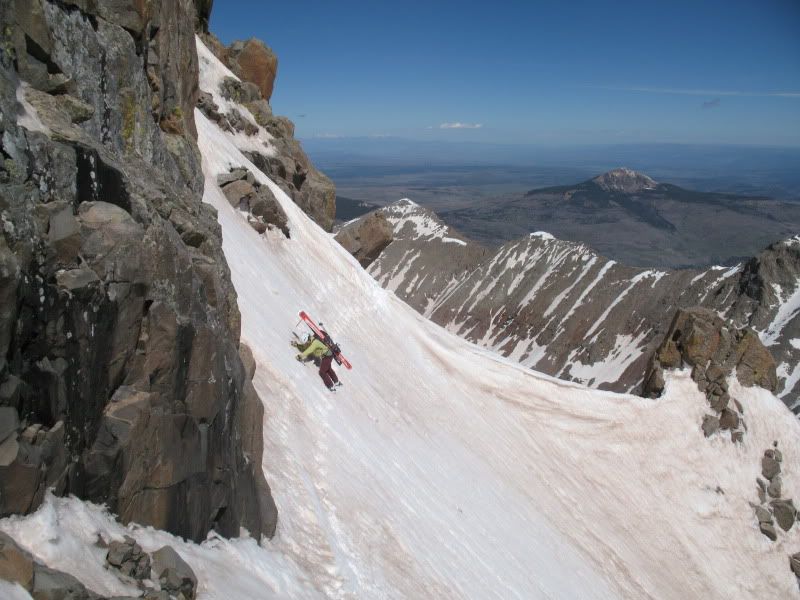 After the Fox Traverse, you enter the second exit couloir that leads nearly to the summit:

From the summit:

There it is. It's in great shape right now and probably will be for a while, so get it while the getting's good.
---
See a the full trip report of El Diente
here
.
Frank
loves snow more than anything... except his wife.  He ensures his food is digested properly by chewing it 32 times before swallowing.He is a full-time real estate agent serving
Crested Butte and Gunnison
and would be honored to send you his
monthly newsletter.
Latest posts by Frank Konsella (see all)