TR: El Diente (29 May 2010)
(Last Updated On: June 4, 2010)
I jumped when the cell phone rang, and fumbled around, trying to shut off the annoying noise that was emanating from it. It's too early, I thought. The wind is howling and it's warm outside. We're never going to get this thing done.
It was 3 am, only 4 hours after pulling in to our camping site, and I hadn't slept at all. Not one wink. It was the time of day that I'm not sure whether to call it morning or night. We were debating: Do we get up at try for this peak? Or do we just stay and sleep? We had a lot of things going against us- warm night temperatures, howling wind, little sleep. But, still, I couldn't just lie there. I had to try. I made the call, "We're up. We might as well try."
We pounded our Monster Coffee drinks and CityMarket blueberry muffins and off we went. A few minutes into our hike up the road, we hit the first snow patch- slushy all the way to the ground. I almost turned around right then and there. We're never going to make this. We traveled through more and more slushy patches. Maybe the snow will be frozen above treeline. If not, we can just turn around and go back to bed.
The near full-moon guided us through the night and the wind continued to blow. Then the sun began to peek out from behind the earth. For a brief time, the moon and sun battled for brightness. But, like a predestined Greek myth, the sun always wins.

As we got above treeline, we found the snow nicely solidified and frozen. Finally, something was working in our favor. Still, our morning procrastination and the blustering wind continued to work against us.
We made our way over Rock of Ages Saddle and skied down to the base of El Diente, the snow was chattery and full of frozen moon-scaped suncups. This is horrible. The worst skiing ever. While taking a food break just below the face of El Diente, gust after gust continued to pummel us, nearly knocking us to the ground at times. We should just turn around. We're never going to make it. This wind is nuts. But, the last thing I wanted to do was skin back up the frozen sun-cupped wasteland we just descended. We might as well just keep climbing, at least until the snow softens.
So, up we went.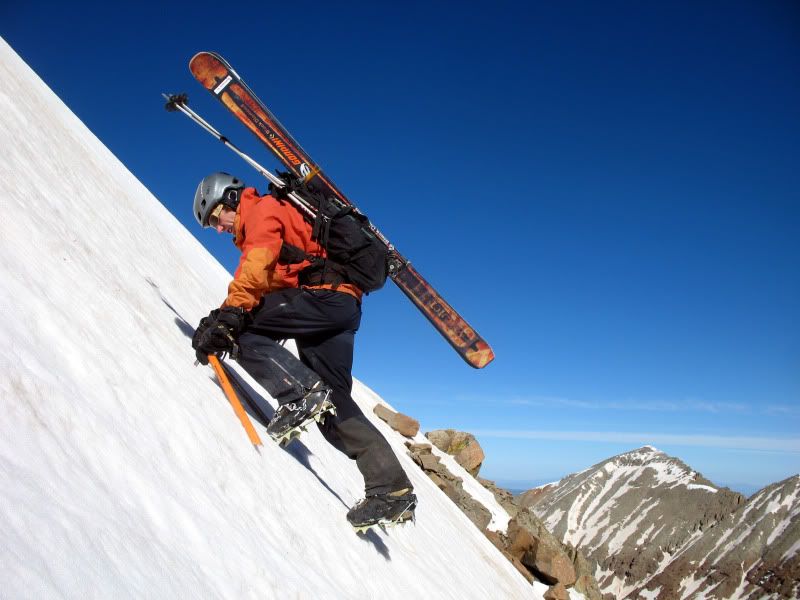 We were following a new route that we didn't have very much information about, descended by Jarrett Luttrell earlier this season. Because of this, we are calling it the "Luttrell Line". This is the bottom of his route.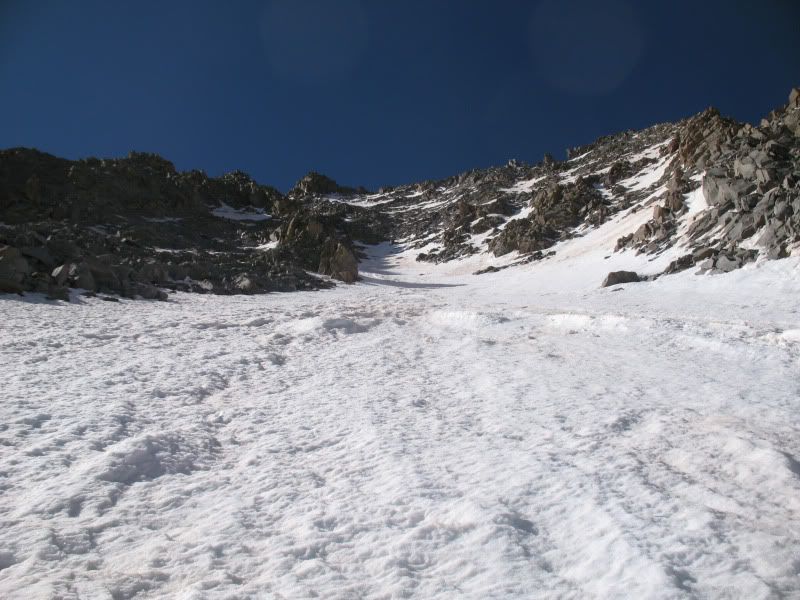 The route follows the main couloir, staying climbers right at the "Y", until a hidden couloir near the top leads off to the left. This couloir connect to the Fox Traverse.

Top of that couloir, with the Fox traverse to the right.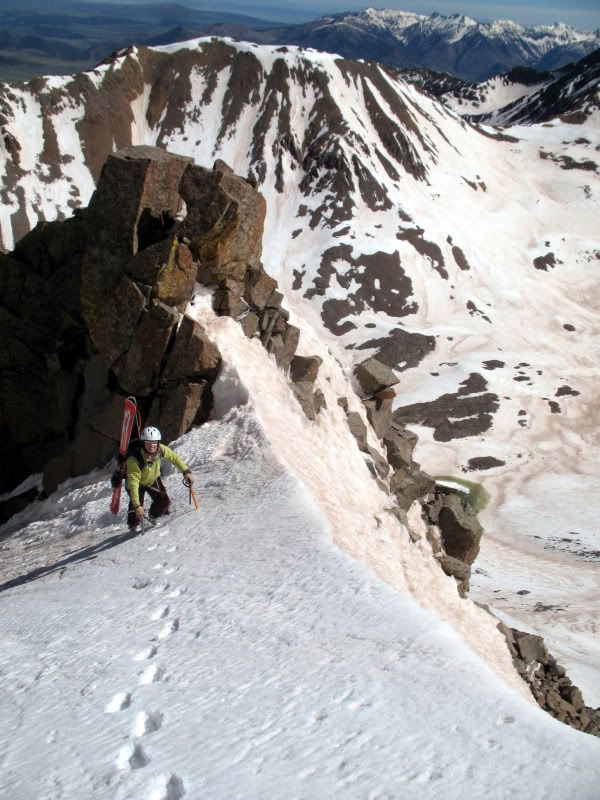 Me crossing the Fox Traverse.

The traverse, as seen from afar. We have called the Fox Traverse, since, from afar, the snow looks like a fox.

The exit couloir that leads to the summit is behind Frank. Wow, we might actually get this peak done!

Wait… is that the summit? We're going to do this!

Me approaching the summit. I can't believe we're going to make it!

Frank, standing on the small summit. We made it! We really made it!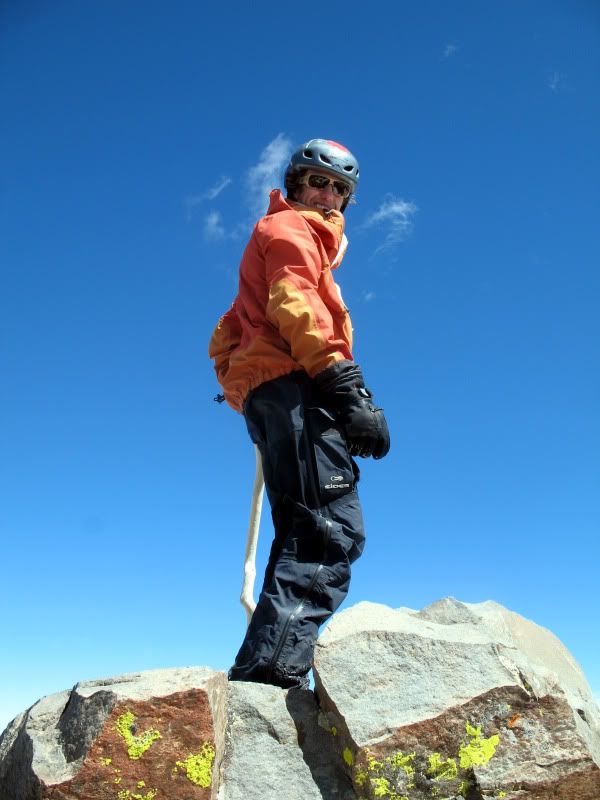 Lower down, as we entered the initial couloir, we found ourselves protected from the forceful wind. Yet, at the same time, what wind was present was to our favor, keeping the snow cooled as we continued to climb. As we approached the summit, we found the wind had calmed. It was breezy, but not so harsh as to knock us to the ground. Though we had been doubtful during the majority of our climb, circumstances shaped up perfectly for us, and we were able to summit!
Jarrett Luttrell, the last to sign the register!

Views from the summit.

Wilson Peak.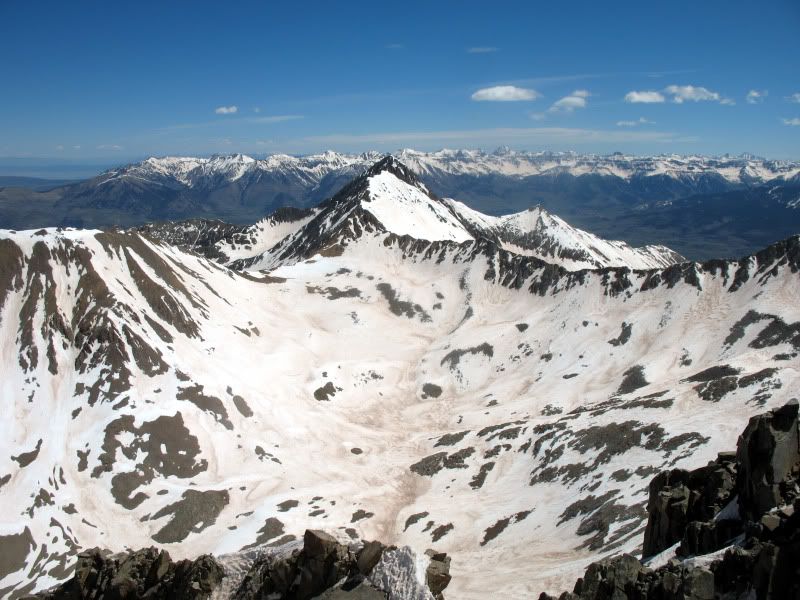 Mount Wilson.

Finally, time to ski!

Me, getting ready to ski from the summit. Psyched!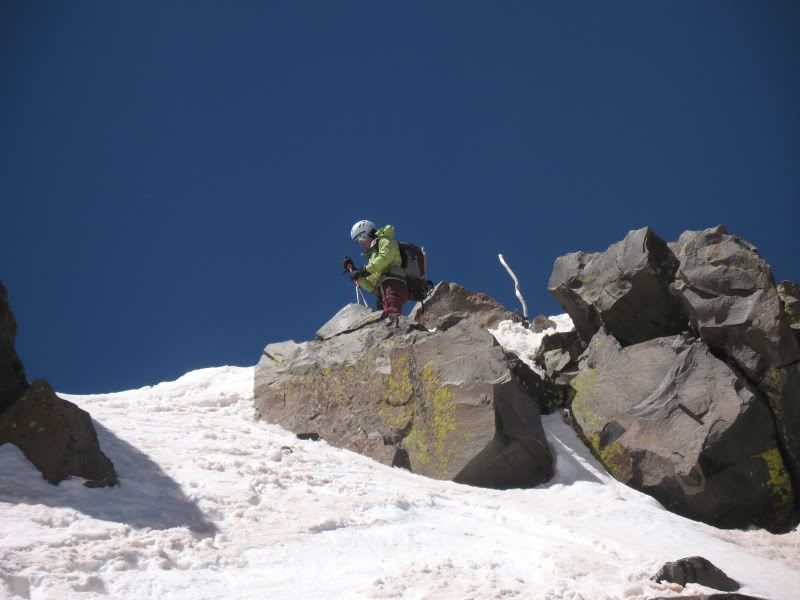 View of Frank from the summit, checking out the "Davenport ramp".

Frank skiing the couloir leading from the summit to the Fox Traverse.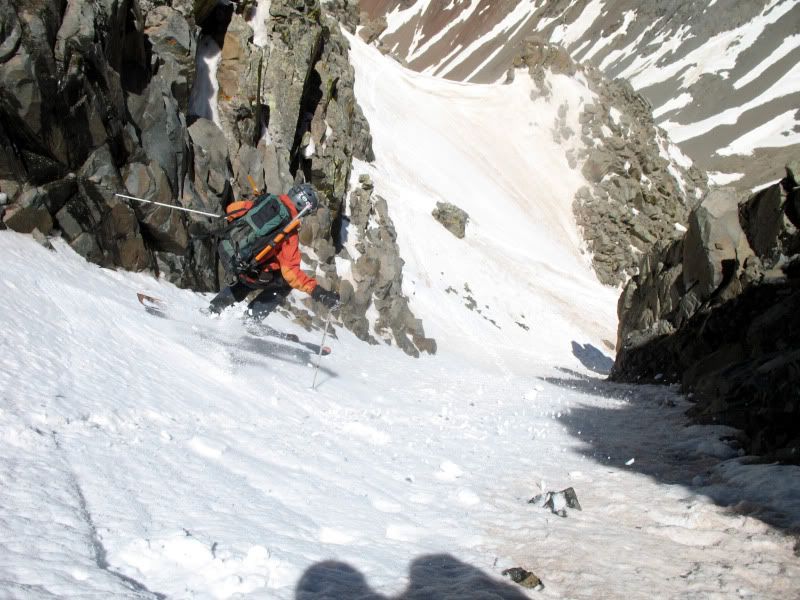 My turn.

Me, crossing the Fox Traverse.

After we passed the traverse, we could let it loose a little bit. Frank.

Me.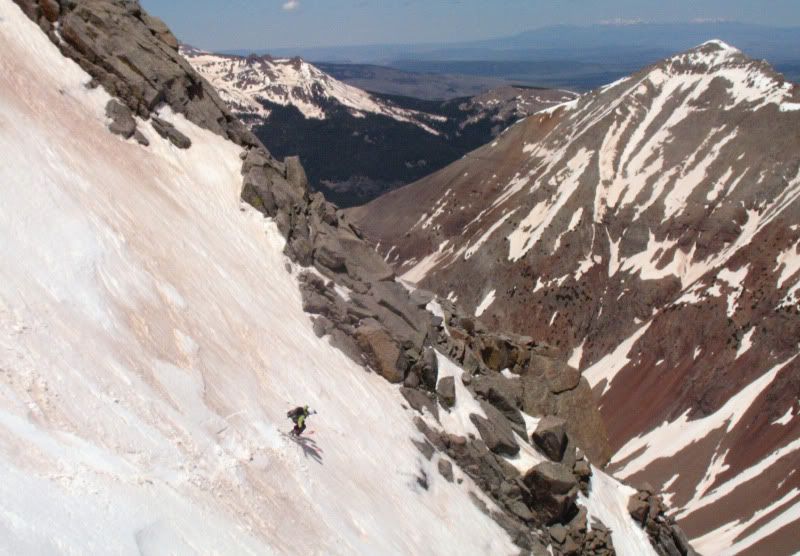 Near the bottom, I started busting out a smile, happy our day turned out successful after so many things seemed to be working against us.

Then, it was time to skin again. Frank heading back up to the top of Rock of Ages saddle. Now that the snow had softened, the skinning was easy.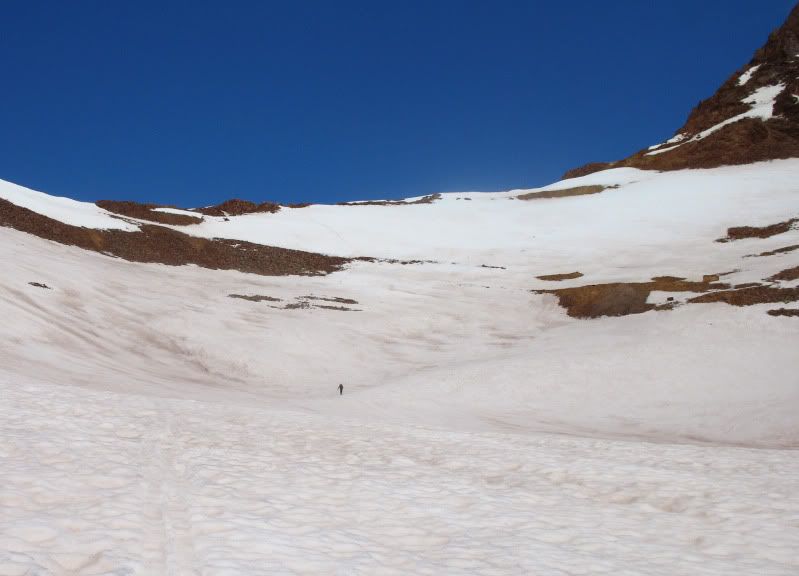 The ski down from Rock of Ages had a few fun moments too.

The San Juans are simply some of the most beautiful mountains in Colorado.

We finished off our day with a little relaxing in Telluride.

And then we headed back to camp for another day of skiing, this time on Mt. Wilson. TR coming soon!
_____________________________________________________________
Note about our route:
Frank had done a detailed blog describing our route on El Diente, which we used as both an ascent and descent line. At this time, we are not sure if this line has an official name. We believe that others have likely climbed or skied this route, but Frank and I are not aware of any one specific, except for Jarrett Luttrell who descended this line in April 2010. Because of this, we are currently calling this route the Luttrell line. If anyone has more information about the name of this route, or previous ascents/descents of this route, Frank and I would appreciate you sharing your knowledge.
This route is very hidden and it is impossible to see the route clearly from one vantage point. That is one of the reasons why Frank and I thoroughly enjoyed this line. It is our belief, that this has the potential of becoming the new standard snow route in the future, as it is as much fun to climb as it is to ski, and lacks the exposure and rock-maneuvers of the summer route.
Enjoy!
Aside from skiing, biking, and all outdoorsy things,
Brittany Walker Konsella
also loves smiles and chocolate 🙂 Even though she excels at higher level math and chemistry, she still confuses left from right. Find out more about
Brittany
!
Latest posts by Brittany Walker Konsella (see all)