Broken Hand Peak "Broken Dogleg" Couloir 4.11.10 13,573′
(Last Updated On: May 11, 2014)
After Brittany, Pam, Chris, and I skied the South Couloir of Crestone Needle, I really wanted to climb Broken Hand Peak from Broken Hand Saddle. The summit is only about 700′ above the saddle, and I'd been eying a really interesting couloir on the North Face that drops 2,000′ down to Colony Lake. Brad, who had earlier changed his mind and skied Crestone Peak instead of the Needle, was the only one up for a descent of Broken Hand. The ascent up the south slopes of Broken Hand Peak was pretty simple, up grass and snow slopes with amazing views of the Needle.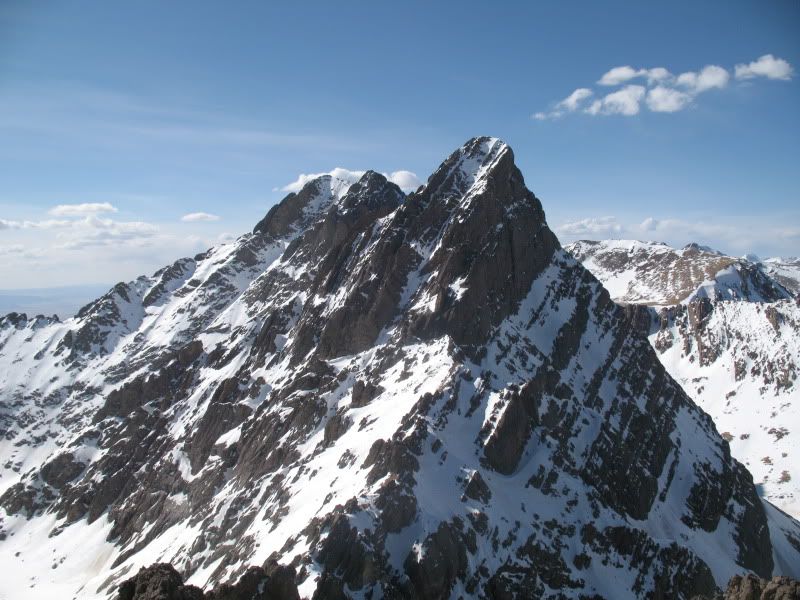 The line I wanted to ski forms a double dogleg right off the summit, so I'm calling it the "Broken Dogleg" Couloir, although I'm sure it's been skied before and might be known be another name. Here's a shot we took from Humboldt back in 2007: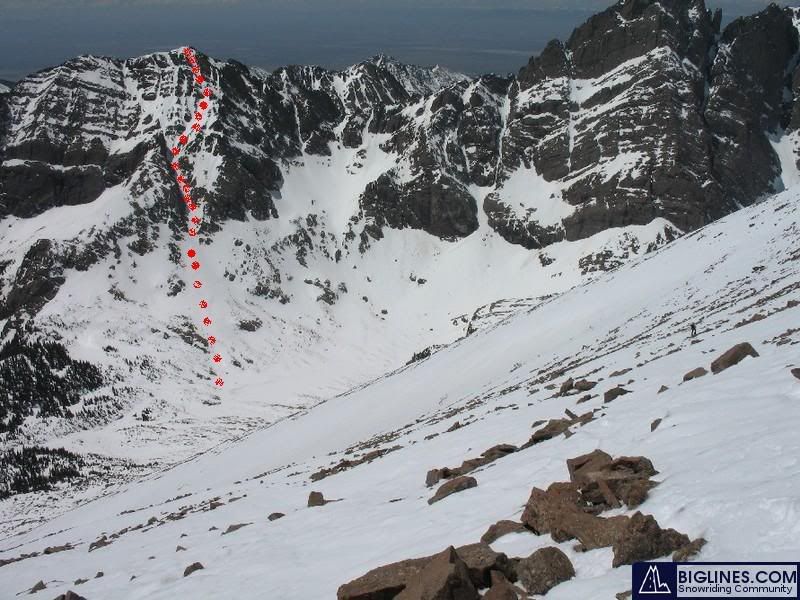 From the summit, the line looked every bit as interesting as I'd hoped, and since the line keeps twisting and turning, we couldn't even see very much of the line.

We dropped in and found some highly variable snow conditions- some carveable windbuffed chalky snow, but some pretty icy areas as well, so we descended carefully. Brad: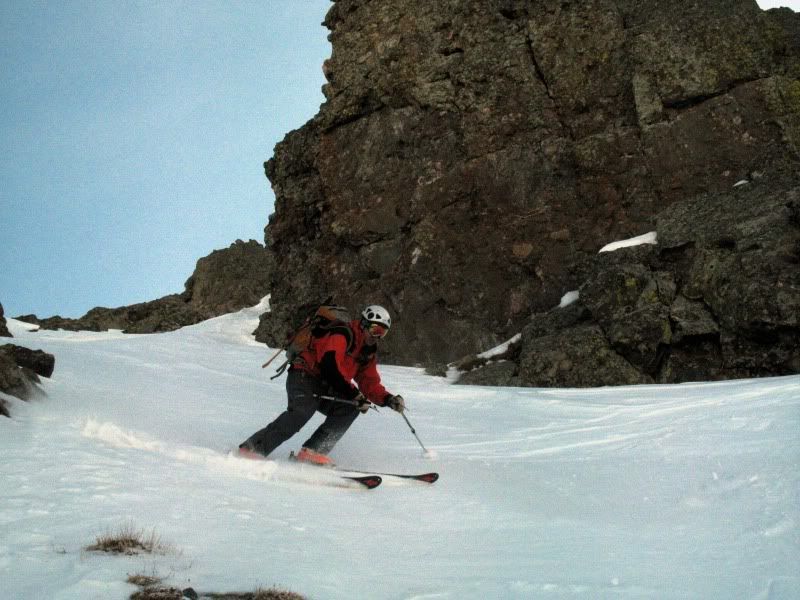 One last view of the Needle as we descend the couloir: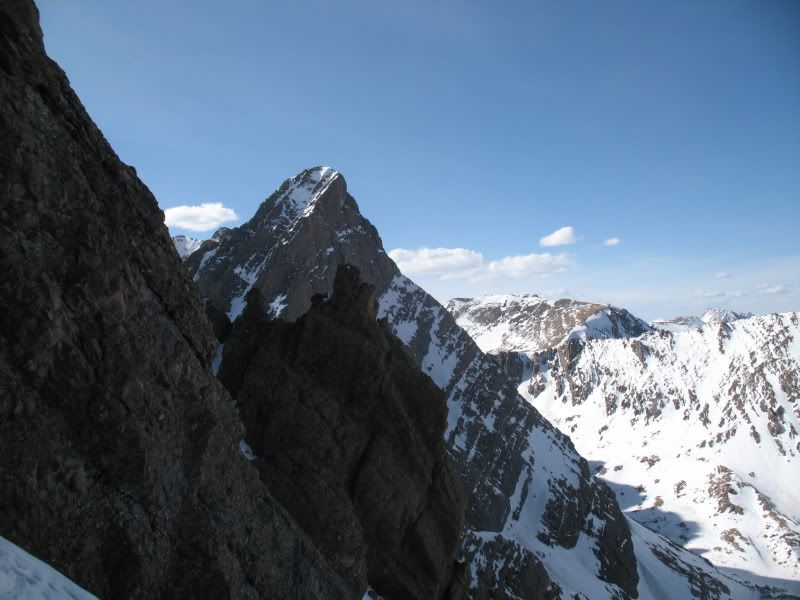 Looking down, halfway down the couloir: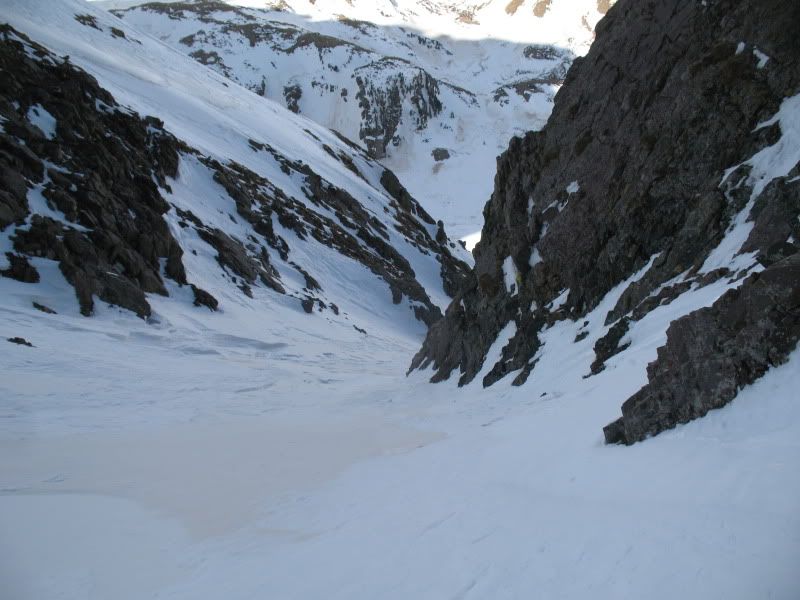 Brittany got some photos from below, where she was waiting along with Pam and Chris. Brad and I are the two dots in the center of the photo. This shot and the one following really give a sense of how complicated and interesting this face really is.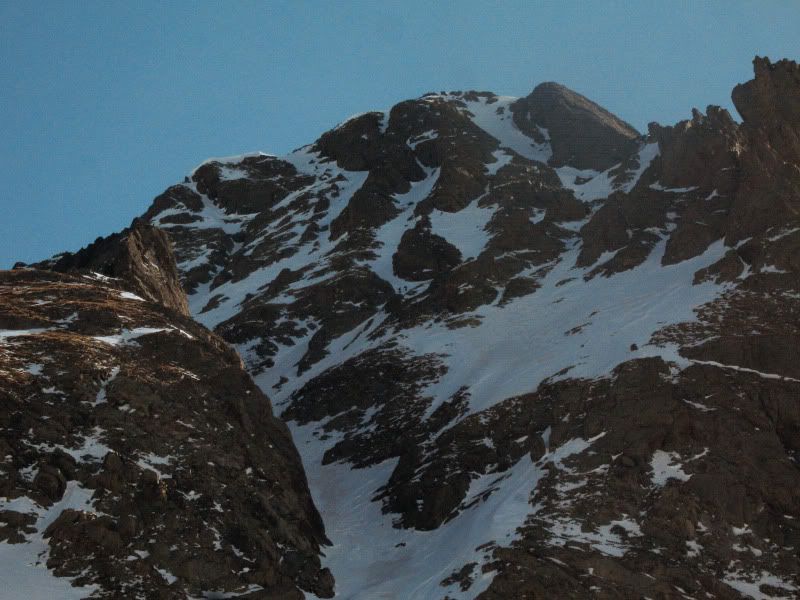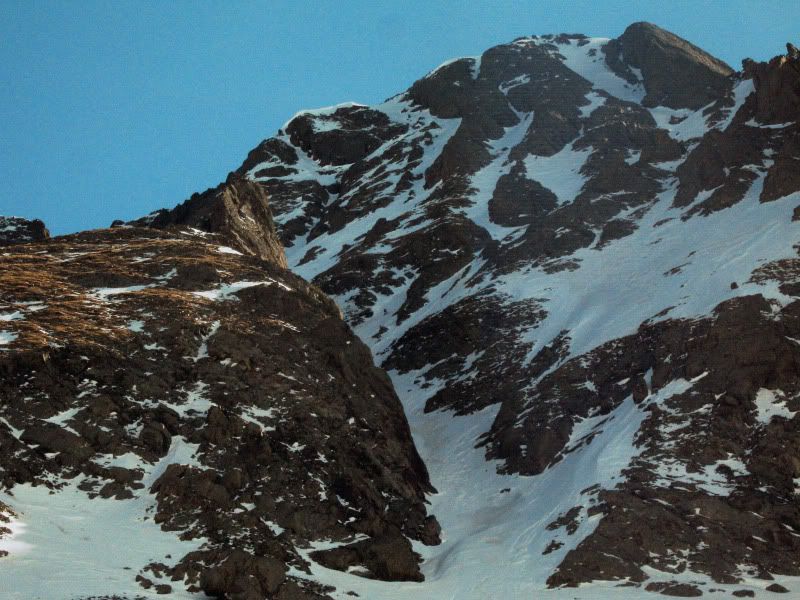 Brad is just leaving the couloir, while I'm skiing some good windbuff in the apron: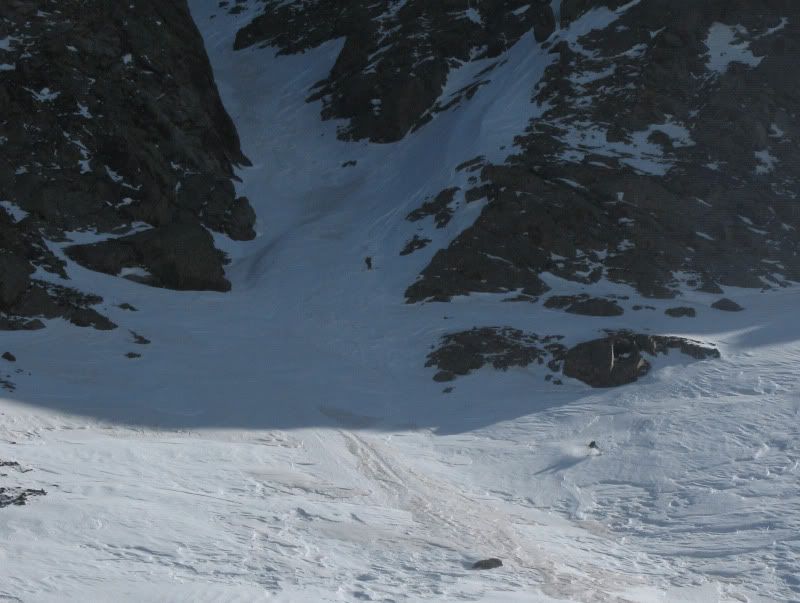 Although we skied it in very difficult conditions, this was still one of the best lines I've skied in Colorado. Top 5 for sure- it's just so varied, with double fall-lines and twists and turns as you descend. Not to be missed when it's in condition.
14erskiers has a new partner- PointofViewCameras.com If you're thinking of ordering up a helmetcam, this is the place to go. Check them out:

Frank
loves snow more than anything... except his wife.  He ensures his food is digested properly by chewing it 32 times before swallowing.He is a full-time real estate agent serving
Crested Butte and Gunnison
and would be honored to send you his
monthly newsletter.
Latest posts by Frank Konsella (see all)