TR: Crestone Needle (11 April 2010)
(Last Updated On: March 16, 2016)
Nothing like beginning my fourteener skiing season with a bang! Crestone Needle was hot on my list of fourteeners to hit early in the spring last year, before my desires were thwarted after tearing my ACL in February. This season, I knew that things would be the same- Crestone Needle is typically one of the quickest lines to melt out and usually has to be skied early in the spring. I've had my eye on skiing this peak since early March. But, the proper weather windows just weren't there until this past week, and I was quick to snatch up the opportunity.
I spoke with my mom on the phone the night before. "I'm skiing my first fourteener in two years tomorrow. It's a pretty big one." Pause. "Can't you start with something easier?" "I don't really have any easy ones left, except for Pikes Peak." I tried to justify skiing the Needle to my mom as much as I was justifying it to myself. After laying eyes for the first time on the Needle 4 years ago, my jaw dropped upon gazing up at it's 55-degree slopes. I knew what I was about to face. My mom hesitated, "Is your knee really ready for this?" "Mom, it's not like I haven't been climbing and skiing mountains all winter. I've been getting out there. Maybe the peaks I've been on haven't been fourteeners. But, really, when it comes down to it, a few hundred feet isn't a huge difference." I was ready. It had been too long since I had been on top of a fourteen-thousand foot peak!
Frank and I headed down on Saturday afternoon, leaving enough time to check out the trailhead and make sure that snowmobiles could be used up the South Colony Lakes road. After venturing up the road a ways, we confirmed this, though the snow was melting fast in the lower pitches. We headed back to Westcliffe and met up with our friends Pam Rice, Chris Webster, and Brad Bond, who would also be joining us the next day.
The next morning began before dawn. The snowmobile ride went smoothly. And before we knew it, we were standing at South Colony Lakes with Crestone Needle towering above us.

Our ski route, the South Couloir, was on the other side, so we crossed over Broken Hand Pass.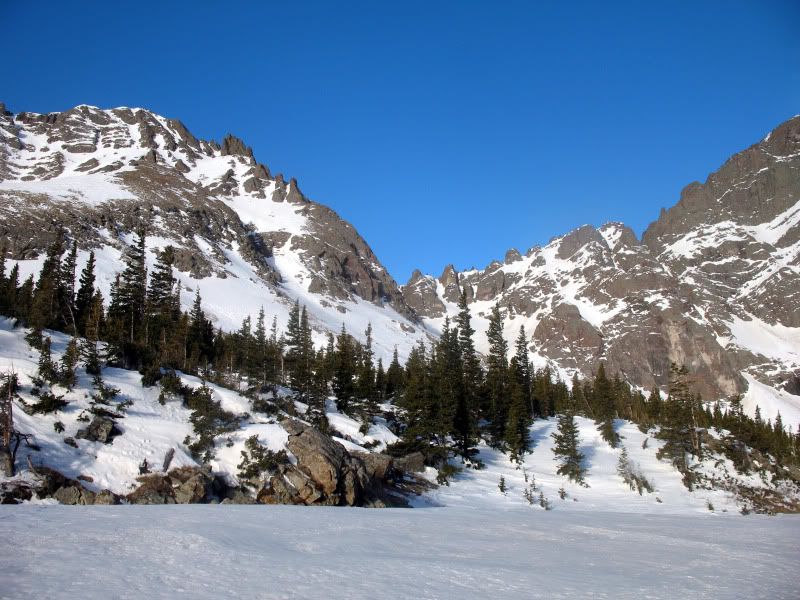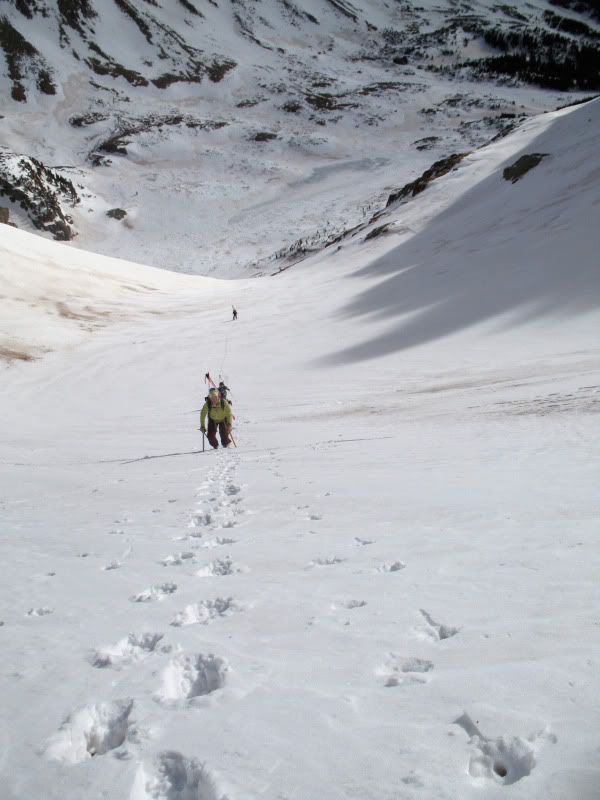 After reaching the top of Broken Hand Pass, we said goodbye to Brad, who decided to head over to Crestone Peak after seeing that the Needle looked a bit thin.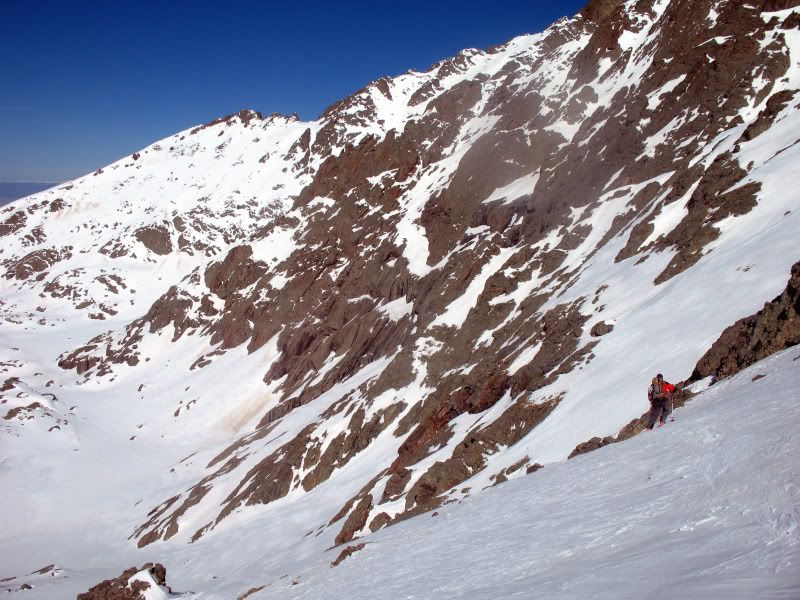 The rest of us made the traverse over to the Needle.


Photo courtesy of Chris Webster
The traverse involved a few rock maneuvers.


Photo courtesy of Chris Webster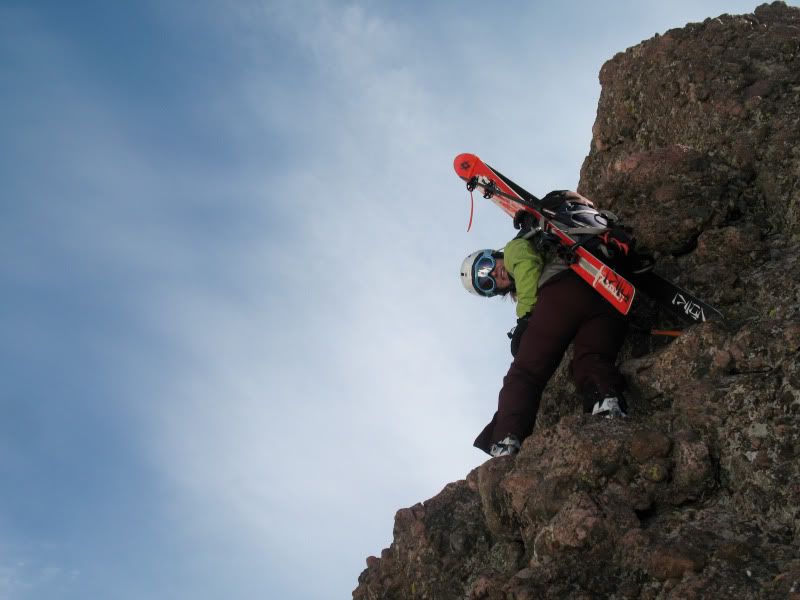 From there, the route was a nice couloir climb.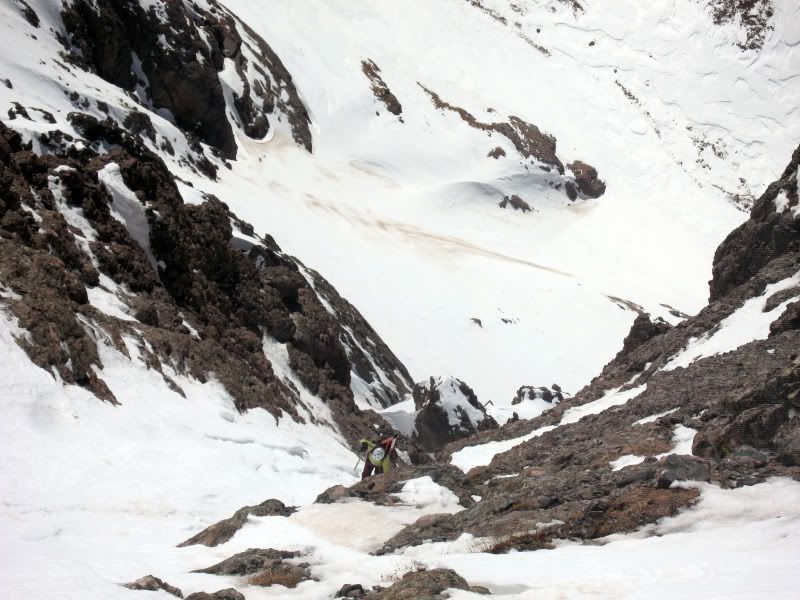 As much as I enjoyed the climb, I was happy to be on the summit of my first fourteener in two years.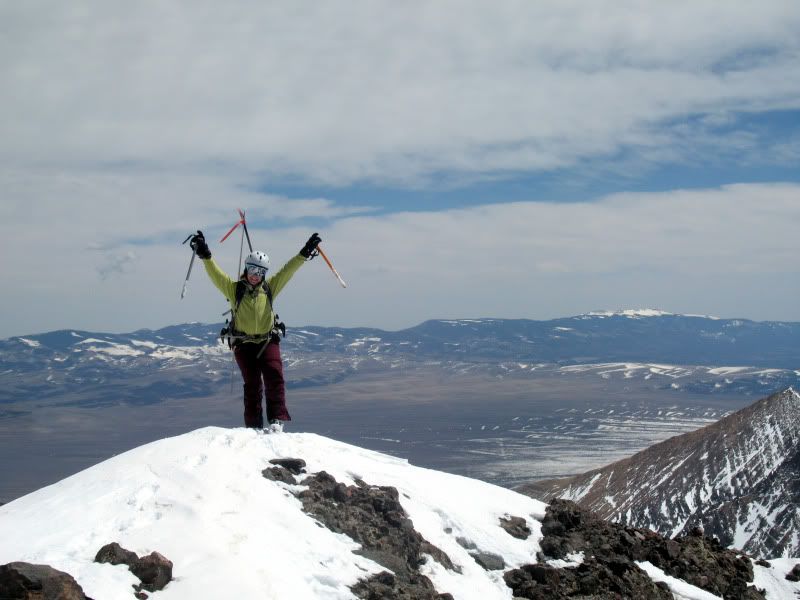 The views were amazing.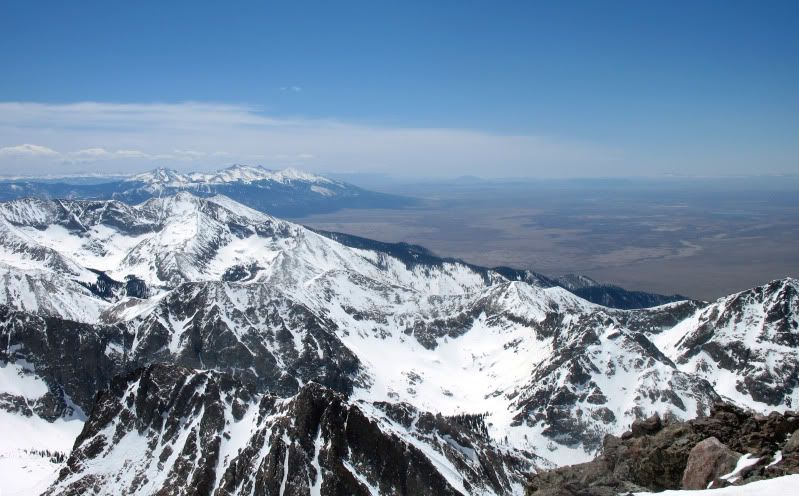 The Sierra Blanca.

Crestone Peak and Kit Carson.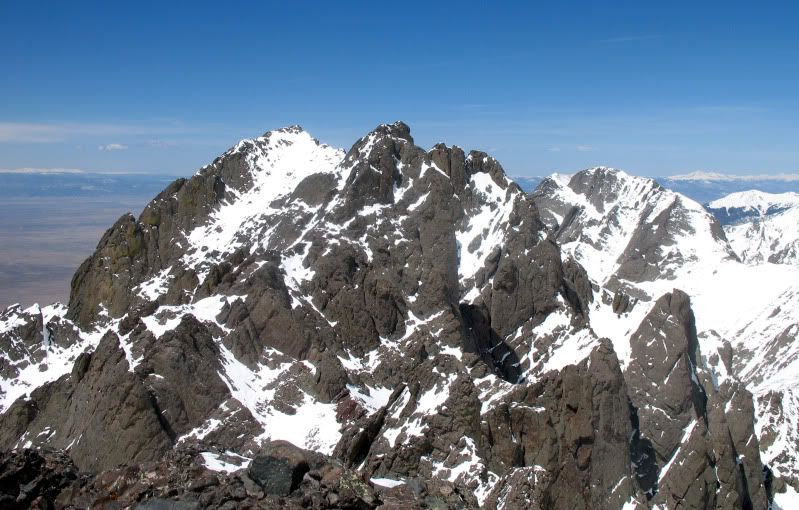 Pam and I.

Skiing from the summit was adventurous.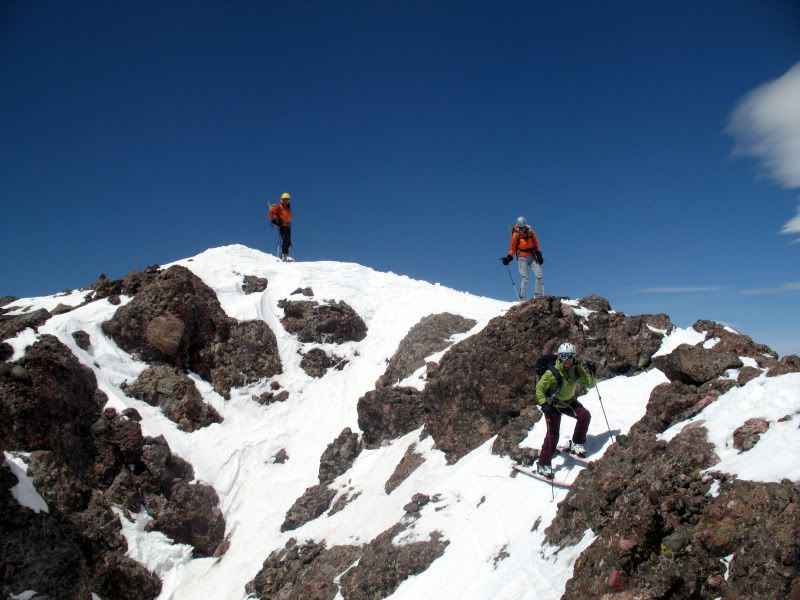 Frank testing out the snow on the upper face.

Frank.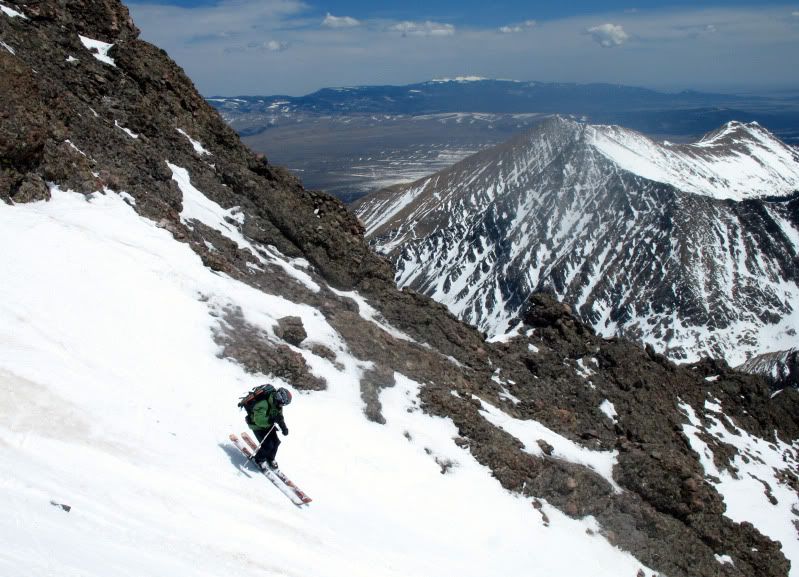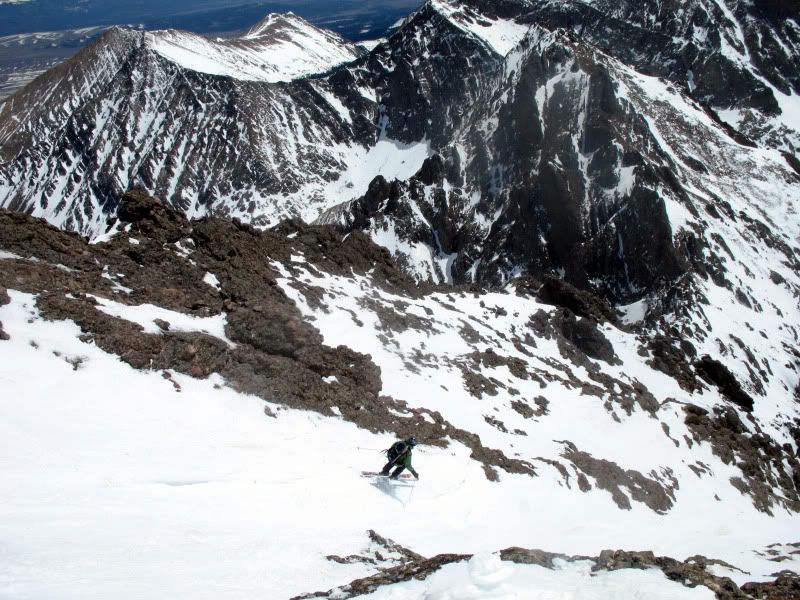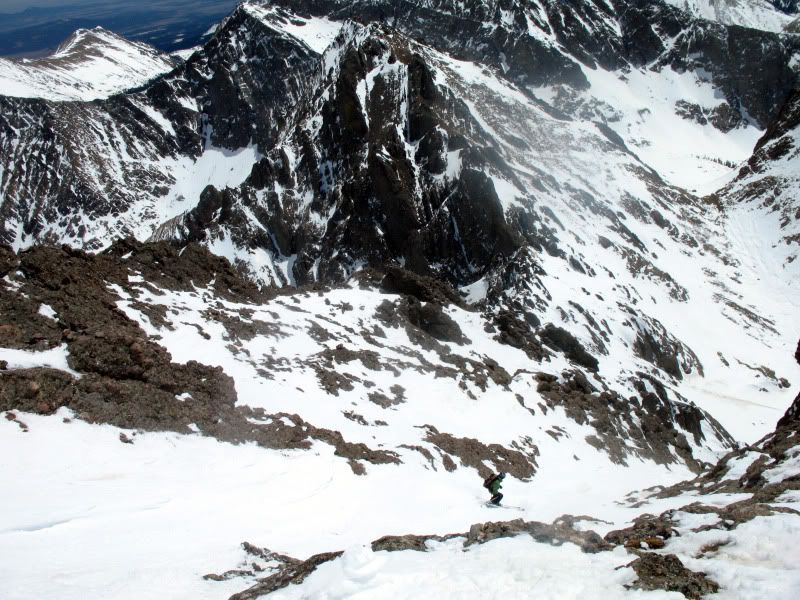 Me.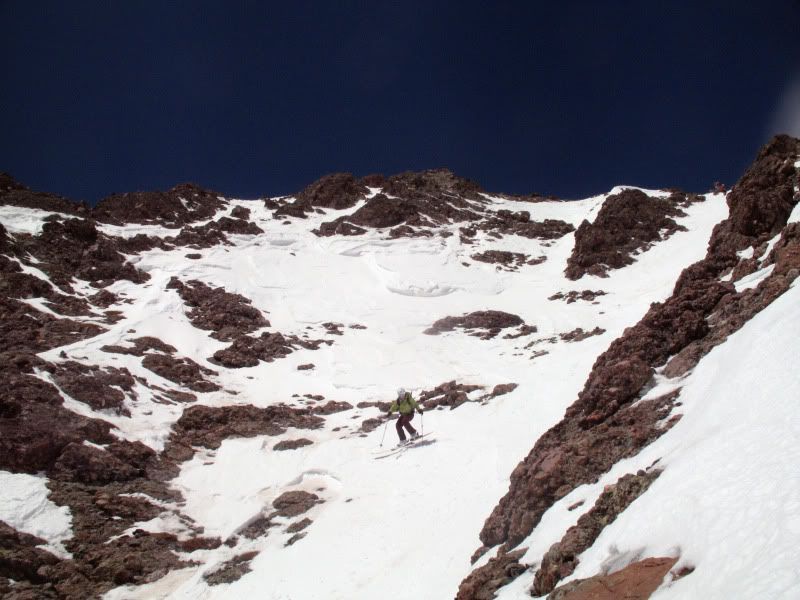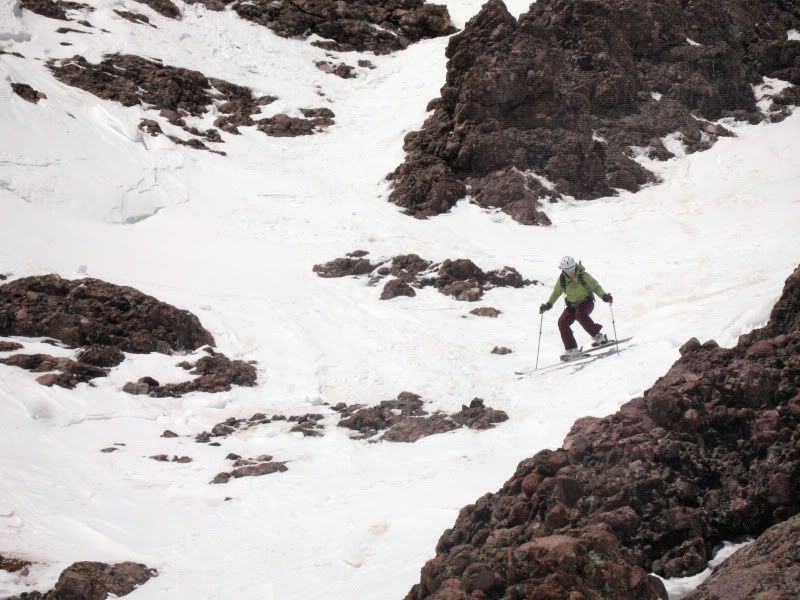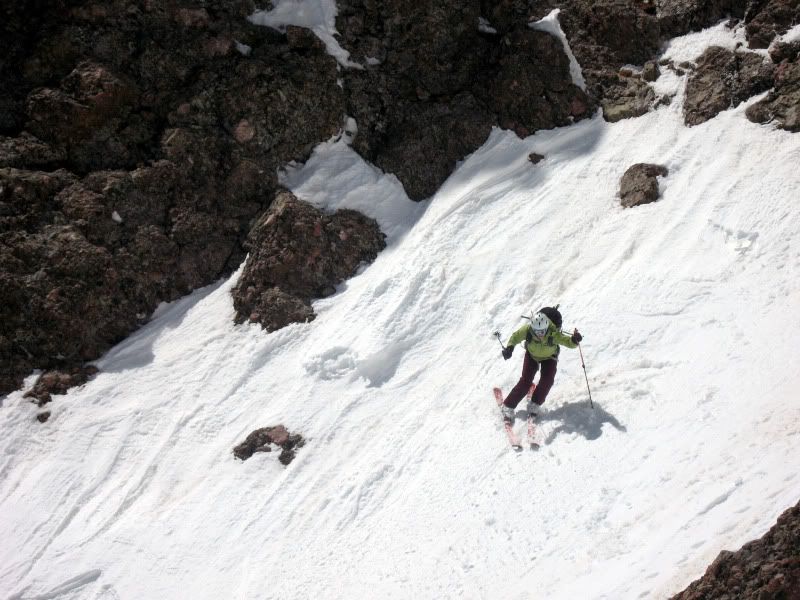 A little straightline through an ice fall.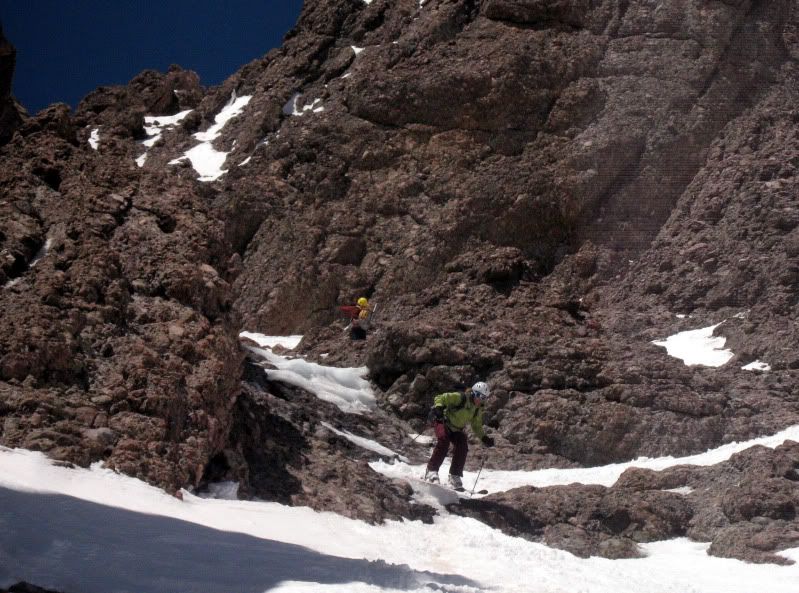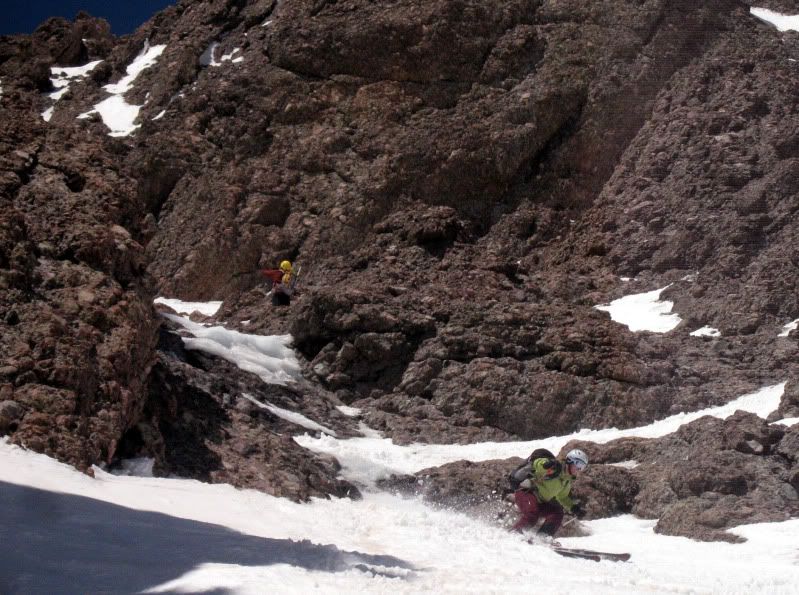 We followed our route back to Broken Hand pass.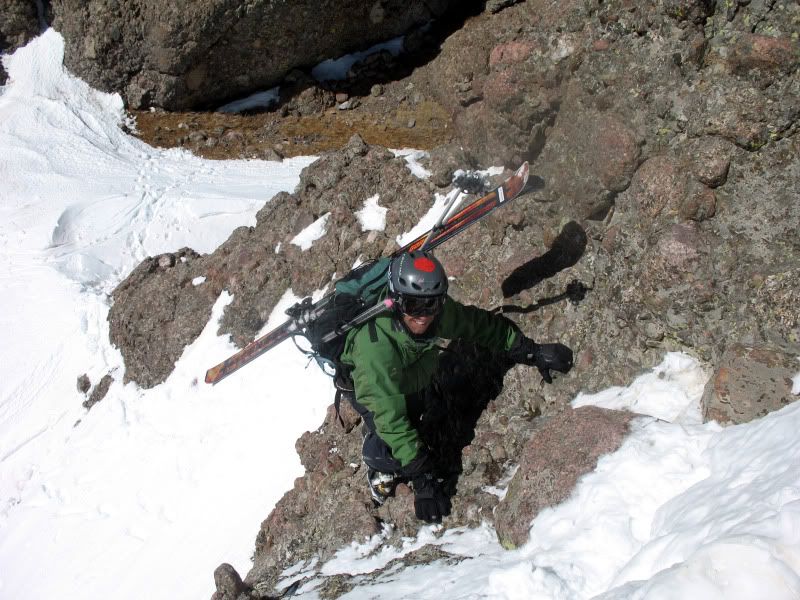 Photo courtesy of Chris Webster
At Broken Hand Pass, we reunited with Brad. Brad and Frank continued up Broken Hand Peak to ski a line that Frank has had his eye on for years. Click Here for the Broken Hand TR.


But, that's another TR:)
Crestone Needle was my 46th fourteener skied. Eight more left!
Aside from skiing, biking, and all outdoorsy things,
Brittany Walker Konsella
also loves smiles and chocolate 🙂 Even though she excels at higher level math and chemistry, she still confuses left from right. Find out more about
Brittany
!
Latest posts by Brittany Walker Konsella (see all)