54 Best Descents (Part 6): Sawatch
(Last Updated On: December 17, 2009)
Skiing Colorado's 54 fourteeners is an experience that I will never forget and marks a highpoint in my ski career. As such, it is a subject I love discussing and thinking about. Last spring, there was a discussion about what one needs to do to "officially" ski the 14ers. One consensus was that a skier needs to do the descents in a way that at least matches those who have come before them. This led me to start thinking about what the best descent on each peak could be in a perfect world. There are still some firsts left on the 14ers- first snowboarder (maybe Eric Kling or Jarrett Luttrell), first woman (Brittany Walker, Pam Rice, and Christy Sauer are all closing in), and first to do them all in one season. But for somebody who isn't in a hurry to be first at something, maybe getting the best possible descents would be the crowning achievement. In any case, here's my list for the best lines on each peak, starting with the peaks of the front range. At the very least, it should be a fun discussion on what route is best, since many of the 14ers have a number of high-quality routes.
Part 2: 10 Mile/ Mosquito Range
The Sawatch is Colorado's highest range and the one with the most fourteeners. The peaks in this range are usually fairly mellow, with a ton of vertical relief, and parts of this range are quite dry and windy, making for fewer route choices. This was the hardest range in the "Best Descent" series, it's all the same more often than not..

Holy Cross: Holy Cross is an interesting peak at the North end of the range. The cross couloir is one of the most famous couloirs in the world, and as such it gets the easy nod. Bonus points for rapping the chockstone and completing the entire couloir. "D" Scale: D10?.


Massive: Massive truly is Massive, with several sub-peaks breaching the fourteen thousand foot mark. None of the ski routes on this peak are all that different from each other, so I'll just give the SW slopes route the nod. "D" Scale: D6?.


Elbert: Elbert is Colorado's highest peak, and that's about all that is interesting about this peak from a steep skiing perspective. "D" Scale: D6.


La Plata: La Plata is a great peak with a number of fine climbing and skiing routes. The north face is aesthetic and regularly sees ski descents, but a couloir on the South side looks promising, so that gets my vote. "D" Scale: D8?.


Harvard: Another big high Sawatch peak. The West face is perhaps the steepest but I'm not sure if it really has a route that I'm aware of. It might be good from the Pine Creek drainage as well, but I'll stick with the aesthetic South face."D" Scale: D5?.


Columbia: Overshadowed by its bigger neighbor Harvard, Columbia doesn't offer up a whole lot. The West face is a decent route in good conditions. "D" Scale: D5?.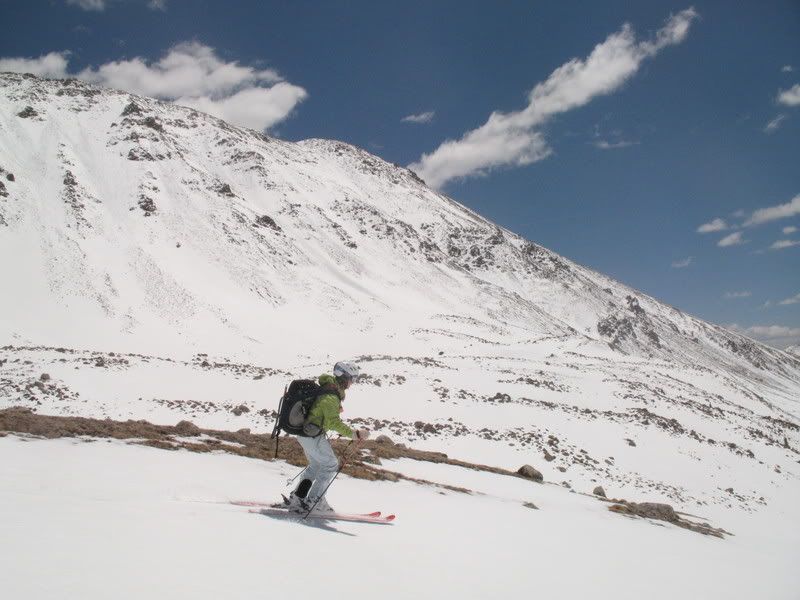 Oxford: This peak is almost always done in conjunction with Belford, but it deserves its own route. It's a long route, but the South face deserves to be skied more often (right)."D" Scale: D5?.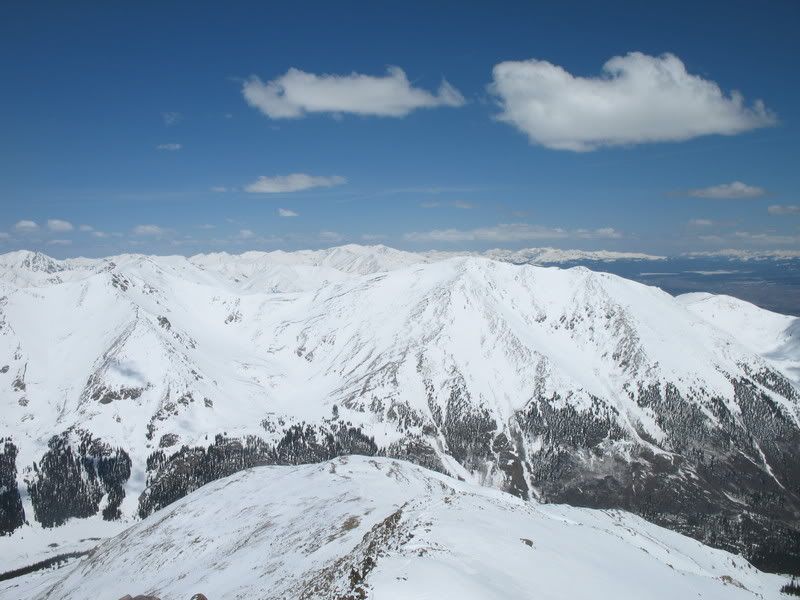 Belford: Belford is actually a very stately peak, and the Northwest face was one of my favorite 14er routes, despite its' relative ease."D" Scale: D6?.


Missouri: The North face of Missouri is a bit of an anomaly for the area, with its beautiful steep face. I was lucky enough to ski this one in powder, a distinct possibility for anyone skiing this fine peak. "D" Scale: D8.


Huron: This peak is mostly mellow, but the East face is another one that is absolutely worth skiing multiple times. "D" Scale: D8.


Yale: Yale is a very aesthetic peak from places on Highway 285, but it doesn't hold a ton of interest for ski mountaineers overall. The series of gullies on the southern flanks is probably as fun as anything else on Yale. "D" Scale: D6.


Princeton: Princeton is one of my favorite mountain vistas from Highway 285, but it doesn't get much snow or have a great ski route. The lower parts of the mountain are exceedingly rugged, like the chalk cliffs, but don't hold snow. So the standard route it is.. "D" Scale: D5.


Antero: Waiting for a big year and a lot of snow at lower elevations would allow a complete descent of the North Face, which would be a huge accomplishment. "D" Scale: D5.


Tabegauche: One of my favorite descents in the Sawatch was the North face of Tabeguache. "D" Scale: D7?.


Shavano: Shavano doesn't offer up a lot of snow or choices for ski mountaineers. At least the Angel could be considered a classic by some definitions. "D" Scale: D5.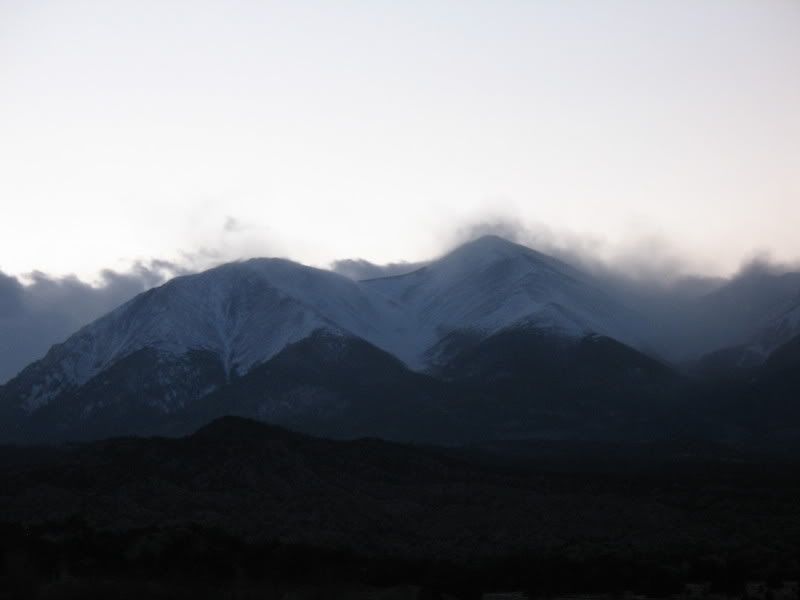 That's about it for my "Best Descent" series. I hope to see some unique descents in the future on some of these proposed routes. I'd still love to hear more suggestions, I know there are some real gems out there…
Frank
loves snow more than anything... except his wife.  He ensures his food is digested properly by chewing it 32 times before swallowing.He is a full-time real estate agent serving
Crested Butte and Gunnison
and would be honored to send you his
monthly newsletter.
Latest posts by Frank Konsella (see all)