Thoughts on the Hidden A(Gem)da Wilderness Proposal
(Last Updated On: November 6, 2009)
The Hidden Gems Wilderness Proposal has been a hot topic for those in Western Colorado for the last few months. I highly recommend that readers check out the Hidden Gems website to get up to speed, but the short story is this: more Wilderness areas in Gunnison County, Summit County, the Roaring Fork Valley, and the Vail/Eagle valley. some of these are entirely new areas, while others are additions to existing Wilderness. Some of these areas may indeed have merit, although given the backlash by local residents, it seems most do not. Most of these areas don't affect those of us in Crested Butte, but it appears a new "Gem" has been discovered. More on that in a moment…
Let me start by saying that I am a fan of Wilderness. It's an amazing thing to have pristine and untrammeled land right outside my back door. In the winter and spring, I recreate in Wilderness areas on nearly a daily basis. The majority of Colorado's Fourteeners are within Wilderness boundaries. Getting deep into one of Colorado's larger Wilderness areas, such as the Weminuche or the Maroon Bells/Snowmass can be a life-changing event.
Despite this, I am against the Hidden Gems proposal. There are problems with designating lands as Wilderness, here are a few of them:
Mountain bikes are not allowed
Hang gliding, BASE jumping, etc is not allowed
Horses are allowed
Cows and ranching equipment are grandfathered in
Events like running races are not allowed
Climbing bolts are not allowed unless done by hand
At what point is there enough Wilderness in a given area?
Of course, I've neglected to mention that Wilderness areas also ban motorcycles, ATV's, and snowmobiles, among other things. I'm OK with that, because even as a snowmobiler I can recognize that I don't need to be allowed everywhere. I also don't have a problem having my bike banned from these existing areas, even though studies show time and time again that mountain bikes do no more damage than hikers on most soil types. A bike certainly has less impact than a horse or herd of cows, and yet they are allowed in Wilderness areas. I have a problem with that kind of hypocrisy. Either ban horses as well, or let the bikes in. Finally, there is the question of: How much is enough? Here in Crested Butte, I can reach trailheads to the following Wilderness areas in the following amount of time:
Maroon Bells/Snowmass: 5 minutes
Raggeds: 20 minutes
West Elk: 20 minutes
Fossil Ridge: 45 minutes
Powderhorn: 1 hour
Collegiate: 1 hour
This is a tremendous amount of acreage where people can really only hike, ski, or ride a horse. What this means for me is that we currently have a nice balance of protected areas and areas that allow other forms of recreation. Of course, even in non-Wilderness areas, some activities are still banned, like dirtbikes on some trails or snowmobiles up certain valleys (i.e. Gothic). This also means that we have no need for more Wilderness in this area.
Several groups have lined up to oppose the Hidden Gems campaign. I encourage readers to take a look at these sites and follow through on the recommended actions such as writing your local politicians. The Roaring Fork Mountain Bike Association opposes Hidden Gems due to the number of trails which will be shut down on the North side of the Elks. The White River Forest Alliance
is an umbrella group representing all of the user groups affected by this proposal.
CLOSER TO HOME…
Meanwhile, it appears that another "Hidden Gem" has recently been discovered much closer to home here in Crested Butte. It is being called the Whetstone Wilderness and lies just south of town. The Crested Butte town council recently voted to support the measure, and more information on that aspect can be viewed here. What this newspaper article only hints at is this: The Whetstone Wilderness is proposed for one reason, and that is to thwart the Mt. Emmons Molybdenum Mine Project. Like the Climax mine outside of Leadville, this proposed mine will need a place to put all the tailings and toxic water. The proposed Whetstone Wilderness *may* be problematic for the mining company.
It's a silly Wilderness area otherwise, popular with mountain bikers, dirtbikes, and snowmobilers. A fit person could easily walk the whole thing in a day. On the north, it would be bordered by the Splain's Gulch 4×4 roads (or would those be in it?) as well as the Trapper's Crossing McMansion/Ranchette subdivision. Those homes tend to be abandoned except 4th of July weekend and Christmas, so I guess it already has a Wilderness feel to it any way. On the west side is Ohio Pass, and the south and west sides are private property, mostly ranches. Here it is, roughly: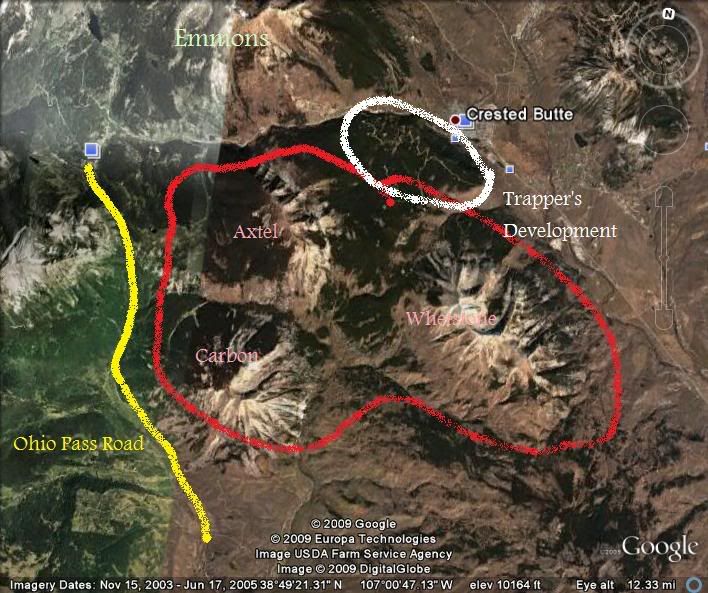 This is one "Gem" I guess I'll have to support, assuming it throws a wrench in the mining plans. The Green Lake trail may be one of my favorite rides, and I'll miss the easy snowmobile access, but if the payoff is sending the mine packing, it would be a small price to pay. I wish this area wasn't included with the rest of the Hidden Gems, the vast majority of which I do not support. The mine is such a looming problem for those of us here in Crested Butte that I will even have to support the whole proposal if I truly feel it will hurt the mine. What a mess…
Frank
loves snow more than anything... except his wife.  He ensures his food is digested properly by chewing it 32 times before swallowing.He is a full-time real estate agent serving
Crested Butte and Gunnison
and would be honored to send you his
monthly newsletter.
Latest posts by Frank Konsella (see all)