Hartman's Rocks and Gothic Ice
(Last Updated On: November 5, 2009)
With the recent spate of warm and dry weather, skiing plans have put on hold, at least temporarily. So what's a funhog supposed to do around here, anyway? My first thought was to do some ice climbing, hoping that the warm temps had been melting snow and freezing it at night. While working with a friend of mine, John Jasper, I mentioned ice climbing and he agreed it was something we should scope out. The Crested Butte area isn't blessed with ice the way the San Juans are, but a few waterfalls and gullies do exist. jasper knew one past Gothic that might be forming, so we decided to head up Thursday morning and see if it was in. After a steep hike through some snow, we found the gully and while it was thin, it was still good to go.
Every fall I tell myself that I should do some ice climbing and every fall I end up skiing or holding on to the bike season. So, it had been a few years since I had gone ice climbing for the sake of ice climbing. I really enjoy it, more than rock climbing in fact, but I'd still rather ski and that's what I do once winter really hits. Anyway, Jasper did a great lead to the first belay station. It's a little hard to take photos either while climbing or certainly while belaying, but here's a couple: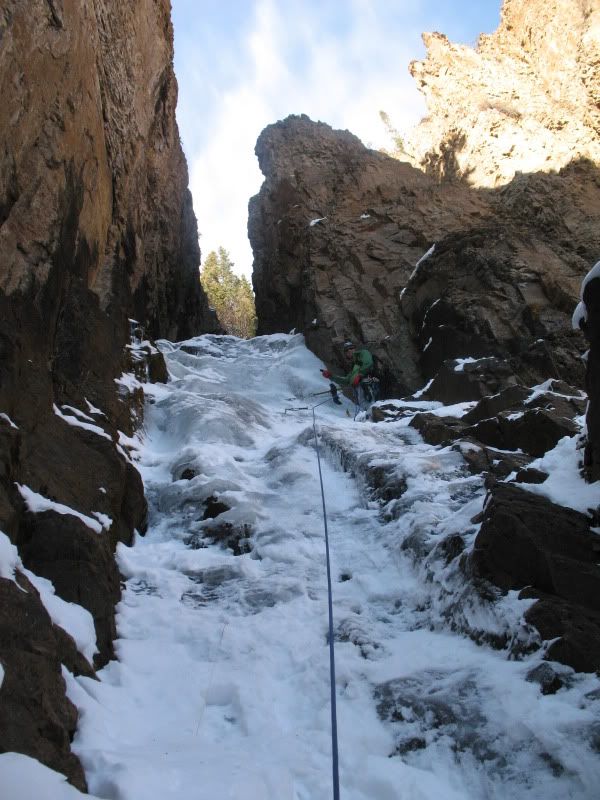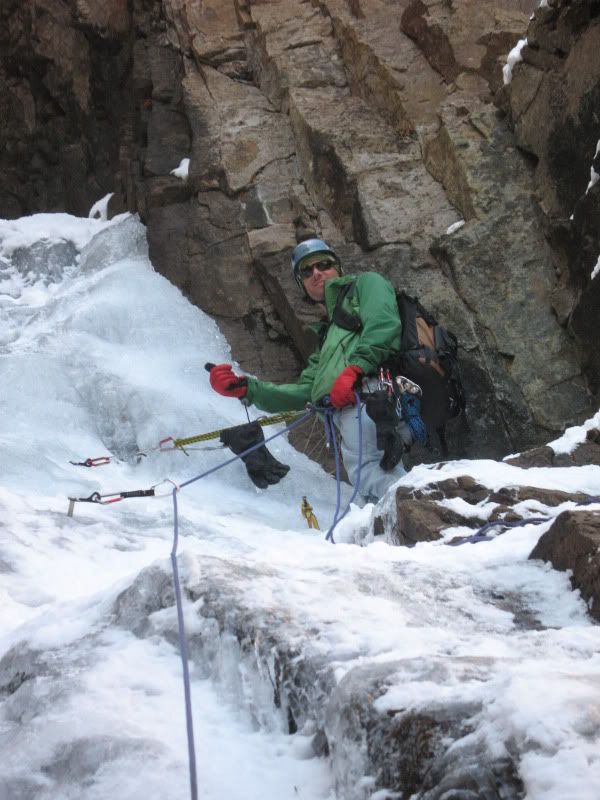 The second pitch was even better, and led into a really amazing little gully. As Jasper pointed out, ice climbing takes you to cool places, much like mountaineering or skiing. I suppose on some levels that's why we do this.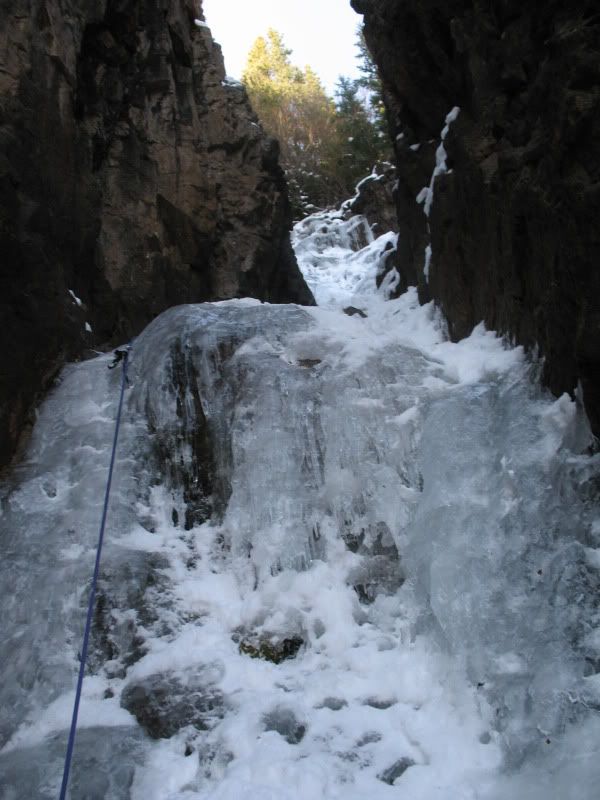 Not a bad view from the top:

Stoked: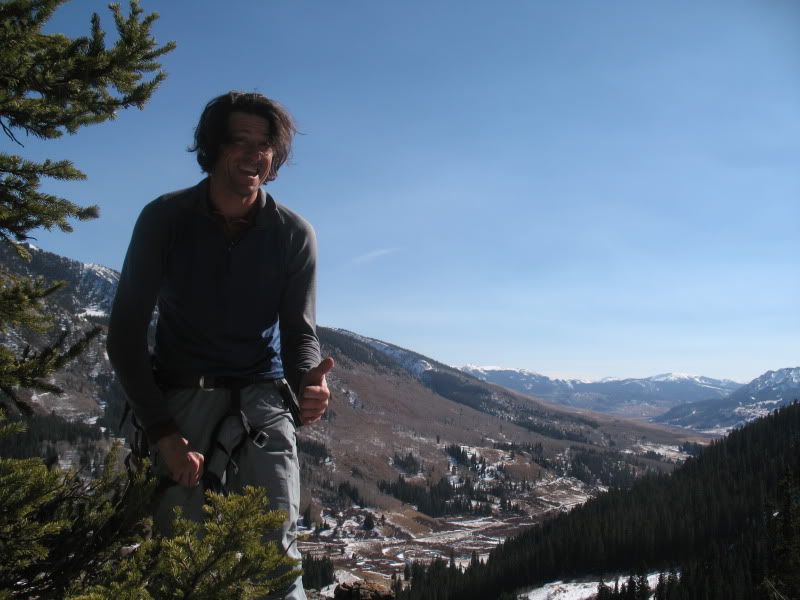 It's a deep little slot, but it's down there:

We hiked around the cliffs and did some really nasty downclimbing on 40degree grass and rock slopes that had 6″ of treacherous wet snow on them. Nothing like finishing the outing with some mountain style tarzan-ing off pine boughs.
After I got home and ate some lunch, I decided I might as well play hooky some more and go ride Hartman's rocks in Gunnison. After all, 60degree days in November are pretty rare, and the work will still be there tomorrow, so I loaded up and hit the road. I had about 2 and a half hours of sunlight left, so I took the same route my friends and I rode two weeks ago since I knew how long that would take. As hard as it is to take photos while climbing ice, it might be even harder to take solo biking photos. But here's my shadow:

Hartman's trails always take the interesting route:

This was a great ride. Despite being November and quite breezy, I was comfortable in shorts even in the shade. Trail conditions were near perfect and what little snow was left had been scoured off by other trail users. At the trailhead, I ran into a friend of mine who helped me achieve one last sport for the day:

Drinking a Pibber while the sun goes down 🙂 Can I call that a sport? Regardless, this was a pretty good day, for sure. November can be a rough month around here sometimes, too cold and still not snowy enough to ski, but sometimes things align and a day like this one happens. 'Til next time…

Frank
loves snow more than anything... except his wife.  He ensures his food is digested properly by chewing it 32 times before swallowing.He is a full-time real estate agent serving
Crested Butte and Gunnison
and would be honored to send you his
monthly newsletter.
Latest posts by Frank Konsella (see all)