54 Best Descents (Part 3): Elk Range
(Last Updated On: November 3, 2009)
The Elks. I really don't need to say more, but I will. Together, these six peaks represent the zenith of Colorado fourteener skiing. The Maroon Bells, Pyramid, and Capitol are four of the toughest, and these peaks have more history than most, with names like Landry and Stammberger.
Snowmass: Both of Snowmass' main routes are well worth skiing- the West and East faces. The East face features what may be the steepest 14er turns on any mountain, 50′ or so of near 60degree snow. It quickly mellows out into a classic and gigantic bowl straight to Snowmass Lake. The West face features a number of steep gullies, not all of which go all the way through. Routes may also exist on the South face, although they appear to be quite short. I'll stick with the route I skied, the West Face, on Snowmass Mountain.

Capitol: Scary no matter how its' done, it is somewhat amazing that this mountain has four different routes on it, and more have been spotted. Everything skied so far has required either a rappel, roped skiing, or switching back and forth between climbing and skiing during the descent. For my own aesthetics, a route without ropes or mid-descent climbing would be the ultimate Capitol route. I believe that this route exists as a variation of the Davenport/Beidleman line, just to the skier's right of their route. In several trips to Pierre Lakes Basin, this route has rarely looked good- I believe it gets scoured by wind and avalanches more than other routes. It will take timing for someone to get this line. Red= variation, Purple= D/B line, Yellow= D/B climb, Green= Our line, the Secret Chute, Pink= Our Rappel

Maroon (South Maroon): Another Elk fourteener with great routes all around. Traversing to the classic Bell Cord or skiing one of several variations of the NE face into the Y-couloirs should be on everyone's tick list. For those of us on the southern side of the Elks, though, there can be no choice- the SW face direct is the route of choice. Dropping like a rock straight from the summit into the beautiful Fravert basin 2 thousand feet below, this route is a wilderness classic.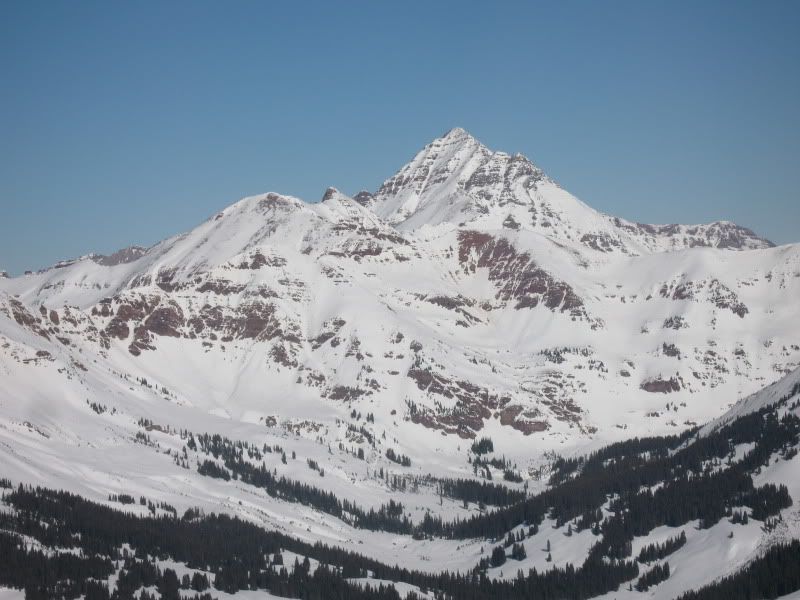 North Maroon: It's true that this peak has been skied by routes other than the North Face, such as the standard summer route and the West-to-North face variation. But Stammberger's groundbreaking 1971 descent is one of the major events in American ski mountaineering history. As such, this route reigns supreme.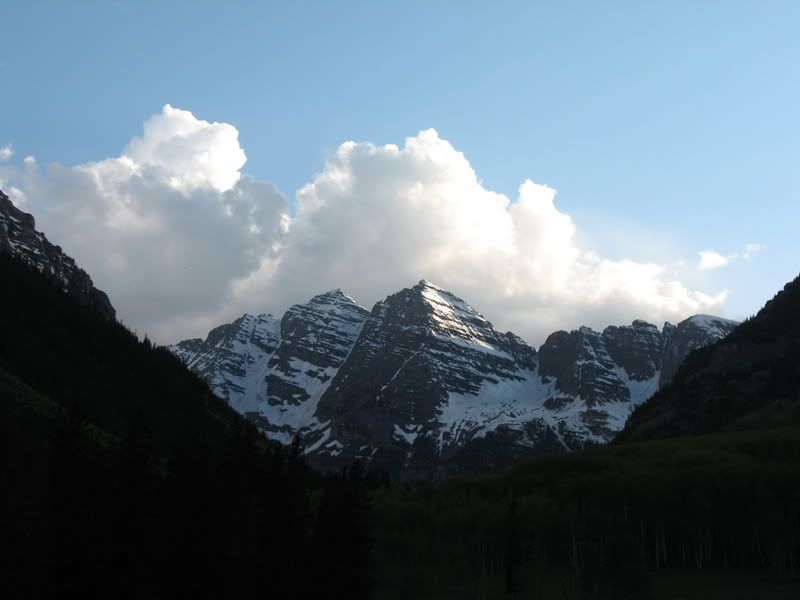 Pyramid: I've skied in a lot of places- Alaska, British Columbia, Chamonix, South America. Plop the Landry line on Pyramid in any of those places, and it would still stand proud as a steep, committing, and aesthetic line. It may be unequaled in Colorado. Google Earth doesn't cut it, but it's all I've got…

Castle: Another great mountain, this one with easy access on the Montezuma Basin Road. Quite a bit easier than the other Elk mountains via the North Couloir or the West Face from Conundrum Hot Springs, it also has at least two hard routes on the East and South faces. While my project used the beautiful East face, a later descent of the South face was even better, in my opinion. It doesn't hurt that this face can easily be seen from the Crested Butte area, or that some extremely talented ski mountaineers have been turned back by this route before the first (and quite recent) first descent. Due to difficult access, I only know of four descents as of Nov. '09. Route in Red:

Frank
loves snow more than anything... except his wife.  He ensures his food is digested properly by chewing it 32 times before swallowing.He is a full-time real estate agent serving
Crested Butte and Gunnison
and would be honored to send you his
monthly newsletter.
Latest posts by Frank Konsella (see all)