Ski Magazine Features Crested Butte
(Last Updated On: November 5, 2009)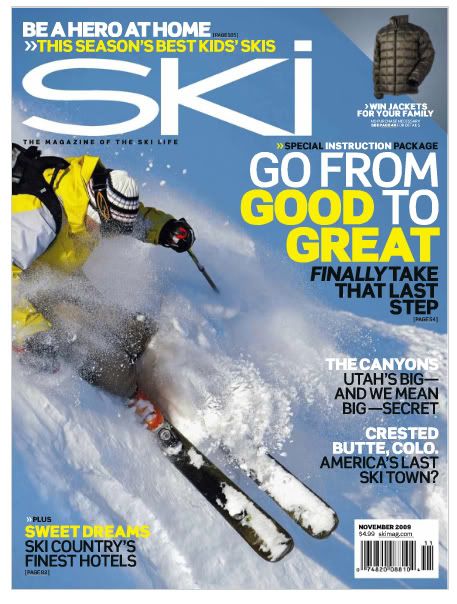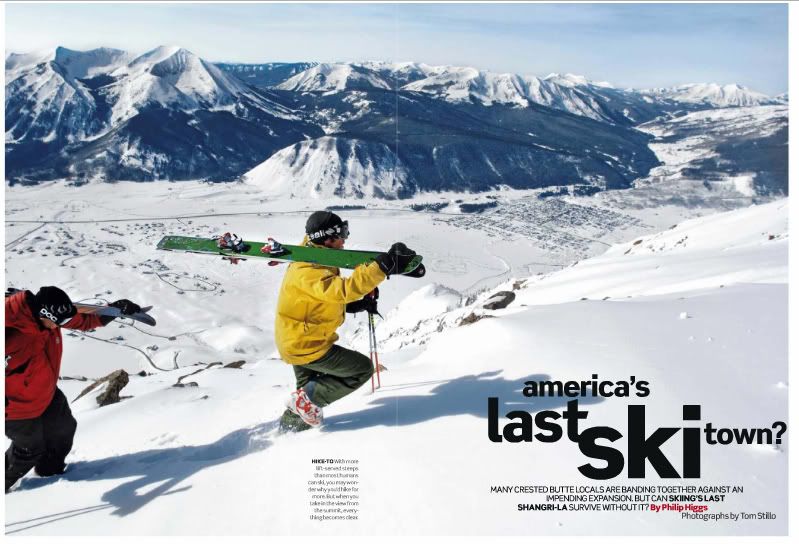 The November issue of Ski Magazine features Crested Butte, asking readers if it's America's last great ski town. After living here for a year and a half now, I have come to the conclusion that it is one of the last great ski towns of the world. This town is driven by skiing. Businesses still shut down for powder days and employees ski during their lunch breaks. But, this town has something different than many other places whose economy is focused around skiing- it's a real community. Sure, Crested Butte has the seasonal transients. But, at the core of this town is a group of people who came here to ski and then stayed. People have build their houses and their lives here, been married, have had 2 kids, and take those kids soccer practice ever Saturday morning. It's not just America's last great ski town, but it's one of the last great examples of a community in a fragmented nation where people feel so detached from their neighbors. I wouldn't trade living here for anything.
The article on Crested Butte begins on page 90, featuring the photography of our good friend, Tom Stillo. The first page shows a huge spread taken from high on Mt. Crested Butte looking at the valley below with Frank front and center along with Jay Prentiss climbing the peak. Another photo shows our friend Alison Gannet slaying some serious powder in Teocalli Bowl. Other pictures capture small glimpses into the real life of a Crested Butte local.
I'm not a huge fan of Ski Magazine, usually. But this particular month's magazine is worth checking out, if only for the pictures!
Take a look online
You can view the magazine online with this link: http://www.zinio.com/reader.jsp?issue=416101454&o=int&prev=sub. But, let me warn you there are a limited number of page turns you can make without having to pay to view the magazine. So, be smart and type in "Crested Butte" or "p. 90" in the search feature provided near the top of the screen in this linked page. That will allow you to view most of the Crested Butte article!
Aside from skiing, biking, and all outdoorsy things,
Brittany Walker Konsella
also loves smiles and chocolate 🙂 Even though she excels at higher level math and chemistry, she still confuses left from right. Find out more about
Brittany
!
Latest posts by Brittany Walker Konsella (see all)