Scarp's Ridge to The Dyke Trail 9.12.09
(Last Updated On: September 13, 2009)
Every fall, I end up with a mental list of rides I'd like to do before the snow flies. Scarp's to the Dyke was high on my list this year, as it had been at least 4 years since the last time I rode it. Tom was up for it, while Brittany decided to join us on the Dyke trail portion. Despite the threatening-looking weather, we were able to pull it off with just a few sprinkles here and there.
After a warm-up ride on the lower loop, we began the relentless 3,000′ climb up Gunsight pass. Tom's photo:

From the top, looking down:

From the top of the pass, we immediately were confronted with a short hike-a-bike section. Tom:

After that, the Scarp's ridge trail is a primitive faint trail along the length of Scarp's ridge. On the rider's right there is often a huge amount of exposure, but with technically easy riding. Frank, photo by Tom:

Tom:

More shots of me by Tom:

More shots of Tom. With the spectacular setting, the changing colors, and the stormy light, we got a lot of shots and I'm posting a lot of them…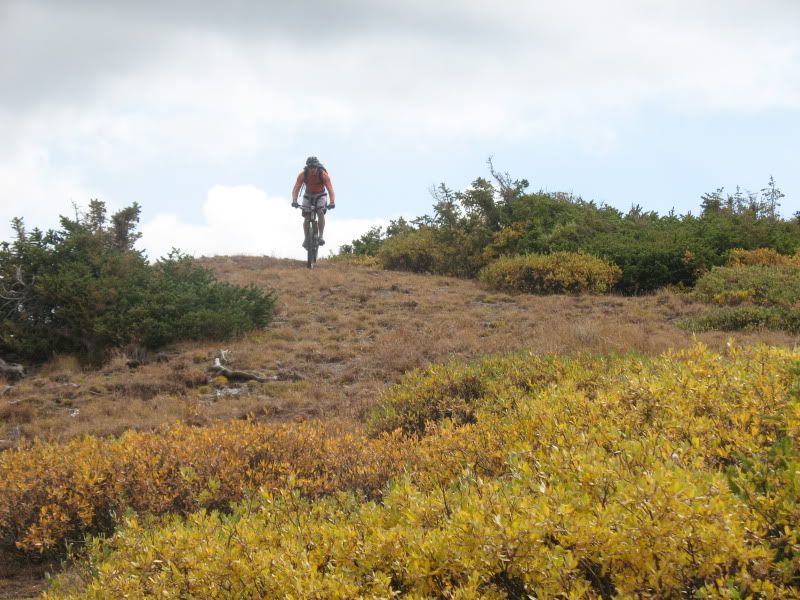 My favorite of the day, a shot by Tom of me…

We eventually dropped off Scarp's and headed down towards Irwin Lodge on trail 419. The trail is mostly abandoned and badly eroded, but it's still fun. Tom's photos:

One of Tom heading towards Ruby Chute:

We made our way to the start of the Dyke trail and met up with Brittany who had been waiting there for a while. After the adventure-style riding we had been doing, the bermed-out and well-ridden Dyke trail was a totally different and (by then, at least) welcome experience. Tom's photos of Brittany:

And one of me, again by Tom:

My shots of Brittany: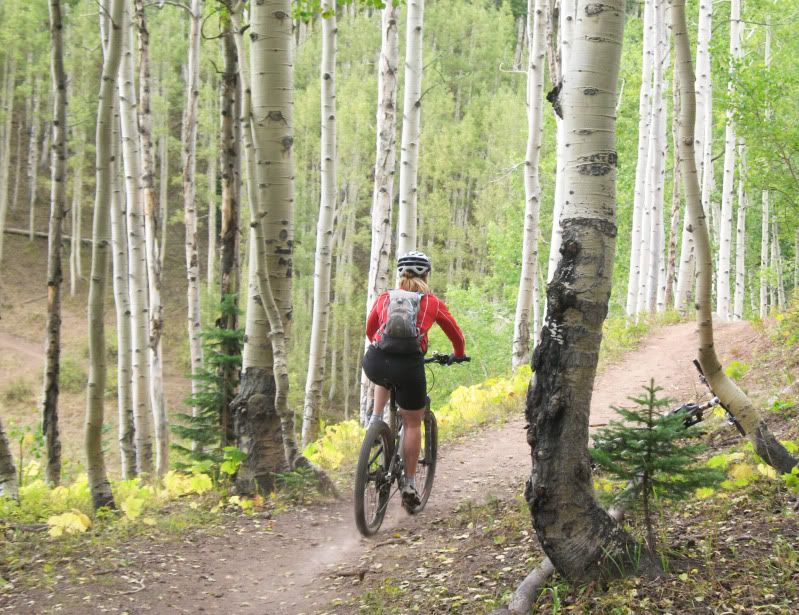 A shot of Tom and I that Brittany took. Still green down here!

After the climb up and over Kebler Pass, we headed down to town via the fairly new Wagon Trail. It isn't the funnest trail in the world, since it just parallels the road, but it's still singletrack. Brittany:

We rode straight to the Brick Oven for some beers and pizza, making for a roughly 35 mile and 5,500′ ride for Tom and I. Tom took a bunch of other great photos, and his website is here. Another one checked off the list 🙂
Frank
loves snow more than anything... except his wife.  He ensures his food is digested properly by chewing it 32 times before swallowing.He is a full-time real estate agent serving
Crested Butte and Gunnison
and would be honored to send you his
monthly newsletter.
Latest posts by Frank Konsella (see all)