(Last Updated On: September 12, 2009)
I think it was the massage that helped my hip-flexor. My friend Carrie Jo, a massage therapist, spent an hour working on it on Thursday night. When I woke up Friday morning, it felt remarkably better. So, I decided to test it out on an after work ride at the ski area. As long as I didn't push too hard up steep terrain, my hip-flexor felt alright.
With my hip-flexor on the mend, I was able to make riding plans for today. Frank was riding with Tom, doing Scarps Ridge to the Dyke Trail. The Dyke Trail is one of my favorite rides in these parts and was on my list to get done since I was cleared to ride single track two weeks ago. Not wanting to aggravate my hip-flexor too much, I opted to let the boys ride Scarps on their own, and I met them at the beginning of the Dyke Trail at Irwin Lake.
The Dyke Trail is a fairly short ride. So to make it a little longer, I rode from the bottom of the Kebler Pass road, adding some fairly easy road miles to the trip.
View of Mount Crested Butte from the parking lot.

Axtell. Leaves are changing fast and the peak should be in a week or two. Before long we'll be skiing this lovely peak!

Beginning of the Dyke trail, with storm clouds looming. Thankfully, with the exception of a few sprinkles, we dodged the rain all day long!

A shot of the boys.

And a couple of me.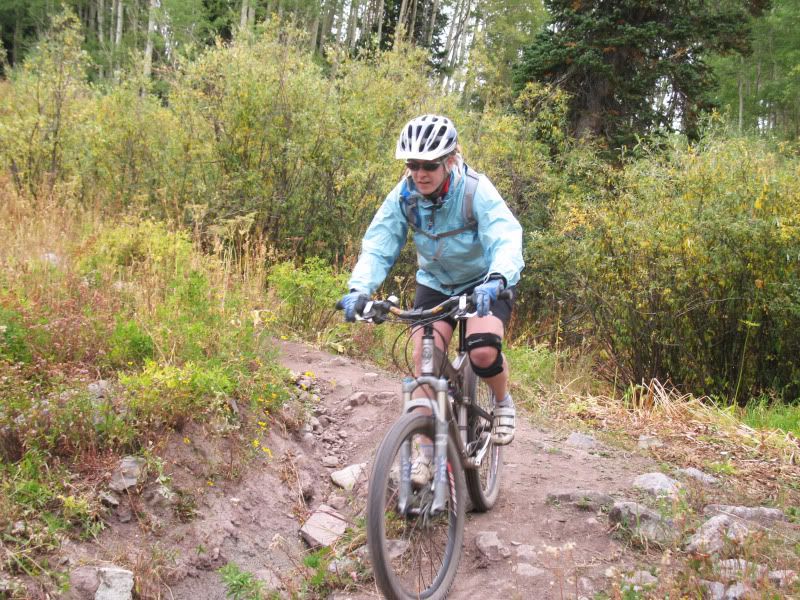 Instead of taking the Kebler Pass road all the way back, we opted for the new Wagon Trail down.

All in all a fun day, and I'm glad to be on the mend. Frank will be posting a full TR of his Scarps to Dyke ride soon!
For more trail information please see Dyke Trail on our Crested Butte Mountain Biking Guide.
Aside from skiing, biking, and all outdoorsy things,
Brittany Walker Konsella
also loves smiles and chocolate 🙂 Even though she excels at higher level math and chemistry, she still confuses left from right. Find out more about
Brittany
!
Latest posts by Brittany Walker Konsella (see all)