54 Best Descents (Part 2): 10 Mile/ Mosquito Range
(Last Updated On: September 16, 2009)
Skiing Colorado's 54 fourteeners is an experience that I will never forget and marks a highpoint in my ski career. As such, it is a subject I love discussing and thinking about. Last spring, there was a discussion about what one needs to do to "officially" ski the 14ers. One consensus was that a skier needs to do the descents in a way that at least matches those who have come before them. This led me to start thinking about what the best descent on each peak could be in a perfect world. There are still some firsts left on the 14ers- first snowboarder (maybe Eric Kling or Jarrett Luttrell), first woman (Brittany Walker, Pam Rice, and Christy Sauer are all closing in), and first to do them all in one season. But for somebody who isn't in a hurry to be first at something, maybe getting the best possible descents would be the crowning achievement. In any case, here's my list for the best lines on each peak, starting with the peaks of the front range. At the very least, it should be a fun discussion on what route is best, since many of the 14ers have a number of high-quality routes.
My least favorite major range in Colorado has some good skiing in it, and some really boring skiing as well.
Quandary: This peak has a number of fine routes. The mellow East bowl is one of the easiest, the classic Cristo Couloir is a bit steeper, and variations of the Cristo are spicier still. The longer, steeper and more remote North side of Quandary is the way to go, however, on the Quandary Couloir route. Photos and a route description can be found on 14ers.com here. Photo by Bill Middlebrook, 14ers.com:

Democrat: Democrat also has fine routes on the West, North, and South sides. The West side would probably have a number of excellent routes if the wind didn't continually scour it. The North face is where it's at, though.

Lincoln: In the right conditions, a number of couloirs dropping off the North side look tempting when skiers traverse under the face after skiing Democrat's North side. With a few wet spring storms, this side of Lincoln would be a playground of possibilities.

Bross: Quite possibly the least interesting 14er to ski, no matter which face one might descend. From Democrat, a snaking gully on the West side looked better than anything else I have seen on boring Bross. Partially obscured by clouds:

Sherman: The East face at least has some mining ruins to keep a skier interested, but the skiing is pretty mellow. From Leadville on the West side, however, Sherman actually looks steep and fun- if, once again, this windy range is actually holding snow. The West face does hold snow at times, however, and is the route that Lou Dawson took when he did his 14er project. The only photo I could find from IdahoSummits.com: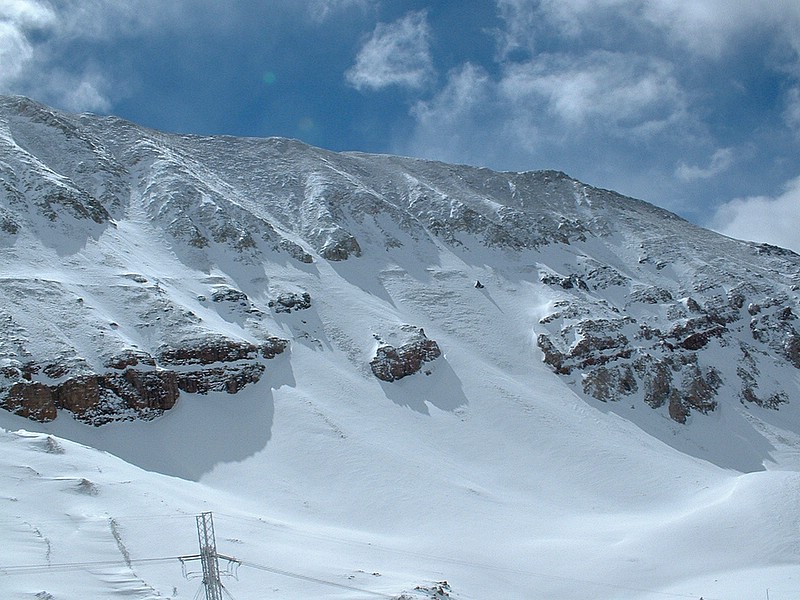 Those are my choices for this range, who has some more? Which overlooked routes am I missing? Let's hear from some readers…
Frank
loves snow more than anything... except his wife.  He ensures his food is digested properly by chewing it 32 times before swallowing.He is a full-time real estate agent serving
Crested Butte and Gunnison
and would be honored to send you his
monthly newsletter.
Latest posts by Frank Konsella (see all)