54 Best Descents: Front Range
(Last Updated On: September 8, 2009)
Skiing Colorado's 54 fourteeners is an experience that I will never forget and marks a highpoint in my ski career. As such, it is a subject I love discussing and thinking about. Last spring, there was a discussion about what one needs to do to "officially" ski the 14ers. One consensus was that a skier needs to do the descents in a way that at least matches those who have come before them. This led me to start thinking about what the best descent on each peak could be in a perfect world. There are still some firsts left on the 14ers- first snowboarder (maybe Eric Kling or Jarrett Luttrell), first woman (Brittany Walker, Pam Rice, and Christy Sauer are all closing in), and first to do them all in one season. But for somebody who isn't in a hurry to be first at something, maybe getting the best possible descents would be the crowning achievement. In any case, here's my list for the best lines on each peak, starting with the peaks of the front range. At the very least, it should be a fun discussion on what route is best, since many of the 14ers have a number of high-quality routes.
Long's: Right off the bat, we'll start with a tough one. In a big snow year, a number of routes could be considered "classics". Routes like the notch couloir involve to much traversing and possible ropework, so I'll throw those out. In the end, it comes down to the North Face or Keplinger's couloir. While I loved Keplinger's, and it is a longer route the the North Face, I'm going to give the North face the win on this one, due to the crazy positions above the diamond skiers find themselves on. Photo by Brad Bond: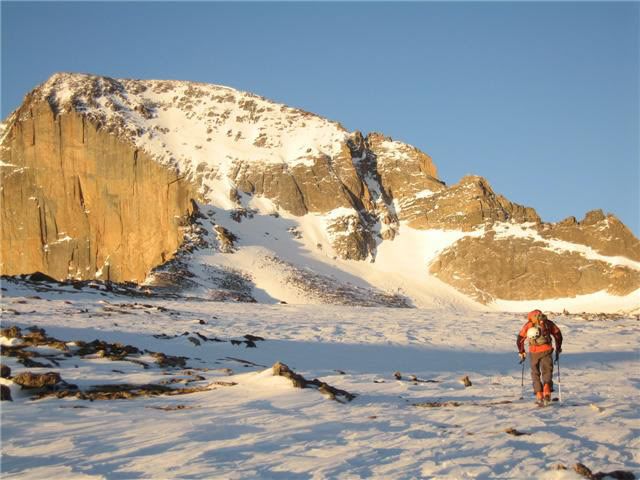 Torrey's While the routes on the North Side are great in their own right, the East face and the Dead Dog couloir win on this peak.

Gray's Most skiers cross Gray's off their list by skiing near the standard summer (NE) route. While other routes exist on the opposite side of the mountain, waiting for perfect conditions to allow a summit descent and traverse to the Lost Rat couloir gets my nod. (Lost Rat on left)
Evans I have yet to hear of anyone skiing the steep southern side of Evans, but waiting for this side to come into play would probably be worth the effort. When viewed from Bierstadt, it's obvious that there is potential- the only question is if the snow is there. At the very least, the South side is both steeper and longer than the North side.
Bierstadt After looking down the South Face of Bierstadt off the summit, I badly wanted to ski this side as it is a lot more interesting than the standard West facing descent route.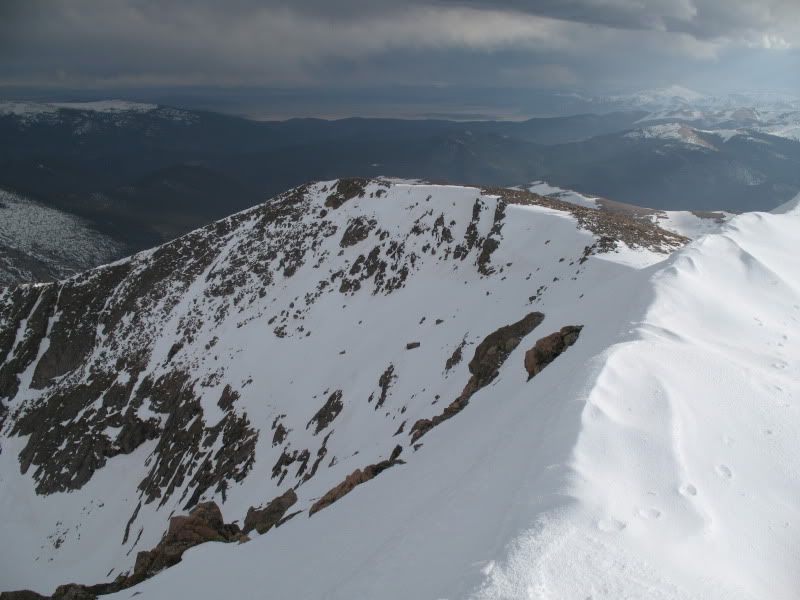 Pike's This is another tough one because the raliroad and Y- couloirs are so similar (in fact the whole North facing cirque has a lot of different lines), and there may be potential for other steep routes on other sides of the mountain, especially in a heavy spring snow season. I'll give it to the Y-couloirs for now, but it's up for debate, for sure.
Those are my choices for this range, who has some more? Which overlooked routes am I missing? Let's hear from some readers…
Frank
loves snow more than anything... except his wife.  He ensures his food is digested properly by chewing it 32 times before swallowing.He is a full-time real estate agent serving
Crested Butte and Gunnison
and would be honored to send you his
monthly newsletter.
Latest posts by Frank Konsella (see all)