Terminator Chutes, Crested Butte. 2.4.09
(Last Updated On: March 17, 2015)
Standing proudly over the town of Crested Butte lies the impressive monolith of the same name. Some people like to call it "Mount" Crested Butte, or Crested Butte "mountain", but the fact is that a butte is simply an isolated mountain, making Crested Butte a perfect name. So calling it Crested Butte mountain is like calling Everest "Mt. Everest Peak Mountain". While the ski area is found on Crested Butte's N side, the imposing W and S sides are what is most readily seen from the town. If the rock were better, Crested Butte would be a climbing destination, but the rock is generally pretty poor.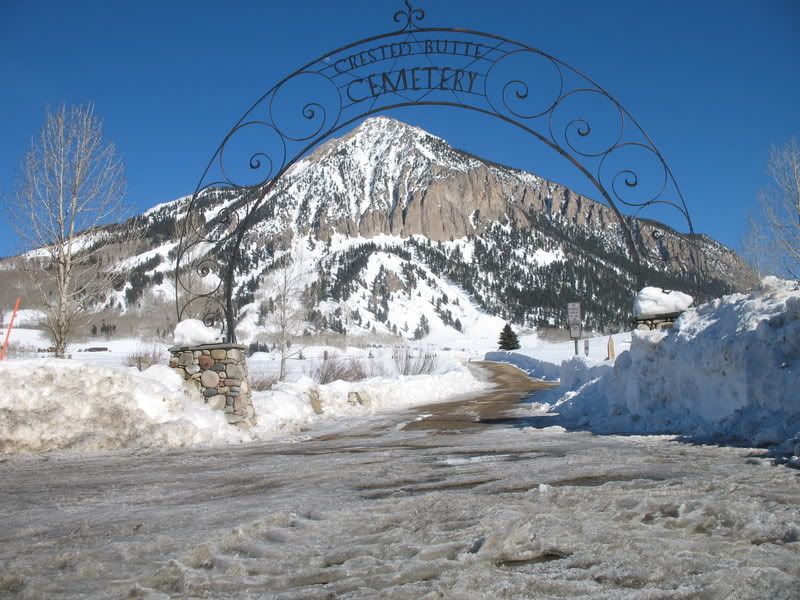 Inbounds at the Crested Butte ski area, one can find runs such as Total Recall and Predator. I'm not sure where the history of naming runs after Schwarzenegger movies started, but the tradition continued out of bounds on the W face, with the Terminator chutes, numbered 1-5, and commonly called T1, T2, etc.. Given that all but T1 require a rappel, Terminator seems to be a fitting name.
Crested Butte's W face. T1 is looker's left, while T3 drops down the center.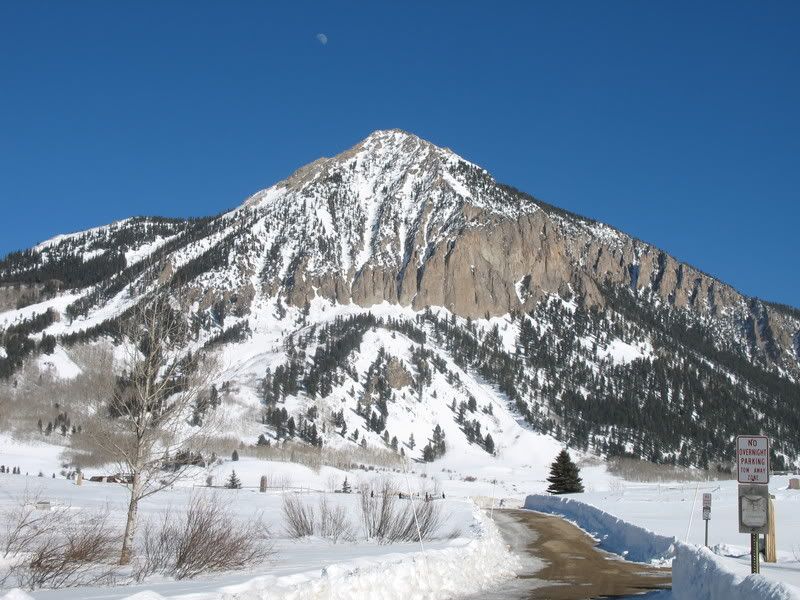 With warm temps and an avalanche danger on W faces at "low", Brittany and I decided that an attempt of the Terminator chutes sounded like a good idea. The only problem was that neither of us were capable of leading the difficult mixed rock/snow/ice pitch that guards access to the couloirs. So, I gave my friend Hutch a call, who has been climbing and snowboarding hard this season, anticipating an upcoming trip to Chamonix. He was equally keen on the idea, so we met up early in the morning in town (how many trailheads are "in town"!?). We quickly gained the 1,000'+ of vertical and passed by the bottom of T1 and T2.

The early morning views of town and Mt. Axtel were excellent: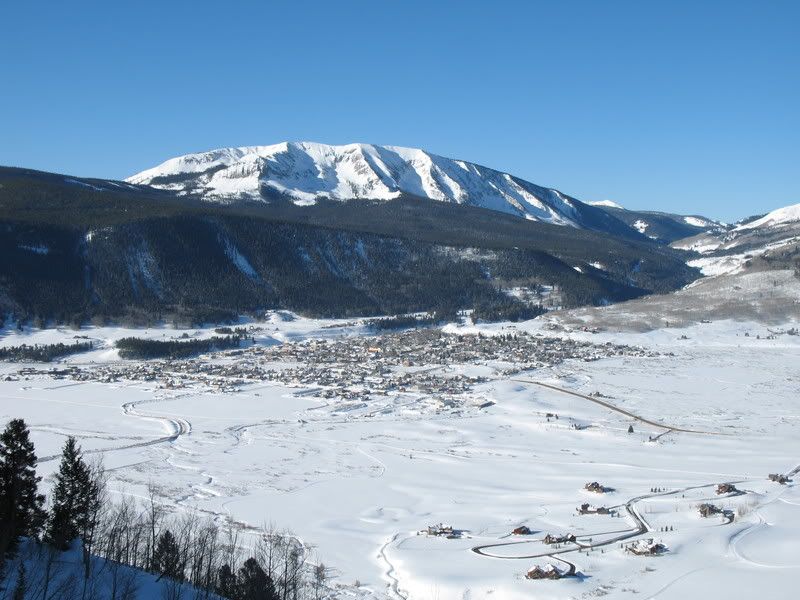 We continued to make our way up towards T3, the plum of the bunch, and our intended goal of the day.

Unfortunately, T3 looked to be very difficult, with just a touch of verglass on thin, sloping holds.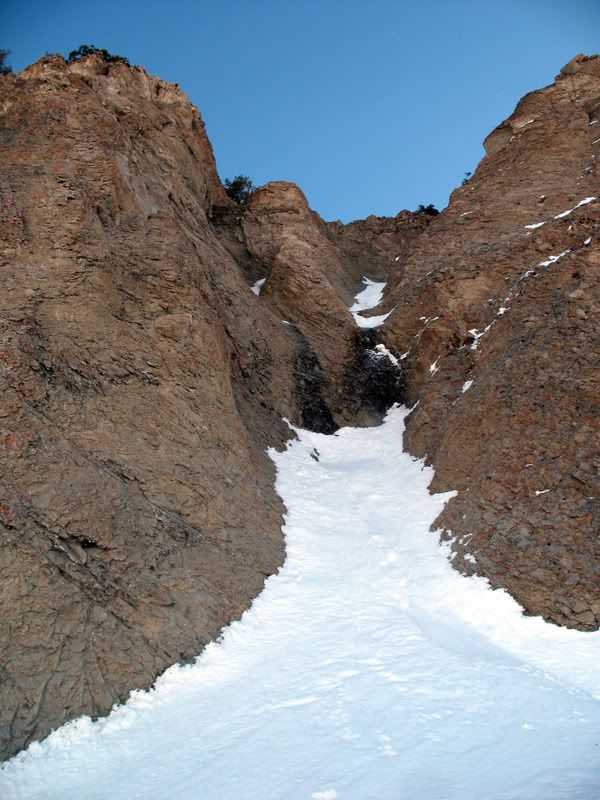 We decided to check out T4, a route that I had previously climbed and skied 3 years ago with Pete. This looked much more promising, so we geared up and Hutch started towards the cliff. As Pete found out 3 years ago, the somewhat easy looking cliff turns out to be anything but. Asked what grade the route might be, Hutch responded with, "mixed-hard as I would do with ski gear".

Hutch was able to place one piece of protection fairly low, but that was it, so I guess his rating also needs a run-out asterisk.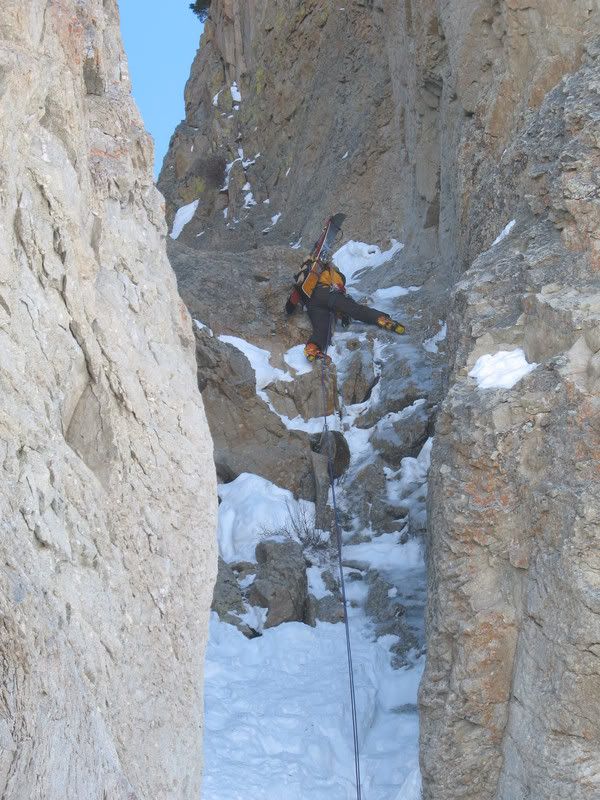 After a 60m pitch, Hutch reached the stopper nut that Pete and I had left 3 years ago. Guess it was a solid placement 🙂 Brittany was next to climb, eventually finding a key foot placement that got her through the crux.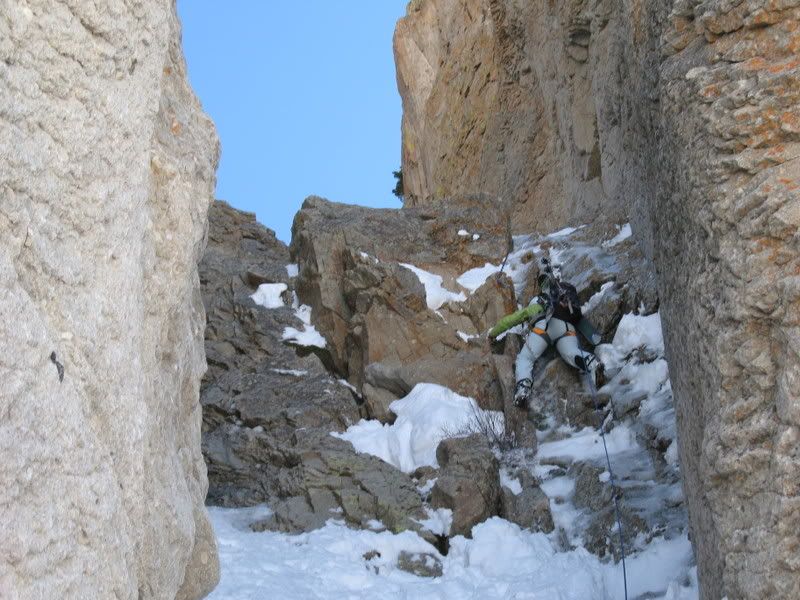 I followed and we regrouped at the anchor above. The snow here was not what we had hoped for. Expecting the recent warms temps to have solidified the surface, we instead found thin sugar snow, crusts, and slabby conditions. "Low" though the danger rating may have been, we found ourselves in an anomoly which was not "low" at all. After a bit of discussion, we determined that it was time to call it a day and head back down. Not without a look up at the beautiful upper pitches of T4: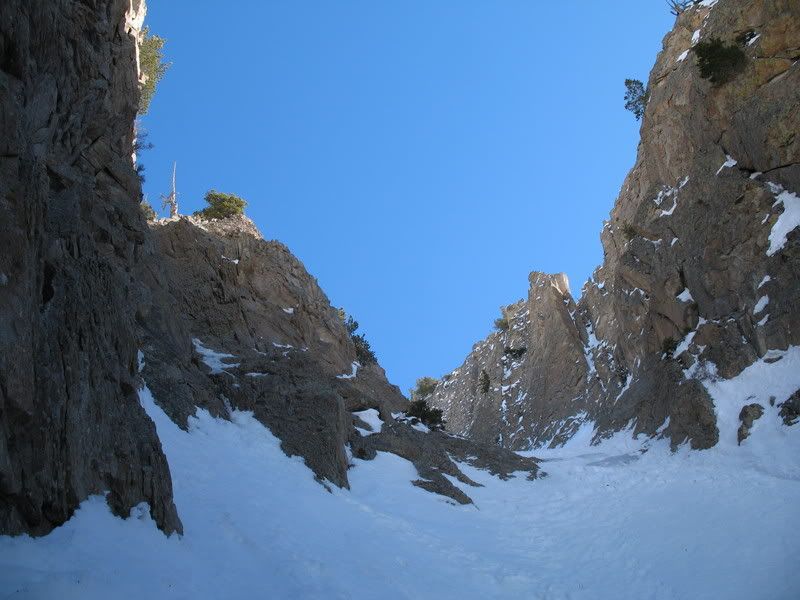 I rapped first: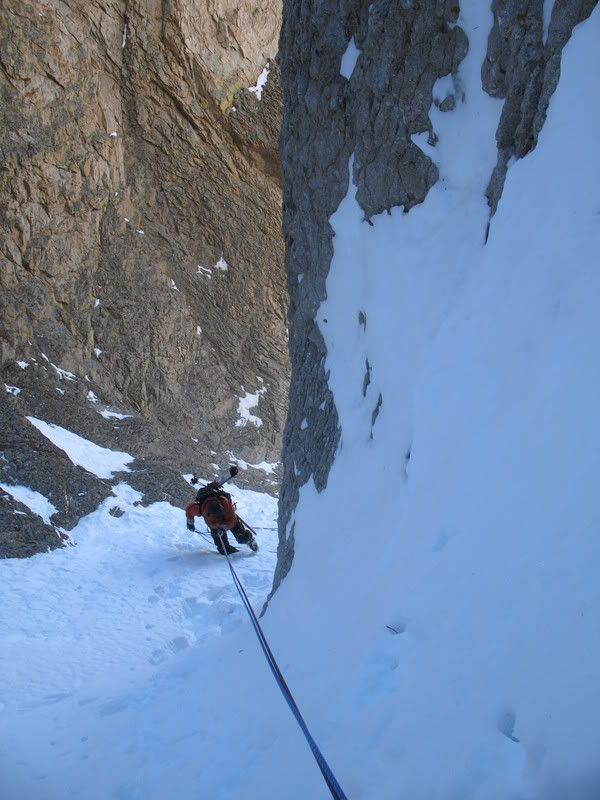 Hutch making his way down:

All that was left was the ski back down to town. The snow was variable, depending on how much sun it had received, but we found some nice turns along the way, Hutch: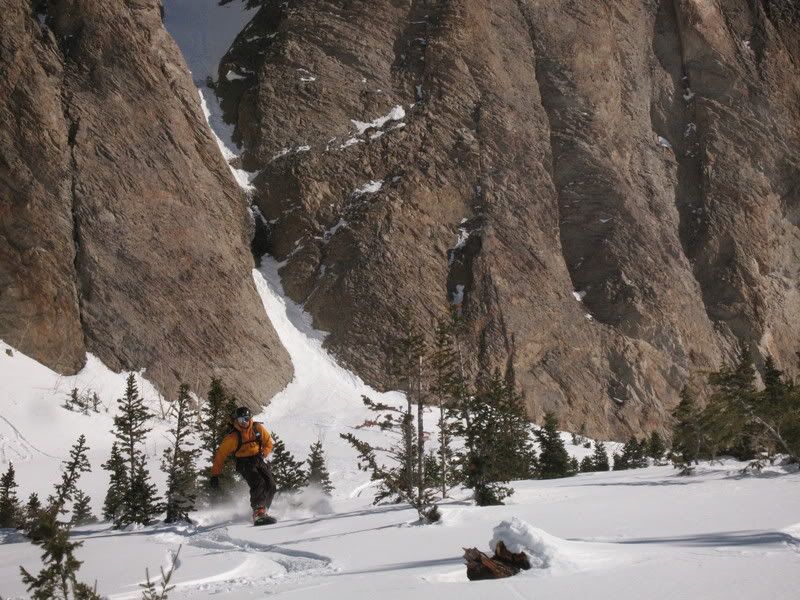 Frank:

Brittany:

While we didn't get to ski what we really wanted to, we were still able to get some good climbing practice in, right there in our own backyard. It's a tough little pitch that left Hutch feeling ready to head to Chamonix, Brittany feeling like she learned some things from her ice climbing course earlier this winter, and I was psyched that I can still turn around when I know I should. Note: We were able to successfully ski T3 a few years later.
Frank
loves snow more than anything... except his wife.  He ensures his food is digested properly by chewing it 32 times before swallowing.He is a full-time real estate agent serving
Crested Butte and Gunnison
and would be honored to send you his
monthly newsletter.
Latest posts by Frank Konsella (see all)