Fourteener-skiing training
(Last Updated On: February 4, 2009)
The last month or so, we've been in the perfect cycle. A week of snow, followed by a week of high pressure followed by a week of snow, followed by a week of high pressure. Repeat. This is the perfect cycle, allowing us to get our powder fix followed by a week of warm temperatures which allows the snow to settle- making us able to get out and ski some big lines.
This cycle is perfect for my "training" for the fourteeners. Most of you know that I have only 9 fourteeners left to ski. Many of these fourteeners are difficult- some because they are technical and dangerous, some because they are long, and some are a combination of both. This winter, I've made it my goal to "train" for my upcoming fourteeners by getting into the backcountry: 1) Seeking long tours to improve endurance and stamina and 2) More technical routes to challenge and hopefully improve my mountaineering abilities. In the last 5 days I've experienced both.
On Saturday we skied an area which is affectionately called Big Country. What was at first supposed to be a short day, turned out to be a 10 and 1/2 hour long tour which involved two pitches of skiing a 2+ hour tedious traverse out of our second ski. Below are pictures that show our tour as viewed from Crested Butte ski area on Tuesday.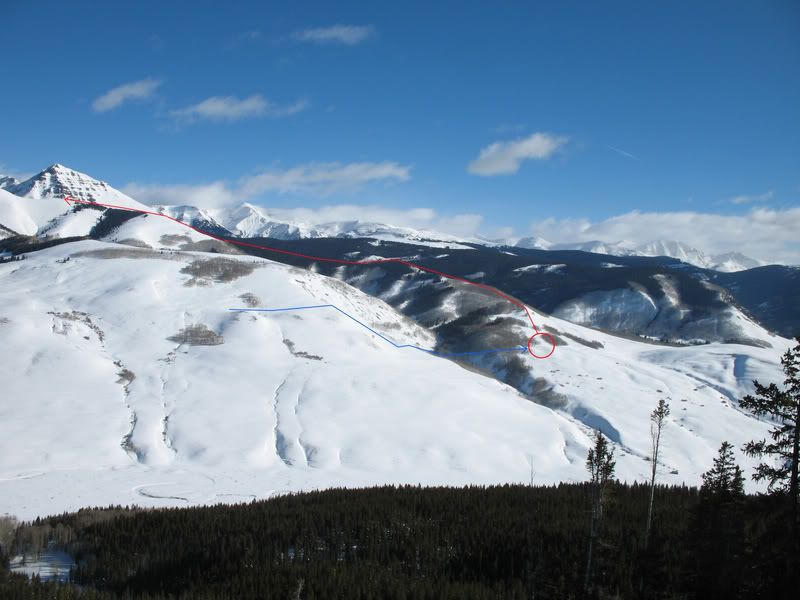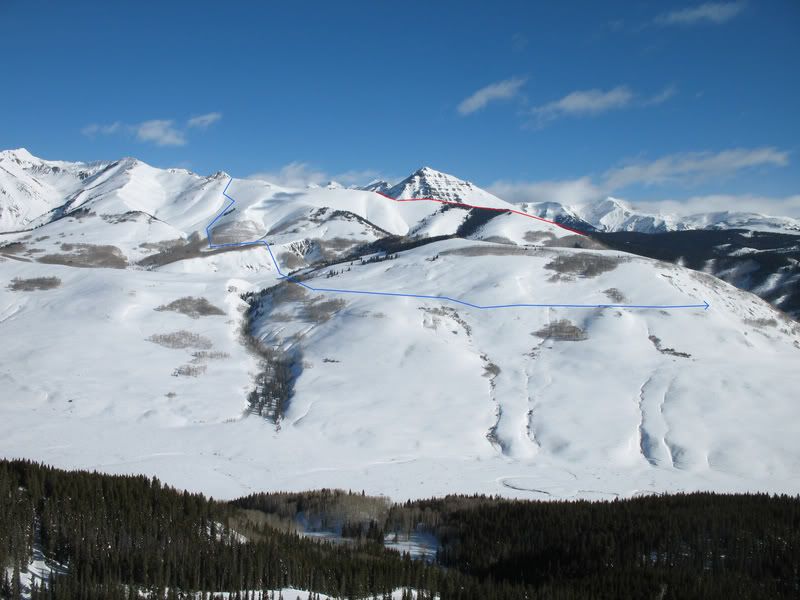 I could not fit the area into one picture, so I split it into two. The red shows where we parked our snowmobiles and then our skin up the ridge. The end of the red line marks where we began our first ski, down the backside of the ridge (out of view). We then came back up to the ridge, following the blue line down for our second descent, and traversing back over to our snowmobiles.
This Big Country tour turned out to be longer than we expected, especially on the traverse out. This traverse pushed my stamina, and left me with a strained leg muscle that is still bothering me 5 days later.
Today, we attacked the Terminator Chutes, which challenged my mountaineering skills. The Terminator Chutes are noticeable from Crested Butte. Most people who visit gaze upon them several times without even knowing their names.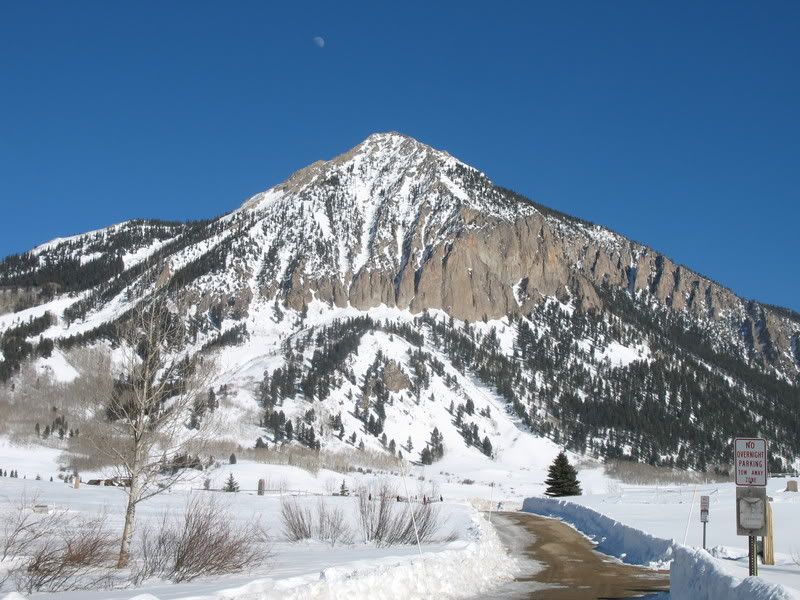 The Terminator Chutes lie to the right of the ski area boundary for Crested Butte ski resort. Their name is a continuation of the theme given to the couloirs on the front side of the mountain: names like "Total Recall" and "Predator"- all Arnold Schwarzenegger movies. The picture below is marked. The yellow arrows point to the ski area. The pink lines mark the five Terminator chutes, T1-T5, from left to right.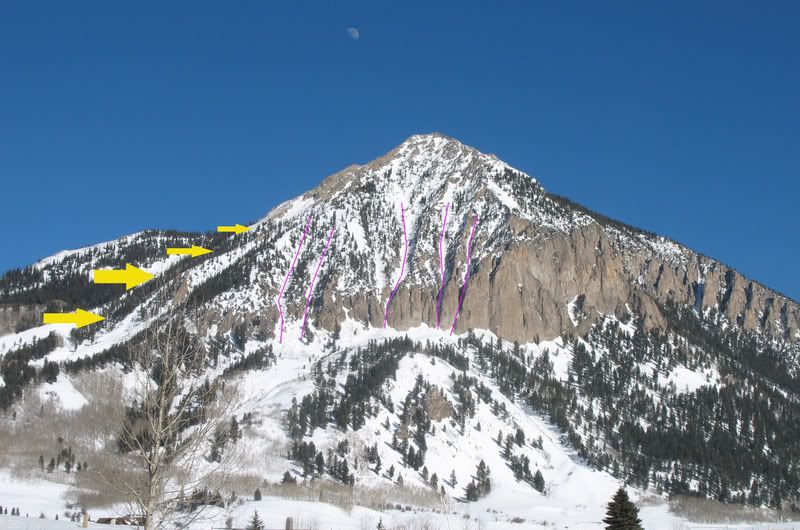 We wanted to climb and ski T3, but the initial climb looked too challenging for our skills. So, we headed over to T4. We initially thought the T4 climb would be easy. But, we found otherwise. The climb was challenging. The mixed rock/ice was interesting to work with. Hand-holds and ice axe placements were tricky. It was a difficult climb, but we all made it up the crux. And I found myself thankful for the ice climbing course I'd taken a little over a month ago. The skills I learned there came into play today. Though undesirable and dangerous snow conditions prevented us from continuing very far up this couloir, it still was a good time out. I look forward to battling the Terminator chutes again soon- hopefully during our next high pressure 🙂
I call it "fourteener training". But, really, I'd be out there doing these things anyway. Perhaps I use it as an excuse for when the fun starts to become less-fun. But, the less-fun challenges make our victories all the more sweet 🙂
Aside from skiing, biking, and all outdoorsy things,
Brittany Walker Konsella
also loves smiles and chocolate 🙂 Even though she excels at higher level math and chemistry, she still confuses left from right. Find out more about
Brittany
!
Latest posts by Brittany Walker Konsella (see all)