409 and a Half to 402 8.30.09
(Last Updated On: September 1, 2009)
I just finished a crazy few days of riding with some out of town friends. Starting Thursday afternoon, I ended up riding Green lake, then Bear to Doctor's on Friday, 401 on Saturday, and 409.5/402/Tony's on Sunday. All told, that's about 110 miles of bike riding, on some of the very best Crested Butte has to offer. I have photos from some of the other rides, but I'll start with what may have been the best of the bunch, 409.5/402.
Joining me that day were usual suspects Zach and Tom, plus Javier from Guadalajara, Mexico, and Adam, a recent arrival to the area now in his first year at Western State College. It's always fun to ride with new people- Adam did a whole lot better than I would have at his age on a 40ish mile ride, while Javier was a great rider whose father started the first bike shop in Guadalajara, Mexico's second largest city. 18 years of riding and Javier declared Sunday's ride "best all-time!". Glad I could do my part to show the goods of CB. Anyway, on to the pics…
We started down highway 135 and saw a rare sight in these parts- a moose, about halfway in between Crested Butte and CB South.

Then we started down 409.5. Definite top-5 trail in the Crested Butte area, Zach in the upper meadows here: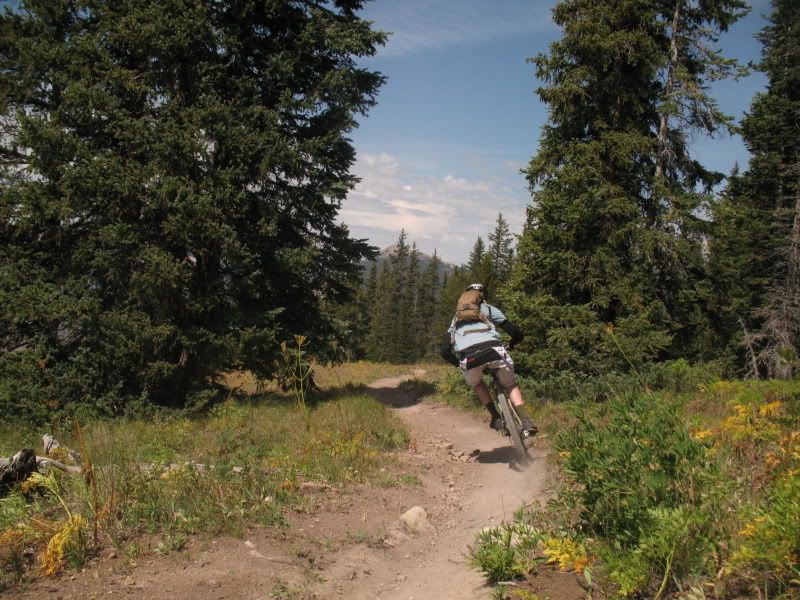 Tom, in a dark photo that screams out "fall is on the way"

409.5 has a bunch of perfect drainage bars that are taylor-made for a little airtime. Zach took this shot of me:

From there we made our way up to 402, one of the area's most technically challenging trails. Zach, getting delerious:

We didn't shoot too many photos on 402 with an approaching thunderstorm on the way, but I did take a quick shot of Adam on his way through the bottom of the trail.

After that, the skies eventually cleared and we made out way up to Tony's to finish off the ride in style. I ate a quick burrito at Teocalli Tamale, and then had to ride the 3 or 4 miles back up the hill to my condo in Mount Crested Butte. A bit of a crusher, but a near perfect day nonetheless. More on those other rides later….
Frank
loves snow more than anything... except his wife.  He ensures his food is digested properly by chewing it 32 times before swallowing.He is a full-time real estate agent serving
Crested Butte and Gunnison
and would be honored to send you his
monthly newsletter.
Latest posts by Frank Konsella (see all)