(Last Updated On: July 11, 2017)
As much fun as Cartagena was, it was time to move on and explore more of Colombia. The small town of Minca, roughly 4 hours away, received glowing reviews so not knowing any better, that's where we headed. Located at roughly 2,000 feet in the Sierra Santa Marta, but in sight of the sweltering Caribbean coast, Minca is known for its cooler climate and ecological diversity, waterfalls, and mountain biking.
Brittany had a car rental reserved for us, but in a very Seinfeld-esque series of events, we only had a reservation, not a car. We were there at 8:30, not 7:30, like our reservation said. So, they had already given our car away, even though we'd already paid for the rental. An hour later, we had a car, complete with a flat tire. We inquired about the flat and were told, "you can fill it with air". Uh, yeah, we know that. The good natured but bumbling rental car clerk eventually put air in the tire and we were off to Minca. After a stop at the Totumo mud volcano (look for it in another post), we made good time on the highway, even negotiating the bustling home town of Shakira- Baranquilla. From there, the highway took us through a narrow spit of land connecting Barranquilla to Santa Marta, one of Colombia's oldest cities.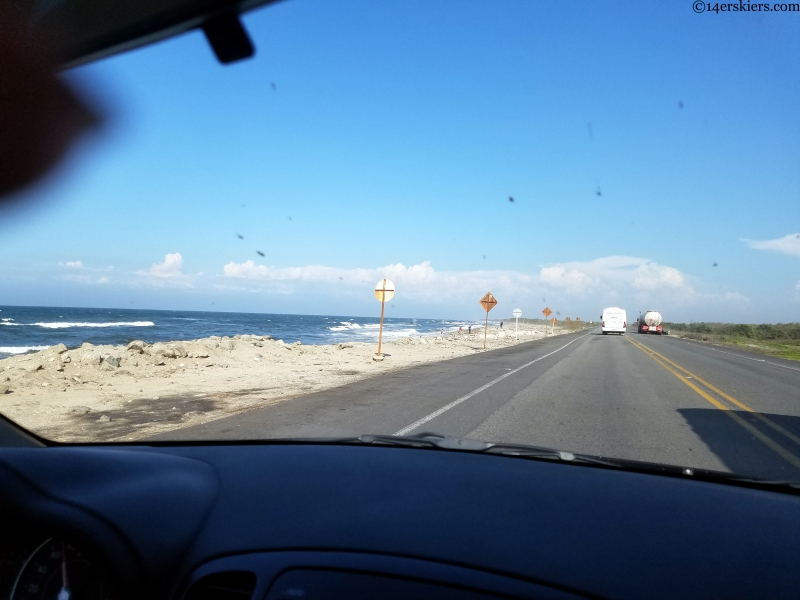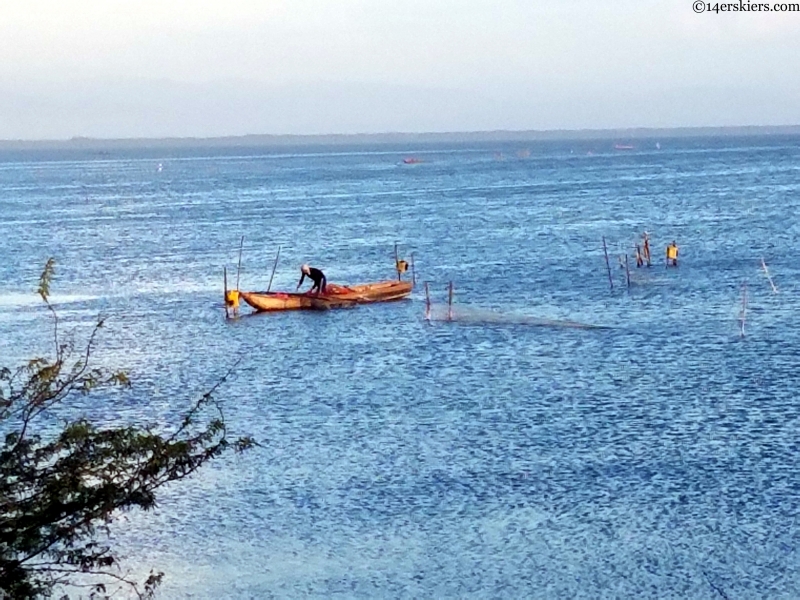 We could even start to see the peaks of the Sierra Santa Marta, which reach altitudes of 5,000 meters in the distance: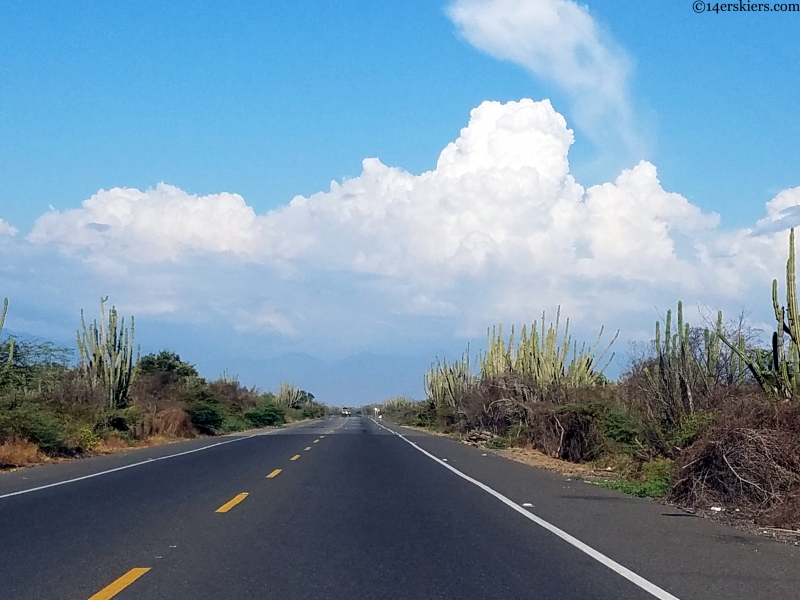 And that's when the third world happened. We stopped. And we went nowhere for a long time. And people tried to drive forward in the wrong lane, and on the shoulder, and it was general third world chaos. And it was hot, so we kept idling with the A/C on, watching the needle drift towards "E". And we started to wonder if we would get to our hotel before they closed at 7 pm. And I was definitely not looking forward to driving in Colombia at night. We crawled forward, and as night fell, traffic started to move- slightly- at the small town of Cienaga. There was a ton of military on the highway in Cienaga, and I quickly realized what had happened.

Cienaga is poor, so the locals had closed the road with tires and such. I had experienced the same thing in Peru years ago. It isn't particularly dangerous or violent, but it's definitely a pain in the butt, and stops traffic until the military arrives to clear it out. We made a couple more wrong turns, at night, in Santa Marta, and we got to our hotel long after the front desk had closed. Even though we had called told them we'd be late, we spent a half hour wandering around, wondering where we could get our key. There was no note or any indication they'd be coming back. Finally someone came by ("Yes, you said you'd be here between 8:30 and 9, so I'm here at 9"), we ate dinner, and got some sleep. Stay tuned, because we get to drive through Cienaga one more time, and there is a great story to that one.
Thankfully, we awoke to an amazing breakfast with hummingbirds everywhere, surrounded by mountains and rain forest.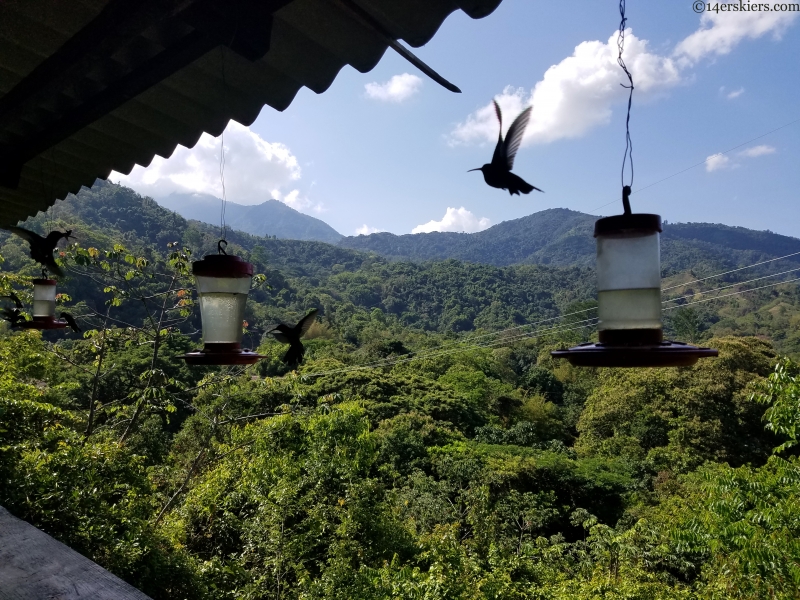 It was beautiful. We felt just like Homer, especially after our adventure just getting here.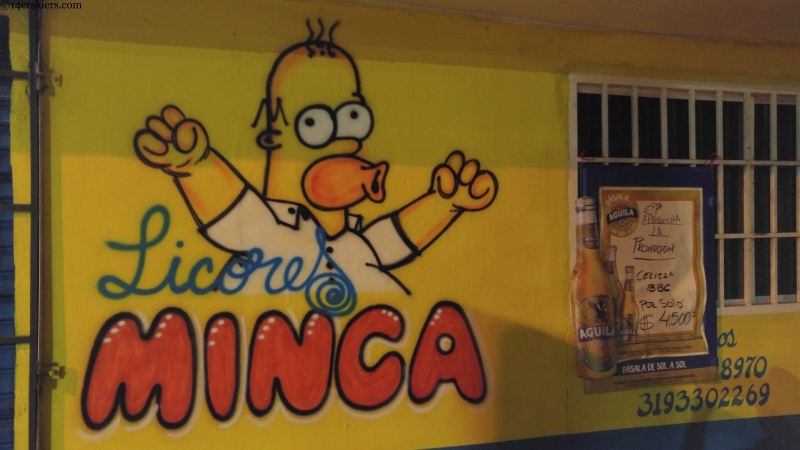 Minca is a bike town, and road riders challenged themselves up the steep road from Santa Marta- perhaps hoping to be the next Nairo Quintana.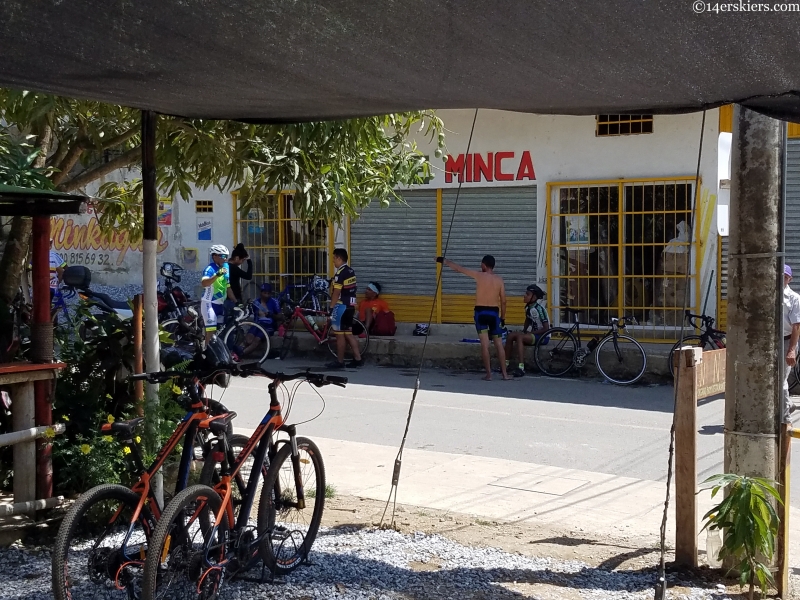 More shots of town: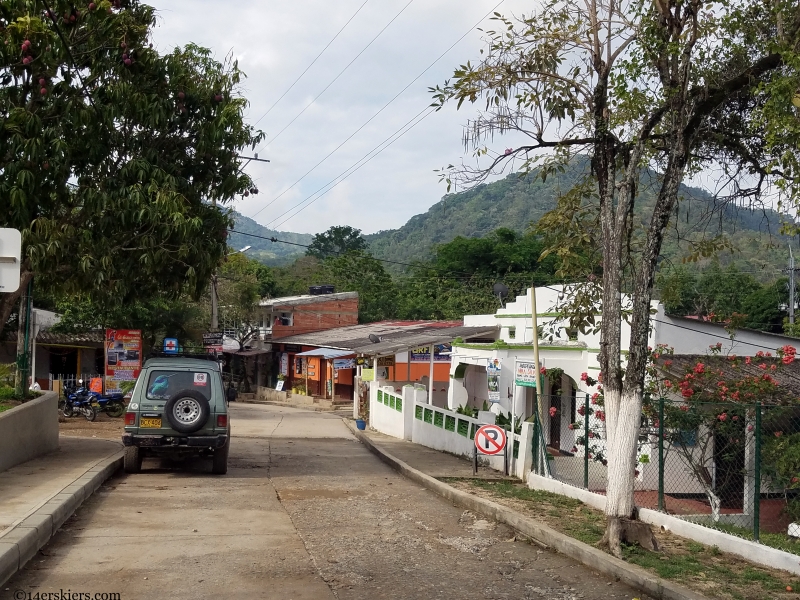 Restaurant Santisabella, a really good Italian restaurant in town: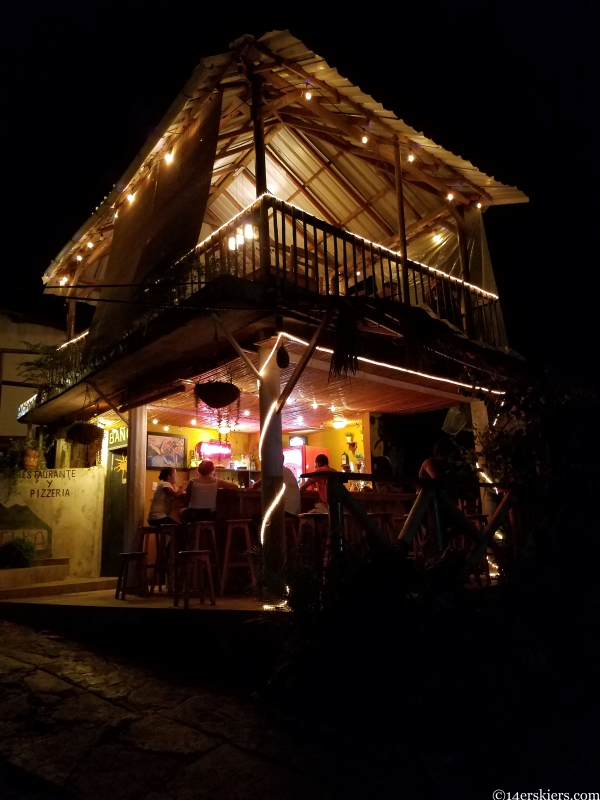 Our hotel, a converted convent:

But Minca isn't really a place to hang out. It's a place to explore, and swim under waterfalls, and mountain bike. More on that in another post. I'll concentrate on some of the other tours we did. First, I should introduce Jungle Joe, who runs a tour company in Minca. He's one of those annoying people who is seemingly good at everything. Kind of like the real life "world's most interesting man". Built his own house, out of bamboo? Check. Speaks multiple languages? Check. Started his own brewery (which makes great beer, by the way)? Check. Cooks a mean meal? Check. Is a great wilderness guide and knows everything about the local foliage and wildlife? Yeah, that too. Here's Jungle Joe talking coffee: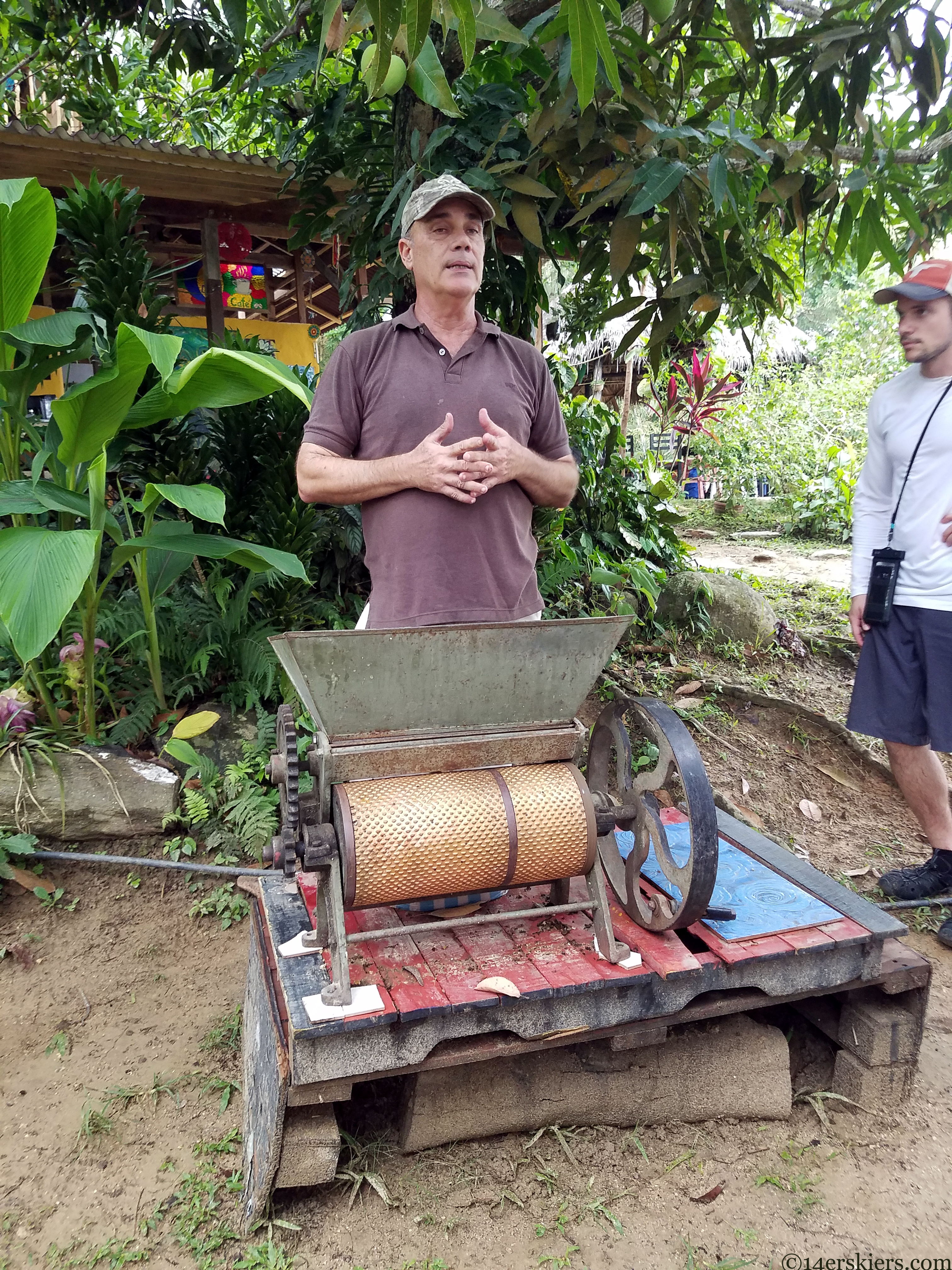 Speaking of beer, you can find a surprisingly good selection of beer in Colombia. I'm not talking about yellow beers like you can find in most of the world, but real beer. Jungle Joe's Happy Toucan on the right: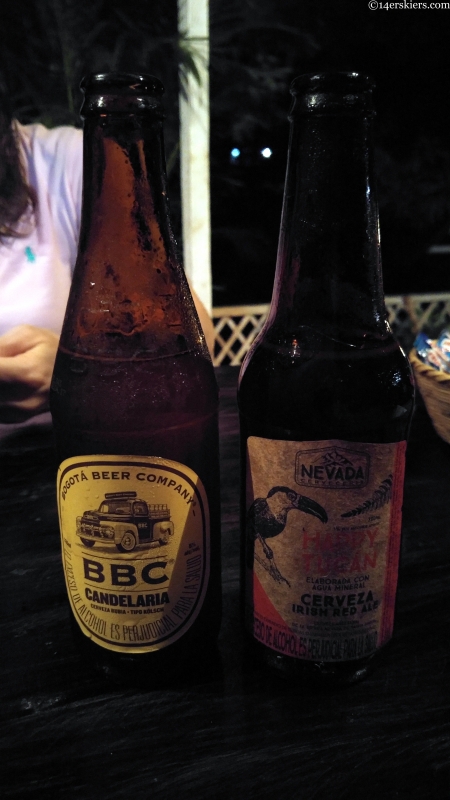 Raw cacao beans. Kind of ugly and slimy before they become chocolate, eh?: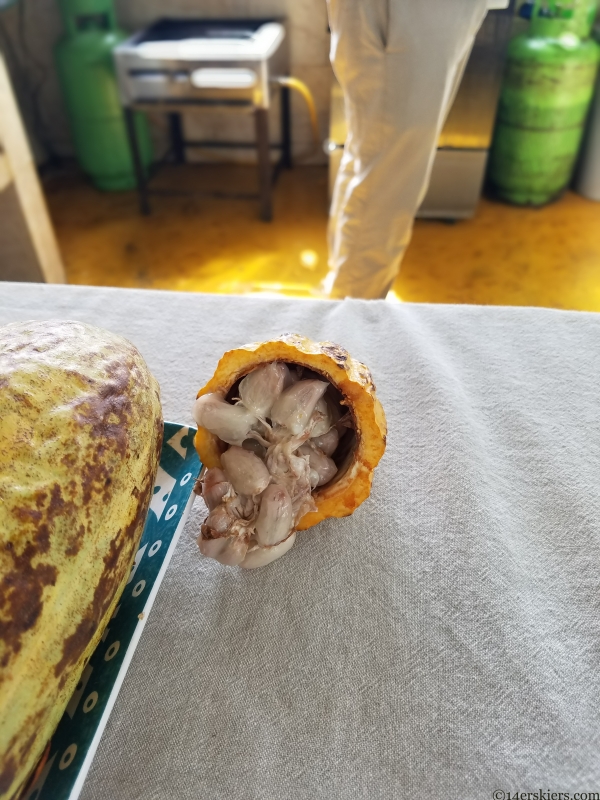 While Jungle Joe gave us a brief coffee tour, we wanted more so we headed up to Victoria, a coffee farm which has been running since the 1800's. First, we had to get there, on motobikes which are the standard form of transportation in Minca: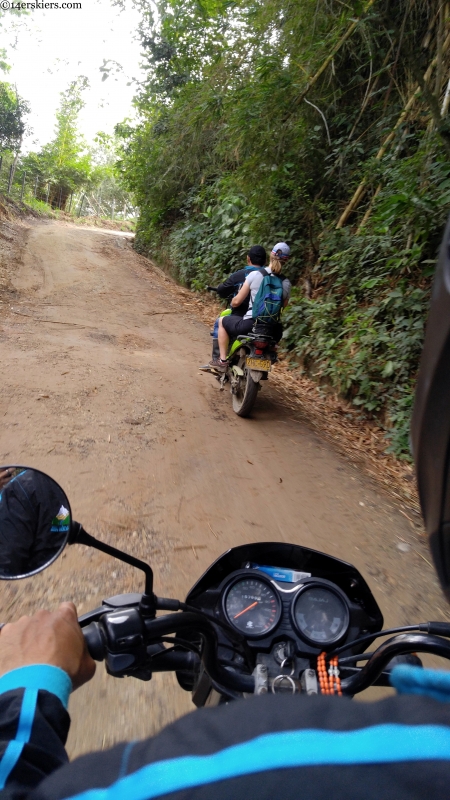 Victoria: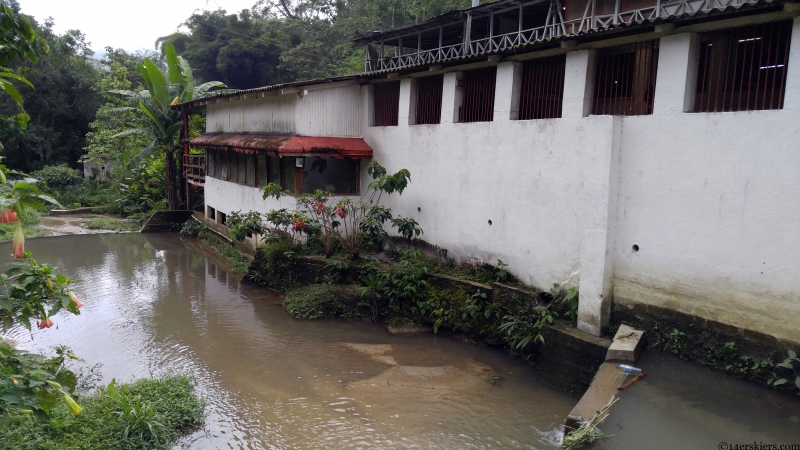 The whole place runs on water- from transportation to electricity. It was really cool to see. Here are some of the pipes, leading up to the mountainous jungle: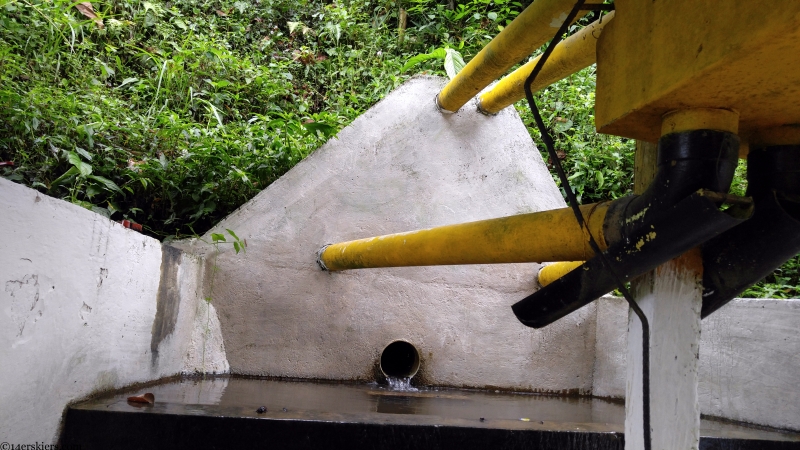 The generator, still kicking after all these years: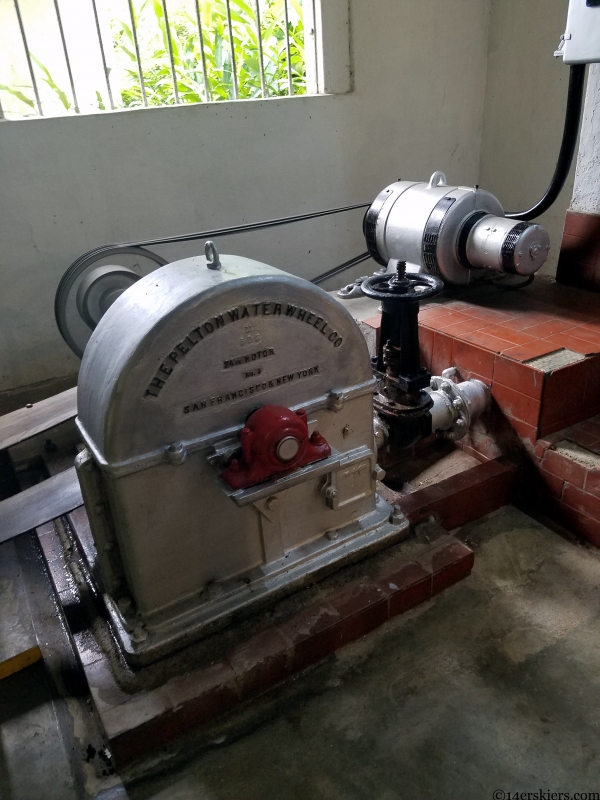 After the roasting process, anything that isn't used becomes fertilizer for the next crop of coffee. The plants grow here until they are larger, then they're taken into the jungle to grow in the shade of the forest.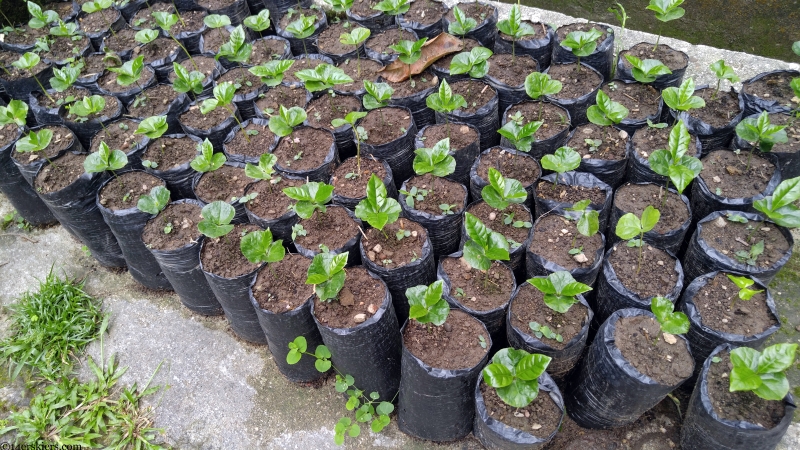 Raw coffee beans: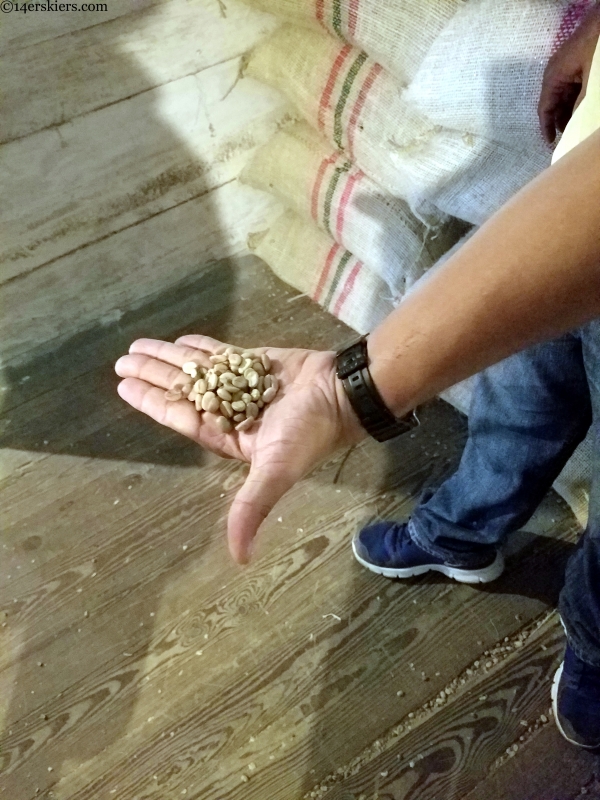 Coolest truck ever: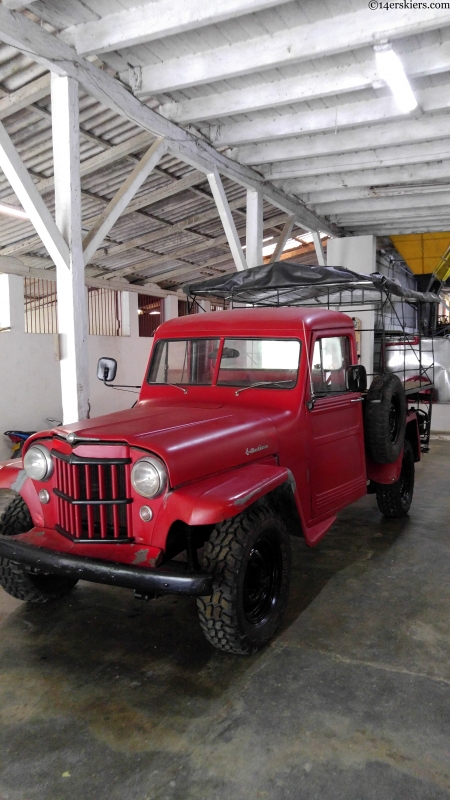 If you head to Minca, and you love coffee like we do, definitely head to Victoria.
On out last night, we took a tour with Emerald Tours that defies easy explanation. Billed as "a walking history tour of Minca", it was basically the two of us walking around with the tour operator while he talked about Minca. We walked around, visited his tenant's apartment (we don't know why), and eventually talked about the recent history of Minca, and Colombia in general. Looking down on the local soccer field (there is a great ESPN 30 for 30 episode that ties in well with our tour)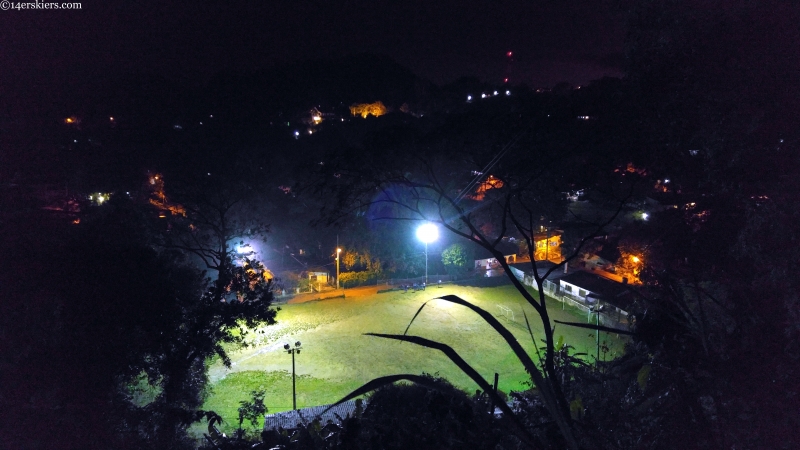 We ended the tour at the bar, and that's when the conversation got interesting. The recent history of Colombia isn't a pretty one. Between the violence of the drug trade on one end of things, and the leftist terrorist groups like FARC (The Revolutionary Armed Forces of Colombia), Colombia was a very dangerous place to be over the past 30 years. A peace accord was only recently reached earlier this year between the government and FARC. That's sadly one of the things that made this trip so interesting- it's only recently that travelling in most parts of Colombia was even remotely a good idea. Here in Minca, for instance, the main bridge in town was taken over in 1986, and bombed by FARC in 1997, with a permanent replacement only completed last year. Our guide pointed out where the dead bodies were dragged, either by FARC or the paramilitary groups that sprung up to fight groups like FARC. For us, we felt welcome and safe during our entire stay. During the strife, many residents had no choice but to flee to cites like Santa Marta, and many of them have yet to return. Santa Marta from Minca: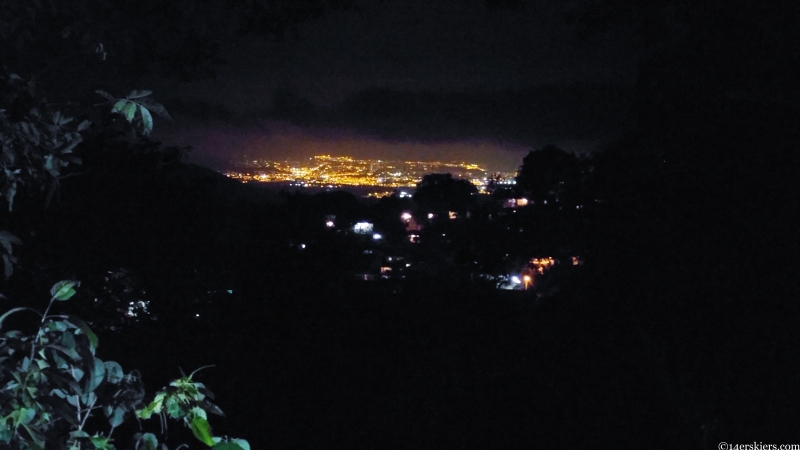 I think a lot about Minca's recent history because I don't think I've ever been so close to history before. Hopefully, Minca and the rest of Colombia continues it's upward trend. Eventually, all good things come to and end, and we headed back to Cartagena and our flight home. Apparently, mountain bikes in Colombia are all Trek Y-bikes from 1996: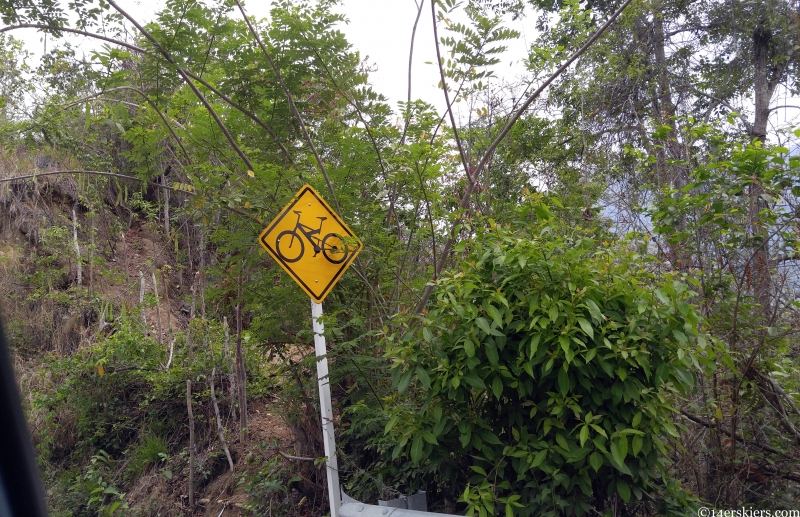 More fun signs: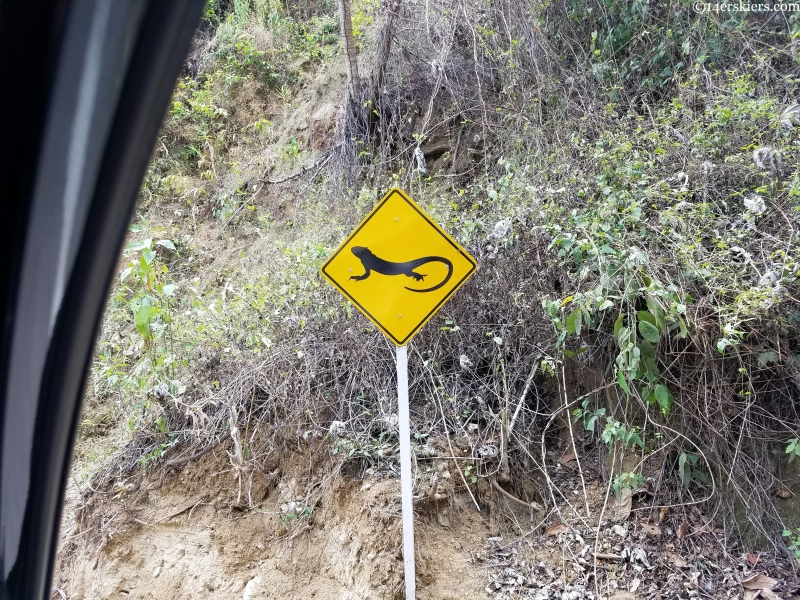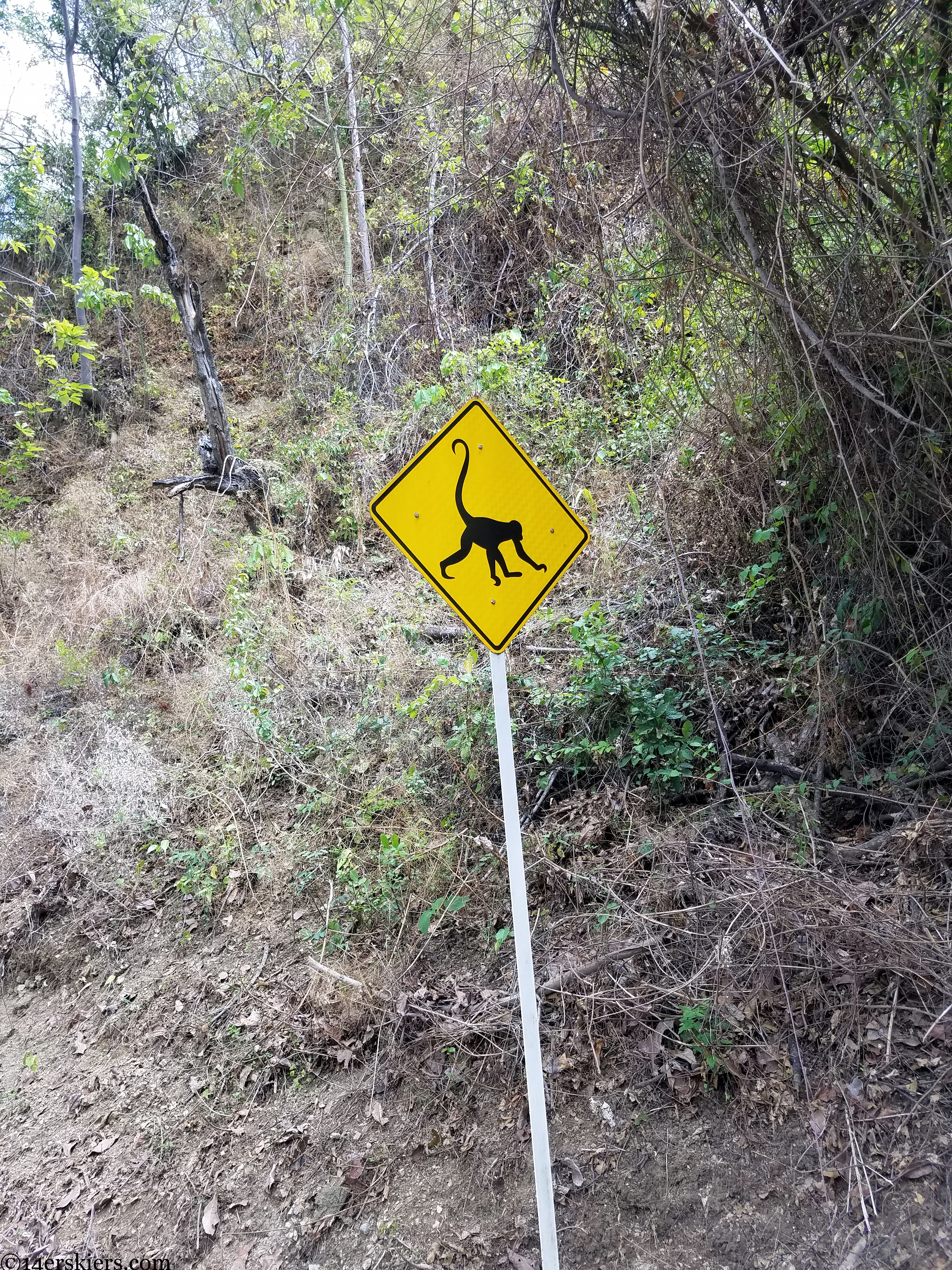 Flowered hillside near Santa Marta: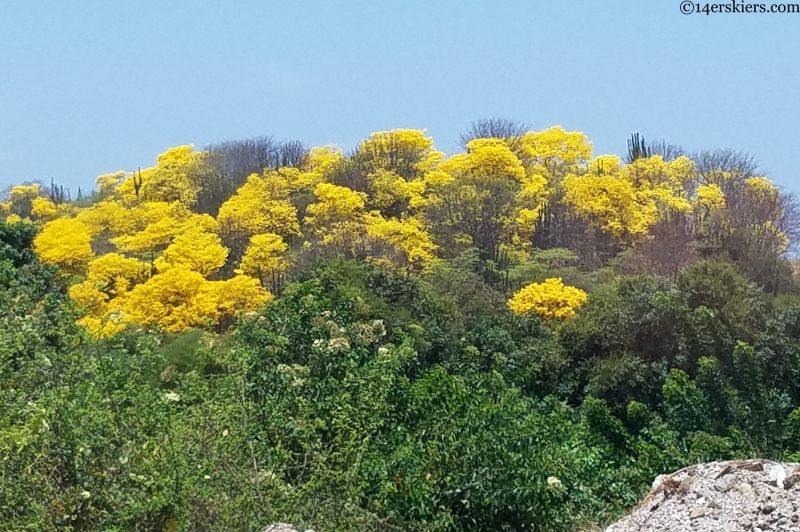 Remember how I said that we would return through Cienaga? Everything was going well, but then traffic slowed to a crawl just before our first toll station. At first, we thought it was a backup due to the toll, but we noticed that there was no more traffic going the other direction. Then the truck in front of me moved ahead and I could see that the locals were once more trying to create a roadblock. A young boy, maybe 12 years old, started banging on our passenger window. After he saw the wad of cash in Brittany's hands that was ready for the toll, he pressing his face against the window and asked us to roll the window down. We weren't stupid, and we double-checked that the doors were locked. And then a woman put a blue plastic barrel that was 3 or 4 feet tall in front of our bumper. Cienaga: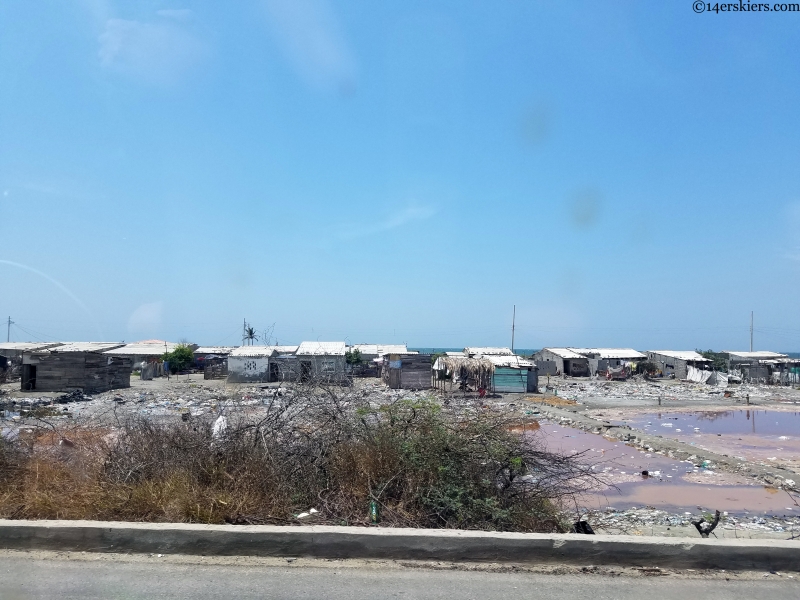 I took stock of the situation in about a half second, and then I hit the gas. Bam! The blue barrel bounced off the bumper as we sped away, away from the crowd. In my rear view mirror, I saw the same woman placing the barrel in front of the car behind me, but that car didn't make it through. The roadblock was on. I have to admit, it was a bit of a rush running that barrel over, kind of like going with the flow of sloughing snow, or realizing you're 100% committed to a steep loose line on your bike, and you know you can't stop anymore. Still, I was thankful that the rest of our travels to the Cartagena airport went smoothly.
After our travel escapades, you might be wondering if I would ever recommend visiting Colombia, but the answer is definitely yes. We loved Colombia. Everything felt new and fresh, especially in Minca, so recently experiencing tourism and peace. The people were friendly, noticeably more so than Panama in fact. So I would suggest a visit sooner, rather than later. I know we'd like to return.
We're not done talking about Colombia! Stay tuned for more adventures at Tutomo and Minca!
Frank
loves snow more than anything... except his wife.  He ensures his food is digested properly by chewing it 32 times before swallowing.He is a full-time real estate agent serving
Crested Butte and Gunnison
and would be honored to send you his
monthly newsletter.
Latest posts by Frank Konsella (see all)
Summary
Article Name
Description
Travelling to Minca, Colombia from Cartagena. Learn more about our experiences, the town's recent history, and things to do in the rainforest surrounding this amazing town.
Author