(Last Updated On: June 23, 2017)
A beautiful city right on the Caribbean Coast of Colombia, this city feels like you're on the set of a Pirates of the Caribbean movie. But, none of this series of films was actually filmed here. What inspired us to come was Romancing the Stone, in which some of the plot took place in Cartagena. Again, however, none of this movie was filmed her either. That didn't stop us from coming to soak in the charming and colorful Cartagena this past April, though – after continuing on from our trip to Panama. Founded in 1533, this colonial city is as rich in history as it is in color and diversity.
We first arrived to Cartagena at night and we were mesmerized by the lights of Old Town.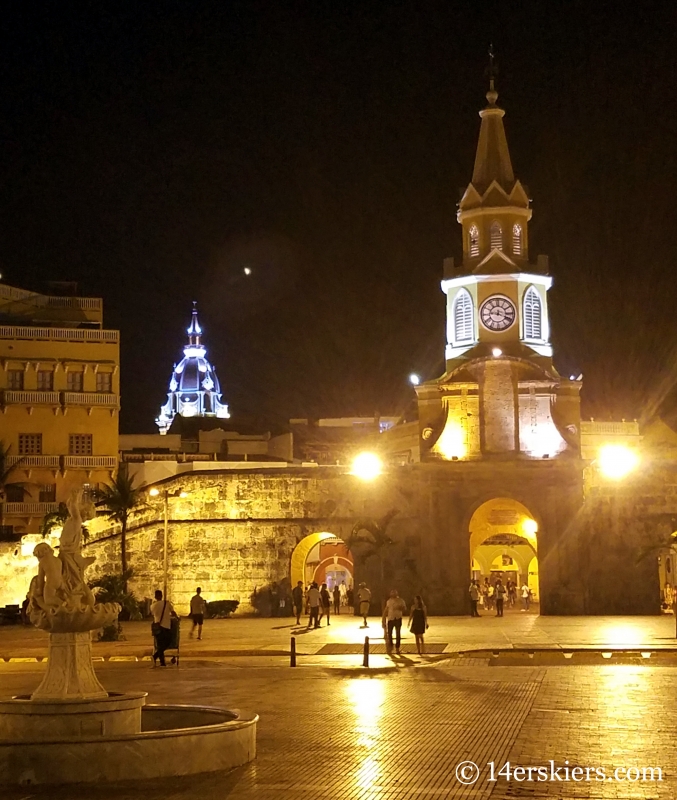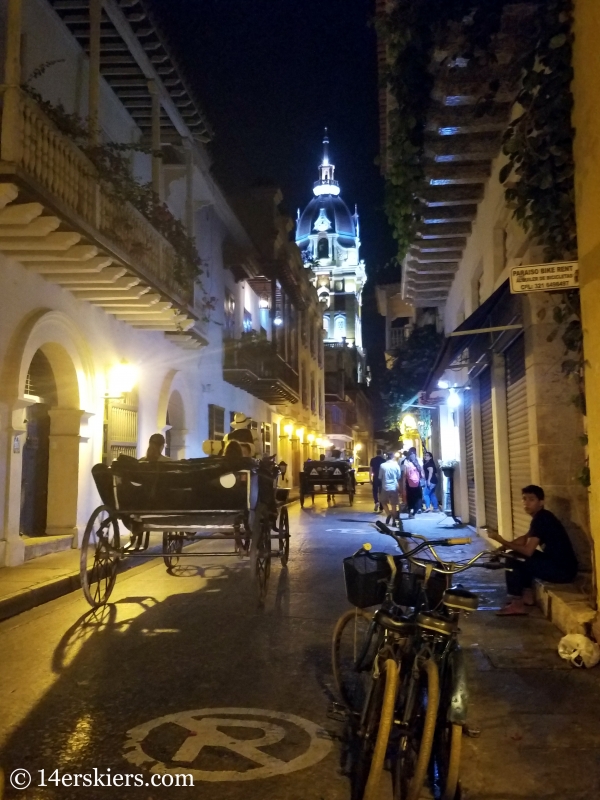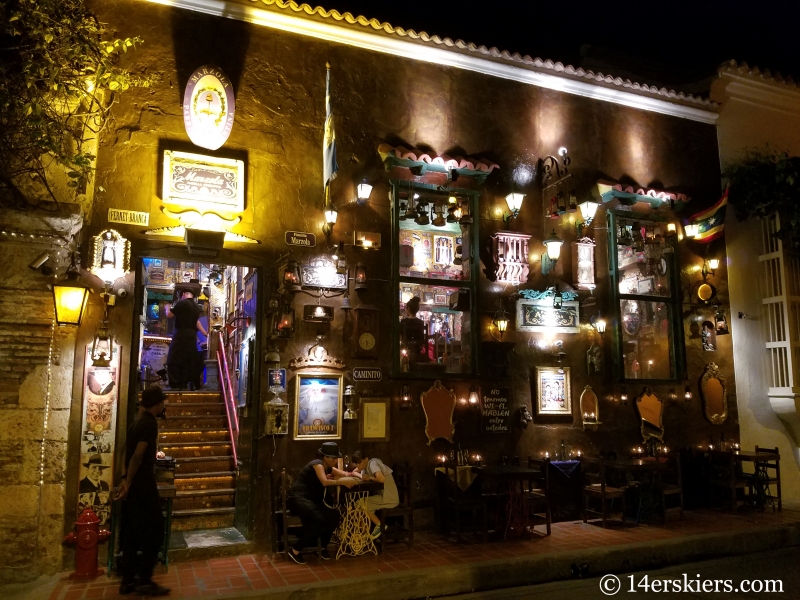 Even the interior of some of the buildings was designed with uniqueness and color, like this restaurant where we ate dinner our first night.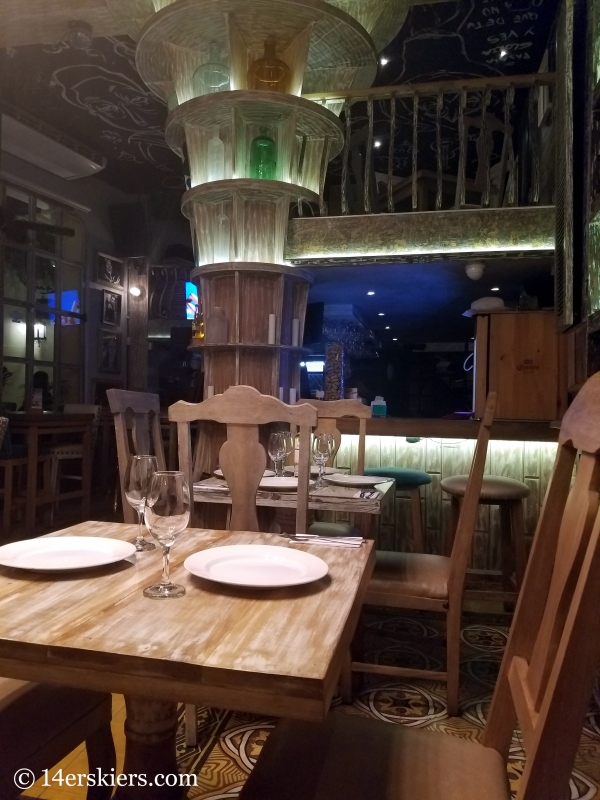 Cartagena is comparatively a small city. In 2016, it was reported that Cartagena's population was 971,592. Comparatively, in 2014 Denver's population was 663,862, New York City's was 8.491 million, and San Francisco was 852,469.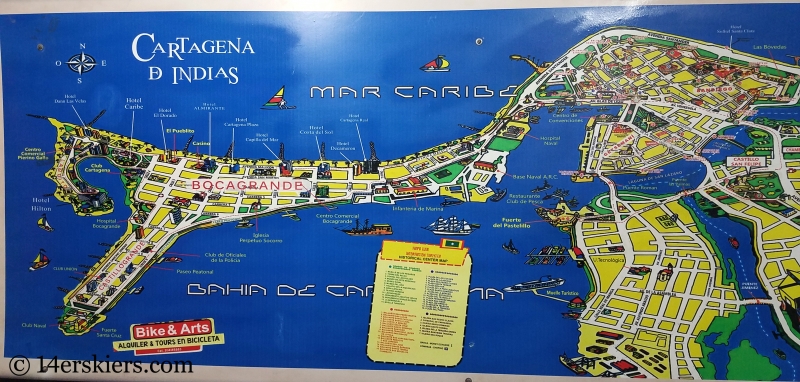 At the heart of historic Cartagena is walled Old Town, a UNESCO World Heritage site which comprises of the two regions of San Diego and El Centro, shown in the map below. El Centro is just to the left of San Diego. The segments of the old city walls are also shown on the map. Getsamani is also historic, and was the location of our hotel where we stayed. It was a 10 minute walk from there into Old Town.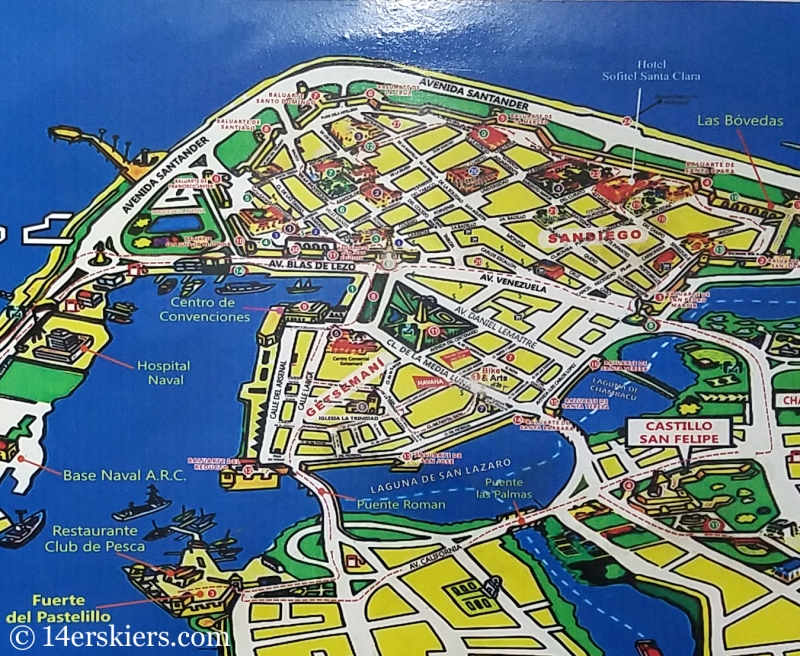 Our hotel, Villa Colonial, in Getsamani, was indistinct from the outside, but had a beautiful interior courtyard.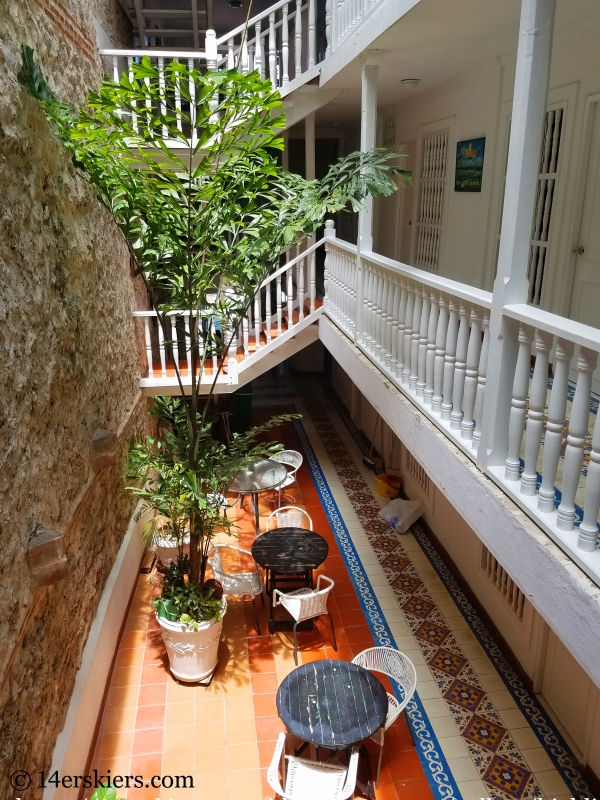 Our room opened right up onto the courtyard.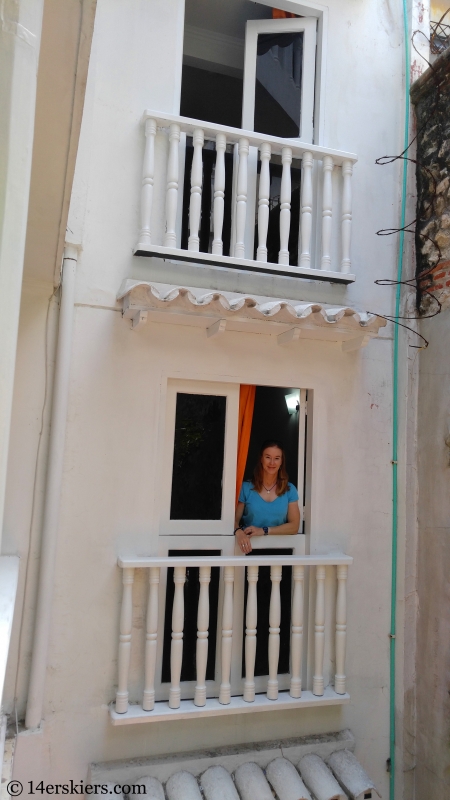 The first thing we decided to do was to enjoy the city by bike.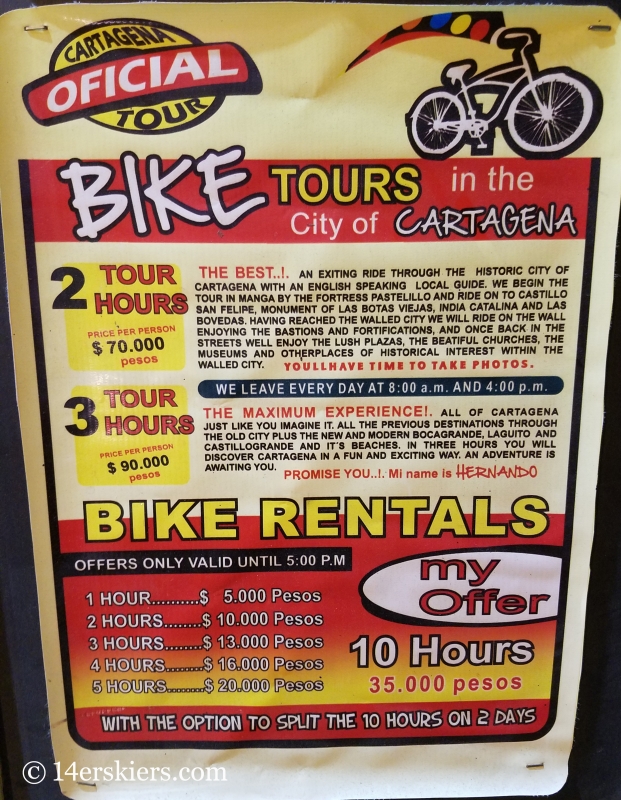 We toured all around Old Town and beyond, and explored much of the city walls this way.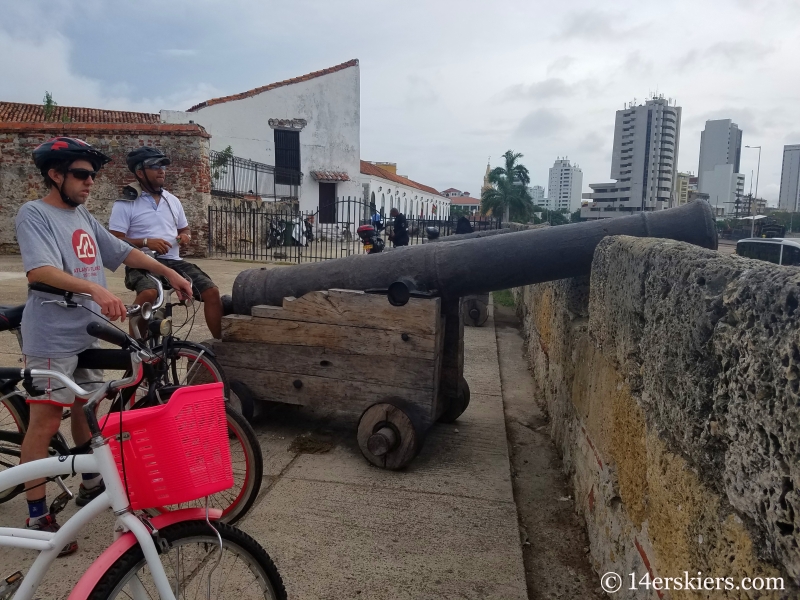 Our guide was great and explained a lot about the history of Cartagena throughout the tour. He also told us his story about working hard to rise up from a poor family, teaching himself English, and taking advantage of an opportunity to attend college for free.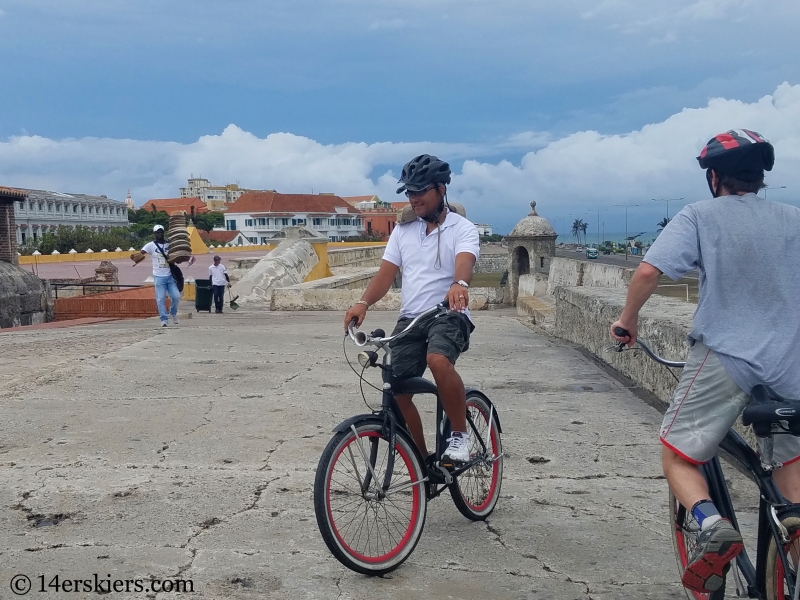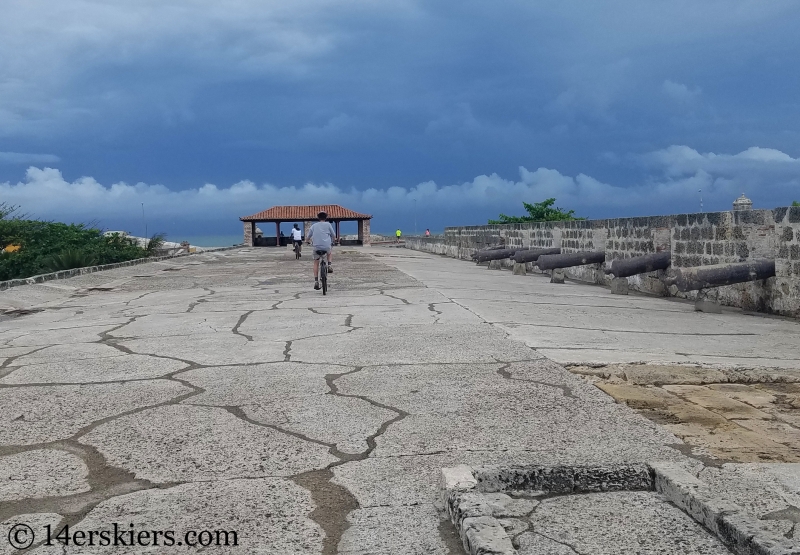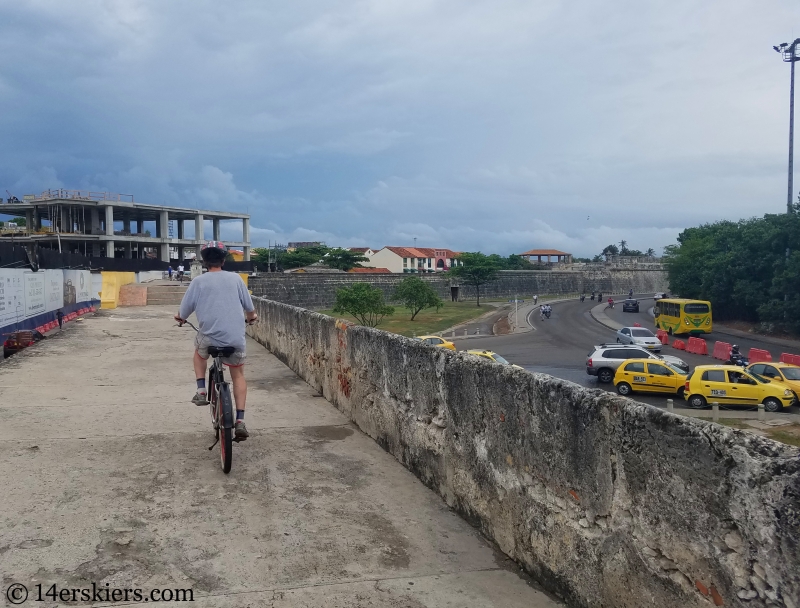 A view of the newer part of the city, Bocagrande, from Fuerte del Pastellilo.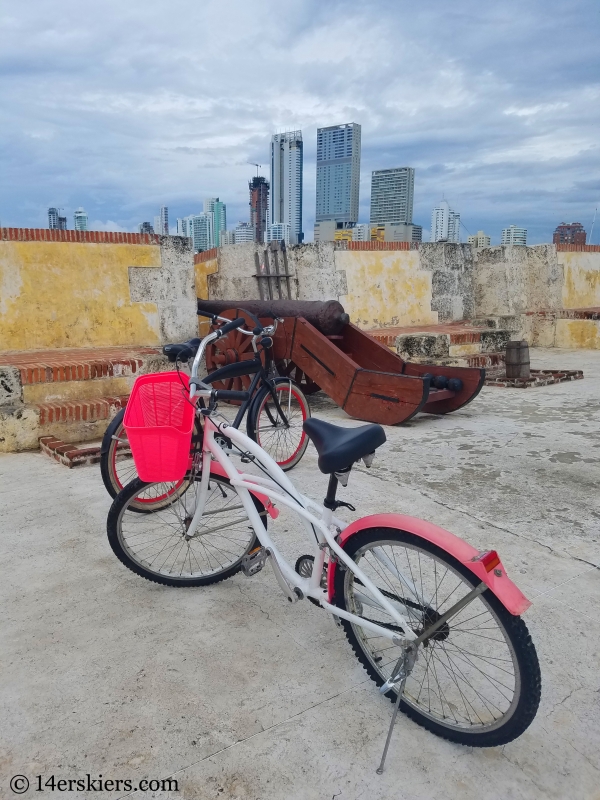 The best part of Cartegena was wondering the streets of Old Town, which we spent hours doing over the course of a few days. This clock tower is the main gateway into Old Town.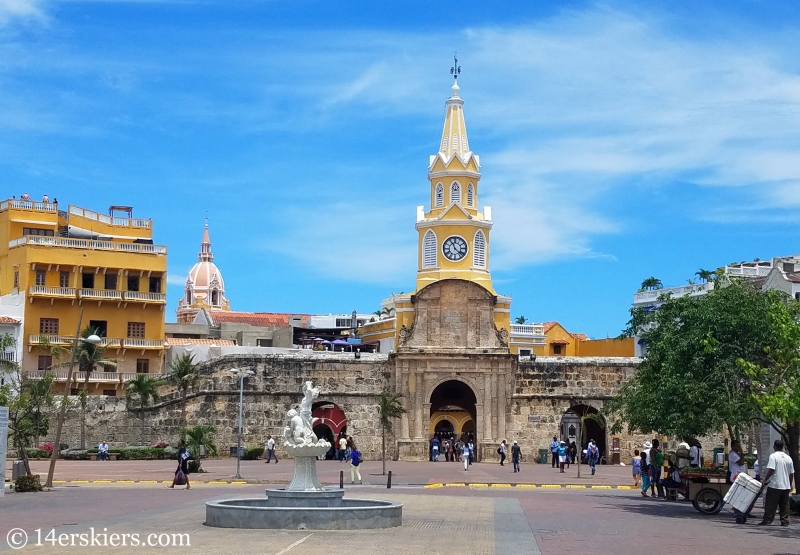 Everything about Old Town was charming.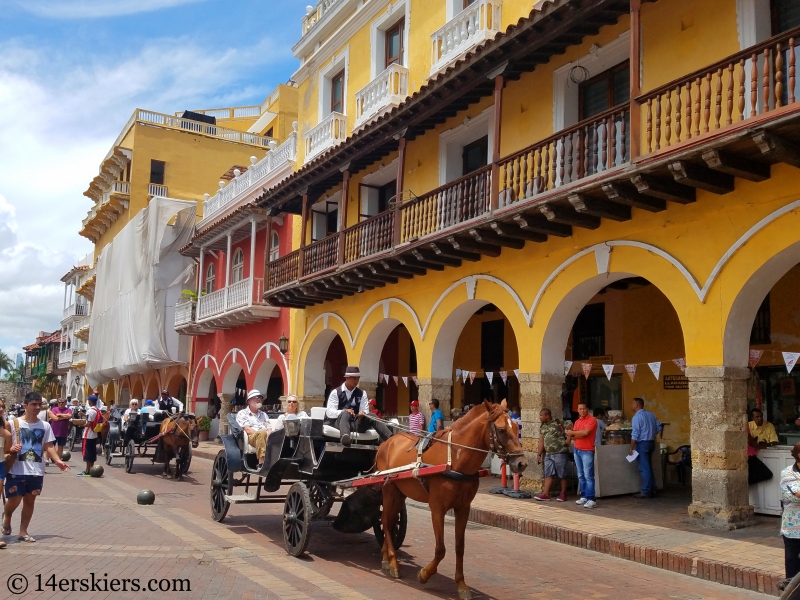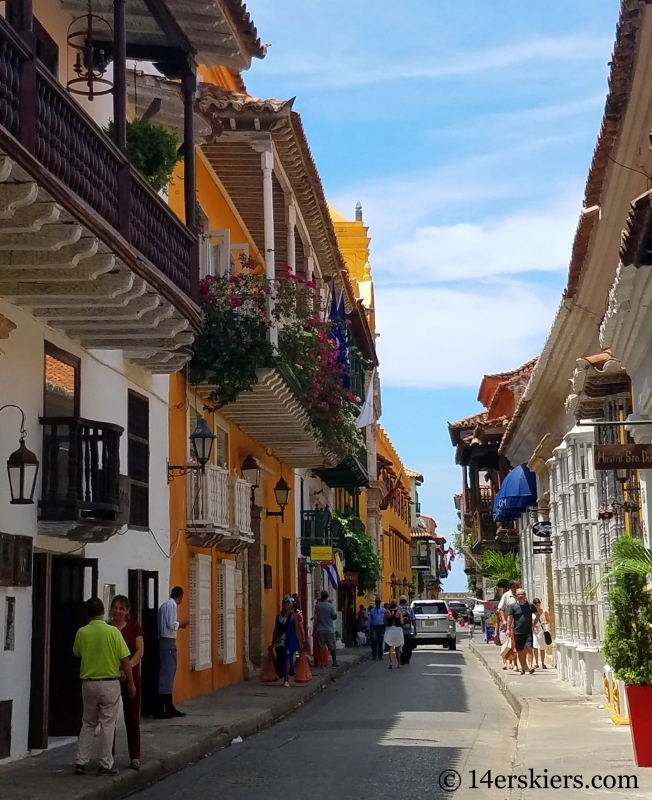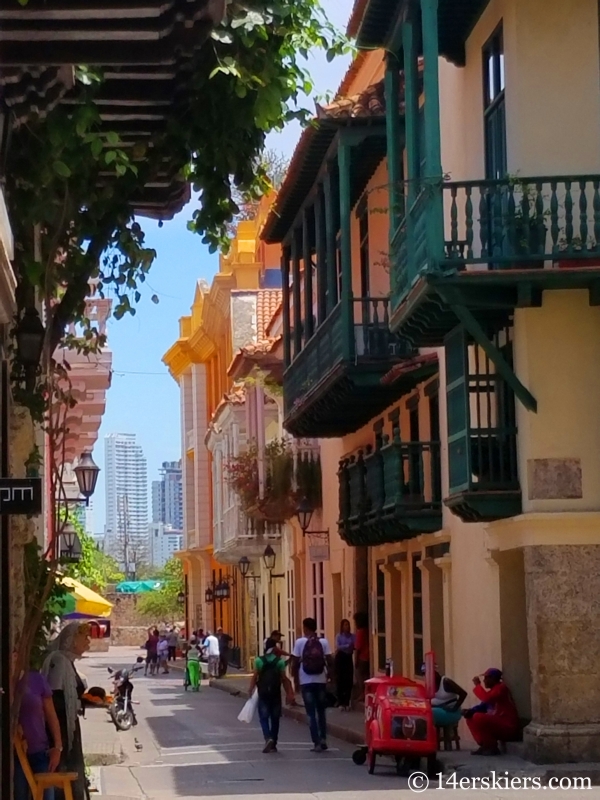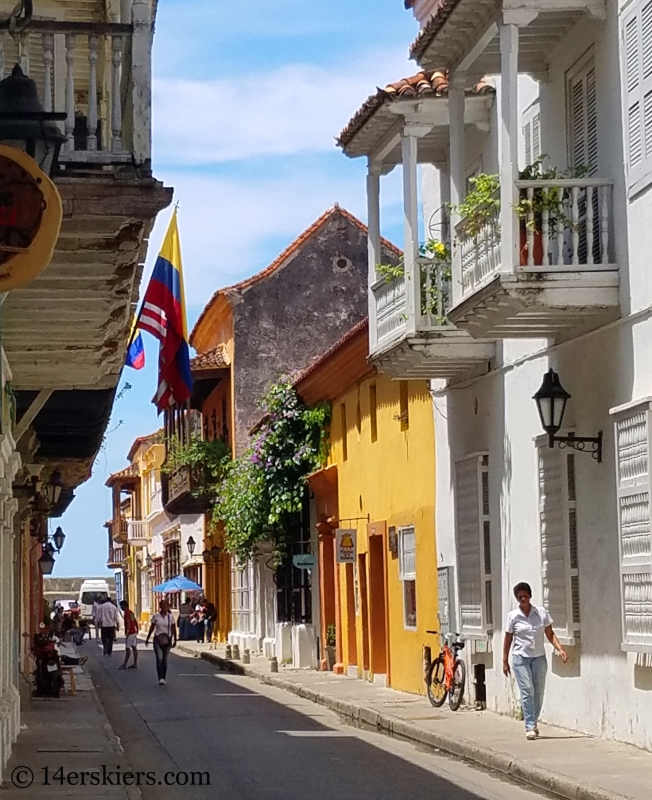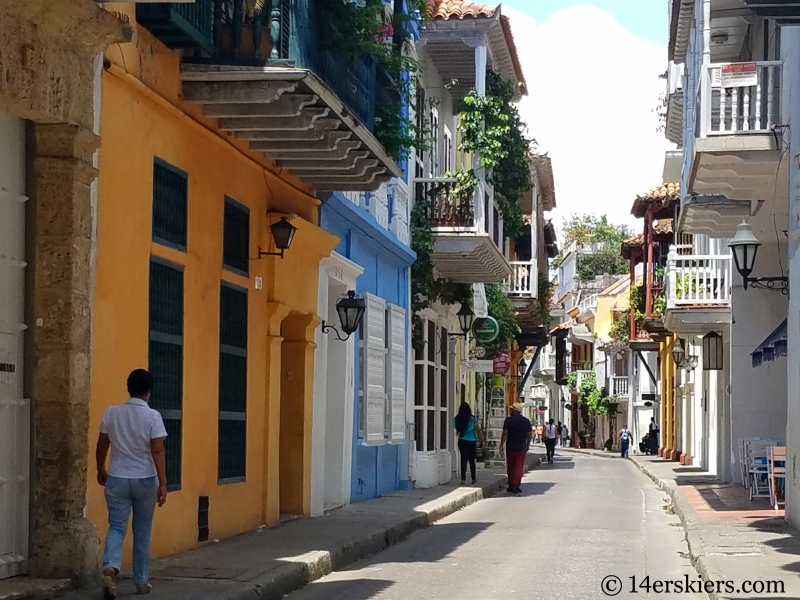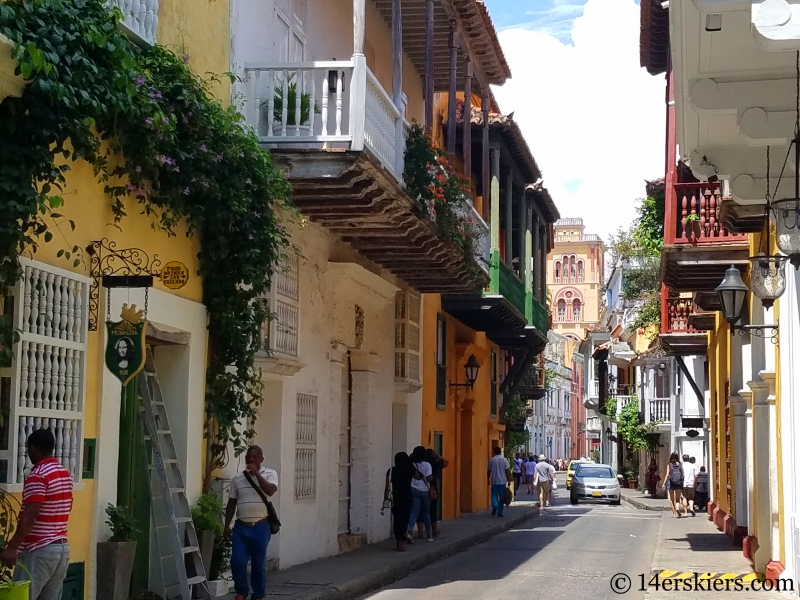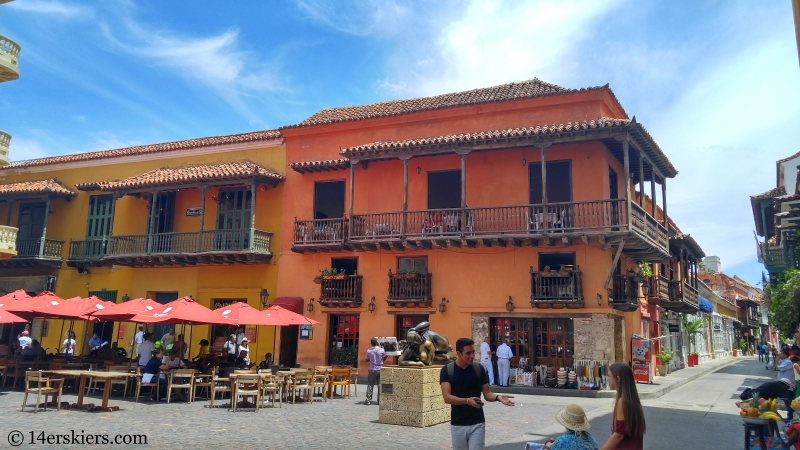 The Catedral is one of the premier landmarks of the area, originally built between 1575 and 1612.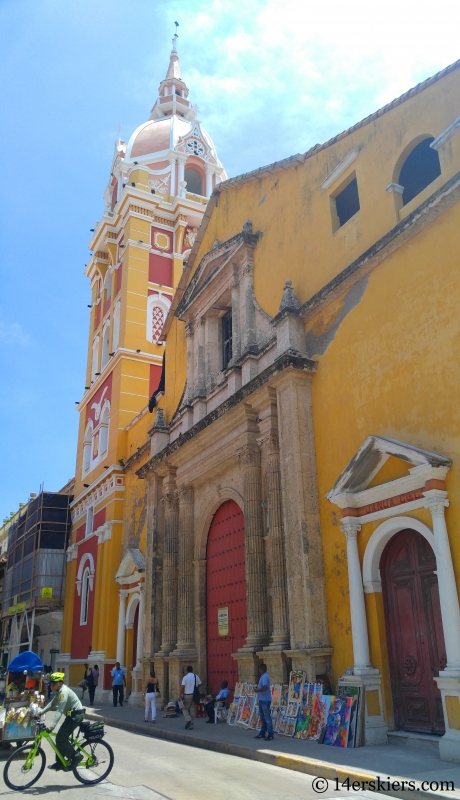 The flag of Cartagena on the left and of Colombia on the right.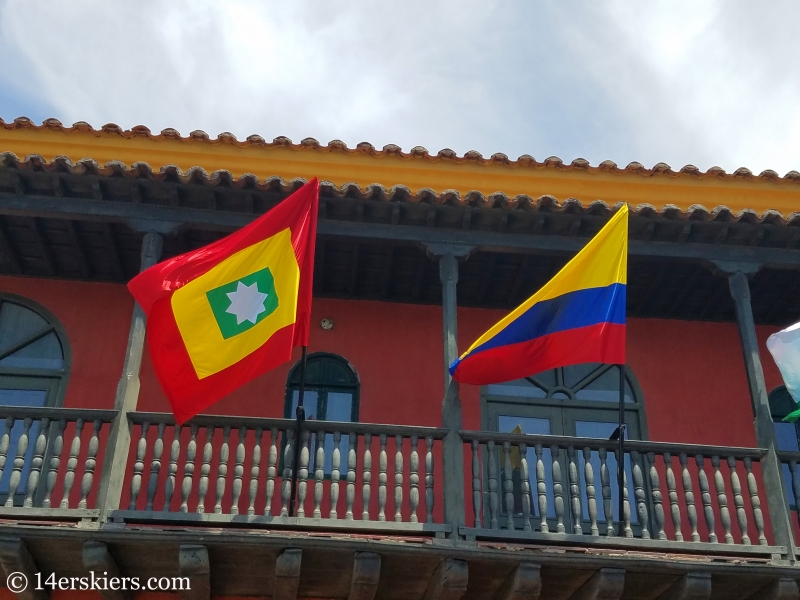 We enjoyed a lot of street fruit like this coconut juice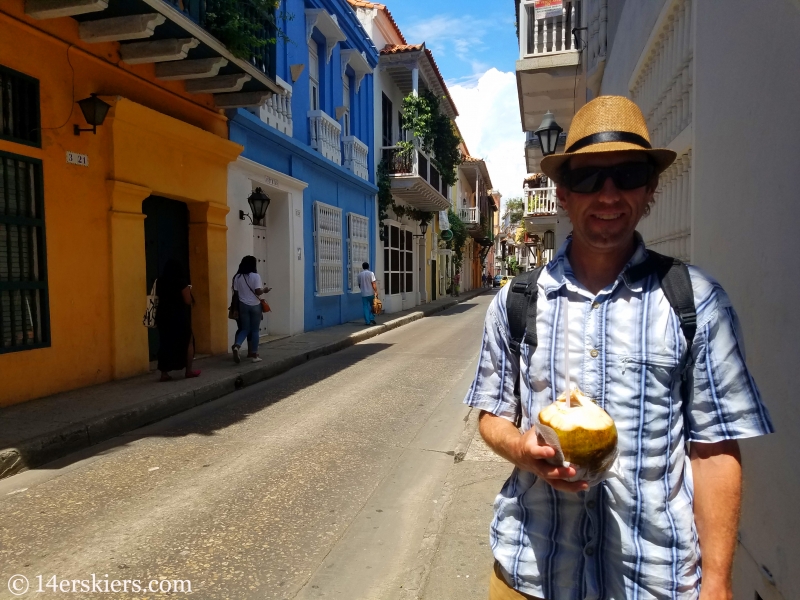 and papaya.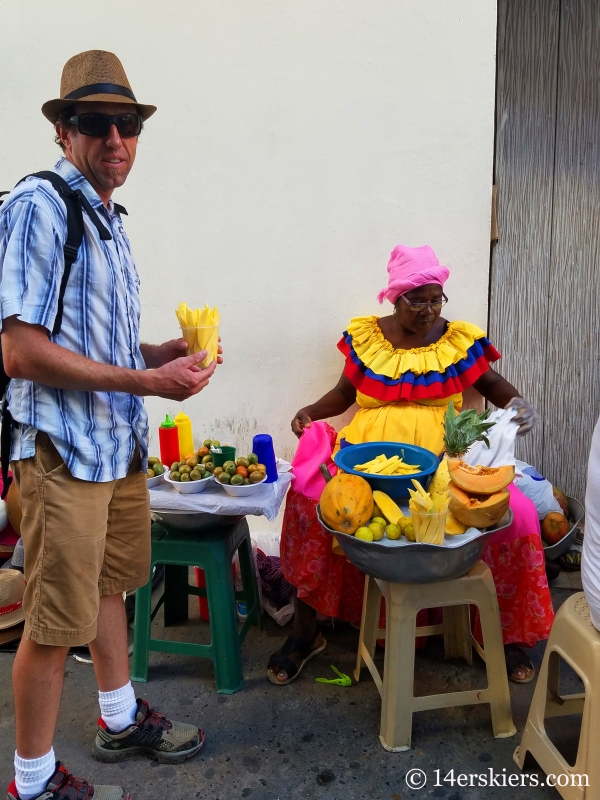 Bolivar Square provided some nice shade to escape the afternoon heat. It seems like every city in this region of the world has a Bolivar Square, dedicated to their liberator, Simón Bolívar.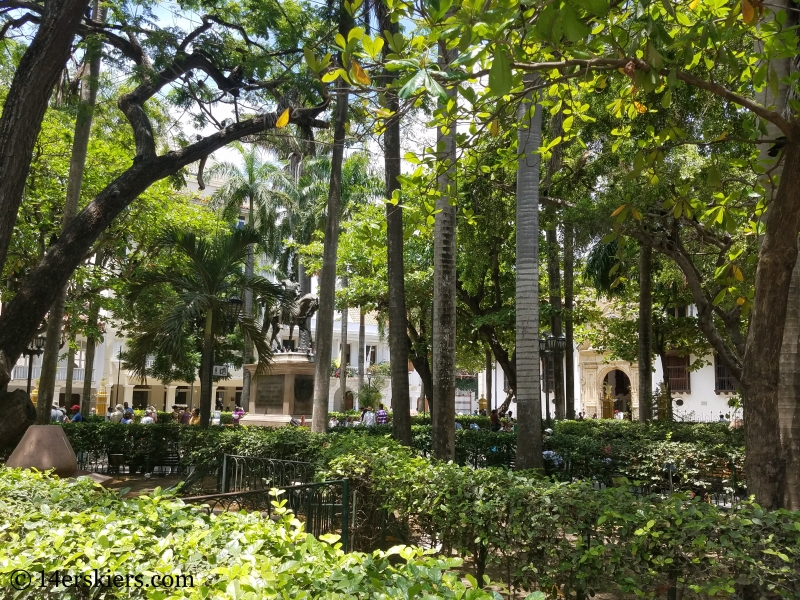 Another attraction was Convento & Iglesia de San Pedro Claver.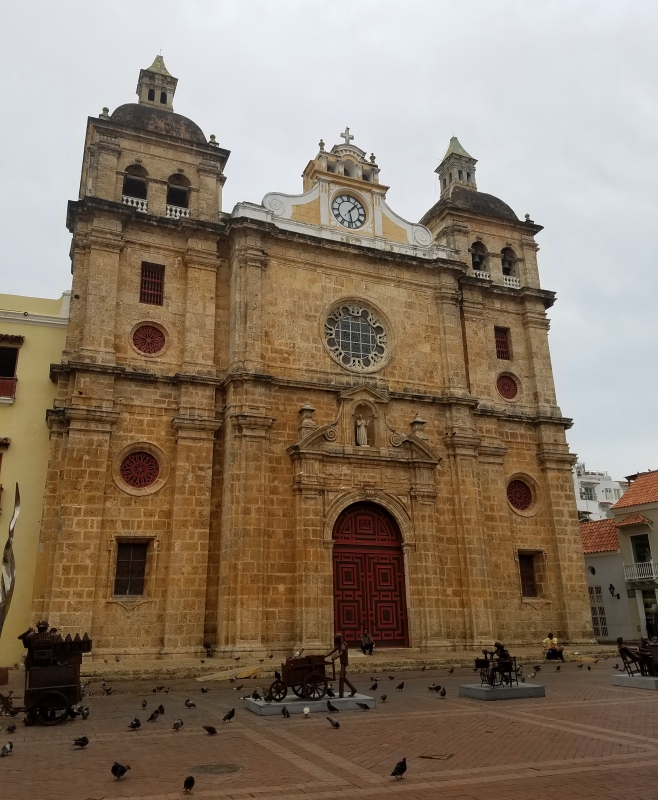 Pedro Claver was a Spanish-born monk who lived from 1580–1654. During his life, Pedro was very dedicated to providing ministry to the slaves, and there were a lot of them in Cartagena – part of what continues to make this city so diverse. He was cannonized in 1888 and was the first person in the New World to be given this status. This picture is one of many that tells his story.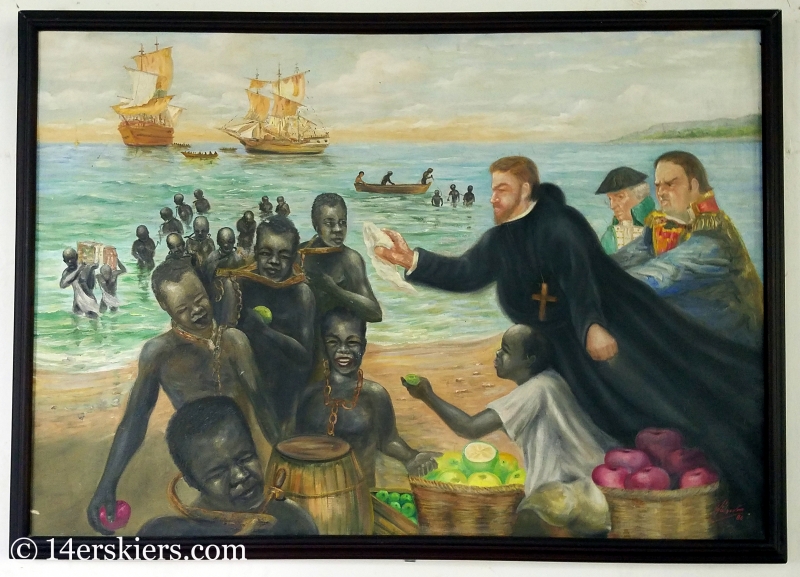 The altar in the Church of San Pedro holds Pedro Clavers remains.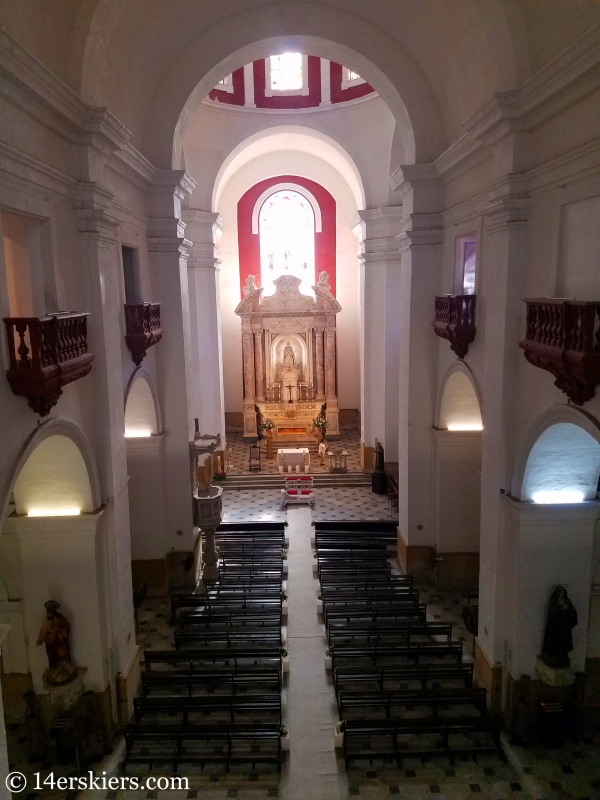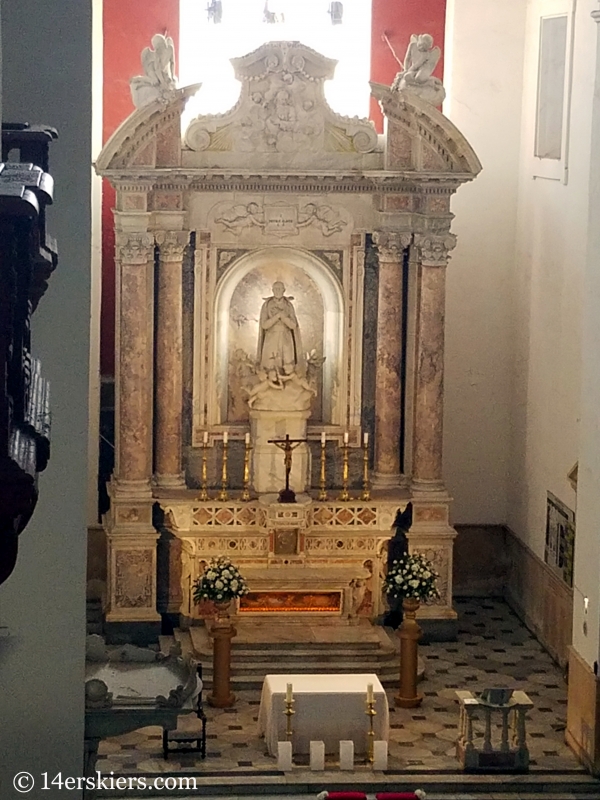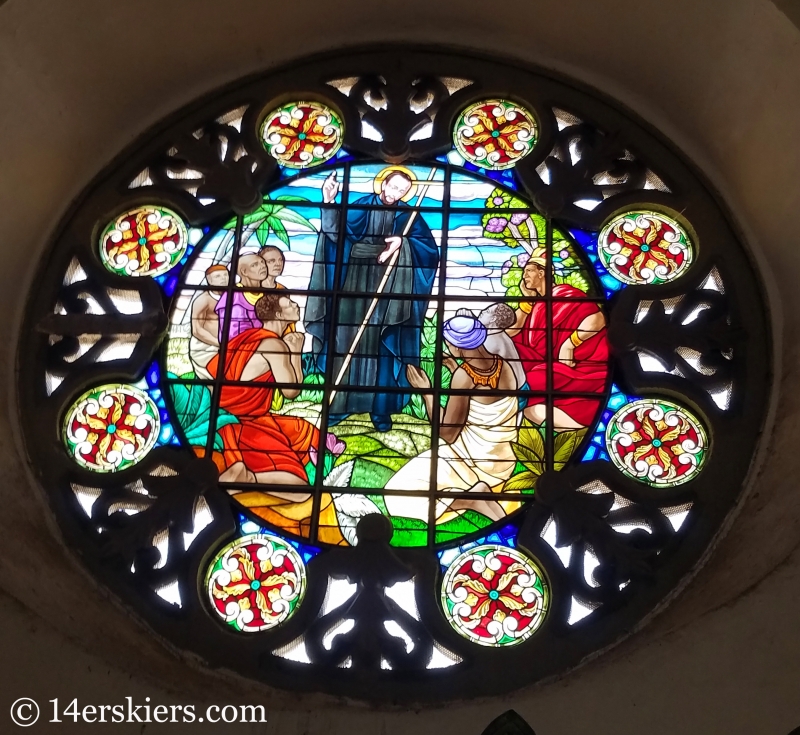 We also enjoyed the Gold Museum (Museo del Oro Zenú) which was as much about history as it was about gold.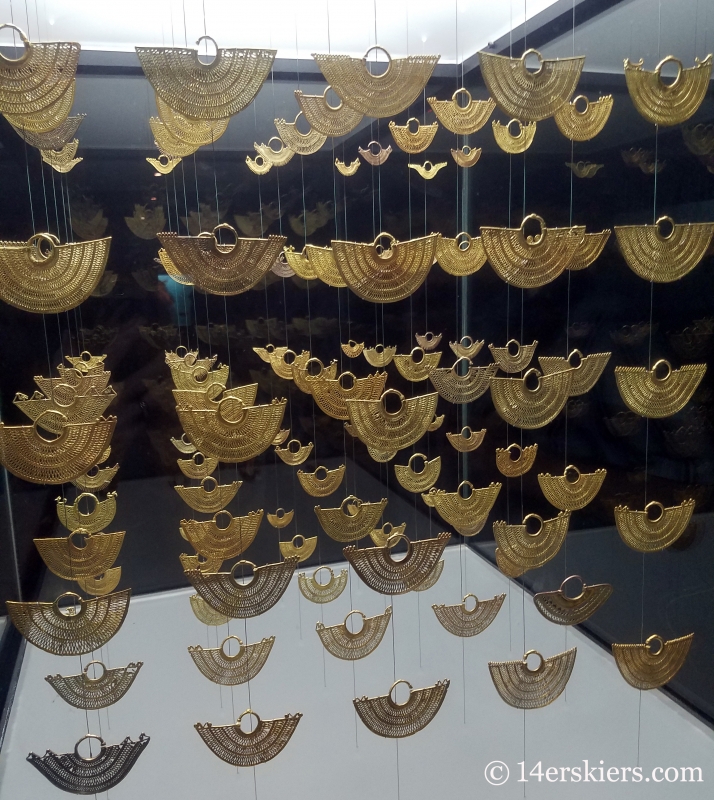 It's a shame to think how any historic gold artifacts were plundered in the past to become possibly the gold jewelry we have today.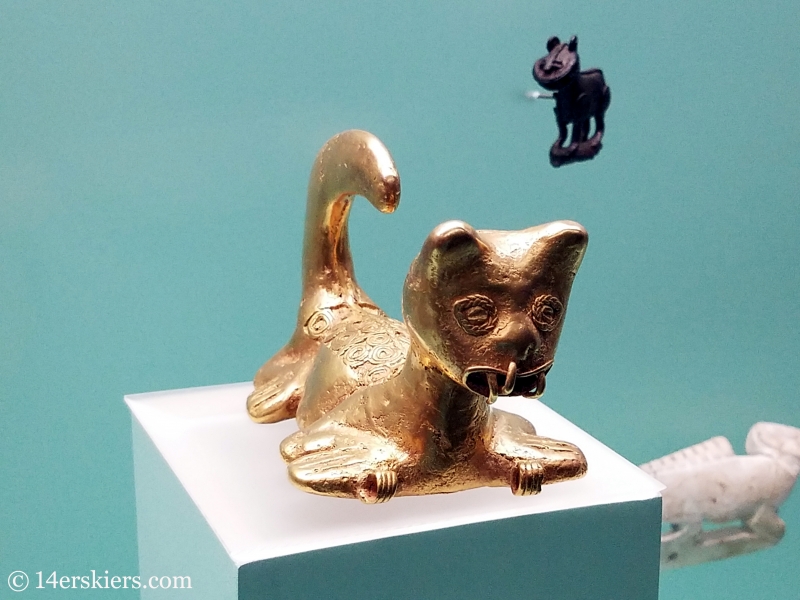 We also went to the Emerald Museum next door.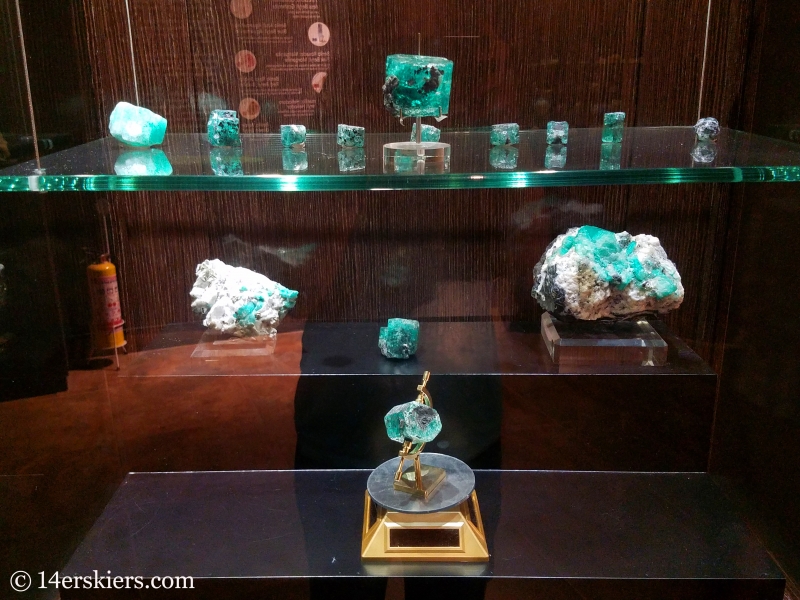 This charming city is so wonderful it justifies two full posts. So, look for more about colorful Cartagena coming soon!
Aside from skiing, biking, and all outdoorsy things,
Brittany Walker Konsella
also loves smiles and chocolate 🙂 Even though she excels at higher level math and chemistry, she still confuses left from right. Find out more about
Brittany
!
Latest posts by Brittany Walker Konsella (see all)
Summary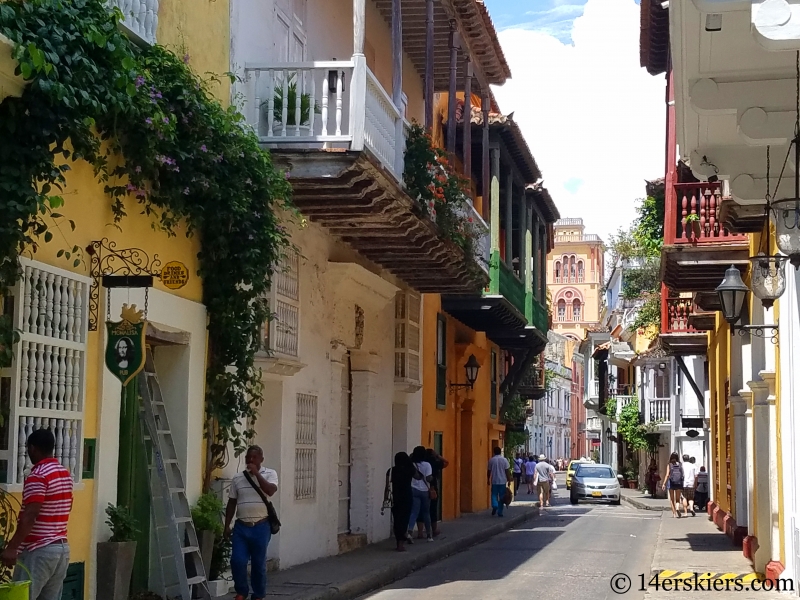 Article Name
Description
As rich in color as it is in history, the colonial city of Cartagena feels like you're on the set of a <em>Pirates of the Caribbean</em> movie.
Author