TBT: Skiing Fletcher Mountain Northeast Couloirs (24 June 2016)
(Last Updated On: March 16, 2017)
This post is part of a Throwback Thursday series featuring trip reports that we haven't had a chance to write about until now! Look for them at least every other Thursday!
This Throwback Thursday report builds off my Mountain Lessons post from last week, describing the events surrounding an injured skier we encountered on Fletcher Mountain. This post will focus more on the actual details of the skiing that day on Fletcher Mountain Northeast Couloirs.
The calendar read that it had recently turned to summer, but there was still some good skiing to be had, especially if you looked in the right places. The Fletcher Mountain Northeast Couloirs are one of those places that hold snow late into the year, along with its neighboring Atlantic Peak.
Although I have skied Fletcher from the west side, I had never skied it from the east, though it had been on my list for quite some time. I was able to rally my friend Natalie into joining me, as well as my friend Jess, who invited her friend Chad. We were a foursome that started early in the morning from McCullough Gulch Road.
The Fletcher Mountain Northeast Couloirs.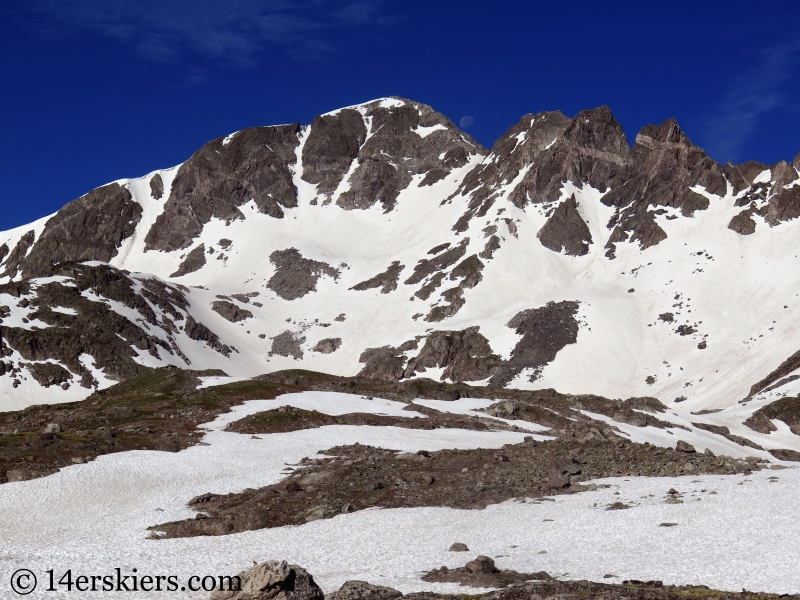 Natalie climbing the apron toward our ascent couloir.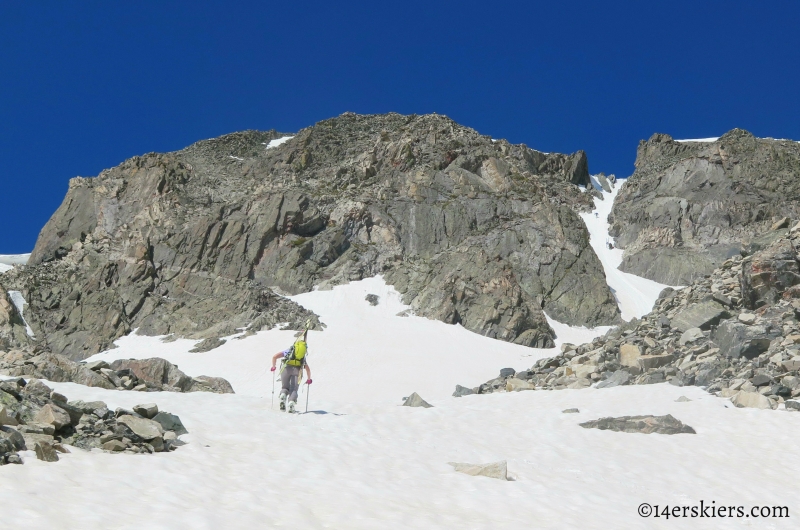 Me.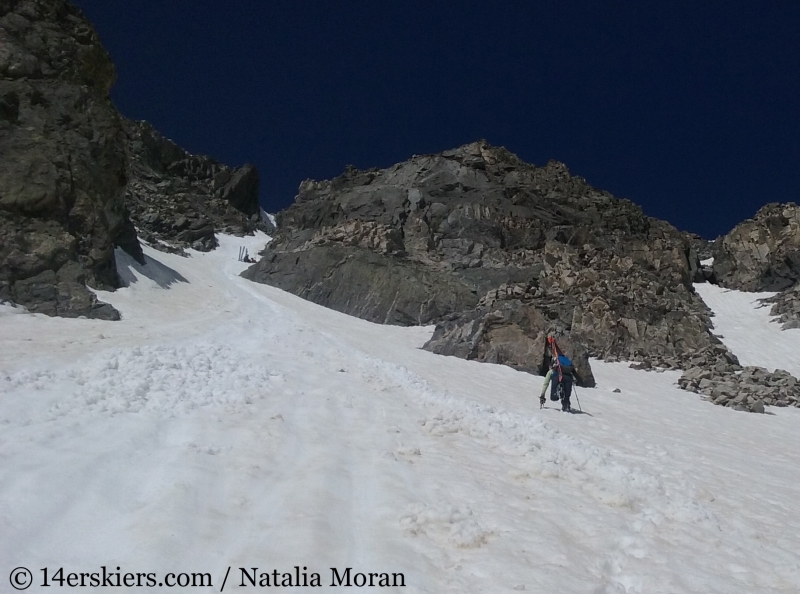 Looking back down at Natalie.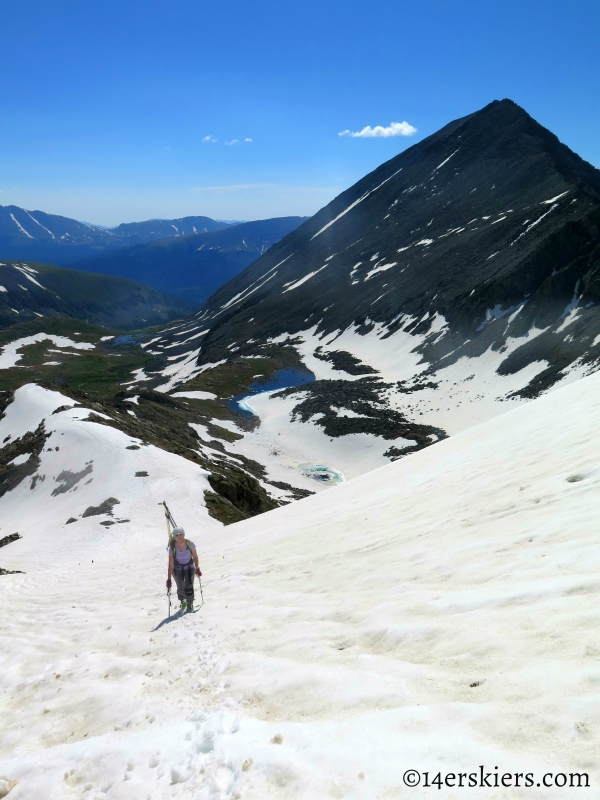 We passed by the party with the injured skier on our ascent, which I describe in detail in my Mountain Lessons post. As we continued upward, the route steepened.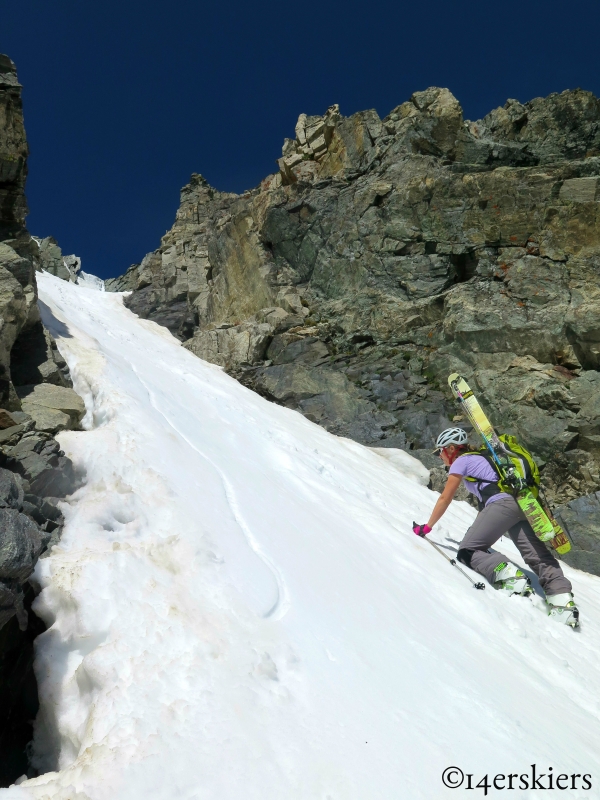 Jess and Chad below.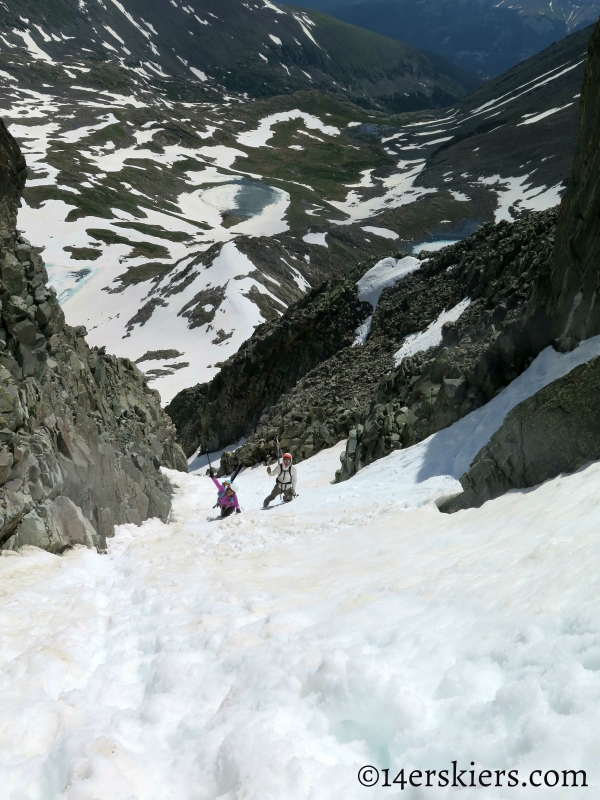 The crux was the near vertical snow near the top of the line which needed to be ascending to make our way to the ridge.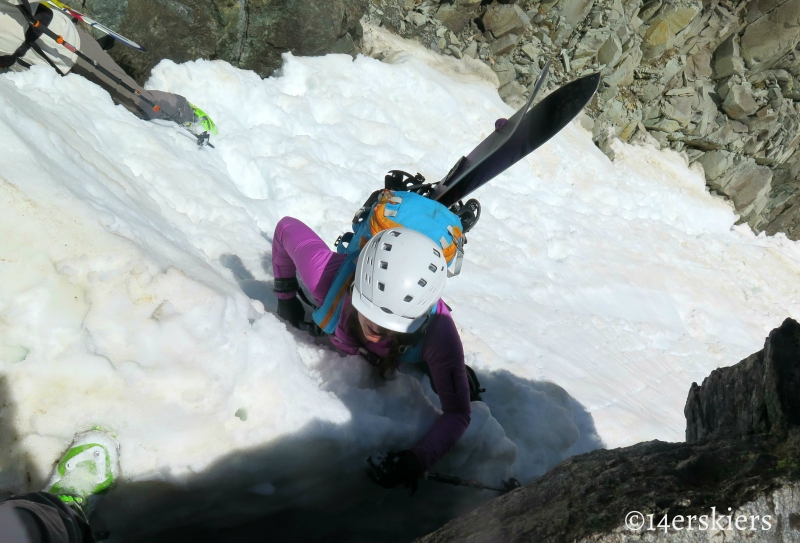 At the summit, we made sure that Aaron had what he needed and was communicating with Search and Rescue. We then chose to descend down a couloir adjacent to our ascent route, since we did not want to send down wet slough onto the injured party.
Me, pausing after a ski cut at the top of the line.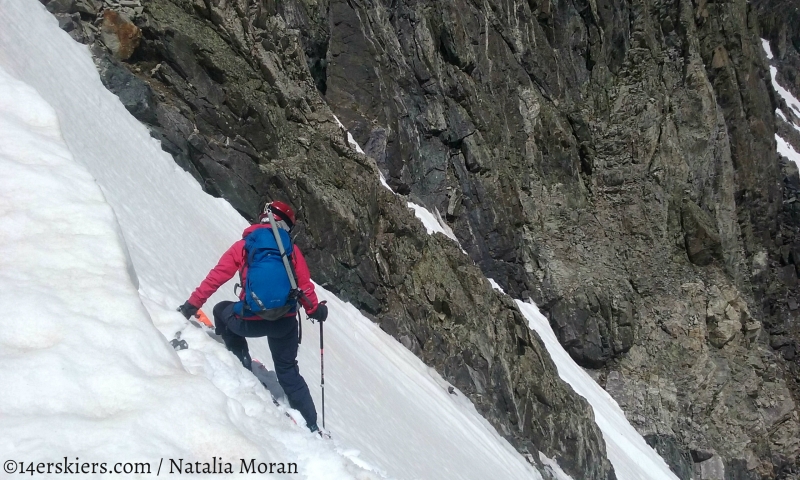 Okay, time to go.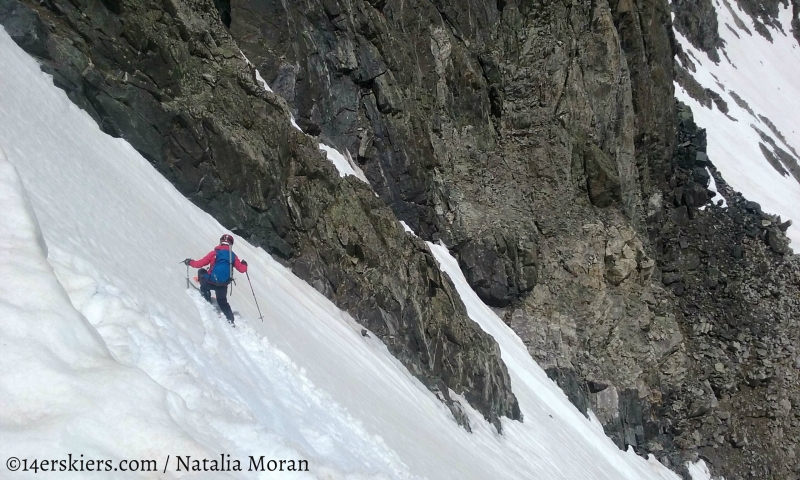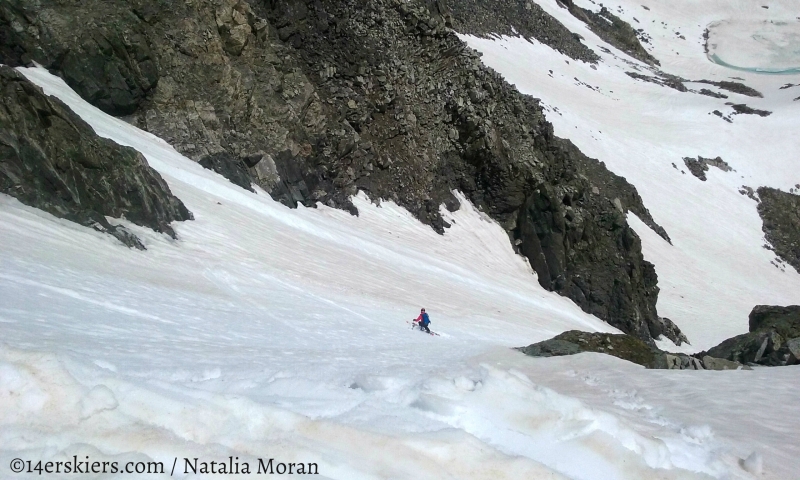 All the while, the rescue helicopter hovered above us, looking for a good place to land.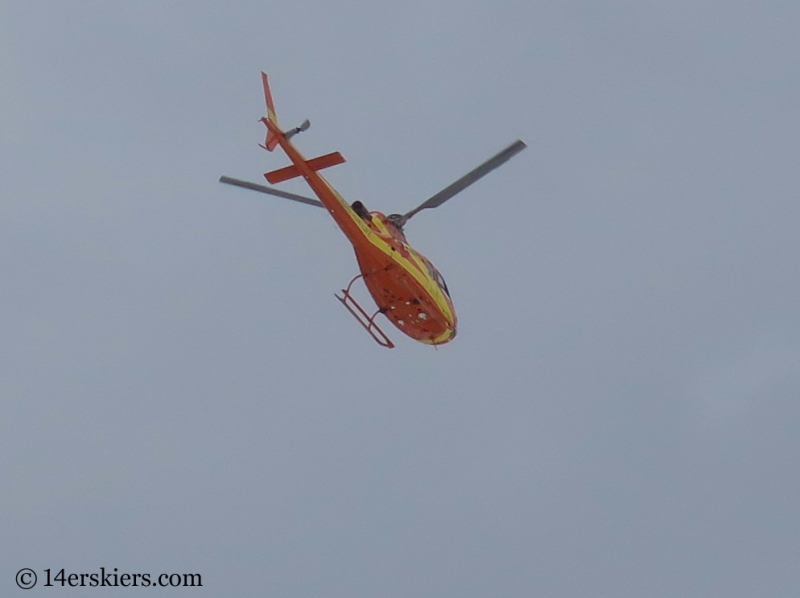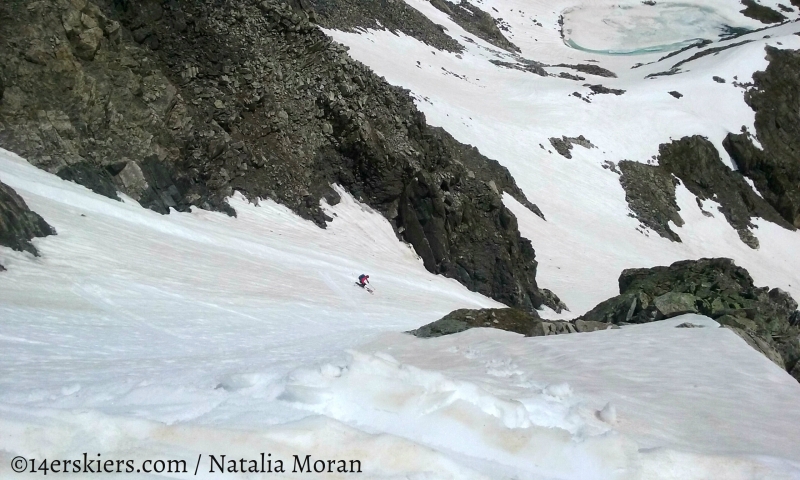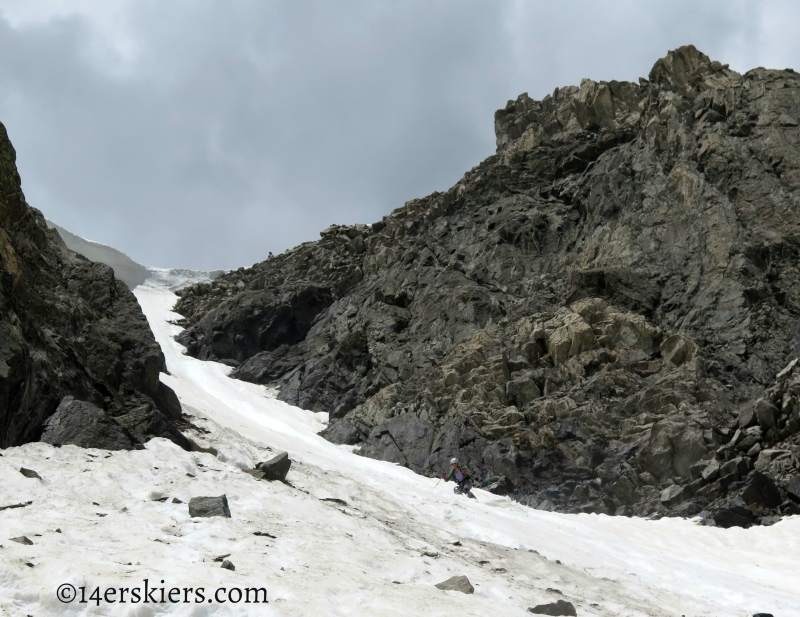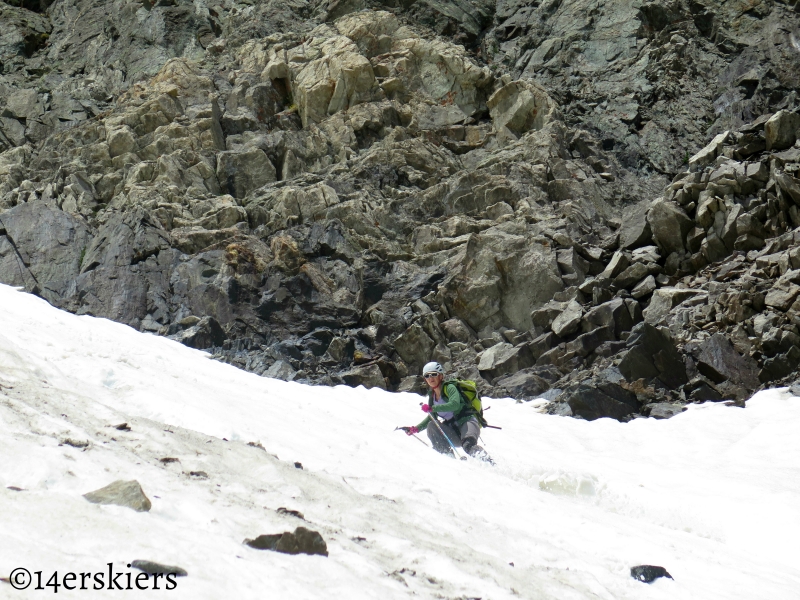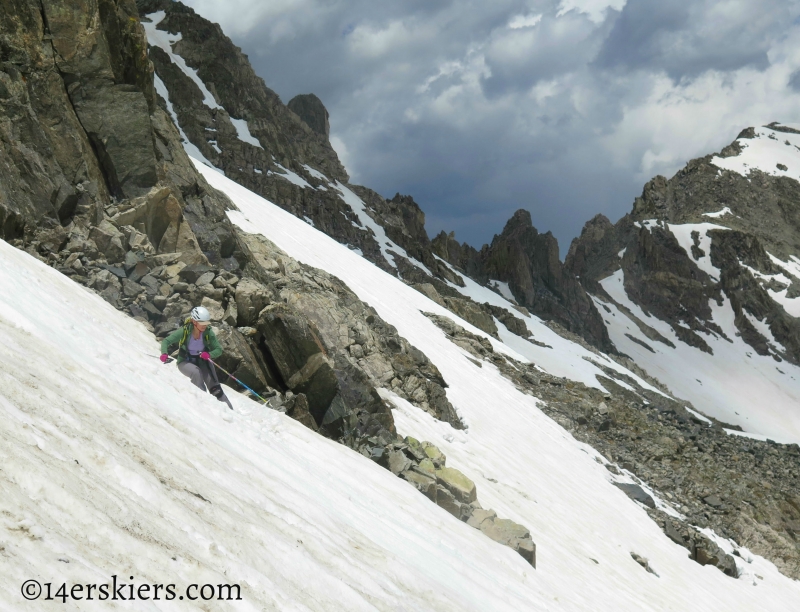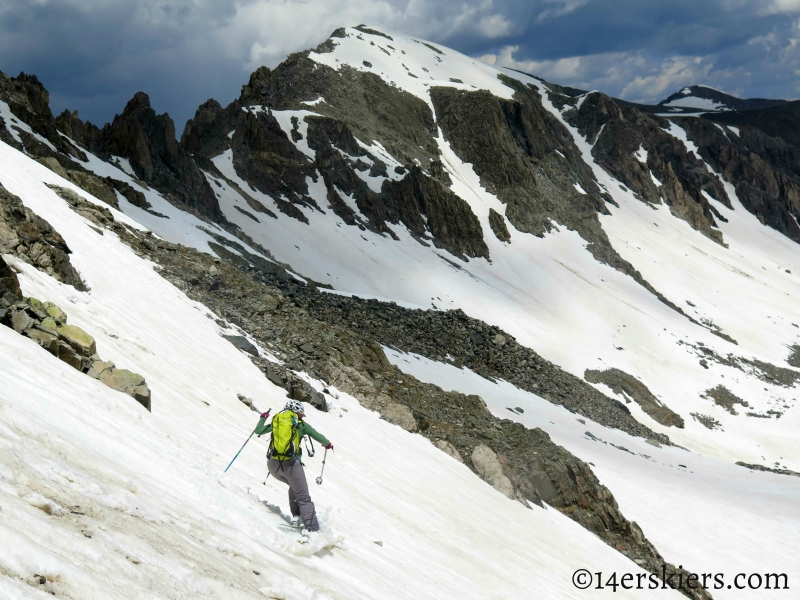 Jessica.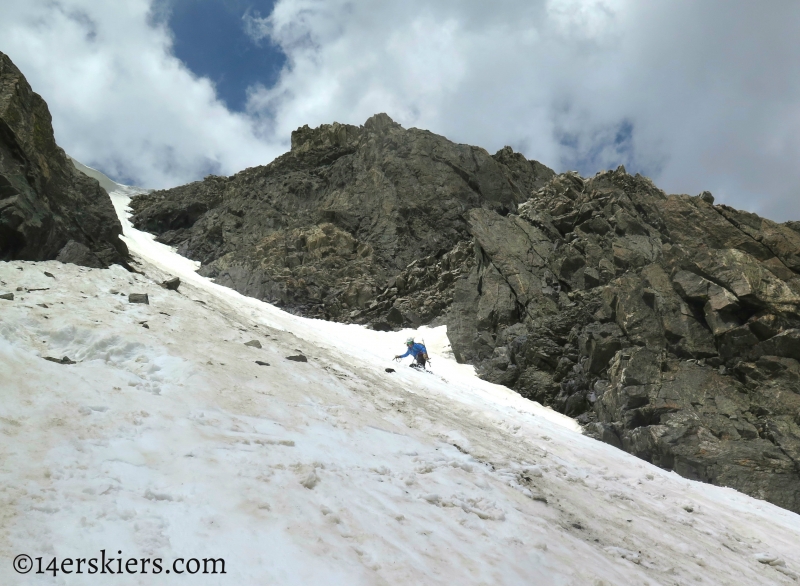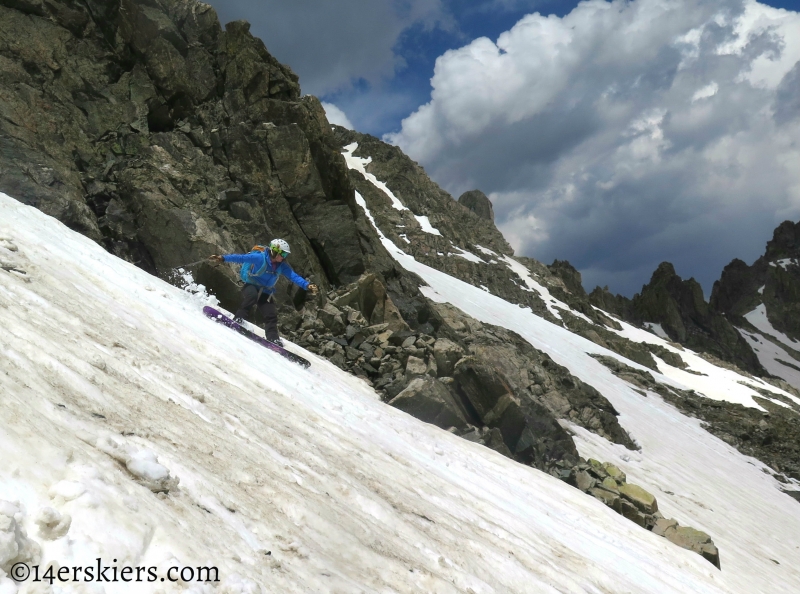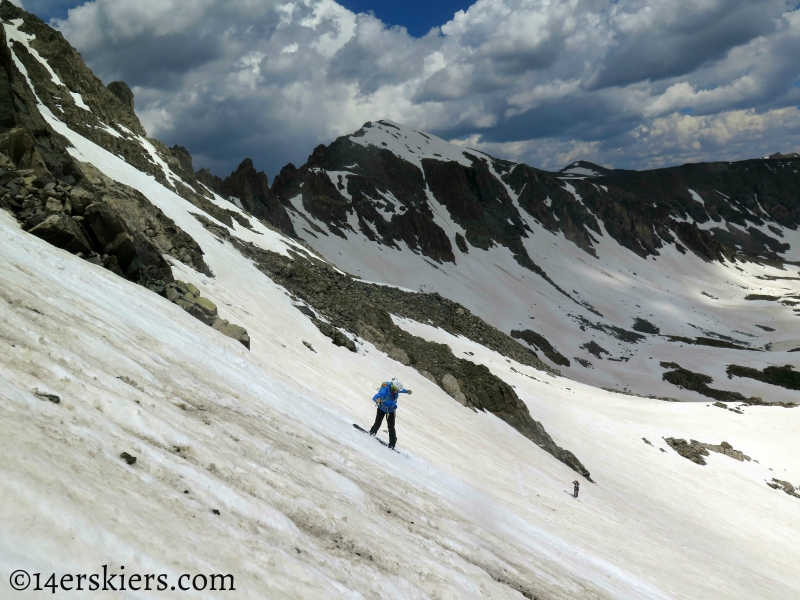 Chad.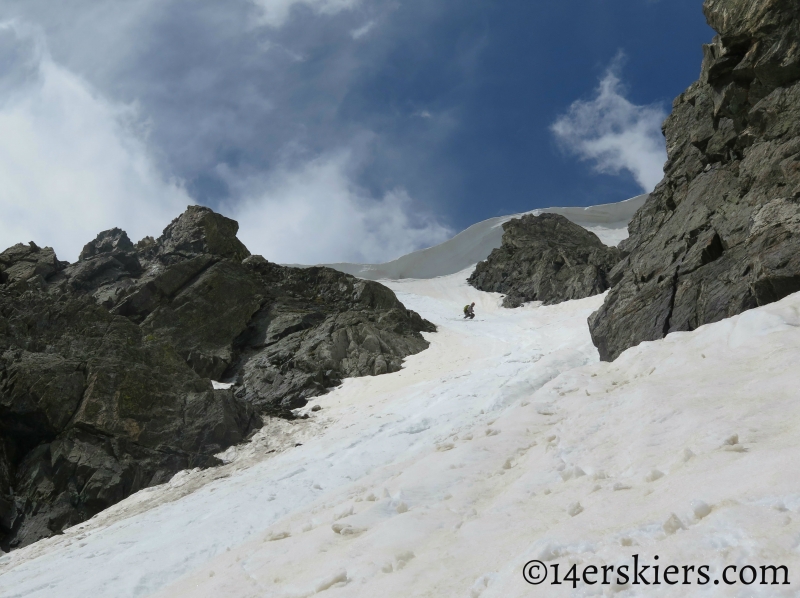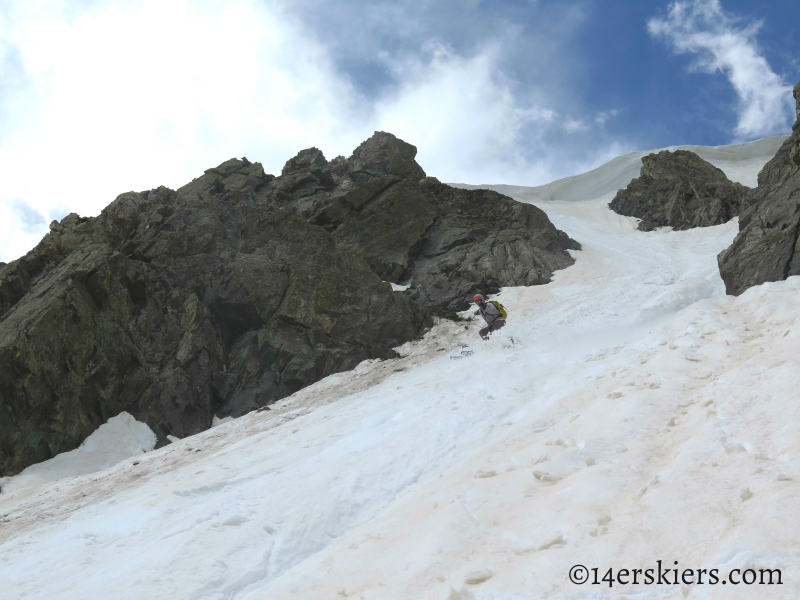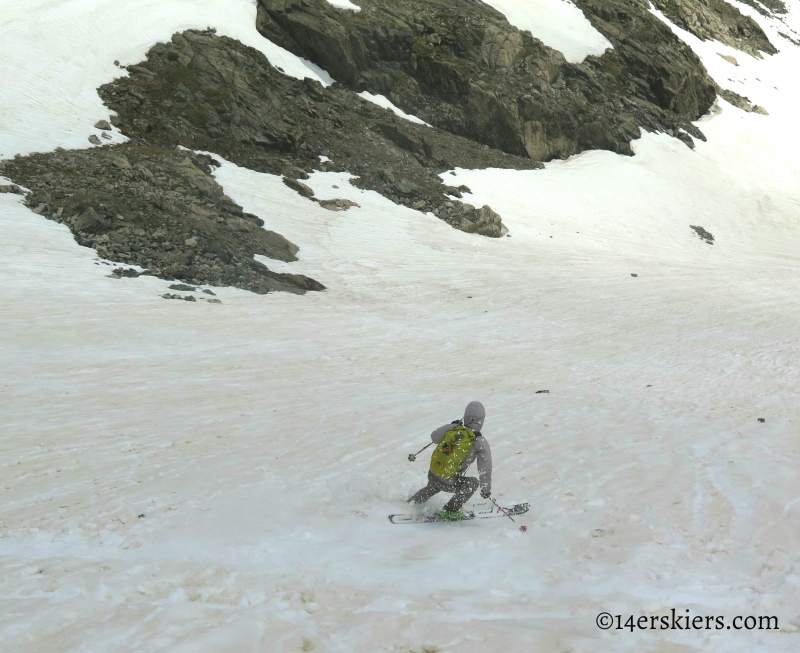 By the time we'd descended the couloir, the helicopter had landed just below us. So, we approached it to talk to Search and Rescue.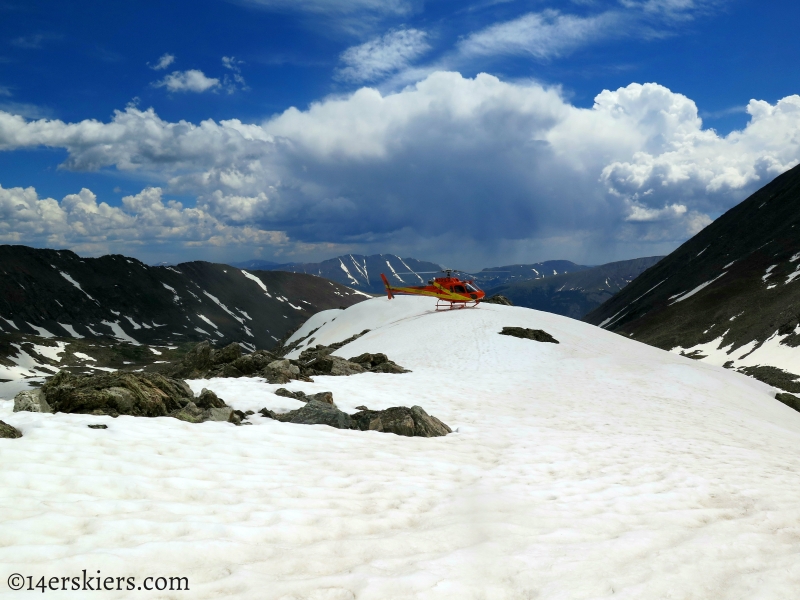 Once we knew that SAR had things in their hands, we decided to continue descending. Clouds were building and a thunderstorm would likely appear. We needed to get lower down to safety. Chad.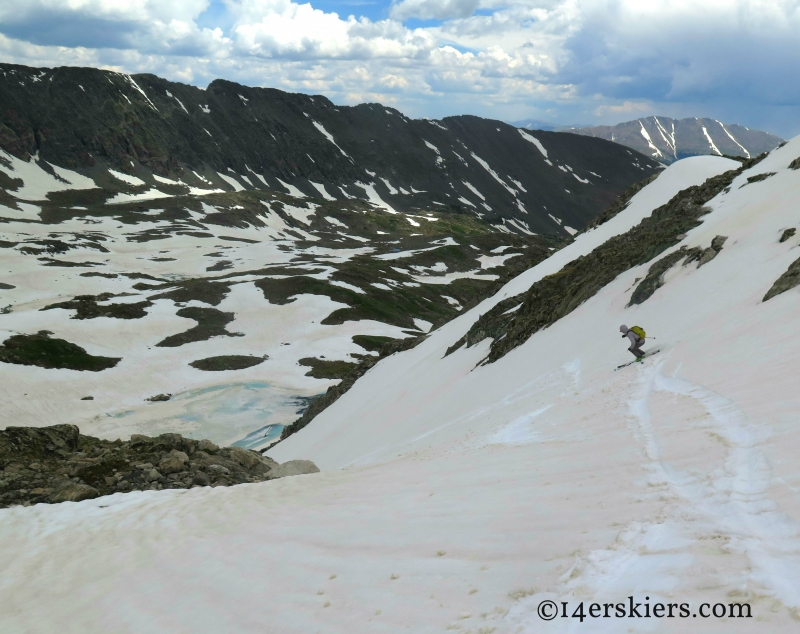 One last look at Fletcher Mountain and the rescue helicopter.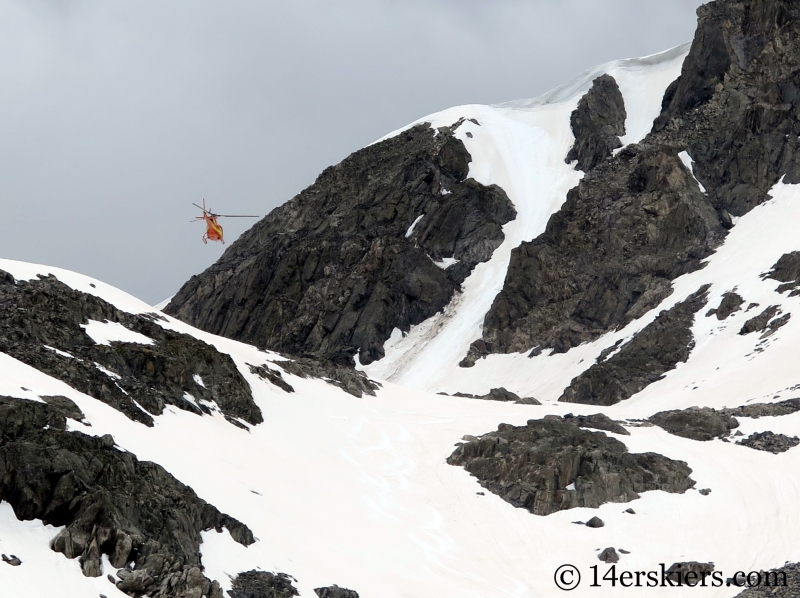 A little after we reached treeline, the clouds burst open and thunder pounded around us. We were thankful to no longer be above treeline. We descended to our vehicles, and later heard that the injured skier had successfully been rescued! All in all, it was an interesting day with the rescue. I think we all learned something from that day, and had some good takeaways. Plus, the skiing on the Fletcher Mountain Northeast Couloirs was actually pretty good for being summer 🙂
Aside from skiing, biking, and all outdoorsy things,
Brittany Walker Konsella
also loves smiles and chocolate 🙂 Even though she excels at higher level math and chemistry, she still confuses left from right. Find out more about
Brittany
!
Latest posts by Brittany Walker Konsella (see all)
Summary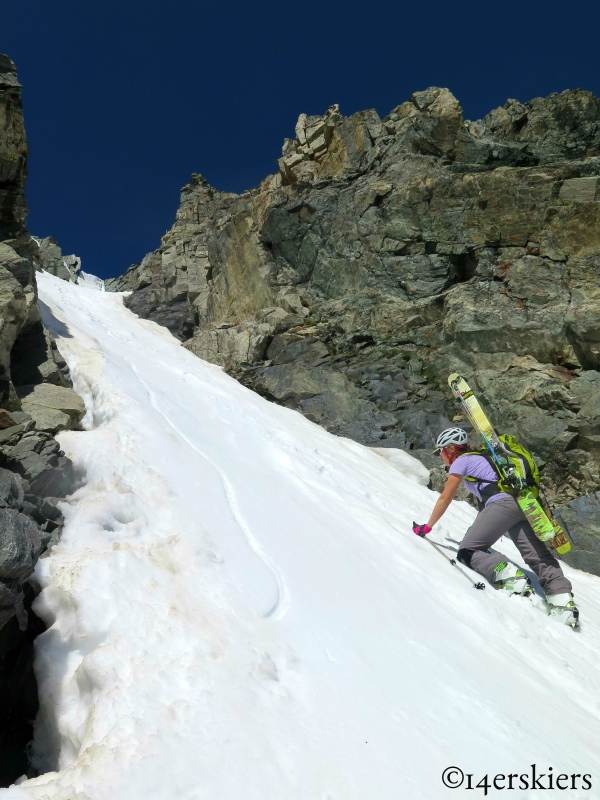 Article Name
Skiing Fletcher Mountain Northeast Couloirs
Description
Brittany and her friends find adventures and good early summer snow backcountry skiing the Fletcher Mountain Northeast Couloirs!
Author