TR: Atlantic Peak (24 June 2011)
(Last Updated On: July 31, 2011)
Before we left for our honeymoon, I knew that when we came back, I would be trading the bike in place of the skis. But, I also knew that my ski season wouldn't be completely over. With snow still plentiful in the high peaks, skiing year-round is not only a real possibility, but a fun possibility with the decent summer snow. So, skiing had to happen in July.
The choice of our July date was not coincidental either. Our dear friend Lacy passed away enjoying his love for skiing exactly a year before. We wanted to honor Lacy's life by doing what he would probably be doing if he was with us today. Lacy loved skiing, no matter where or what time of year. It seemed appropriate to celebrate his life on top of a beautiful snow-capped peak.
Why Atlantic Peak? We debated returning to Democrat to ski one of Lacy's favorite lines. But, Lacy also liked to explore. So, why not try something new, especially in a year where snow is sticking to the peaks for longer than usual. After seeing our friend Fritz's post about Atlantic, it seemed like a good choice.
Atlantic Peak is one of those peaks that goes easily unnoticed. In the shadow of Quandary, and often overlooked by it's slightly larger and gnarlier neighbor, Pacific Peak, Atlantic rises to a fair height itself with and elevation of 13,841′. But, from McCullough Gulch, Atlantic's true capabilities come to view.
Frank and I met up with Kim and her friend Andy near the Quandary trailhead. We laughed as we drove by car after car parked along side the road, from hikers heading for this "easy" fourteener. We arrived to our trailhead and counted five cars. Much better. The hike was beautiful and wildflowers tempted us, like these Columbines.


Photo by Kim Ross
This north facing line off of Quandary's east ridge looks like a nice possibility for another year.

Past the unnamed lake at 11,900′ the trail turned faint. Even with cairns, route-finding was a tad difficult. Following the faint climbers trail leads up the southern branch of upper McCullough Gulch. In retrospect, it would have been better to leave the trail shortly after the lake and follow the northern branch which would be a more direct route to our peak. Less willows in this branch also make for easy off-trail travel. Needless to say, we were happy when our line came into view. Fletcher (another high 13er) on the left, Atlantic on the right.


Photo by Kim Ross

A closer view of Fletcher.

Fritz had mentioned dangerous rock fall on Atlantic while trying to climb the east-facing couloirs. So, we skirted around them to the lookers right, ascending a talus field that allowed us to gain Atlantic's northeast ridge.

Though the talus was a bit of a pain, the ridge was easy-going and we found ourselves on the summit quickly. A view of Pacific Peak.

People crowding the summit of Quandary.

There, we toasted Guinness to our missed friend Lacy. It was his beverage of choice.


Photo by Kim Ross
Kim also spread a few of Lacy's ashes while Frank and I left some momentos on the summit block.

I held back the tears with deep swallows and deep breaths. Lacy would want us to be happy and enjoy the day. So, I decided it was time to go skiing.


Photo by Kim Ross
Frank likes ski-guitar.


Photo by Kim Ross
Skiing off the summit was a bit rough with some fairly small but deep runnels.

But, as we entered the couloir, it the snow turned much smoother. It was a good ski down 🙂
Frank.


Photo by Kim Ross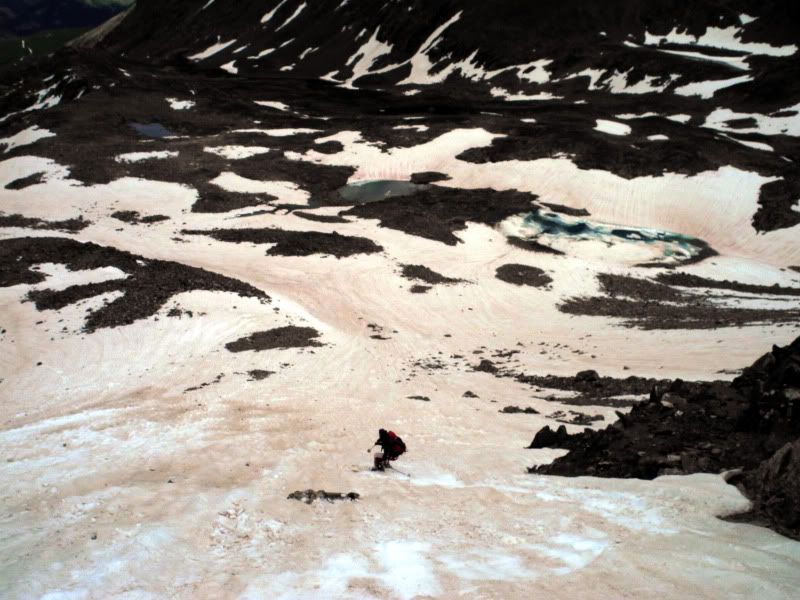 Photo by Kim Ross
Me.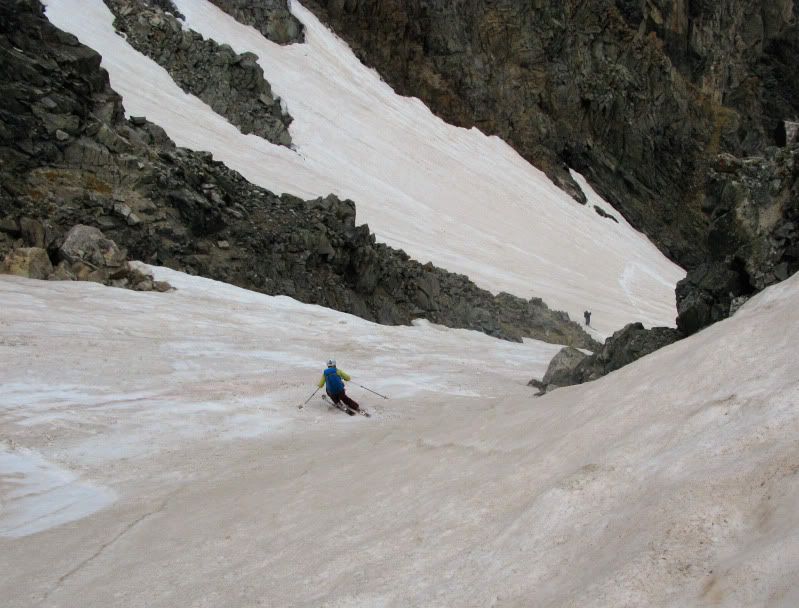 Why this line has rock fall…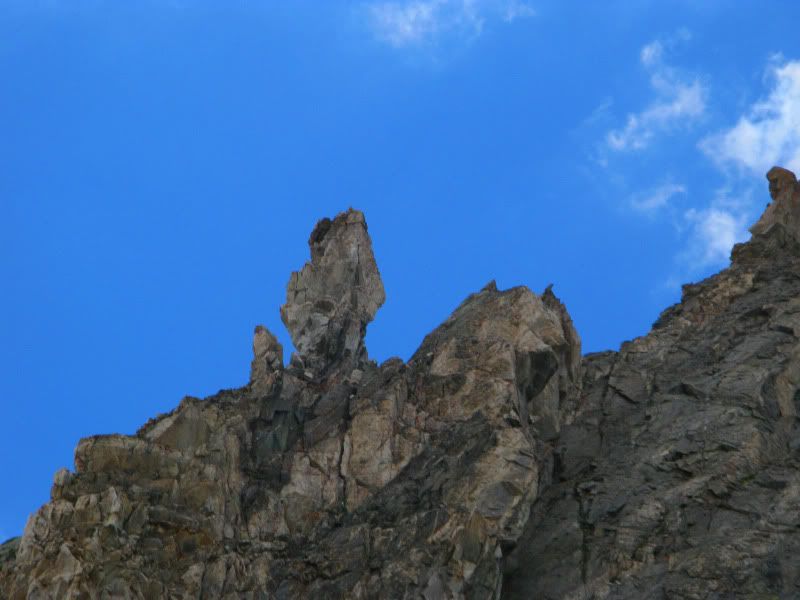 Andy.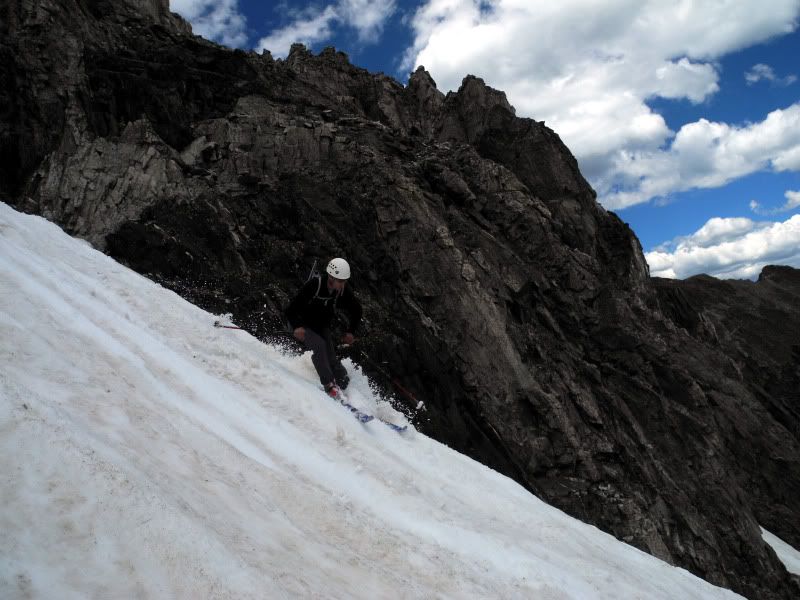 Kim.

After the apron, the snow continued down-valley for a ways, taking us via the northern branch of the upper McCullough Gulch. So, we followed it for as long as we could, skiing about 1500′ vert. The photo below was taken at our transition from ski boots to hiking boots. We descended the left branch of the V-couloir. The talus field we ascended is the obvious one on the right side of the photo. The talus field we ascended is the obvious one on the right side of the photo.

A zoomed in view reveals our tracks.

We had a few small snow patches left. Kim stopped to admire the "watermelon snow". She is a microbiologist, afterall 😉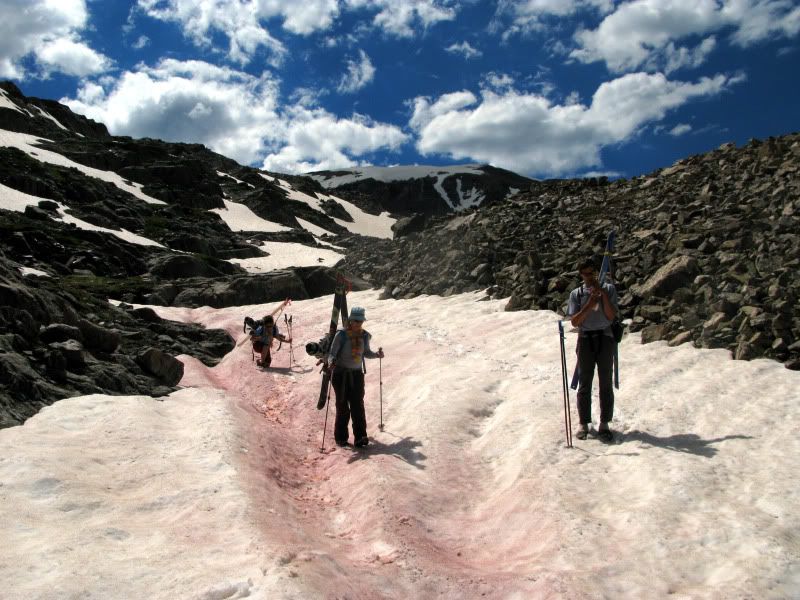 From there, we followed the grassy valley back to the trail just above the lake.


Photo by Kim Ross
After reaching the lake, the trail continues for about another mile and a half back to the trailhead. And as we packed up our gear from the days adventure, we toasted yet another malty beverage for our missed friend. Thank you Andy and Kim for sharing this special day with us, and for joining us on a fantastic summer ski!
Aside from skiing, biking, and all outdoorsy things,
Brittany Walker Konsella
also loves smiles and chocolate 🙂 Even though she excels at higher level math and chemistry, she still confuses left from right. Find out more about
Brittany
!
Latest posts by Brittany Walker Konsella (see all)