State of the Snowpack 1-19-12
(Last Updated On: January 20, 2012)
Things are bad in Colorado, Utah, and many other areas of the Western US right now. Everyone knows it. The snowpack right now comes right from an evil mad scientist's worst dreams- almost exclusively rotten facets and dense windslabs. So it goes without saying that we're toning it down here at 14erskiers, and hopefully everyone else will do likewise. The snowpack hasn't looked like this in about 10 years- 2001/02 was a rough one, but I was luckily spending that winter in Whistler/Pemberton, enjoying a banner year there. We've enjoyed a string of relatively excellent years in Crested Butte, and we've been able to enjoy some fairly aggressive skiing in the backcountry as a result. In all likelihood, the backcountry this season has no chance of a full recovery- it will be dicey, possibly even in the spring.
The rime (or was it rain?) layer in the Anthracites yesterday:

Skiing 7th bowl through the rime crust was interesting- Zach's skis made the most fascinating sound skiing through it, and at first I thought it was his carbon DPS skis. But no, it was just a weird snowpack.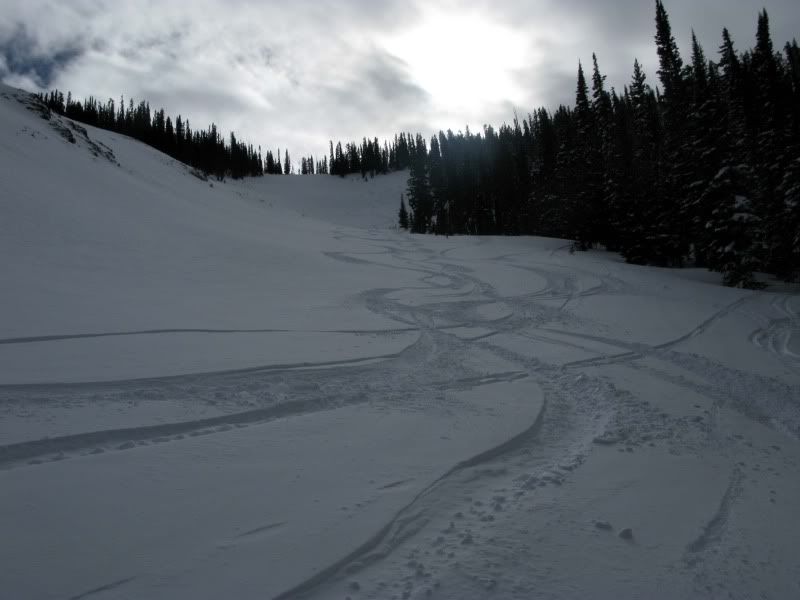 So, we'll be spending more time than usual at the resort. Heck, I've been spending most of my time on my tele gear. The bummer in this case is that the resort needs a ton more snow to get the steep stuff open, and once we do get snow all the steep terrain will likely slide right back down to the ground. There hasn't even been enough snow this season for the bootpackers to stomp the sugar down in much terrain other than the Headwall and Teocalli bowl. So we'll need some really big and prolonged storm systems to get much of the steeps open, and even then it's doubtful that all of our terrain will open this season (i.e. 3rd bowl and the frontside and possibly even Phoenix/Spellbound).
Yes, I realize I'm being pessimistic, but the reality is that it is late January and Crested Butte Mountain Resort has recorded 40-some inches for the whole year. So we're finalizing plans to get the heck out of here. Girdwood Alaska looks like our first stop in late February. I hope to find myself in BC at some point in March. April will hopefully find us in the Tetons and/or the Wind Rivers, and if all goes well, we'll finish out the season on Rainier and other peaks in the Cascades. Suddenly, I'm looking forward to this winter again.
Frank
loves snow more than anything... except his wife.  He ensures his food is digested properly by chewing it 32 times before swallowing.He is a full-time real estate agent serving
Crested Butte and Gunnison
and would be honored to send you his
monthly newsletter.
Latest posts by Frank Konsella (see all)