(Last Updated On: August 14, 2016)
After our nice easy day on Sundance, Brittany and I tackled something more typically summer-like: Apache Peak. Apache doesn't require the longest of approaches, it's still a 13 or 14 mile day, and most of that was spent with the skis on the back. It would be a bit shorter if the road was open past Brainard lake, but unfortunately it's almost always closed there- at least when the skiing is still good. At least the trail was heavily trafficked and in good shape, so we made good time to Lake Isabelle.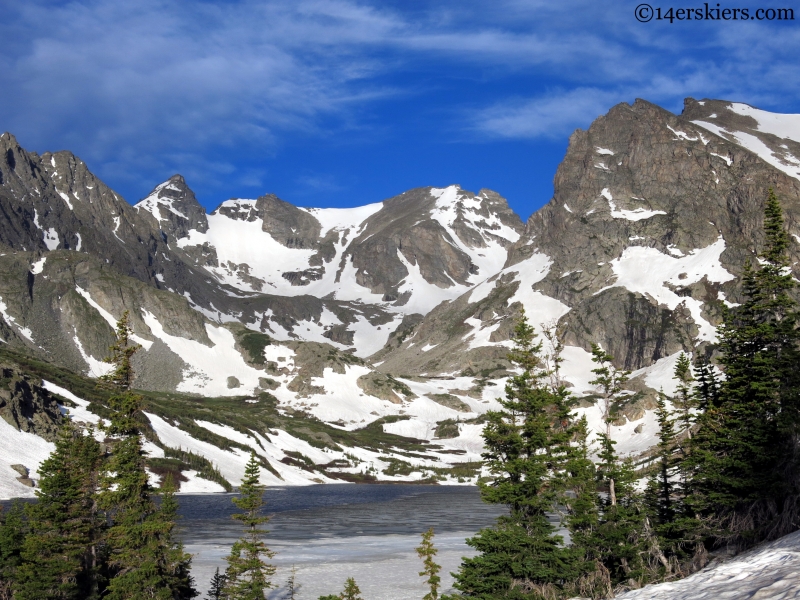 I've really been liking the Indian Peaks Wilderness and Rocky Mountain National Park zone the more I ski it. Sure, it gets hammered with wind and it isn't the snowiest spot, but the peaks are legitimately steep and rugged with plenty of ski lines. It's certainly one of the better places to ski in the summer in Colorado. Up we went: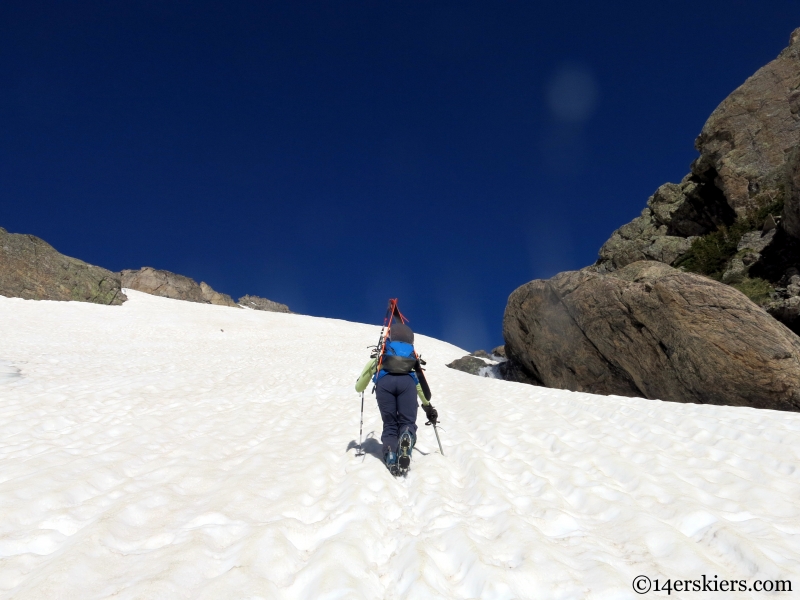 Brittany ascending the last few feet towards the summit, with the appealing north face of North Arapahoe behind her: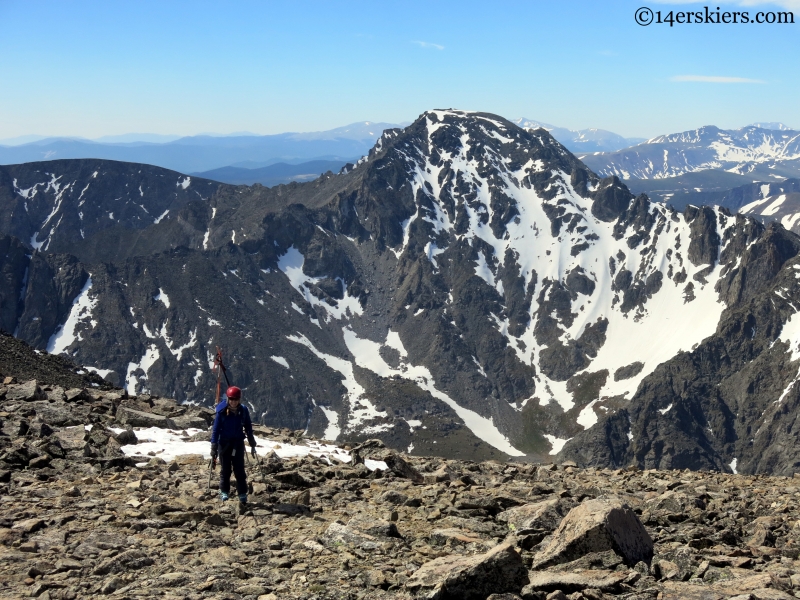 While our ascent route looked fun, we decided we could get a bit more continuous vert and make a loop out of it if we skied a route called Queen's way instead. It didn't quite go off the summit, but it was close. Brittany: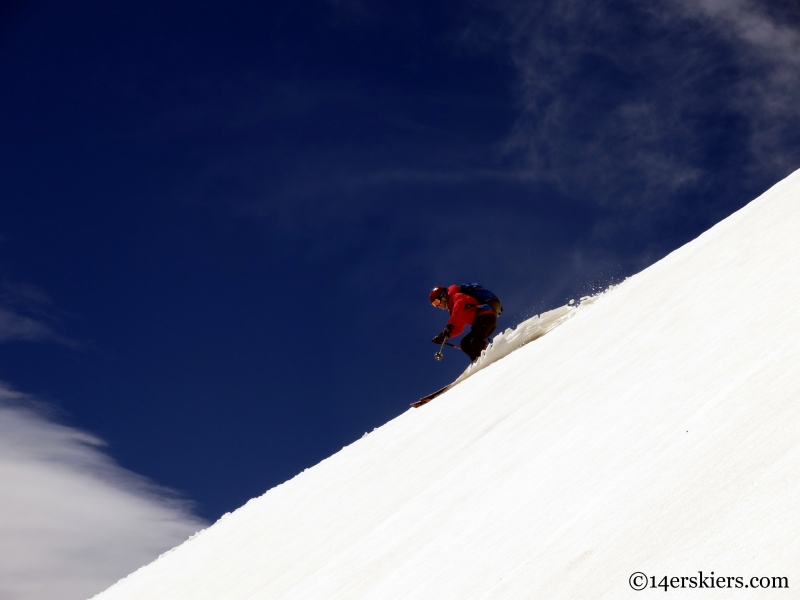 Being mid-June, the snow surface wasn't the smoothest, but it was soft enough to make some nice turns. Brittany again: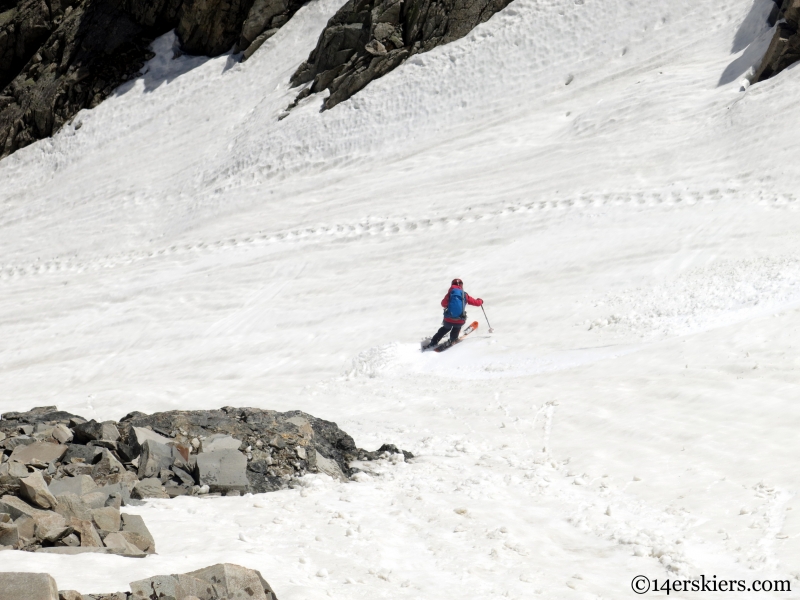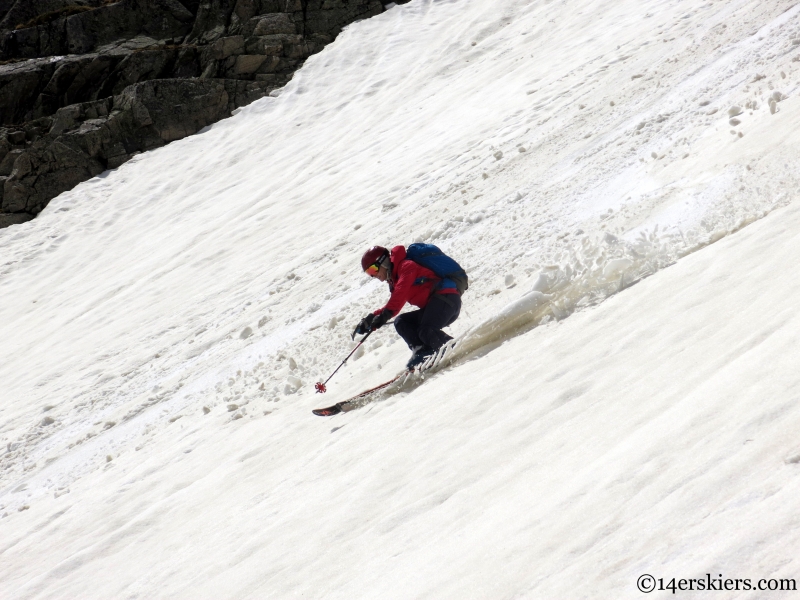 Frank: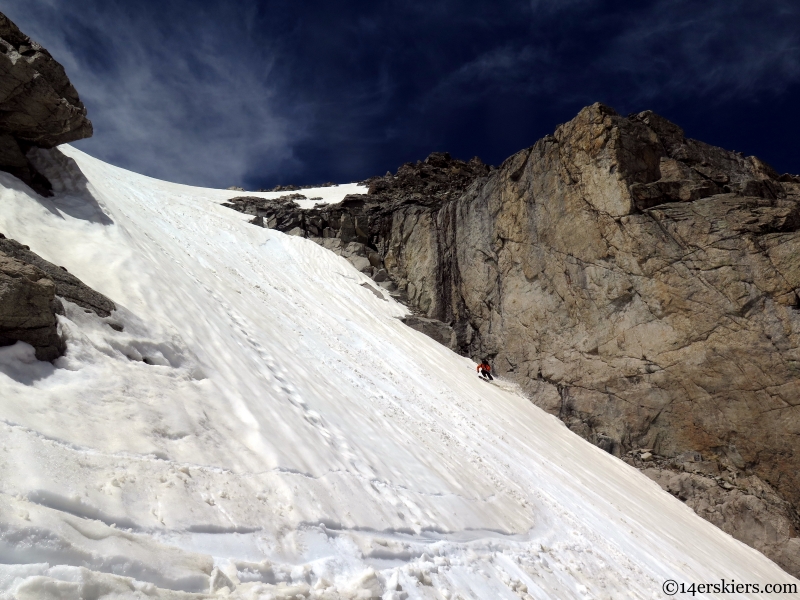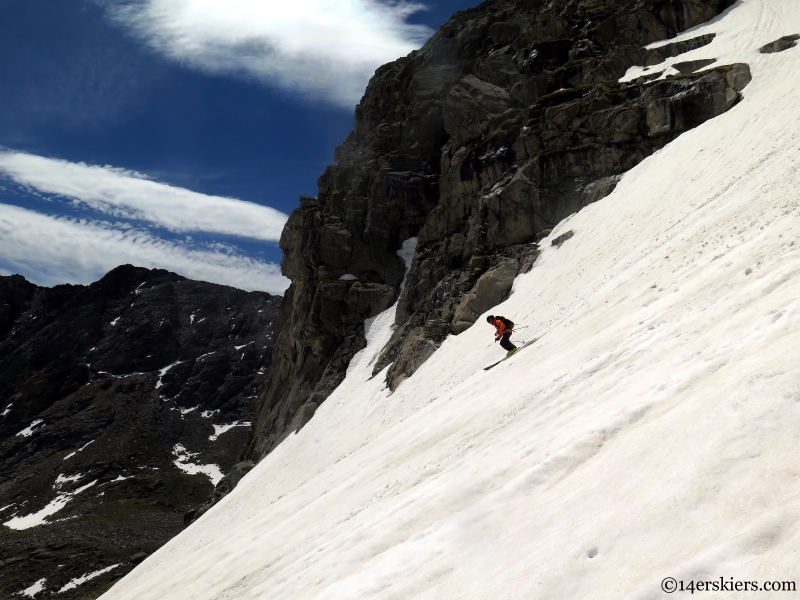 Brittany heading towards the Isabelle "glacier".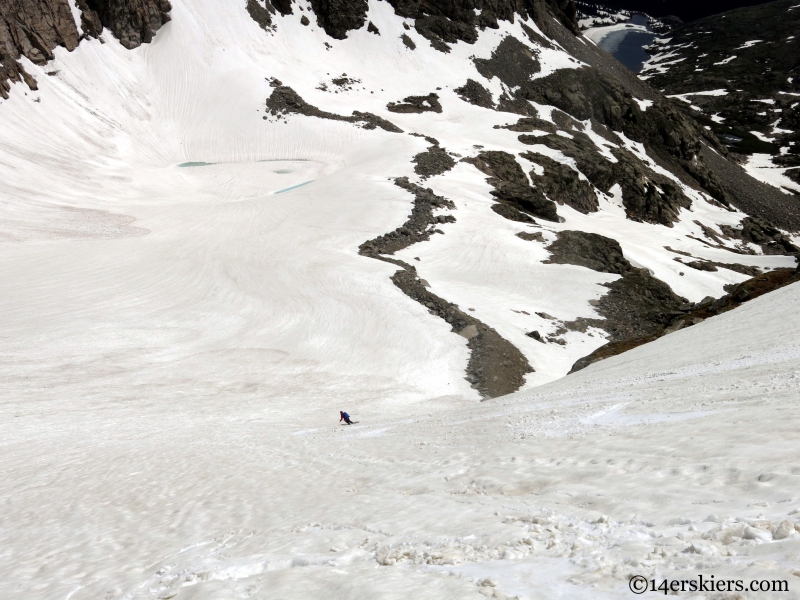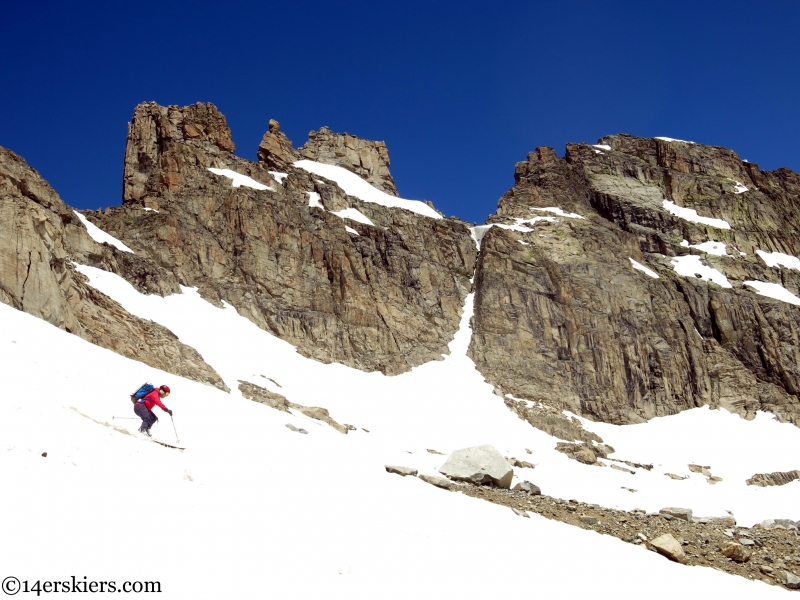 Frank: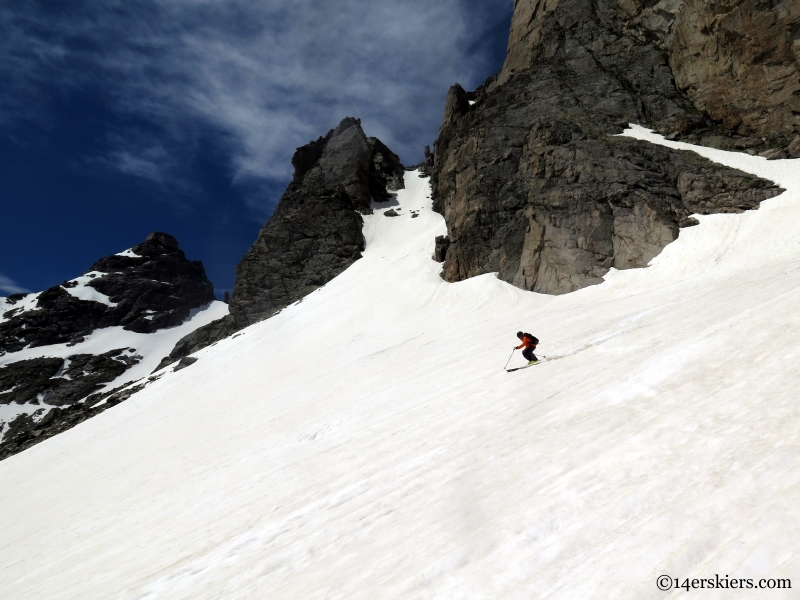 I think this photo sums up summer skiing. Flowing water, suncupped and runnelled snow, but a happy skier nonetheless.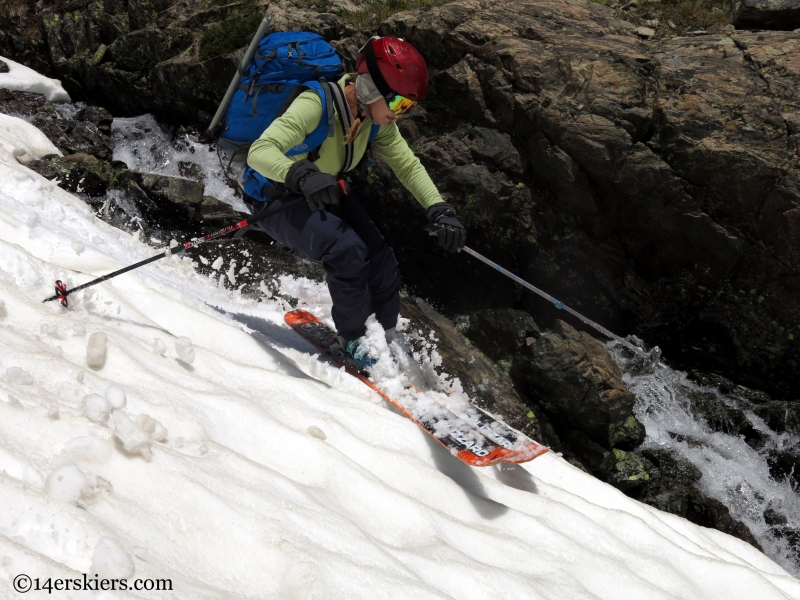 Despite the longer day, we had a great time. It's undeniably a beautiful area with a lot of skiing potential. For me at least, it marked the end of the 2015-16 ski season. People often ask if I do the turns all year thing- I did, for one year in the late 90's. Personally I'd rather do something other than ski in August and September- assuming of course that I can't get to the southern hemisphere. So with that, it's on to summer…
Frank
loves snow more than anything... except his wife.  He ensures his food is digested properly by chewing it 32 times before swallowing.He is a full-time real estate agent serving
Crested Butte and Gunnison
and would be honored to send you his
monthly newsletter.
Latest posts by Frank Konsella (see all)
Summary
Article Name
Description
Mid June skiing on Apache peak in the Indian Peaks Wilderness on the front range of Colorado!
Author