TR: Gladstone Peak Ski (17 June 2015)
(Last Updated On: June 30, 2015)
Gladstone Peak is a black sheep among giants. It rests alongside the fantastic fourteener trio of El Diente, Mount Wilson, and Wilson Peak. Sadly, Gladstone is often overlooked in place of it's larger siblings. But Gladstone Peak can hold its own, with significant prominence, a foreboding presence, and its status as a Centennial Peak (among Colorado's top 100-highest peaks).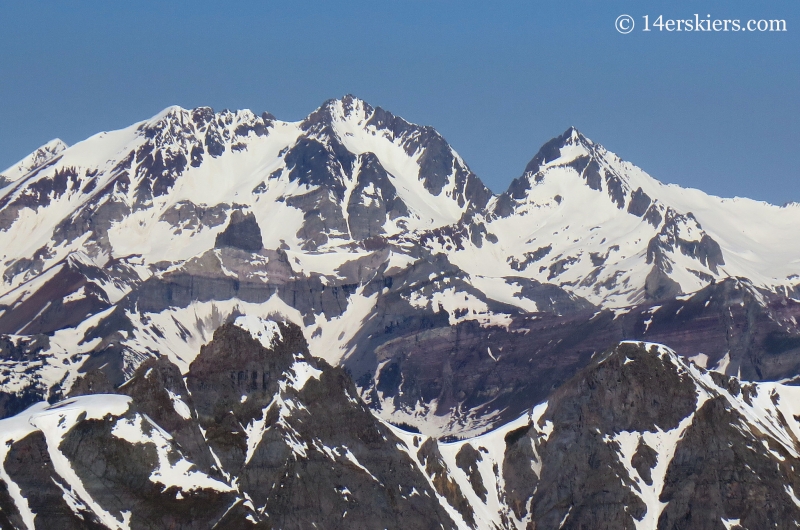 People have been asking me lately if I wish to ski all of Colorado's Centennial Peaks – if that is my next goal after skiing all of Colorado's fourteeners. My answer to them is no. I visited that goal once upon a time, and was steered in other directions. Frank claimed, "No more lists!", which I found ironic…. because backcountry skiers know there is a list. There is always a list. It's just a matter of where that list comes from. This year, much of my list has been generated from all those peaks and lines I whizzed by while skiing my fourteeners. Those lines have not been forgotten– peaks like Square Top, Grizzly, SE couloir on La Plata, and the Juice Box have all been on my list for years — and I've finally found the opportunity to ski them. Suddenly, Gladstone surged to the top of the list, largely motivated by our friend Natalia who needed to summit it in order to complete her goal of climbing (not necessarily skiing) all of Colorado's Centennial Peaks. Why not help a friend and ski a cool peak at the same time?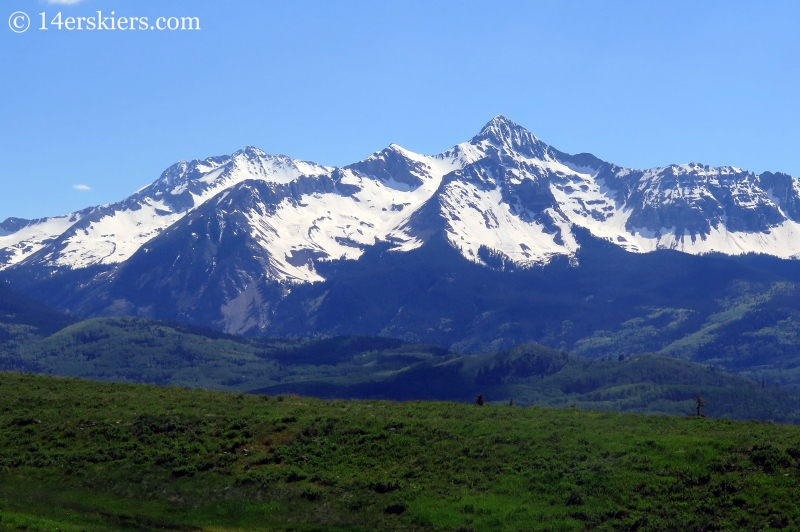 Natalie and I went to the San Juans the night before and camped at the trailhead. Jaaron came from Durango and met us early in the morning. We began our hike shortly after 3:30 am.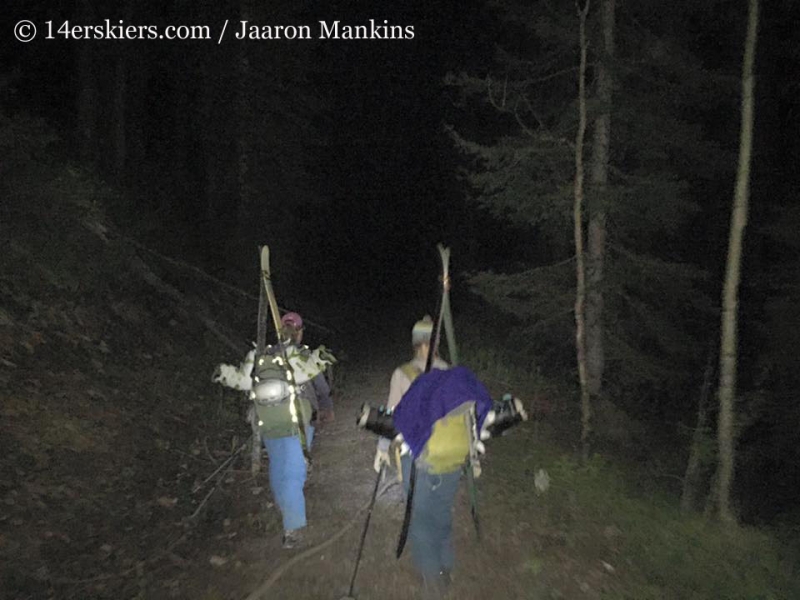 The trail was fast moving at first, but we were hampered a bit by the Bilk Creek Crossing. Just as it improved, we lost the trail through the willows and darkness of the night, which killed some time….
Another alpine start and an another amazing sunrise. I guess getting up early in the morning isn't so bad.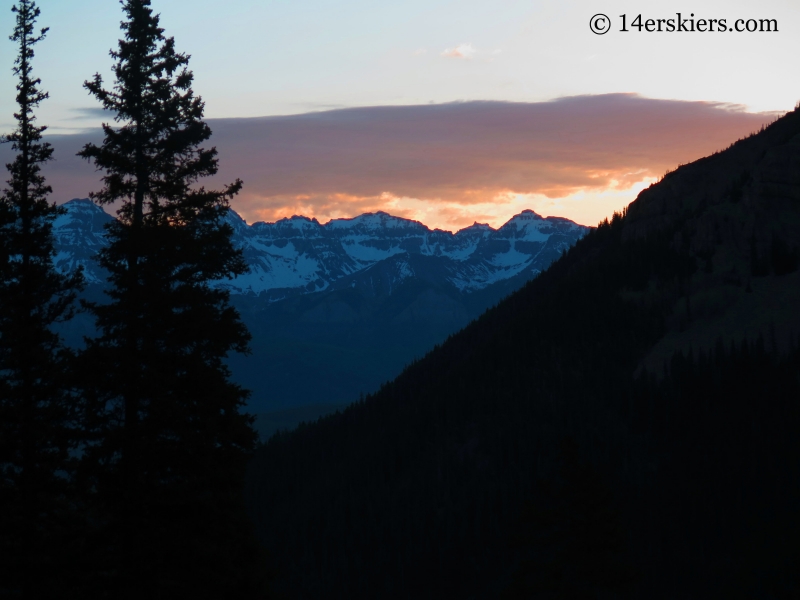 As we emerged from the trees and into lower Bilk Creek Basin, we first laid eyes on the north side of Gladstone Peak.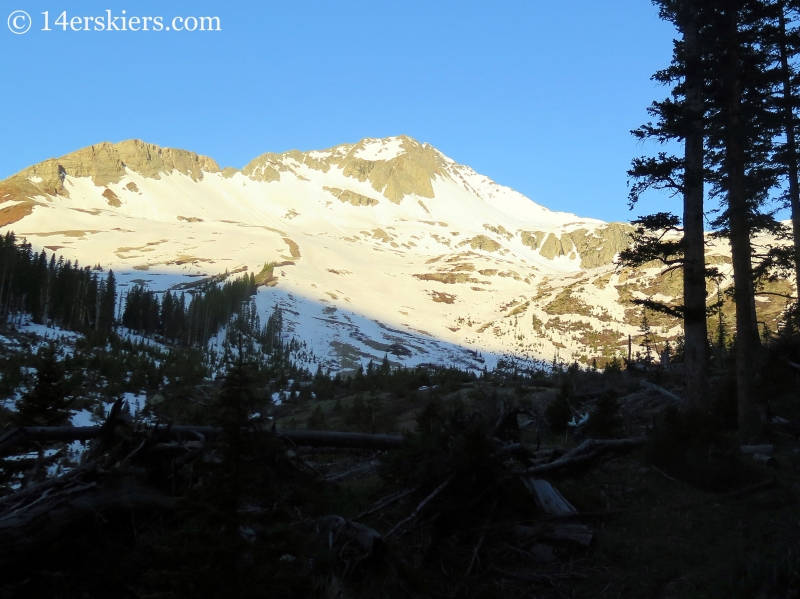 The hike through Lower and Upper Bilk Creek Basins was beautiful.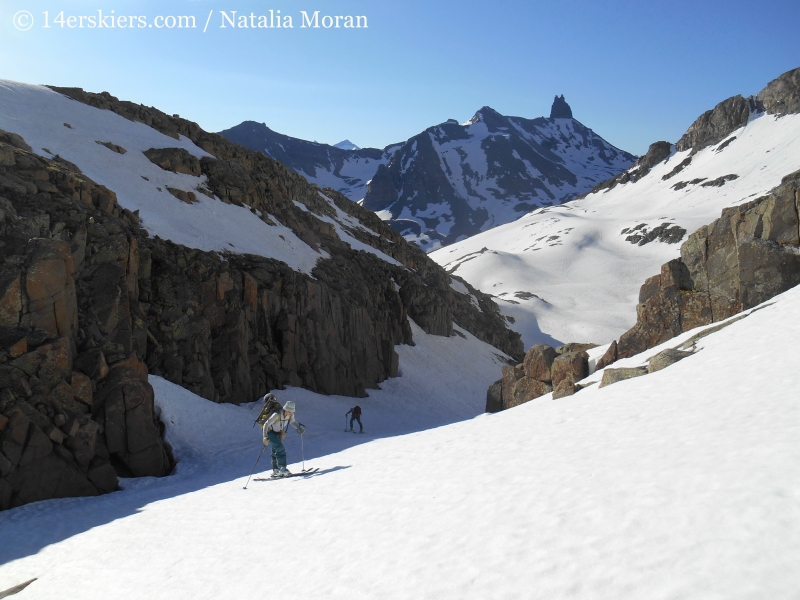 Natalia with the south side of Wilson Peak rising behind.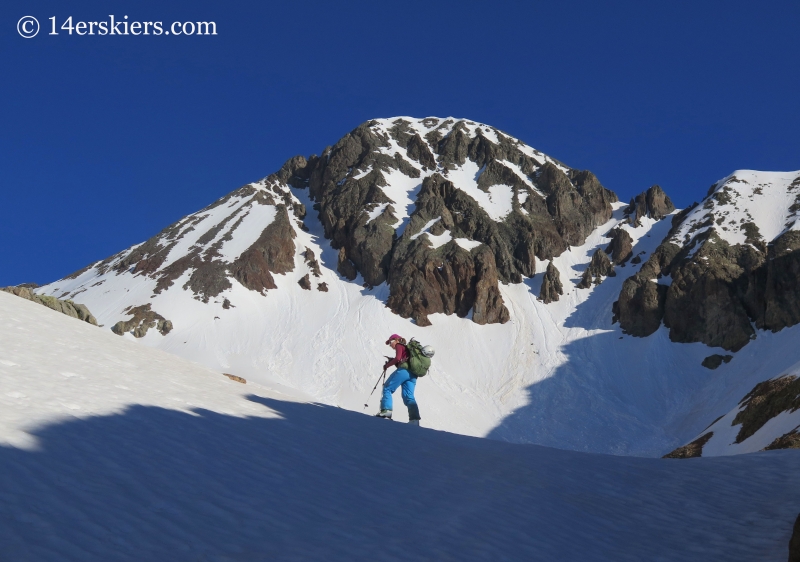 Gladstone before us.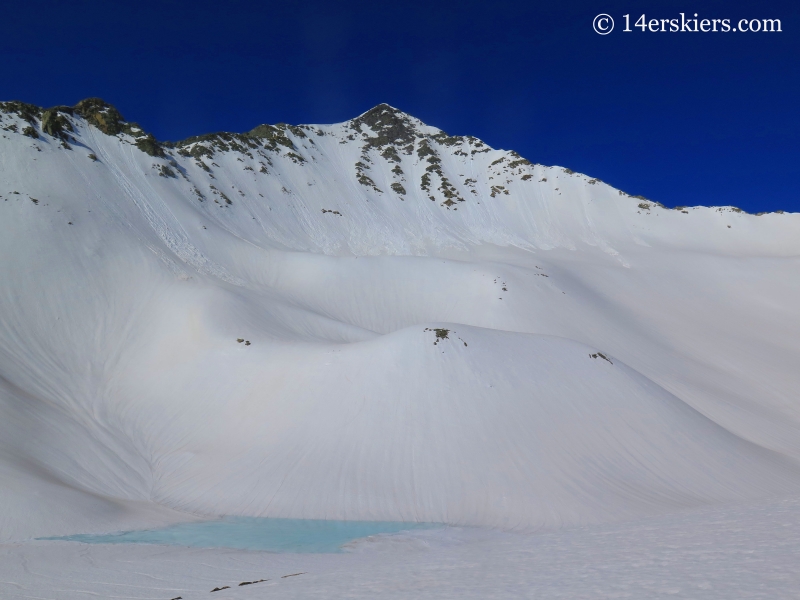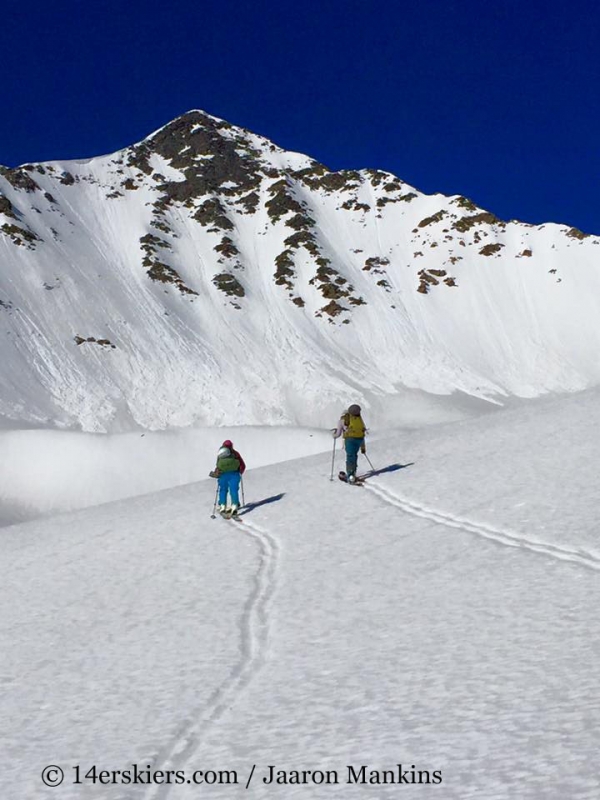 Such a beautiful lake.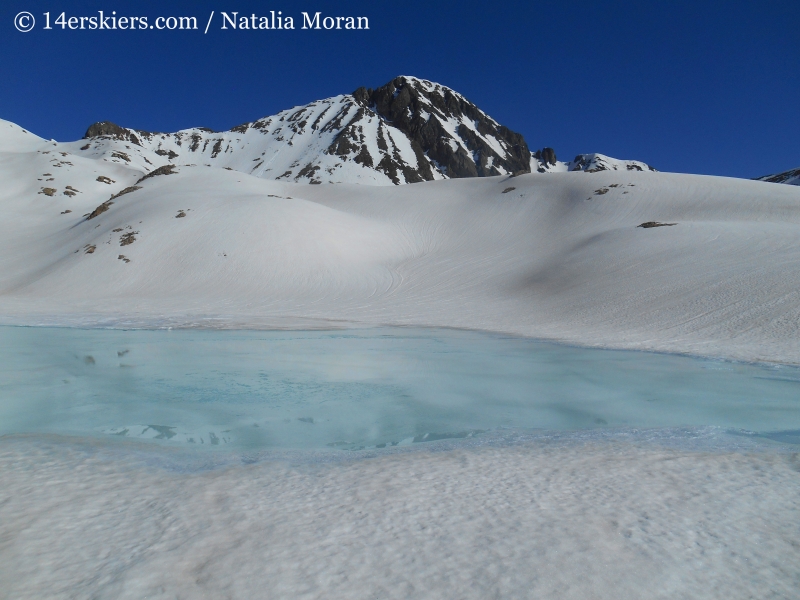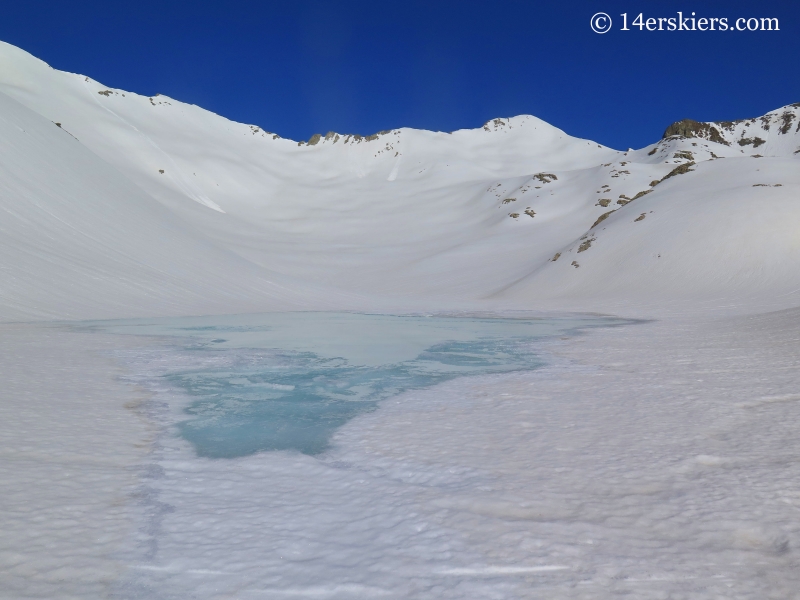 It was becoming obvious that the freeze was less than we'd hoped for the night before, and that we were a little later than we intended to be. But, we decided to give the summit a shot. The snow remained mostly supportable, but it definitely was softer than we wanted.
We still had a lot of climbing to do, but it was about to get more fun.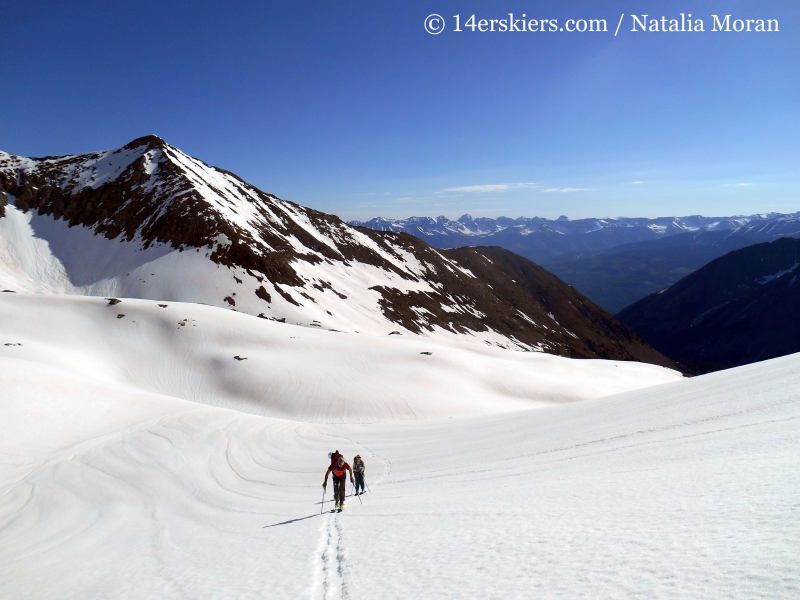 Yep, more fun 🙂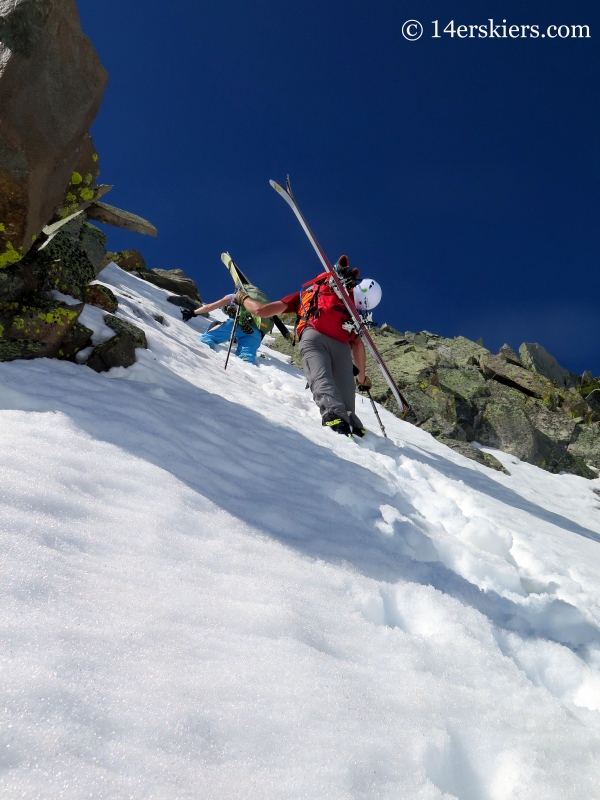 The ridge was sporty.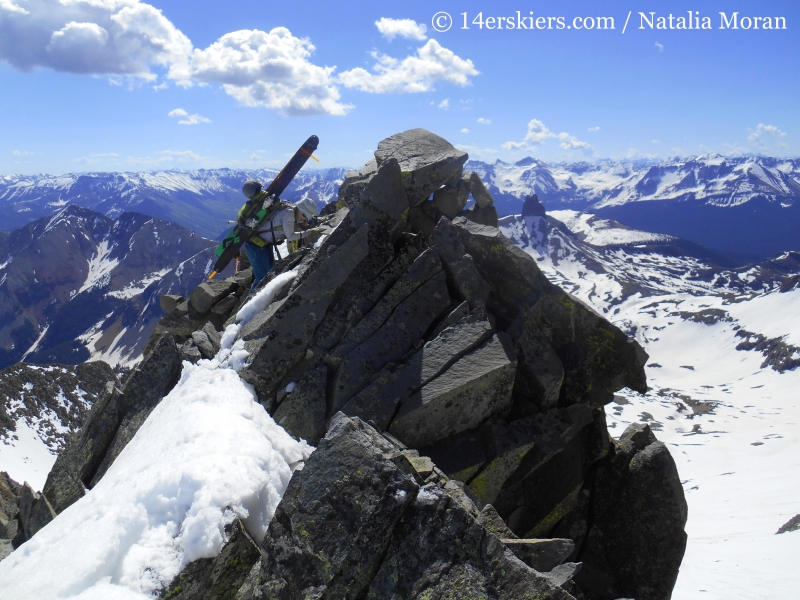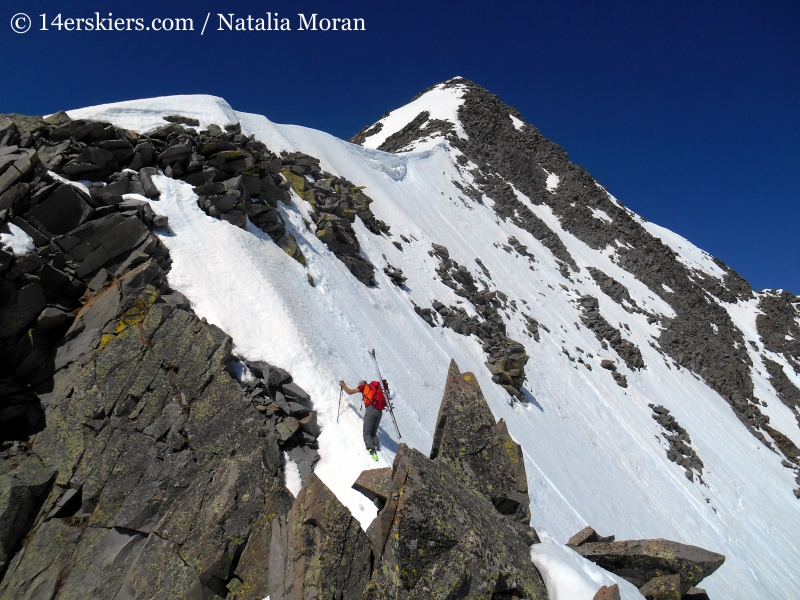 Jaaron approaching the summit.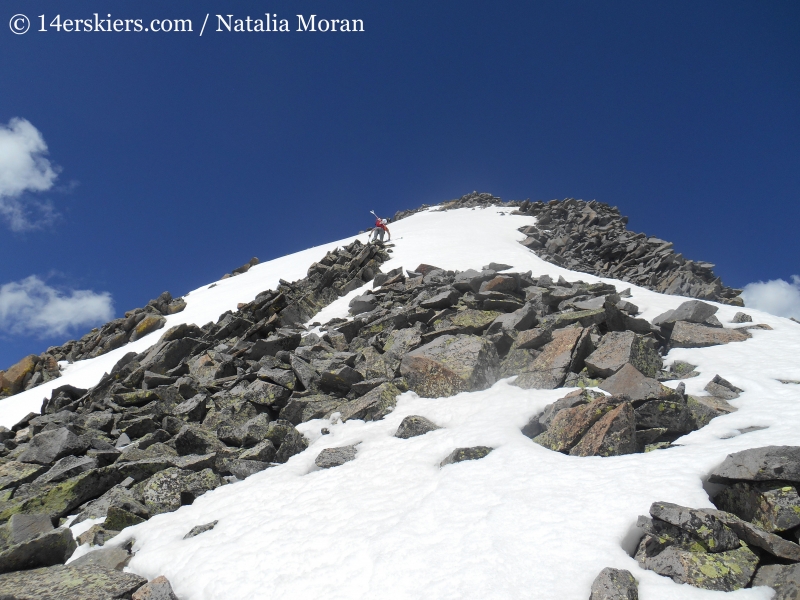 Me near the summit.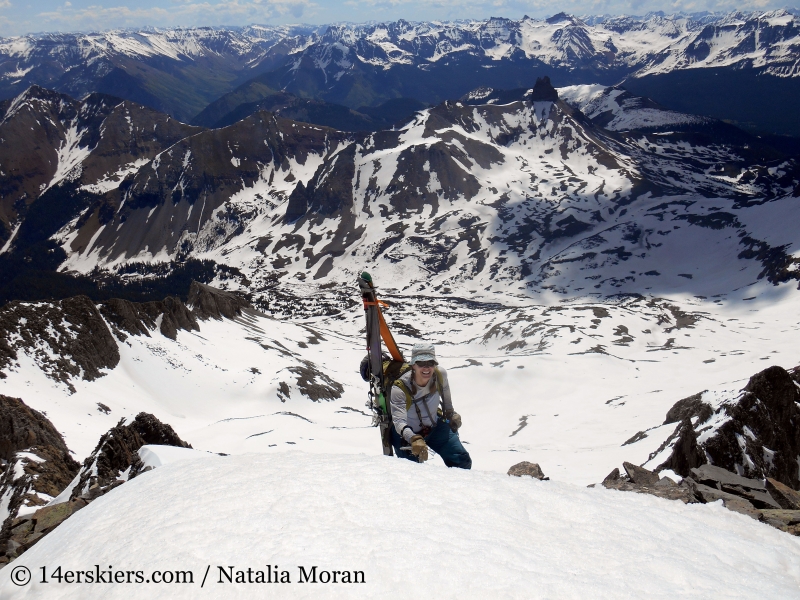 The summit was a fun and airy place. Jaaron with Mount Wilson and El Diente behind.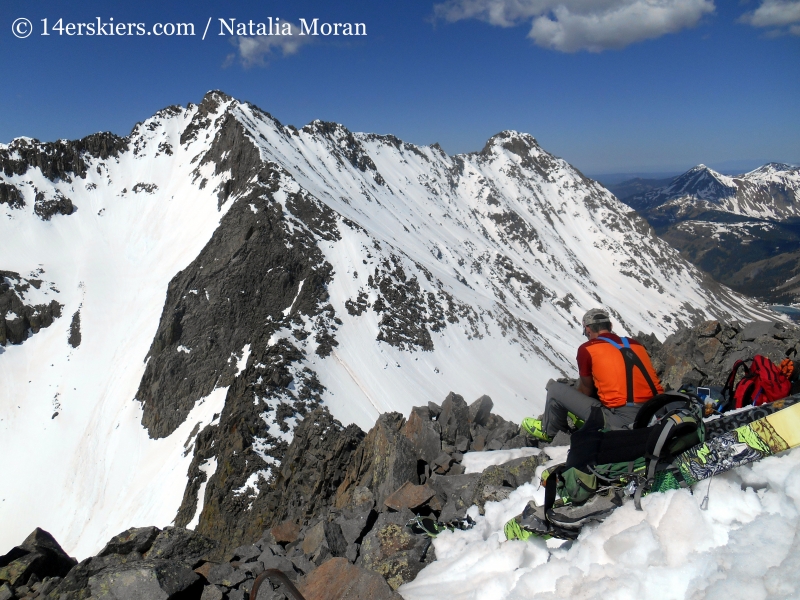 We were enjoying our day!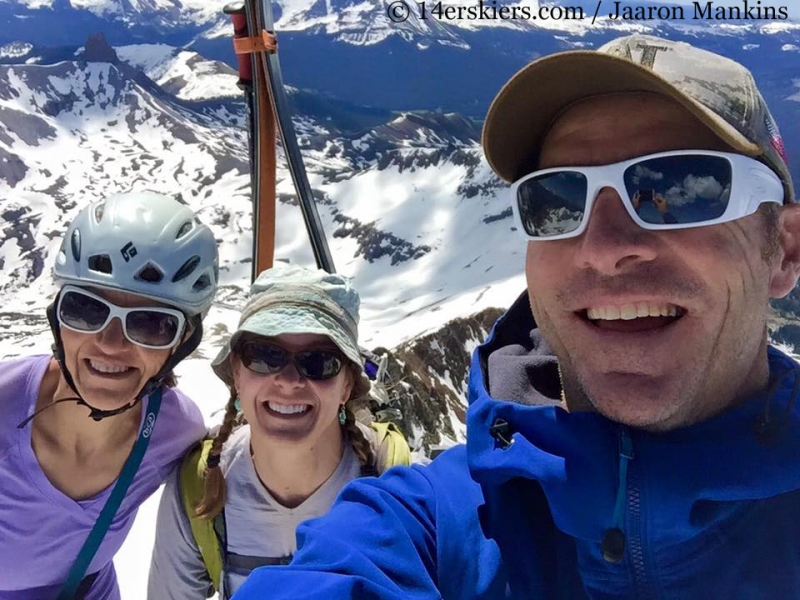 The San Juans were still looking good.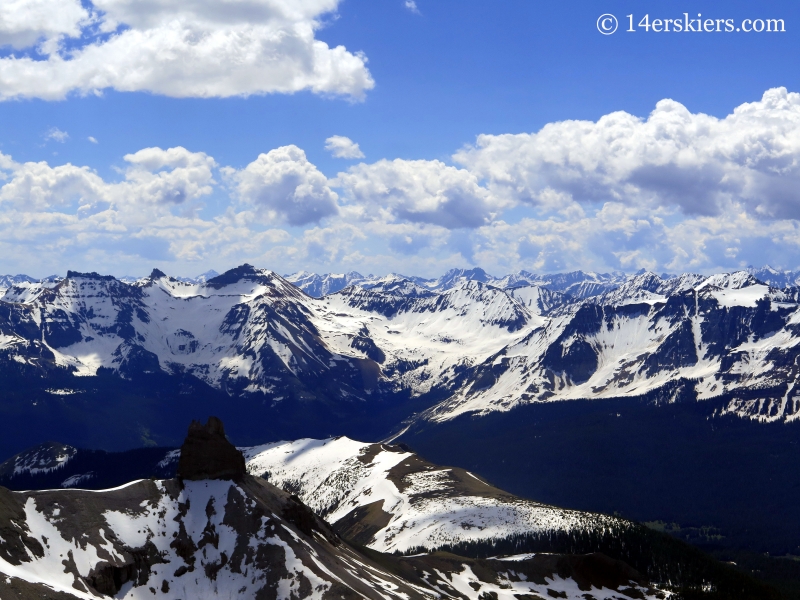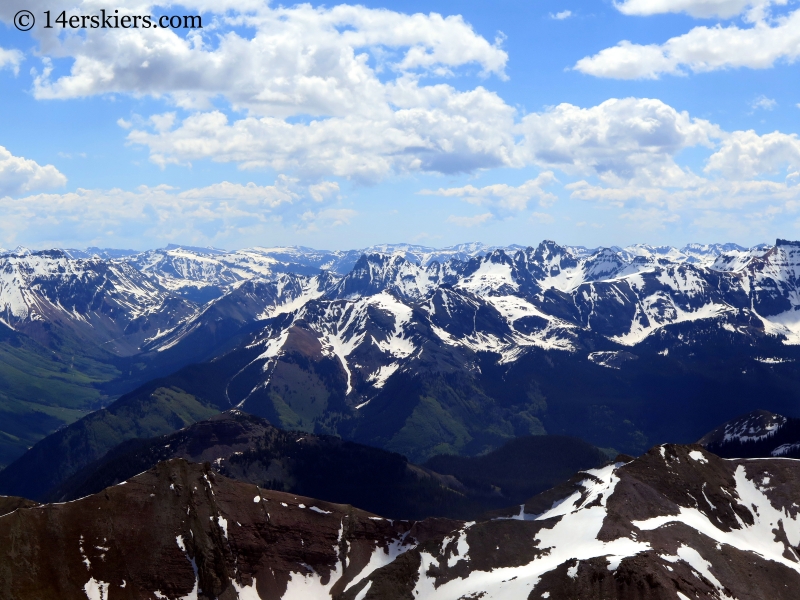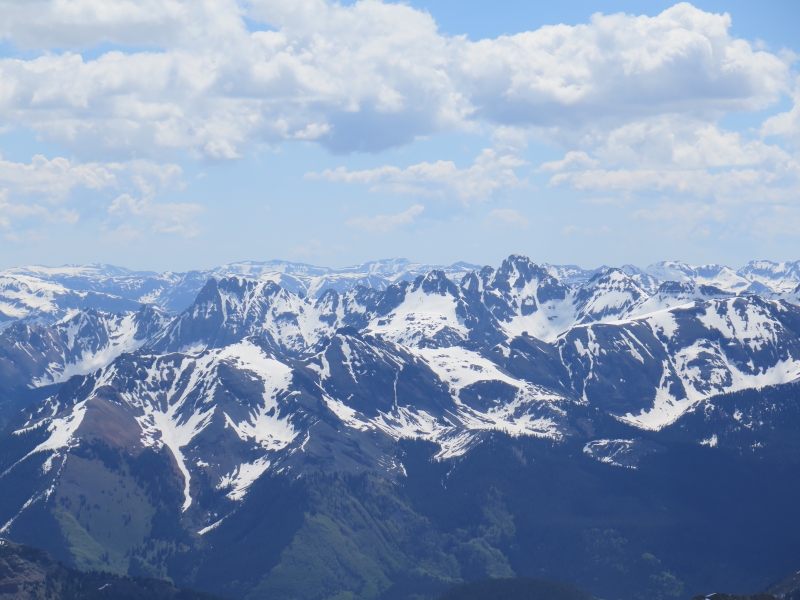 The route down the east face from the summit involved a little rock-skiing. I opted to love my skis instead of hate on them, by walking and not skiing through the rocks that were devoid of snow. Jaaron chose otherwise. We rendezvoused about 100′ down from the summit to begin our ski.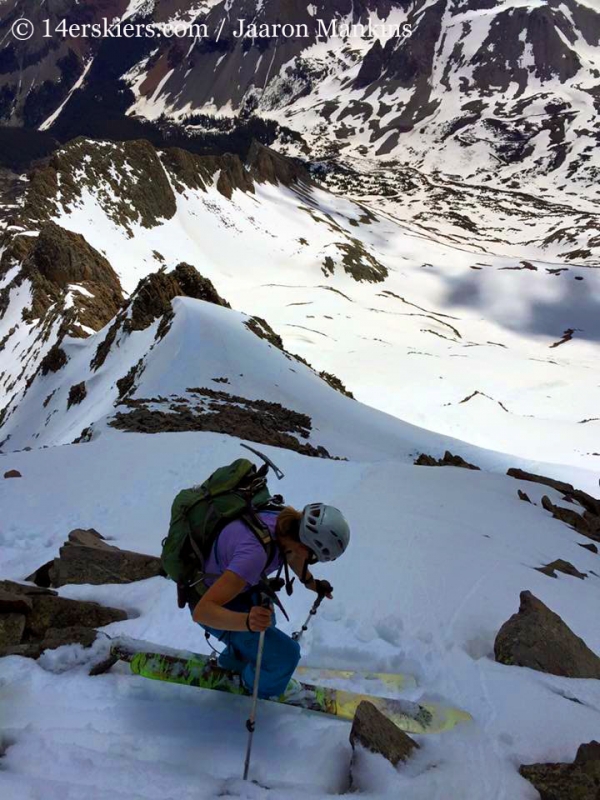 The east face was wet and exposed – cliffs dangled below where the slope rolled over hard. We intentionally sent some wet slough down the line to manage the snow and terrain before we skied. Jaaron skiing the chute on the east side.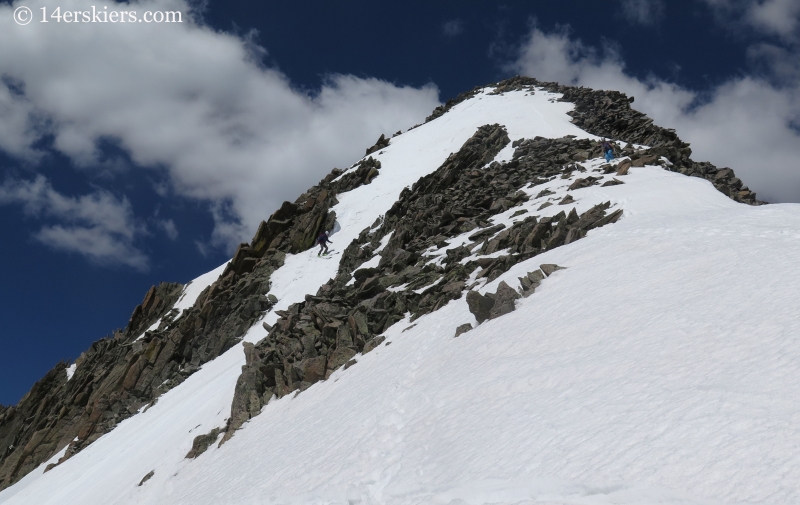 We then wrapped back around to the north face, which also involved a bit of "slush management" on the way down.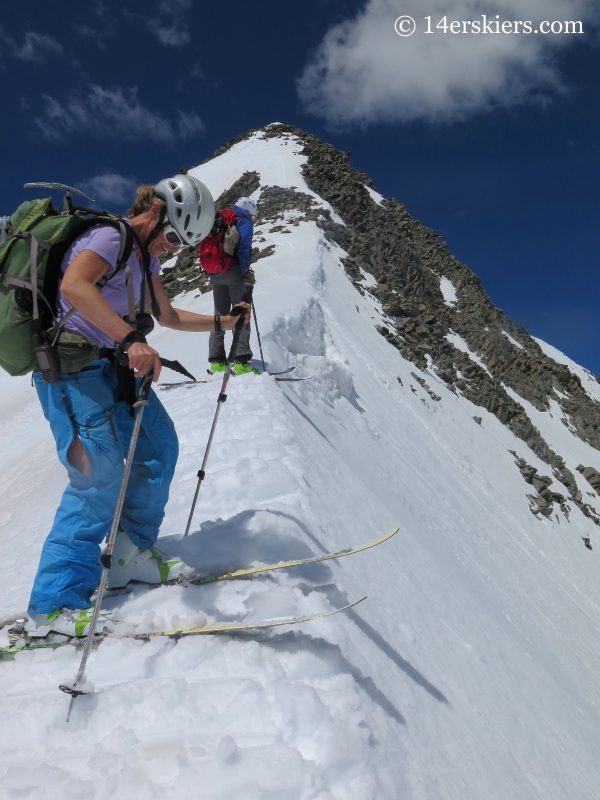 Jaaron.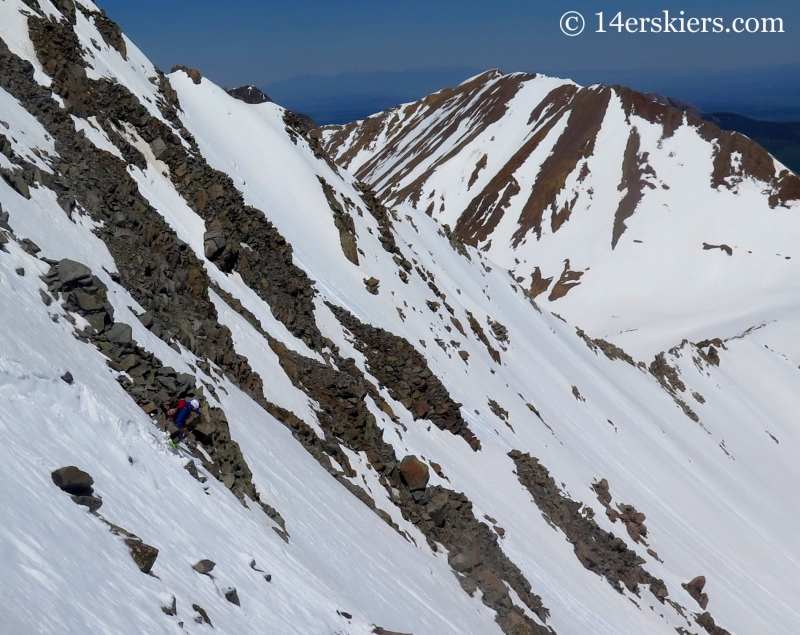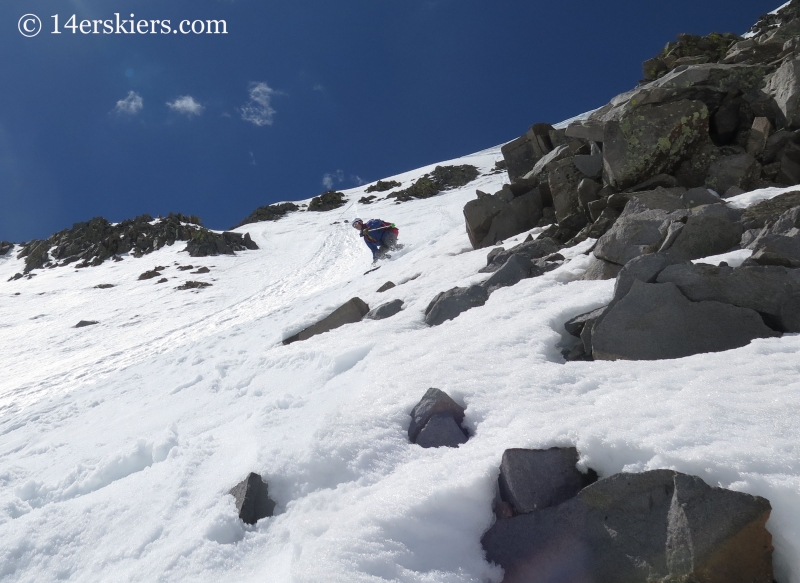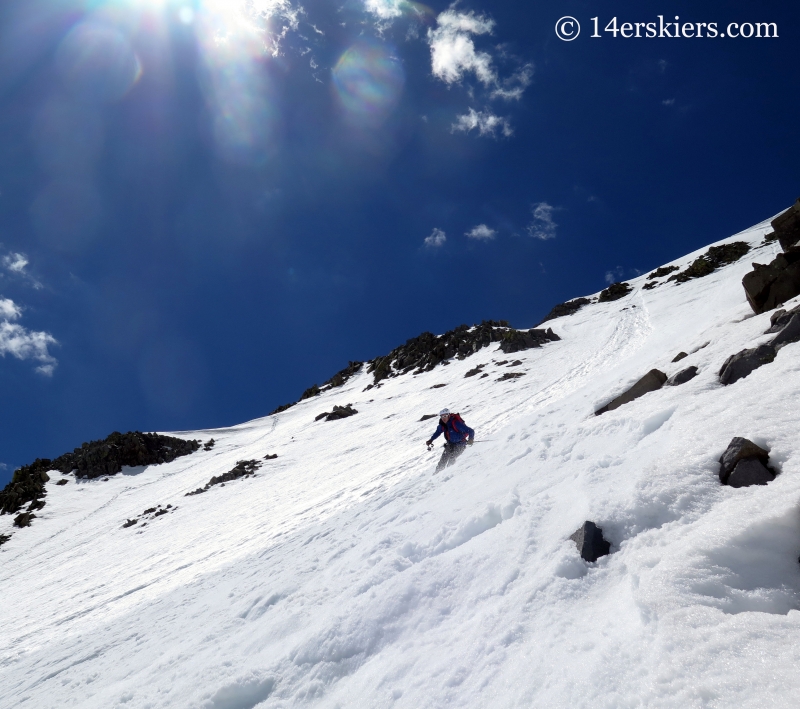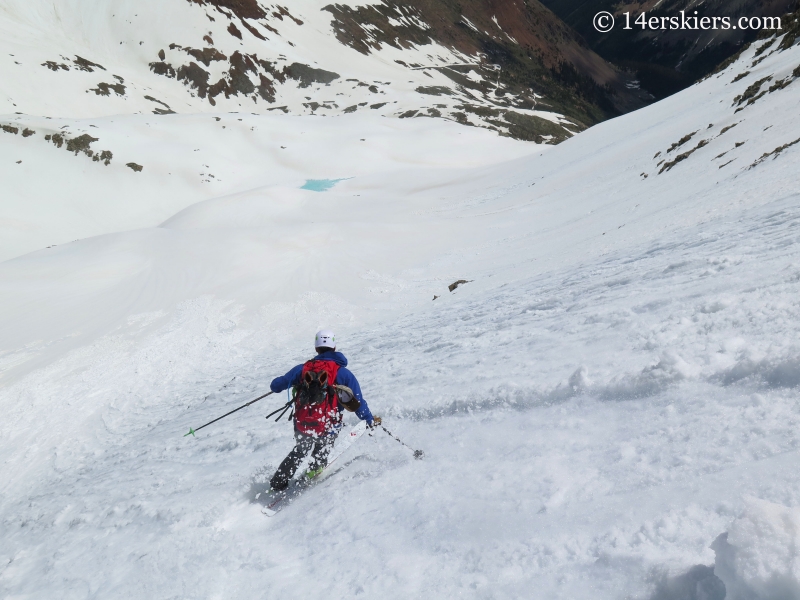 Natalia.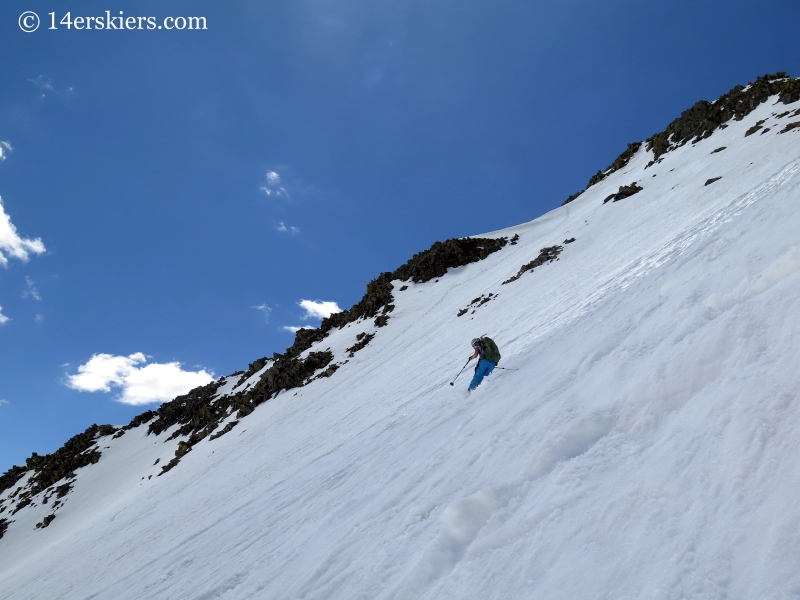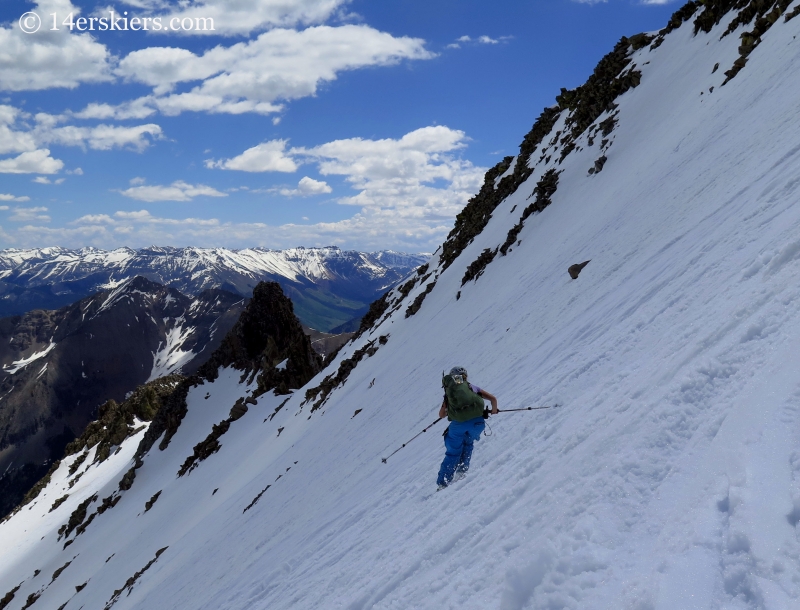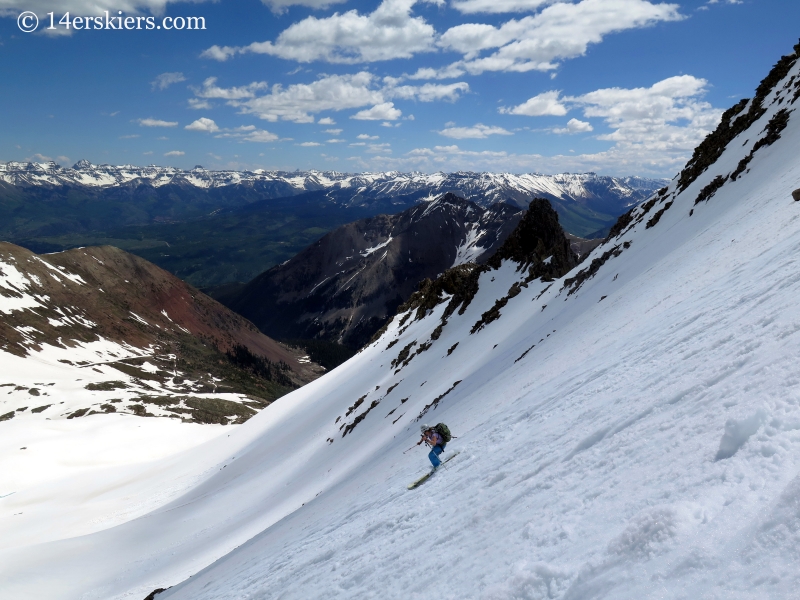 Me.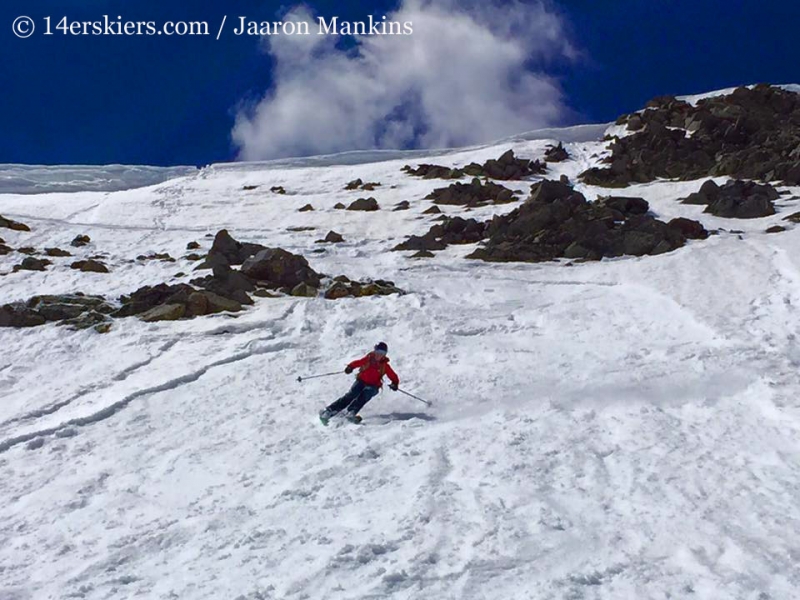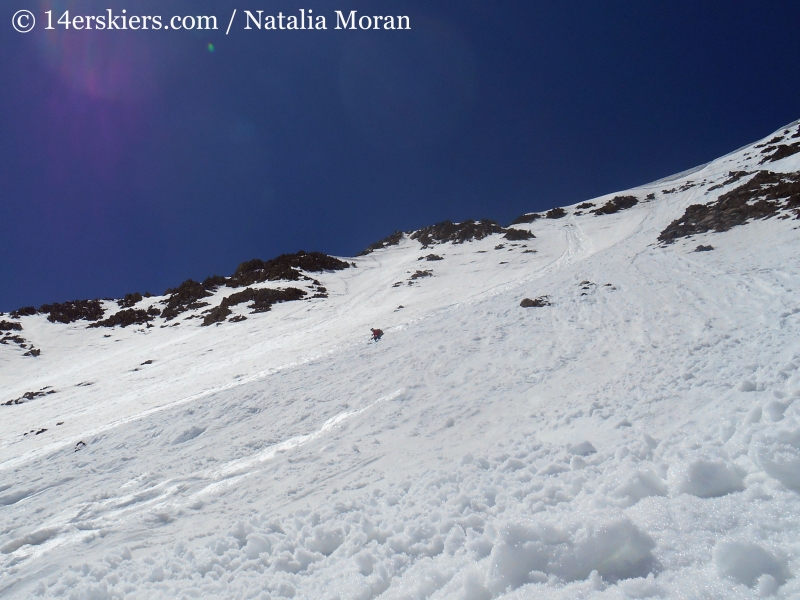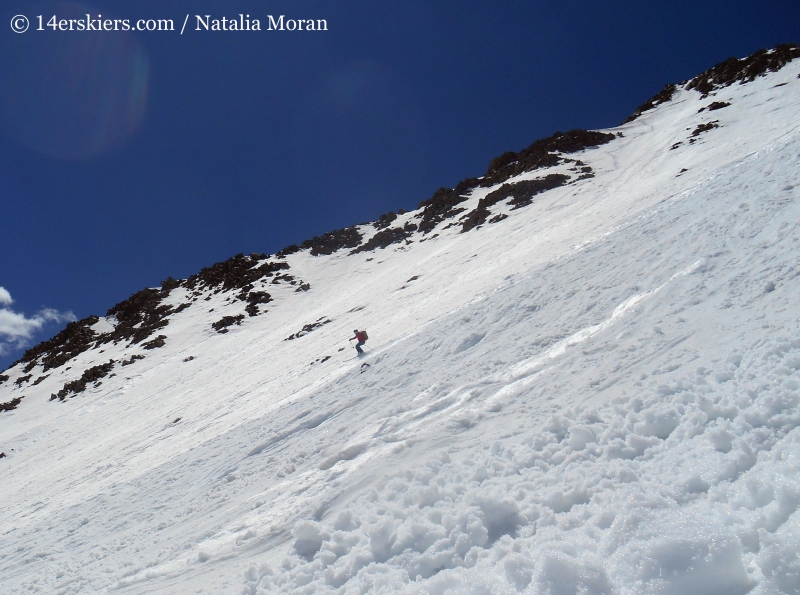 Admittedly, it was a fun and respectably steep ski. And we still had a lot more skiing to do. We made our way back down Bilk Basin, taking our skis off at just over 11,000′ – close to a 3000′ descent in mid-June!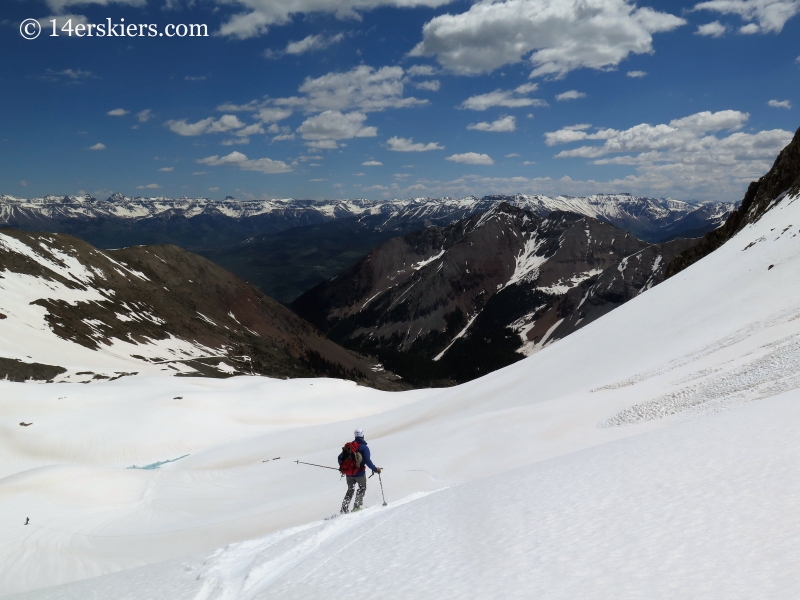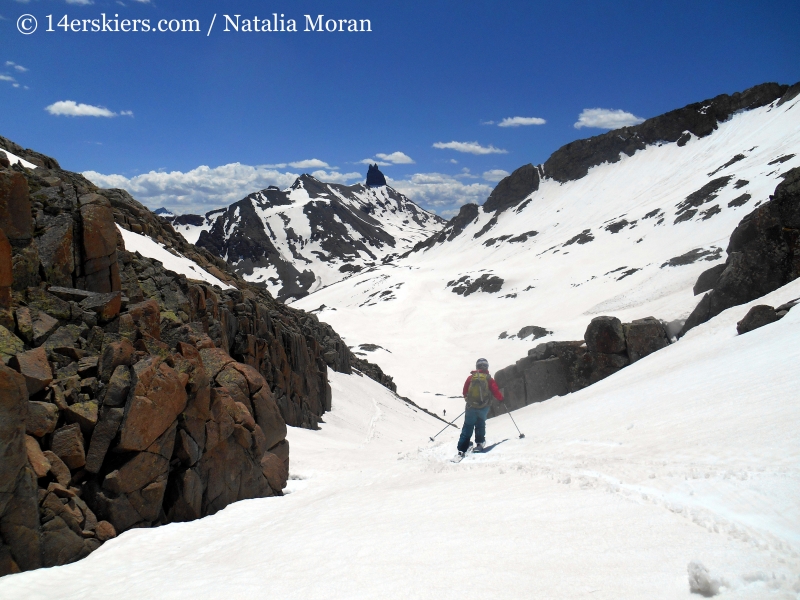 The trail was much easier to follow on the way down in the daylight, which made our walking much faster.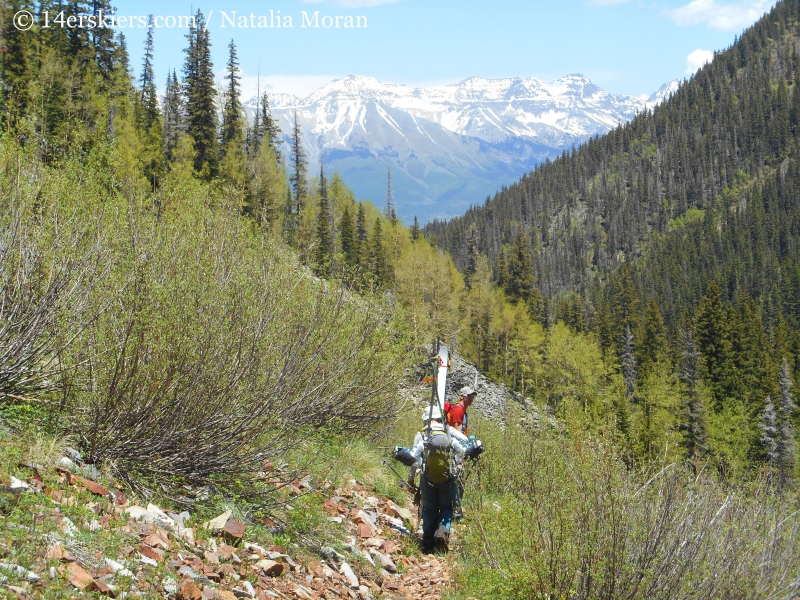 Bilk Falls.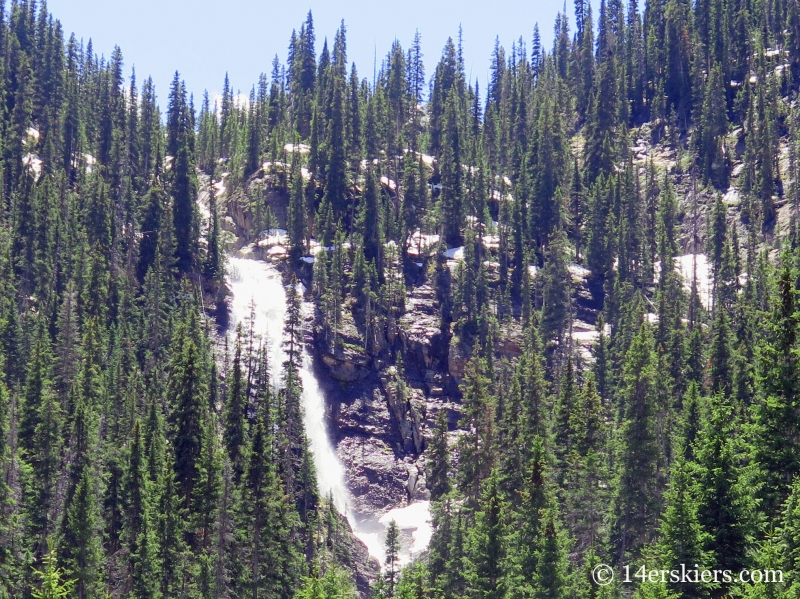 This log jam makes crossing the creek a little easier.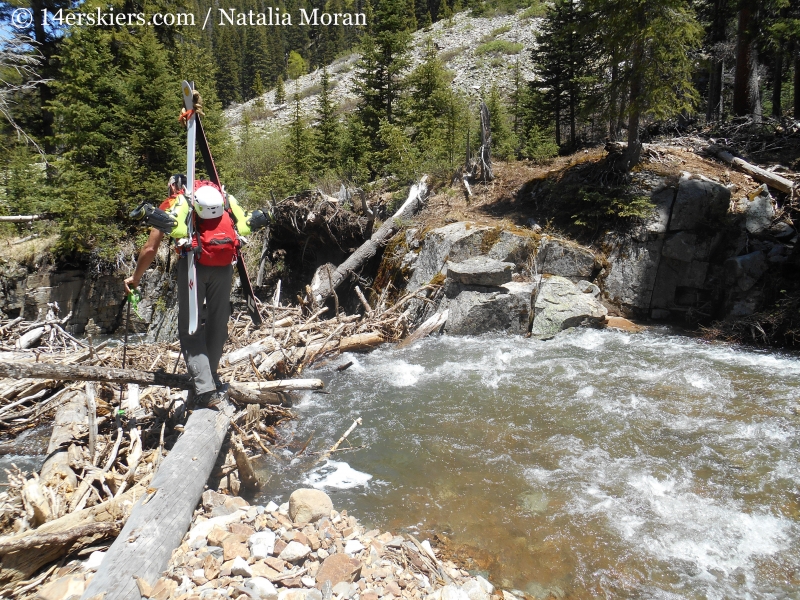 After some ceremonious libations, we parted ways – Jaaron back to Durango, while Natalie and I headed to Silverton to meet Frank and Josh.
We took Jaaron's recommendation and went over Ophir Pass, definitely one of the more exposed pass roads I've been over.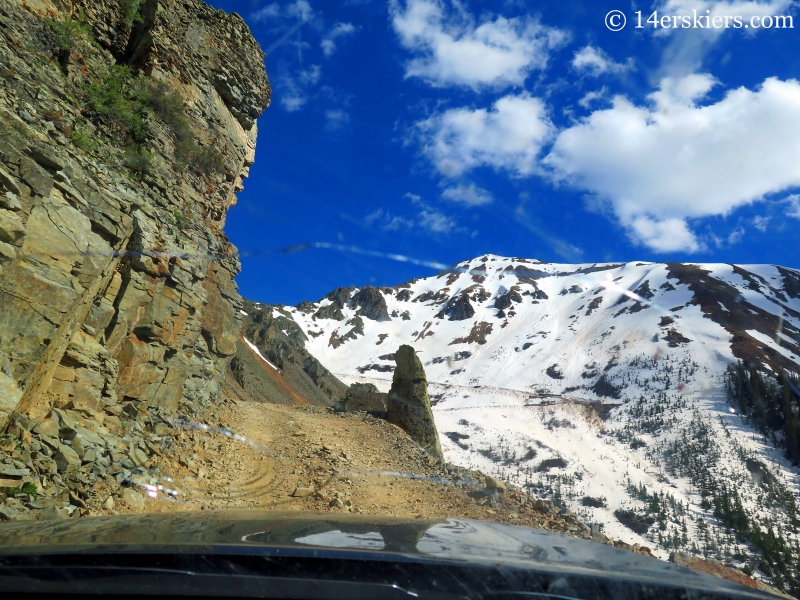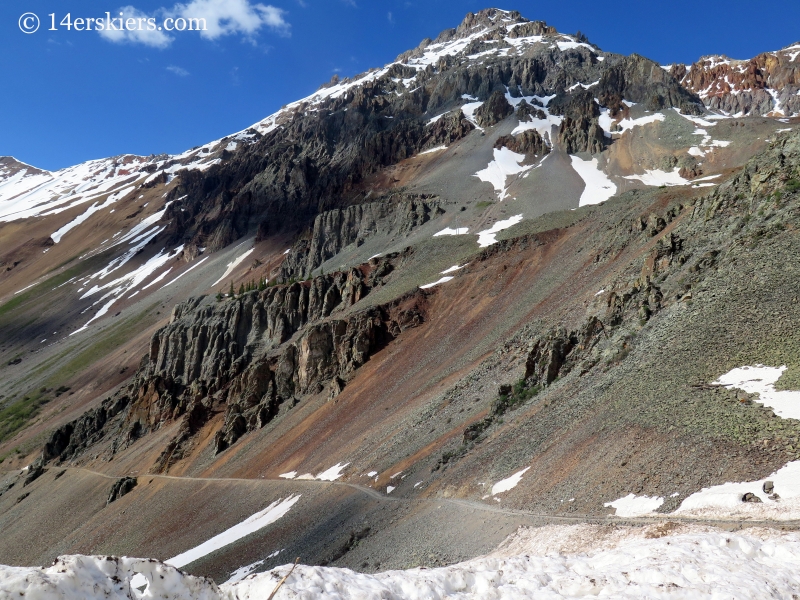 Still lots of snow on the pass.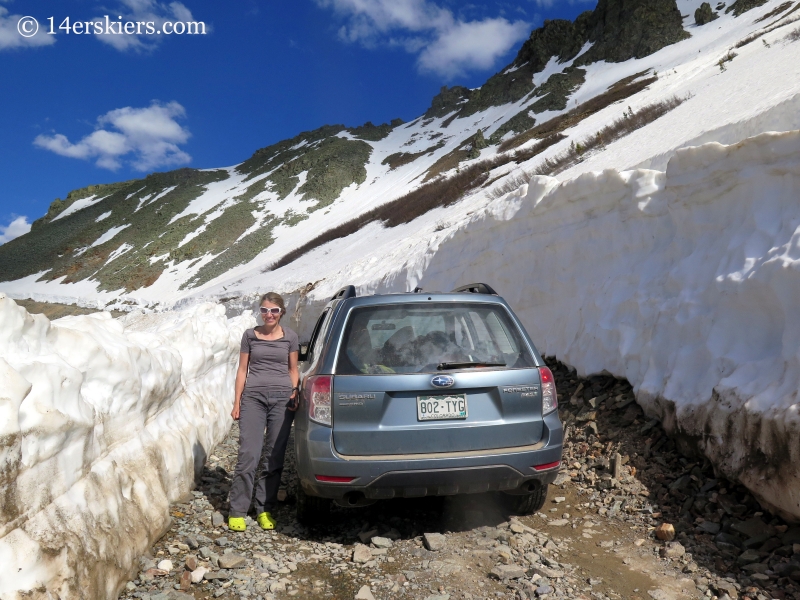 We just had to do the tourist thing…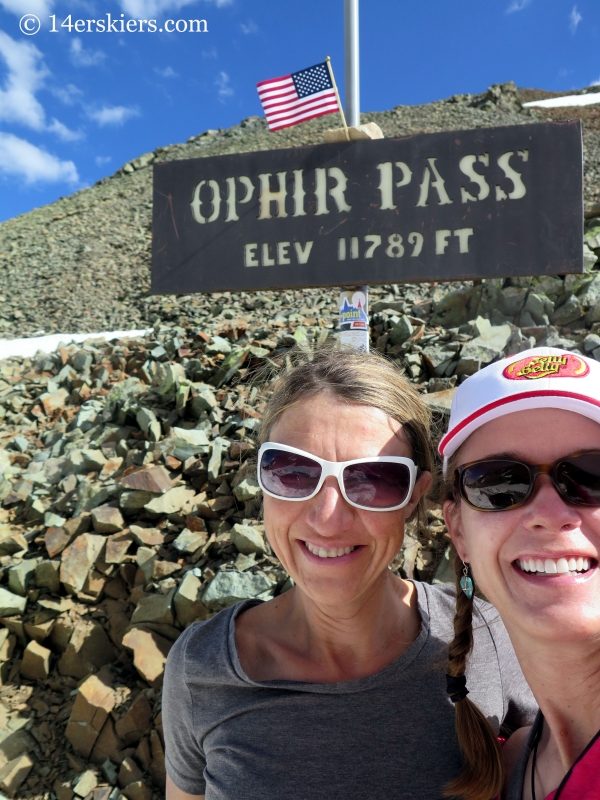 All said, I was glad to have skied Gladstone. It's a fun peak with some nice steep skiing. Gladstone Peak is certainly worth your while. So, be sure to check it out 🙂
Aside from skiing, biking, and all outdoorsy things,
Brittany Walker Konsella
also loves smiles and chocolate 🙂 Even though she excels at higher level math and chemistry, she still confuses left from right. Find out more about
Brittany
!
Latest posts by Brittany Walker Konsella (see all)
Summary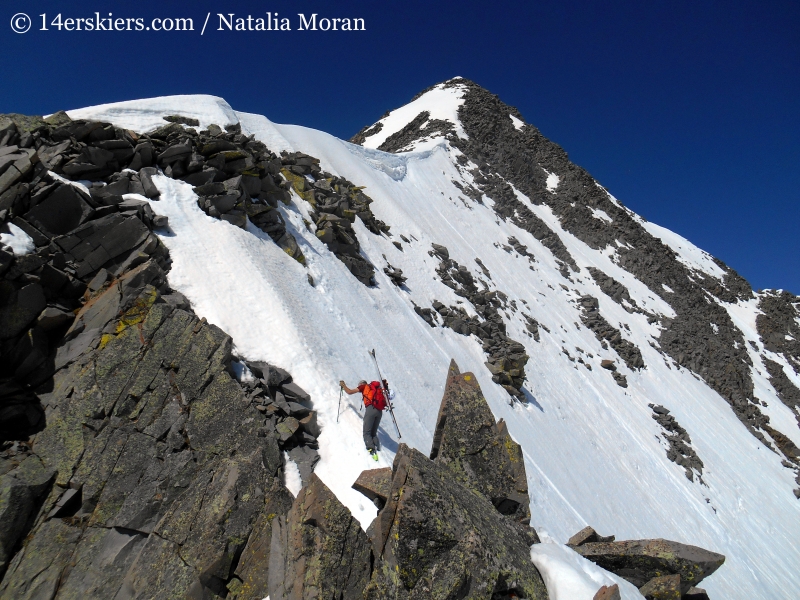 Article Name
Gladstone Peak Ski (17 June 2015)
Description
Gladstone Peak is a black sheep among giants. But fun climbing and great backcountry skiing is to be found in this big gem of a peak in the San Juans.
Author