TR: Square Top Mountain (22 May 2015)
(Last Updated On: June 30, 2015)
I first laid eyes on Square Top while skiing Mount Bierstadt in 2007 while working on my 14er-skiing project.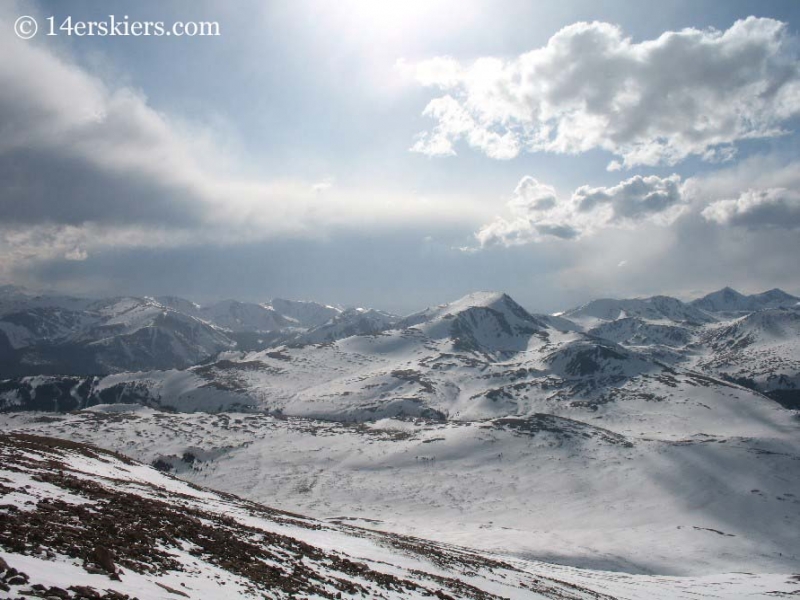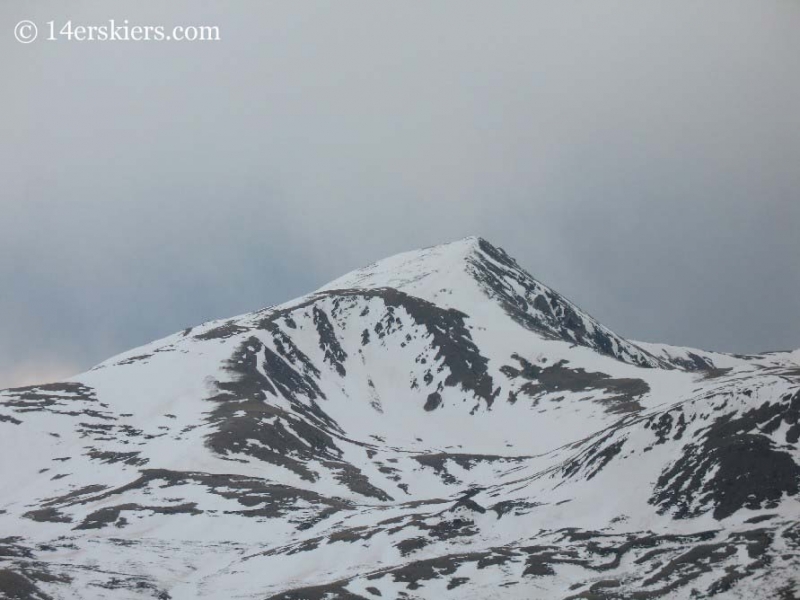 Automatically, it was added to my "list-of-things-to-ski-when-I'm-done-skiing-14ers". Well, it's been 8 years. And, to be honest, I nearly forgot about that mountain…. Except I was reminded when I rewrote my Mount Bierstadt report as part of my 14er Throwback Thursday series. That's just one of the benefits I've found by going back through all of my old 14er photos.
I was spending time on the Front Range and weather was unsettled. I had certain things in mind to ski, but didn't know if they provided options enough for variable weather and potentially soft freezes. I connected with a friend of a friend, Scott. And we decided that Square Top was likely high enough for a good freeze and provided several ski options that could be successful depending on what the unpredictable weather day would bring.
We decided to access Square Top via Naylor Lake. Scott skinning toward the lake.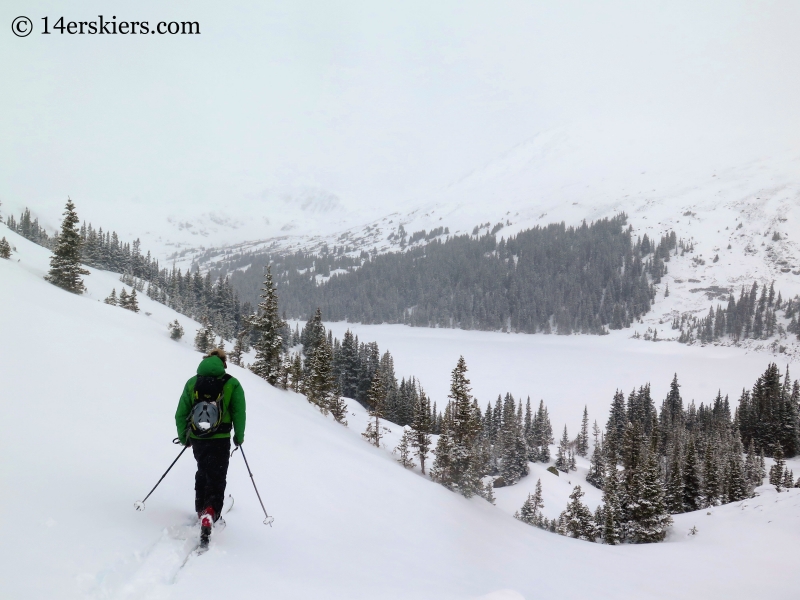 As we skinned by the lake the winds were voracious. I thought about turning around. But, experience has shown me that weather can change. So, we pushed on, hoping for the best.
We rounded past Silver Dollar Lake and began ascending Square Top. One section of our ascent was particularly interesting.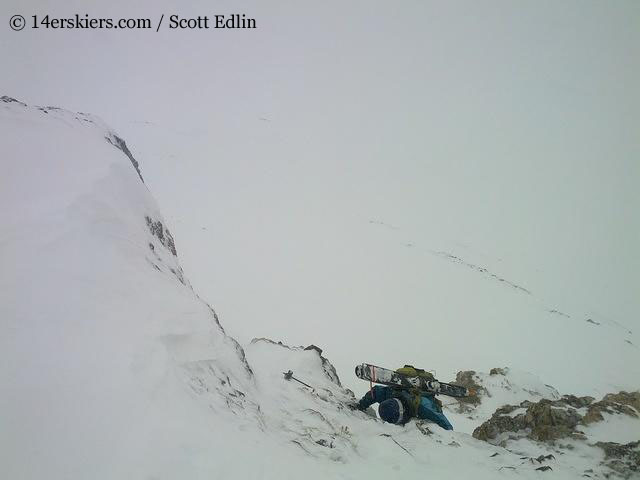 We kept discussing what to ski. I loved the idea of trying to tackle one of these couloirs on the north side. But, with new snow, howling winds, and windslabs, it wasn't the day for a line like that.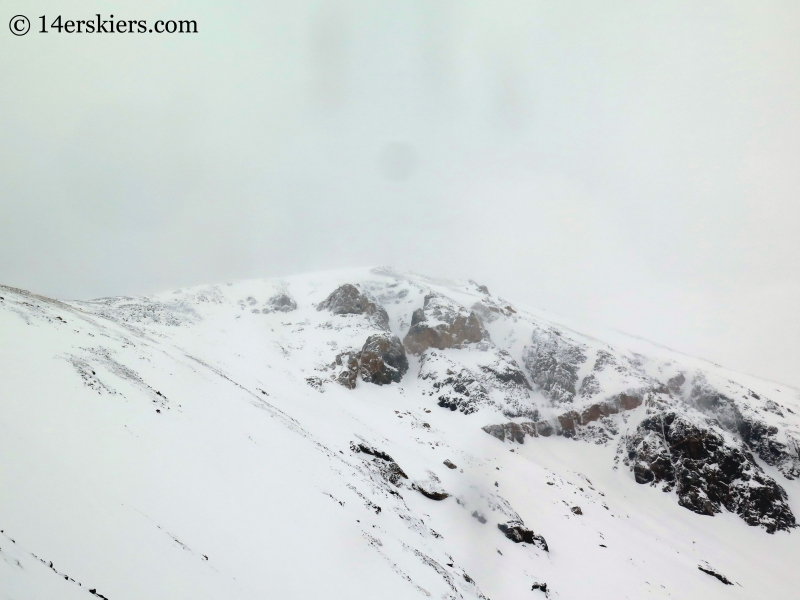 Ascending the ridge.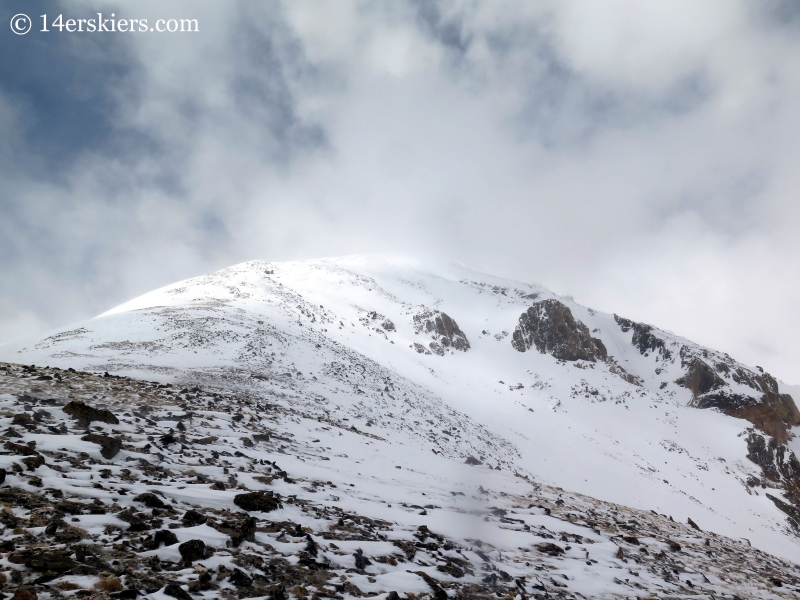 The ridge was long. Although the weather seemed to possibly be breaking, the winds grew even more forceful. The clearing skies opened up some more ski possibilities, but we decided not to summit due to the wind. We decided to ski the east cirque, which was the highly visible bowl I saw from Mount Bierstadt.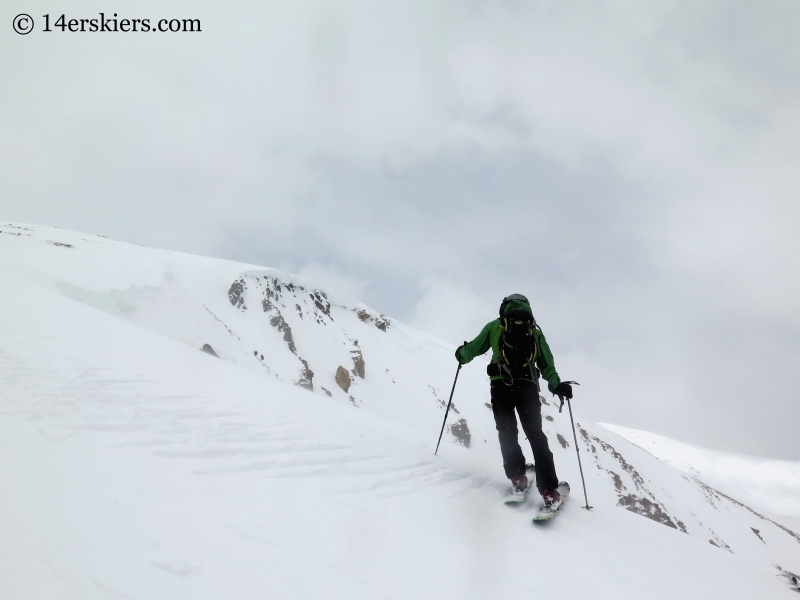 As we skied down the ridge to access the cirque, we realized most entrances were guarded by significant cornices. But, we finally found one that would work.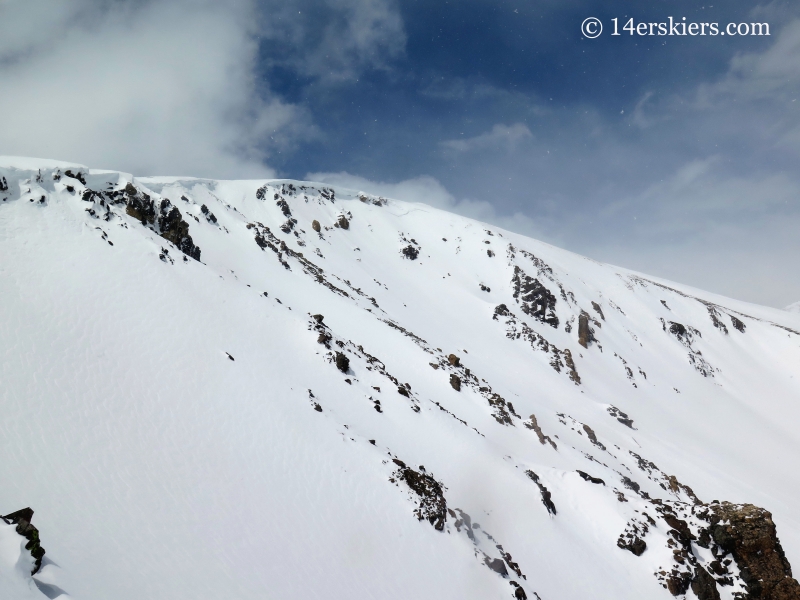 Scott skiing.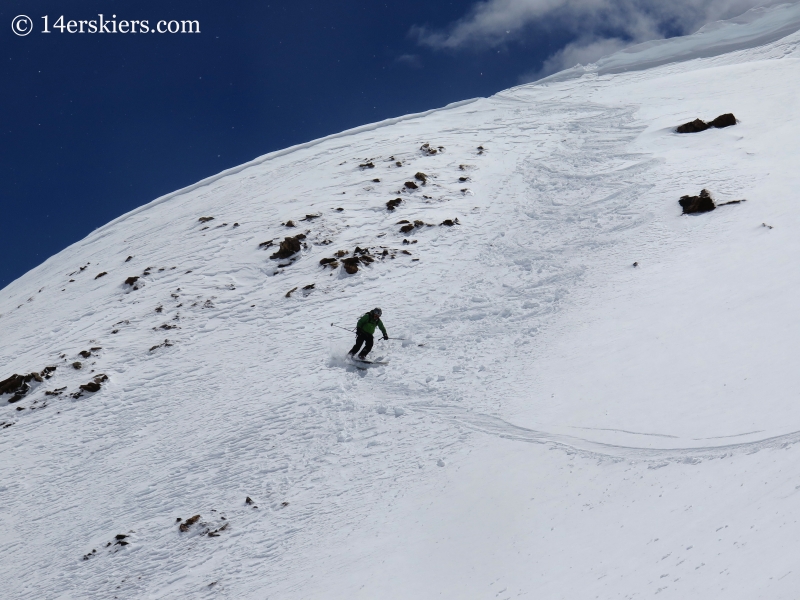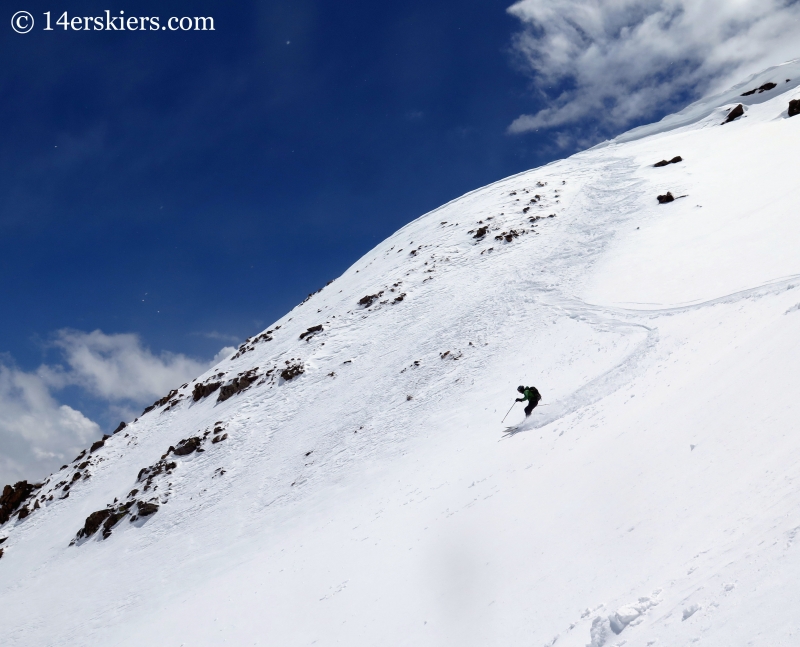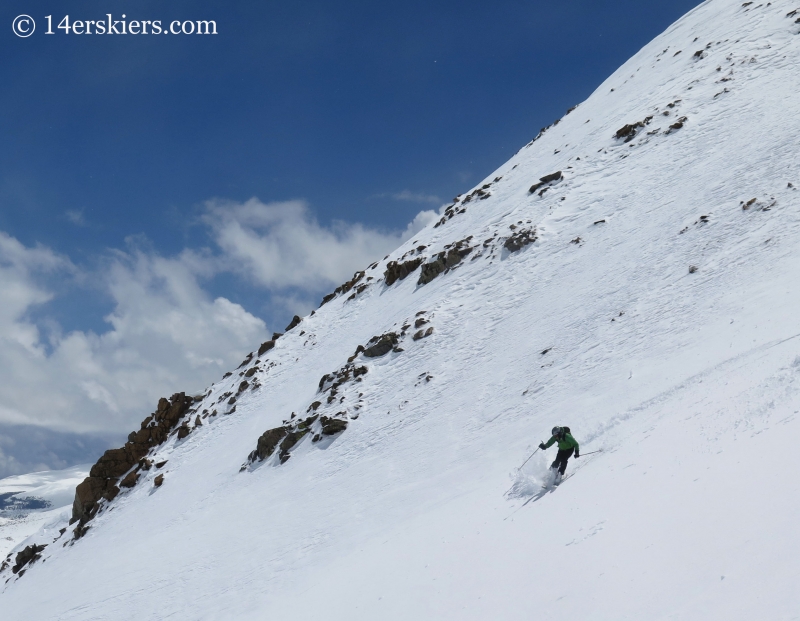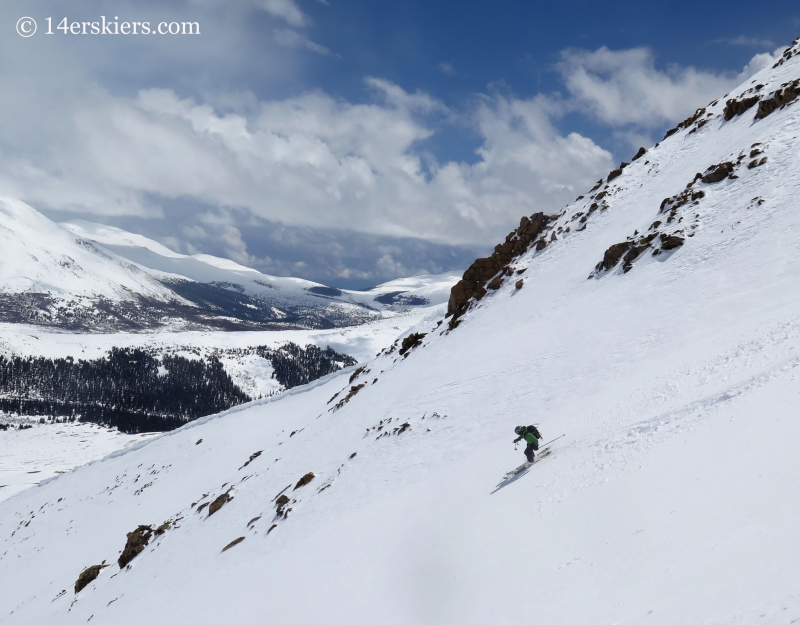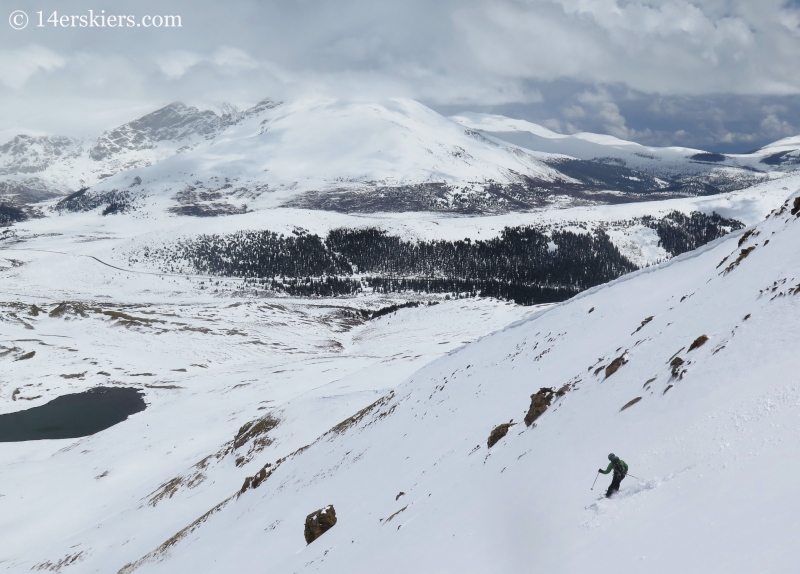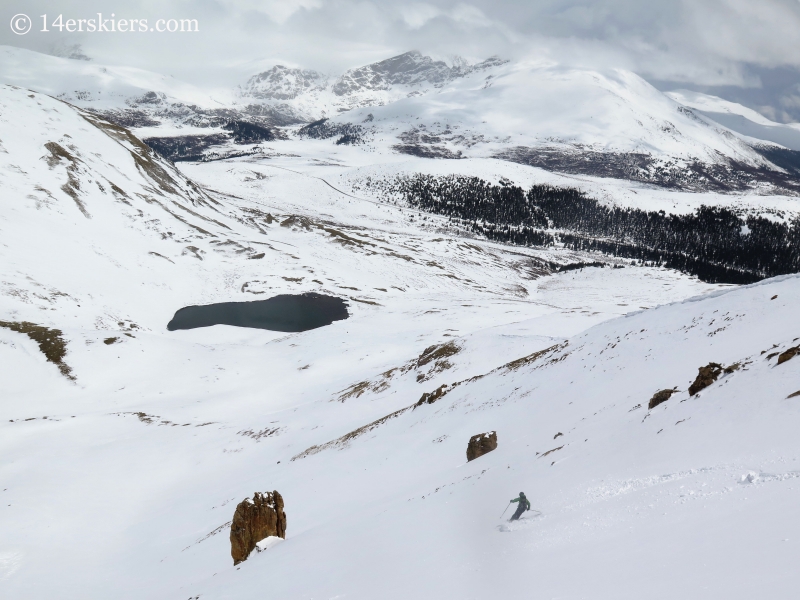 It turns out, the east cirque of Square Top was a pretty good ski 🙂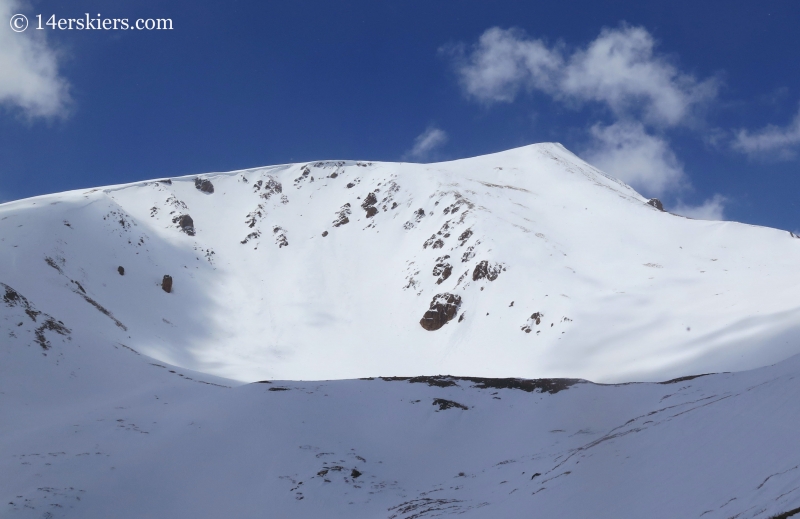 A view of Bierstadt and Evans, with the lower Square Top Lake below.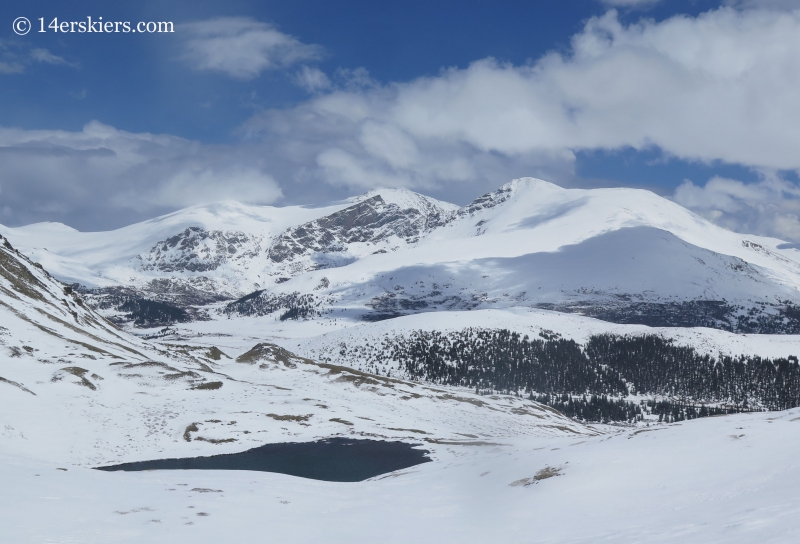 Normally, this cirque is accessed from the top of Guanella Pass. But, our vehicle was back at the trialhead for Naylor Lake. We were able to traverse, skate ski, and then descend all the way back to the trailhead… although we did encounter rather heinous isothermal conditions in the trees.
This day was a testament to the fickle weather this spring has brought us. Even with all the forecasting available, you don't really know what the weather will do. But, if you put yourself in a situation to take advantage of a break, you might just find it working out for you. That's what happened to us here on Square Top Mountain!
Square Top Mountain is a fun peak with loads of skiing options. I look forward to checking out more of what this beautiful mountain has to offer! Thanks to Scott for joining me on a day out!
---
Fuel your next adventure!


Aside from skiing, biking, and all outdoorsy things,
Brittany Walker Konsella
also loves smiles and chocolate 🙂 Even though she excels at higher level math and chemistry, she still confuses left from right. Find out more about
Brittany
!
Latest posts by Brittany Walker Konsella (see all)
Summary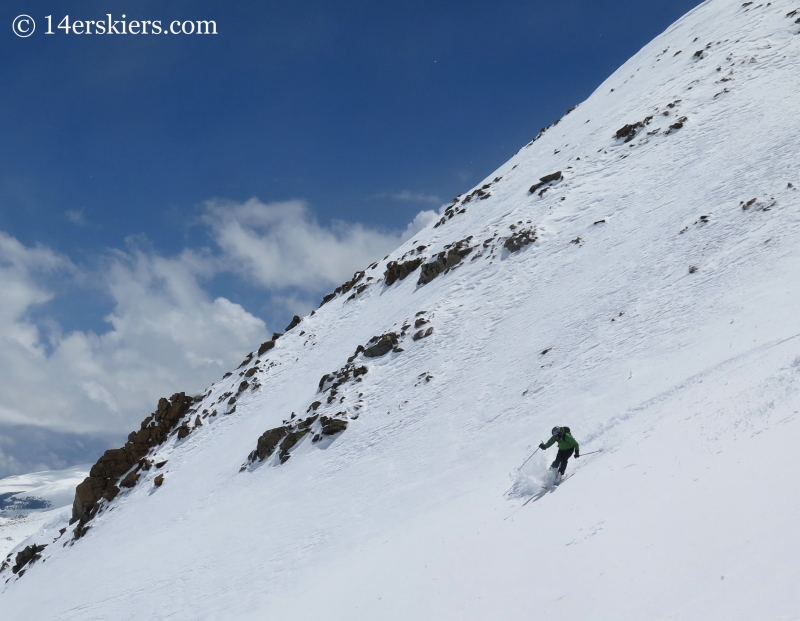 Article Name
Description
Square Top Mountain offers many options for backcountry skiing. Join Brittany Konsella and Scott Edlin as they explore skiing on Square Top's east cirque!
Author