TR: Mount Elbert Northwest Gullies (3 June 2015)
(Last Updated On: June 22, 2015)
I was trying to find partners to ski some lines in the Sawatch when my friend Mark asked if I was free to ski a line he spied from Mount Massive earlier in the week.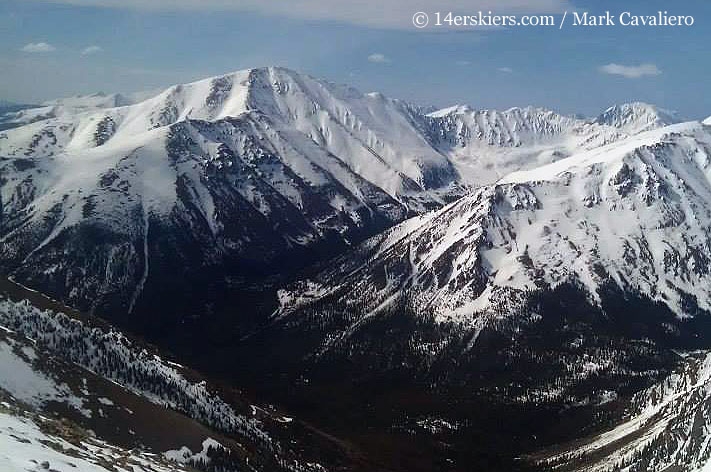 These dual gullies laid on the northwest side of Mount Elbert. Described by Lou Dawson as a classic in Vol 1 of his Colorado's Fourteeners book, this route is commonly overlooked in place of the Box Creek Cirque. But, the fact is, these Mount Elbert northwest gullies were fat and for the taking. Mark wanted to ski this line, and said he might swing it solo if no one came. The backcountry had been a little fickle, with light or no freezes. Not wanting a friend of mine to go out in the backcountry solo in somewhat sketchy snowpack, I decided to join him. The gullies sure looked prime, afterall 🙂
It was 1 am when I woke up and it was hot. I didn't need a jacket outside as I started my car. My frustration grew as I climbed up out of the valley and over Cottonwood Pass. Why was the temperature getting warmer? I thought it was supposed to get colder as you climbed? My car's thermometer, which is relatively accurate, read 46-degrees F at the top of the pass. I stepped out of the car and jumped on a snowbank to test the snowpack. I walked around, jumping up and down, and it was frozen. Frozen solid. God bless evaporative cooling. I jumped back to the ground, stepping on some dirt. Except it wasn't actually dirt. It was a frozen puddle and I was swept off my feet and on to my bum. I giggled in joy- happy that it froze. Elbert was going to be good.
We met at 4 am at the turnoff for South Halfmoon Creek Road. (Note to the cop who gave me a hard time while I waited, not everyone is up to antics in the middle of the night!) The hike began with a rather hairy stream crossing right of the bat. But we would not be deterred.
As we emerged out of the trees, we spied our gullies, and selected one for our ascent route.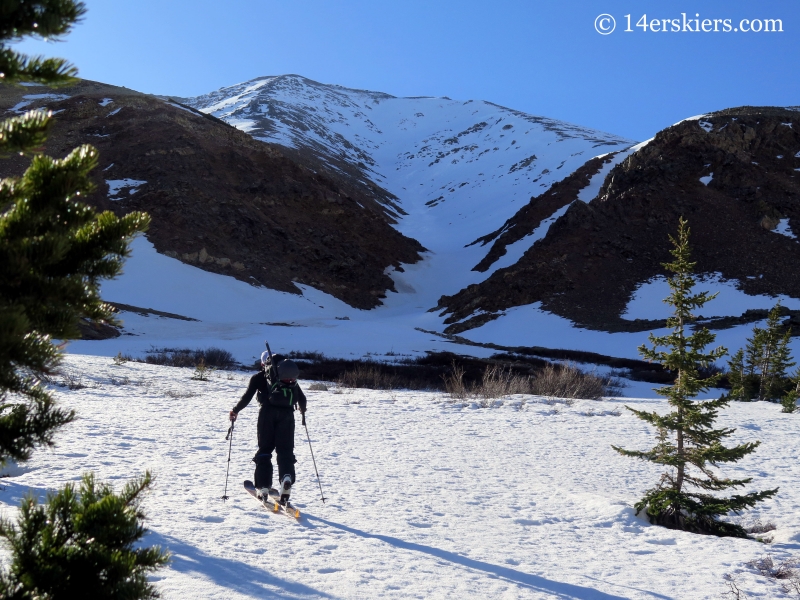 It doesn't look like it, but the climb from here is 3000′-vert. But, the climb was easy. We gained a lot of vert in a short amount of time.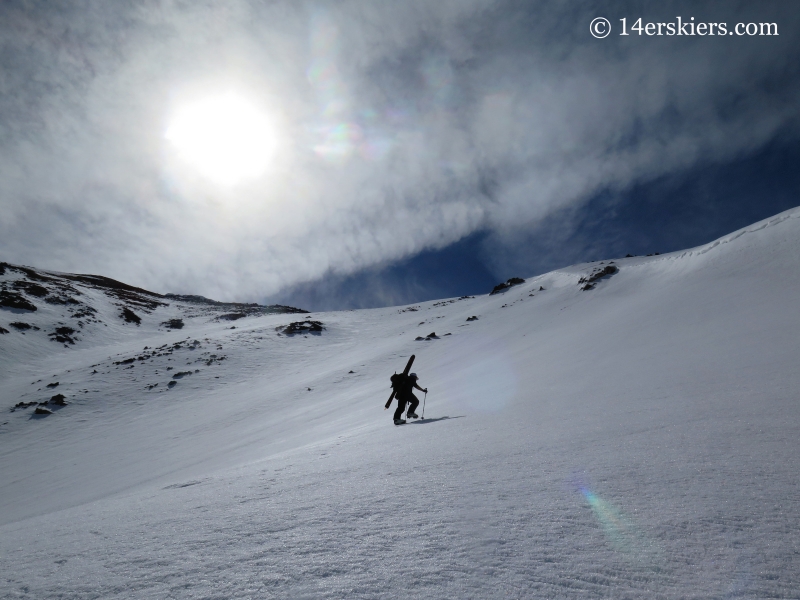 Looking down, you start to realize the vertical gain.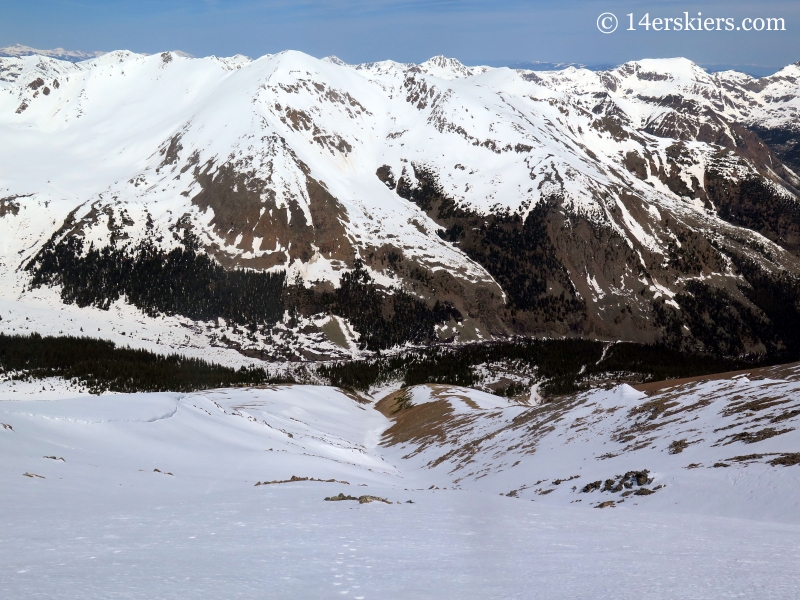 I admired other lines along the way, like Bull Hill.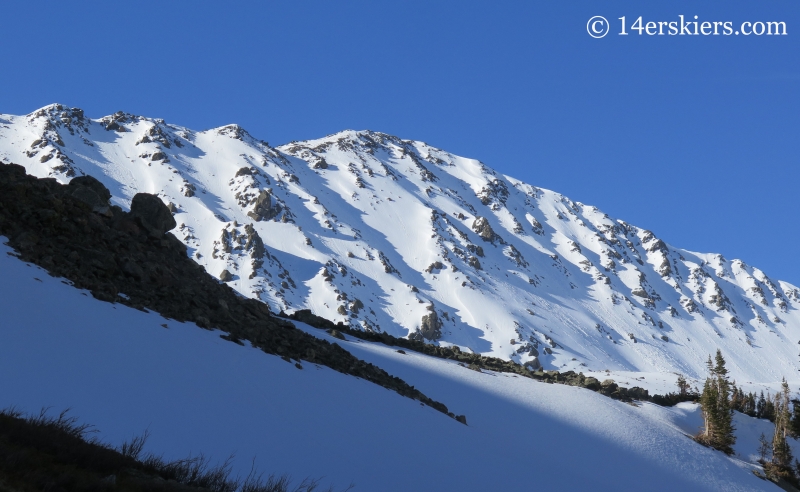 French.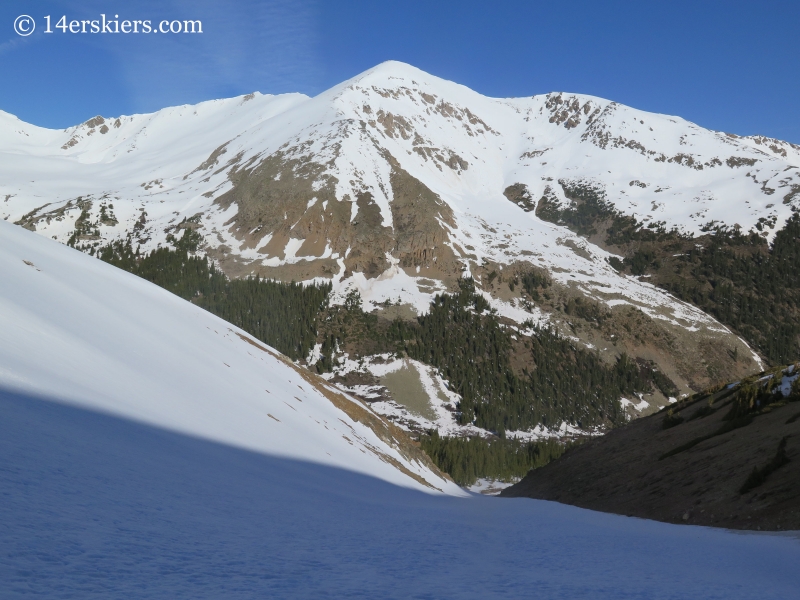 Grizzly and Star, among others.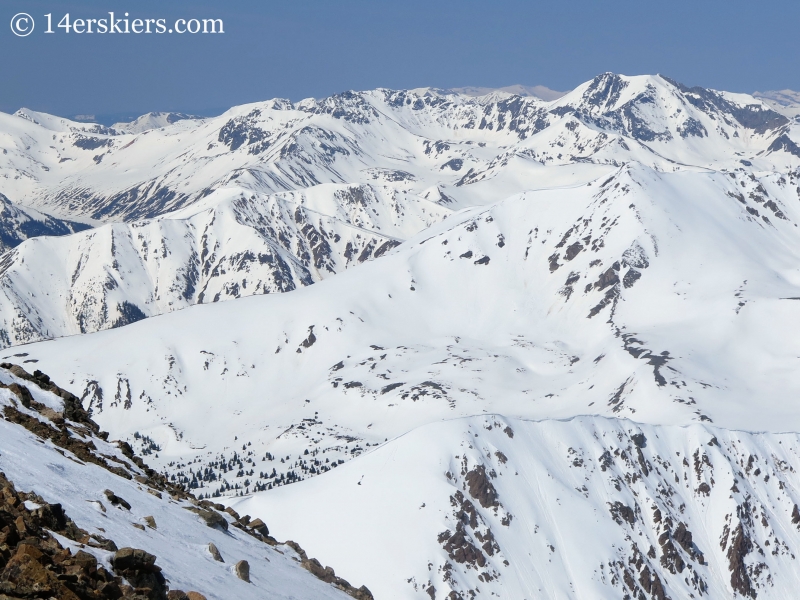 The people who think the Sawatch is mellow haven't seen the range from this angle.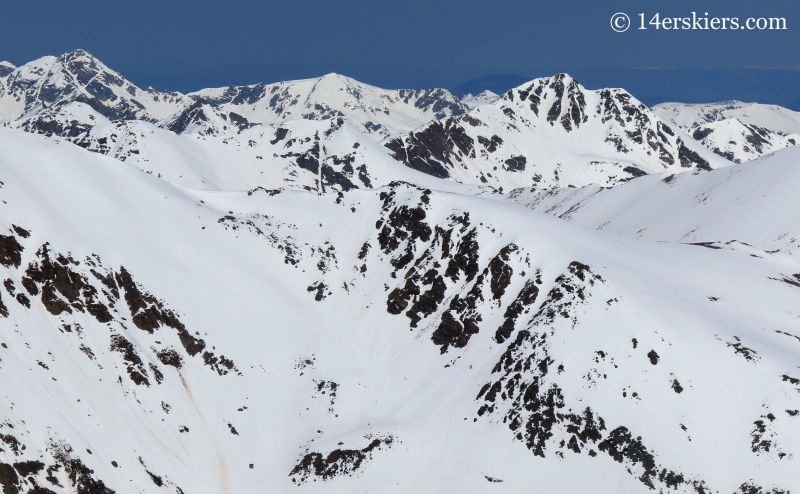 From the summit, the views were even more spectacular.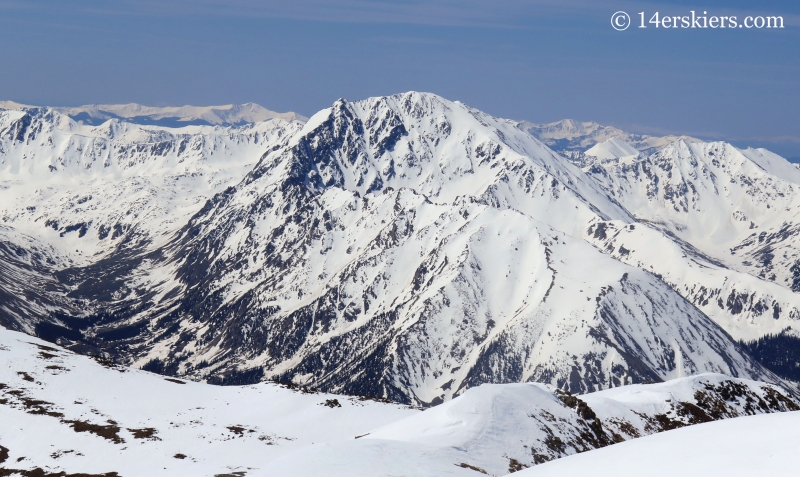 Mount Hope.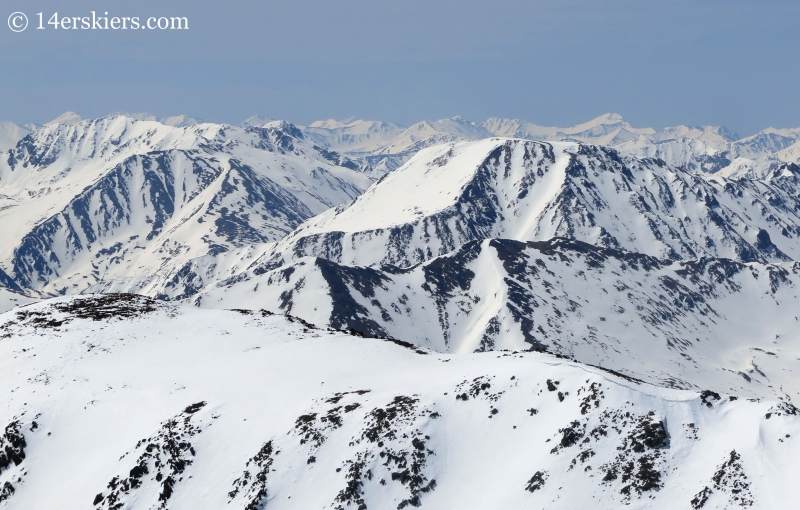 We waited as long as we could on the summit for the northwest gullies to soften. But, we were cold and couldn't wait any longer and decided to descend. There are really two northwest gullies on Mount Elbert. We opted to descend the one adjacent to our ascent.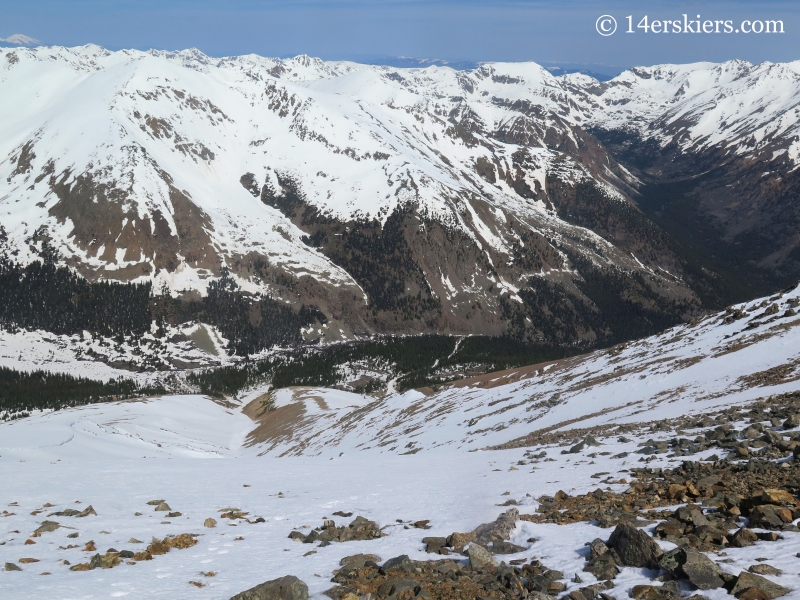 Mark dropping in.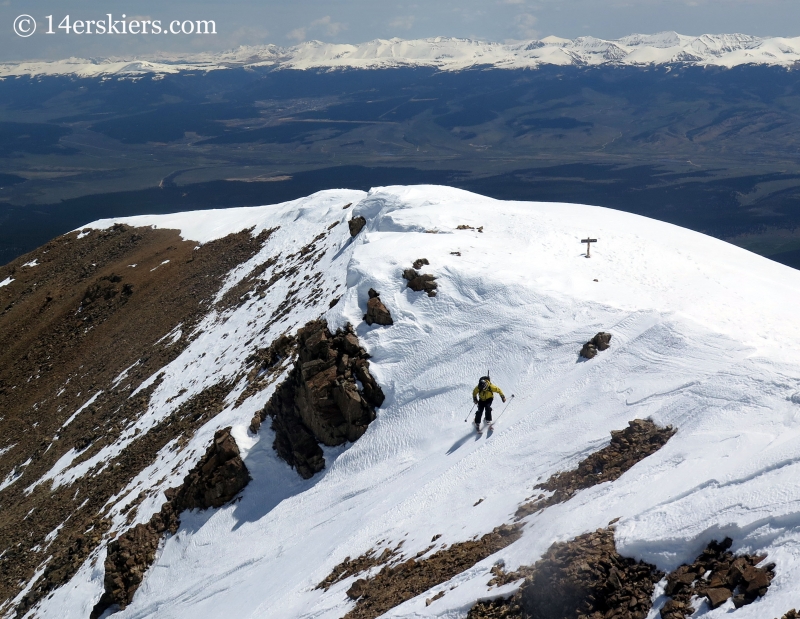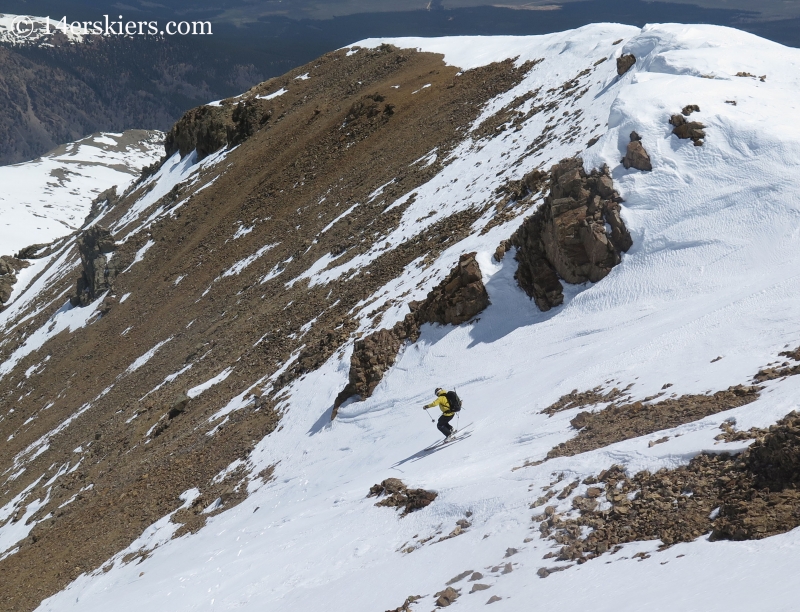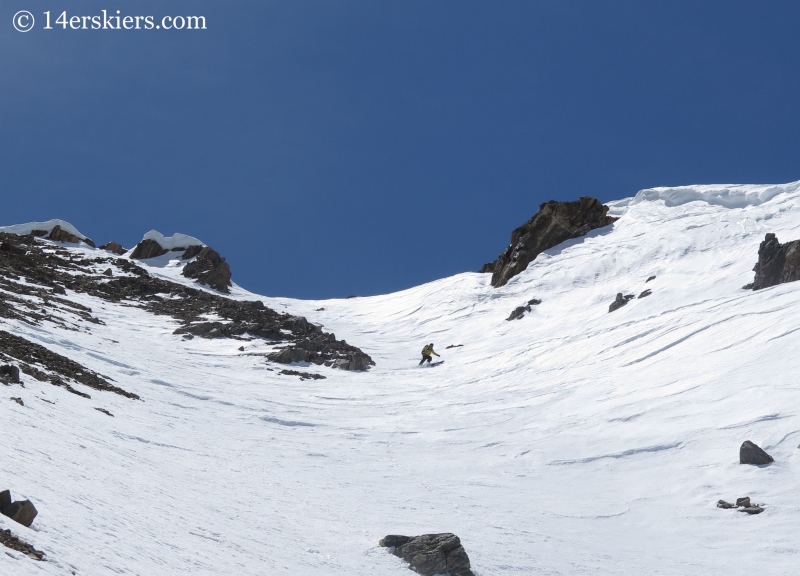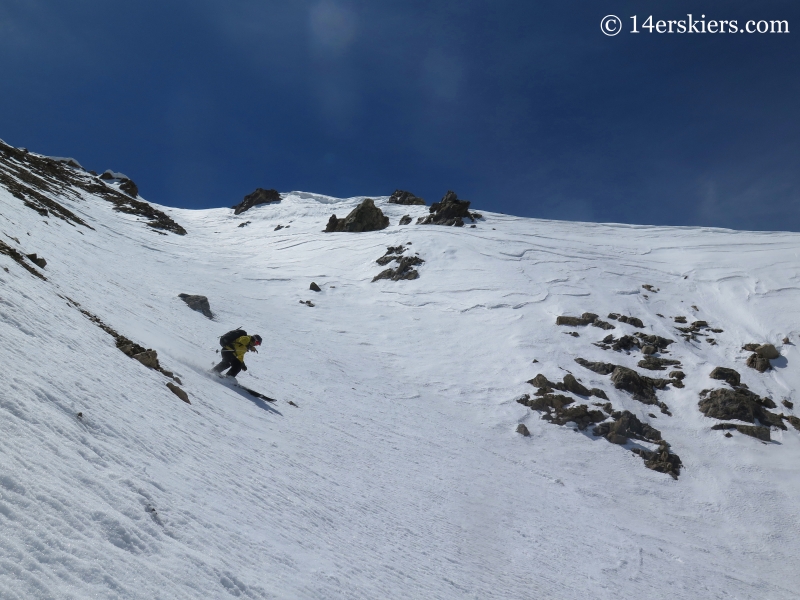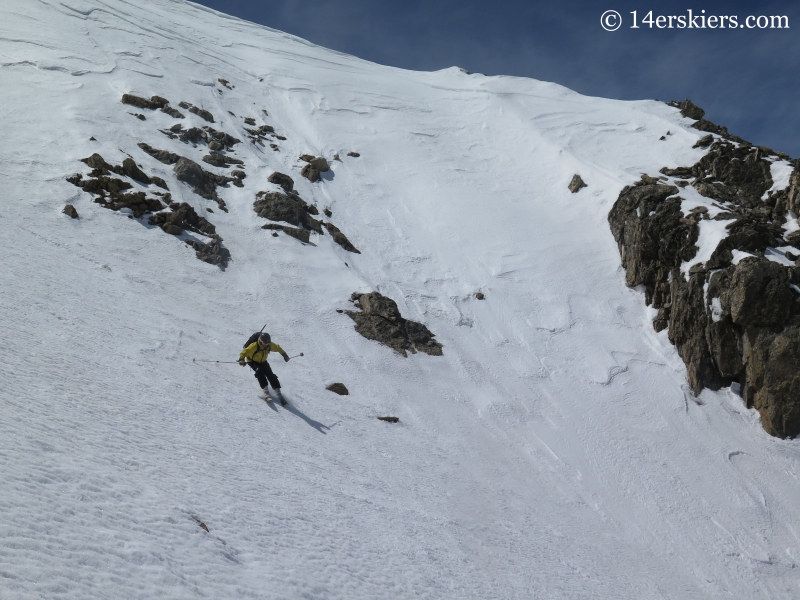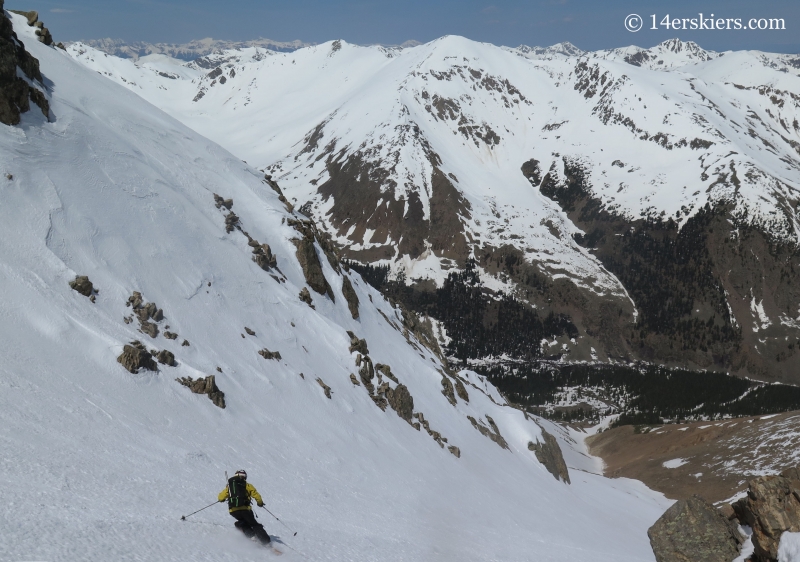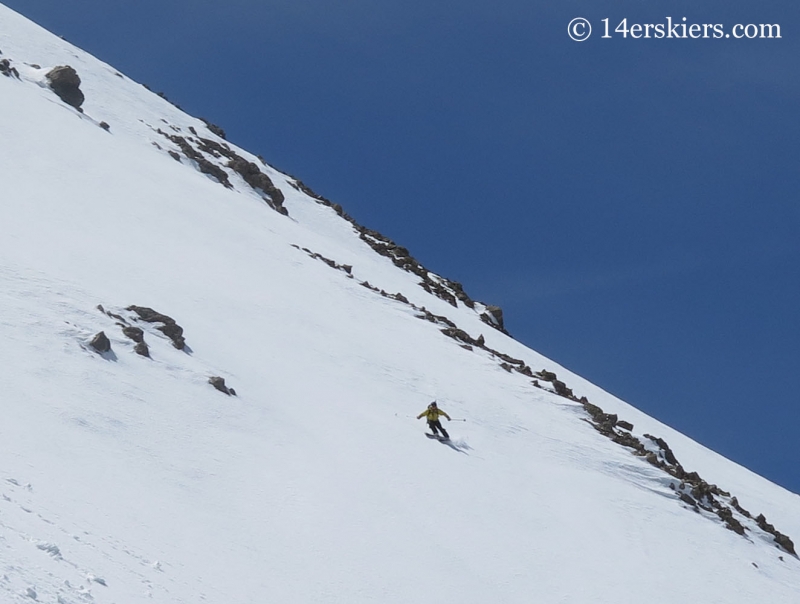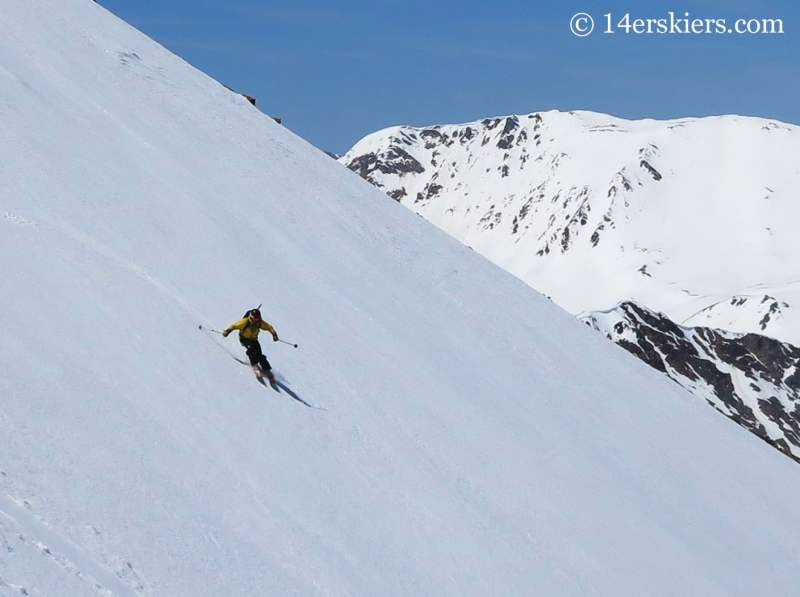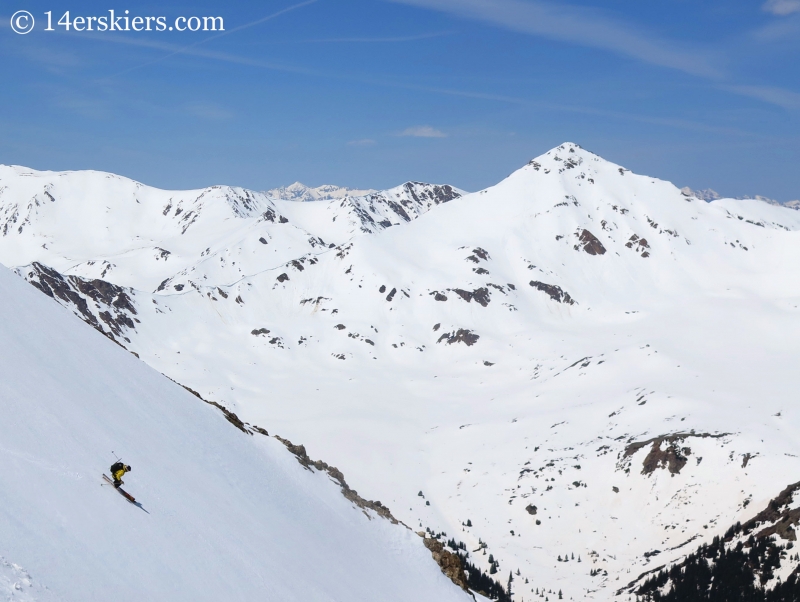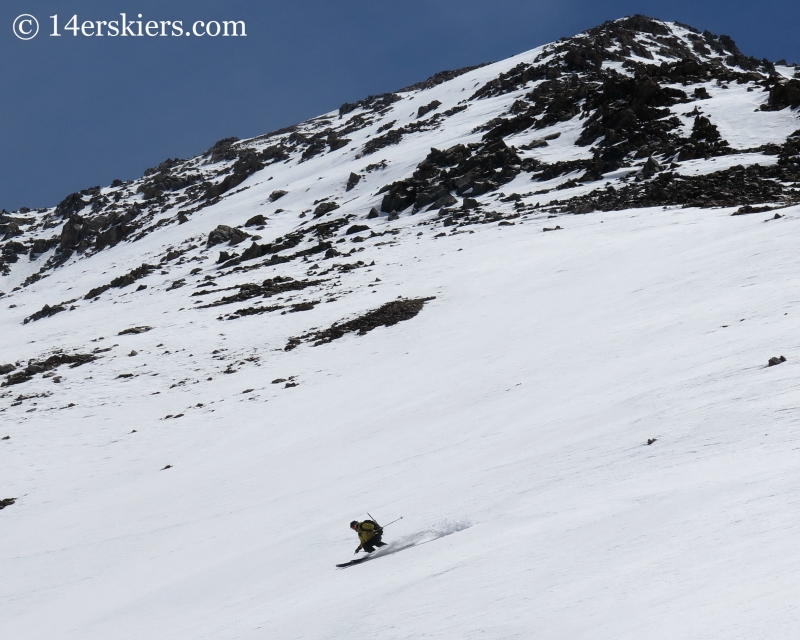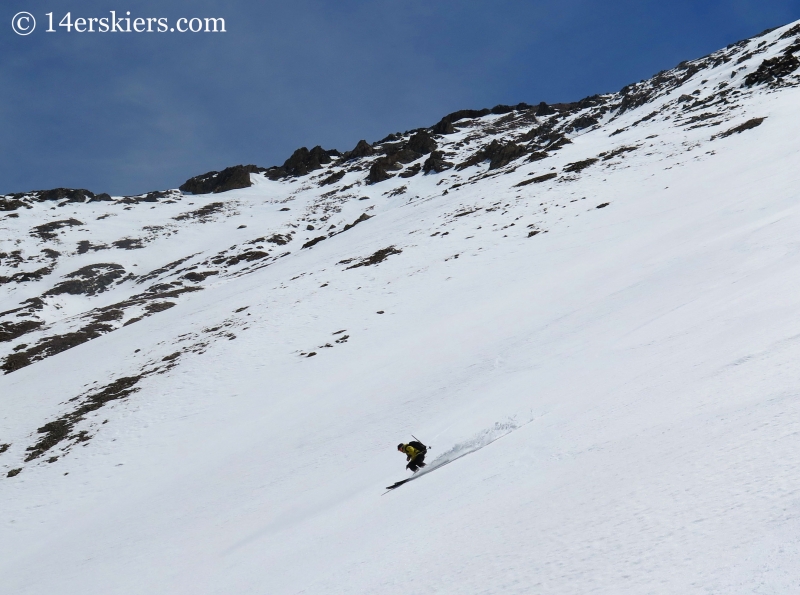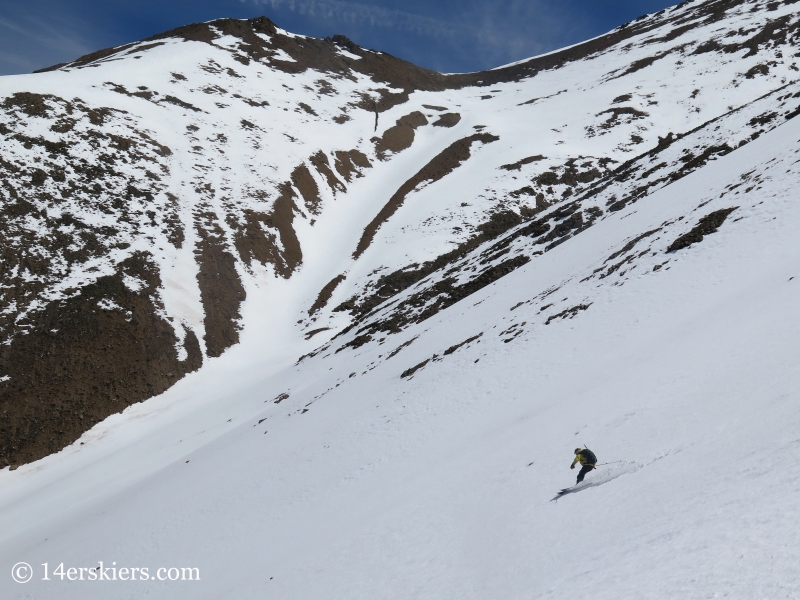 Me.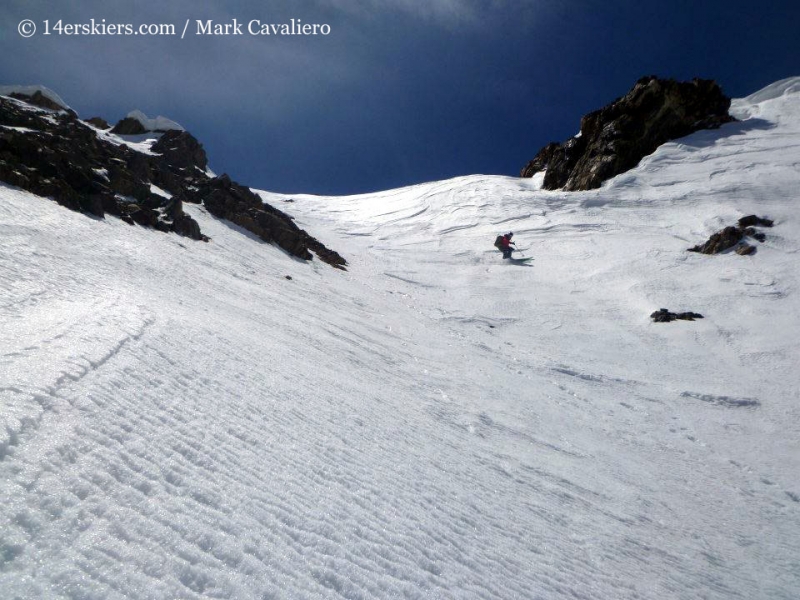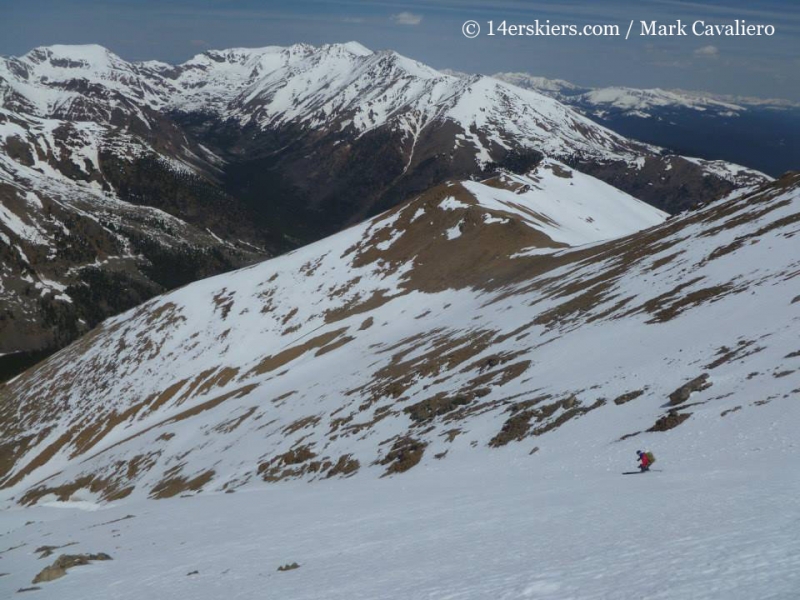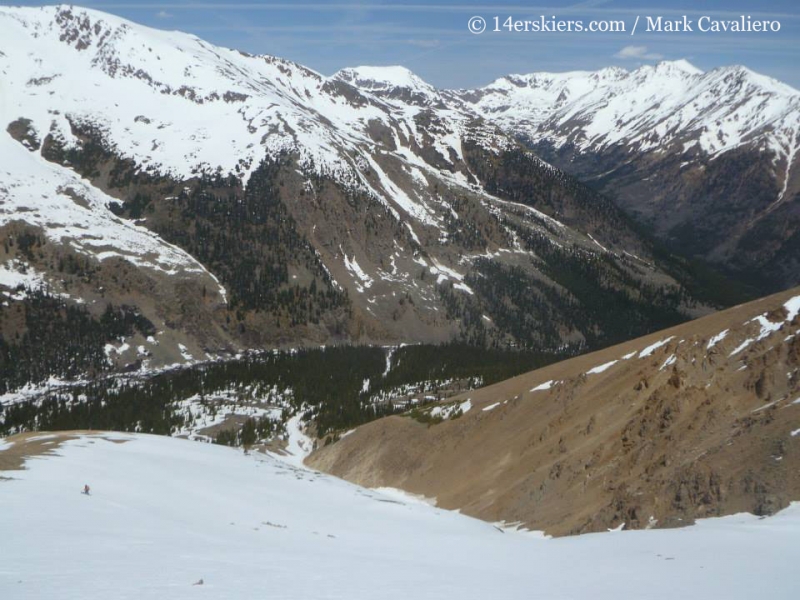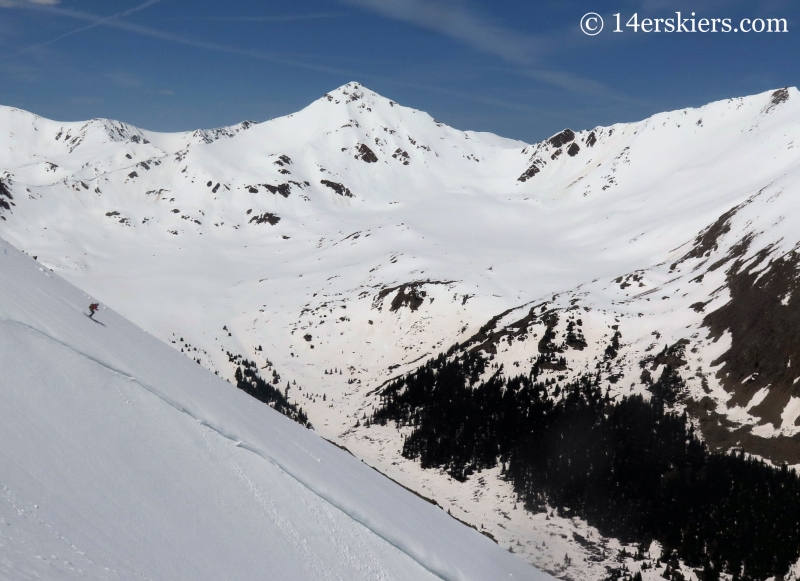 The line just kept on going and going.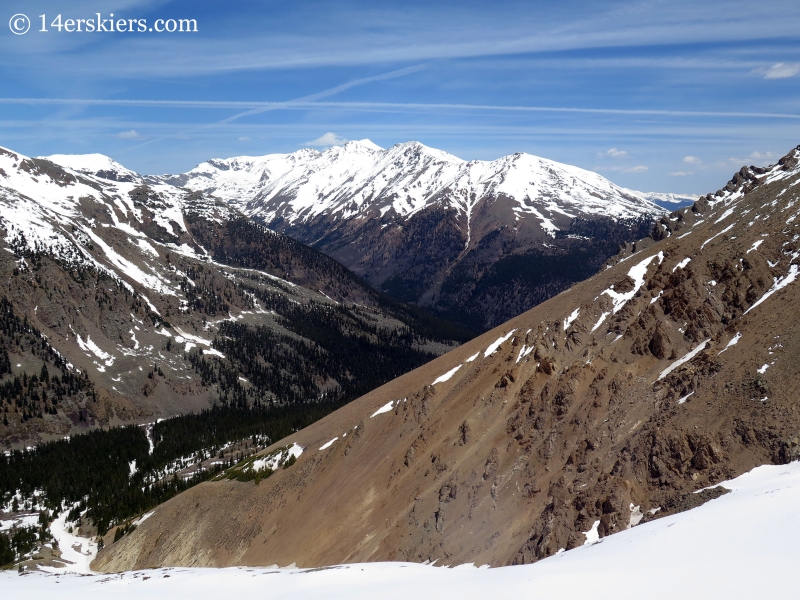 We skied well over 3000′-vert to the valley floor before following the road back down, removing skis once it became too melted. A look back at our line.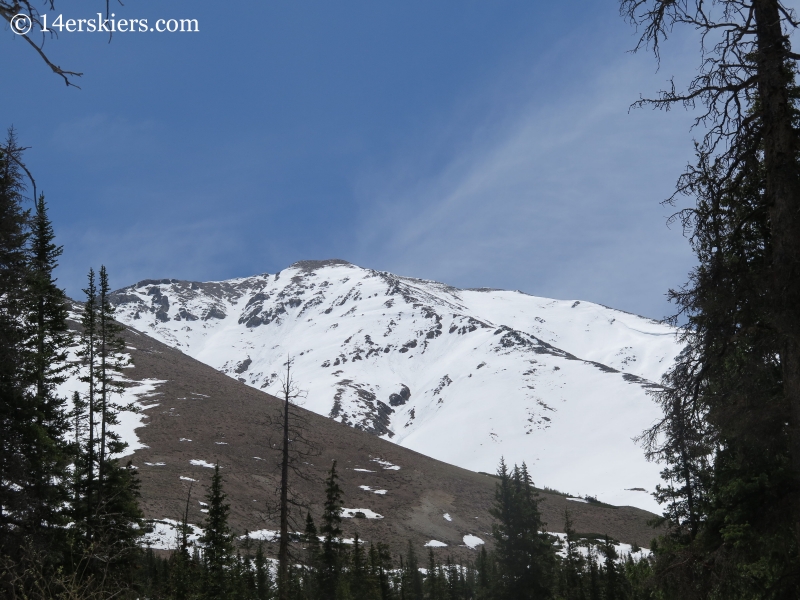 But we still had two stream crossings to go. The first, and smaller.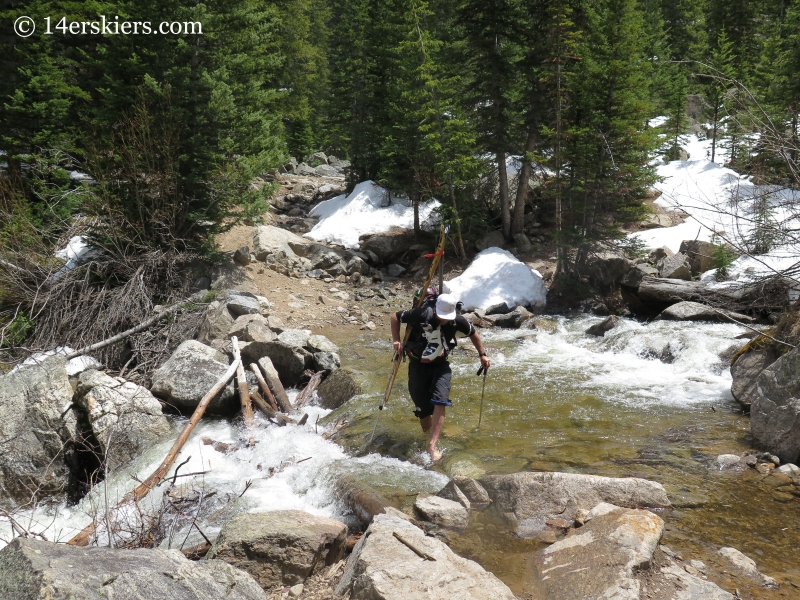 And the second crossing, a big one – but, our cars were on the other side.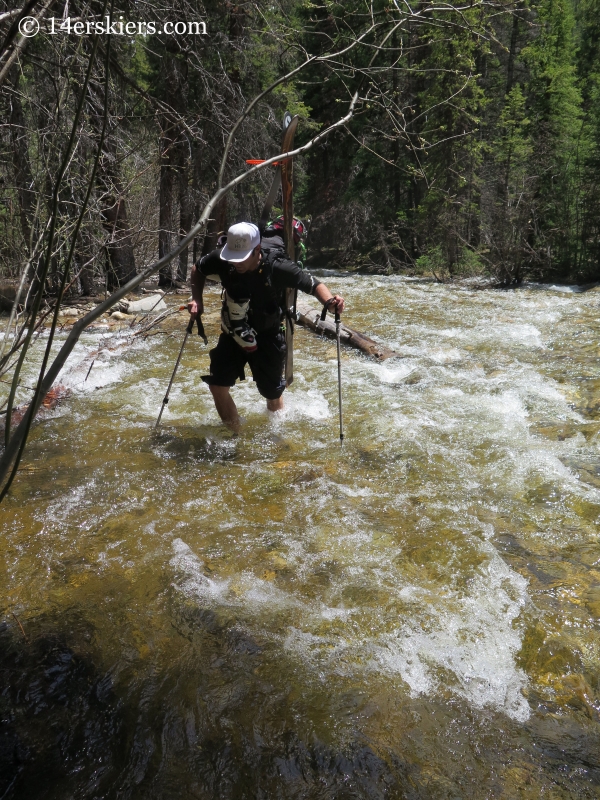 It was a fun day. I'll admit, I was amazed by the quality of this descent. Although not super steep, the northwest gullies are steep enough to be fun. And a 3000'+ quality descent to the valley floor is pretty tough to find here in Colorado. But, these Mount Elbert northwest gullies have it. After looking at past photos, I believe that this line regularly comes into condition, so it's not an anomaly for this odd season. The northwest gullies are hands-down a much better descent than the miniature Box Creek Cirque. I honestly don't know why they don't get skied more often!
Aside from skiing, biking, and all outdoorsy things,
Brittany Walker Konsella
also loves smiles and chocolate 🙂 Even though she excels at higher level math and chemistry, she still confuses left from right. Find out more about
Brittany
!
Latest posts by Brittany Walker Konsella (see all)
Summary
Description
Described by Lou Dawson as a classic, the Mount Elbert northwest gullies provide 3000 vertical feet of fun sustained pitch for backcountry skiing!
Author