TR: Tuning Forks, Torreys Peak 4.10.15
(Last Updated On: April 25, 2015)
While we were discussing our plans to ski the Grizzly couloir, I checked out the route on Google Earth, like I often do. Something quickly jumped out at me. The base of the Grizzly couloir was basically the same location as the base of the Tuning Forks couloir on the nearby fourteener Torrey's Peak. It would only make sense, I said, if we did both routes. I mean, if we were getting up at 3am, driving 3 hours to Summit County, and then driving home, it would only make sense if we got the most bang for our buck, so to speak.
Once we finished skiing Grizzly, we stayed high on a bench below the Tuning Forks. We hadn't exactly gotten an "alpine start" to our day, so it was already 2:30pm before we started transitioning- and the weather was mediocre at best. "Are we really going for it?" I thought, but surprisingly everyone seemed up for it. It's so easy to make excuses and not try things, both in life and on a mountainside, so I was pleasantly surprised as we started cramponing up.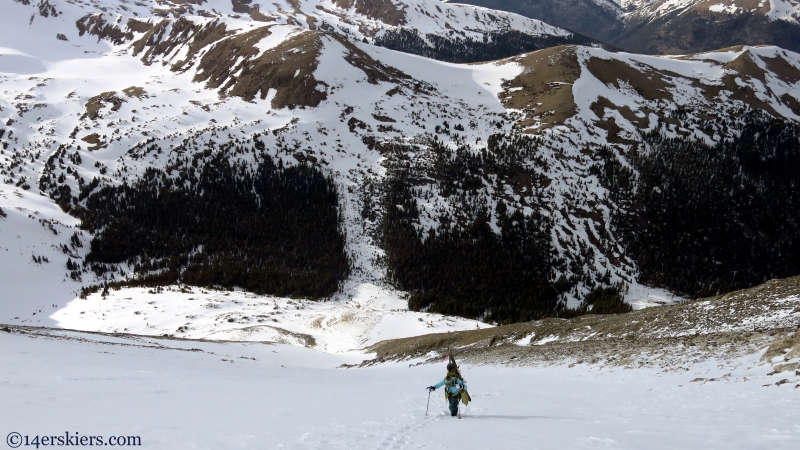 The Tuning Forks are huge by Colorado standards. Rising 3,000′ from the valley to the summit, at an average angle of around 36 degrees or so, this climb doesn't go by quickly, especially on the second peak of the day. A few snow squalls came through, but we knew the skiing would be good, so we kept going. Then the skies started to clear.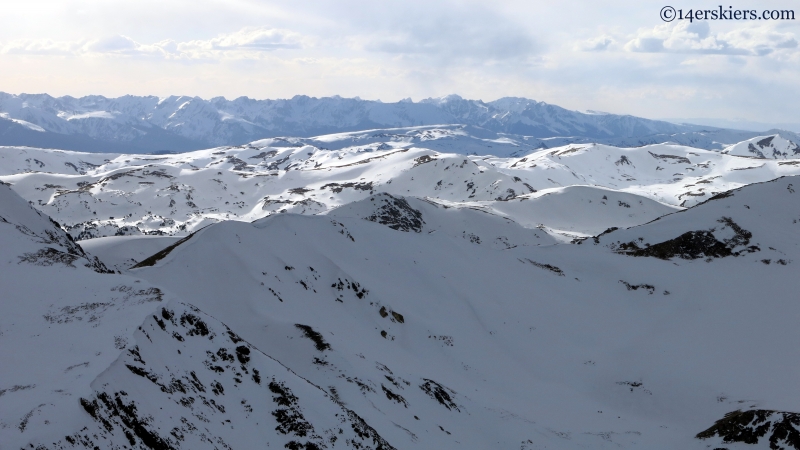 Looking down from near the top of the bootpack, on the climber's right fork: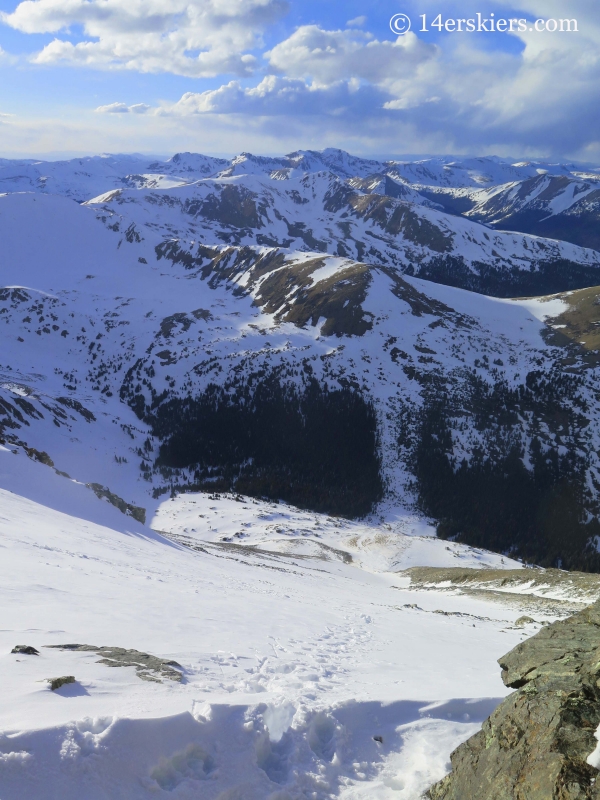 The Tuning Forks hit the West ridge a short distance from the summit- from there it's a quick walk to the summit. There was a little bit of windswept rock between the ridge and the summit, but the route is mostly continuous skiing. Summit shot: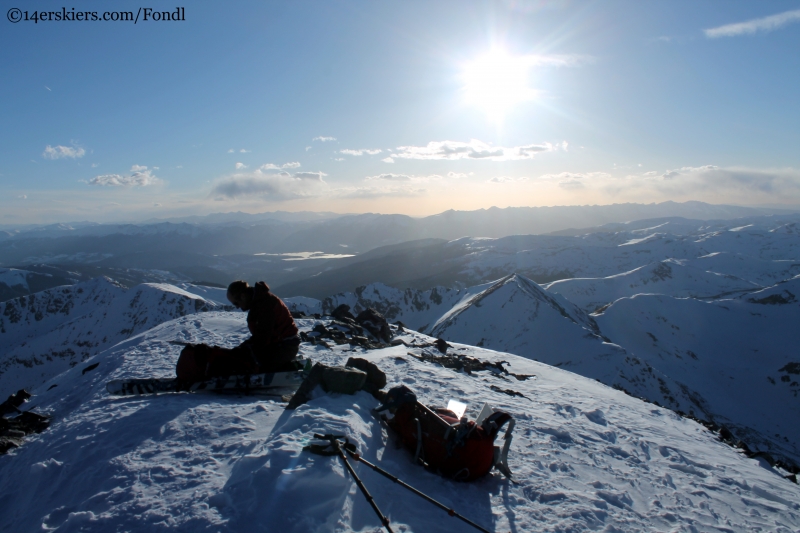 With the sun starting to set, we had amazing light as we descended the mountain in recycled powder. Gary Fondl: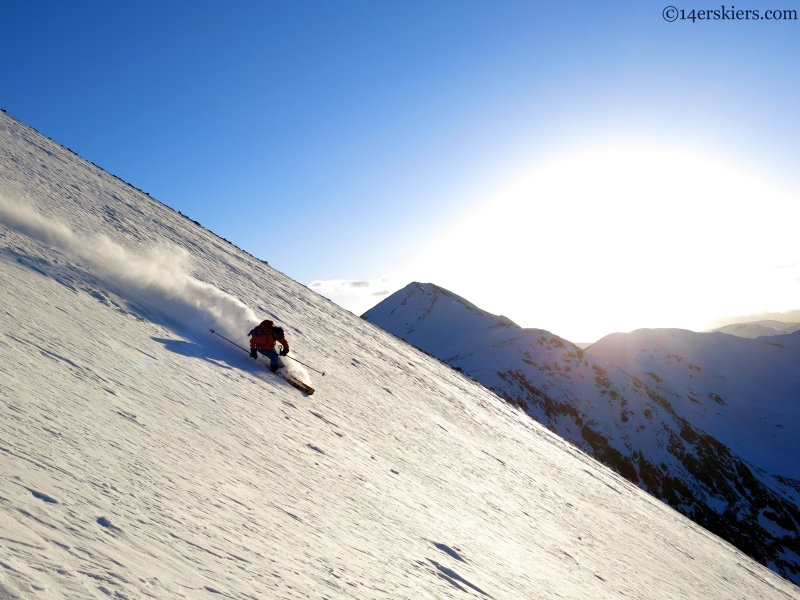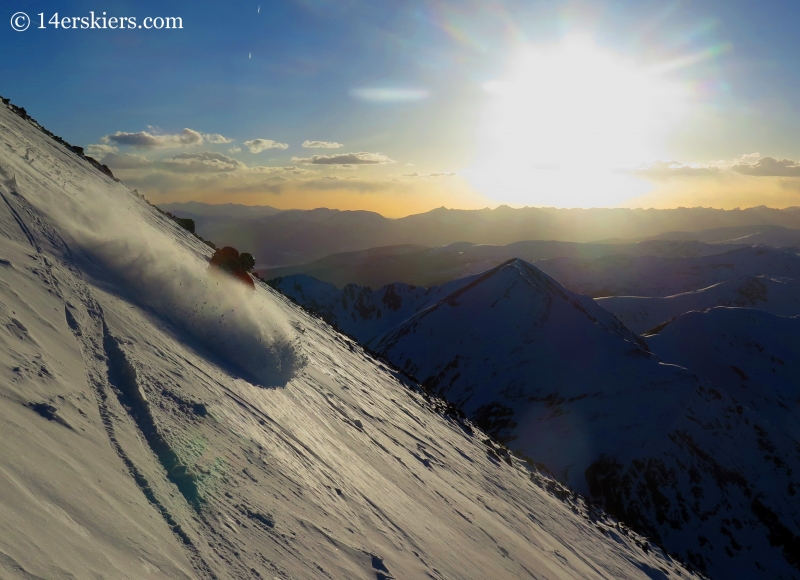 Brittany: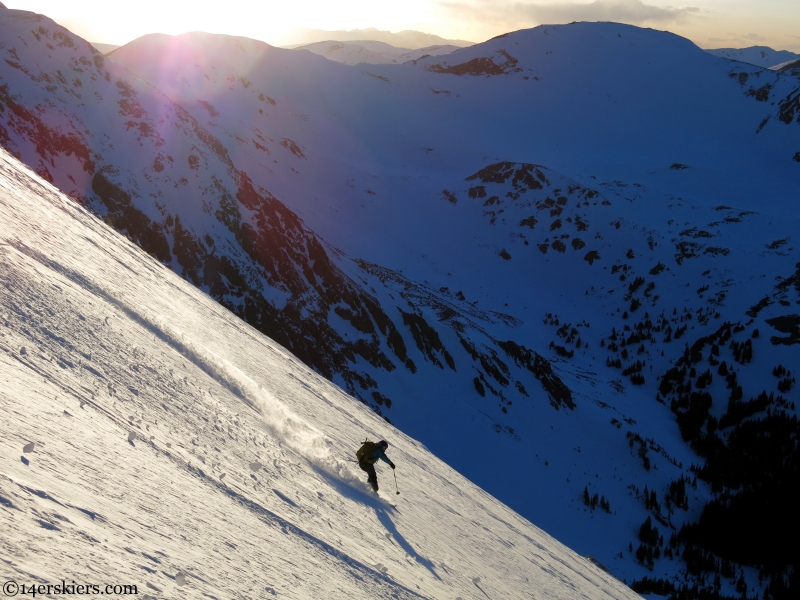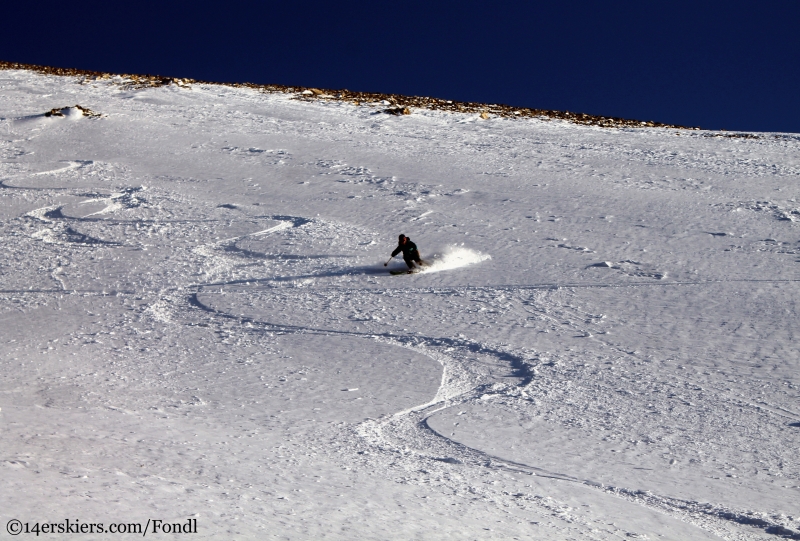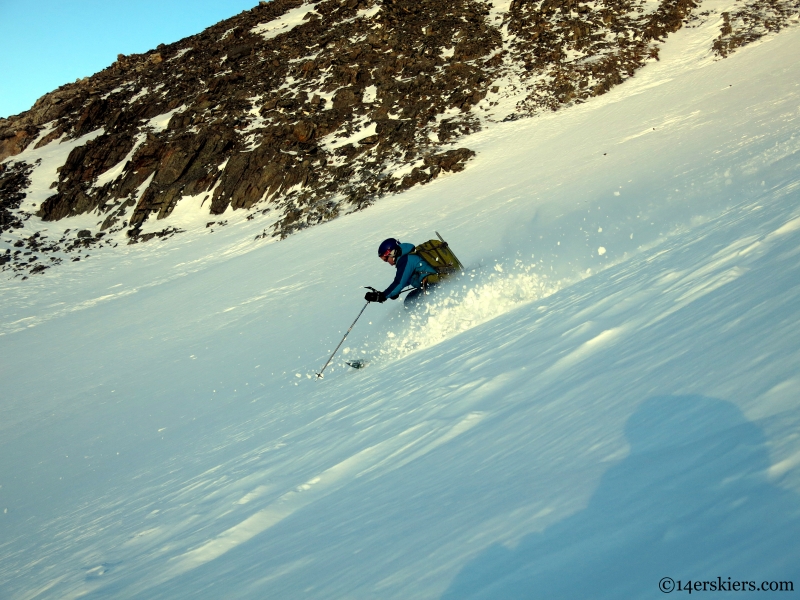 Frank: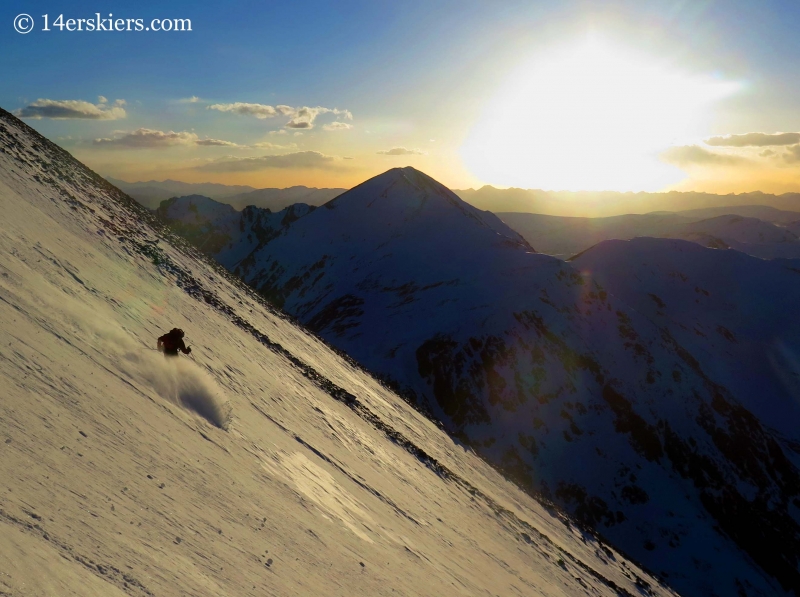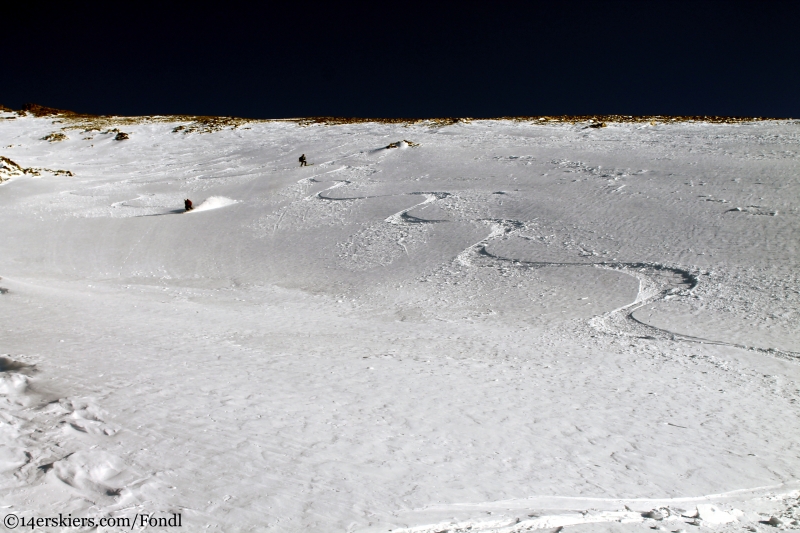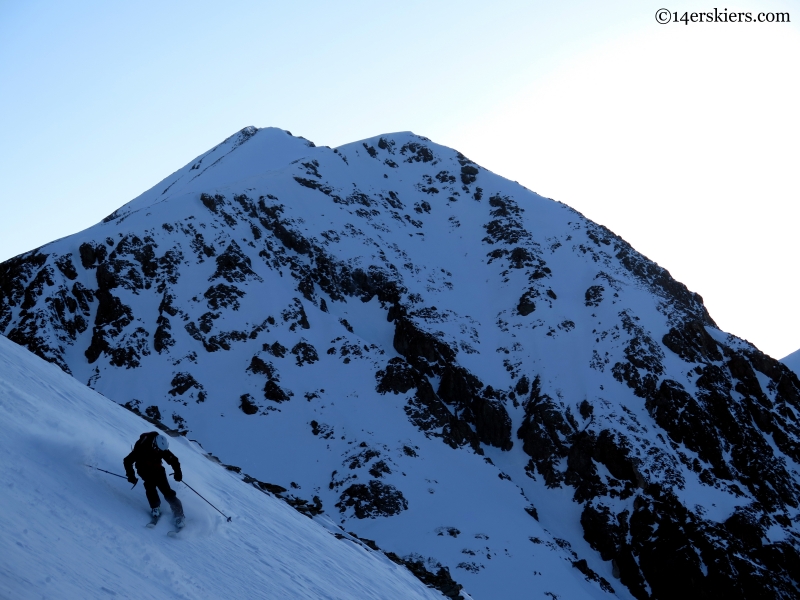 Back to Gary: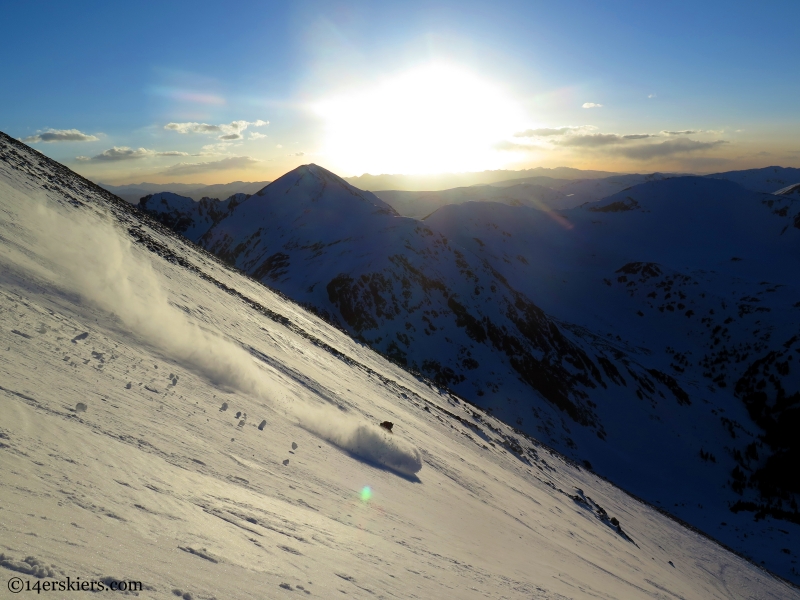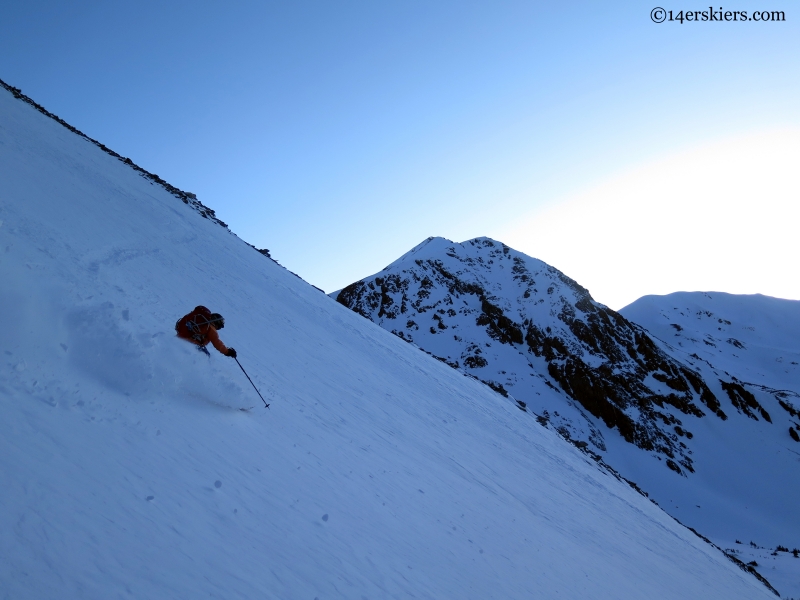 Thankfully, the ski back down to the car went quickly, and we reached the car without the need for a headlamp. Even more thankfully, we made it to Silverthorne with plenty of time to get a burger and fries after a long day. Brittany and I made it into Crested Butte around 1:30am, not quite 24 hours after we left. We would leave for another trip, on the South couloir of La Plata, not much more than 24 hours later…
If we had gotten "nighted"…

Frank
loves snow more than anything... except his wife.  He ensures his food is digested properly by chewing it 32 times before swallowing.He is a full-time real estate agent serving
Crested Butte and Gunnison
and would be honored to send you his
monthly newsletter.
Latest posts by Frank Konsella (see all)
Summary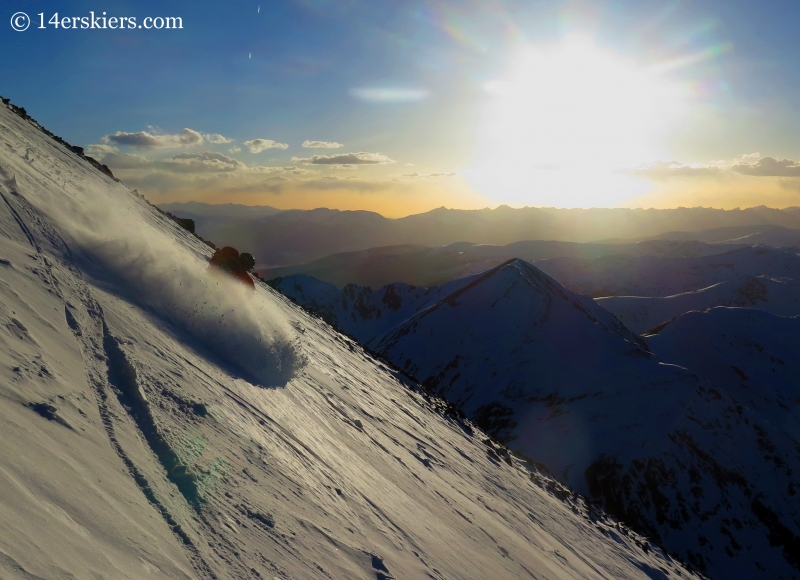 Article Name
TR: Tuning Forks, Torreys Peak 4.10.15
Description
The Tuning Forks on Torreys Peak make for a really nice climb and ski descent. See beautiful pics from our sunset ski!
Author