14er TBT: Mount Shavano (8 April 2007)
(Last Updated On: March 12, 2015)
This is part of an ongoing series re-telling Brittany's fourteener-skiing story. Look for the reports every Thursday, as part of a Throwback Thursday theme.
It was closing weekend at Crested Butte, but Frank and I were keen on skiing some fourteeners. A snowstorm changed our plans though, and we found ourselves heading back to Crested Butte. On the way, though, Frank pointed out Shavano. "It's in," he said. "Maybe we should go for it." I thought he was kidding at first. But, then, I realized he was actually pretty serious. We didn't start climbing Shavano until well into the afternoon. Mount Shavano ended up being my 16th fourteener to ski.
I'm going to change it up a bit. I'm going to let Frank tell this story. Below is a slightly edited version of Frank's trip report.
Mt. Shavano 14,229'
Brittany and Frank
After skiing Quandary, I made my way to Leadville through a strengthening snowstorm, got a hotel, and watched the Avalanche blow a lead and miss the playoffs for the first time. Brittany joined me there, and we went to sleep hoping that we would still have a chance to ski Belford and Oxford the following day. We knew that a crew had just been up those peaks, so we were hoping to have a nice track to follow to those summits. We woke up early to continued snowfall and 4" of wet slop outside. It was obvious that the higher elevations would have at least double that. We went back to sleep with intentions of hitting the last day at Crested Butte instead. But as we drove south from Leadville, the banana belt known as Buena Vista to Salida reared its head. You could tell that the southern Sawatch hadn't gotten nearly the same amount of snow, and the peaks were even trying to poke their heads through the clouds. We met at Bongo Billy's in BV, and the conversation went something like this:
Me: "It's not so bad down here, we should ski Shavano."
Brittany: "Hah, that's funny…. Wait you're not serious, are you?"
Me: "Yeah kind of…"
Brittany: "Really, uh, OK, I guess we could try…"
A photo of Mount Shavano that Brittany took on March 31. The "Angel of Shavano" is located in the gully facing the photo, arms outstretched upwards: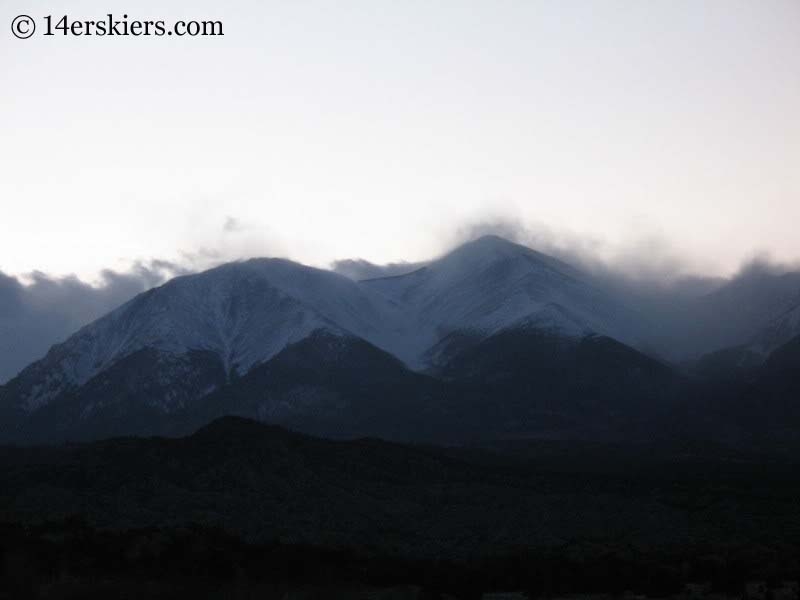 We made our way towards the trailhead and were stopped by a snowbank 2 miles short of the summer trailhead. At 12:15pm we started hiking up the road, almost 5,000' and 5 miles away from the summit.
Me, heading up the valley skinning up towards the Angel snowfield.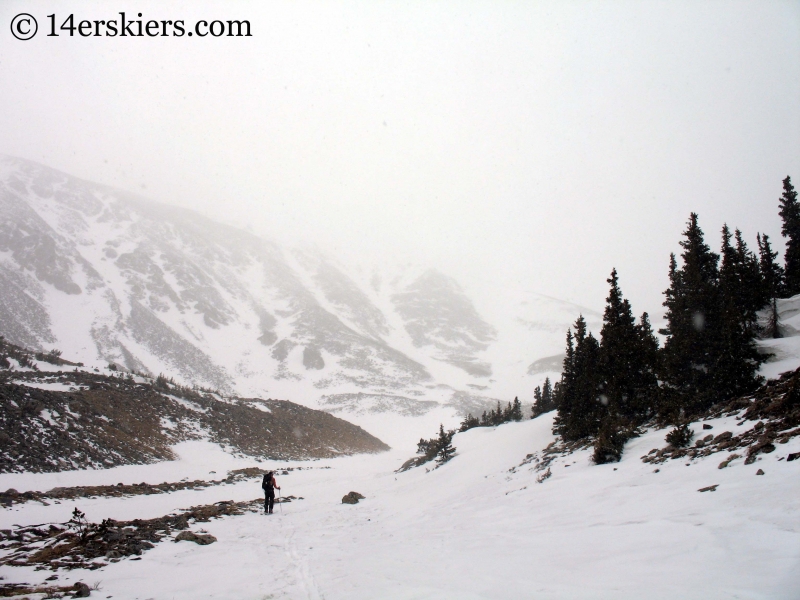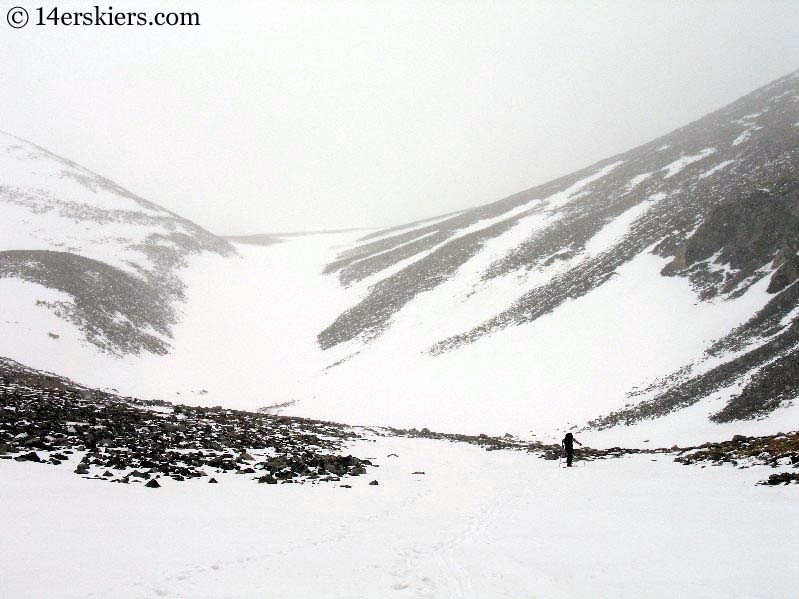 Climbing the Angel: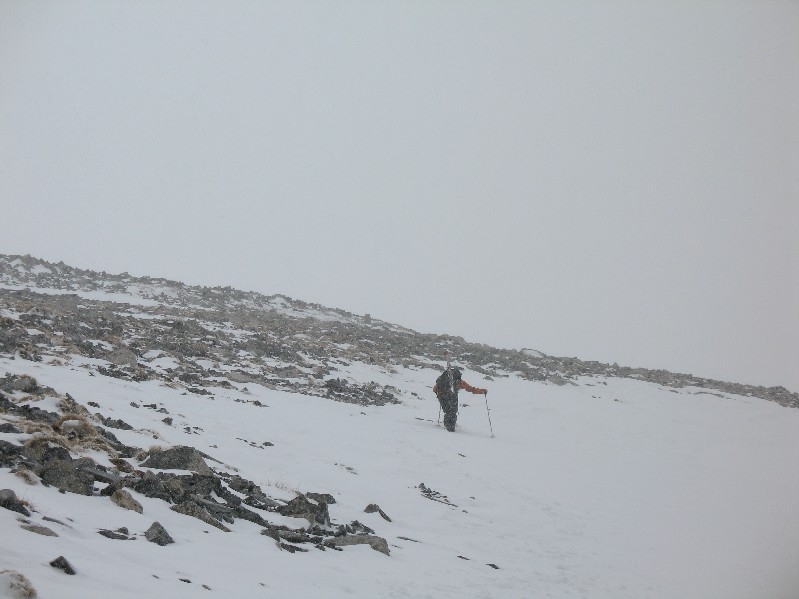 Brittany: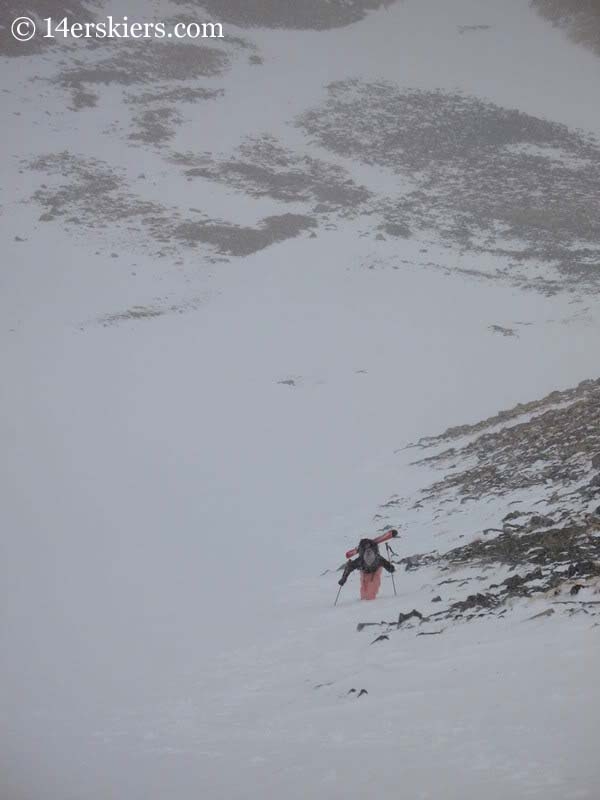 A little before 6 pm, I summited and started taking some photos from the summit.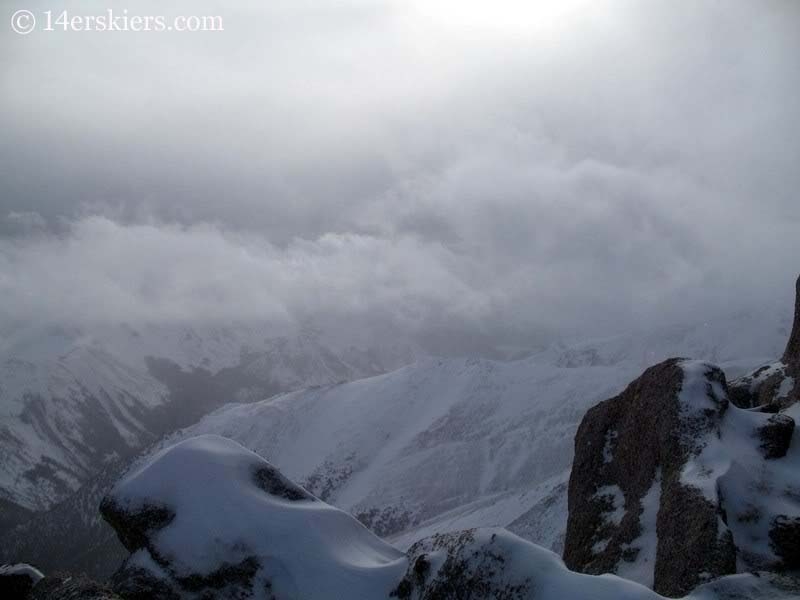 Salida, basking in the sun as always.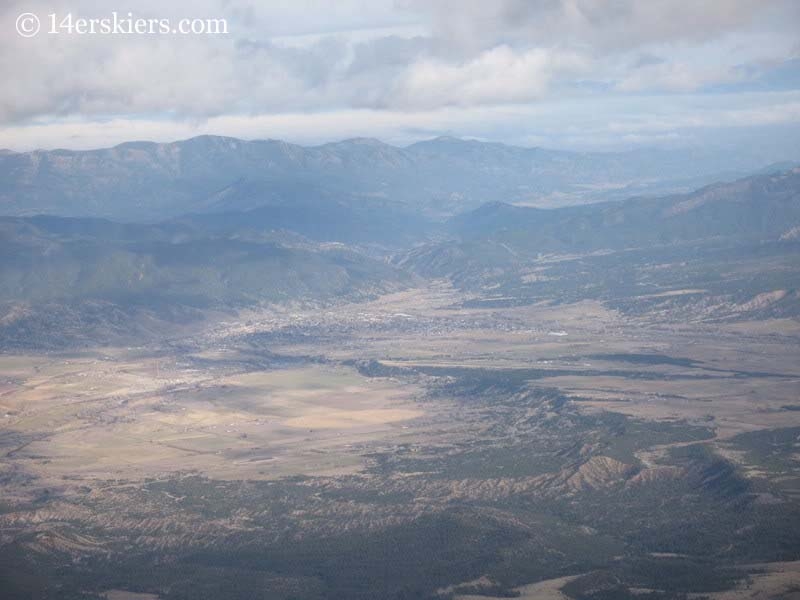 Brittany joined me shortly- this photo shows the Sangre de Cristos in the background, shrouded in clouds.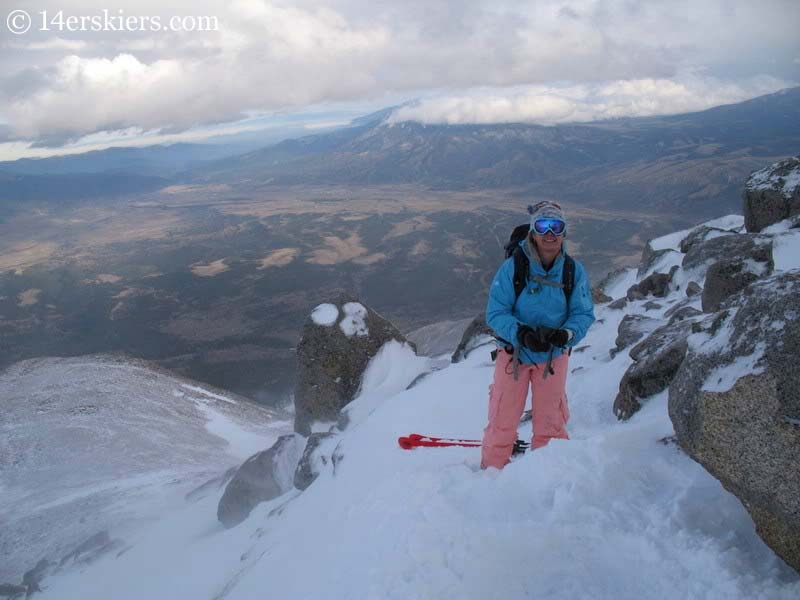 The skiing was really good, with skiable powder-filled snow patches leading us down to the angel snowfield.
Me: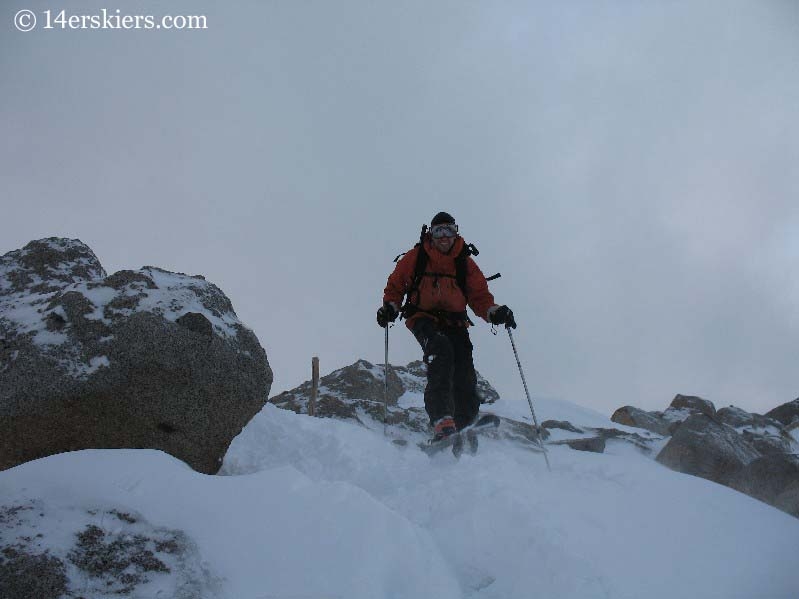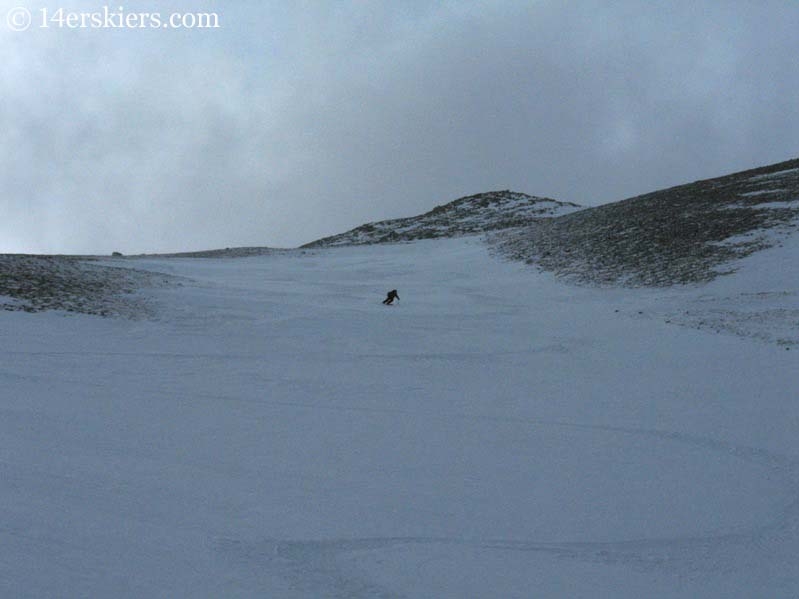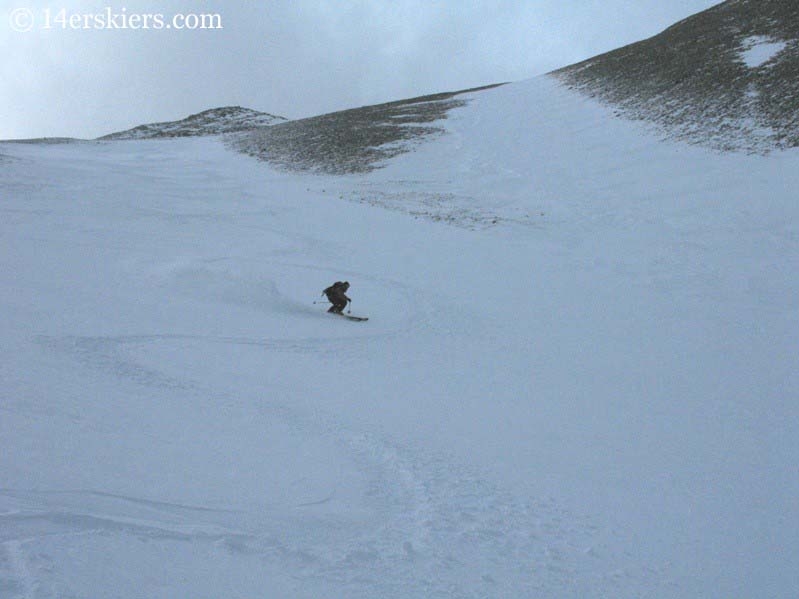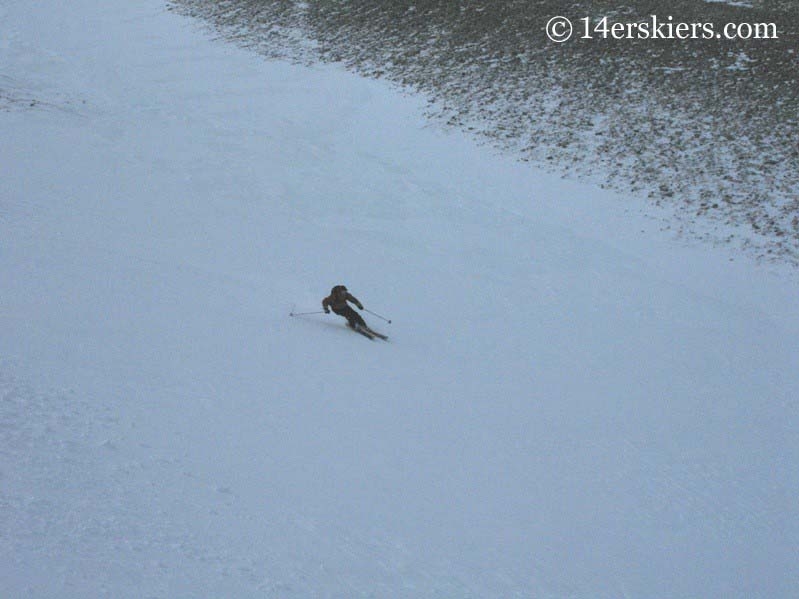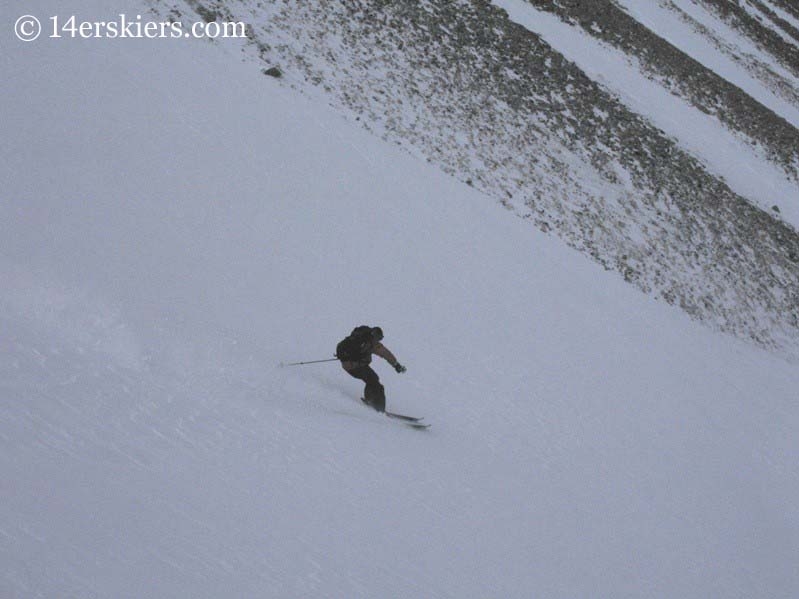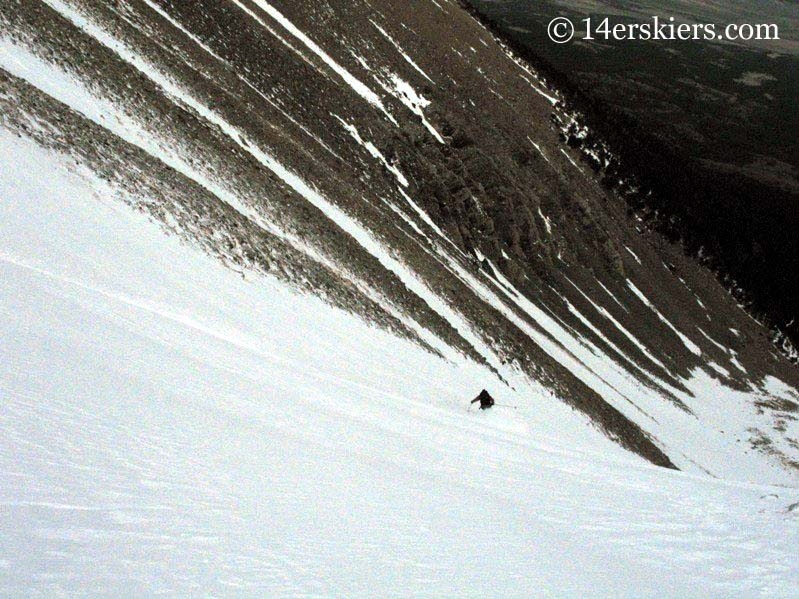 By the time I started taking photos of Brittany, it was getting darker and I should have changed my camera settings, but we were obviously in a hurry to get off the mountain.
Silhouette: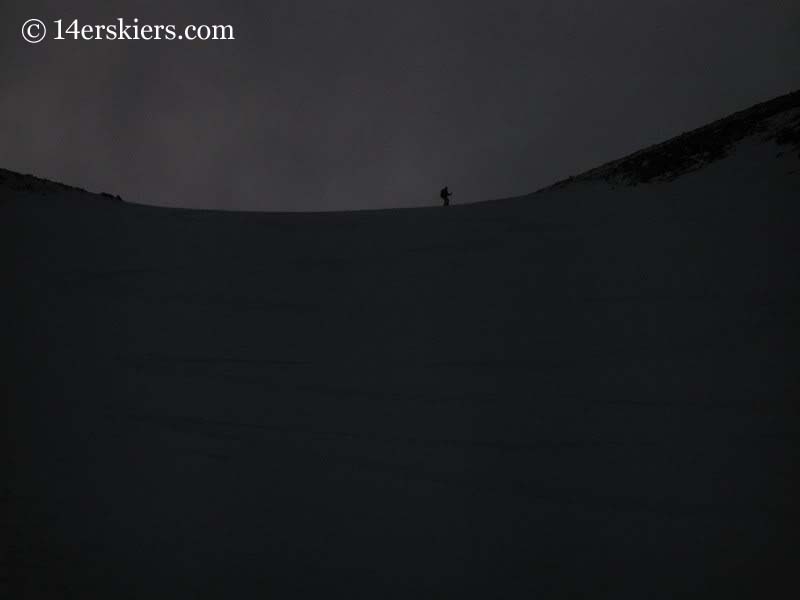 I did what I could in Photoshop, but the photos are obviously super grainy: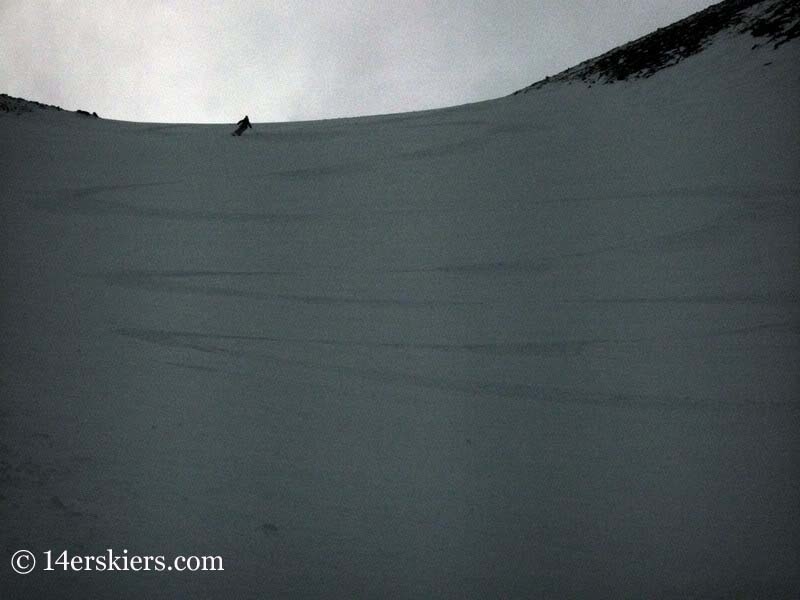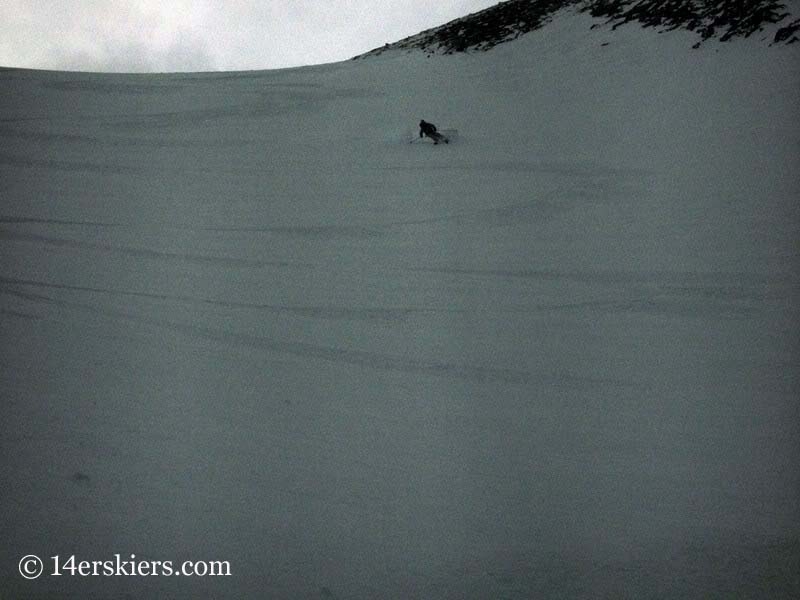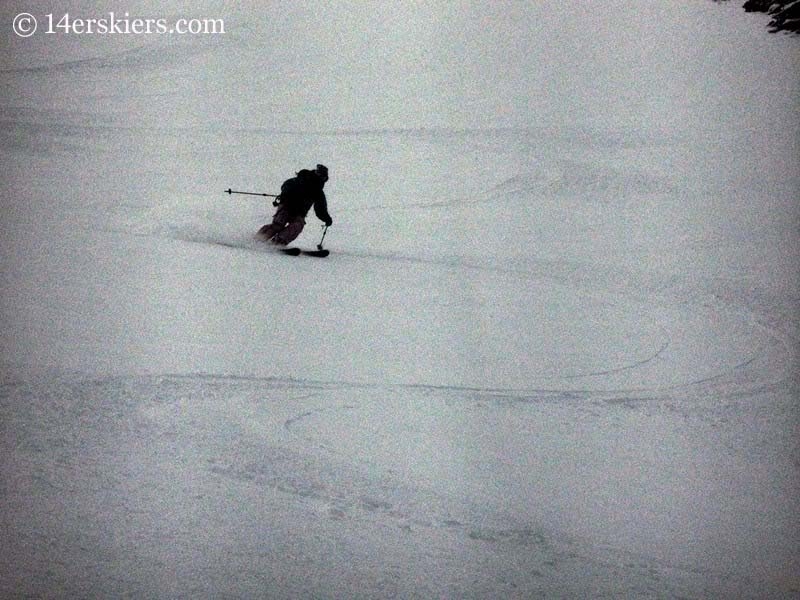 All in all, it was a super fun week, despite the days spent doing my taxes.
Bah! Taxes! We have to do those soon!
Looking back, Shavano is one of those peaks where a the line isn't always in. It was great to be able to change plans and use the snowstorm to our advantage, rather than disadvantage. However, we were definitely rushed in climbing this peak and it was a big push for me. I learned how to dig into my "reserves" – something I would be needing as we skied more of these fourteeners.
---
Like this report? See more of
Brittany's 14er skiing journey
.
Aside from skiing, biking, and all outdoorsy things,
Brittany Walker Konsella
also loves smiles and chocolate 🙂 Even though she excels at higher level math and chemistry, she still confuses left from right. Find out more about
Brittany
!
Latest posts by Brittany Walker Konsella (see all)