Gear Review: Atomic Backland Boot
(Last Updated On: December 22, 2016)
When we get back from SIA, one of the first questions we're asked is "So what's the coolest thing you saw?" Some years, that's easy, like the first time we got to see Black Diamond's Jetforce airbag pack in action. This year, well, nothing was exactly mindblowing. Atomic's Backland AT boots were probably the most interesting thing we saw at SIA2015, mostly because they were so unexpected. Most big alpine manufacturers end up making an AT boot that is similar to the alpine boots that they already make, which is fine since both of us are fans of four buckle overlap boots. Atomic, on the other hand, unveiled a boot that pairs better with Lycra than baggy pants.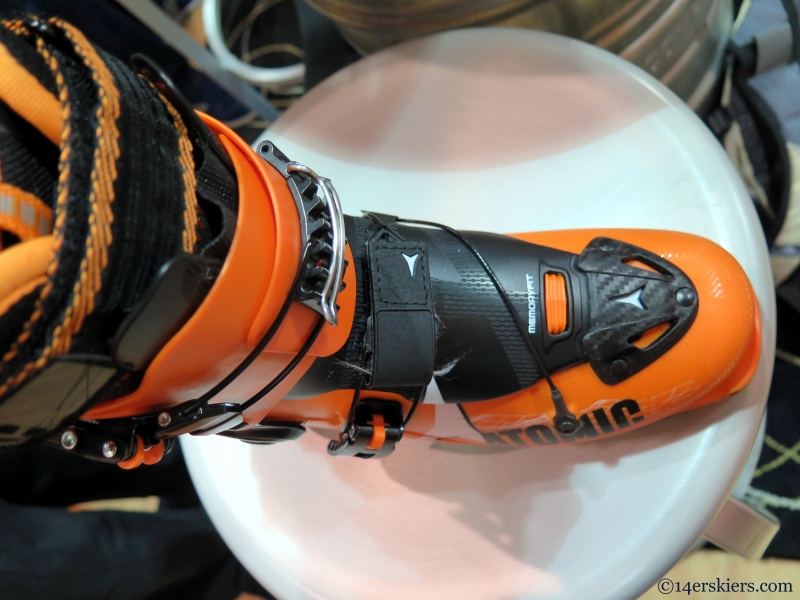 There are 4 boots in the Atomic Backland boot series: Carbon Light, Carbon, Backland, and Backland Women's (which is the same as the Backland but with "girly" colors). The Carbon Light is really more of a skimo racer boot, with a flex rating (subjective as always) of 90. The 120 flex Carbon was the one that I really keyed on, and was able to ski a few runs on at the SIA on-snow demo day at Copper Mountain.

One look at the Backland boots and their removable tongue and short rockered sole will lead to comparisons with boots like the Dynafit Vulcan and TLT. Like those boots, the Backland has a tremendous range of motion- more than your foot actually has at 74 degrees. A closer look, however, reveals that Atomic did their homework and made a nice boot of their own, not just a copycat boot.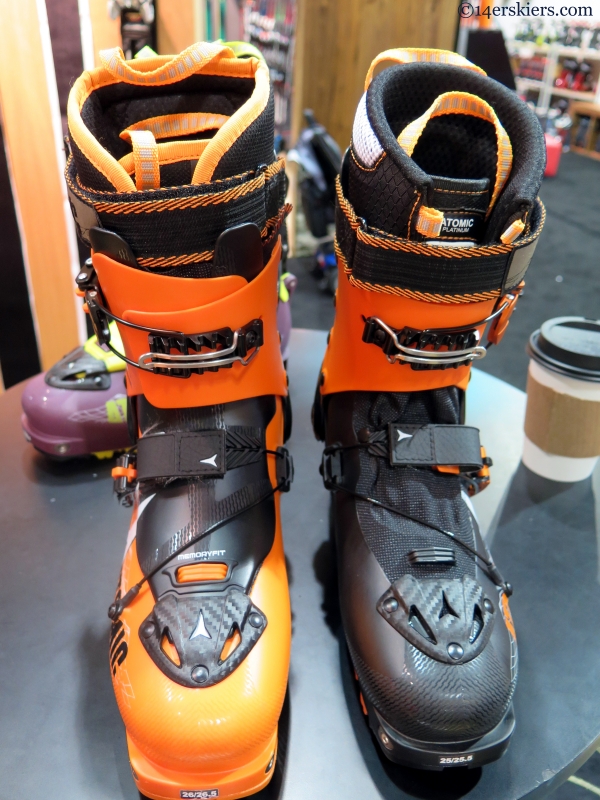 When it comes to AT boots, the devil is in the details, and by that measure it sure seems like Atomic built a winner. The pivots are frictionless, for instance, and the boots are easily serviceable in the field. Take a look at this buckle, and the way it can open more fully thanks to the "slider groove":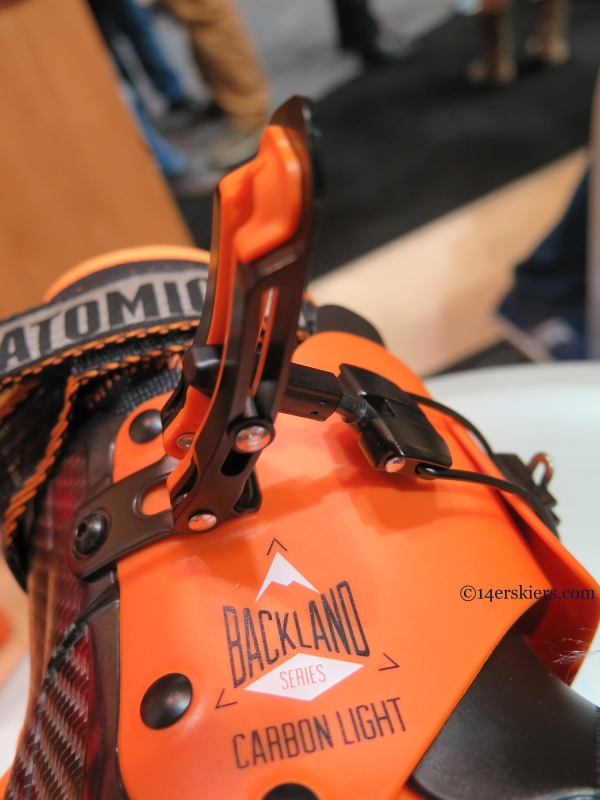 Even the moldable liners have some interesting points- the holes are there to help them dry overnight: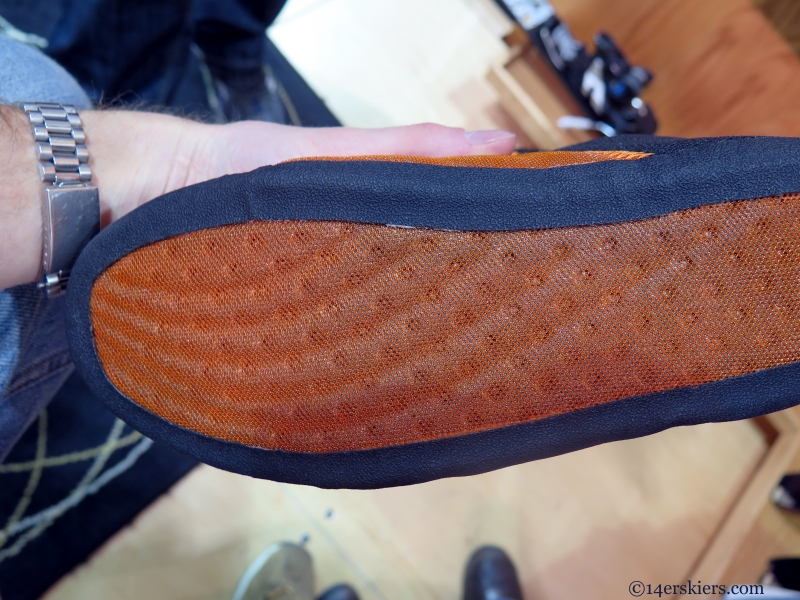 Not only that, but the liners are completely washable.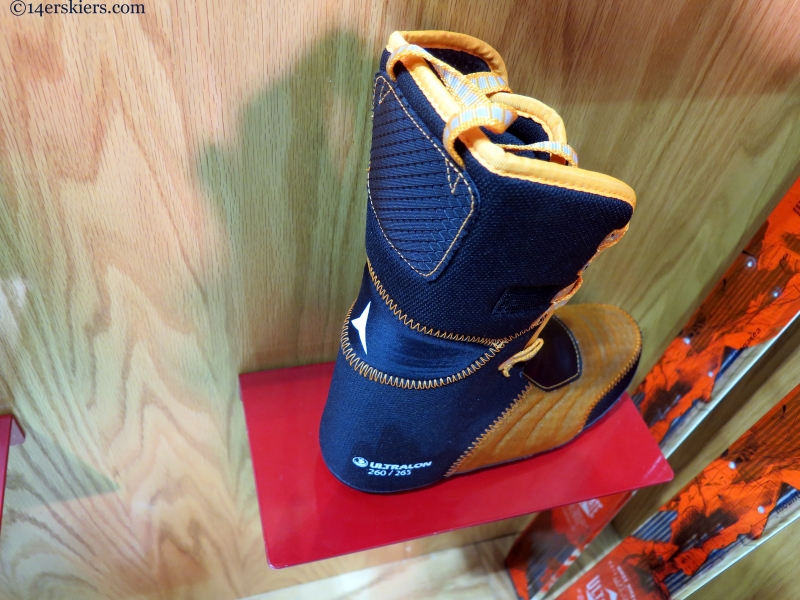 While the liner is moldable, many liners are, so that isn't all that interesting. What is interesting is that the entire boot, shell and liner, are moldable. The Backland boots are called a 98mm last, but that doesn't even matter- a bootfitter can put the entire boot in the boot oven and make the entire thing whatever size it needs to be. For those who have been cramming their foot into a narrow boot such as a Dynafit, the Backland may very well be the answer.
At this point in a review, I would be asking, "Yeah yeah, so what- Can they ski?". Well, keep in mind that at this point, I have only skied a few runs in the Backland Carbon- at a ski area on skis I wasn't familiar with. They weren't molded to my foot, and frankly they somewhat hurt, as many new boots do. that said, I've done that with plenty of other boots, such as the Vulcan. With the Vulcan, it didn't take more than a few turns to perceive the same complaint that many people have with this boot- the flex lacks even an inkling of progression- it's either on or off, black or white.
Not so with the Backland Carbon- it surprisingly (surprisingly because it is a tongue boot), has somewhat of a progressive flex. I wouldn't necessarily call it a smooth flex, as the most apt description would be that of a spring. The second you stop pressuring that spring, it wants to spring you right back to the starting (upright) position. This isn't necessarily a bad thing, just something that would take a little time to get used to. Atomic calls this boot a 120 flex, and most people have by now realized that flex numbers are subjective and vary from company to company. Compared to my Tecnica Cochise 120 boots, the Carbon model is closer to about 100, in my opinion.
Of course forward flex is only part of the equation, and rearward and lateral flex are at least as important. In those respects, I would say that I need more time in this boot to more definitively say how the boot fares. The walk mechanism certainly looks bomber: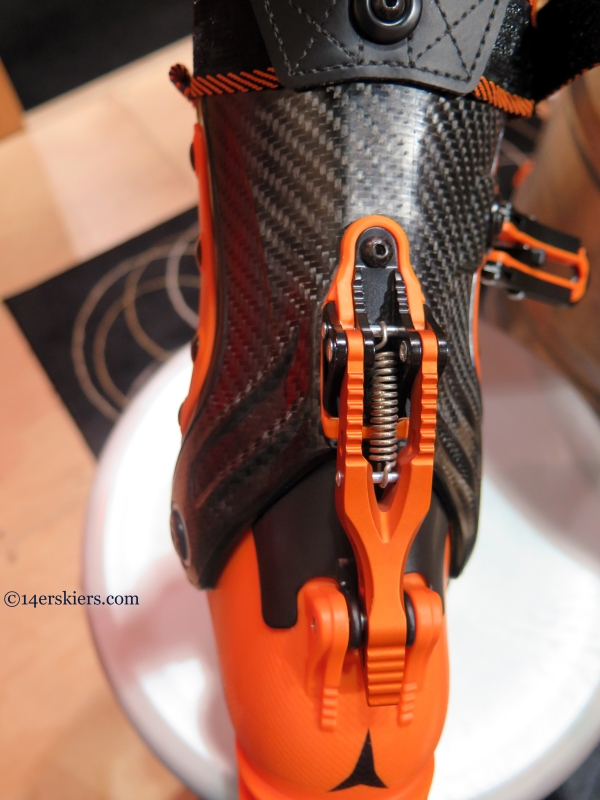 So far, in my limited experience with this boot, I'd say that Atomic deserves a lot of praise for the Backland series of boots. Right now, if I were to buy a boot for spring ski mountaineering, this is probably the boot that I would choose. This boot should be available next fall- check it out if you're in the market for a lightweight boot with a big range of motion that is still a capable descender.
Frank
loves snow more than anything... except his wife.  He ensures his food is digested properly by chewing it 32 times before swallowing.He is a full-time real estate agent serving
Crested Butte and Gunnison
and would be honored to send you his
monthly newsletter.
Latest posts by Frank Konsella (see all)