Dumb Things Done Part 1 of 3
(Last Updated On: September 18, 2013)
"Dumb things" is probably a little bit of a strong statement for what I hope these blog posts will be. Perhaps "Avalanche mistakes I've made and the lessons I've learned from them" would have been a more appropriate title, but missing the eye-catching alliterative aspects of this one. I've only taken one ride in an avalanche, which happens to be the subject of this post, but I've had partners take a ride on two other occasions, which will be the subject of the next two posts in this series.
It is my hope that these posts will at the very least offer something to the reader, as we approach another winter season.
I've actually written about this incident before, but with the help of a photo I took last winter, I can now explain it better than I could before. This is the area in question: The shoulder of Decker Mountain just outside Blackcomb ski area in British Columbia.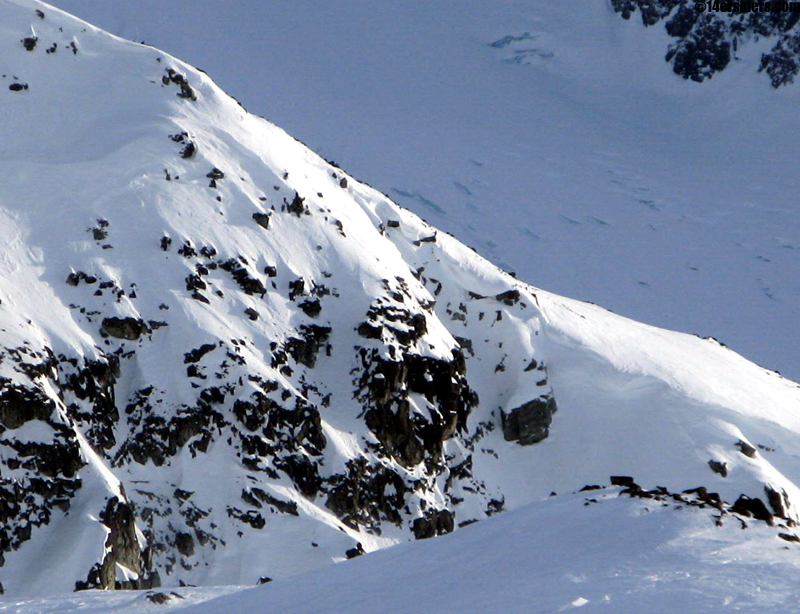 In the winter of 2002, when I was living in Whistler, things looked a little bit different. The sunlit ramp actually had a couple of rock steps in it, while the area in between the ramp and the curled cornice was actually cleaner than in this photo, more like a very skinny couloir. What you can't see in this photo, due to the slope in the foreground, is the mellower bowl that all of this leads into.
As I said earlier, I was living in the area at the time, skiing every day. Before this slide, we had our most prolonged dry spell of the season, which meant a few days of rare sun during a highly snowy winter. With a stable coastal snowpack and a danger rating for multiple days of "low" all aspects and elevations, we had been skiing all over the place, as had everyone else. You couldn't find even a heavy slough anywhere. That's what made this slide so surprising.
The intended route: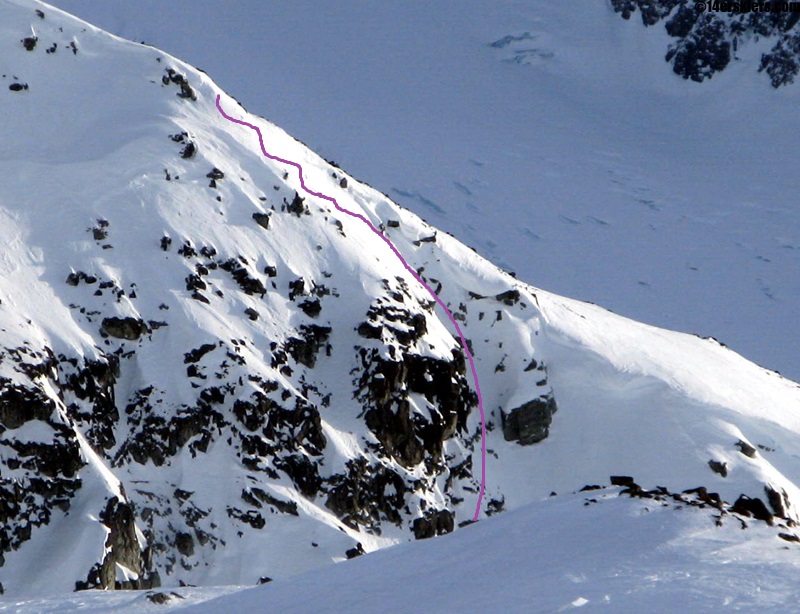 I started off by the yellow arrow, but before I could get off the ramp, the slab broke free. The fracture was small- only 25′ across and only a foot deep at the deepest part. But it was a hard slab, and it broke above me (the red line is the approximate crown).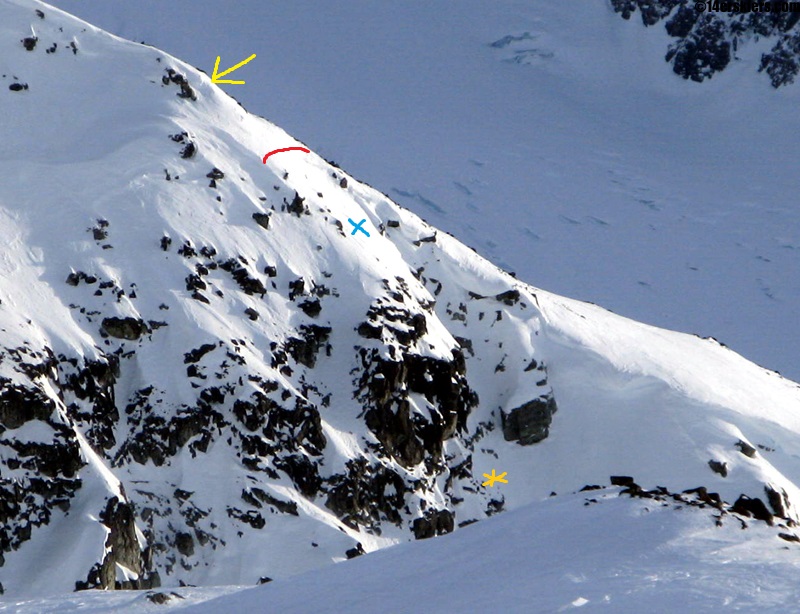 Since it was a hard slab, I couldn't dig in. I couldn't bail to the right, and I couldn't make it to my exit on the left, either. So around the blue 'X', I made the only choice I had left- I pointed it straight, off the good-sized (60′ or so) cliff that I had no intention of hucking. But that's what I did, landing somewhere around the orange asterisk. Thankfully there was more snow in the landing than there is in this photo, so I didn't hit any rocks. The slide continued all around me, putting me in a washing machine of snow- but then it stopped, just as suddenly as it started. I found my gear, and skied straight to the bar.
So what were my lessons? That's probably the most frustrating part. There were literally hundreds of tracks at the same aspect and elevation- so how could I have known that the route I was taking was a highly localized pocket of windslab? To this day, I'm not sure what I would have done differently. What I did take from the incident, however, is a heightened awareness of my place on any given slope. Every step I take, I consider where I am, what will happen if the slope gives way, and what I'll try to do if it does.
Up next in part 2- a cornice fails thousands of feet above us at Thompson Pass, Alaska.
Frank
loves snow more than anything... except his wife.  He ensures his food is digested properly by chewing it 32 times before swallowing.He is a full-time real estate agent serving
Crested Butte and Gunnison
and would be honored to send you his
monthly newsletter.
Latest posts by Frank Konsella (see all)