TBT TR: East Partner Peak (Peak V) – 10 April 2006
(Last Updated On: May 3, 2018)
This post is part of a Throwback Thursday series featuring trip reports that we haven't had a chance to write about until now! Look for them on Thursdays!

East Partner Peak (Peak V) holds a special place in my heart. It was my first "Gore Range Mission", and I skied it back in 2006 with some of my favorite backcountry skiing partners – Mark Cavaliero and Dave Bourassa. Since over 12 years have passed since we skied this route, I don't remember exact details. In fact, only some of the details came alive when I started sorting through the pictures again. But, I do remember we started in the dark, and I remember it was a long day – probably the longest day I'd had in the backcountry up to that point. I also remember the exhilaration and excitement I felt exploring a new area on skis, and the potential for lines everywhere.
I've been holding on to these pictures for awhile, waiting for the right opportunity to write a Throwback Thursday post about this day. After skiing West Partner Peak (Peak U) last week with Dave and Mark, as well as Frank, it seems only fitting to write about it now. So, enjoy the Throwback! And by the way, the Gore Range continues to hold snow nicely this spring. It's a good zone to check out this season!
---
Note: The ski photos in this post were all taken by Mark Cavaliero with Dave's camera. However, I have watermarked all the photos with Dave Bourassa's name as it was his camera and these photos are owned by him.
It was a cold and dark morning when we started off with headlamps at the Pitkin Lake trailhead. But we were soon greeted by the sun further up the Pitkin Creek drainage.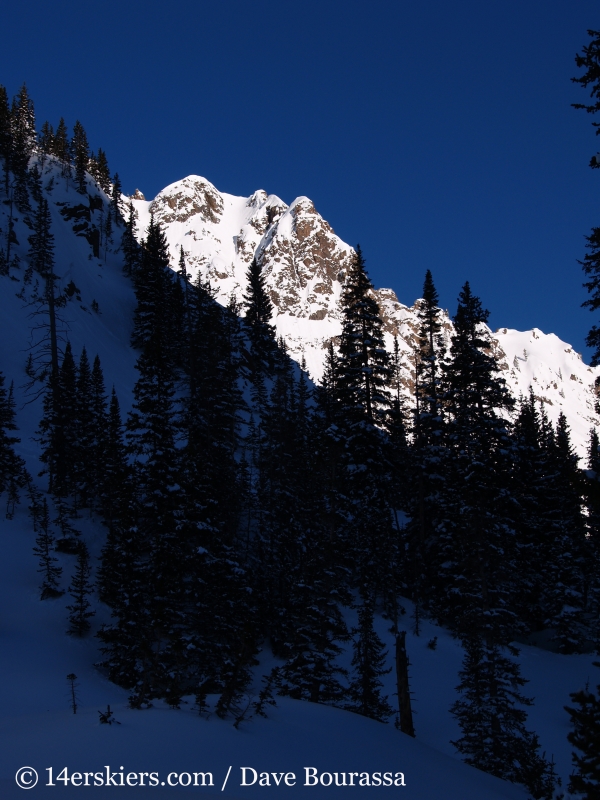 Pitkin Drainage never disappoints with scenery. I think this is Outpost Peak.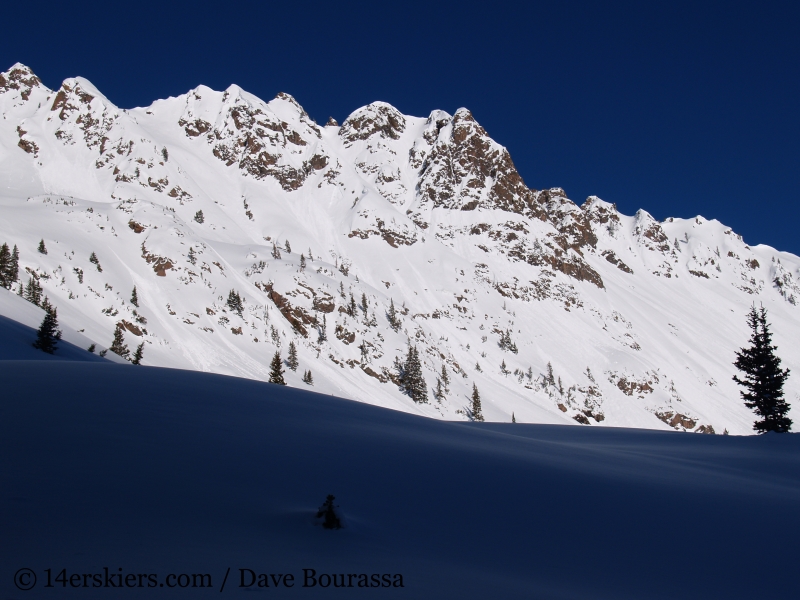 Skiers Point.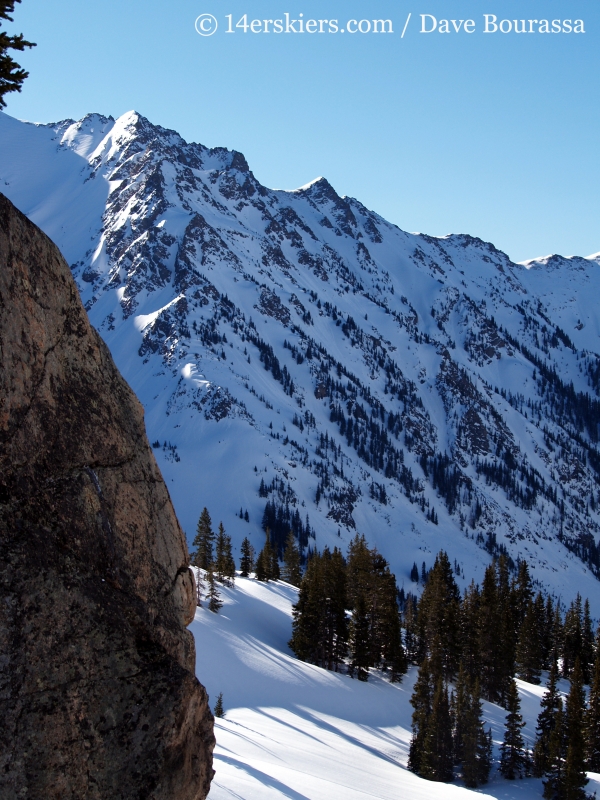 A look back at our skin track.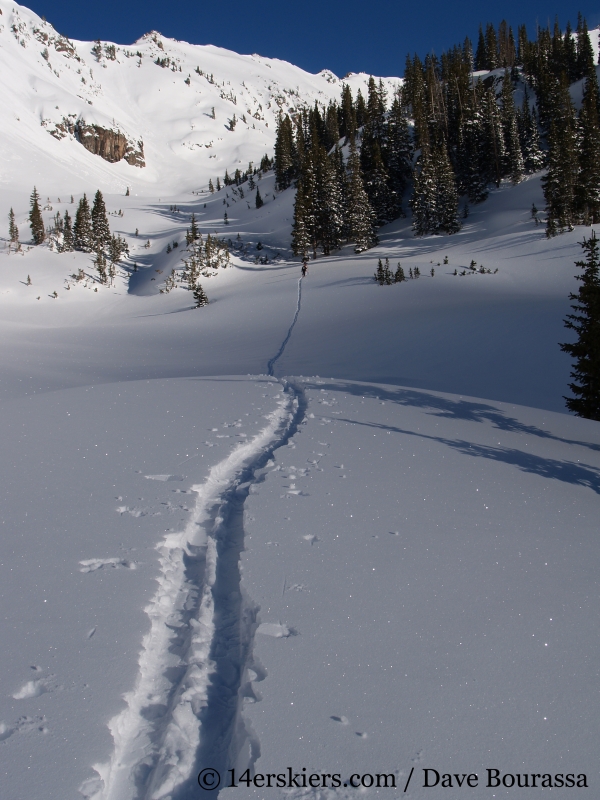 Mark and I stopped for a rest.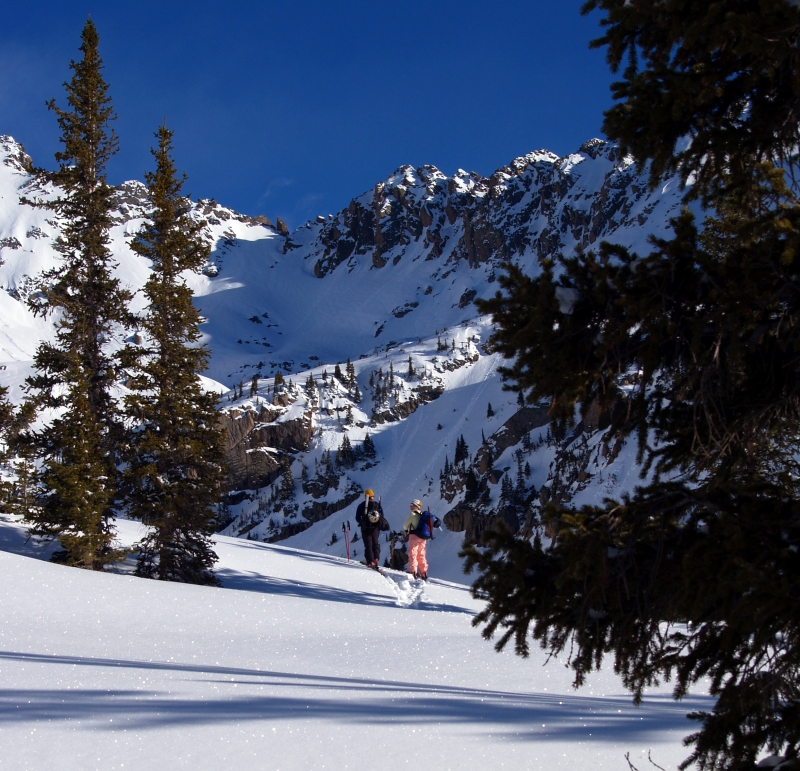 Not sure exactly what was going on in this conversation but I'm pretty sure it was something like, "And look over there, that line looks sick too!"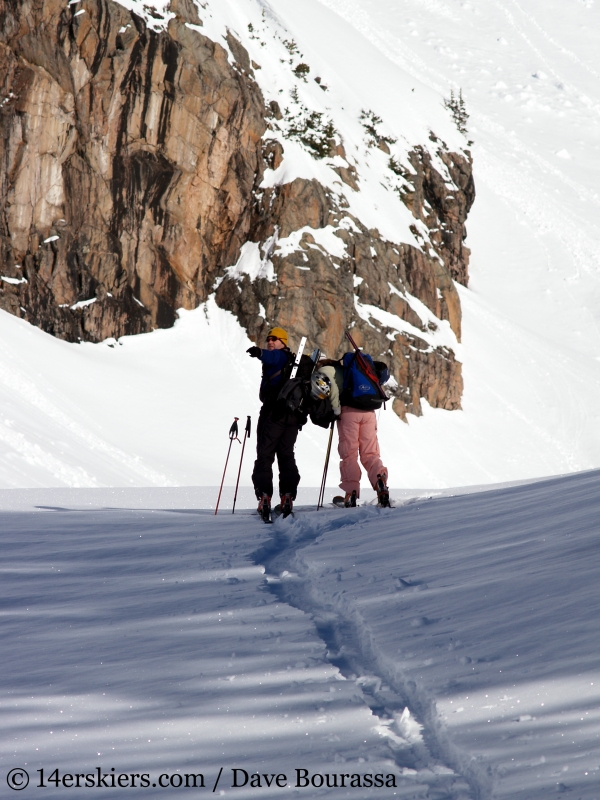 Another look at Outpost Peak.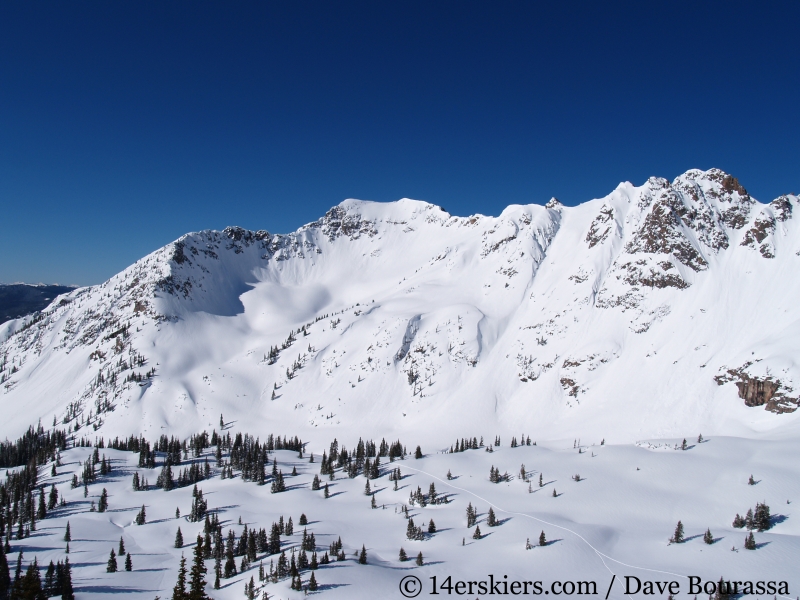 East Partner Peak stood at the end of the valley. It took us hours to approach, and now it was time to climb.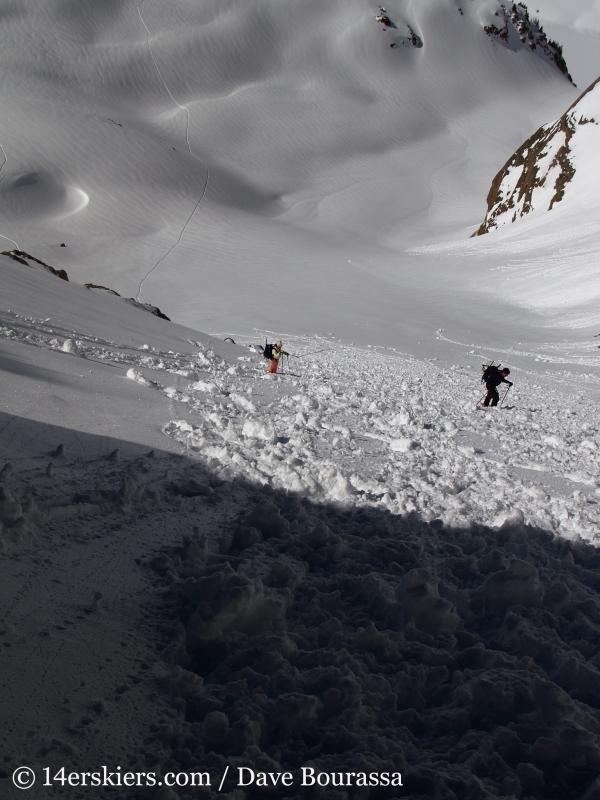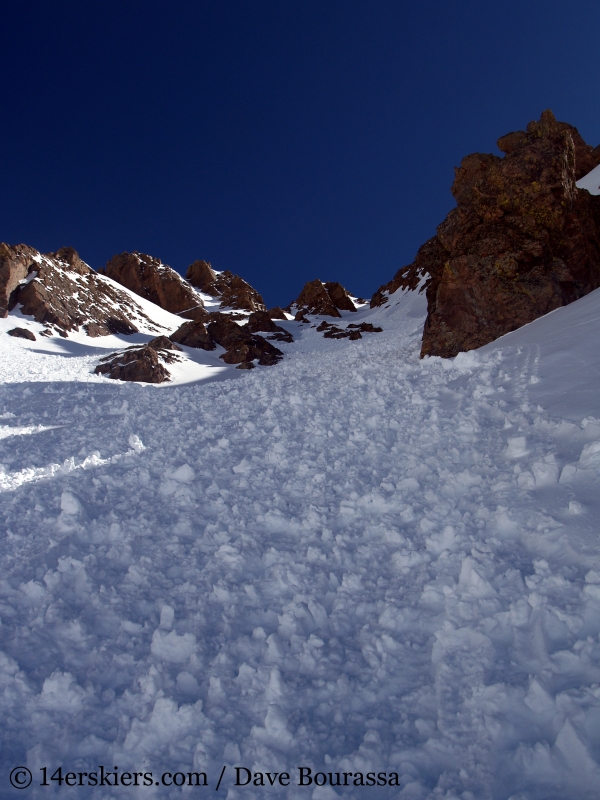 I tried skinning up the couloir and made it up pretty far before it was better to just boot.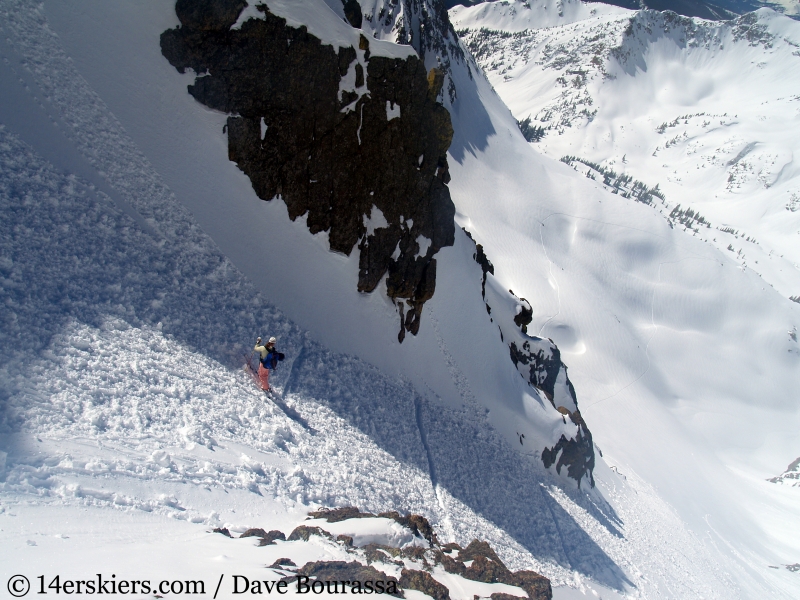 I remember the booting being very difficult because we were wallowing in what must have been new snow. Dave led the way and was able to prevail with his long legs. But Mark and I are…. let's say "height challenged". We are on the shorter side of the spectrum and our legs are even short for our bodies. So, we suffered. Dave actually carried a bit of rope that day (because we weren't sure what we would encounter) and set up a deadman's anchor and threw down the rope to help us get the last bit to the top.
The views from the summit were amazing, and really some of the first I'd gazed on much of the Gore.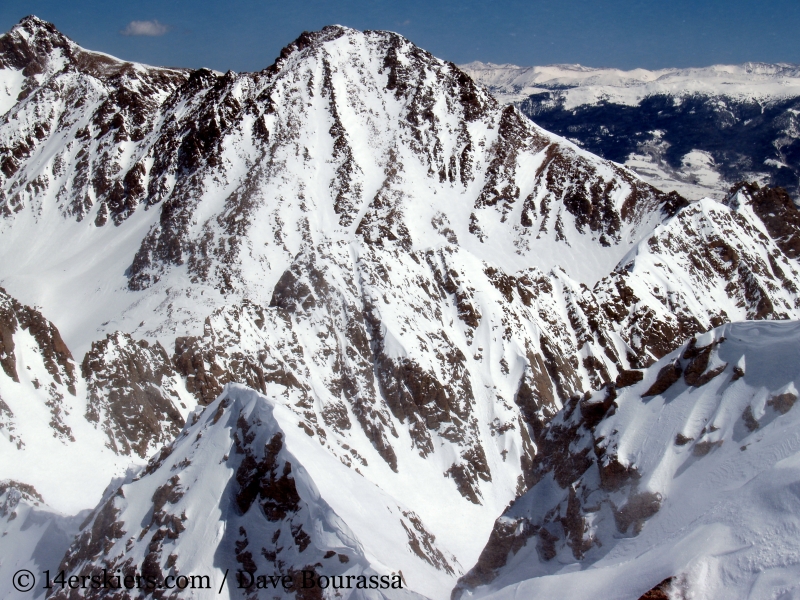 I'm going on memory from present and past with naming these peaks, so please correct me if I'm wrong. Peak X & Y.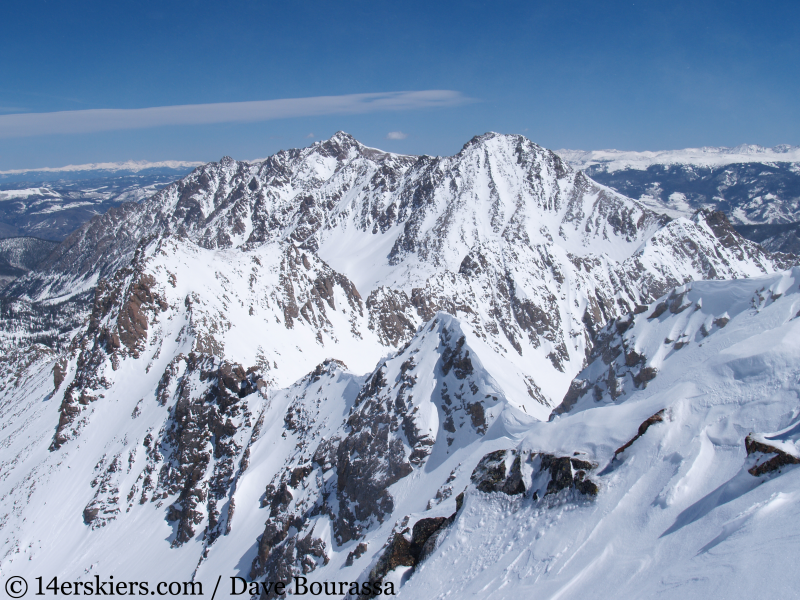 The Spider maybe?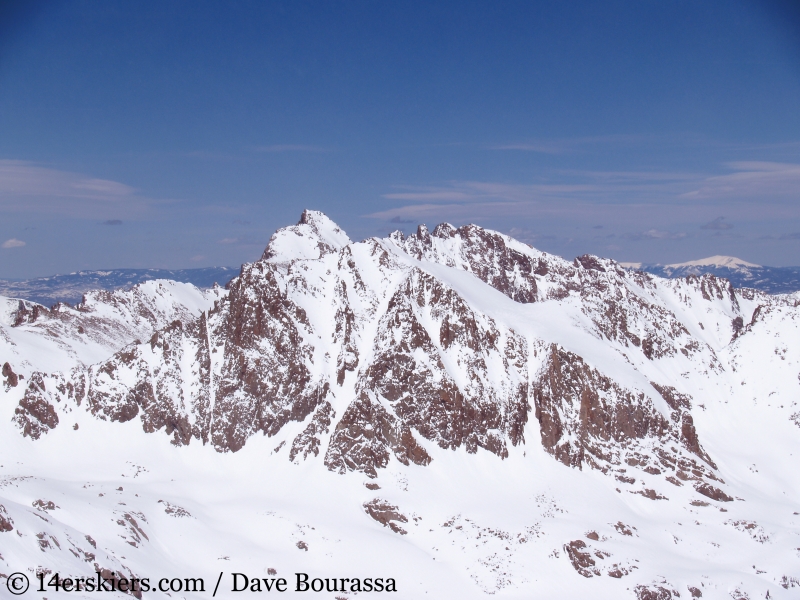 View of the upper Slate drainage (on the right).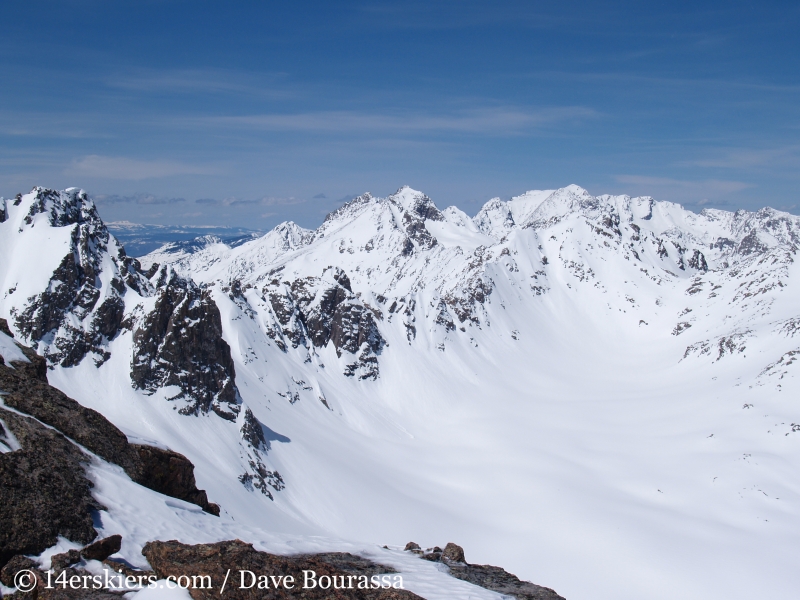 West Partner, or Peak U, which we just skied last week.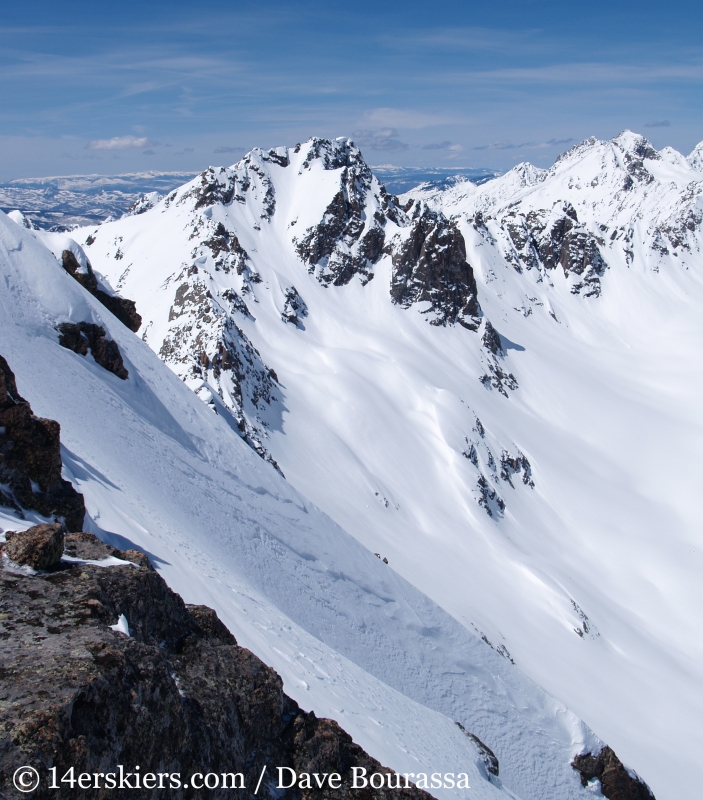 Not sure what this one is….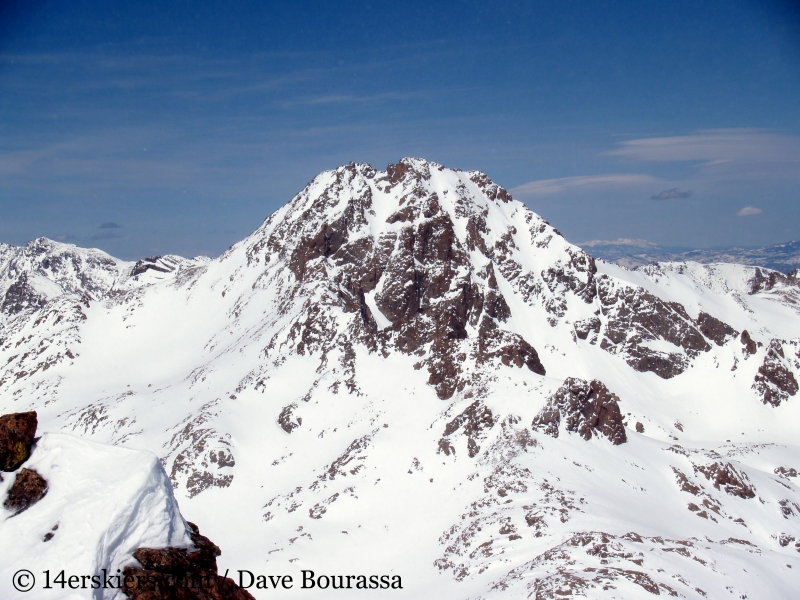 Back in the day, my backcountry set up was a Volkl Mantra with Fritschi Freerides. No wonder why I was slow 🙂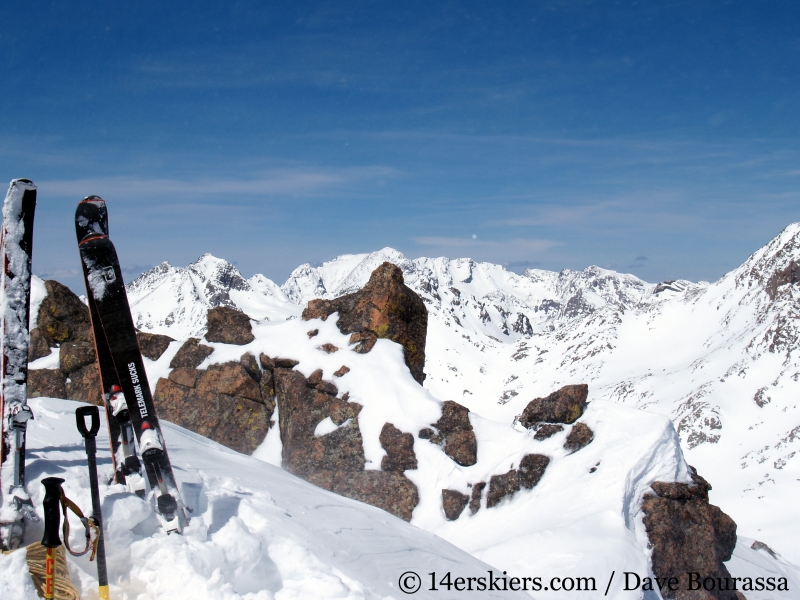 After some rest, it was time to ski. A luscious line was waiting for us!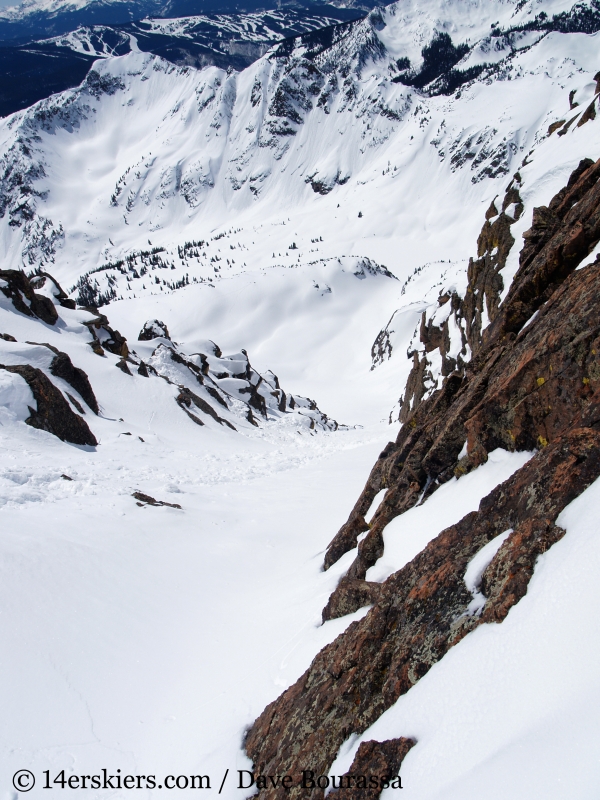 Dave dropped in first.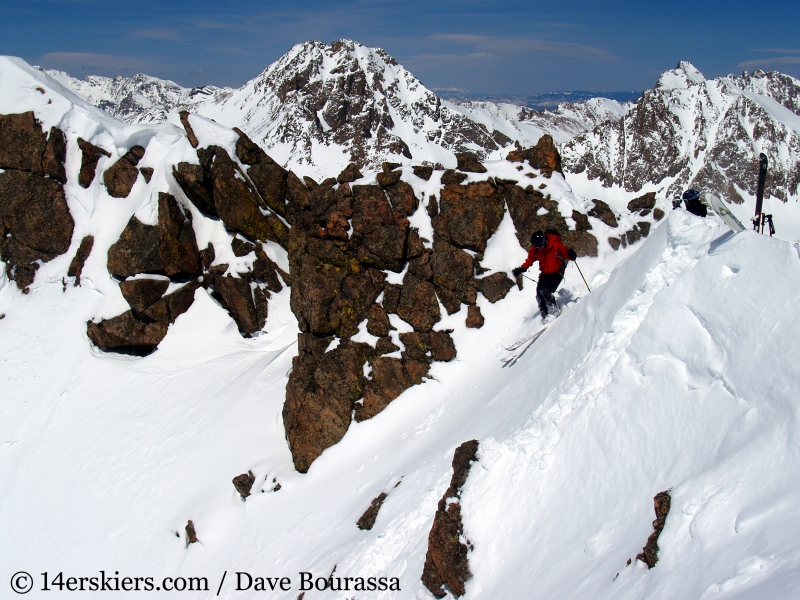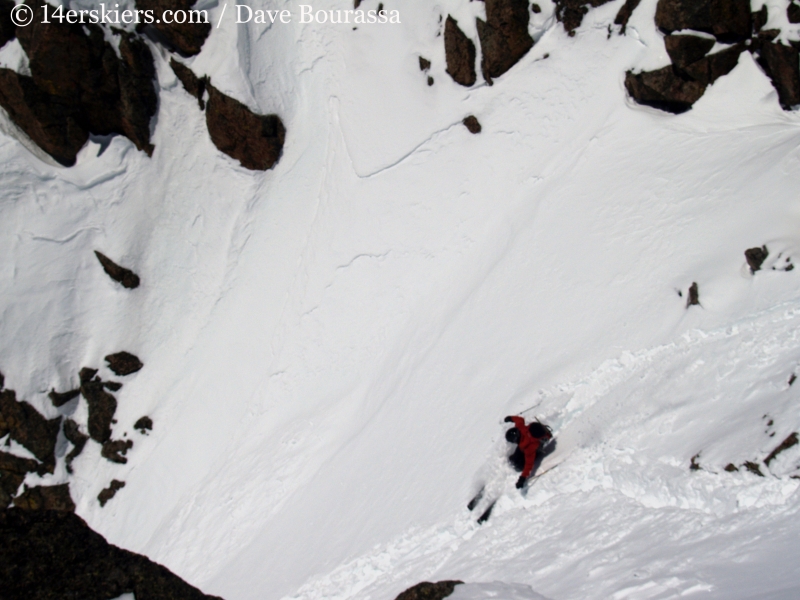 Then me.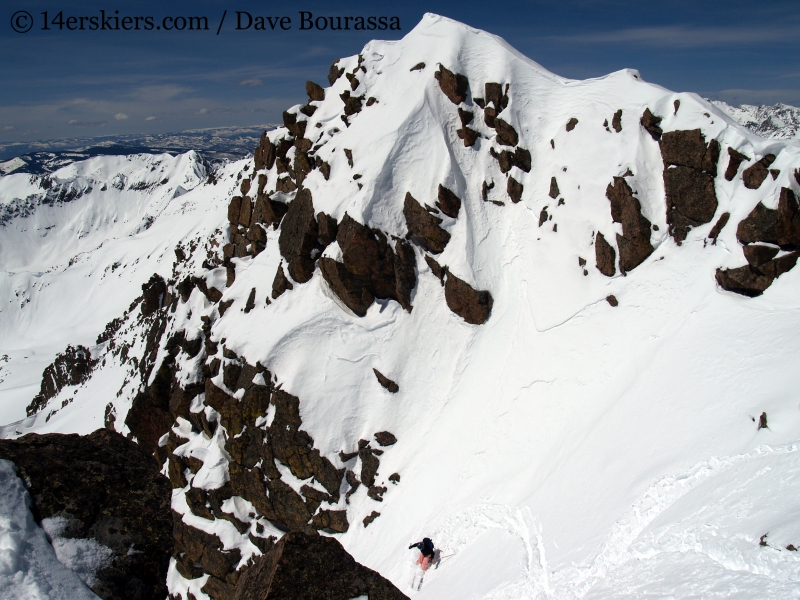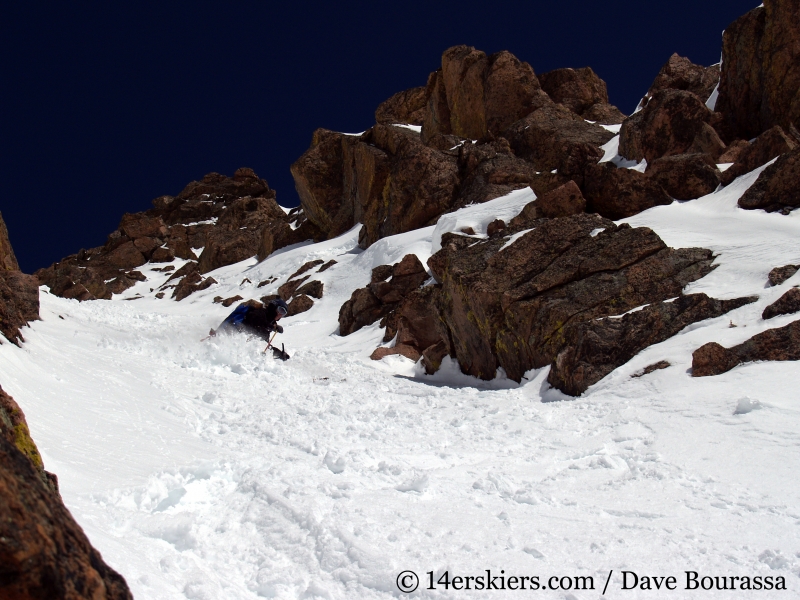 More of Dave.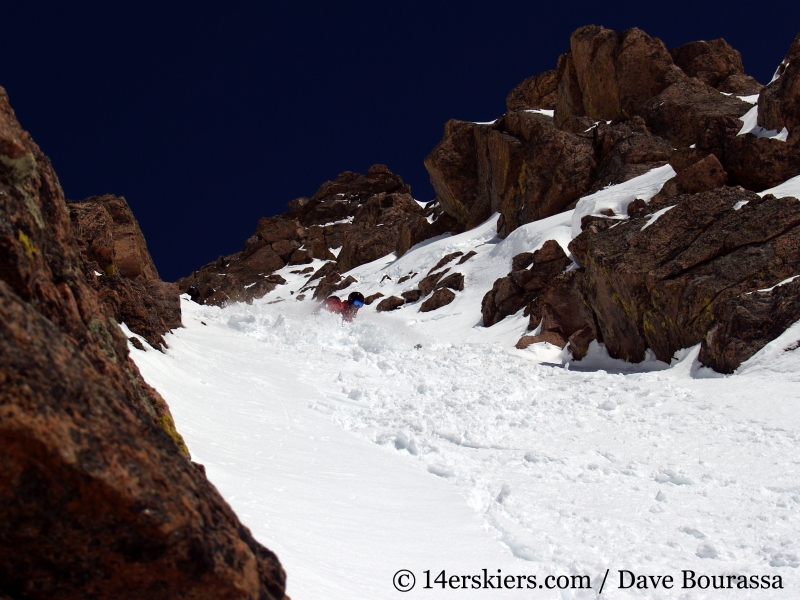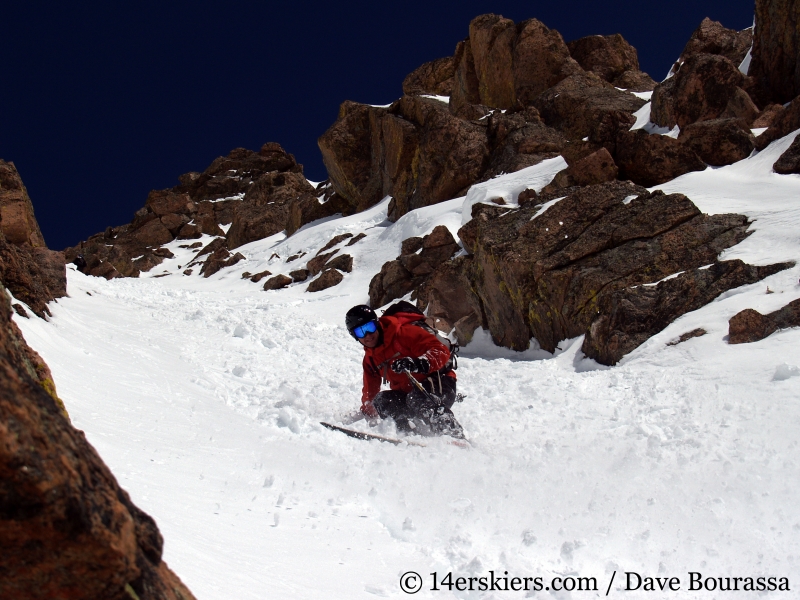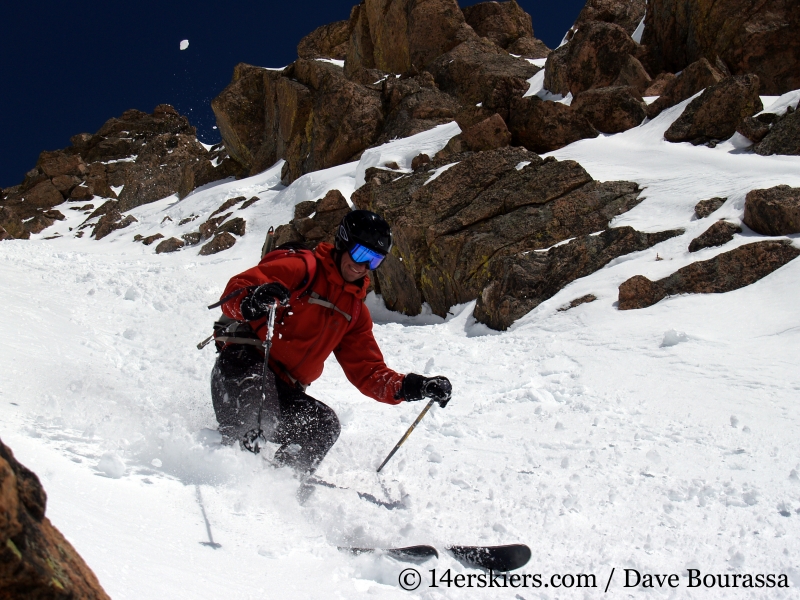 Dave lower down on the line.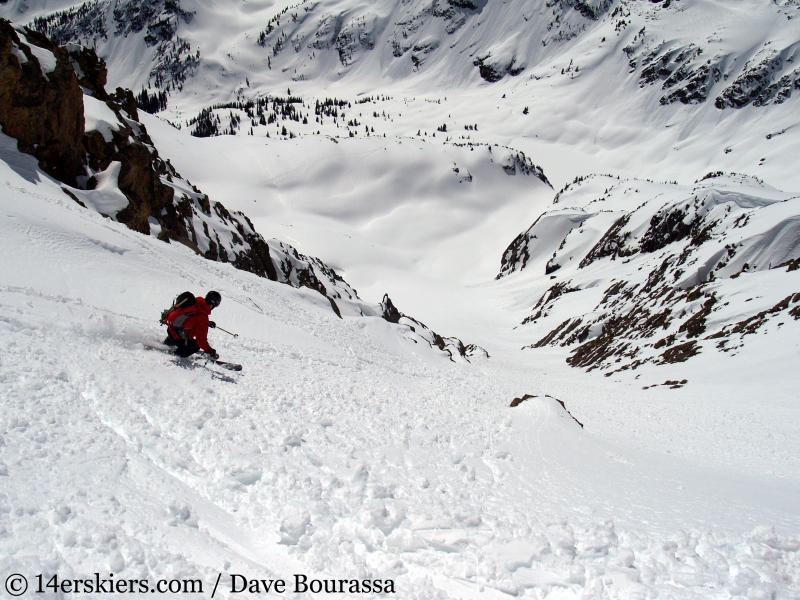 East Partner Peak held some great skiing for us that day….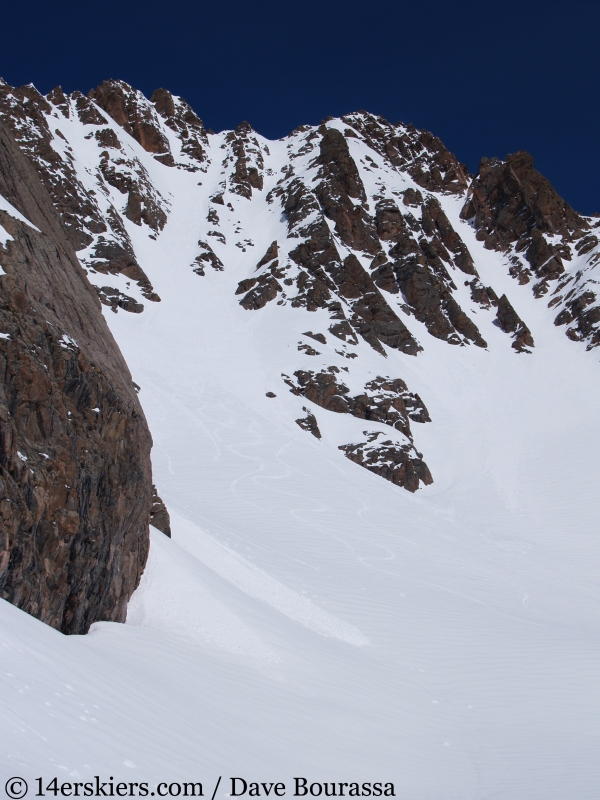 Other views of our line…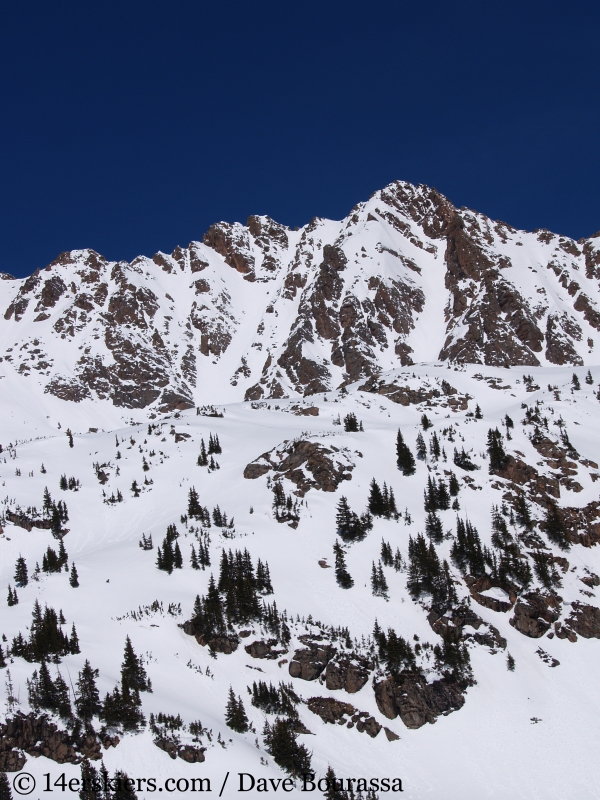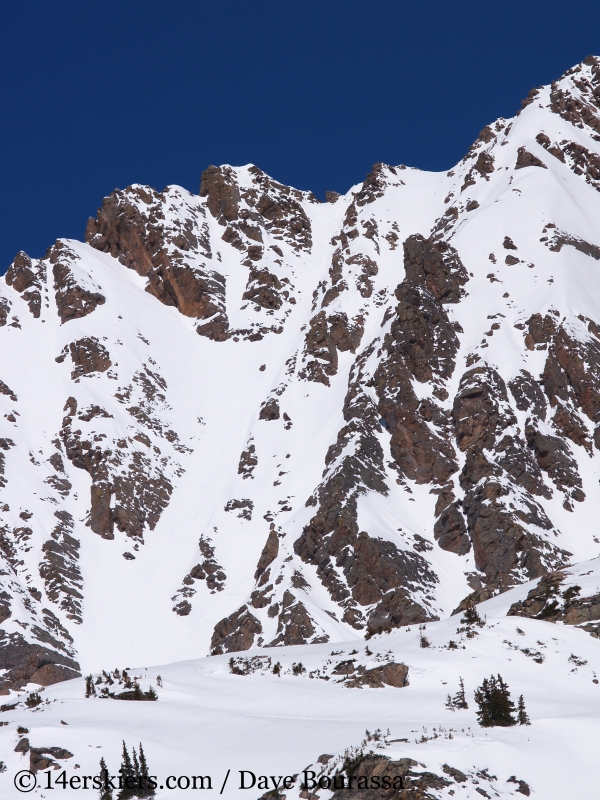 Another day out with these boys = Another day amazed. Thanks for taking me under your wing, Dave Bourassa and Mark Cavaliero!
Aside from skiing, biking, and all outdoorsy things,
Brittany Walker Konsella
also loves smiles and chocolate 🙂 Even though she excels at higher level math and chemistry, she still confuses left from right. Find out more about
Brittany
!
Latest posts by Brittany Walker Konsella (see all)
Summary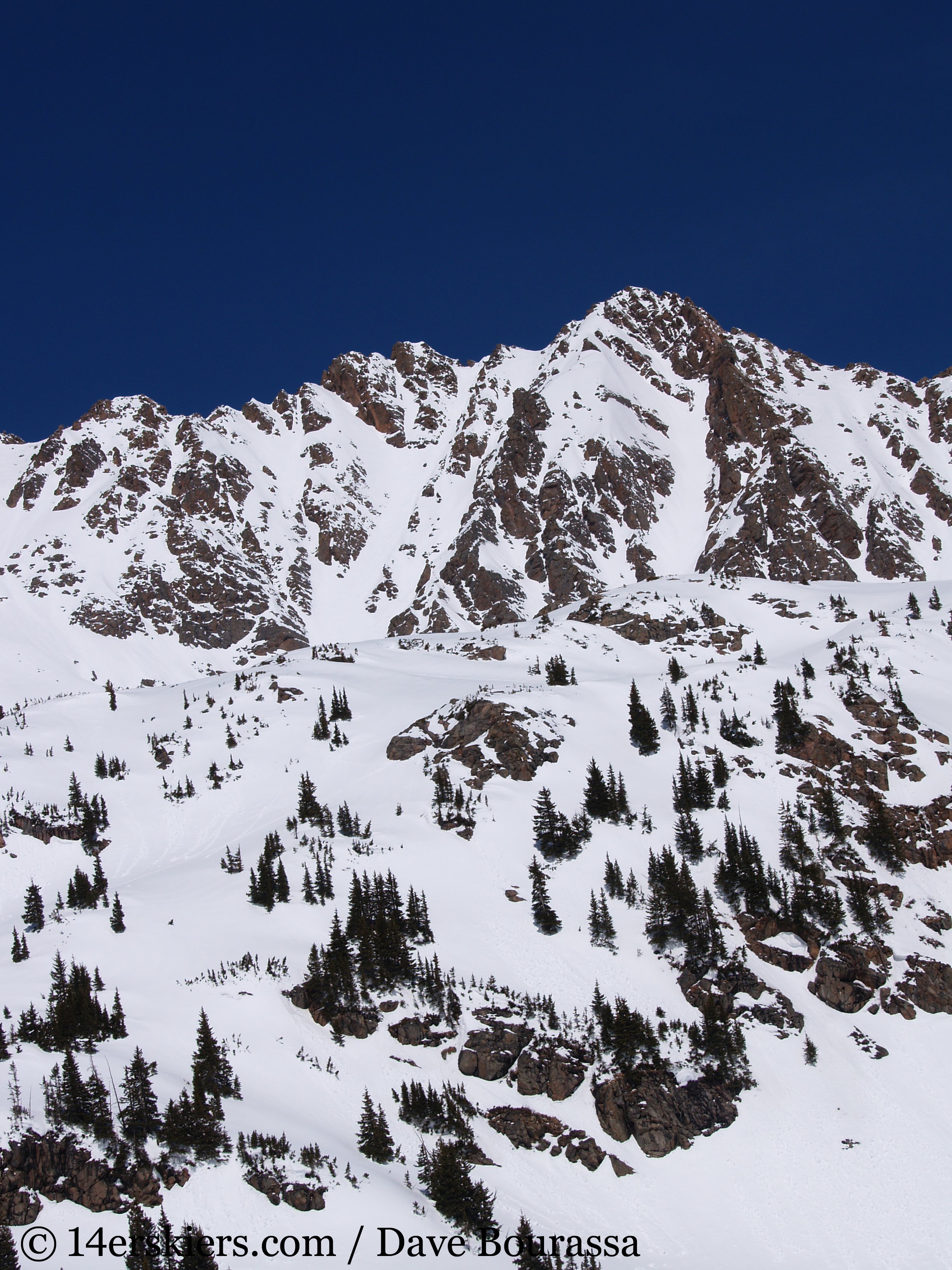 Article Name
TBT TR: East Partner Peak (Peak V) - 10 April 2006
Description
East Partner Peak (Peak V) is an iconic summit of the Gore Range. Though difficult to access, this peak boasts fantastic views and great backcountry skiing!
Author