Mount Edwards North Face Solo 6.9.13
(Last Updated On: June 11, 2013)
For the second weekend in a row, I found myself on the front range. Not wanting to waste a potential ski day on the way home, I looked into a few ski options and eventually chose Mount Edwards. Several recent reports showed the North Face holding good snow, and with all the time I've spent staring at this face on my way up Stevens Gulch on climbs of Grays and Torreys, this one became a no-brainer. As it played out, it was a good call- the stepp face was fun and interesting, and most importantly the snow was in stellar shape for June- perfect, smooth corn snow. The face: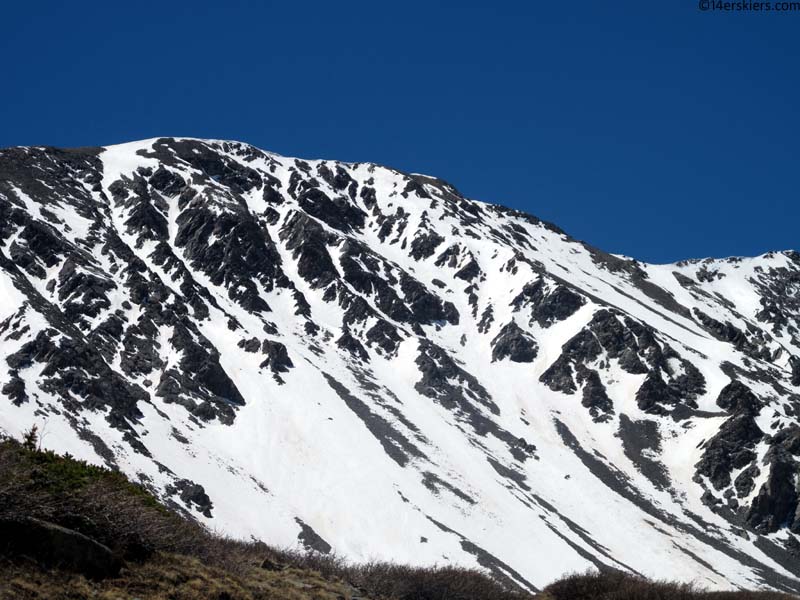 Best of all, the approach was short and I found myself booting up the face in no time.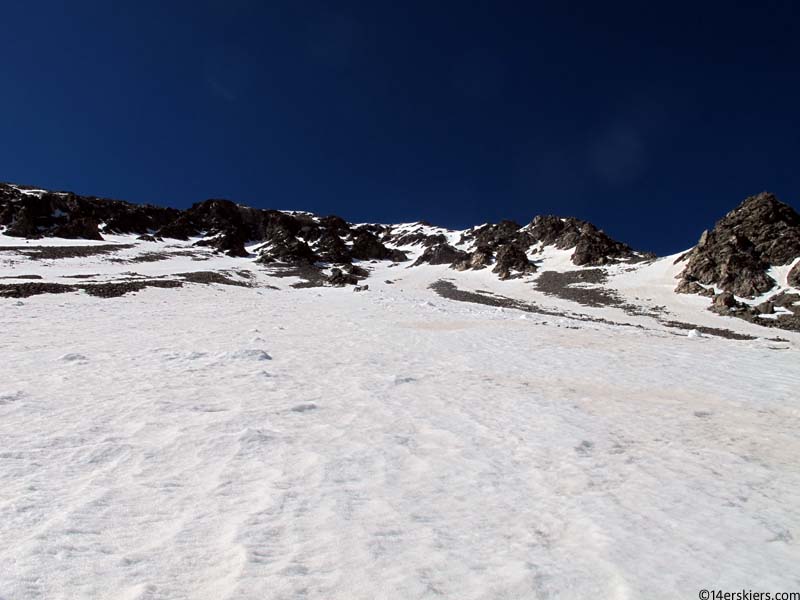 The summit was pretty interesting. Situated between Grays and Torreys, as well as Evans and Bierstadt to the East, it was pretty apparent just how close those two groups of fourteeners are. It would be pretty cool to ridge run all the way from Guanella Pass to Loveland pass, catching Square Top, Edwards, Grays, Torreys, and Grizzly.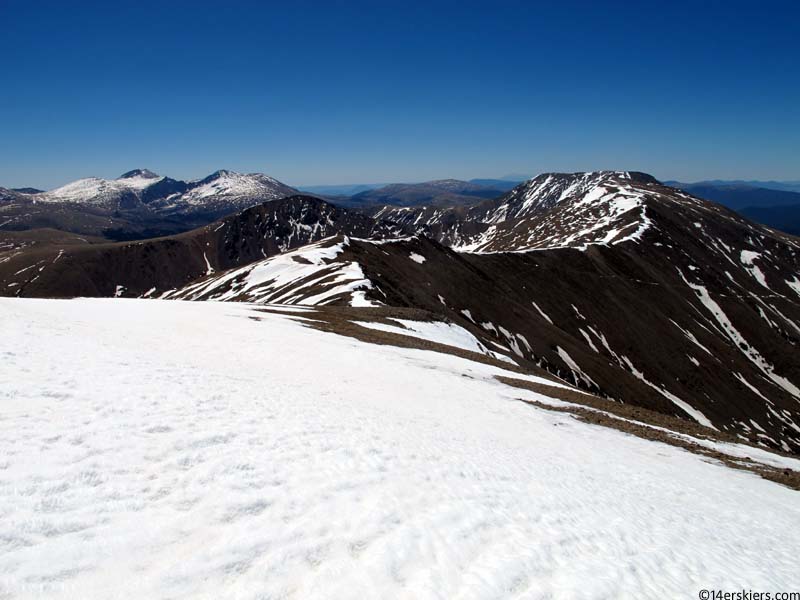 Speaking of Grays and Torreys, they were looking good: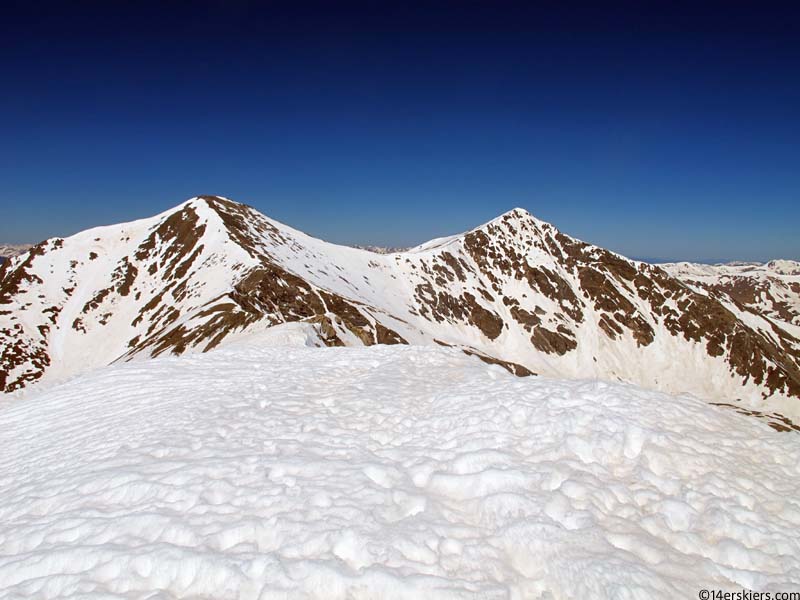 What I was about to ski was definitely looking good: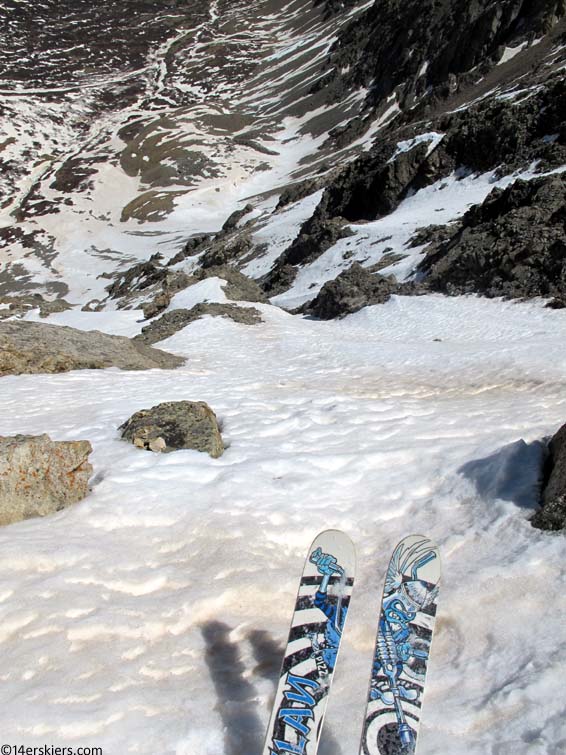 It was an interesting face, with lots of choices but also lots of routes that looked good but don't go. Tough to see my tracks, but they're there. -If only there was more dust, my tracks would be easier to see 🙂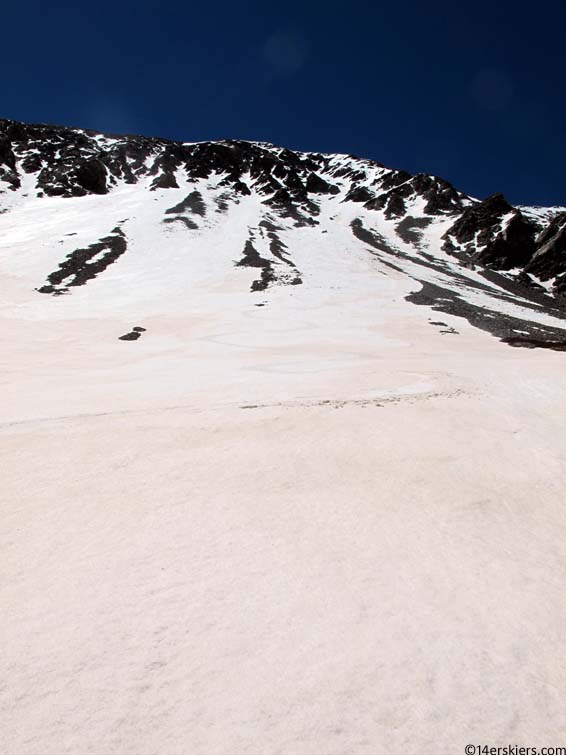 Edwards wasn't done giving gifts yet, though. The streambed was still holding ice and snow, so I was able to keep my skis on almost all the way to the summer traihead, all the while marveling at the amazing ice rivers that flowed most of the length of the stream I followed.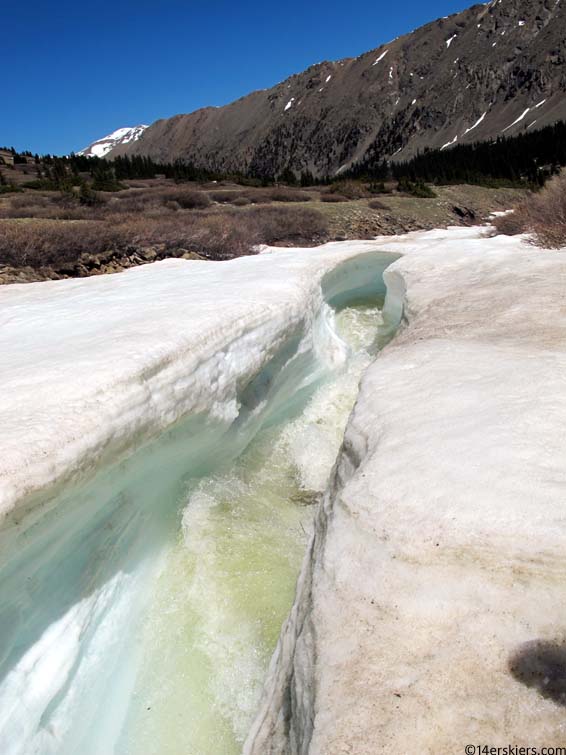 The snow in this area seems to be holding up very well- and as I drove home it looked like the snow in the 10 mile was also doing great. It's still worth skiing up in this area, that's for sure. And Edwards- one of my favorite lines of the year- one I'd gladly do again someday.
Frank
loves snow more than anything... except his wife.  He ensures his food is digested properly by chewing it 32 times before swallowing.He is a full-time real estate agent serving
Crested Butte and Gunnison
and would be honored to send you his
monthly newsletter.
Latest posts by Frank Konsella (see all)