Old School TR: The East Face of Pyramid 4.28.2000
(Last Updated On: May 17, 2013)
With the recent spate of 14erskiers finishing their goals to ski all the 14ers, I couldn't help but get somewhat nostalgic about some of my earlier adventures on the 14ers. One of the common refrains is that the gear of today is pretty amazing compared to what it was not all that long ago. While I hardly think that today's gear is perfect, it's pretty darn good all things considered.
The East face of Pyramid had been gnawing at my brain ever since reading about a possibly unskied and undeniably beautiful line. April of 2000 wasn't my first attempt, but it was my first successful one. Were we the first to ski it? Perhaps, but you never know, some Aspen local may very well have skied it back in the 70's. We approached, as is so often the case, on bicycles: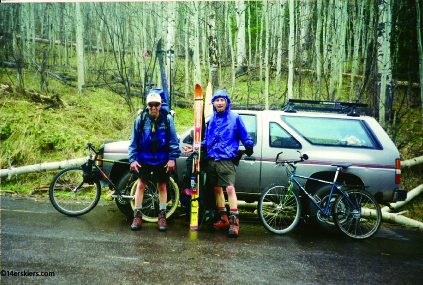 From the tralhead, we hiked, then camped. In the morning, we hiked some more, until we reached continuous snow. At that point, we switched to our ski boots. Nope, no AT boots- there just weren't any back then that I'd want to ski in- no Scarpa Denalis for me. Check out the giant headlamp which isn't anywhere near as bright as a cheap little one today. Skis? Olin Outer Limits, around 90 underfoot (same ski as the K2 AK Launcher). And first generation white Fritschis- those were scary since the bar was known to break. My Dana Designs bomb pack was actually pretty sweet, though.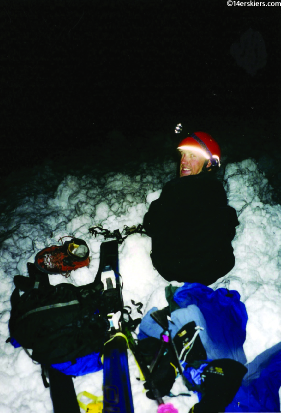 Then we climbed- in alpine boots.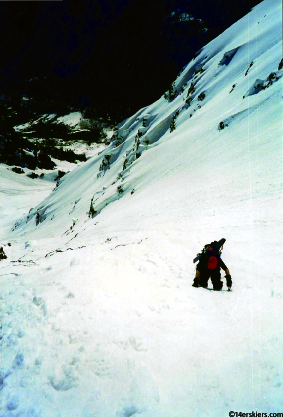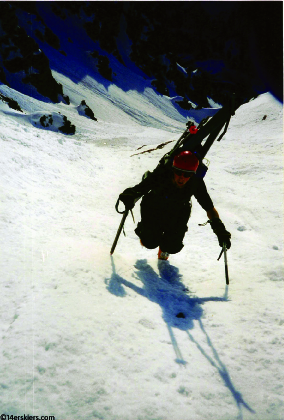 Our route doesn't go clean to the summit- instead it ends roughly 150′ short to the looker's left of the Landry line. Even though it isn't a summit descent, it's a great, classic line and comes highly recommended.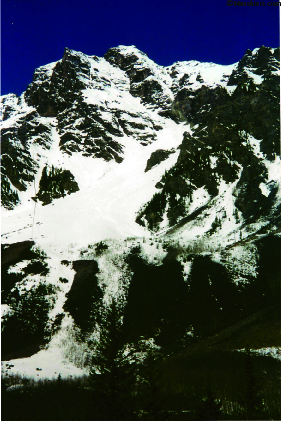 The great thing about the ski down was, well, we were in alpine boots. AT gear may have gotten better since then, but there isn't an AT boot out there that skis as well as a 15 year old alpine boot. And that's a fact.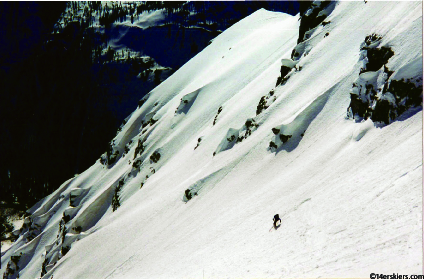 That's it from this old geezer. Thanks for reading!
Does this gear look overly familiar to you? It might be a good time to do some shopping:

Frank
loves snow more than anything... except his wife.  He ensures his food is digested properly by chewing it 32 times before swallowing.He is a full-time real estate agent serving
Crested Butte and Gunnison
and would be honored to send you his
monthly newsletter.
Latest posts by Frank Konsella (see all)