(Last Updated On: February 6, 2013)
Brittany and I just got back from the SnowSports Industries America show at the convention center in Denver and the on-snow demo day at Winter Park. We're reporting on the products we saw there, but obviously without actually getting a chance to use the products thoroughly, all we're really doing is giving some initial impressions of products. With some products, we have a good relationship at the company and we can glean some extra information out of the process, but sometimes we're just getting the same marketing spiel as everyone else. It's interesting to walk by a booth you've already visited and hear the exact same presentation as the one you just heard yourself two hours ago. When we're doing our job and asking the tough questions that cut through the marketing jargon, we're getting some good info. But oftentimes, it's easier said than done to "cut the crap" at these quick trade show meetings. Just something to keep in mind when you read trade show reports from us or anyone else…
On to Arva. Arva isn't well known here in North America, but when they say they're "big in Europe", they mean it. When Brittany and I were in the Spanish Pyrenees on our honeymoon, a local we were talking to at a refugio kept mentioned recently getting his Arva and how excited he was to ski the next season. It took me a while to realize what he meant by "his Arva"- he was using it as most of us would use the word beacon- Arva is that ubiquitous in Europe. Their products include not just beacons but packs, shovels, and probes as well.
When it comes to beacons, I prefer models that are relatively simple and intuitive. It's a fact of life that few beacon users that aren't professionals like guides or patrollers will practice as much as they should with their beacons. So I didn't spend a lot of time ogling Arva's Pro-W beacon, which is their model with all the bells and whistles. The new Neo beacon was much more my style: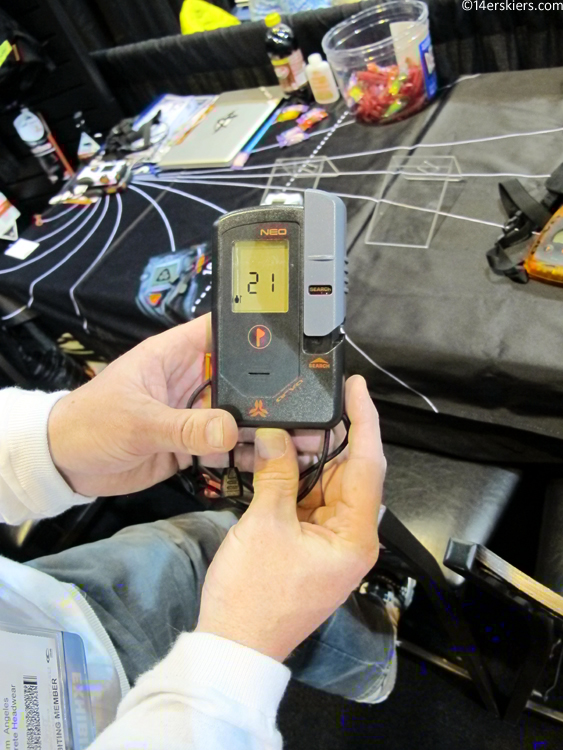 It's a nice sleek, simple beacon with a flagging feature. Arva claims a very high range of 60 meters, which sounds great but needs real world testing for me to say anything more. The third beacon in their line-up is the price-conscious Evo 3+.
On to the packs. They tended to be clean, simple clam-shape designs, including some ABS-equipped models. The "Freerider" series had an interesting bottom pocket with a removable sleeve for your avy gear, which I'll only mention because I found it interesting.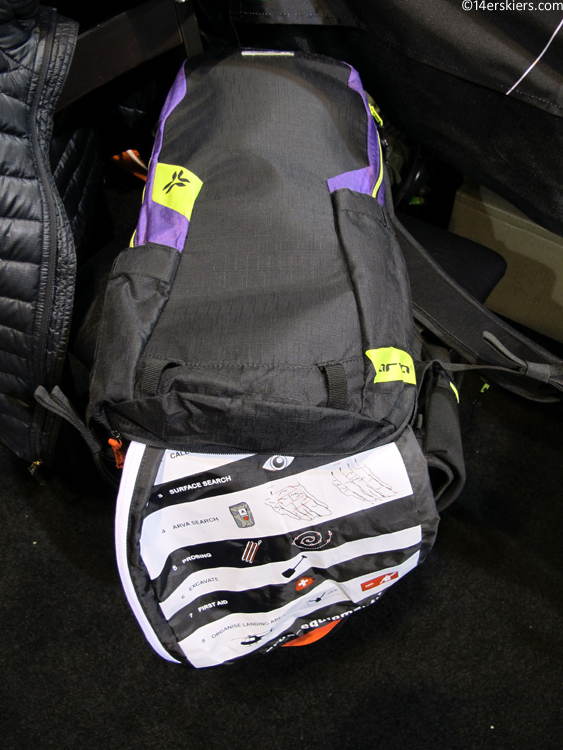 The protector series feature an integrated spine protector. Arva wasn't the only company offering this feature in their packs. I found it somewhat amusing to think back to my early days in big-mountain contests when many of us would ride with packs and nothing but a shovel blade in them as a rudimentary spine protector. It worked pretty well- so I'm not sure that a spine protector integrated into a pack is that necessary, but to each their own.
That's it for Arva right now, hopefully we'll be able to get our hands on some of their products for a more thorough review, because I did like what I saw in my short time at their booth.
Frank
loves snow more than anything... except his wife.  He ensures his food is digested properly by chewing it 32 times before swallowing.He is a full-time real estate agent serving
Crested Butte and Gunnison
and would be honored to send you his
monthly newsletter.
Latest posts by Frank Konsella (see all)