Paying the Piper: CO Trail Segment 19
(Last Updated On: July 24, 2012)
I set out to ride every part of the Colorado Trail mostly because almost every section I have ever been on has been such a joy to ride. Of course, I wasn't naive enough to think that every segment would be awesome, but I could still hope. And so far, I've been pleasantly surprised by segments that I really didn't expect much out of. My good luck ran out on Segment 19 in the Cochetopa Hills.
The Colorado Trail was first conceptualized in 1973. Obviously, the task of creating an entirely new trail was never part of the equation, and the CT (especially when it was first completed) was in many cases simply a bunch of existing trails and roads that were connected to create a "new" trail- the CT. This trail was completed in 1986.
The Cochetopa Hills are an odd collection of small hills and mountains (generally below treeline) where the Continental Divide reaches its lowest point in Colorado between the Sawatch and San Juan ranges. This area is littered with roads and ranchlands, so it isn't surprising that the CT in this area is in many cases not trail (as in singletrack), but road (generally doubletrack). Nevertheless, you never know until you go, so go we did. Segment 19 (out and back to the La Garita Wilderness boundary) (elevation profile is one way heading towards Durango)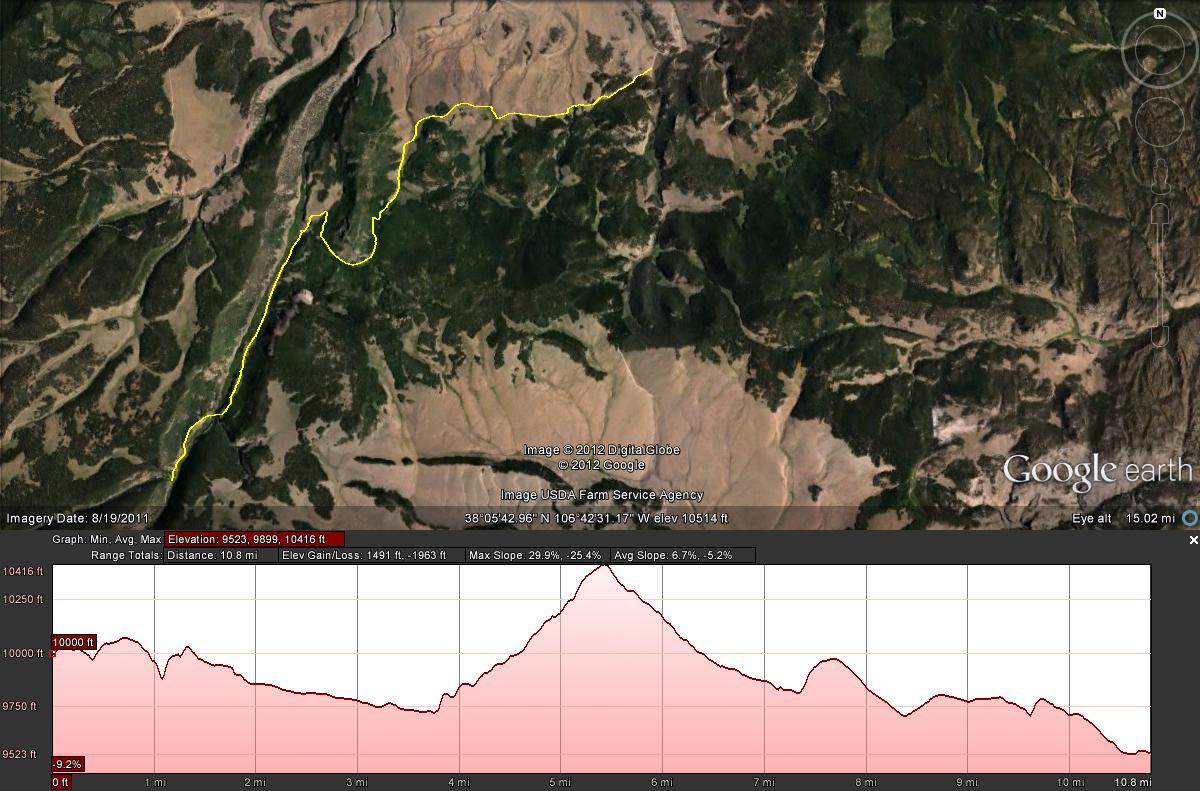 The book warns of the intersection of segments 18 and 19 being quite obscure, and sure enough we blew right by it until we hit the Continental Divide at Saguache Park. Unfortunately, the trail did not go through this beautiful area (14er San Luis in the distance):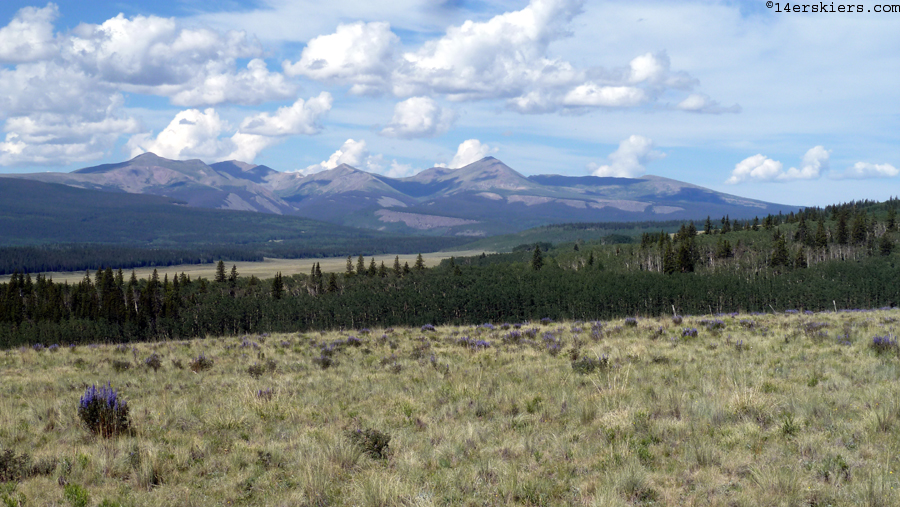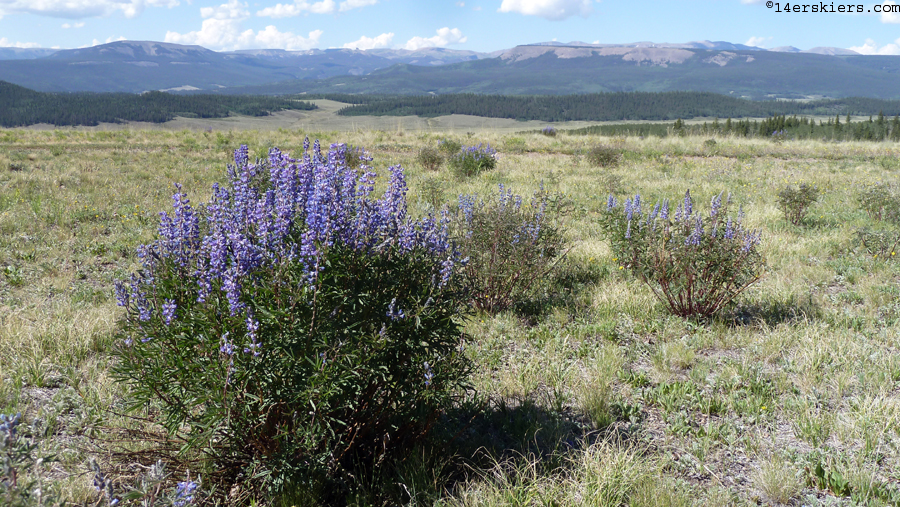 We backtracked and found the start of the trail. Brittany was hoping to hike while I rode this section, though in the end she didn't make it far because the trail was well, boring (not to mention road). She took this photo as I left.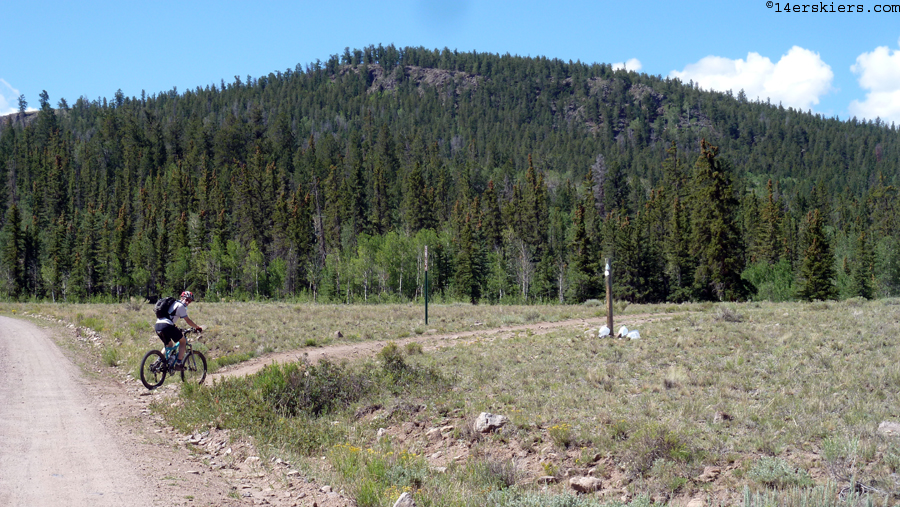 Thankfully, I had my music as I plodded along on roads like these: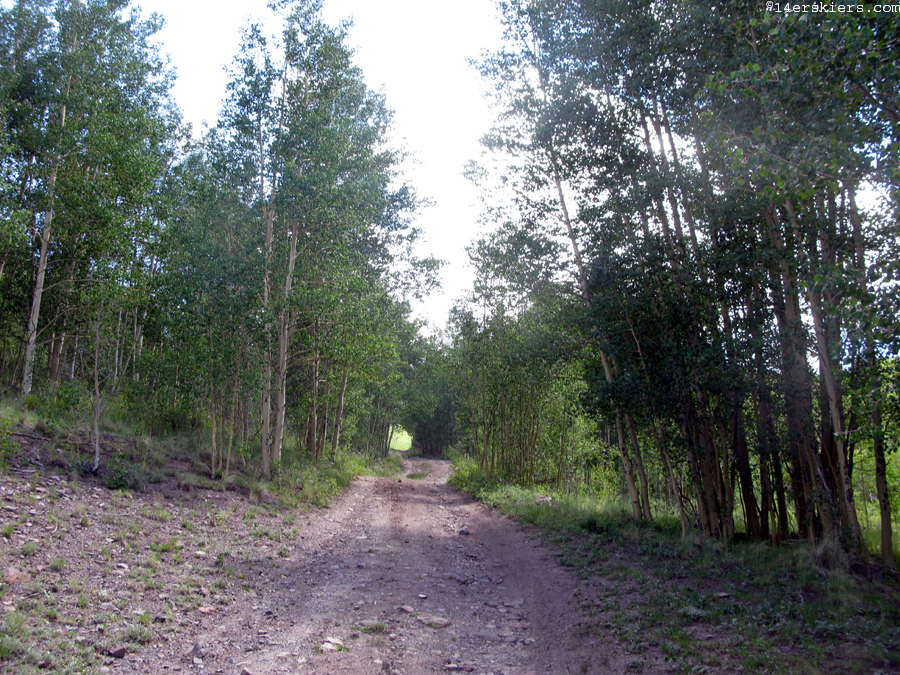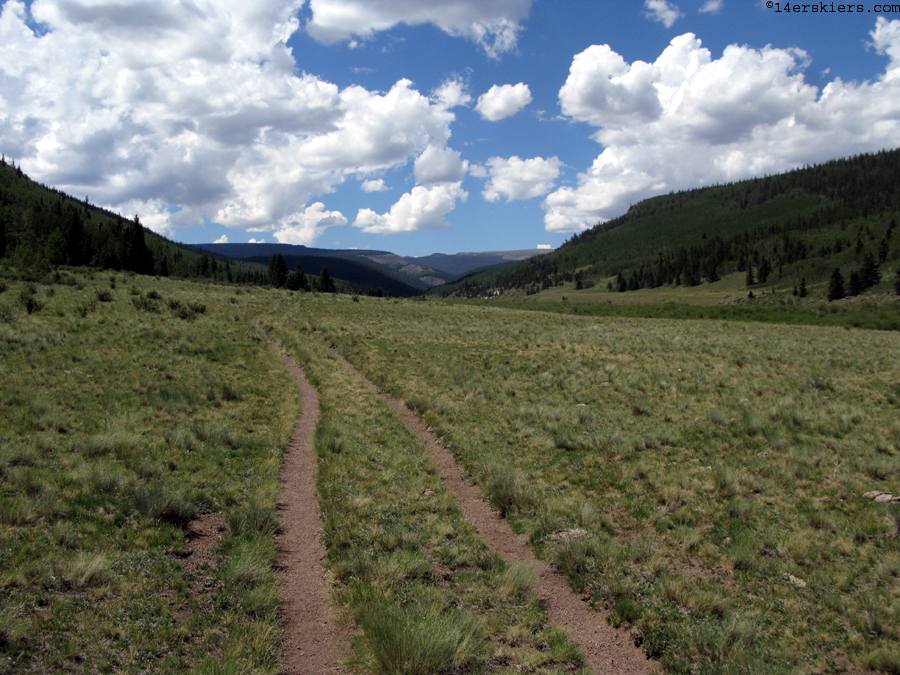 Finally, near mile 7 I reached singletrack.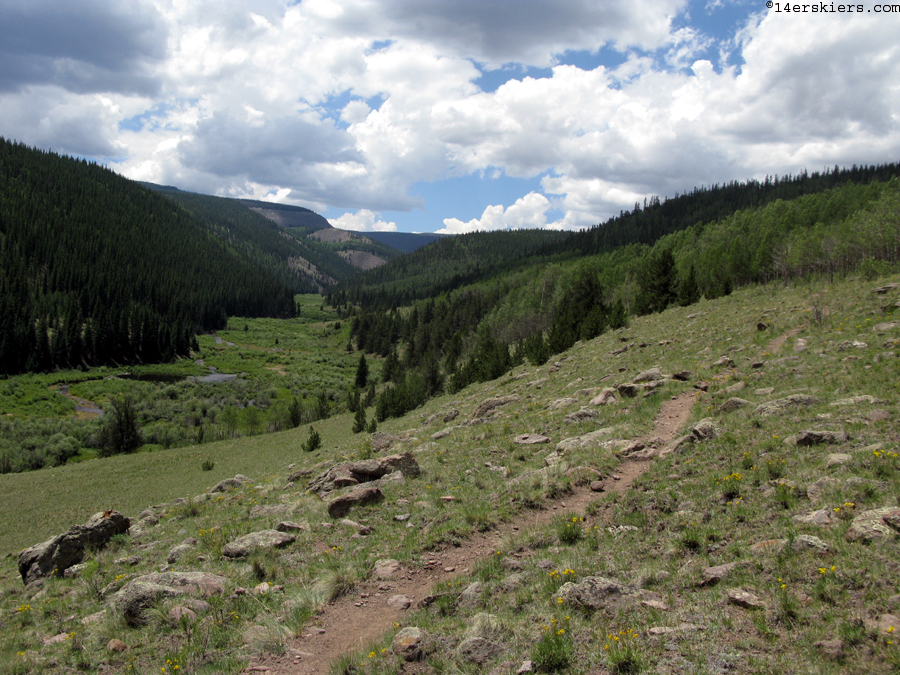 The trail follows Cochetopa Creek in this area, and judging by the handful of fly-fishermen in this area, the fishing is as good as it looks: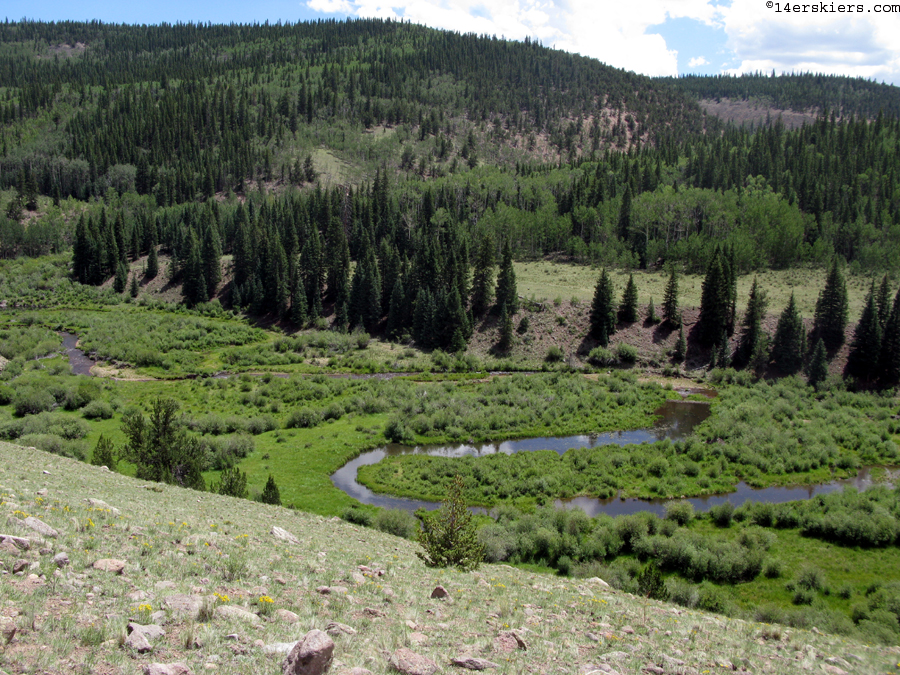 Finally, at roughly mile 11, I reached my turnaround point. (Note: Thru-bikers will skip this entire section via a long detour around the La Garita Wilderness)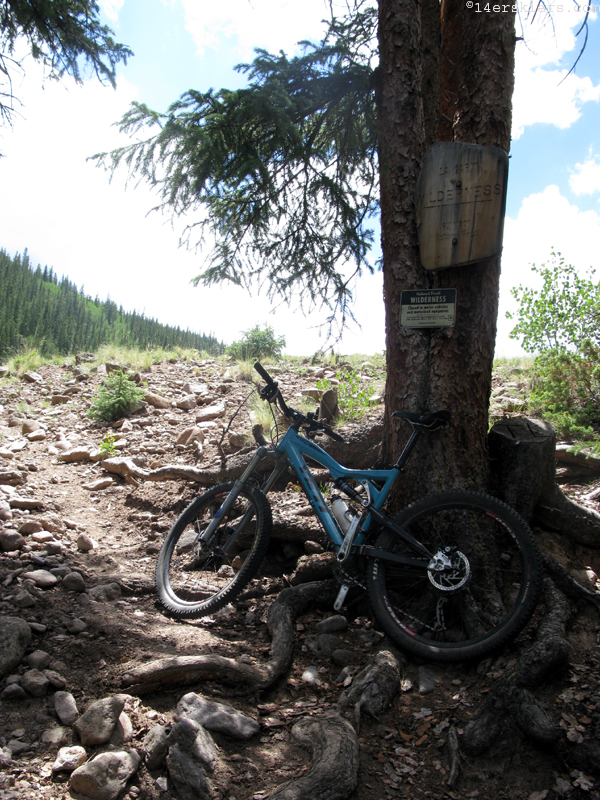 Boring as I found most of segment 19 to be, it wasn't without its charms. The Cochetopa hills are interesting in their own right, and they do possess their own austere beauty. Being the height of the summer trekking season, there were also plenty of thru hikers to chat with. I spent a solid 10 minutes co-complaining about the boring nature of the segment with a nice couple, who I was happy to inform were quickly going to enter the fun stuff in the San Juans. Then there was "angry solo survivor-type guy" with his camo pants. I saw him from a long way away on a "3-track" segment of the trail in a meadow (3-track meaning vehicle tracks plus a center track that most hikers were using). I was on a slight downhill and cruising along, so Ipicked a side and stayed there. Solo tough guy decided he was going to stay in the middle lane no matter what. No big deal, except for his walking stick attached perpendicular to the trail, at about head height. I played a game of limbo and laughed at this grumpy character while doing so.
Then there was llama guy: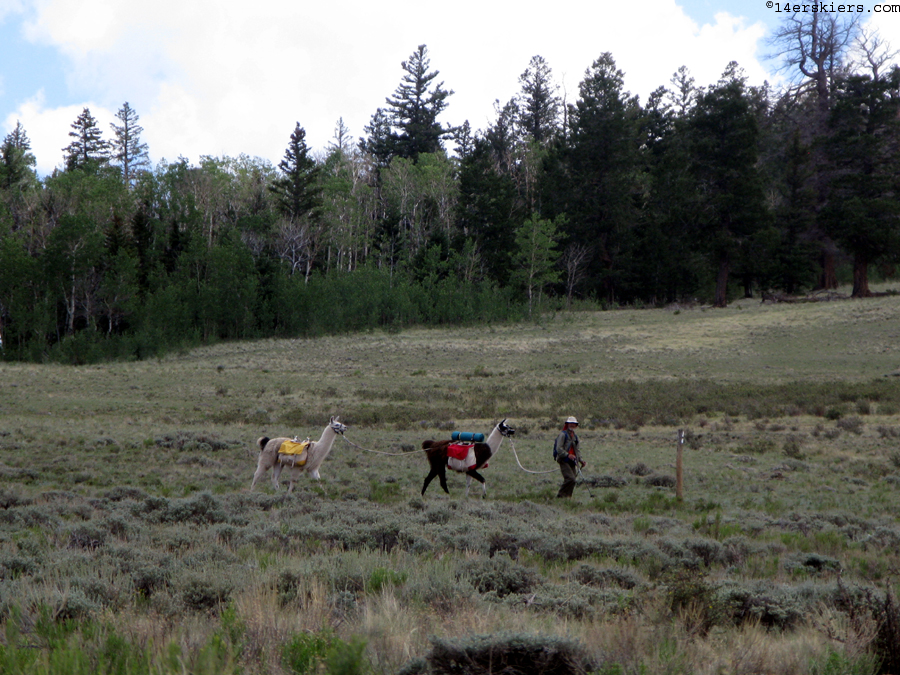 That's how you do the CT in comfort and style. This gentleman was clearly retired, and I'll have to remember his style if I ever decide to hike the trail when I'm his age.
So there you have it- segment 19. Not the most fun from a biking standpoint- but as is often the case with projects like this I still found enjoyment in the process thanks to the interesting people on the trail and this remote, seldom-visited corer of the state. I won't ride this section again, but I'm still glad I did it once. I reached Brittany at the trailhead 22 miles and 2 hours 25 minutes after heading out. I refilled my water and food and headed out for segment 18- TR coming soon.
Here's my progress so far- I've ridden the yellow sections and the pink sections are Wilderness.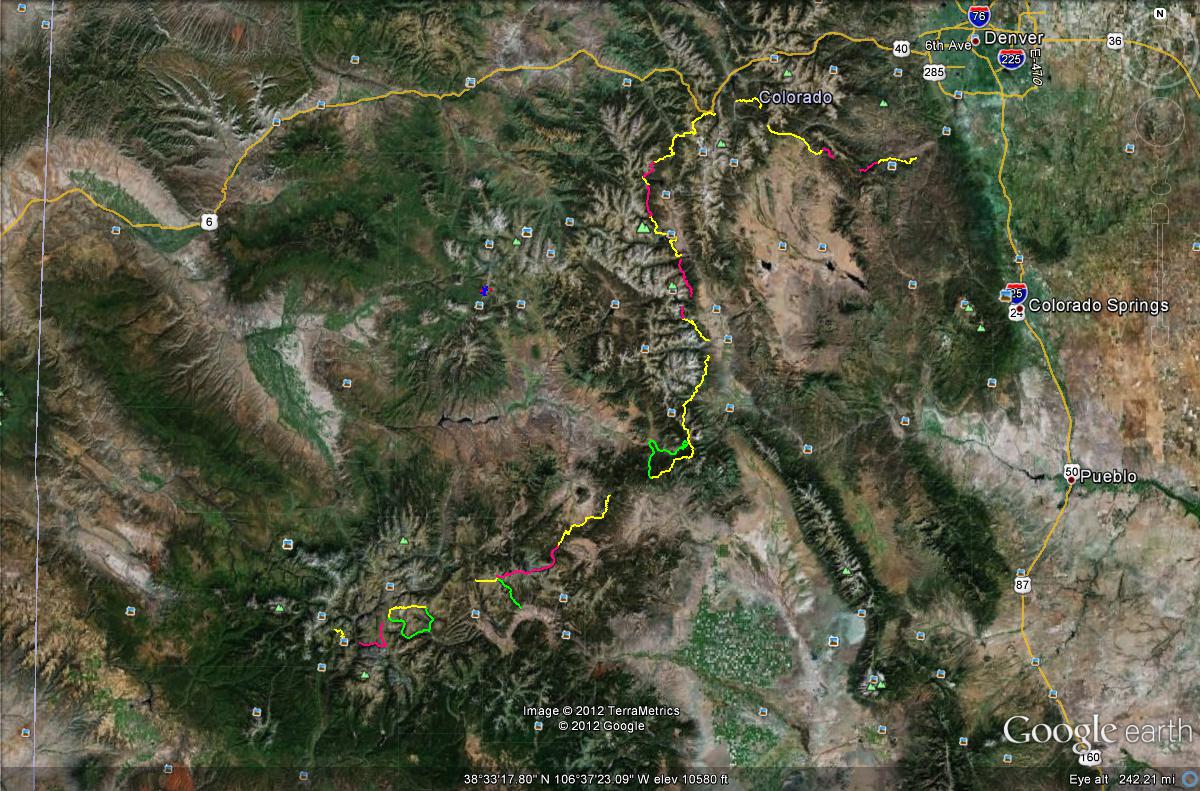 This was my first ride with these shorts. Initial impressions are good 🙂 :

Frank
loves snow more than anything... except his wife.  He ensures his food is digested properly by chewing it 32 times before swallowing.He is a full-time real estate agent serving
Crested Butte and Gunnison
and would be honored to send you his
monthly newsletter.
Latest posts by Frank Konsella (see all)