(Last Updated On: July 24, 2012)
In casual "passer-by" conversation, people have been asking me, "What have you been up to this summer?" Most people know I spent the first few weeks of my summer bagging volcanoes in the western states. But, no one knows what I've been doing since. Why have I not been in any of Frank's biking trip reports?
The short answer – I haven't been biking, I've been hiking instead.
The long answer – I haven't been biking because it seems to be aggravating my back. I have had lower back pain since I was 12 years old. It has flared up from time to time but it always has calmed down within a week or two – or sometimes a month or two. The pain has never gone away since childhood. But, it usually stays at a low level so that I don't really even notice it. But this latest flare up has been causing me some intense pain since December. I tried to do my standard treatments- stretching, chiropractic, icing, etc. But, for the first time, these treatments were making little difference. It mostly impacted my sleep. I'd have at least one night a week where I couldn't sleep at all, or I would wake up at 2 am with the rest of the night being sleepless. I'd toss and turn in pain and sometimes just give up and grade papers or read a book in the middle of the night. We knew the cause wasn't our bed. We have an excellent bed for people with bad backs. I also couldn't sit comfortably in many chairs. Standing still for long periods of time also brought more pain. But, the pain didn't impact my activity level very much (except for the lethargy due to lack of sleep). In fact, skiing usually made my back feel better. That's how I got through the winter and spring.
But, summer arrived early. I tried to hop on the bike, but more often than not, I would get off my bike and feel severe twinges of pain in my lower back within an hour or two. It was clear that biking was aggravating my back. So, I've been taking some time off the bike to let my back heal.
Sometime in May I decided I'd had enough of this pain and lack of sleep. So, I sucked up my pride and my finances and decided to get an MRI. The report came back chock full of this lingo: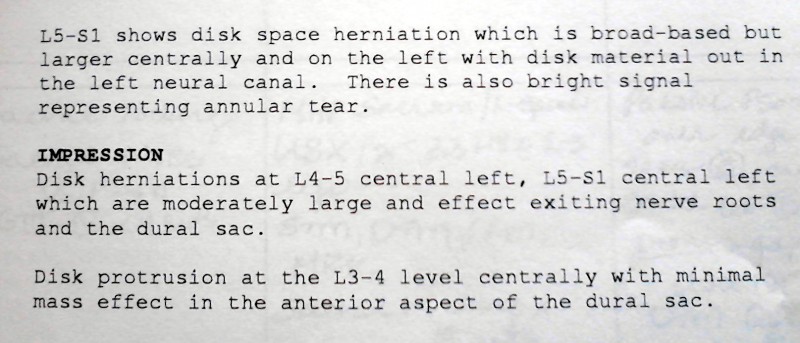 A couple of images from my MRI: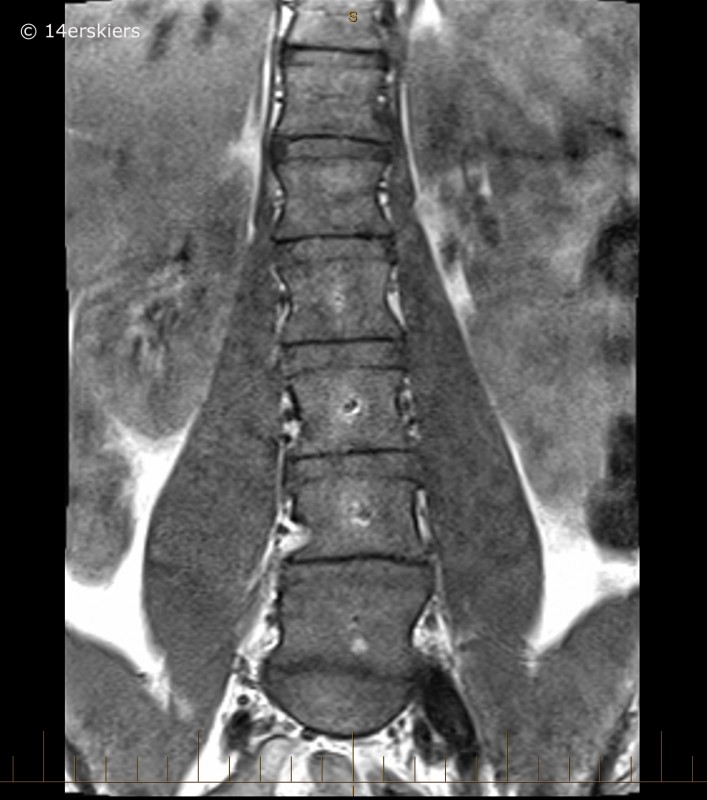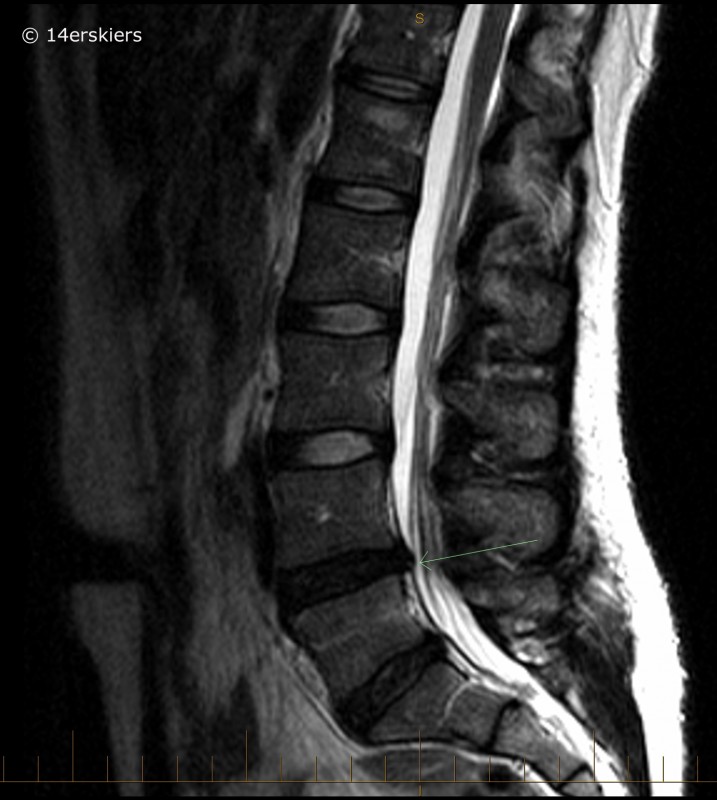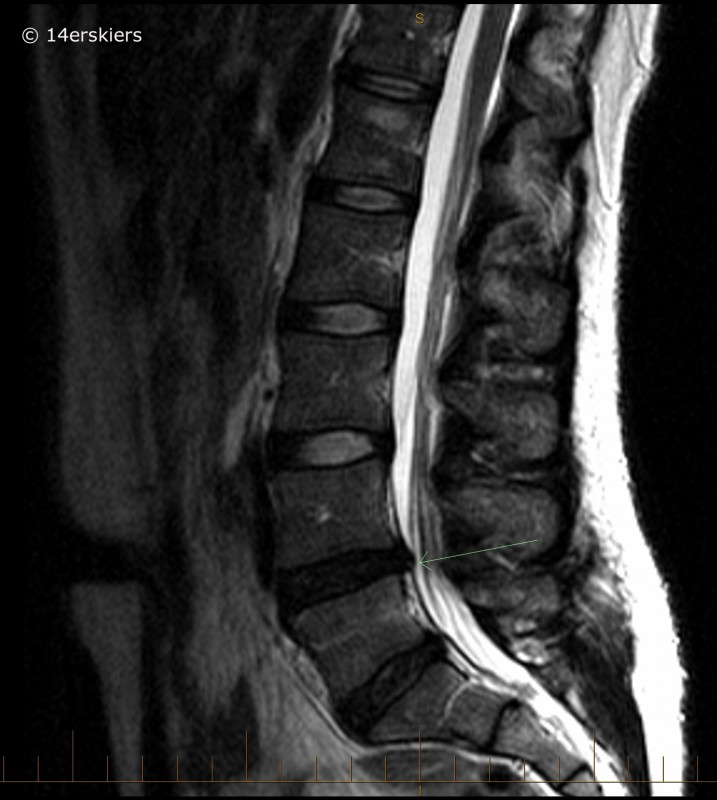 Disc herniations can be painful. But, the pain can be minimized with treatments. I am not close to needing any kind of back surgery. However, I do want this constant pain to go away. So, I have been going to physical therapy, getting regular massages, implementing a new yoga routine full of stretches and poses that will help strengthen my back and lengthen my spin.
Although my back has been preventing me from biking, I still have kept active by going through regular hikes. Like skiing, hiking seems to make my back feel better. At first, I was a little bummed, I'll admit. I wanted to be riding. And I was especially frustrated because not riding meant I was spending less time with Frank. But, lately I've been embracing the hiking as an opportunity. I've been exploring new trails that I've never been on with my bike. Strangely, I've also been enjoying the constant solo escapes as a time for reflection – which is unusual for me because I often like to be social in my outdoor escapades. I've slowed down, and I've been enjoying more scenery and more flowers. It's been a different kind of summer for me. But, not a bad summer by any means.
Here's a few pictures from some recent hikes.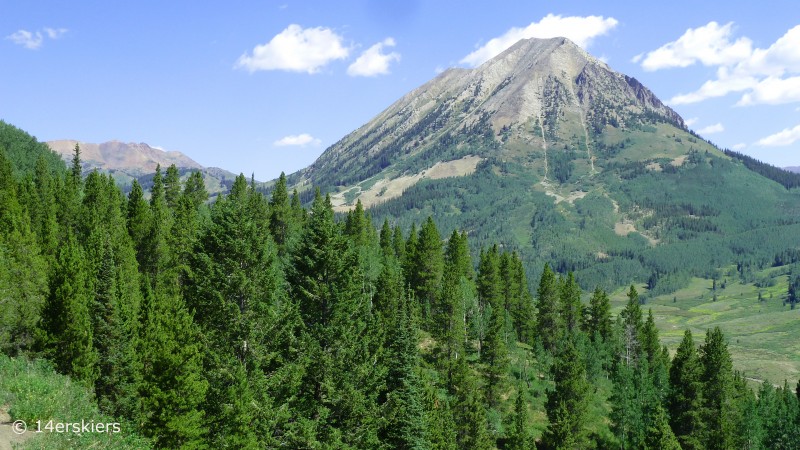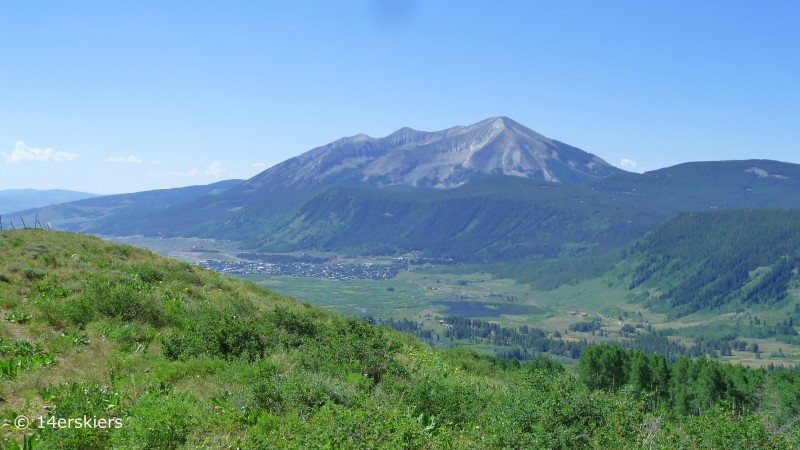 Whetstone and the town of Crested Butte, also seen from the Meridian lake trail.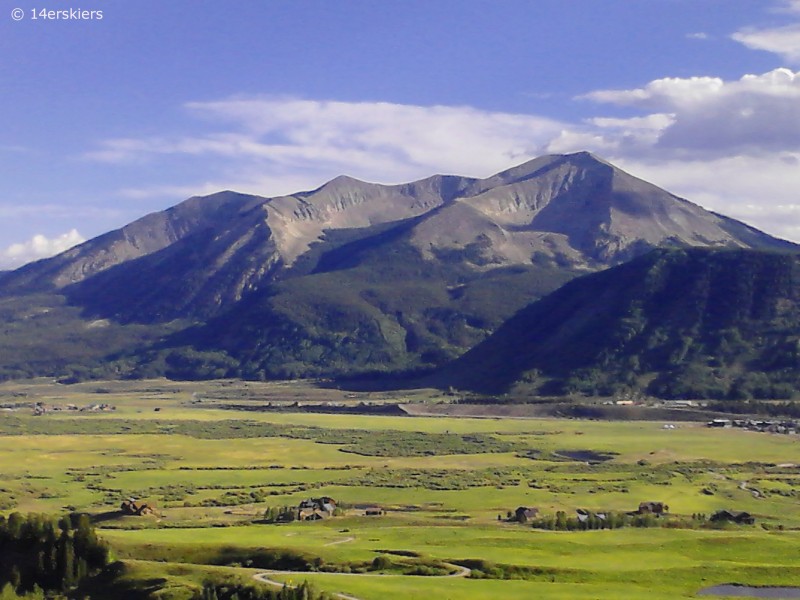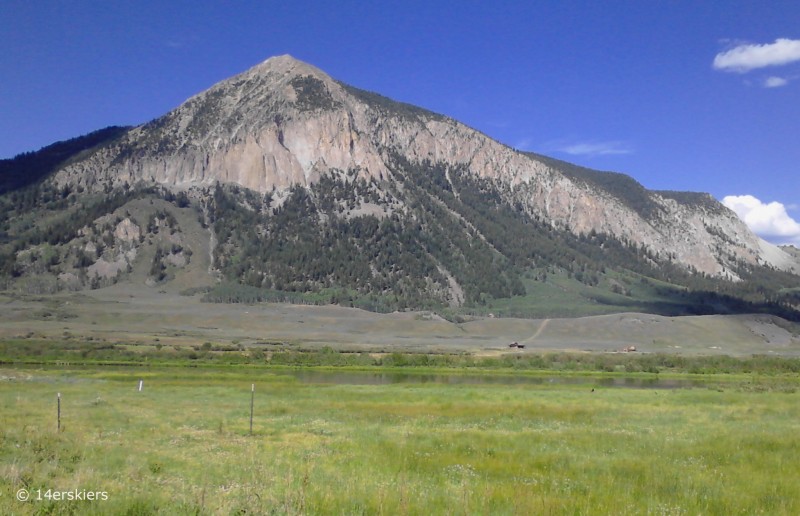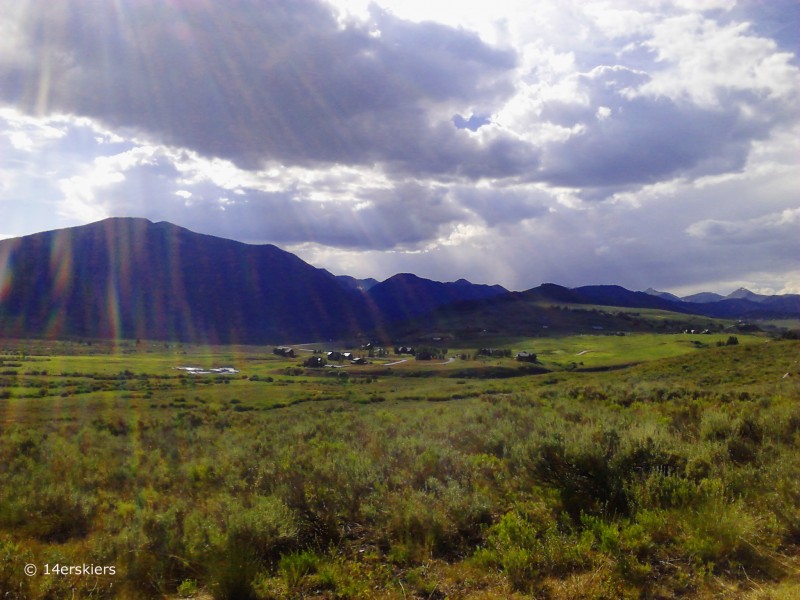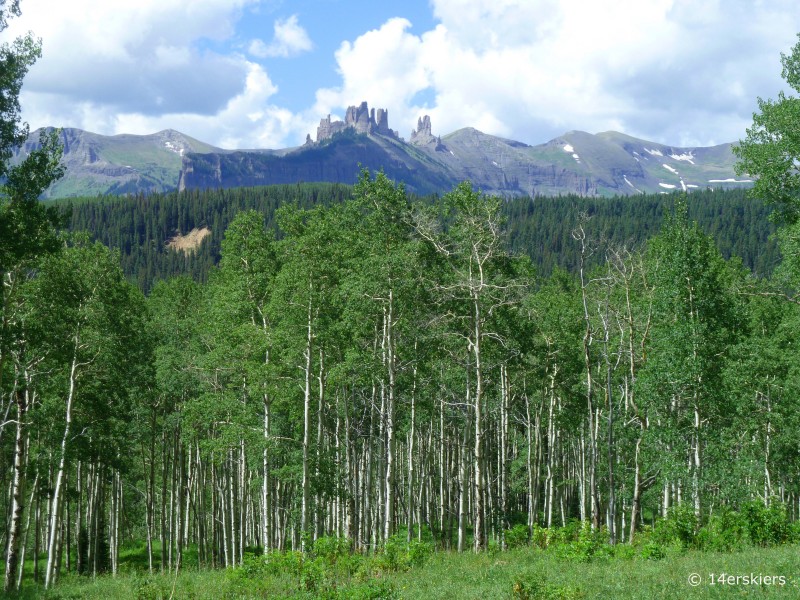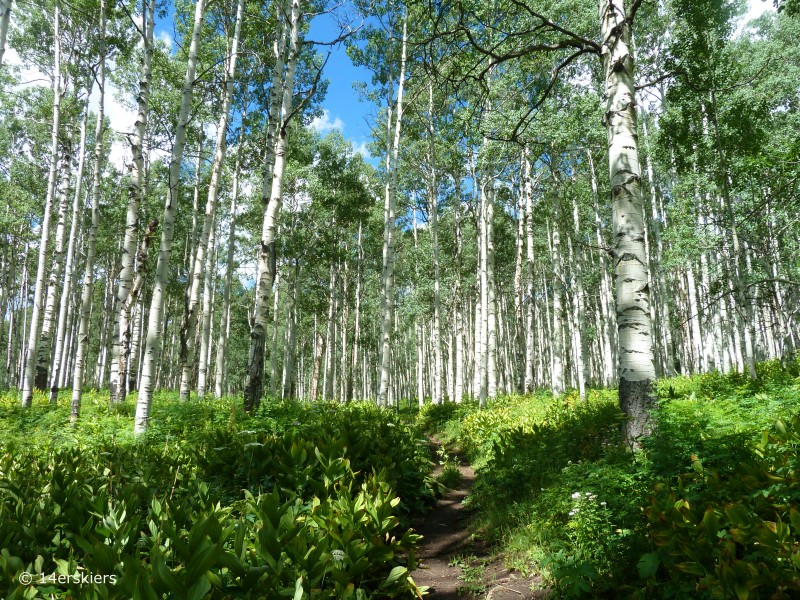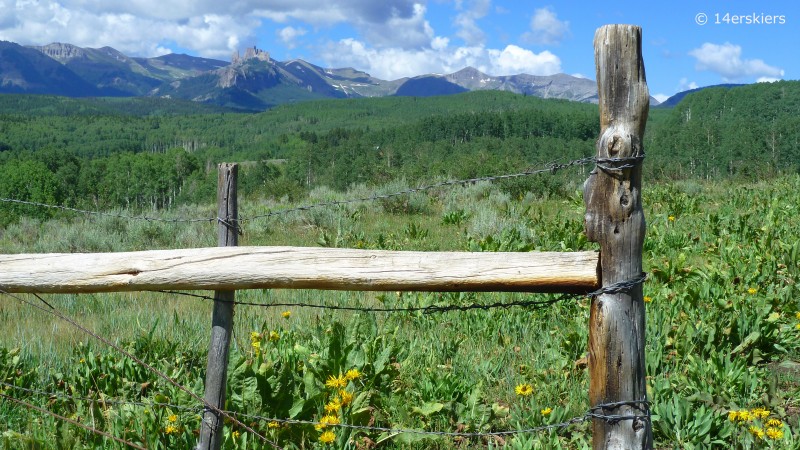 I have also been able to rock climb some and it seems not to hurt my back at all. Jordan and his girlfriend Elizabeth at Lincoln Park on Independence Pass.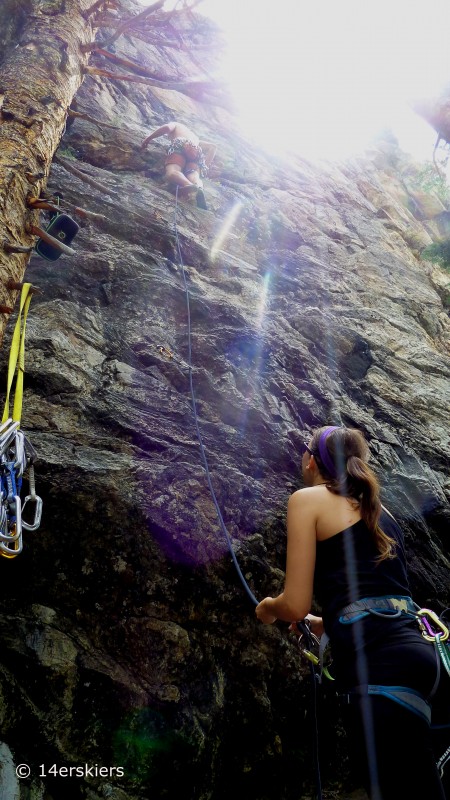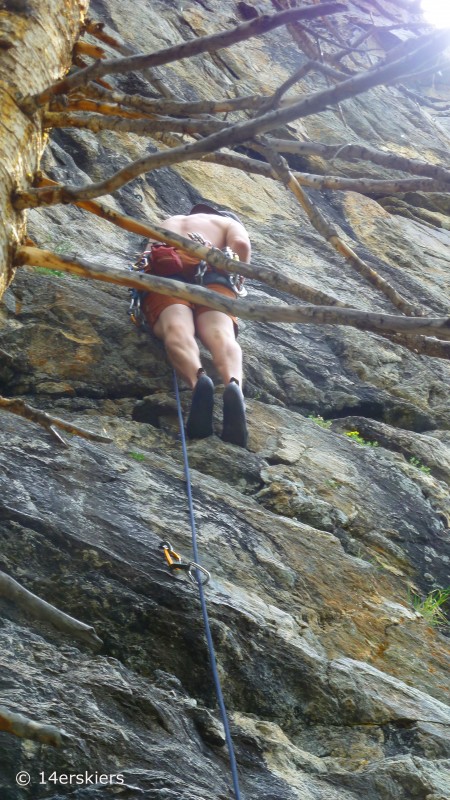 My back has slowly been improving since the MRI was taken in May. I do hope to be back on the bike in the fall – just when the riding is best in Crested Butte. Until then, I'll trade the rubber knobs for the Vibram soles. And I'll be continuing to enjoy my summer of exploring 🙂
Aside from skiing, biking, and all outdoorsy things,
Brittany Walker Konsella
also loves smiles and chocolate 🙂 Even though she excels at higher level math and chemistry, she still confuses left from right. Find out more about
Brittany
!
Latest posts by Brittany Walker Konsella (see all)