From the Gorge to Craters
(Last Updated On: July 20, 2012)
The weather did as forecasters predicted and clouds socked in the entire Northwest. The forecast was to stay like that for days. Matt and I knew our volcano slaying session was done. But, we were not disappointed. We felt really luck in fact to have accomplished what we had set out to do. Matt still had a couple of days left before he flew back to Colorado. But, I was eager to find better weather. So, I dropped Matt off at his friend's house in Portland. Then, I turned around and headed back east, to find drier weather. But, first, I took some time to enjoy the Columbia River Gorge one last time.
Multnomah Falls is a popular stopping point not far out of Portland.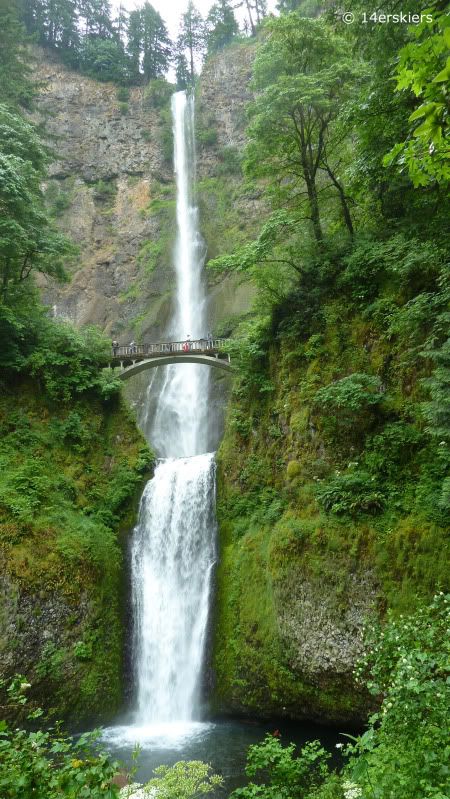 Another couple of miles down the road are the aptly named Horestail Falls.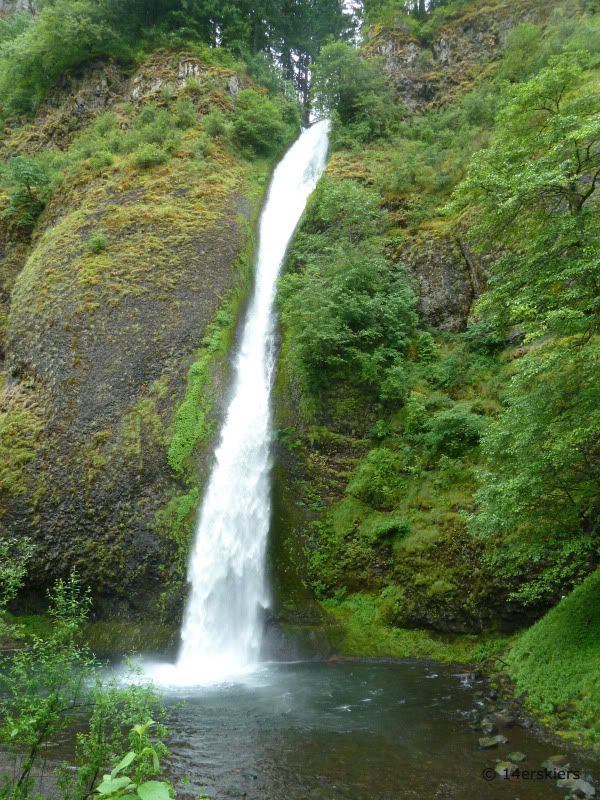 The clouds made for a very surreal setting on the Gorge.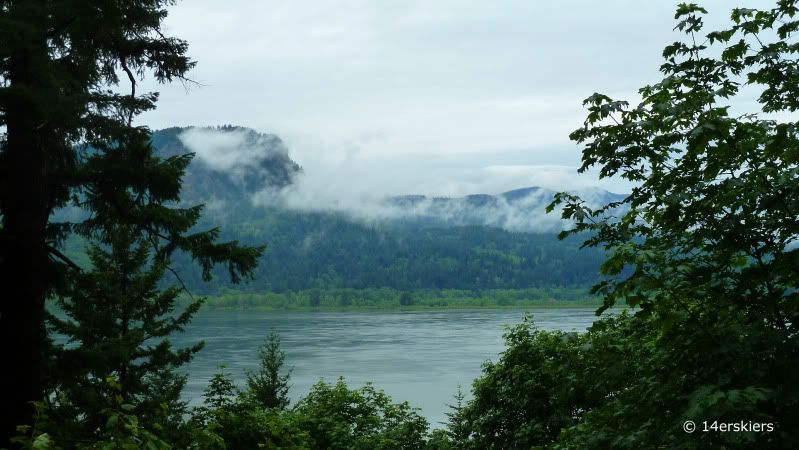 Cascade Locks has one of the few bridges where traffic can cross over the Gorge.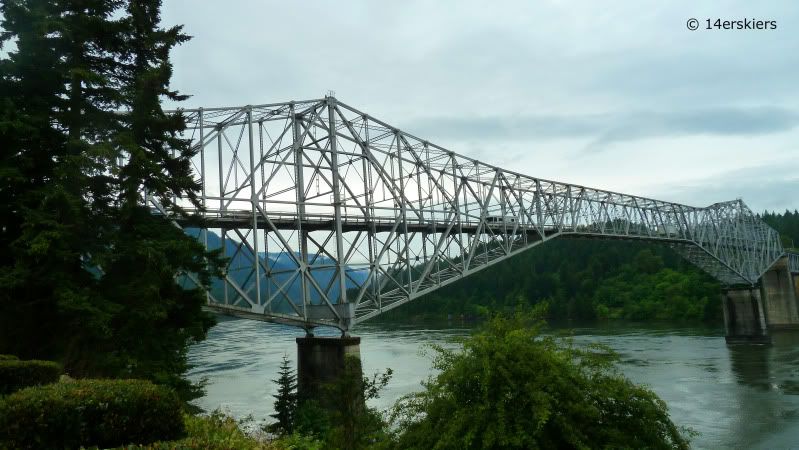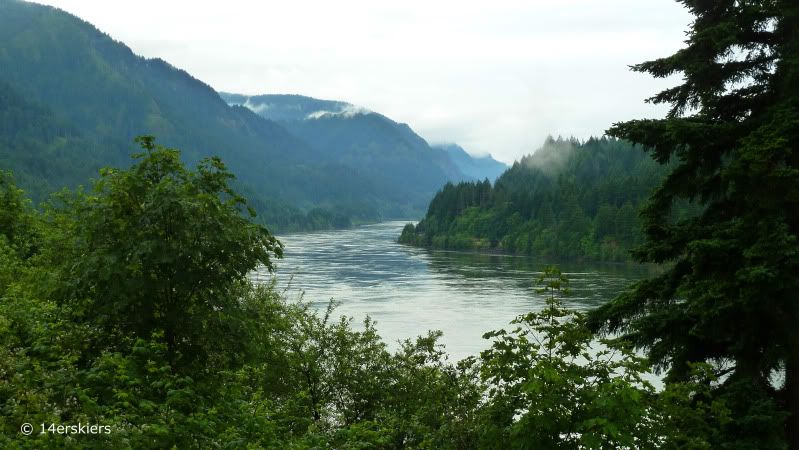 I made my way back to Hood River and stopped for coffee and a sandwich. It was already lunch time, even though I'd hoped to get an early start so that I could find myself in Salt Lake City. I was feeling very tired, though. And I knew the likelihood of me actually staying awake enough to drive the 12 hours to SLC was not high. So, I pulled out the atlas, looking for something interesting to see and someplace to stay along the way. Deciding to keep up with the vulcanism theme that seemed to have dictated my trip so far, I decided to stop at Craters of the Moon National Monument. I'd stay not far out of Boise that night, seeing as how it would be close to dark by the time I got there, and then actually visit the park early the next morning.
So, I got back on the highway, heading east, enjoying my tunes, stopping at miscellaneous random sites along the way (the highway is dotted with displays educating about the Oregon Trail), and enjoying some beautiful scenery.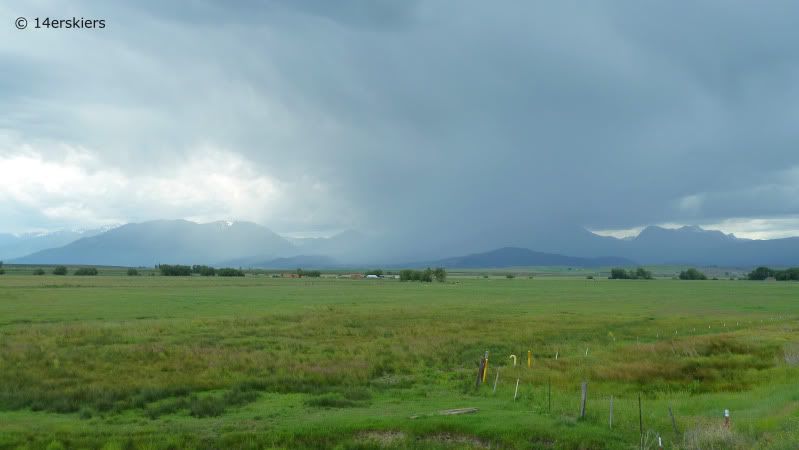 I set my alarm for a 5:30 wake up. But, it was clear that when it went off, I was not waking up right away. I sat in bed for at least another hour before groaning my way out. I had things to see, after all.
My drive to Craters of the Moon took me close to Ketchum and the Sawtooth mountains, where I snapped this shot.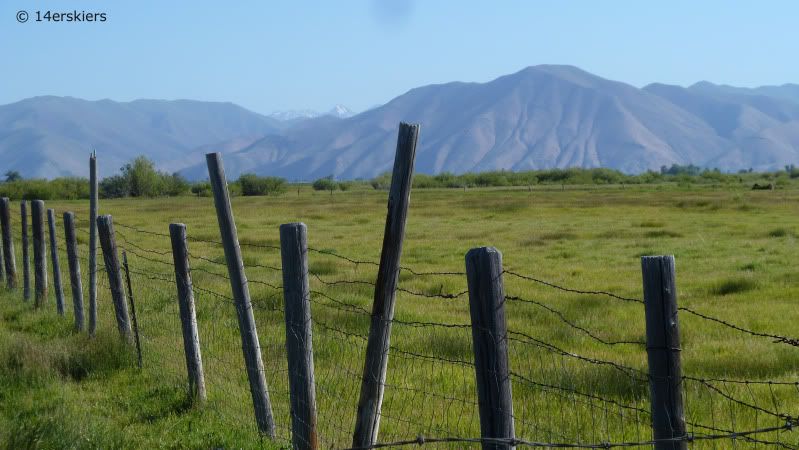 And then the mountains seemed to vanish and I was traveling in a rolling scene of plains. Then all of a sudden, some of the plains turned black.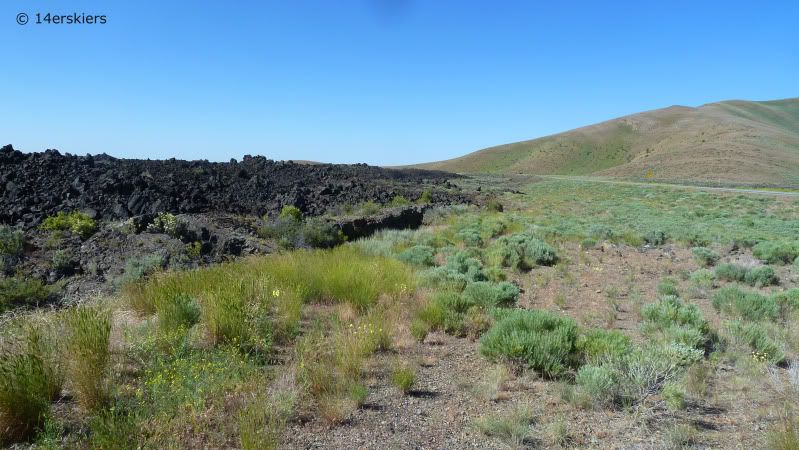 It was Craters of the Moon.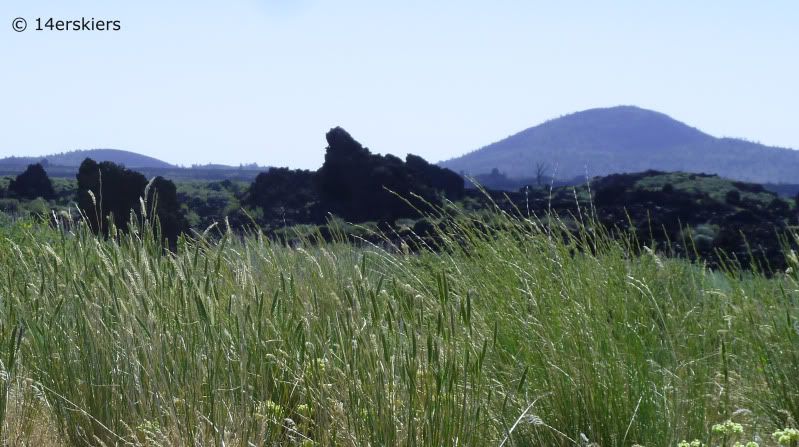 Craters of the Moon is formed by a series of lava flows that have occurred over the last 15,000 years, with the most recent being 2000 years ago. According to scientists, the earth's crust is pulling apart at this area, which triggers the flows. Lava has flowed several different times, and some flows are much newer than others, as can be seen in this photo.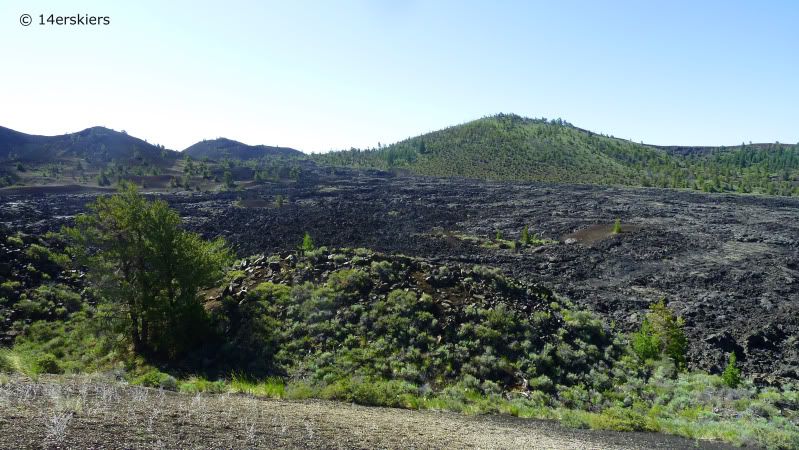 A newer flow below an older cinder cone.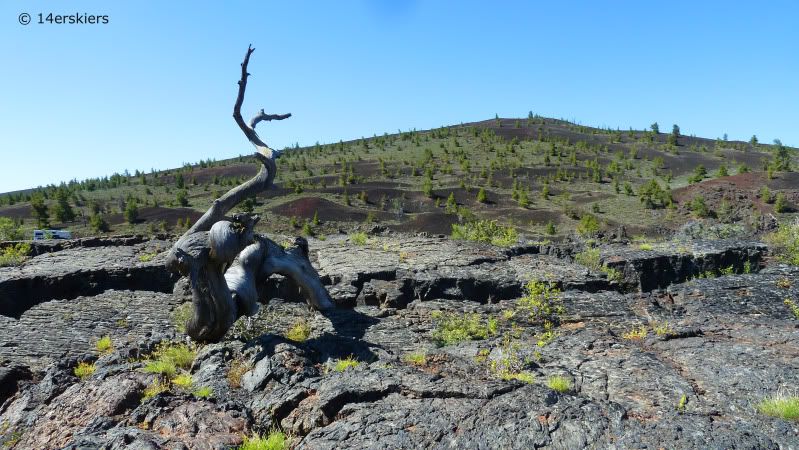 These are fragments of what was once a spatter cone. The walls of a spatter cone often collapse from the cone's own lava.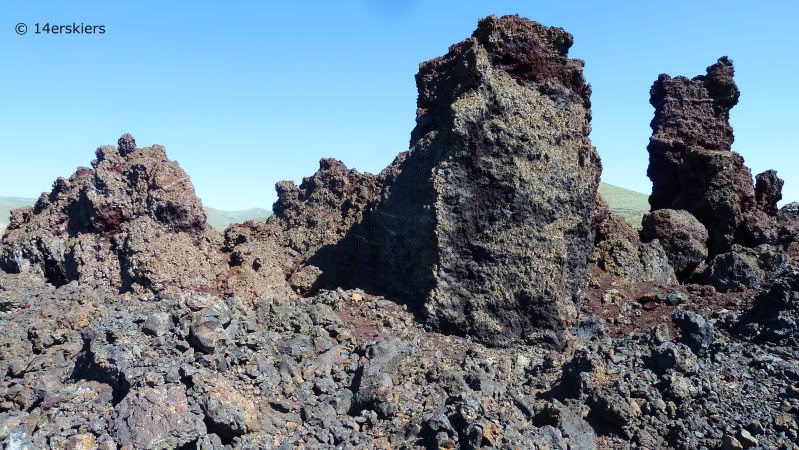 One of the best sites to see in Craters of the Moon is the Inferno Cone – a cinder cone that you can climb. It's a short walk to the top, taking me just 15 minutes.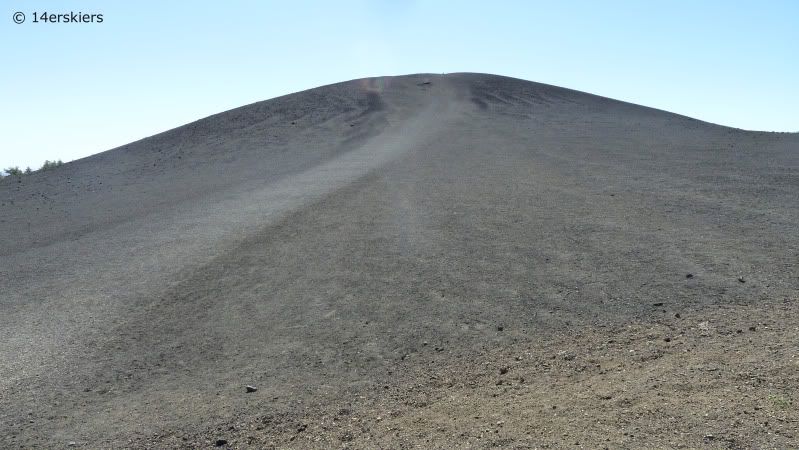 The views from the top were pretty neat. More cinder cones, in a line, showing faulting.

Older, larger cinder cones.

Another spatter cone.

This spatter cone was called "Snow Cone", because as you peer inside it's crater, you see this: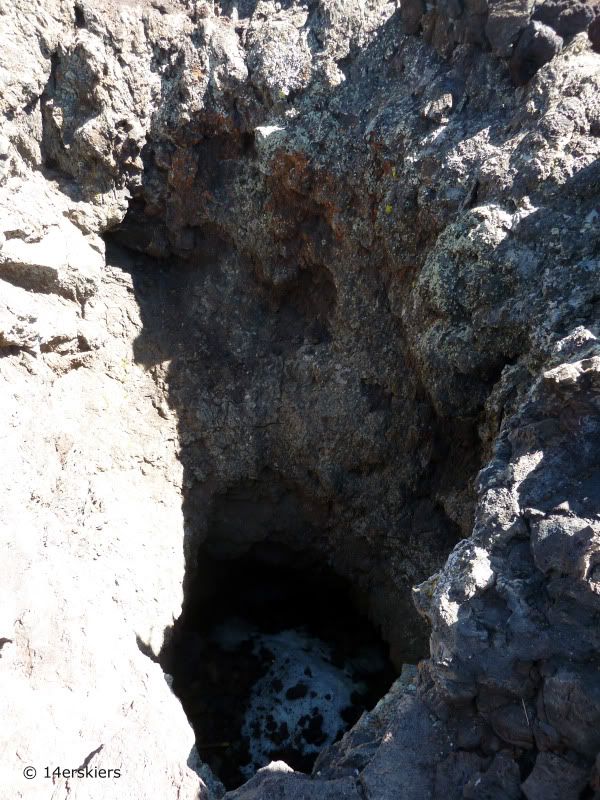 Craters of the Moon was worth the stop, although I would not make a long trip to go there as a destination. But, there are some interesting sites, a good visitor's center, and signs educating visitors along the way. The park can get hot (it's a lot of black stuff after all), so get there early if you can.
From Craters, it was on to SLC. I stayed there for a couple of days, hanging out with my friend Jen and her husband. After that, it was onward toward home. While I was happy to be getting back, I was also dreading it at the same time because Colorado was engulfed in fires. On the road, I passed a plume of smoke around Price.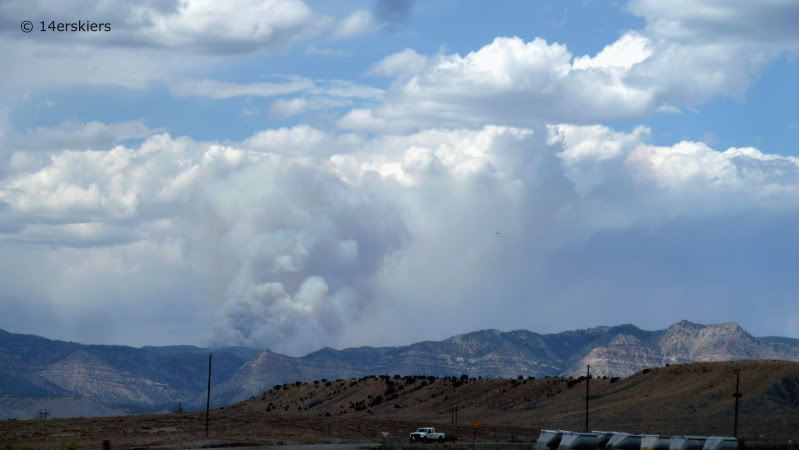 And as I neared Paonia, on the other side of the mountains from Crested Butte, the sky just got hazier and hazier from surrounding fires.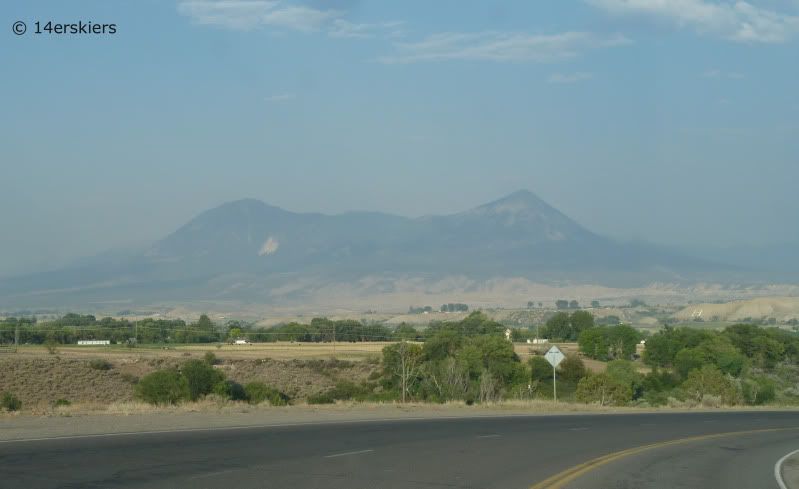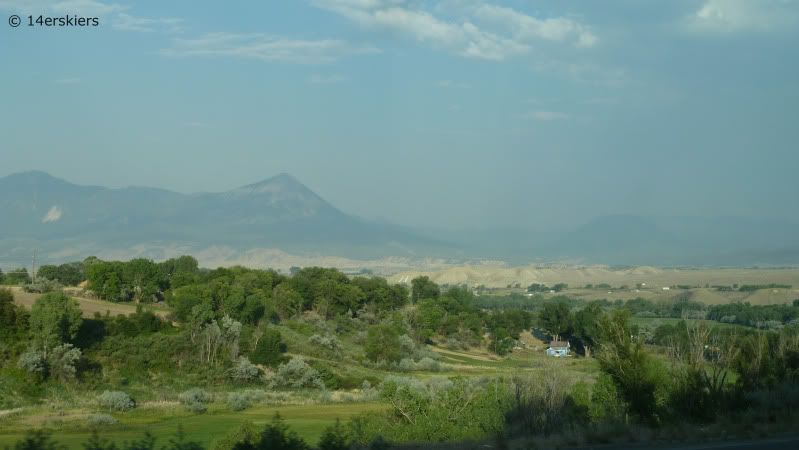 I was welcomed home to a vicious fire season that has only recently let up.
But, my road trip to Utah, Nevada, California, Oregon, and Idaho was worth it. 3,500 miles and 15 days later, I made it back home, happy and satisfied. What a fantastic whirlwind it was!
Links to Other Reports from this Trip:
Volcano-Bound!
From SLC to Shasta
Shasta Ski (14 June 2012)
Shastarama Ski (16 June 2012)
Lassen Peak – Closing a Volcano
Oregon Days Off
Mount Hood (19 June 2012)
Mount Adams (20 June 2012)
Mt. St. Helens (21 June 2012)
From the Gorge to Craters
Aside from skiing, biking, and all outdoorsy things,
Brittany Walker Konsella
also loves smiles and chocolate 🙂 Even though she excels at higher level math and chemistry, she still confuses left from right. Find out more about
Brittany
!
Latest posts by Brittany Walker Konsella (see all)