Belated TR: Oregon Days Off
(Last Updated On: July 20, 2012)
It's been a week since I posted about my volcano trip. We've had a lot of different posts to put up in between. So, I'll start where I left off….
After skiing Shastorama, Kim and I packed our car and headed south to drop her off in the airport in Redding. It was here we would part. As we stood roasting in the 105-degree temperatures while Kim sorted through her piles of things in the airport parking lot and stuffing them into her already full backpack, I knew I would miss her. Kim has to head to San Francisco for a microbiology conference, while I was to head north to Oregon, meeting my friend Matt Kamper – off for more volcano adventures.
Another view of Shasta from near I-5.

As I returned back north, I stopped to see Lake Shasta along the way and continued past the City of Shasta and on to the town of Weed. Contrary to the meaning that is implied by this city's name (and most likely why this area is full of hippies- genuine hippies of the type I have not seen in years, complete with dreadlocks, stench and all), Weed was actually named after a pioneer and founder of the local lumber mill, Abner Weed. It was here that I camped for the night.

The next morning I awoke early and continued north on I-5, stopping to say my farewells to one of the best ski mountains in the country.

Matt's flight arrived in Portland in the early afternoon on Sunday. The weather was not looking promising for Monday, so we decided to stay in Portland instead of immediately whisking away to Hood River. We spent the afternoon downtown, scoping out different mountaineering shops and THE Powell's Bookstore, looking for a book called Backcountry Ski & Snowboard Routes (by Van Tilburg) that was to be our bible for the remainder of the trip. After searching for hours, we finally scored the last copy of it at US Outdoor before heading to spend the night with Matt's friends in southern Portland.
The next morning we awoke to a lazy Monday. The weather delivered rain, as promised by the forecasters. But it looked like a weather window was opening for the next few days. So, we decided to make our way to Hood River, stopping to see Mount Hood, our intended goal for the next day, along the way. Mount Hood was socked in a blizzard, with wet snow blowing from seemingly every direction. We took shelter in the historic Timberline Lodge.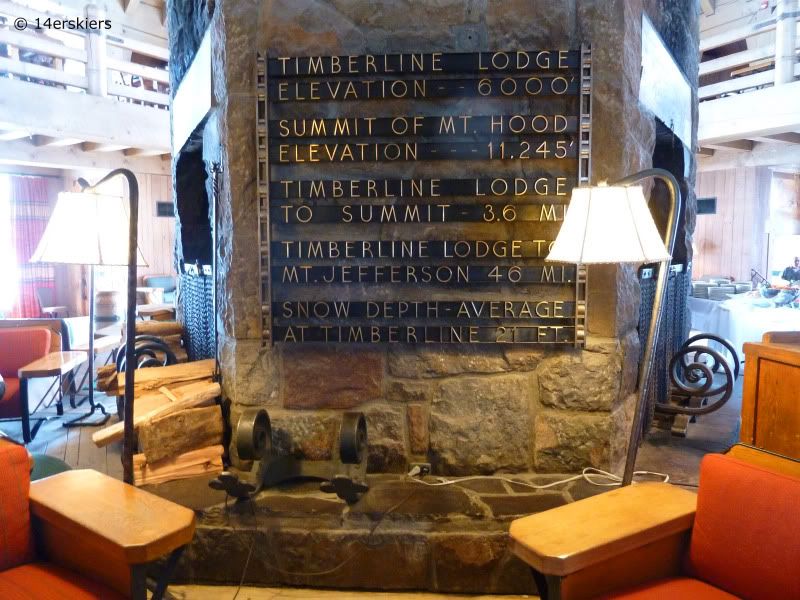 The Timberline Lodge was built during the Great Depression as part of FDR's Works Progress Administration. It was dedicated by Roosevelt himself in 1938 and in the following year, a ski area opened just above the lodge. This ski area continues to provide year-round skiing to snow lovers from all over the country.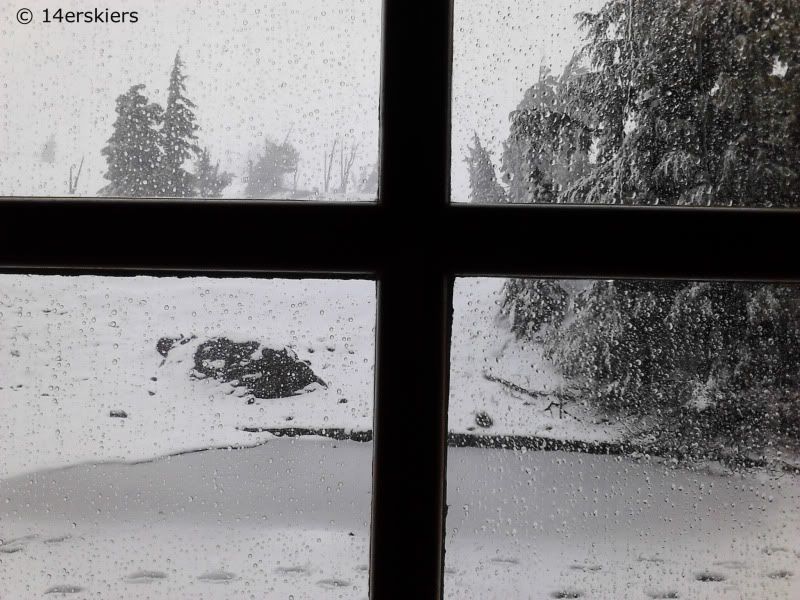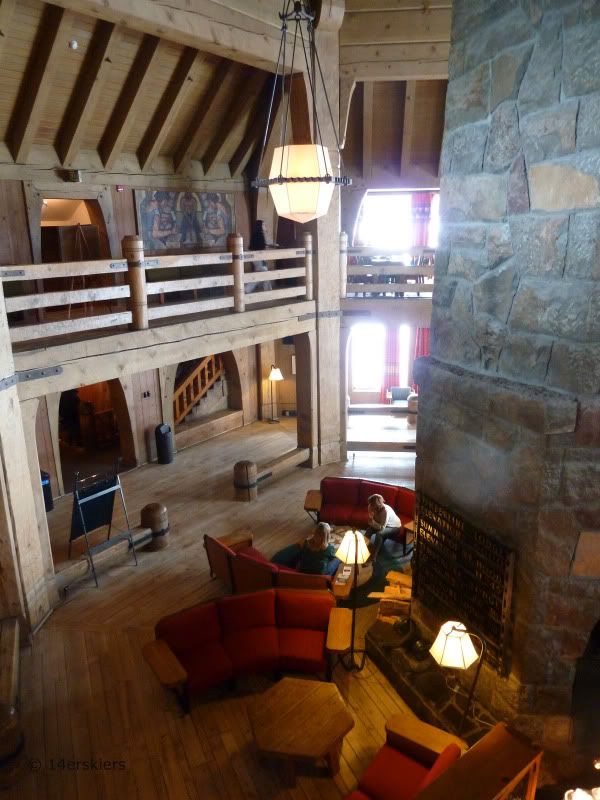 The Timberline Lodge has taken it's history to heart, and hosts many displays describing the evolution of skiing and mountaineering on Mount Hood within it's lobbies and halls.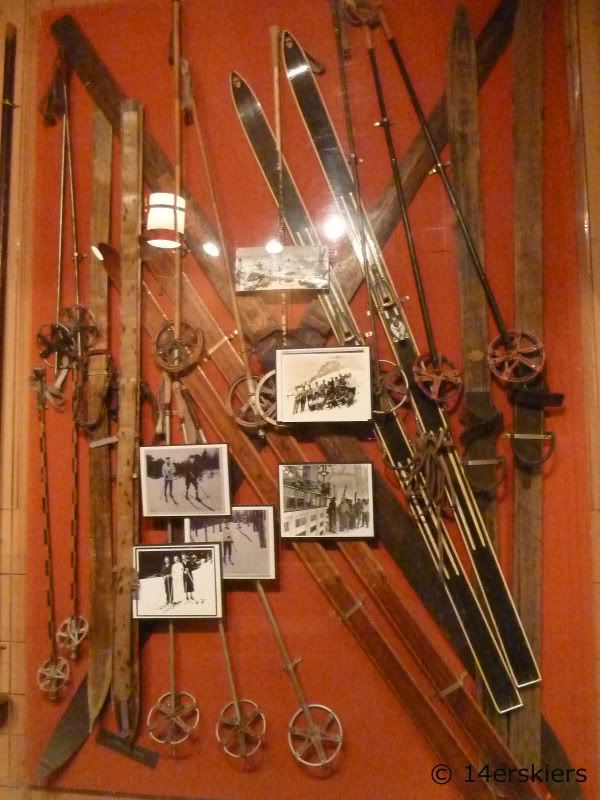 Picture of mid-century mountaineers climbing Mount Hood.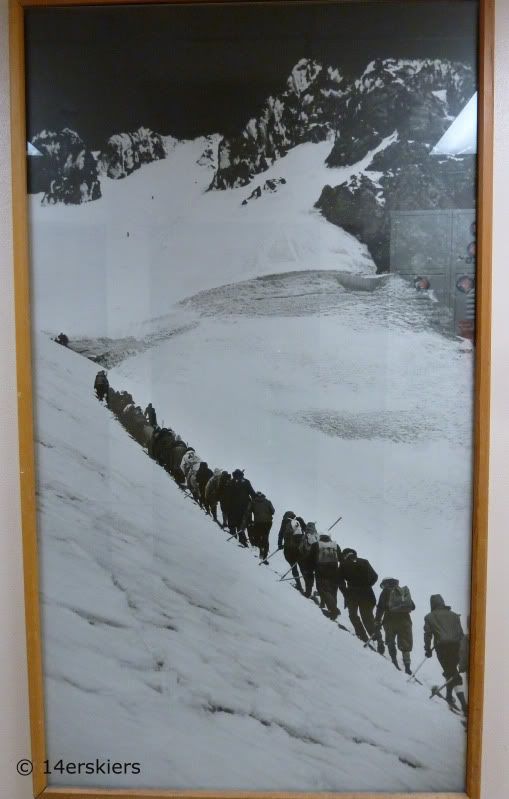 My favorite story was that of the Skiway, a literal tram-bus which operated in the early 50's from Government Camp to Timberline Lodge.

Notoriously unreliable and more expensive than the traditional bus, this unique tram unfortunately only lasted a couple of years.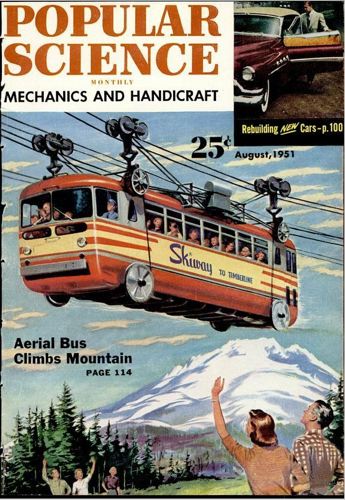 Image courtesy of curbsideclassic.com
After enjoying our time at Timberline and gathering information for our hopeful climb the next day, we continued on down to Government Camp where we enjoyed a cup of coffee and another historic mountaineering/skiing museum.

This little story gave me a good chuckle.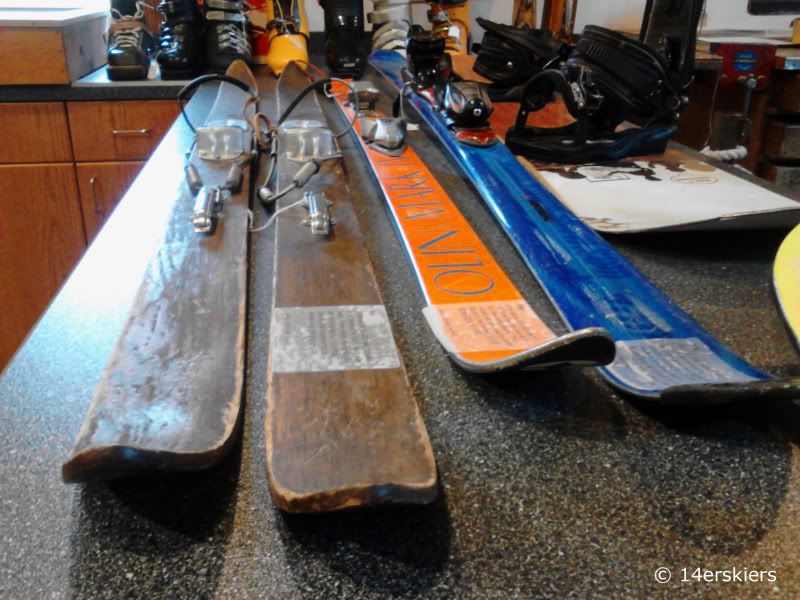 For more Mount Hood history, check out PDXHistory.com.
We continued on to Hood River, where the weather was sunny and warm. As we sat on the Columbia River, we suddenly had urges to take kite-boarding lessons.

But we refrained, as we knew we had volcanoes to ski over the next few days 🙂
Links to Other Reports from this Trip:
Volcano-Bound!
From SLC to Shasta
Shasta Ski (14 June 2012)
Shastarama Ski (16 June 2012)
Lassen Peak – Closing a Volcano
Oregon Days Off
Mount Hood (19 June 2012)
Mount Adams (20 June 2012)
Mt. St. Helens (21 June 2012)
From the Gorge to Craters
Aside from skiing, biking, and all outdoorsy things,
Brittany Walker Konsella
also loves smiles and chocolate 🙂 Even though she excels at higher level math and chemistry, she still confuses left from right. Find out more about
Brittany
!
Latest posts by Brittany Walker Konsella (see all)