The Snow Network- Video On Demand
(Last Updated On: December 8, 2010)
Ever get that hankering for ski porn but you're tired of the movies in your library because you've watched them so many that you have all the words memorized? Those old favorites are great. But, sometimes it's good to mix it up. Let's face it though- the local Blockbuster (if there's even one around- they are fading fast!) doesn't have ski videos and Netflix has a limited selection of Instant Play. Until recently, ski enthusiasts have had to wait patiently for the prized DVD of their choice to arrive in the mail- sometimes taking 2-6 weeks and often costing somewhere around $30. But, now there is The Snow Network. TGR, among other favorite producers, has teamed with this on-demand video site to provide some of the latest and greatest ski videos at the touch of your finger tips. So, be ready for instant satisfaction. After all, that's the way we roll these days 🙂
The Selection
The selection is big, and keeps getting bigger. TGR has most of their movies available to download including their latest movie, Light the Wick. But, many other productions have movies available, including MSP, Level 1, and Warren Miller.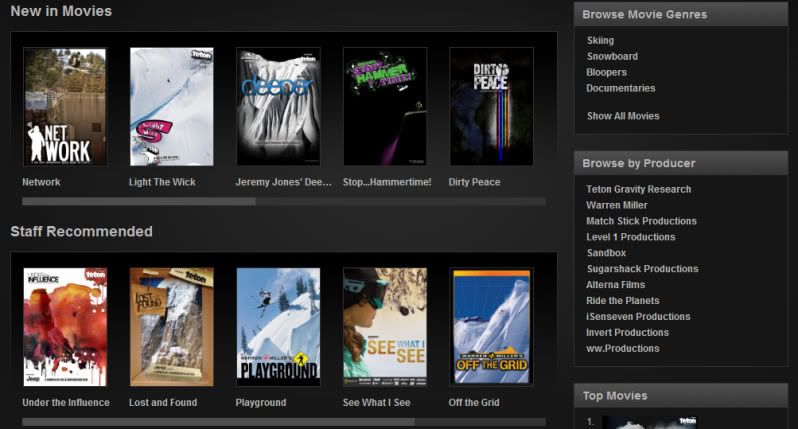 The Cost
The prices I saw for watching a video ranged from $9.99 to $14.99, about half the cost (or less) of purchasing most of the DVD's. Once you have purchased a video, you can watch it over and over again though multiple mediums.
How Can I Watch It?
Videos can be watched on your computer, television, or portable through a few different mediums including iTunes or GoogleTV. If you're like us and not an iTunes fan, you probably should choose the "Boxee" application which allows you to watch it on your computer or TV (if it is hooked up to the internet). We typically watch videos by connecting our laptop to our television using an HDMI cable. More details on how to watch the videos here.


This sounds great. What's the site again?
thesnownetwork.com
Promotion
Currently, if you buy 2 videos which cost $29.98 ($14.99 each) you can get a third video free!
We Recommend
Jeremy Jones' Deeper among many others!
Okay now, go watch some movies!
Aside from skiing, biking, and all outdoorsy things,
Brittany Walker Konsella
also loves smiles and chocolate 🙂 Even though she excels at higher level math and chemistry, she still confuses left from right. Find out more about
Brittany
!
Latest posts by Brittany Walker Konsella (see all)