Mount Baldy (WSC and South Bowls) 3.12.12
(Last Updated On: March 18, 2012)
After ascertaining that North faces were still holding some decent powder on Redwell the day before, and decent corn on the South faces on Gothic the day before that, Sydney Dickinson and I headed up Washington Gulch with hopes of finding one or the other. We ended up getting both…
The climb from the snowmobile went quick- so quick that it was obvious that we were too early to catch any corn. Western State bowl, on the other hand, was looking pretty good so we dropped in there. Sydney: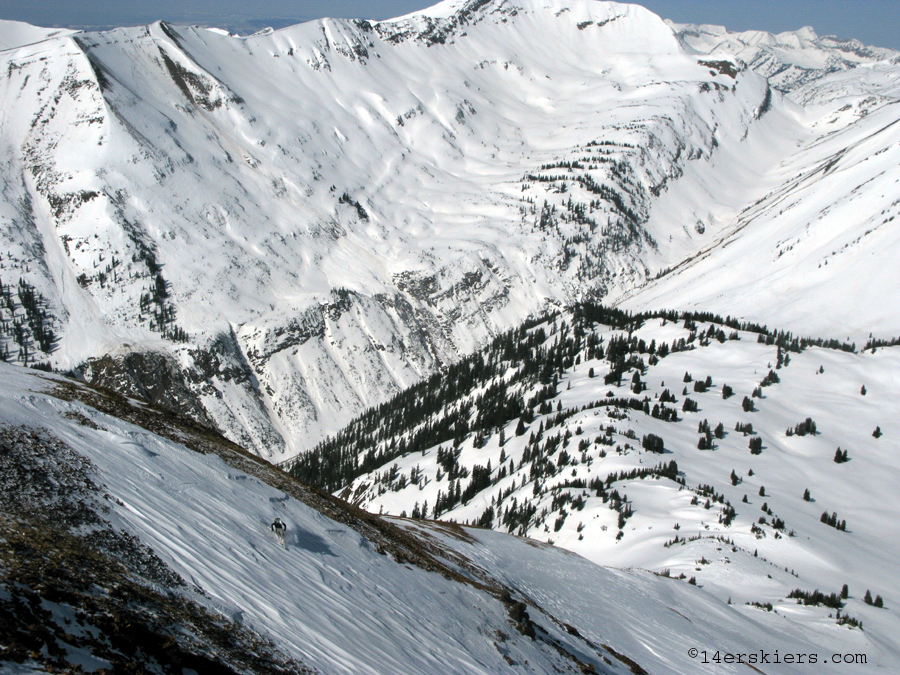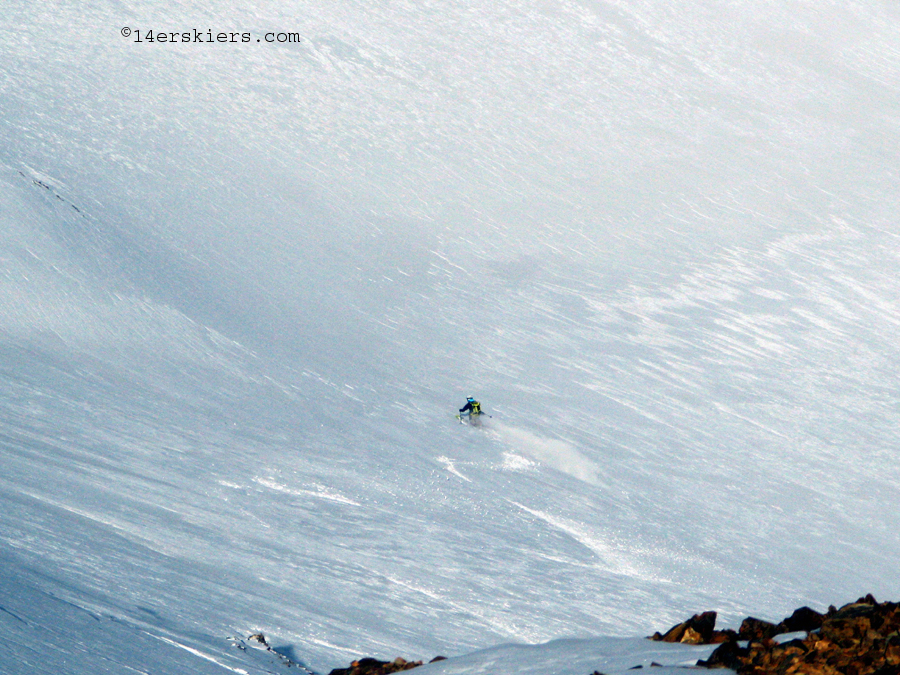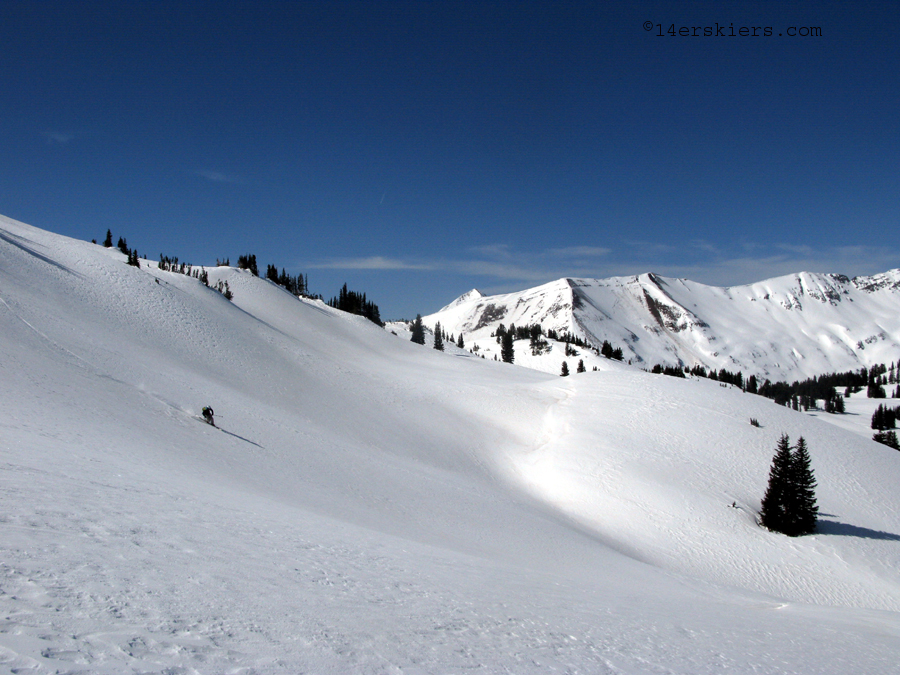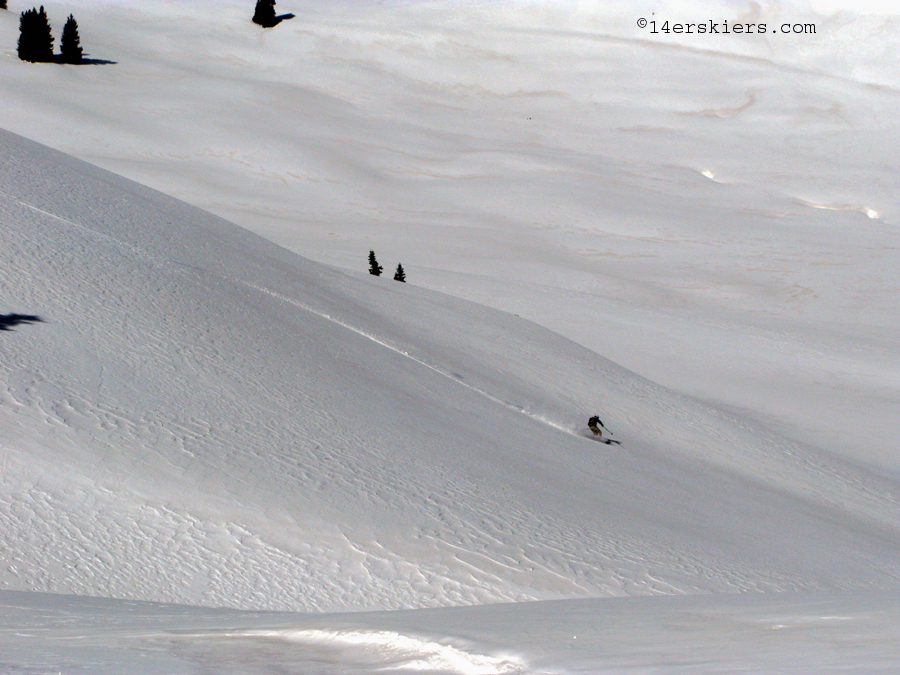 It's tough to see, but our tracks are in there somewhere. Conditions were surprisingly good, and we had the place to ourselves.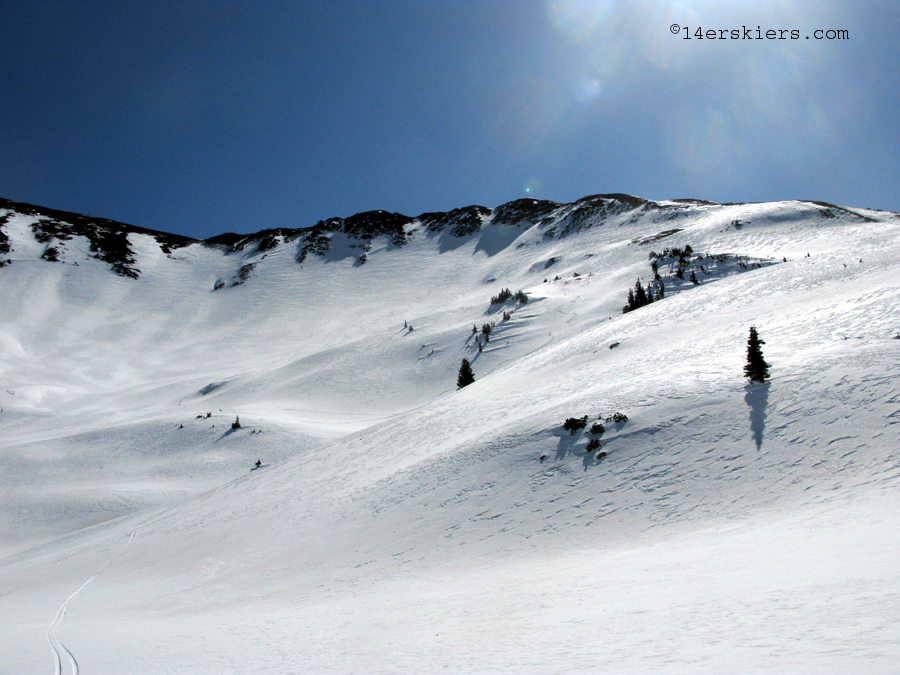 We headed back up the Southwest ridge and had some great views of the massive slides that came off Purple Ridge after the last storm on March 1-2. The upper Slate river was choked with dirty snow and rock from the slides that went all the way to the ground. Nasty.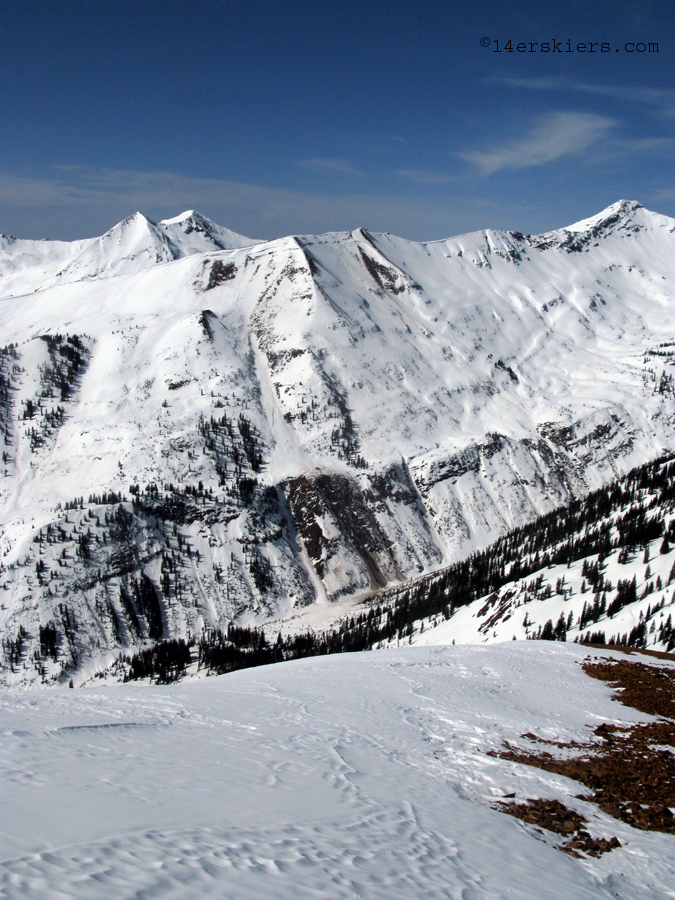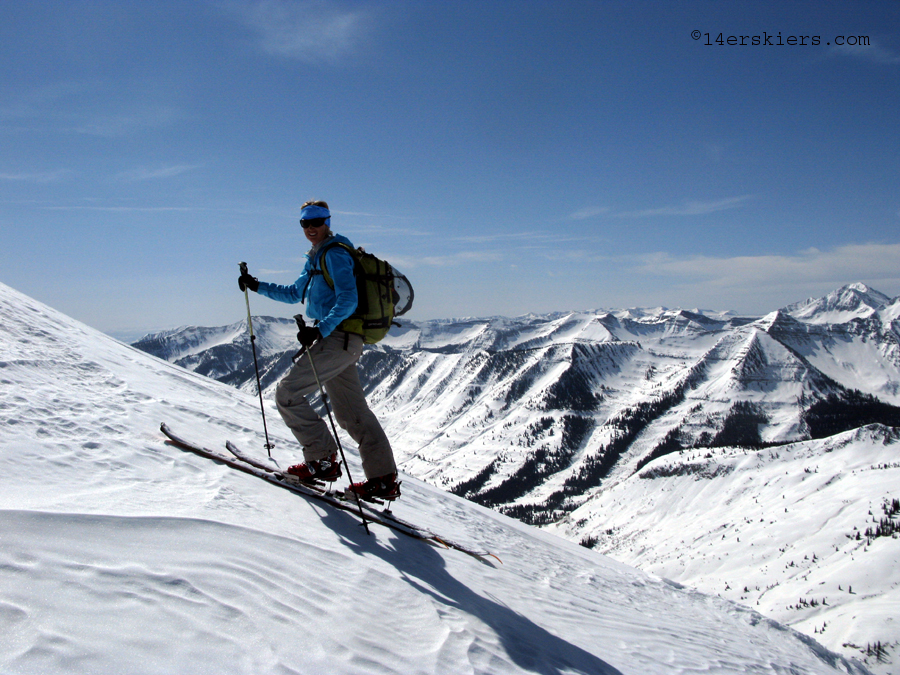 We got to the top of the South Bowl and geared up for a corn descent. Many of you know that I have a very lukewarm attitude when it comes to Dynafit bindings. To me, they have a lot of downfalls. The scariest thing about them is when the toepiece has a bit of snow in it- which invariably causes a nasty prerelease. I haven't personally experienced this problem, but I have seen some terrifying falls in the past. Well, I didn't spend enough time cleaning out my toepiece and as a result I walked right out of my ski on the second turn and watched as my ski descended 1,000′ without me. Here I am, pretty excited to have wasted a perfect corn run (the toepiece was still locked when I got there):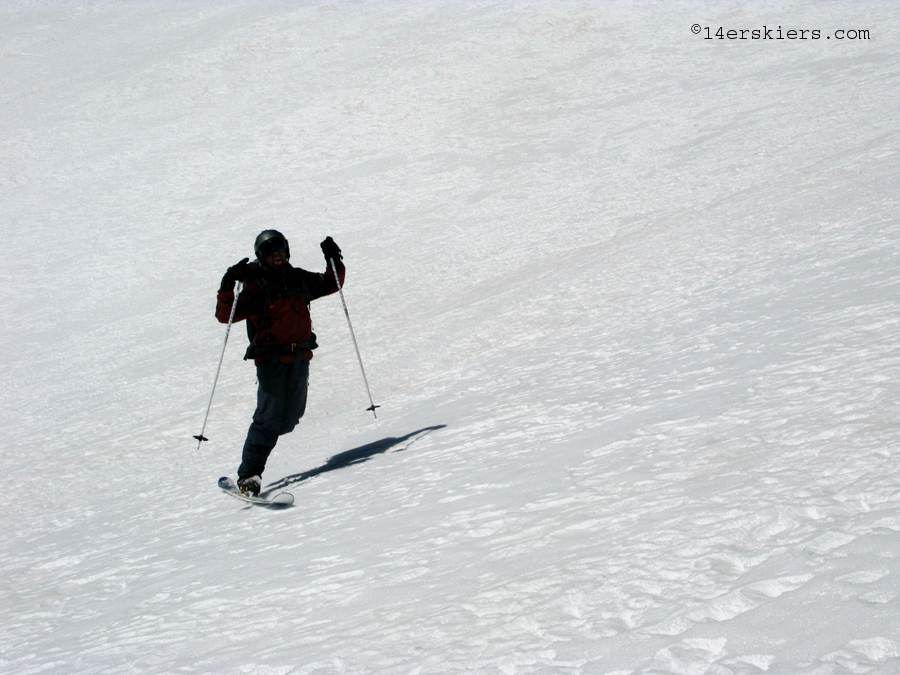 Oh well. I guess I'm a little wiser now and I'll spend extra time fiddling with the Dynafiddles next time. At least we still had another 1,000′ to go: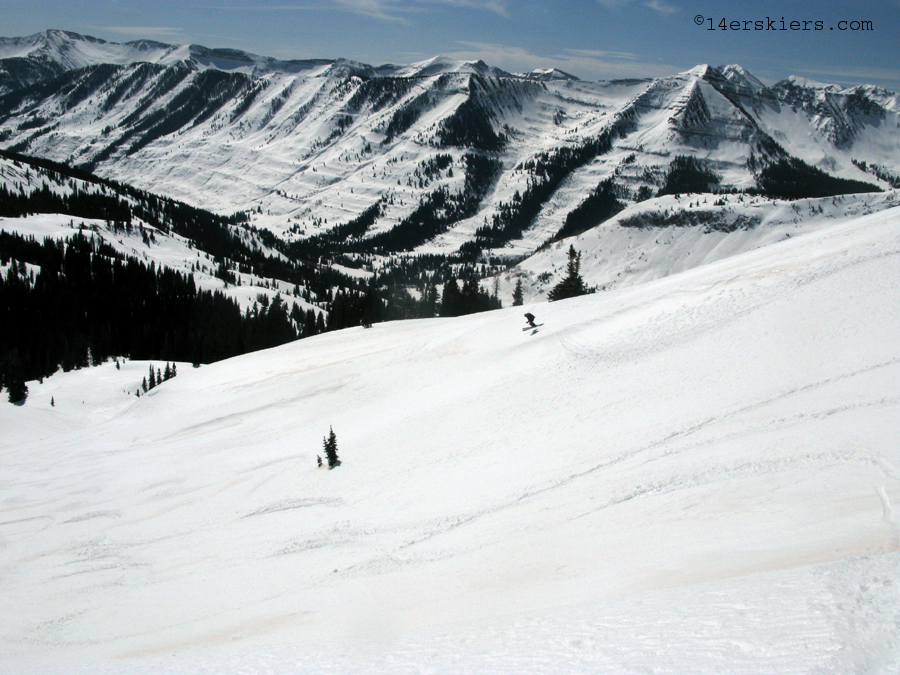 Despite the gear issue, it was still a great day out. Celebrate "peak week" (last week when we were actually able to get up on some peaks) with some new gear: Take an extra 25% off orders of $150 or 30% off orders of $200+ at Sierra Trading Post. Enter code AVMAR2 at checkout. Valid through April 4, 2012. . Coupon Code: AVMAR2
Frank
loves snow more than anything... except his wife.  He ensures his food is digested properly by chewing it 32 times before swallowing.He is a full-time real estate agent serving
Crested Butte and Gunnison
and would be honored to send you his
monthly newsletter.
Latest posts by Frank Konsella (see all)