Celebrating 144 months of skiing with Kim Ross
(Last Updated On: July 3, 2012)
Kim Ross is undeniably one of Colorado's best female skiers. Balancing her skiing with her graduate degree has been quite an act, but Kim still manages to be the envy of most of us with full-time jobs. Even more inspiring is Kim's streak – 144 consecutive months of skiing. This summer, I marveled after my first "endless winter" in a few years. But, that pales in comparison to Kim, who has now had 12 of those, and hopefully many more to come! On November 5th, I had the opportunity of celebrating with Kim on her 12-yr skiing anniversary, riding lifts at Loveland ski area. While asking a few probing questions, I realized Kim had fantastic stories to share. So, here's Kim's story, in her own words.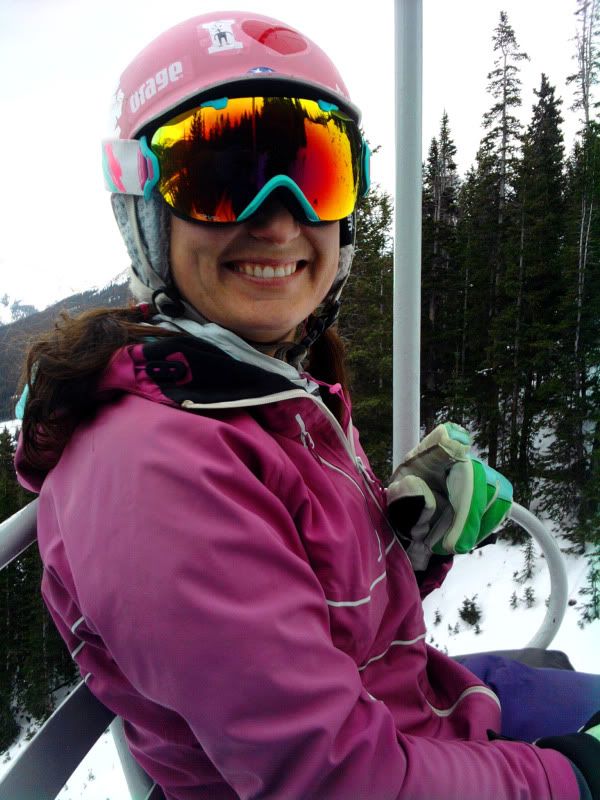 Kim making her way up on the lift for her 144th month of skiing. All photos by 14erskiers unless otherwise noted.
1) So, you started this streak in December 12 years ago. Do you remember that first December ski day? Tell us about it.
I was living and skiing in Bozeman, Montana in 1999 when the streak started. It was the end of fall semester and I was absolutely swamped; I knew I couldn't ski until after finals. I worked at Bridger Bowl at the time, but they rarely opened before mid-December. Back then I didn't have the monthly thing going, and early season that year wasn't particularly snowy. However, our neighbors to the south were spinning lifts and about to get hammered by a big storm. So, on the day of our last final, a friend and I packed the car and headed to Grand Targhee. That week I skied the deepest powder I ever had up until then in the area known as Mary's Nipple, just outside Targhee's boundary.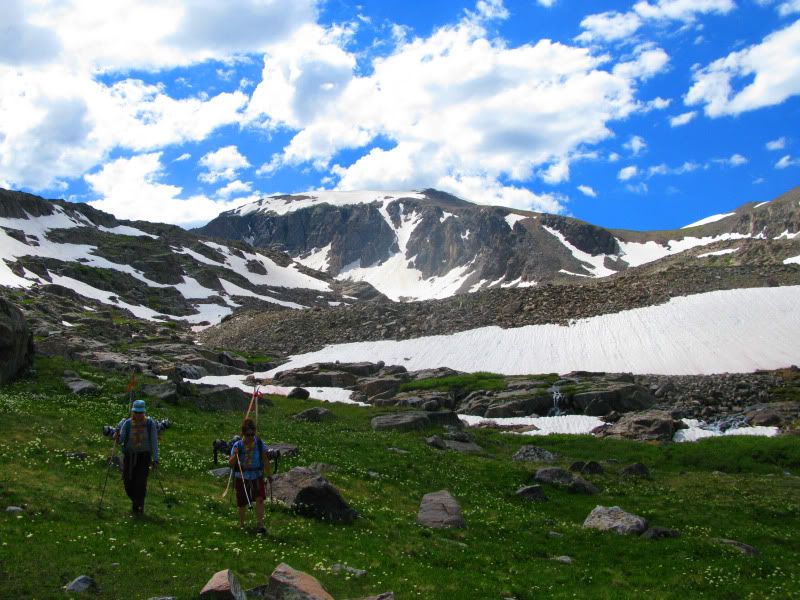 Both Kim and I hiking out after a fantastic day skiing Atlantic Peak, July 2011
2) When did you decide that you wanted to start skiing year round?
The streak actually started with an "endless winter", as we called it. My best friend and I had schemed a plan to depart for the Southern Hemisphere in June of that first year. Our trip to New Zealand was conveniently disguised as a "study abroad" program, but skiing was the top priority. We lived on the South Island for 6 months, outside of Christchurch (where we "attended" classes) so we could be closer to the ski fields of Arthur's Pass. After the semester ended, we traveled to the North Island to climb and ski the active volcano Mount Ruapehu. We looped up through the tropical paradise of the Bay of Plenty before returning to the South Island, where we headed for the 12,000-foot peaks around Mount Cook and the Fox Glacier. When we returned home to Montana around Thanksgiving, we had skied every month of the year and began our third winter in a row just as the Northern Hemisphere ski season began.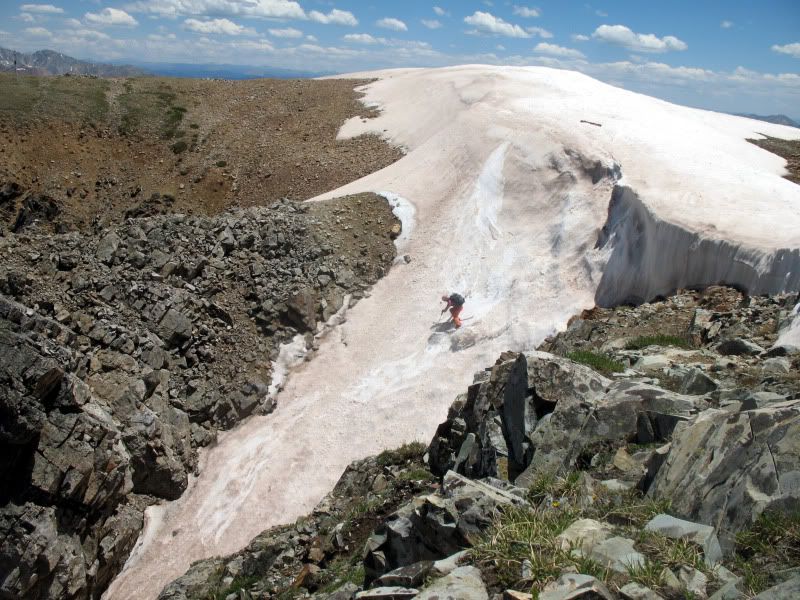 Kim drops in to the Wine Bottle Couloirs on Treasury, outside of Crested Butte, 4th of July 2010
3) When you first started skiing year-round, did you envision yourself still doing it 12 years later?
I certainly didn't imagine I would keep the streak going for 12 years. After the "endless winter", the streak stood at 18 months or so. June and July are pretty easy months to make turns in Montana, but August and September presented a problem. So, each summer my partner and I planned late summer trips to find at least 2 days of summer skiing. Sometimes it was as easy as driving to Mount Hood in Oregon, and skiing the lift-served Palmer Glacier for back-to-back days on August 31st and September 1st. Other times, it was more ambitious (and expensive), like when we traveled to Smithers, B.C., or Las Leñas and Bariloche, Argentina. When I moved here, I wasn't sure if I'd be able continue, but it turns out I've been able to ski year-round in Colorado for 6 straight years now.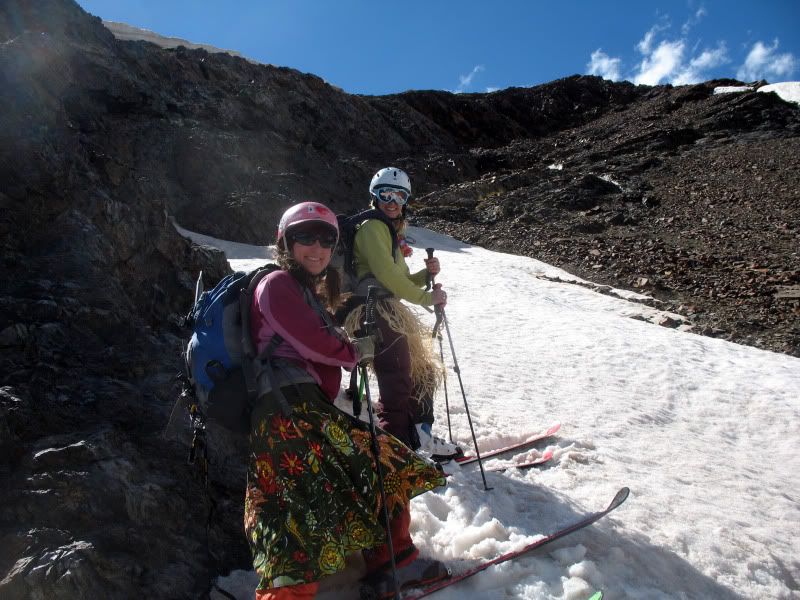 Enjoying 4th of July in our own way. Treasury, 2010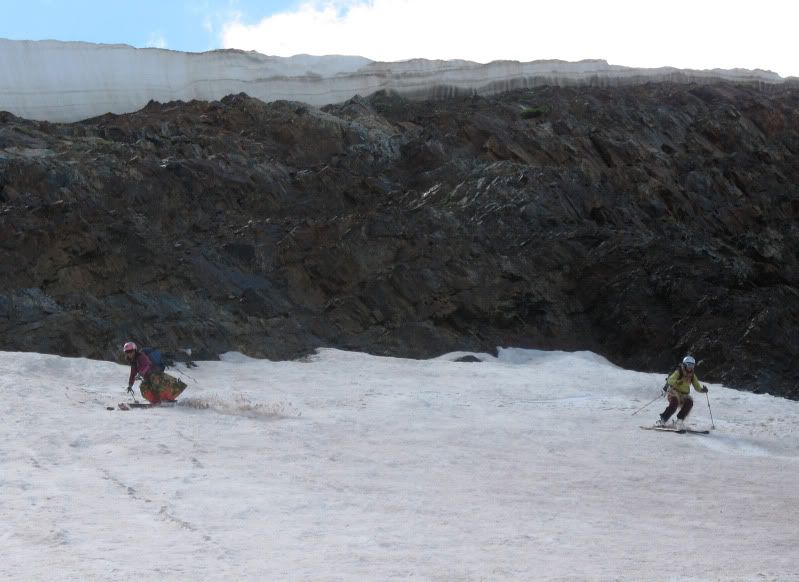 4) What has inspired you to ski year-round? What keeps you going year after year?
I guess it's simply my love of skiing that has inspired me to ski year-round. These days when I contemplate it, I just can't imagine NOT being on my skis for months at a time. And skiing in the summer is sorta special. Clicking into skis on top of some broad expanse of white below just never gets old for me. It may sound silly, but it reconnects me to this supreme passion of mine. I don't like having to live without skiing in my life through the short Colorado summer, so it seems like hardly a sacrifice to take one day out of July, August and September to go find snow. In fact, I usually ski more than one day in July because the snow is still so good in Colorado. By October, the lifts are usually spinning at Loveland, and so the next season begins.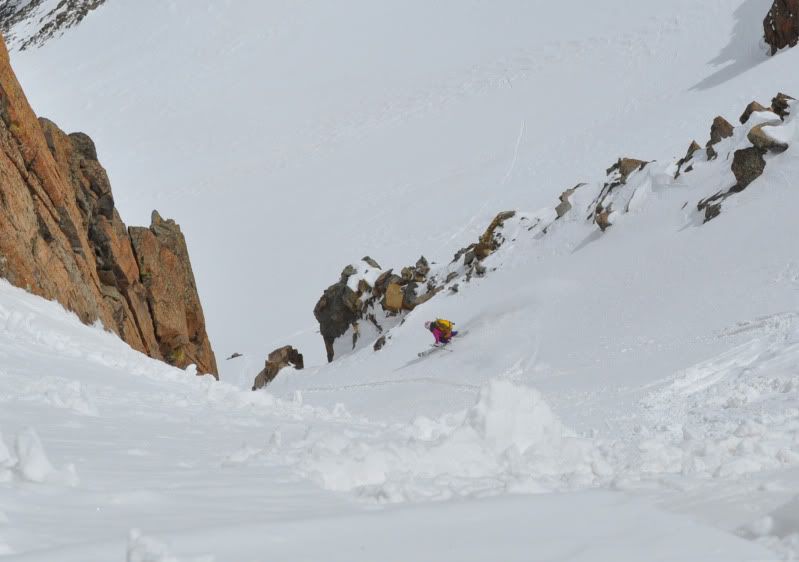 Kim shreds everything she skis. Mt. Wilson, April 2011
5) Tell us about some of your most memorable summer skis. What made them most memorable?
Years ago I did solo summer stints in Thompson Pass, Alaska, two summers in a row, where I met another year-round skier who showed me the good routes as well as the hazards to avoid. With almost 24 hours of light there that time of year, you can ski until your legs won't climb anymore. The first year I was trying to live out of my Subaru, which made it really difficult to sleep because there was virtually no night. I'll never forget that!
More recently, in May of 2010 I met a skier who was as excited to ski in the summer as I am. While our mutual friends packed mountain bikes into their cars and headed for Moab, we instead packed our skis and headed to the Utah desert range called the La Sals. Neither of us had skied there before, and we had also never skied with each other; but The La Sals had a record-breaking 200% snowpack at the time, and we were psyched to explore. That weekend in mid-May we skied a bunch of lines with a rare coating of fresh snow, high above the red backdrop of the desert below. It was incredible.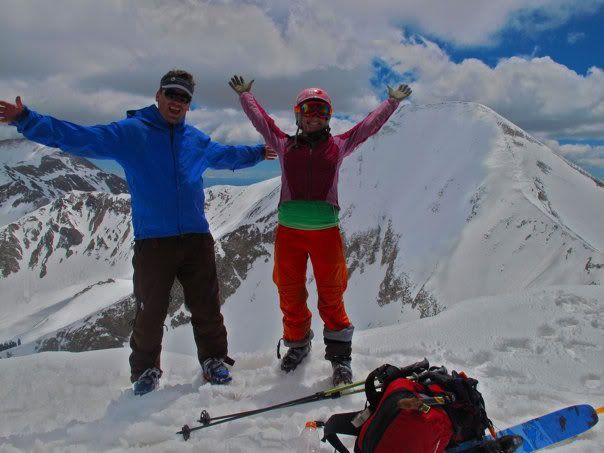 Kim with her new found ski buddy, Lacy Meadows, loving the La Sals. Photo: Kim Ross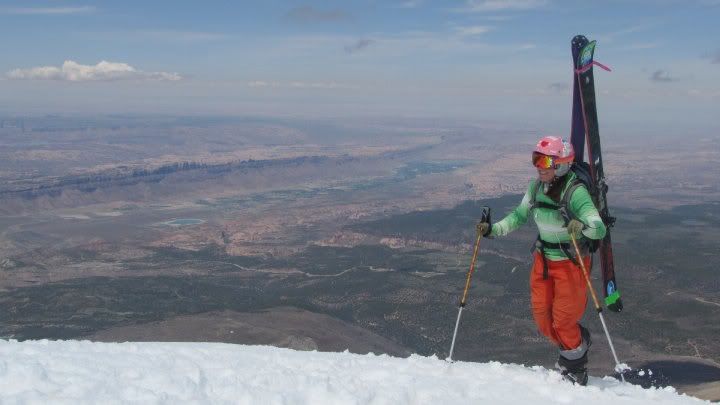 Kim in the La Sals with the Moab desert behind. Photo: Lacy Meadows
This year, I accomplished a long-time goal and skied Long's Peak. I was invited by a mutual friend, Mike Bean, who had heard through the grapevine that this peak was high on my list. This would be the first time Mike and I skied together. It was early June, so although not technically summer yet, by this time of year most folks have long ago put the skis away for the season. However, the North Face "Cables Route" was in prime form for a rare descent from the summit. The weather was unbelievable, completely windless as we hiked through the night to approach the line. A shooting star graced us with its streak across the sky sometime before dawn, above treeline. The snowpack up high hadn't transitioned completely to spring corn status, due to numerous late upslope storms that wouldn't quit even into late May. The descent was glorious, and skied like buttery recycled pow. Another day I'll never forget!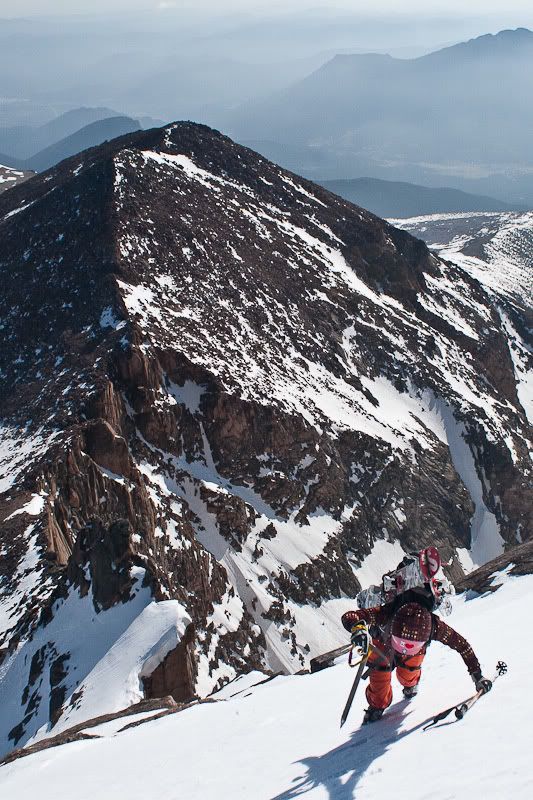 Long's Peak Cables Route. Photo: Mike Bean
6) What is your favorite summer-ski spot in Colorado? Elsewhere?
Colorado is really a fantastic place for summer skiing. I have a couple favorite zones. Mount Democrat holds snow nicely, especially the Lake Emma chutes. Democrat also holds snow on the North side, and it's tauntingly visible for miles. The peaks above Wheeler Lake, just to the north of Democrat, also hold snow late. For September skiing, I usually rely on Skyscraper "glacier", a steep, hanging snowfield right off Rollins Pass.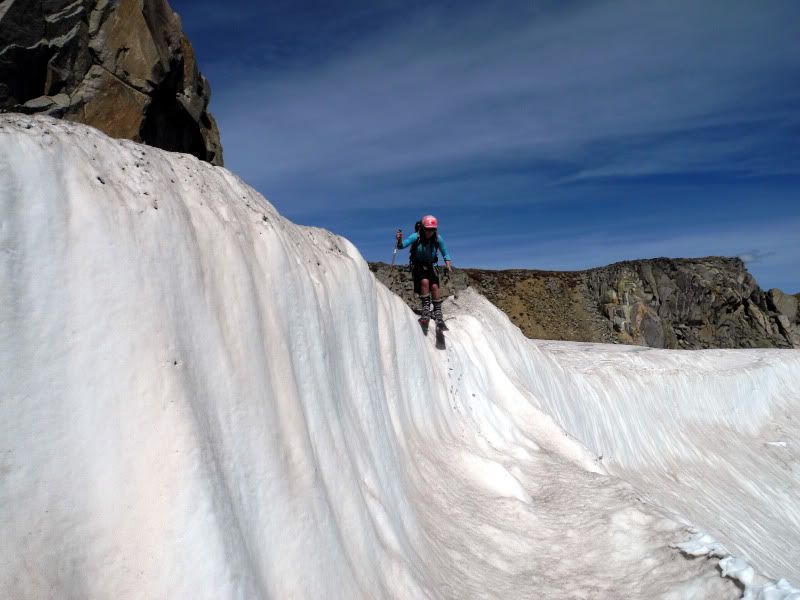 Kim drops into one of her favorite summer stashes, Skyscraper glacier.
For skiing in the Southern Hemisphere, a ski area in Chile called "Termas de Chillán" is probably my favorite. I also highly recommend ski-touring the volcanoes of southern Chile, or the hut systems out of Bariloche, Argentina. "Refugio Frey" is the place to start. And of course, if you can you should also experience the Treble-Cone skiing of New Zealand's South Island.
7) How long do you plan on keeping this streak going?
I'll likely keep going as long as I'm living in Colorado. It's just too easy. Summer 2011 was definitely really special. In August, for example, I skied 3 different lines in Colorado, with 3 different skiers each getting their August turns: first on Mount Democrat, then Mount Owen near Crested Butte, and then on McHenry's Notch in Rocky Mountain National Park.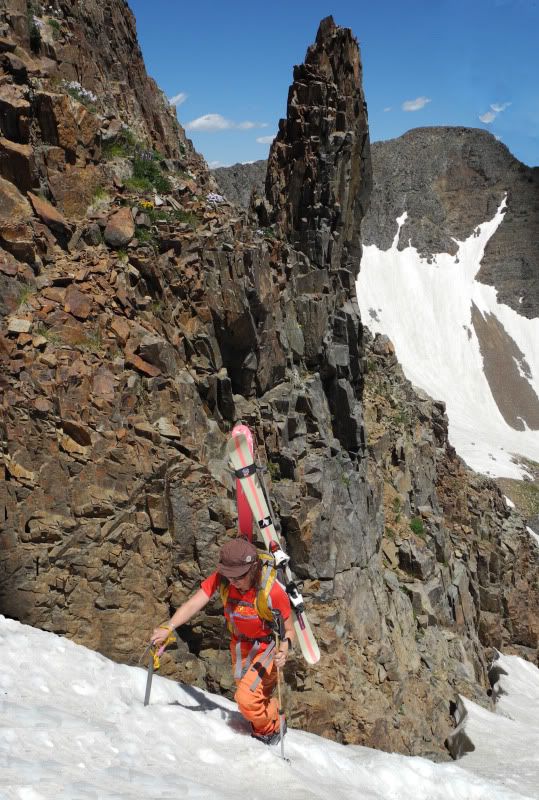 Kim happily climbing the Jenga Chute on Mt. Owen near Crested Butte, August 2011

Shredding the Jenga!
8) Have you had difficulty finding partners to ski with you in the summer?
At first it was difficult to find partners. I moved here from Montana in August 2005, and I remember thinking I was going to have to let the streak die. It was a pretty dry summer in the Rockies, and the demands of my graduate program would not allow a trip out to Mount Hood that summer. I was at 68 months. Then I heard a rumor of a "glacier" not too far away, so the very first weekend I was here I grabbed my skis and headed toward Alice, Colorado, to find this mysterious patch of snow. Despite the hot summer, the snow was there, and I also found two other people up there with skis! And so I met my first Colorado ski partner, Aaron Parmet, on St. Mary's glacier. He was nice enough to take me to Skyscraper glacier the next month to get September turns. Since then I've almost always managed to find a partner to accompany me on these silly summer ski missions, and I've met a lot of other year-round skiers.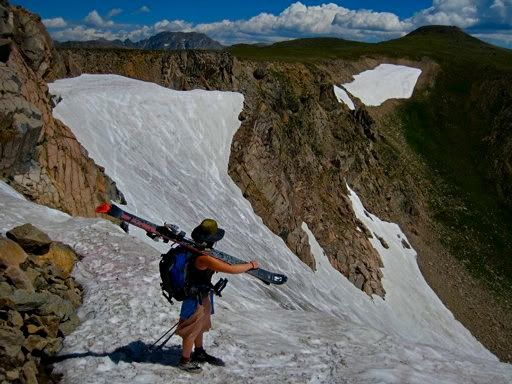 Kim checking out Skyscraper glacier in 2006. Photo: Becky Nix
9) How did it feel to celebrate 144 consecutive months on skis?
Every November my ski calendar turns over. It's kinda like a birthday; the streak is just another year older. It's no huge accomplishment, but it's a nice excuse to BBQ in the ski area parking lot.
10) Any advice for others pursuing similar year-round skiing goals?
The best way to keep your streak going is to stay injury-free. Summer skiing can actually be really dangerous, so know your route, bring the right gear, wear a helmet, and always be prepared for weather. In Colorado lightning is a major threat, so that means starting early and getting off the mountain early. Also, try not to wait until the last day of the month, because if something goes wrong, you're hosed!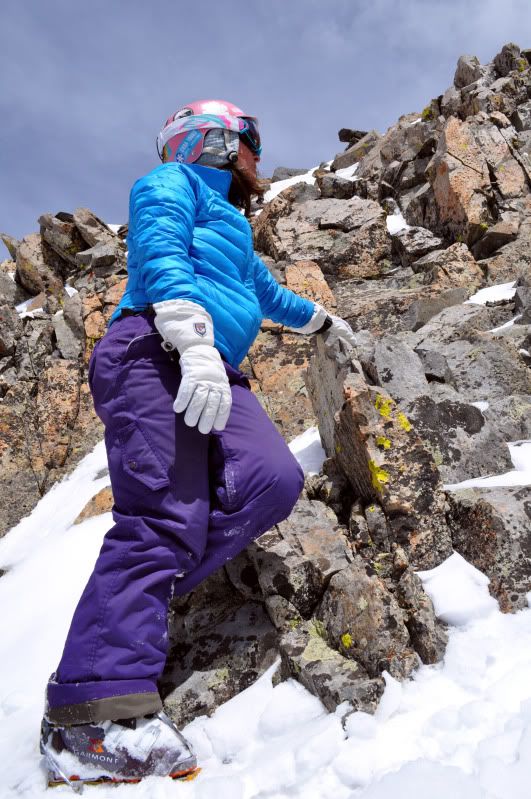 Kim checking out the final push to the summit on Mt. Wilson, April 2011
11) Anything else you'd like to add?
I'm just hoping for another great ski season in Colorado, filled with deep powder. I find the "waiting" this time of year to be nearly unbearable, but I know it's coming! I'd like to wish us all a SAFE and powdery winter, and many more to come.

Kim charges through a raging stream….
so she can ski this- White Rock, near Crested Butte, June 2011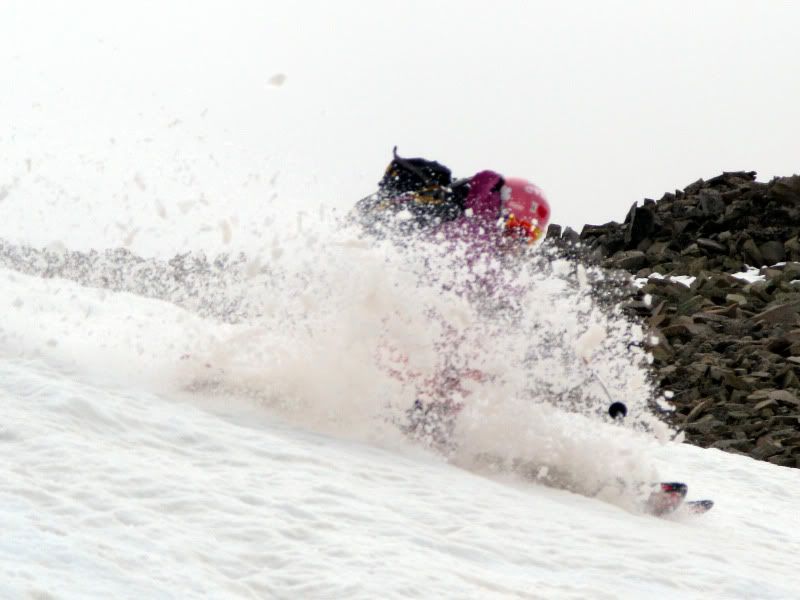 Celebrating another August ski, 2011.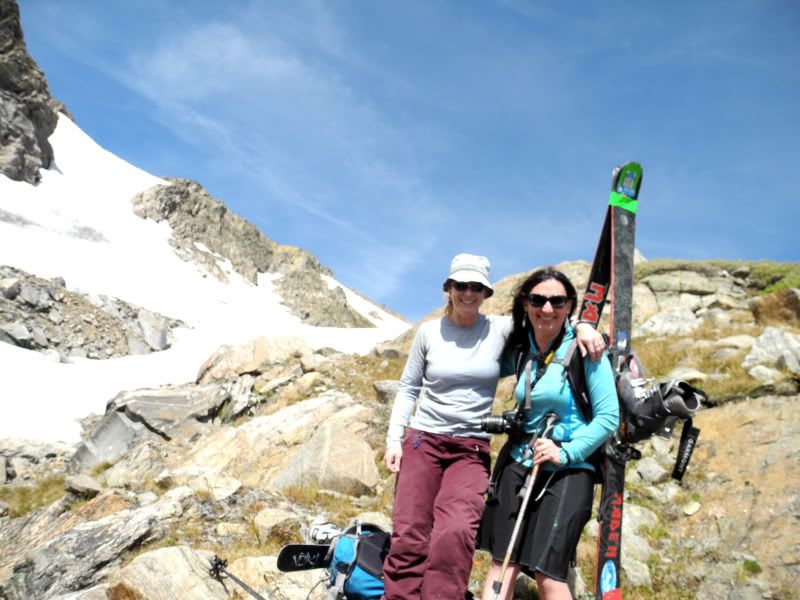 So happy to have you as fantastic, fun and flamboyant ski partner, Ms. Kim! Here's to many more turns….
Aside from skiing, biking, and all outdoorsy things,
Brittany Walker Konsella
also loves smiles and chocolate 🙂 Even though she excels at higher level math and chemistry, she still confuses left from right. Find out more about
Brittany
!
Latest posts by Brittany Walker Konsella (see all)