Gear Review: Pearl Izumi X-Alp Seek IV MTB Shoes
(Last Updated On: October 26, 2011)
Posting a bike shoe review right after one of the first big snow storms of the year may seem a bit odd, but on the other hand it's hard to do a review until you've thoroughly tested out a product. So, to that end we bring you a review of the Pearl Izumi X-Alp Seek shoes, which both Brittany and I purchased last fall around the same time of year. Many of our favorite rides require at least some amount of hike-a-bike, and while many folks would just as soon poke their eyes out with a rusty spoon as hike with their bike, we realize that sometimes it's worth it.
The problem, of course, with hike-a-bike is that it's rather unpleasant with stiff bike shoes that often have slick plastic treads. My Lake shoes at least have a Vibram sole, but they are still stiff as can be, so hiking in them tends to be best suited for a ballerina, which I am not. The Pearl Izumi X-Alp Seek shoes, however, have quite a bit of flexibility in front of the cleat, as well as a nice grippy rubber sole. They seemed like the perfect answer to rides when we knew we would be hiking, but how did they perform…
The Pearl Izumi X-Alp Seek shoes: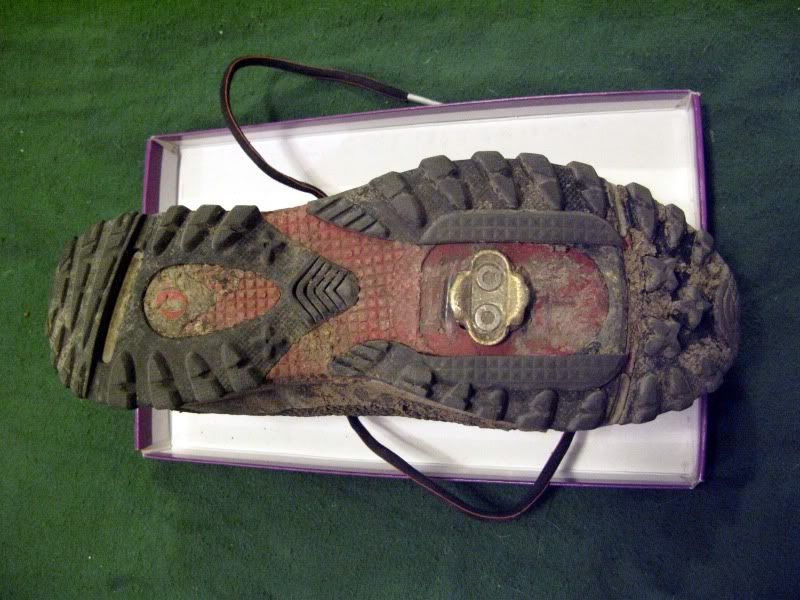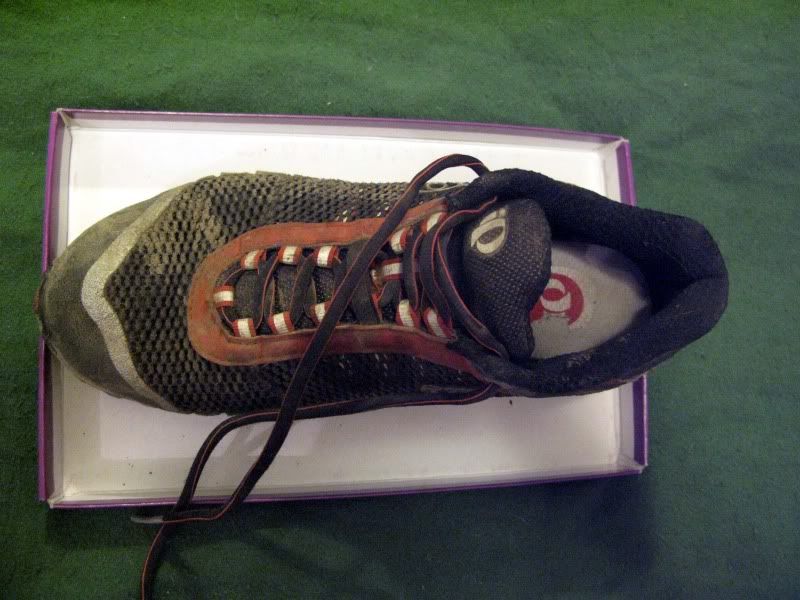 The answer is that they performed every bit as well as could be expected. While hiking, they were just as comfortable as any other hiking shoe I have, despite the cleat on the sole. You can walk on a tile floor with these shoes without the clickity-clack of most bike shoes. Their hiking abilities didn't surprise us. What did surprise us was how well they rode. Despite just being lace-ups, and obviously much less stiff than most bike shoes, they actually transfer power admirably well. they aren't the shoe of choice for a NORBA race, perhaps, but for every day riding few will notice their shortcomings.
Durability? As you can see in the photos above, taken after at least 200 miles, the shoes are holding up nicely. Most MTB shoes fail in the toe area, but these haven't shown any wear and tear there.
Our only complaint- the mesh uppers, while being very breathable, also soak through very easily- much more so compared to shoes with leather uppers.
In short, 14erskiers gives these shoes 2 thumbs up- way up!
Support 14erskiers by clicking on the link below:

Frank
loves snow more than anything... except his wife.  He ensures his food is digested properly by chewing it 32 times before swallowing.He is a full-time real estate agent serving
Crested Butte and Gunnison
and would be honored to send you his
monthly newsletter.
Latest posts by Frank Konsella (see all)