Guest TR: The Colorado Trail in 10 days (Part 1)
(Last Updated On: August 24, 2017)
Here at 14erskiers, we're always looking for guest contributors. 14erskiers reader Neil Beltchenko rode the Colorado Trail from Denver to Durango late this summer. This is his story, and remember, if you have an adventure or a review you'd like to share here at 14erskiers, let us know!
---
The Colorado Trail. What an amazing experience! Beautiful vistas and Scary storms. Sweet singletrack, and horrible hike-a-bike sections. To put it simply, Mike Behrendt a college roommate down in Gunnison and a very good friend of mine, and myself decided to Bike the whole Colorado Trail in 10 days or so. I could go on and on about the highs and lows of my 10 day trip but to make it a bit more visual friendly, I'm going to explain this truly fantastic trip with pictures.
Here is my setup along with my Trek Fuel ex 9.8 is Revelate Design, Planet bike, and Osprey Bags. My Handlebar bag held my sleeping bag, down jacket, and extra layers. My Planet Bike Top tube bag, held my Spot device and snacks, Snickers, Cliff bars, Cliff Blocks, and some other random treats. In the Jerry Can (rear toptube bag) I held my Aqua Mira, Starbucks Via, Teas, Honeystinger waffles, and Justin's peanut butter packs. My saddle bag held the tent, a medium size pot, stove, mug, food, and camp clothes. My Osprey Raptor held the rest, Including a 3 liter hydration pack, stuff sack full of random tools and essentials, snacks, and extra layers that were used often.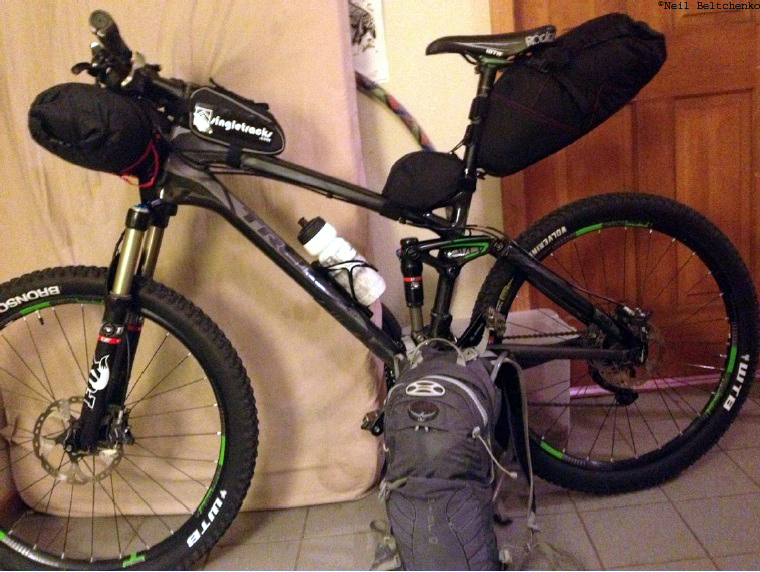 Once we finally got to Waterton Canyon trailhead at 3:00pm on August 28, we packed up, said our goodbyes and were on our bikes at 4:00pm. 500 miles here we come!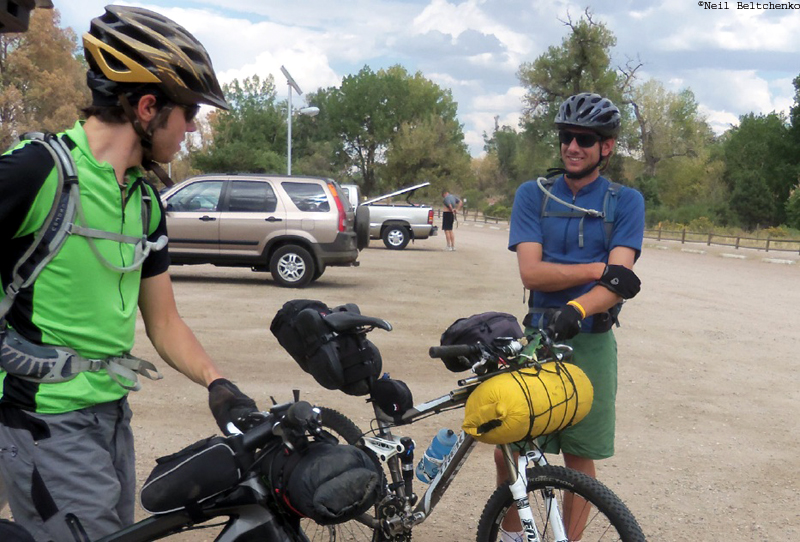 We got to the top of Waterton Canyon, and we were both surprised how difficult it was.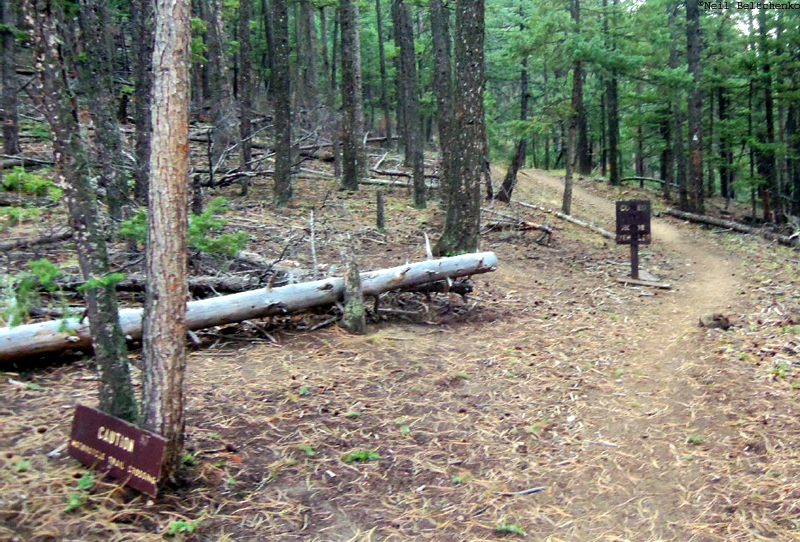 We climbed and descended a few times before we hit the Buffalo Creek Wildfire area of 1996. It was an eerie setting. To add to the eeriness we scared a family of bears, not once but we ended up cutting them off on the trail for a second time! We biked a bit further, found camp, chowed down dinner, and went to bed thinking of wildlife.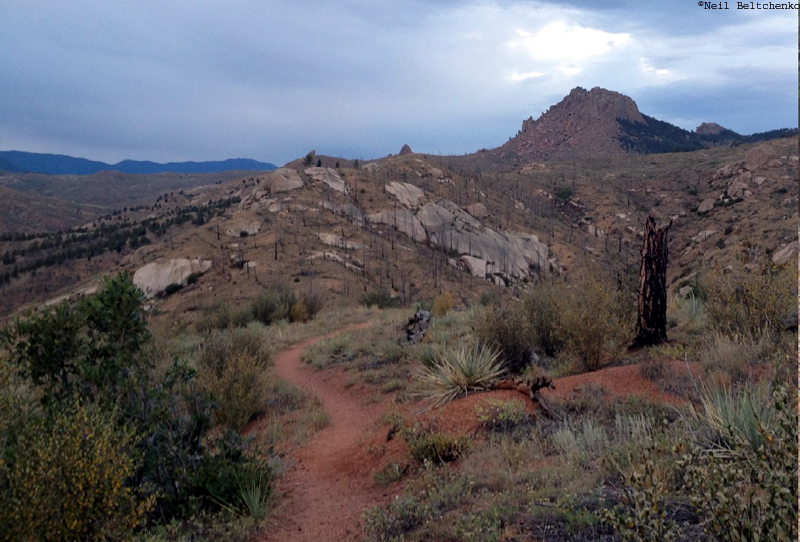 We woke up to this beautiful sunrise as we would throughout the whole trip. Some a bit earlier than others for the sake of trying to beat out storms. Early mornings meant very cold temps.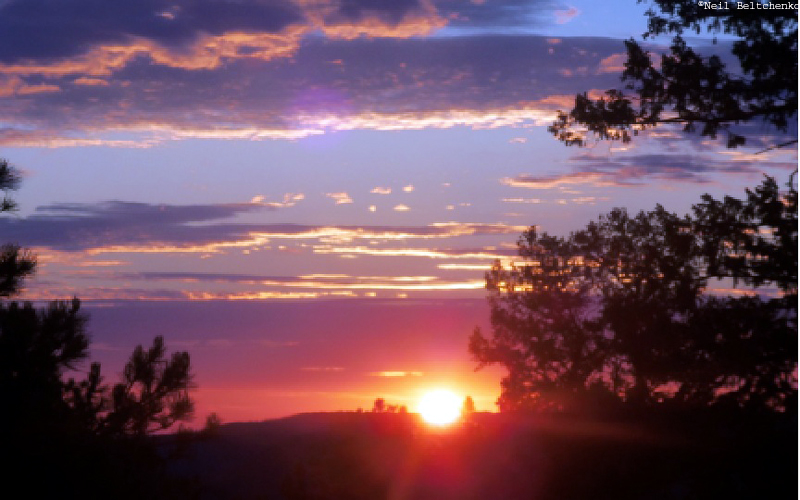 We stopped at the only creek that was running enough to collect water until Bailey! This was one of two times on the trip where water was scarce.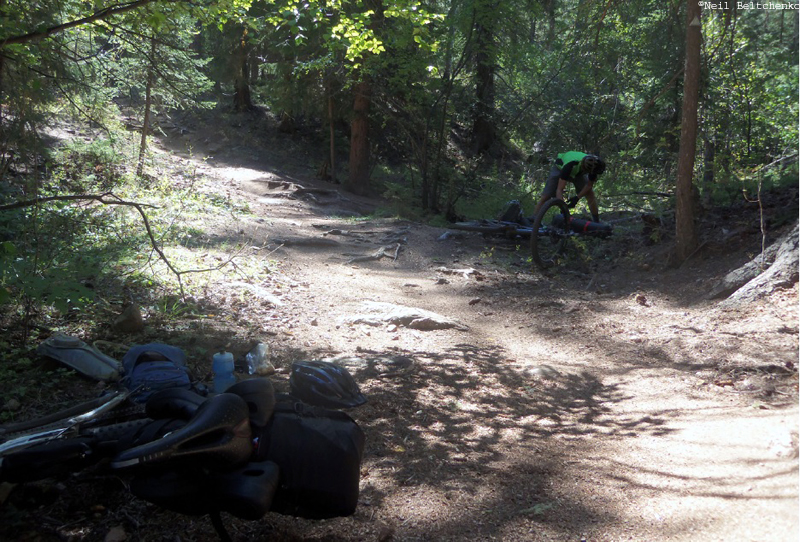 After some fun singletrack with moderate climbs and descents we needed to make a decision on which way we would detour around Lost Creek Wilderness. We had two options; one being the long 70 mile detour on forest roads, and the other being roughly 23 miles through Bailey and on HWY 285. We decided to take the latter. But it was not fun, after 18 wheelers flying by with little to no shoulder, we finally made it to the top of Kenosha pass.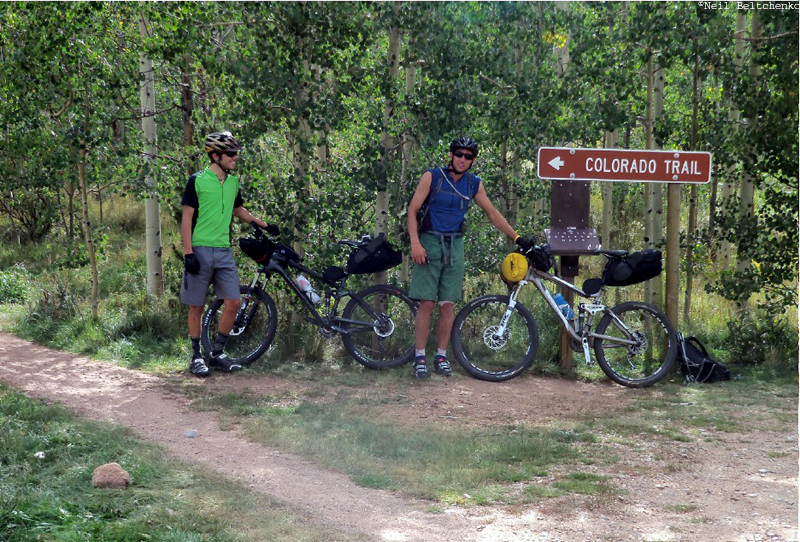 We did a lot of standing around, enjoying every inch of the trail we could. We truly enjoyed the trail unlike the Colorado Trail Racers every July. We biked until the bottom of Georgia pass, made camp, had a fire, and shut our eyes.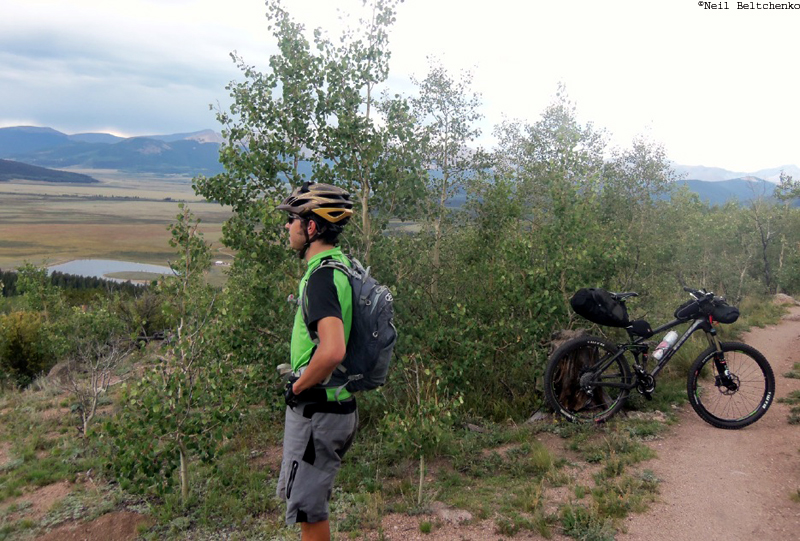 After taking down camp, the climb up Georgia Pass was next. I was thinking it would be super difficult but, it wasn't all that bad. Lots of roots and stumps, but that was a recurring theme throughout most of the high alpine sections. Here is the top of Georgia Pass, The descent was not fun as the very rocky sections were wet from the day before.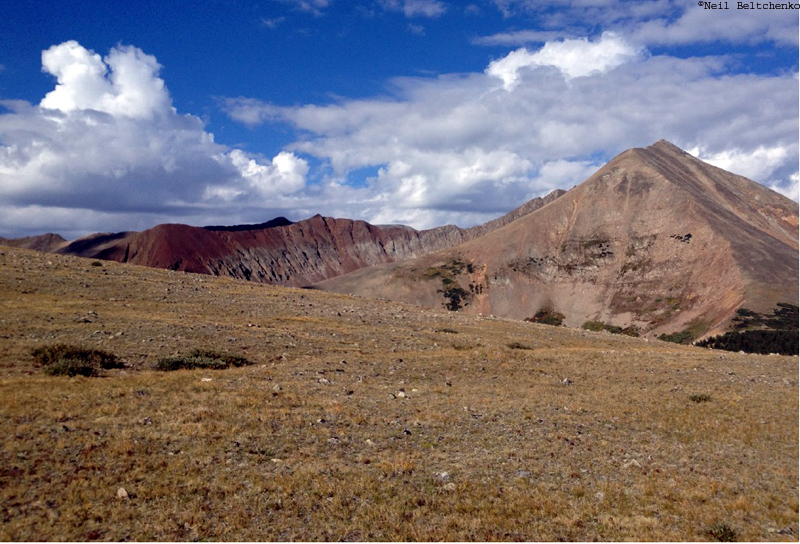 Georgia Pass, with storms building to the west. After a few more climbs, we started our descent to
Breckenridge.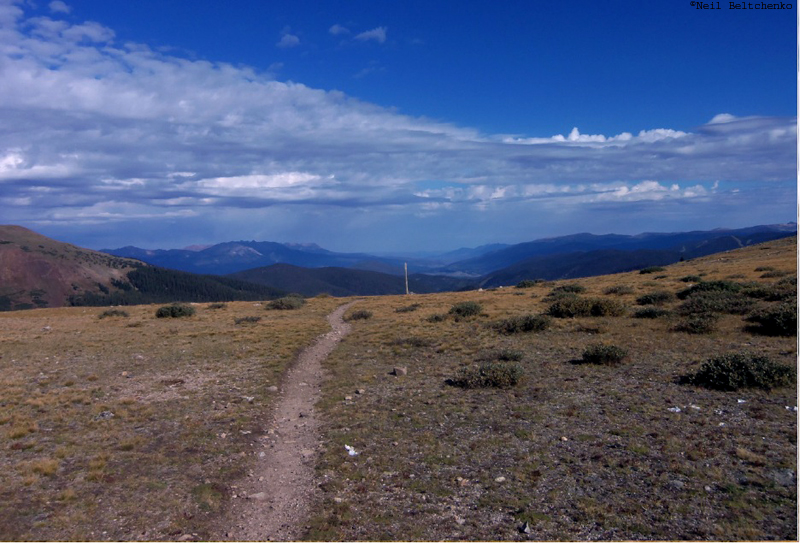 After we got some food and essentials in Breckenridge we headed up the Gold Hill section of the trail. Little did we know this would be the worst section on the trail. It started to rain, and we made a shelter to stay warm and dry. We hung out for about 40 minutes until the rain let up.

The rain started again and the climb was steep and wet. We finally got to the top of the ridge in the dark, and descended with our headlamps on. We found a nice campsite a mile outside of Copper Mountain Resort. All of my belongings were wet and all I wanted to do was sleep. That's what we did.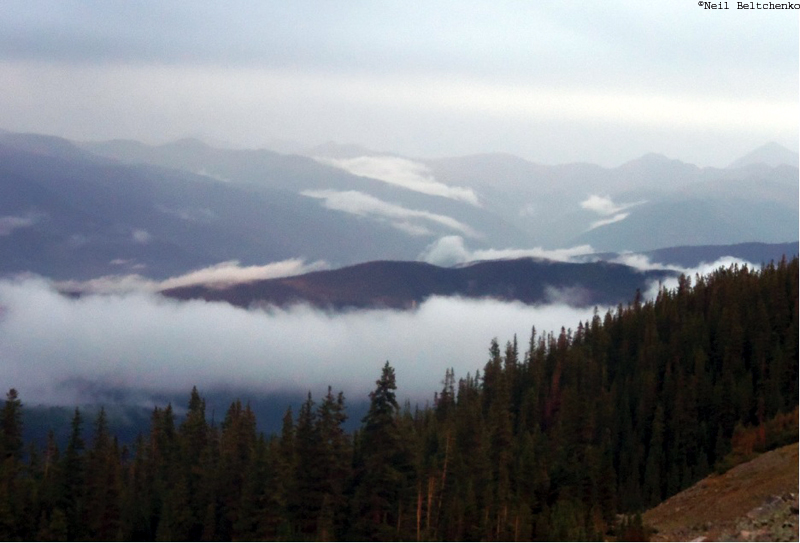 The next day we woke up wet and cold! we quickly got to the Conoco off I-70 and used the bathrooms, got some food, and sat in the sun until we were ready to go. We had another big climb up to Searle Pass, and once again a storm stood in our way. Lightning and thunder, we biked as fast as we could until we got to Kokomo Pass. What a relief as we knew we had a long downhill from here to Camp Hale.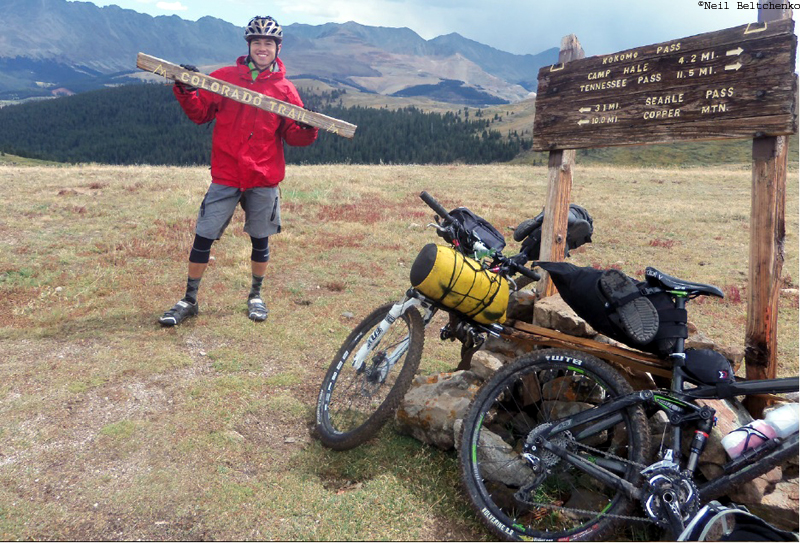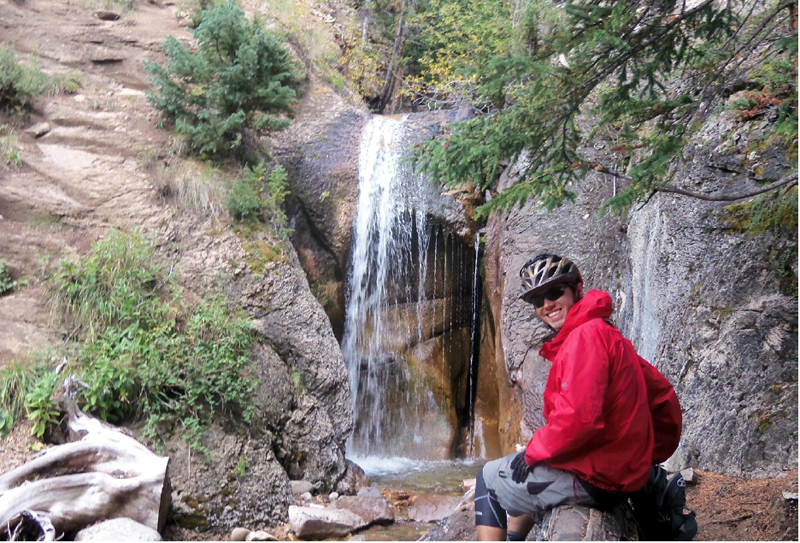 Mike and I checked out the Camp Hale barracks, how cool. After a short bit of singletrack we got back on paved road again. The Holy Cross/Mount Massive Wilderness detour would bring us up and over Tennessee Pass and into Leadville. Here we stopped at Safeway to resupply on dinners and then headed to a burger place for a burger, fries, and milkshake! We biked to the Mt. Elbert trailhead and camped there for the night.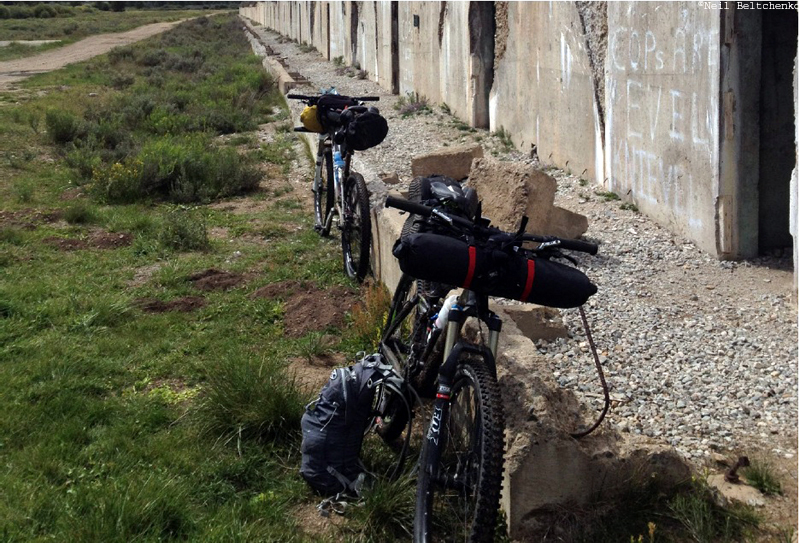 We started with a short climb the next day and then had one of the more fun descents on the trail down to Twin Lakes! The vistas were gorgeous and the riding was great! after a short but steep climb, Collegiate Peak Wilderness detour would bring us into Buena Vista.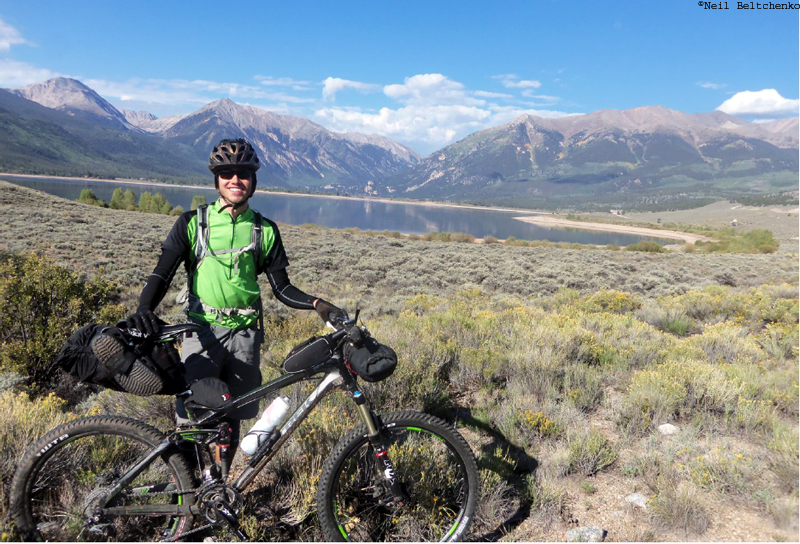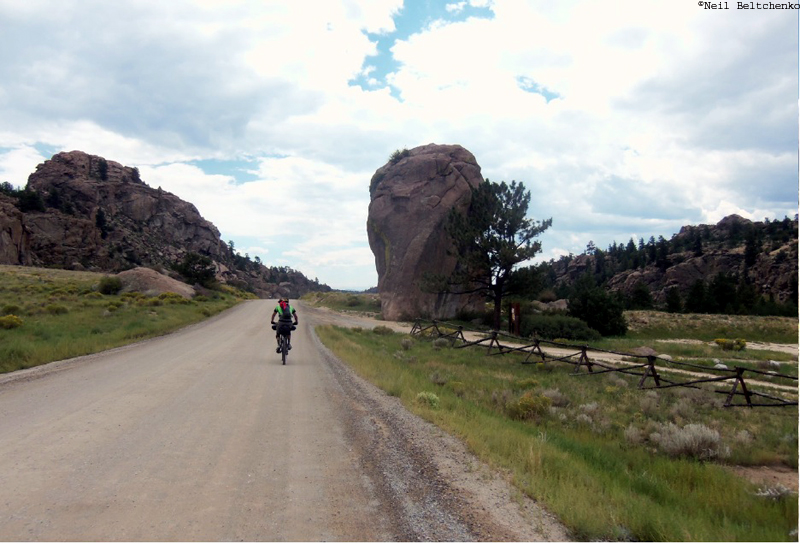 Along with getting a dry bag and some groceries, this was my meal at Pancho's in Buena Vista. Beef taco, double cheeseburger, onion rings, fries, and a milkshake……YUM! we left Buena Vista and climbed up Cottonwood pass and got back on the singletrack.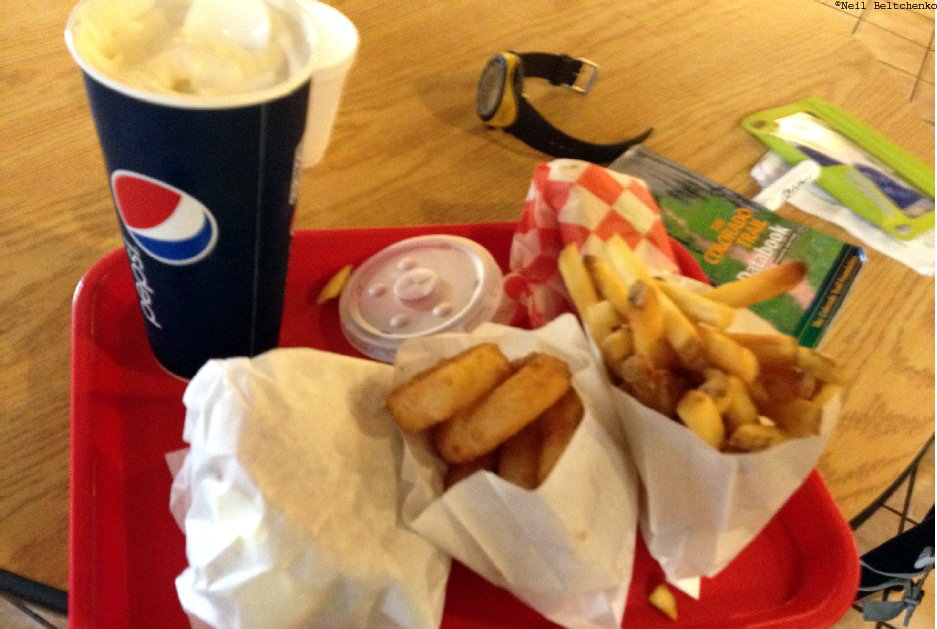 ---
24 year old 14erskiers guest writer Neil Beltchenko was born and raised in Libertyville, Illinois just outside of Chicago. He moved to Gunnison in January of 2008 to attend Western State College after going to school at Northern Michigan University. After graduating, Neil moved to Crested Butte in May of 2010 and purchased his first mountain bike at that time after renting one from Peak Sports. He has since started to dabble in bike races and plans on attempting the Arizona and Colorado trail races next year along with few endurance races. Neil also loves skiing, good food, and good beer.