Treasury Mountain: Wine Bottle Couloir and "Bear Cub Basin" 11.12.10
(Last Updated On: November 15, 2010)
This past summer, I had a great view of the massive North Face of Treasure Mountain. This basin, called Bear Basin, drops over 4600′ from the 13,528′ summit of Treasure down to the townsite of Crystal. Needless to say, exploring this zone quickly vaulted to the top of my wish list:

The trouble with Bear Basin is the access. Once winter road closures begin, it's a long walk from anywhere in the Crested Butte area. The best access would be from Yule Pass, during the brief window when the pass can be accessed via snowmobile in the spring, but that would still leave a backcountry skier miles away from home. Access in the fall is a different story, however, and we hoped to sneak one in before Schofield Pass closed for the season. Of course, we wouldn't be able to take advantage of the full 4600′, but it was still worth a shot to get in the zone and start figuring things out.
We dropped a snowmobile at Paradise Divide and started up Treasury Mountain, an ascent which is starting to become a regular for me in the early season. Pete Sowar and John Jasper, heading up Treasury with the Raggeds shrouded in clouds behind:

Purple Mountain and the Ruby Range:

It was a cold day, with wind chills below zero on the summit ridge:

Gearing up was and arctic-like experience on top of the Wine Bottle Couloirs, a strange sensation considering I had just skied it 4 months ago on the fourth of July.

Like I said, it was freezing, so I skipped the helmet cam and tried to take just still photos. Unfortunately, my freshly charged batteries in my camera were once again dead. I guess rechargeable batteries only last so long. I got one shot, and one shot only; thankfully it was a good one of Pete dropping in:

I still had my helmetcam, so I was still able to shoot some photos. Lunchtime (the couloirs are somewhat hidden just left of the summit)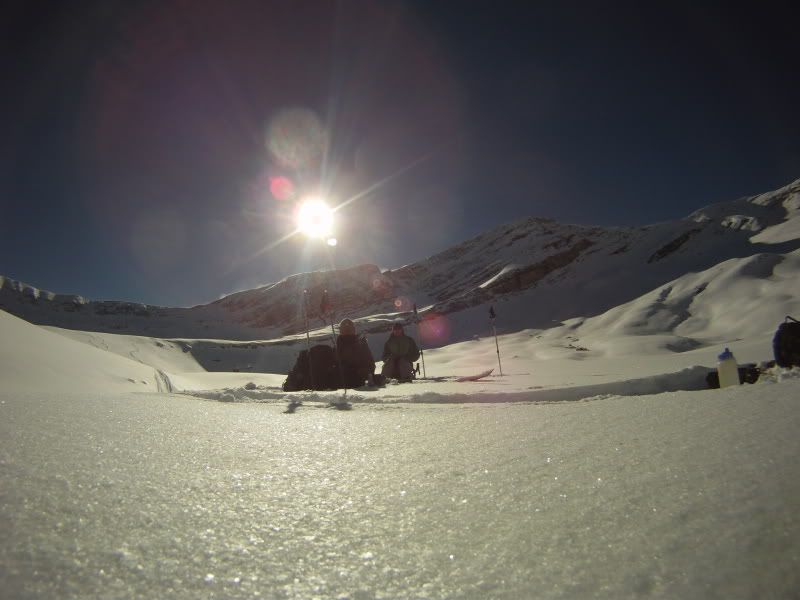 Looks like winter: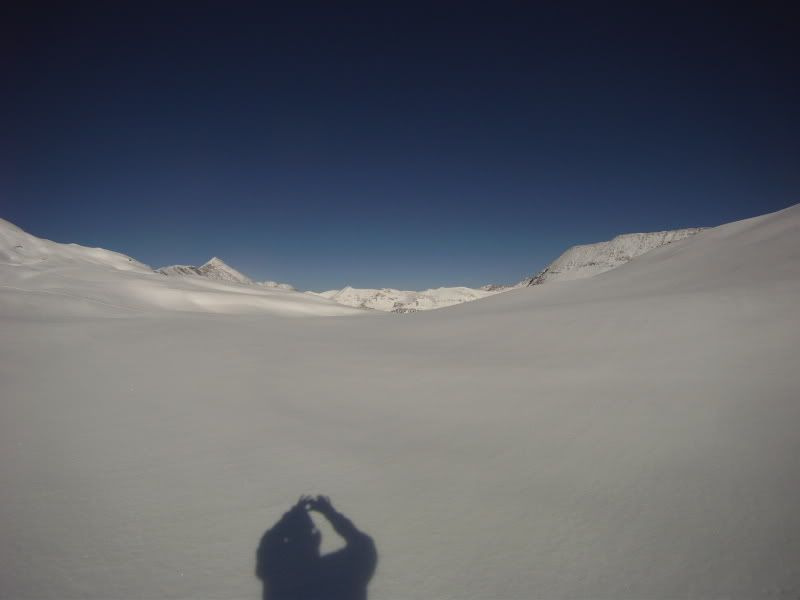 Having seen a familiar truck on Schofield Pass, we weren't terribly surprised to see a skintrack here in North Pole Basin. We were in pretty deep at this point, and the list of "usual suspects" was quite small. Sure enough, we ran into Josh Shifferly and Ethan Passant on the other side of the ridge in Bear Basin. Now, we had set our sights on Bear Basin from the top of Treasure Mountain. A long cliffband runs down the slope of Bear Basin, separating it into a small basin, which I am now calling Bear Cub Basin, and the main basin. We hoped to find a way through, but there simply wasn't. So for now, I'm giving our efforts to ski Bear Basin an "Incomplete".
Our tracks. As Ethan and Josh pointed out, it bears an uncanny resemblance to Cody Bowl in Jackson Hole. Our tracks are looker's right…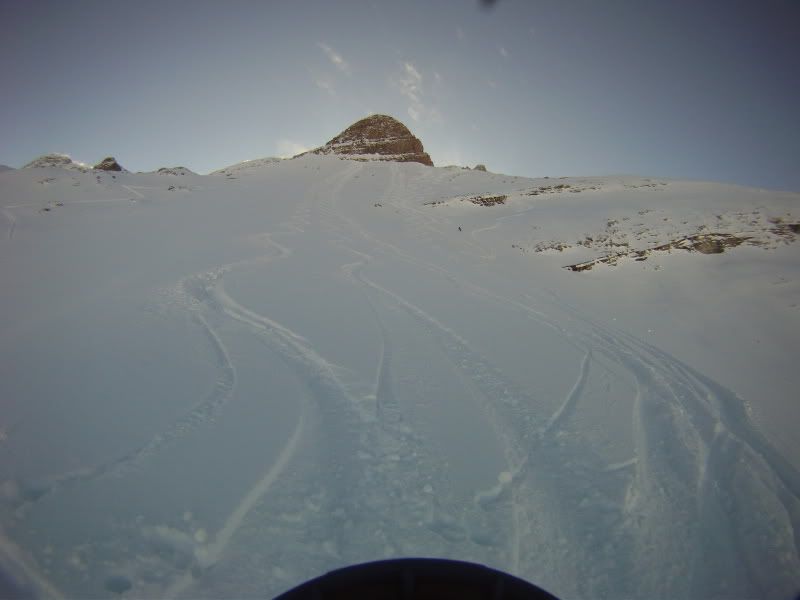 Video version (Yeah, Sabbath is a little rowdy for this one, but it was a short song…)

Bear Cub Basin from 14erskiers on Vimeo.
This line doesn't look like much in this photo, but it looked great in person and it's high on the list now…

Schofield Park in the setting light with some fog coming off the river…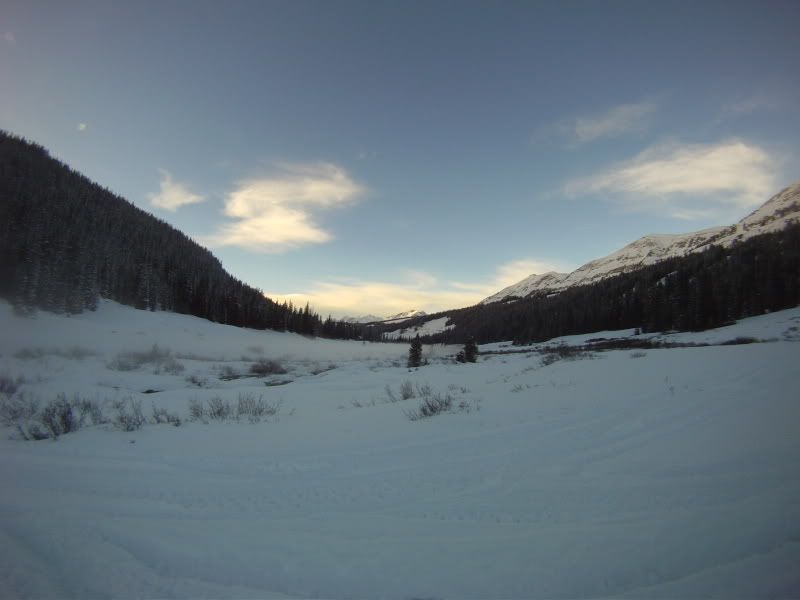 Well, we still have some work to do to get into Bear Basin proper. I love this stuff. It's all well and good to follow the beaten path and ski the same stuff as the rest of the sheeple, but what keeps my attention is a route that takes a few tries and some serious thought. Hopefully we get another chance this fall to get into Bear Basin, but who knows.
On Sale – Women's Softshell, Fleece, Down & Rain Jackets Up To 50% Off At Backcountry.com. Valid While Supplies Last.
Frank
loves snow more than anything... except his wife.  He ensures his food is digested properly by chewing it 32 times before swallowing.He is a full-time real estate agent serving
Crested Butte and Gunnison
and would be honored to send you his
monthly newsletter.
Latest posts by Frank Konsella (see all)